When imagining the quintessential garden, we often think of color schemes, layouts, and aesthetics first. We envision rows of purple and pink flowers swathed in bundles of delicate, white petals. Or, a forest of exotic fragrant plants that transports us to a tropical vacation in the comfort of our backyard.
However, choosing pleasant-smelling, fragrant plants is just as important as the look and style of your garden. Whether you are searching for night-blooming flowers like plumeria to add to your moon garden or hardy, low-maintenance plants like lilacs, this list has a little bit of everything to get you started.
Outdoor gardens are not the only ones in need of a little love. For those of you searching for indoor plants that smell good, too, there are plenty of plants to fill those empty hanging baskets and provide you with some great home decor options. Not only will these arrangements look great, but they will leave your indoor spaces smelling fantastic, as well!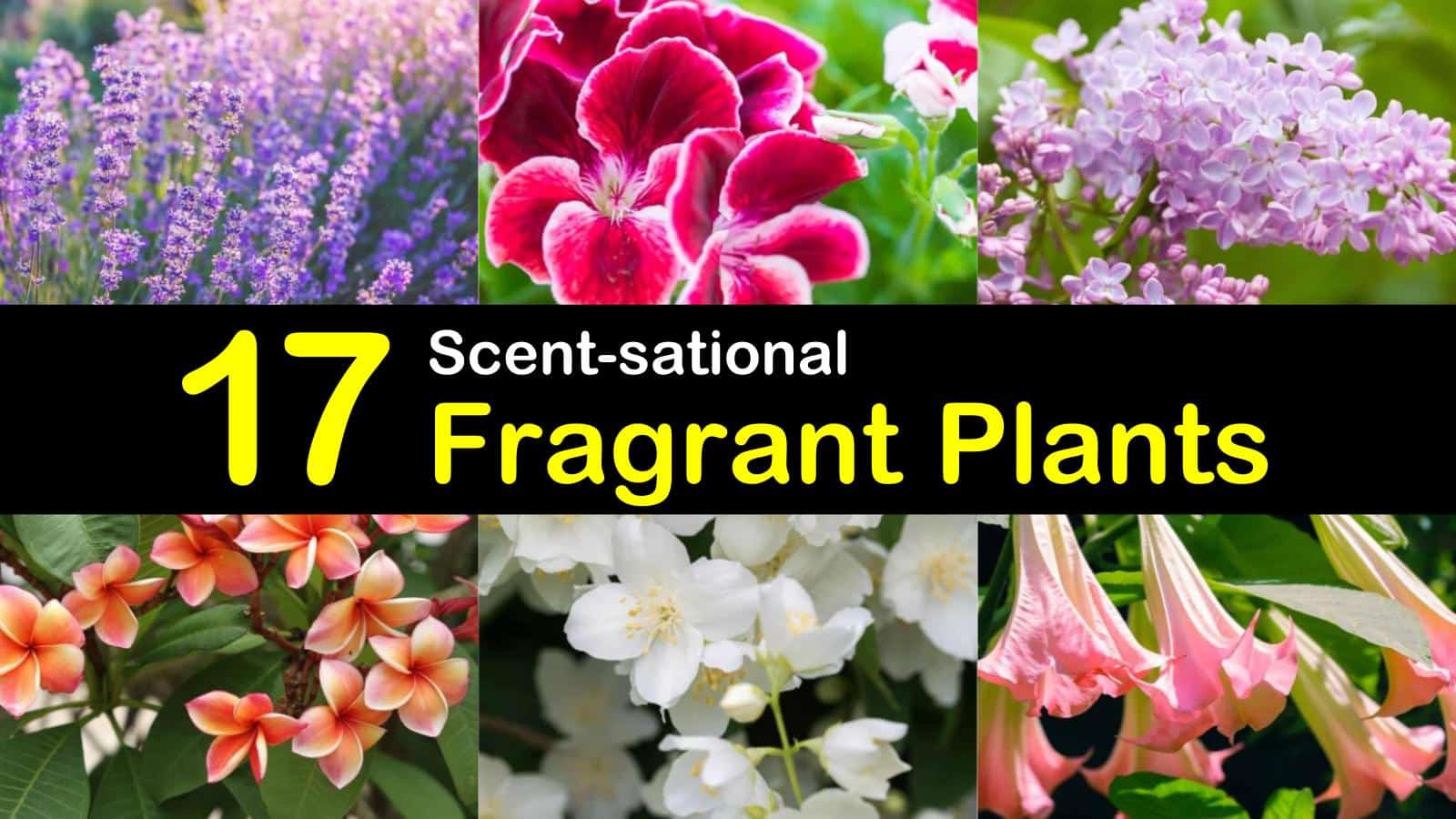 Selecting Plants with Fragrance for Your Garden and Home
There are so many options for sweet-smelling plants that it can be difficult to select one. From fragrant azaleas to lemon balm, you can find plants in almost any fragrance you want, whether you grow them indoors or out.
Fragrant indoor plants add beauty and a pleasant scent that can act as a mood booster, particularly in the bedroom or home office. Choose one particular specimen to brighten up your interior space or grow several different ones to get a mixture of color and scent.
Can these plants grow indoors and outdoors?
All of these fragrant plants can be grown outdoors under the proper growing conditions. Some of the plants listed as "fragrant outdoor plants" can also be developed indoors but might require more care and upkeep than the ones we will discuss.
The fragrant indoor plants here are better suited to life indoors and require less maintenance, space, and sunlight than outdoor plants.
Of course, if you have some favorite sweeter-smelling roses that won't fit inside, you can always cut off the blooms and put them in a pretty vase to enjoy while they last.
Do fragrant indoor plants do well in apartments?
Most fragrant indoor plants are great for apartments. The main points to take into consideration when selecting your plants would be the size and availability of adequate sunlight. Many of these indoor plants still require a decent amount of sunlight throughout the day, which is not always accessible in some apartments.
Equally, plants like lavender can grow to be very large and take up more space than is available in an apartment. Choosing plants according to your living space or making suitable arrangements for the plant you want is your best course of action.
Where should you plant fragrant outdoor plants?
Place plants in front yards, backyards, or patios. Anyone looking to add a little life to their moon gardens will also find some great ideas for night-blooming flowers. Depending on the flower and climate, place the plants where they can get plenty of sunlight or partial shade during the hotter months.
Toxicity level is another factor to consider when selecting the location of your plants. Some plants are poisonous and should stay out of areas where children or pets may frequent.
What are the benefits of fragrant indoor plants?
While all of these fragrant plants do best outside in their usual climates, there are times when growing them indoors has its advantages. The most significant benefit is using plants like a natural room deodorizer. Doing this will keep enclosed spaces smelling heavenly while also adding a stunning floral piece to your decor.
Another reason for keeping plants indoors is to protect them from harsh climates. If you live in colder regions but still want the look and fragrance that only tropical plants can offer, keeping them inside is your only option.
What are the best methods for taking care of fragrant plants?
Each plant is unique and requires equally exclusive treatment. Luckily, most of the plants listed here are hardy and require minimal maintenance if they are planted and cared for properly.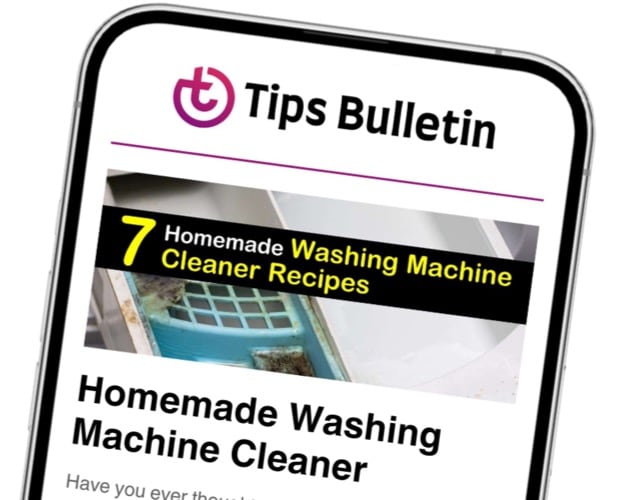 Finally, an email that Transforms Your Home.
Get the latest home and garden tips from our experts, delivered straight to your inbox.
The important thing is to find a plant that suits your home and lifestyle. Things to take into consideration when choosing your plants are climate, availability of sunlight for indoor plants, shaded areas, and space.
Fragrant Outdoor Plants to Leave Your Garden Smelling Fantastic
Beauty is an important landscaping consideration for your garden and the rest of your yard, but adding flowers that smell good appeals to your other senses, too. Enjoying the different fragrances at various times of day is refreshing and and boost a blue mood in a hurry.
Lilac (Syringa): Hardy, Fragrant Plants that are Easy to Maintain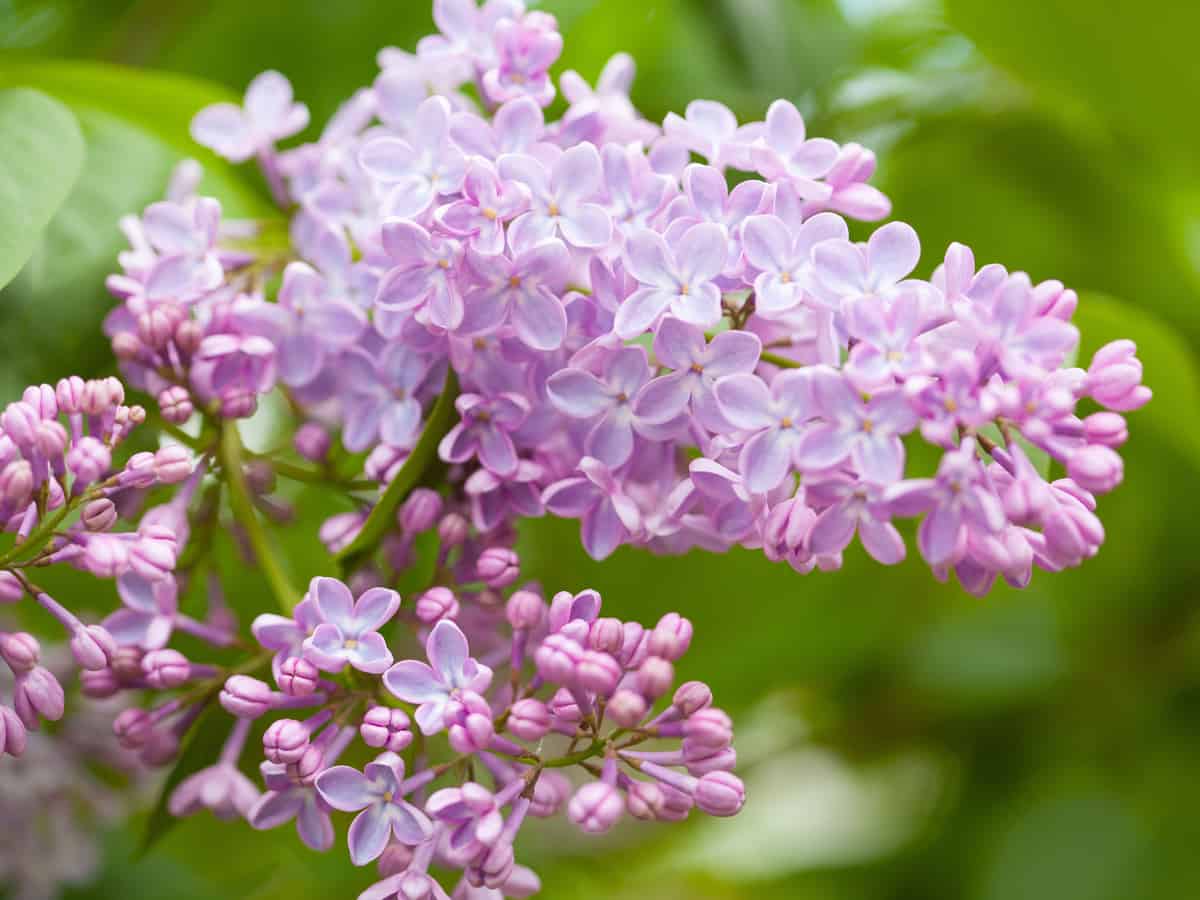 If you are looking for fragrant flowering shrubs, you can't get better than the lilac. Lilac is a great, low-maintenance plant that comes in seven different beautiful colors, not just purple seen here. These flowers bloom in late spring through the summer and give off a pleasant, sweet scent.
Lilacs are also an excellent way to attract pollinators like butterflies to your garden but are not appropriate plants to get rid of flies, as they like the sweet smell, too. While these plants are easy to grow, hot and humid climates are not ideal.
Lilac grows best in places with cooler summers, where it can receive full sunlight without overexposure to heat. Proper drainage of the soil is also key to ensuring the plant's success. Growing it in an elevated location with a fair distance between it and other plants will help maintain the soil quality.
Sweet Alyssum (Lobularia maritima): The Perfect Ground Cover Plant for Your Garden
Often used to attract butterflies in gardens, this fragrant ground cover plant is a beautiful way to fill in spaces around taller plants. In large bunches, these beautiful and easy outdoor plants give off a delightful smell like honey and may come with purple, pink, or white petals.
Bloom time for this flower begins in spring and can last until the first frost. Sweet Alyssum grows best in mild and warm climates. While it can also withstand the hot and humid weather of Southern states like Florida, it will not live as long as it would in regions further north.
Sweet Alyssum should receive at least 6 hours of full sun for optimum blooming but also fares well in partial shade. Keep the soil moist with increased watering in drier weather and the hot summer months.
Angel's Trumpet (Brugmansia): Exquisite Night-Blooming Flowers for Moon Gardens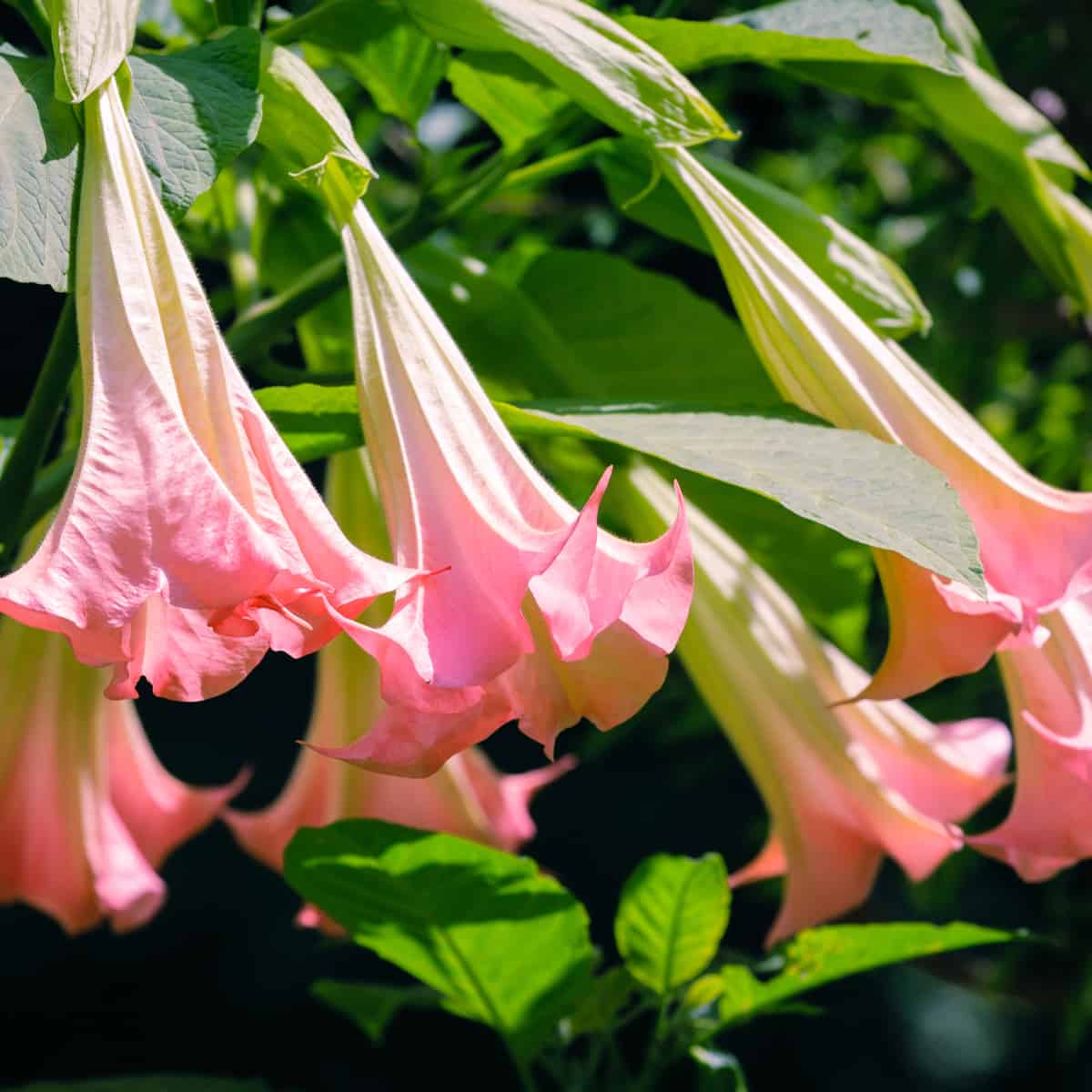 For those looking for a great addition to your moon gardens, Angel's Trumpet may be the one for you. The sweet fragrance of this flower is most potent at night when it blooms, making it the perfect scent booster for a nighttime stroll. The flowers bloom in spring to late fall and can last year-round in hotter climates.
Angel's Trumpets are tropical perennials but can still thrive in cooler climates with enough sun exposure to give them some added warmth. While lovely in appearance and smell, this plant is also highly toxic.
As a member of the Nightshade family, the plant should be placed somewhere out of the way and should not even be handled unless wearing gloves. Keep out of the reach of children and pets.
Star Jasmine (Trachelospermum jasminoides): Stronger Fragrance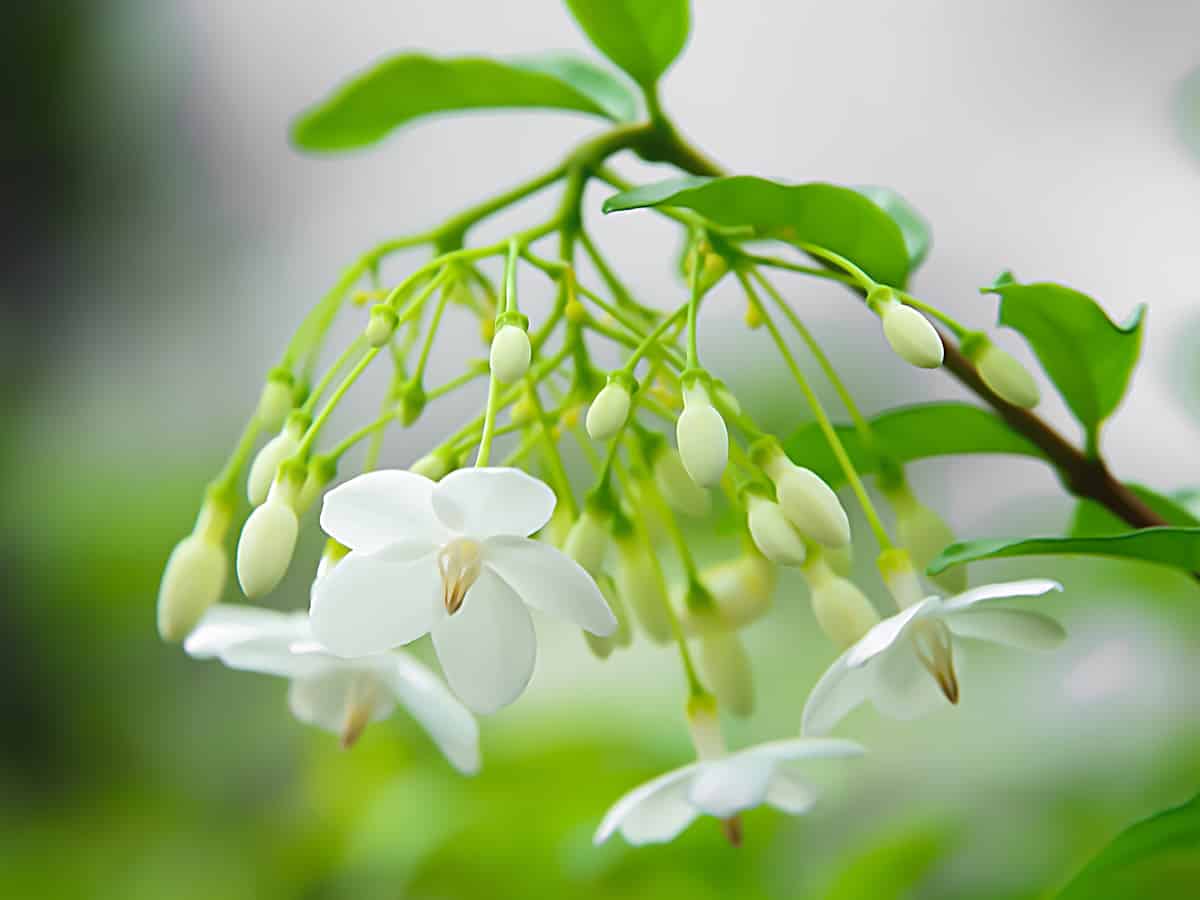 Jasmine is one of the strongest scented flowers. In pure jasmine form, the flower's warm, sweet scent is highly aromatic, especially in the springtime when the flowers bloom. Despite its name, the Star Jasmine is not real jasmine and is related in scent only.
Instead, Star Jasmine falls in the same family as periwinkle and oleander. Star Jasmine can be used as a fragrant ground cover plant, like Sweet Alyssum, or as climbing vines on trellises.
It blooms best with full sun and in warmer climates and should be brought inside for the winter in colder regions. For best results, water Star Jasmine once a week or when the soil begins to feel dry.
Carolina Allspice (Calycanthus floridus): An Excellent Ingredient for Homemade Potpourri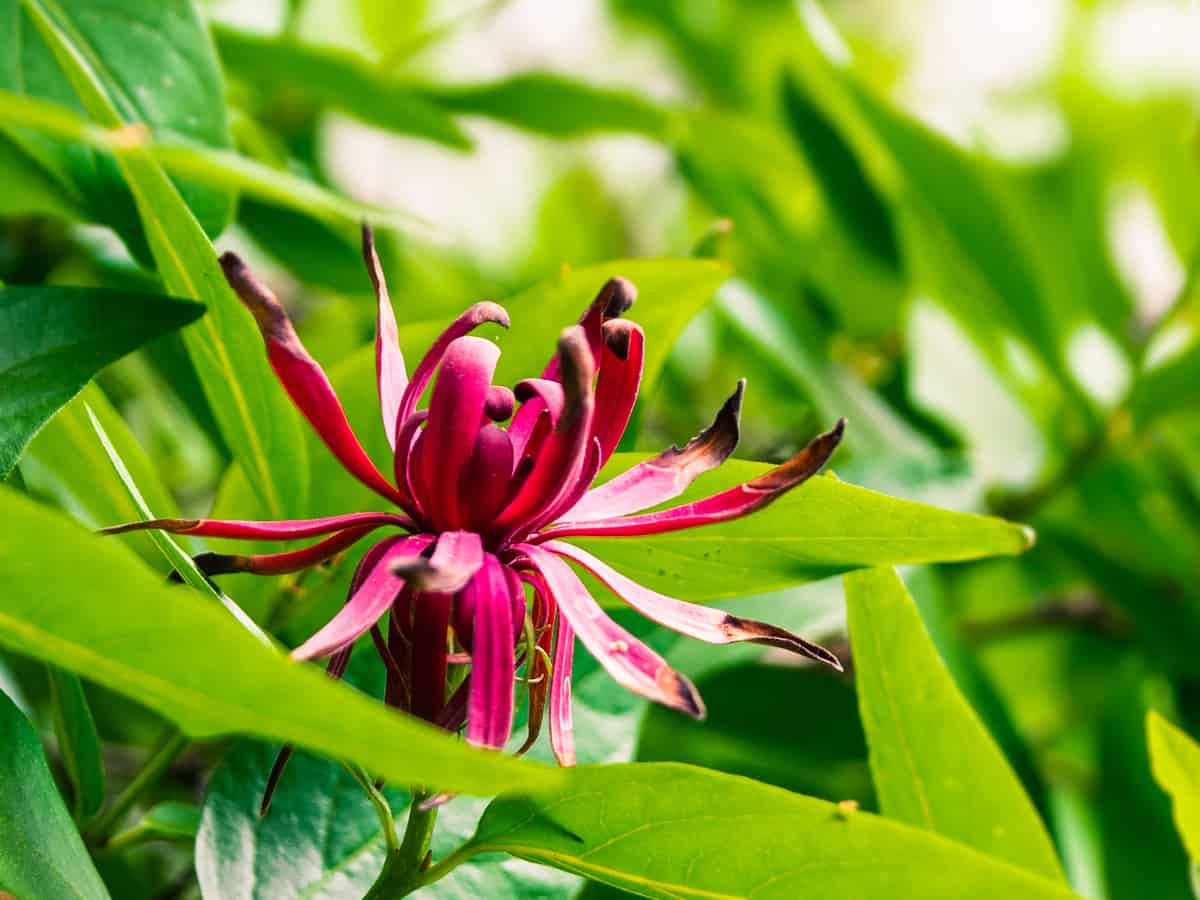 Another hardy, low-maintenance plant is the Carolina allspice. This plant gives off a fruity scent in mid-spring, similar to a banana and strawberry fragrance. It is an ingredient commonly used to make potpourri, giving it the added benefit of freshening the inside of your house, too.
These shrubs are sometimes considered fragrant blooming trees and do well in most climates throughout the United States, including most of the northern states to the southern states.
Provide it with full sun for several hours a day and keep the soil moist. As with most plants in warmer weather, it should be kept in partial shade and frequently watered in drier, hotter climates.
Lily of the Valley (Convallaria): Great for Gardens with Shaded Areas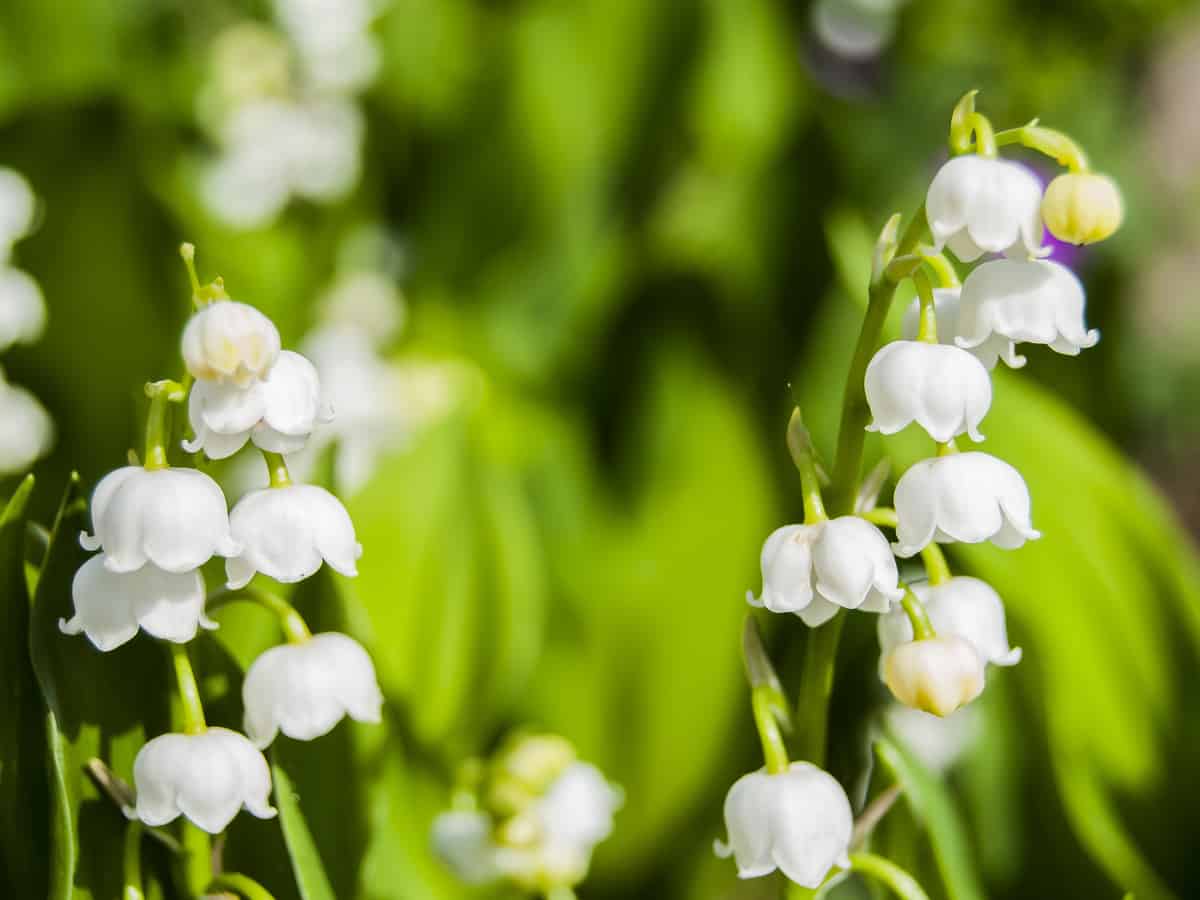 If your yard has too many shaded areas to sustain a sun-soaking plant, Lily of the Valley is a great option. These flowering plants do well in part shade and provide attractive ground cover at the base of trees. The delicious scent of these tiny white blooms is divine and strongest from spring to early summer.
Lily of the Valley does well in most of the continental US, but it is better suited for cooler climates. Using loam soil and keeping it well drained will help the flowers stay healthy and blooming. This plant is also toxic if ingested, so wear gloves as an added precaution when handling.
Oriental Lilies (Lilium orientalis): A Hardy Plant for Winter and Larger Gardens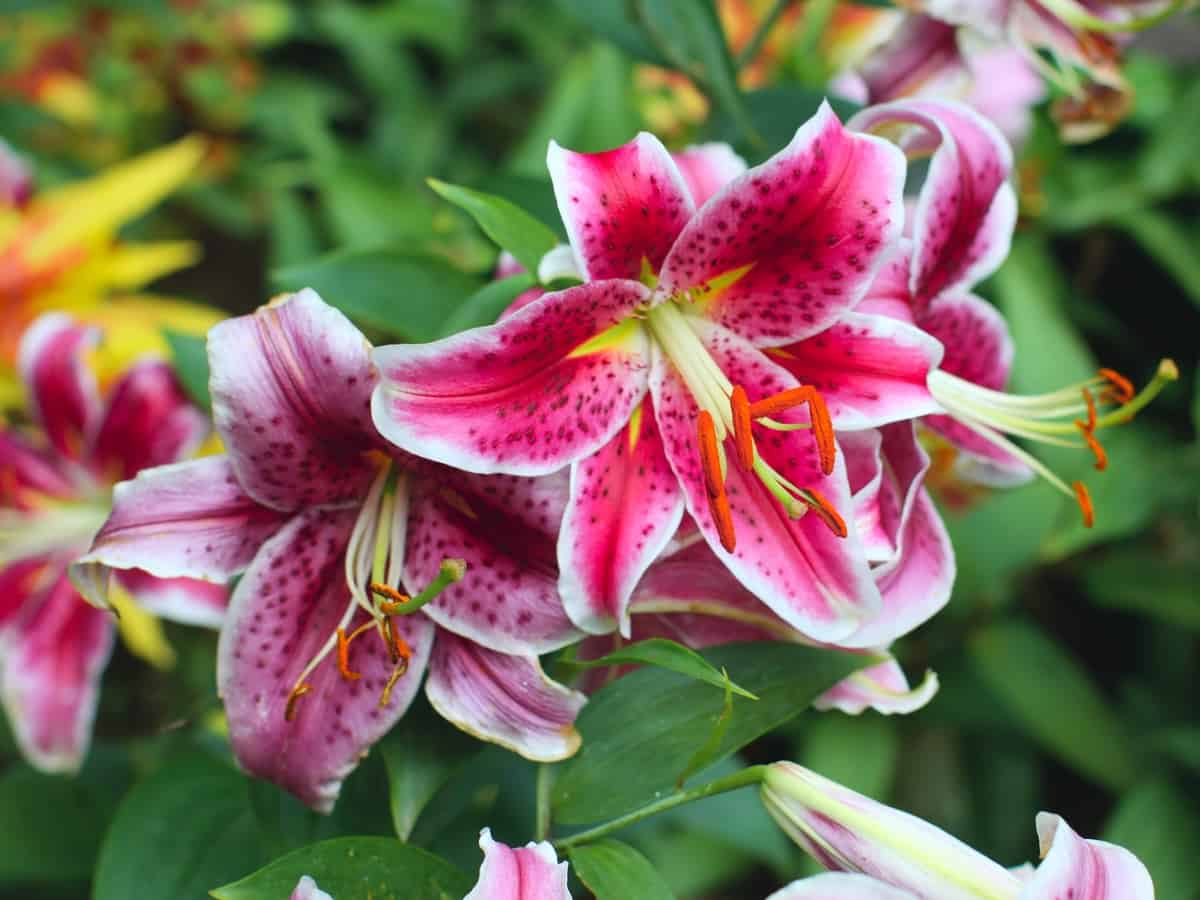 Oriental lilies are among the more robust scented flowers in their family. Their intense aroma is perfect for wider, open gardens where stronger smells can travel further. They are also easy to maintain if planted in a great location with plenty of sunlight and elevation for proper draining.
While the flowers bloom between mid to late summer and fall, they have been known to bloom as early as spring. Oriental lilies do best in cool to warm climates and tend to do well in the average winter.
When weather is too hot, this can keep the flower from entering its dormant period which should last for approximately two months. This period is essential for the plant to be able to bloom the following summer. Think of it as the Oriental lily needing her beauty sleep.
Mock Orange (Philadelphus virginalis): Use These Freshly Cut Flowers to Deodorize Your Home Inside and Out
The citrusy scent of the mock orange shrub is true to its namesake, even if it isn't a real orange tree. The fragrant white flowers bloom for only a short period in the spring and need to be pruned once a year to make way for the next year's buds.
This requirement makes them excellent as cut flowers and can be placed in odor-heavy locations like bathrooms.
Mock orange shrubs develop best in moist, well-drained loam soil. They require full sun to grow but are also adept at handling harsh winters. No special treatment is necessary to prepare these shrubs for the cold. They can even withstand temperatures that drop below freezing.
Frangipani (Plumeria ruba): Fragrant Flowering Trees that Give Your Garden an "Island Feel"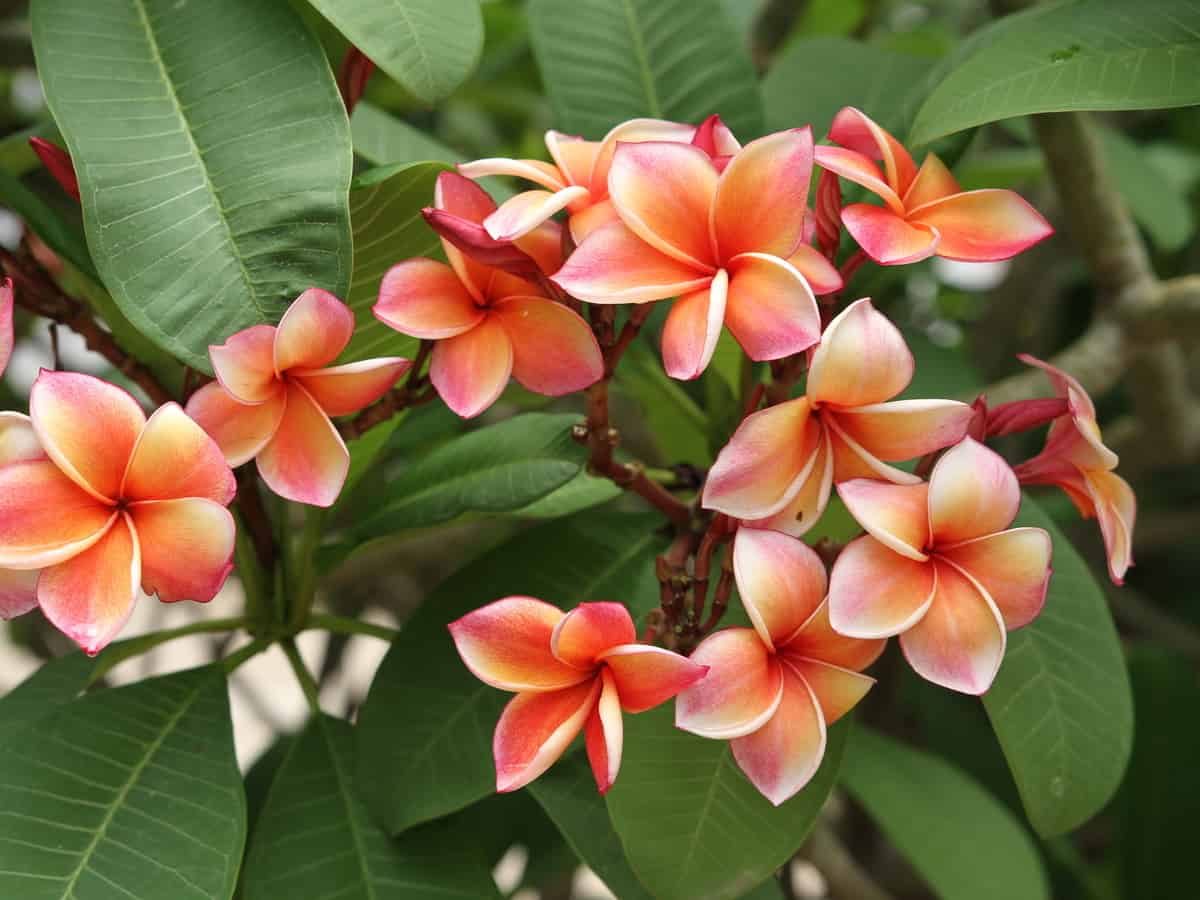 There's a reason why plumeria flowers symbolize positivity in Hawaiian culture and are frequently strung together to create stunning leis for celebrations. These flowering trees make a beautiful addition to your garden with a bloom time that lasts year-round in warmer climates.
This means more time for you to enjoy those breathtaking aromas. Plumeria comes in a variety of shades and colors with fragrances that range from fruity undertones to a warm, spicy scent.
These tropical plants require at least 6 hours of full sun and should be grown inside in containers in colder climates. Allowing their soil to dry out a little in between waterings will also prevent them from getting too much moisture.
Though plumeria can grow to 20 ft, with proper care and pruning, these plants are easily kept as small trees in gardens or even potted plants indoors.
Fragrant Indoor Plants to Keep Your Home Smelling Great Year-Round
There are many apartment plants and others to decorate your indoor space. The hardest part is choosing just one or two.
Marino Blue Heliotrope (Heliotropium arborescens): The Perfect Evergreen Shrub for Hanging Baskets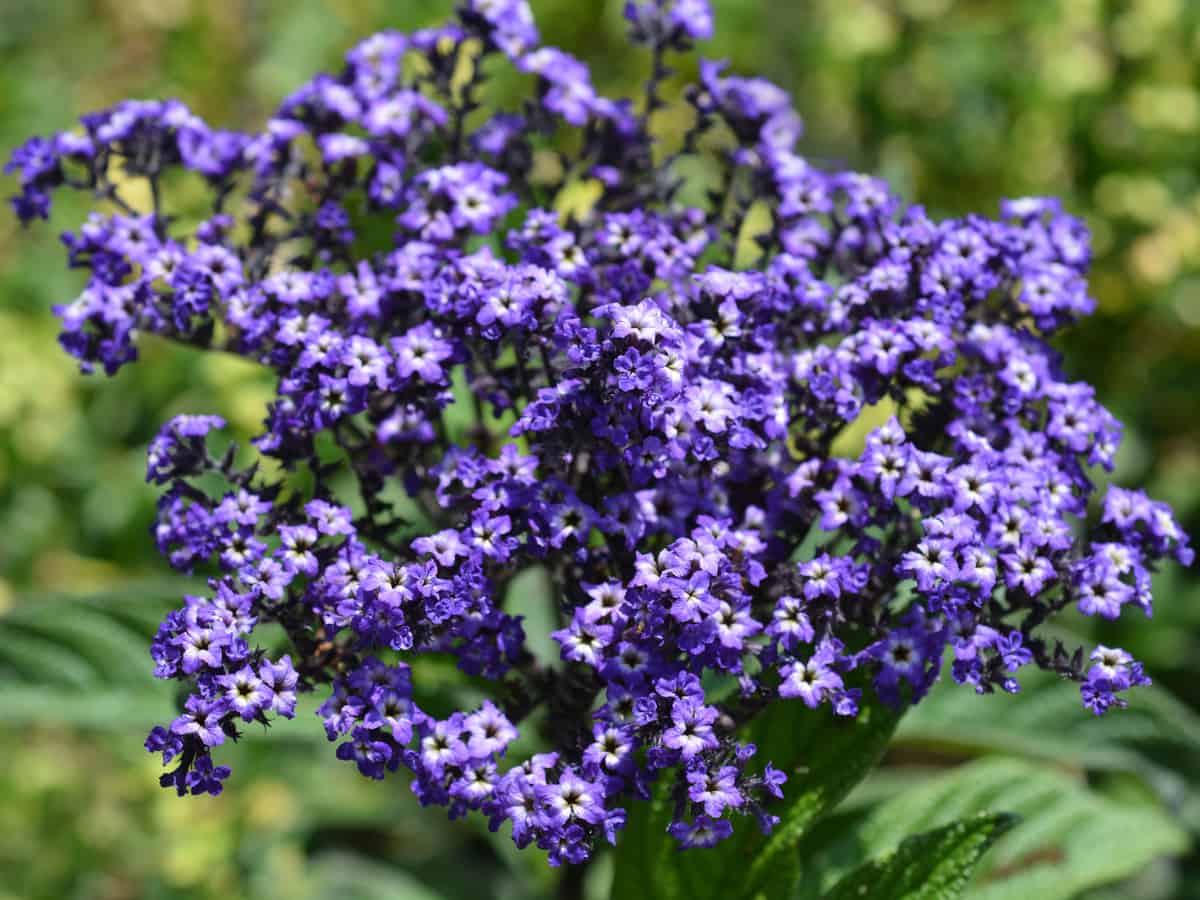 The Marino Blue Heliotrope is an evergreen shrub that thrives in warmer, tropical climates. Its dark green foliage creates a brilliant contrast to its vibrant violet-blue flowers, and when it blooms in the summer, it smells like vanilla. Yum!
If you do not live in a tropical climate, or if you want to enjoy the pleasant aroma indoors, the heliotrope makes an excellent resident for hanging baskets. Heliotrope is poisonous if ingested, so placing them in hanging baskets also keeps them out of reach from children and pets. Place these plants where they can get plenty of direct sunlight and water them frequently to maintain moisture in the soil.
Spearmint (Mentha spicata): A Fantastic Herb to Naturally Deodorize Kitchen Smells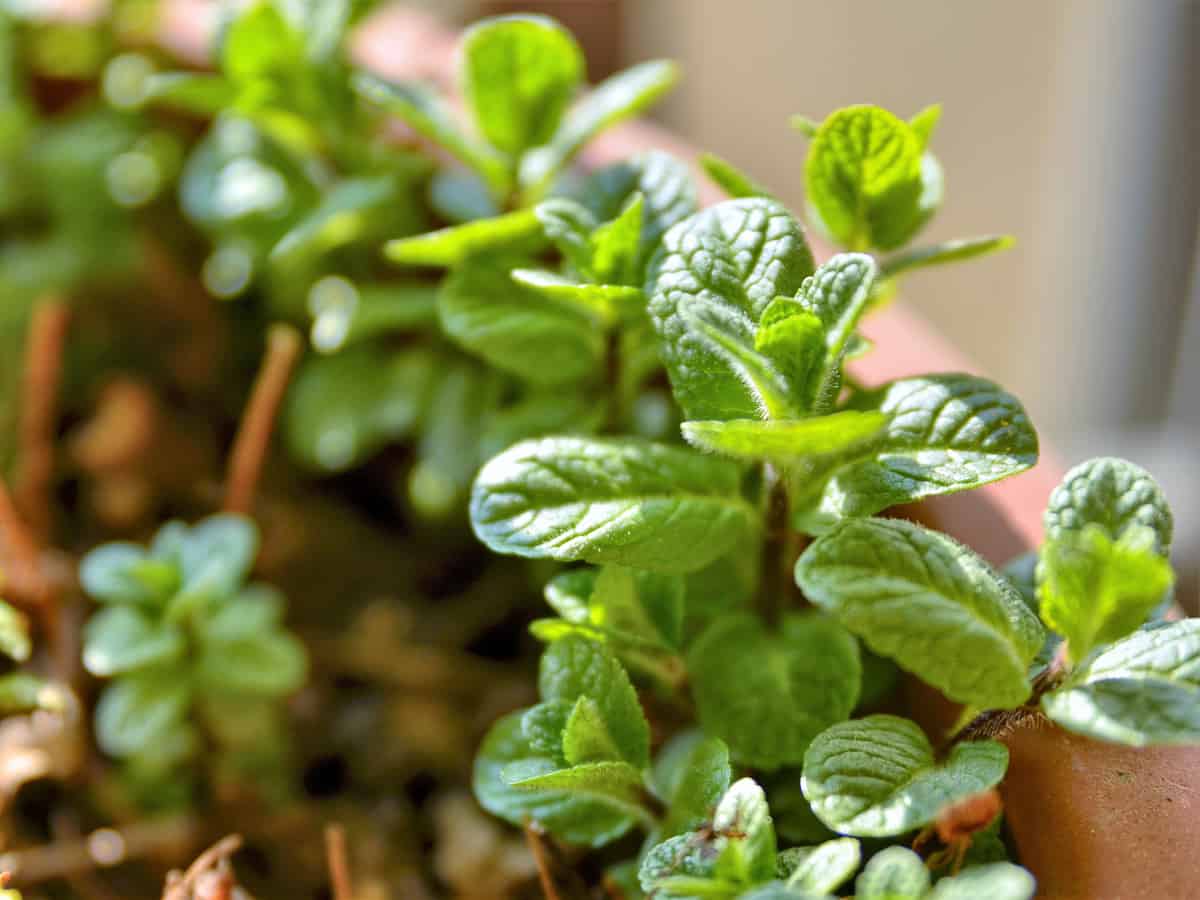 Growing herbs like spearmint indoors freshens up your kitchen and places them in a perfect location for plucking ingredients for your favorite recipes. These plants with scented foliage have bright green leaves that can be crushed and dried to give off a stronger scent or brewed in teas.
Learn how to make a car deodorizer with sprigs of this plant and your car will never again have that musty odor you don't like. Put the sprigs and leaves in a sachet and place it in the door pocket or in the console for a delightful and refreshing scent while you drive.
An invasive plant, spearmint does not play well with others and should be grown in a separate container. This issue, however, makes them excellent fragrant indoor plants that require minimal space and maintenance.
This aromatic herb requires an adequate amount of sunlight to flourish, so placing it in a flowerpot on the windowsill in your kitchen is an ideal location. Fertilizing the plant is not necessary and should only be done sparingly. Adding too much fertilizer can reduce the flavor of the plant. When watering spearmint, keep the soil moist.
Eucalyptus: Oils in Leaves Make a Fragrant Stress-Reliever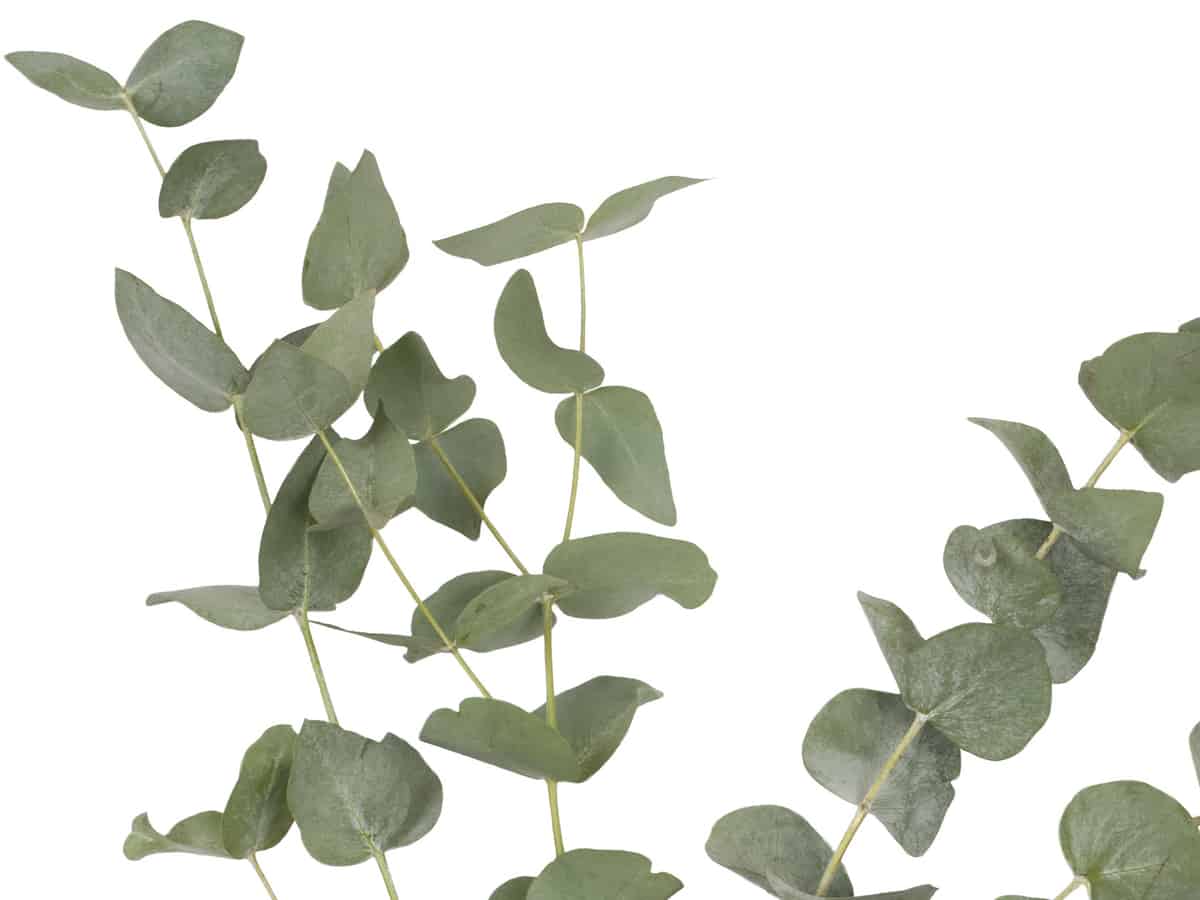 This next plant evokes images of sky-high trees tall enough to hide sleepy koala bears in their branches. When kept in containers, however, eucalyptus stays small and gives off a soft, minty fragrance with subtle notes of honey. The leaves are also used in essential oils to reduce stress and migraines.
Commonly grown eucalyptus plants include Eucalyptus cinera and Eucalyptus gunnii, also known as the cider gum. They require full sun to thrive but are also drought tolerant. As a result, choosing a pot with enough drainage is essential.
Water the plant until the excess moisture escapes from the bottom. Allow the soil to dry before watering again.
Wax Plant (Hoya carnosa): Long-Lasting Plants with Chocolate Aroma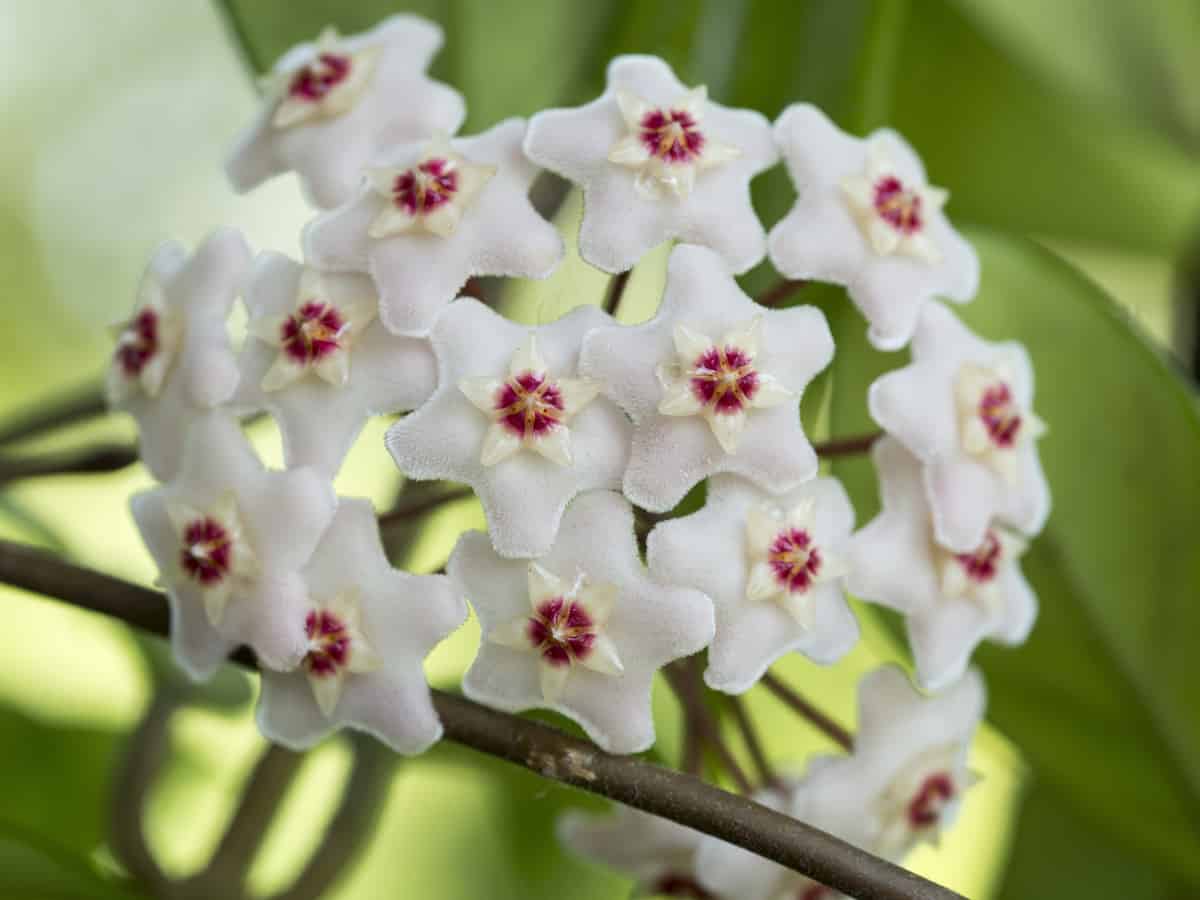 The Hoya carnosa receives its moniker from the delicate star-shaped flowers that look like wax. Do not let these porcelain petals fool you, though. Hoyas are sturdy, low maintenance plants with a long lifespan.
The flowers do not even begin to bloom until after 5 years but thrive much better in pots than they do outside. This fact, combined with its long creeping vines, makes it a spectacular hanging plant that fills your home with the scent of chocolate.
The smell of blooms intensifies in drier, colder climates. Bloom time can last anywhere between early spring and summer to year-round under the right conditions. The important thing is to provide your plant with plenty of light, even if it is artificial lighting.
Night-Blooming Jasmine (Cestrum nocturnum): For a Strong Scent that Travels Far
Another false jasmine, this night-blooming flower is a member of the Nightshade family. The scent is strongest during mid-summer to late fall, but the plant flowers intermittently throughout the year.
These fragrant flowers are not for the faint of heart and cast an aroma to areas within several hundred feet from the plant. Similar to eucalyptus trees, Night-blooming Jasmine requires adequate drainage when in containers.
Add water to the soil when it looks dry, then continue to soak it until water leaks out through the drainage holes. The plant grows quickly and should be trimmed regularly to prevent overgrowth.
English Lavender (Lavandula angustifolia): Dry Cut Flowers to Brighten Your Living Space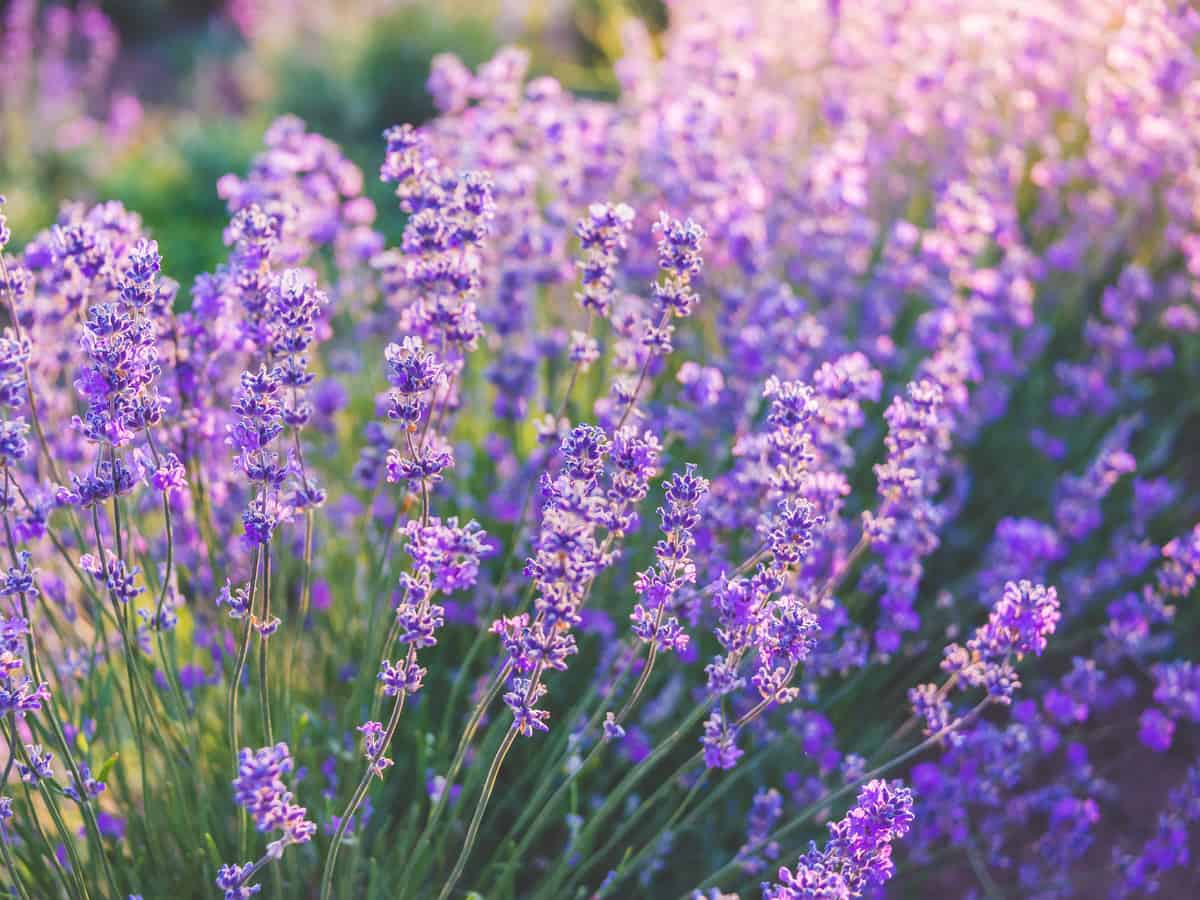 One of the most recognizable indoor plants, lavender is frequently seen in home decor magazines as the final flourish to quaint living spaces. These freshly cut flowers form fragrant bouquets in vases but are much more valuable dried.
Dried lavender is used in wreaths and other DIY creations, adding a heady, floral scent that can last for years.
Smaller variations, like French Lavender (Lavandula dentata), can also be grown in small containers indoors but requires plenty of direct sunlight and space. Less fragrant than its English cousins, French Lavender is just as beautiful and can also be dried to add pops of color around your home.
Lemon Balm (Melissa officinalis): A Natural Mosquito Repellent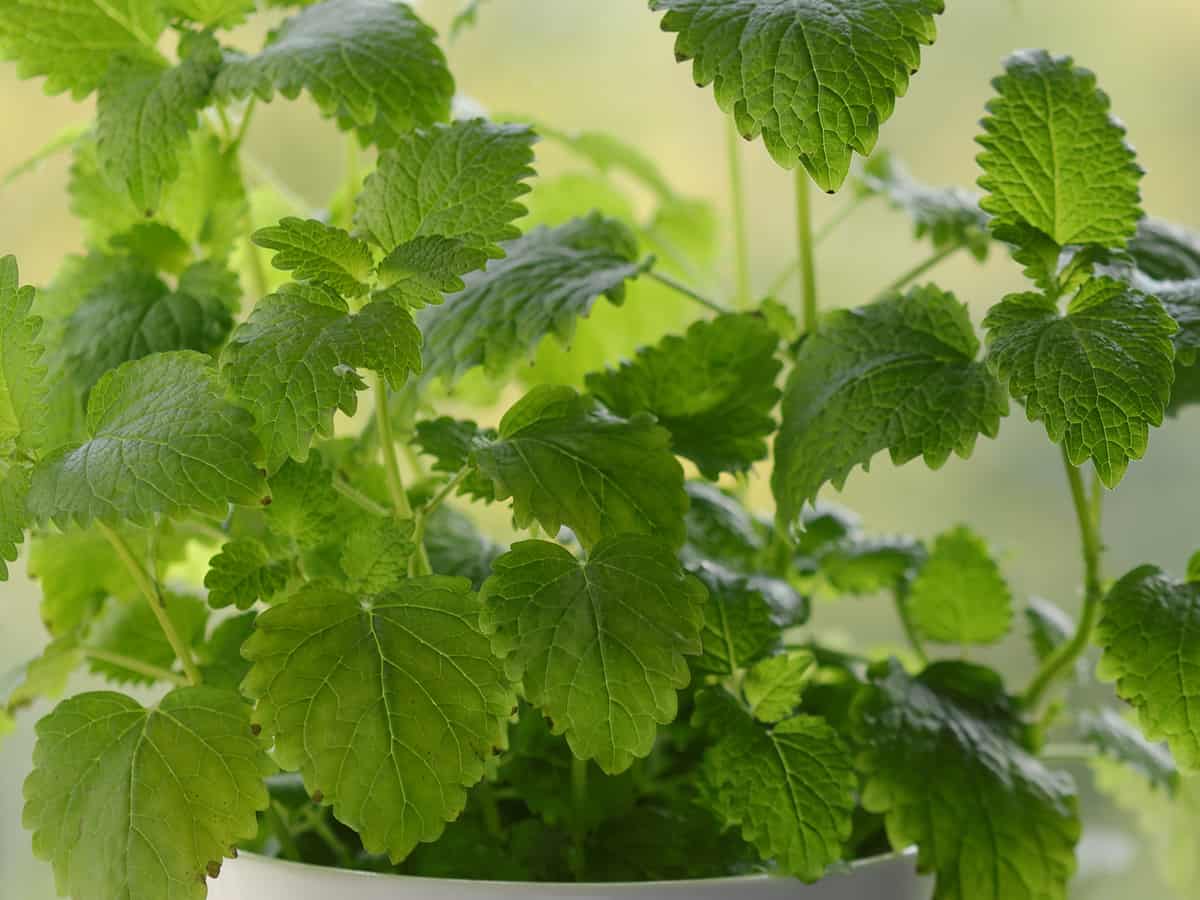 This lemon-scented herb is used in recipes from delicious chicken dinners to homemade soaps. A typical herbal remedy for sores and tummy aches, lemon balm is also a fantastic, natural mosquito repellent.
Preparation is minimal and requires crushing a few fresh leaves before wiping them on your skin. The lemon balm's leaves contain high amounts of citronellal, the main ingredient in citronella candles.
In summer, lemon balm sprouts tiny white flowers, but its scent comes from its bright green leaves which are present year-round indoors. Indoor lemon balm plants should receive as much light as possible. Saturate the roots with plenty of water and let the soil dry before repeating.
Scented Geraniums (Pelargonium): For the Widest Variety of Scents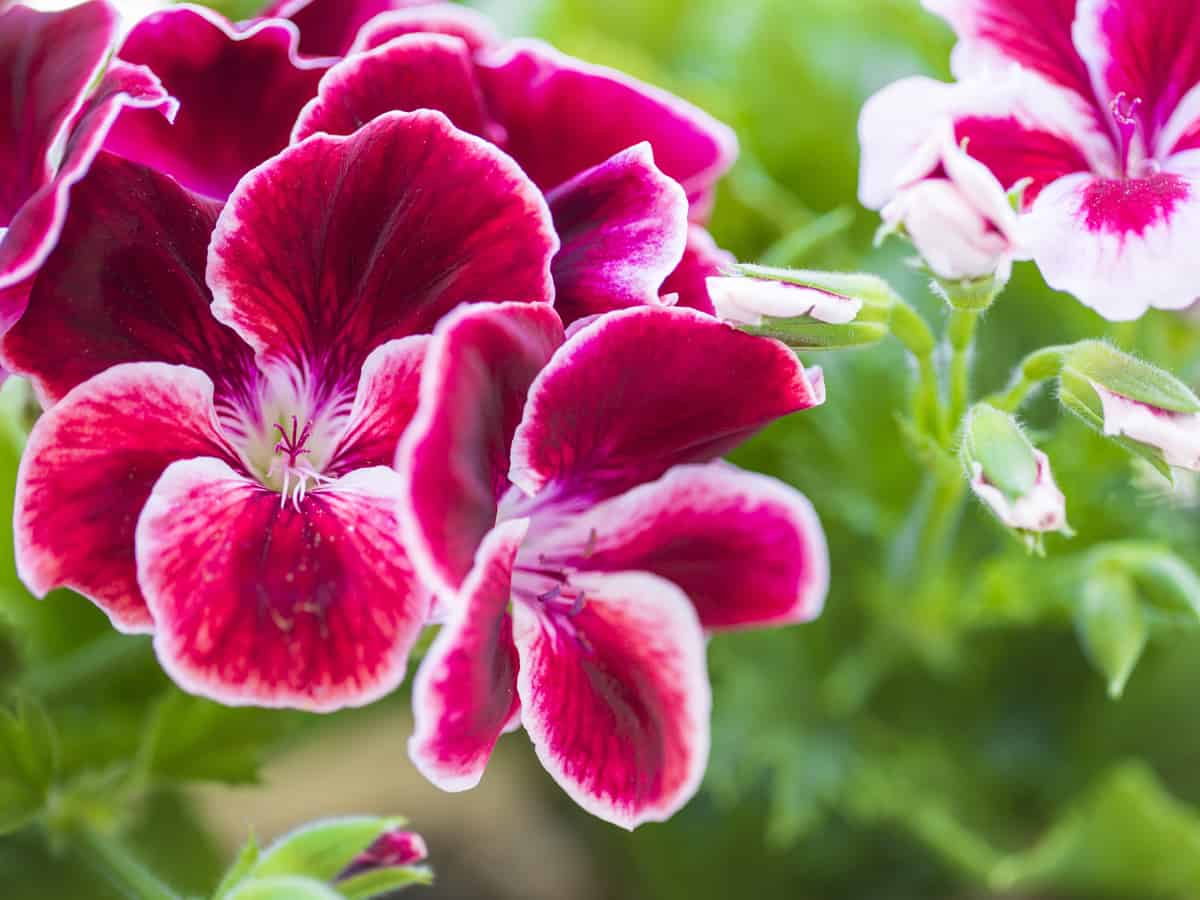 The best feature of scented geraniums is their wide variety of fragrances. These flowers mimic the signature scents of classic favorites like pine, rose, and mint. Some plants may even give off a fruity or spicy scent such as apple or nutmeg.
Under the right growing conditions, these flowers will bloom all year. They are hardier in warmer climates but do very well indoors. Scented geraniums should be fertilized biweekly from spring through the fall, but not at all in winter.
If you are still on the fence in your search for the perfect plants that smell amazing and those that will seamlessly blend with your garden motif, visiting a garden center or nursery will help. Reading about these beautiful fragrant garden residents is the first step in finding your perfect match.
Discovering these smells for yourself will make your decision that much easier. At least now we hope we have pushed you in the right direction.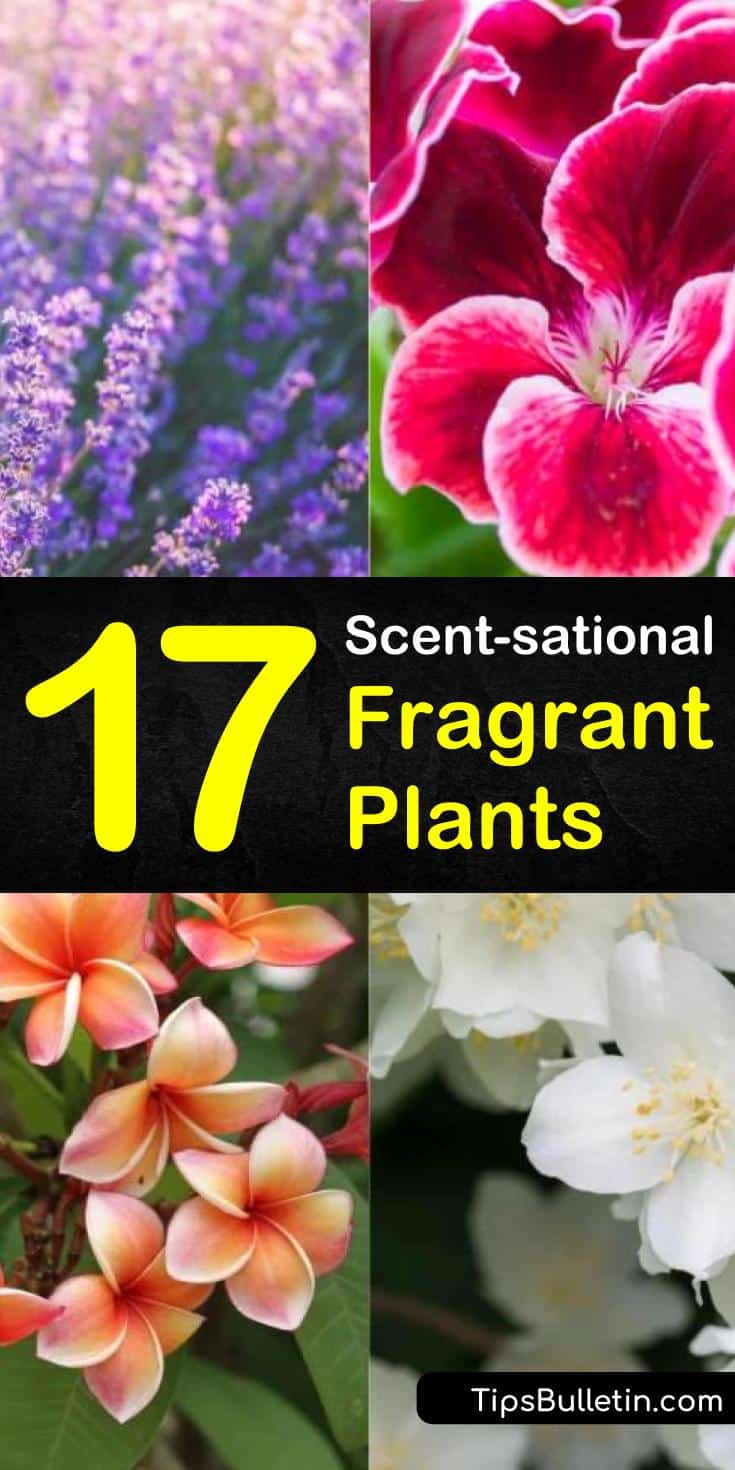 If you found these fragrant plants to be a pleasant addition to your garden, share these outdoor and indoor plants ideas on Pinterest and Facebook.