A large cheese pizza with an extra helping of mushrooms, please. These kinds of fungus seem like an odd thing to enjoy in your food, but they are so tasty it's easy to ignore how very weird they look. There are many types of mushrooms with an assortment of sizes and flavors, and many ways to store them. But, can you freeze mushrooms?
Yes, mushrooms are simple to freeze. Some of them are better frozen after you cook them, and others are perfectly fine to freeze raw. It all depends on the mushroom. It's important to know which mushrooms you have before deciding how to store them in the freezer. Raw mushrooms have high water content, but some more than others.
The water molecules inside them crystalize during the freezing process, rupturing the cell walls. Freezing the wrong kind of mushroom in the wrong manner leaves you with a mushy, slimy mess.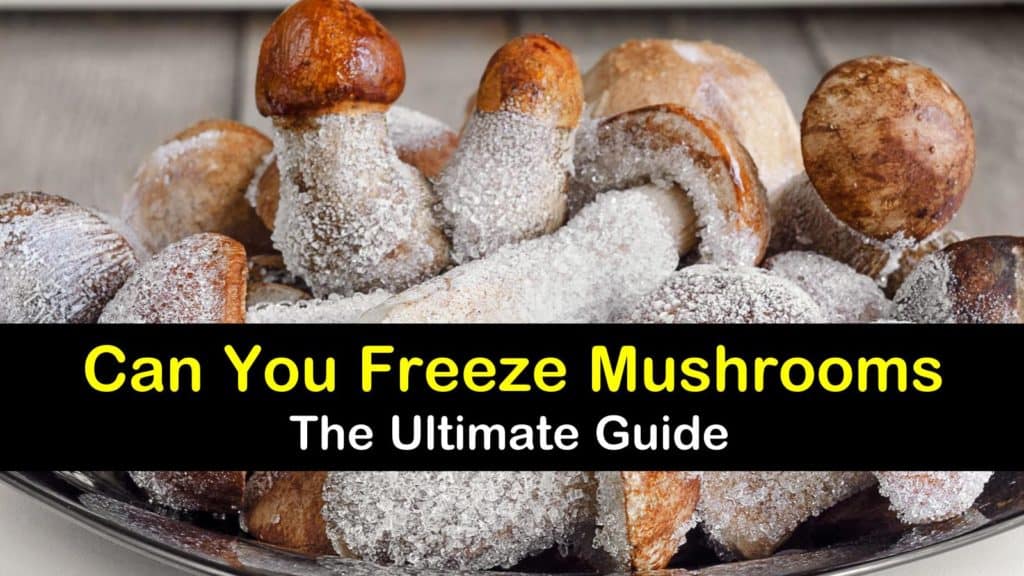 Selecting, Freezing, and Cooking Mushrooms
What is a mushroom? This fungus is different than standard plants you grow indoors or out. However, it's easy to grow yourself or you may just want to purchase them at the store.
Of course, the refrigerator is the best option if you plan to eat your mushrooms within a couple of days. How long do mushrooms last in the fridge? Leave fungi in the fridge for up to a week but using them as soon as possible is best.
Freezing mushrooms is pretty straightforward, as long as you know your mushrooms. Button mushrooms, Shitake, oyster, and wild mushrooms have a better texture if you blanch them before freezing, while a portobello, cremini, or Maitake mushroom is fine to freeze raw.
The goal is to freeze the right mushroom the right way and prevent them from sticking together during the process. Using the correct technique means your mushrooms don't get freezer burn, lose texture and flavor, or freeze in one large clump.
We'll show you how to freeze mushrooms with and without blanching and choose the best ones for freezing.
Of course, freezing isn't the only way to store mushrooms. Canning, making quick pickled mushrooms, and more offer a variety of preservation options.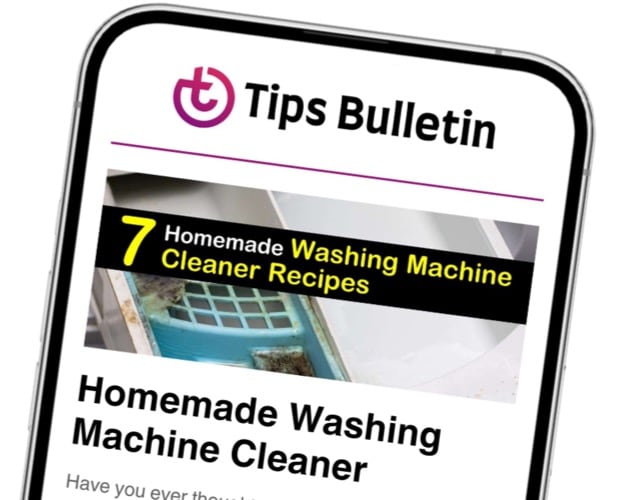 Finally, an email that Transforms Your Home.
Get the latest home and garden tips from our experts, delivered straight to your inbox.
Choosing the Right Mushrooms for Freezing
Before you make your favorite recipe with frozen mushrooms, it's essential to choose healthy mushrooms for the best form and taste. There are many different varieties, and knowing the differences goes a long way to creating the perfect meal.
Healthy Mushrooms
No matter which kind of mushroom you choose, make sure they are fresh and do not have any dark spots. Pick smooth, firm, and plump ones that are dry but not dried out. Discard any mushrooms that have an unpleasant odor.
Check the veil under the cap. If the veil is open, exposing the gills, the mushroom has a richer taste. If the veil is closed, it is more delicate. Button mushrooms are mild, while creminis are pale brown, earthy, and delicate.
Oyster mushrooms are generally pale ivory and briny with a lace-like appearance, while portobellos are rich and meaty. Finally, Shiitakes are medium brown and almost black, full-bodied, and smoky.
Freezing Mushrooms that are Cooked
One of the tastiest ways to freeze mushrooms is by sautéing them first. Cook them lightly with a bit of butter and even add some onions and peppers to liven them up. It's also simple to freeze them if you prefer to steam them.
Wash the mushrooms under cool running water to remove visible dirt. Cut off the ends of the stems and quarter or slice large mushrooms. To saute them, heat a skillet or saute pan over medium heat and add a small amount of butter or oil.
Add the prepared mushrooms and cook for about five minutes, turning them frequently. To steam them, pour water and lemon juice or citric acid into a bowl and soak them in the solution for five minutes to prevent them from darkening.
Steam the mushrooms for three minutes. Remove them from the pan or pot and cool them completely before spreading them on a baking sheet.
When freezing sauteed mushrooms or those you steamed first, place them in the freezer to flash-freeze them. Pack the mushrooms into freezer bags and write the contents and date on the top. Lay the storage bags flat in the freezer and store them for up to a year.
How to Freeze Mushrooms by Blanching Them First
Blanching is a very mild form of cooking and is often required for freezing certain food items. This process, as part of the best ways to preserve mushrooms, helps remove surface dirt and microorganisms, and stops enzyme actions. It enables the mushrooms to keep their texture, flavor, and color.
Wash the fresh mushrooms under cold water, trim off the ends, and slice them into desired sizes. Pour water and ice into a large bowl and set it aside. Boil a pot of water and add the mushrooms to the boiling water for one to two minutes.
Use a large slotted spoon to move them from the hot water to the ice water bath to quickly stop the cooking process. Strain the mushrooms in the sink, place them into a freezer-safe container, and store in the freezer for a year.
Can You Freeze Mushrooms without Blanching?
Not all types of mushrooms need blanching before freezing, just like you can take care of freezing greens without blanching if you don't have the time. The best way to freeze mushrooms without blanching is to choose the right ones first.
Portobellos, button mushrooms, creminis, Maitake, and hen of woods mushrooms are good candidates for raw freezing.
What about freezing other veggies? Does celery freeze well? How about tomatoes? Freezing is one of the most popular methods of food preservation and works for almost all vegetables.
Wash the whole mushrooms under the kitchen faucet to clean away dirt and pat them dry with a paper towel. Prepare them by removing the ends and slicing them into desired sizes.
Spread the mushroom pieces in a single layer on a baking sheet and set them in the freezer for about two hours to flash freeze them. Slide the frozen mushrooms into a freezer bag or airtight container and store them in the freezer for about one year.
Stuffing and Freezing Portobello Mushrooms
If you've never had a stuffed portobello mushroom, you're missing out. These meaty caps filled with chicken, cheese, onions, and other bits of goodness are what dreams are made of, are easy to prepare ahead of time, and freeze until later.
Clean the mushroom caps under cold running water and scrape the gills into the bowl. Add the remaining ingredients into the large bowl and stir well.
Scoop the filling into each of the mushroom caps until they are overflowing and place them filling side up on a baking sheet. Set them in an oven preheated to 350°F for 20 minutes until they cook through, and the cheese melts.
Remove the stuffed caps from the oven and allow them to cool completely in the refrigerator. Place each cap into a separate freezer bag and gently press air out before sealing it.
Freeze the stuffed mushrooms for up to four months and reheat them in the microwave or oven.
Thawing Frozen Mushrooms for Meals
You have a freezer full of frozen steamed, blanched, raw, and sauteed mushrooms, so what's for dinner?
Mushrooms often do not need thawing and are tossed frozen into casseroles or other dishes, but there are times when thawing is required. Here is how to thaw frozen mushrooms.
Thawing Mushrooms
Remove the bag or container of frozen mushrooms from the freezer the night before and place them into the refrigerator.
Do not thaw them on the counter at room temperature to prevent them from getting soggy. After the mushrooms thaw, add them to any dish as usual.
Making Stir-Fry with Frozen Mushrooms
Stir-fries are a great way to cook veggies, mushrooms, rice, and other ingredients and are easily personalized by adding different seasonings and sauces.
This is our favorite recipe with frozen mushrooms and only takes 30 minutes to cook. It calls for portobello mushrooms, but any mushroom is a great choice.
Set a pot over high heat, add the water and rice, and bring it to a boil. Cover and lower the heat for 30 minutes. Preheat the wok over low-medium heat and add a half teaspoon of the coconut oil and onions and saute them until they are almost translucent.
Turn the heat to high and add the remaining oil, mushrooms, and broccoli. Cook the ingredients for a few minutes while frequently stirring, until the mushrooms are brown and the broccoli is tender but not soft.
Add the soy sauce, green onions, and peas and cook for 30 seconds before adding the rice. Stir well to bring all ingredients together and remove from the heat.
Mushrooms only last about seven to ten days in the fridge before they get nasty. Fortunately, they are easy to freeze in a matter of minutes.
If you freeze them correctly, all that's left to do is pull a bag out of the freezer, grab a handful of frozen mushrooms, and toss them into your favorite meal.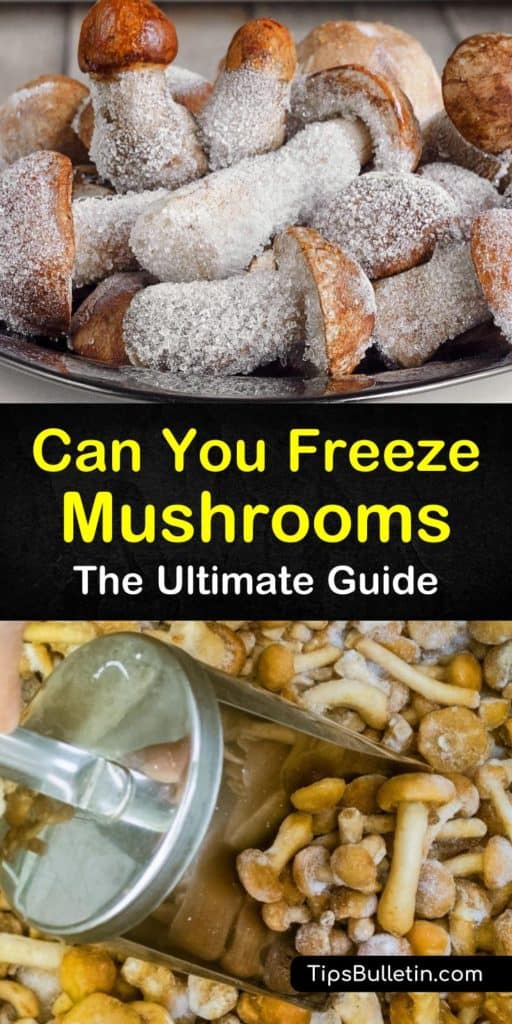 We hope that answering your question, can you freeze mushrooms, keeps your freezer stocked, and we'd love it if you'd share our mushroom freezing tips and recipes with your friends and family on Pinterest and Facebook.