The best way to make home cooked food taste better is to incorporate more herbs into your recipes. We assume that the fresher the herbs are, the better they taste. Though this is an excellent general rule to follow, most people don't understand the importance of knowing when to use fresh vs dried herbs.
What is the difference between fresh and dried herbs? How do you substitute fresh herbs for dried? These are both common questions that we will answer in this detailed article. Unless you have an at-home garden filled with flourishing herbs, then you are probably buying whatever you can from the grocery store. Fresh herbs may be ideal for some. Still, dry herbs have their place in the kitchen.
Some recipes thrive off the dried ones because they often have a stronger flavor. If you find yourself jumping back and forth between which to use, we put together a quick guide to help make the decision easier.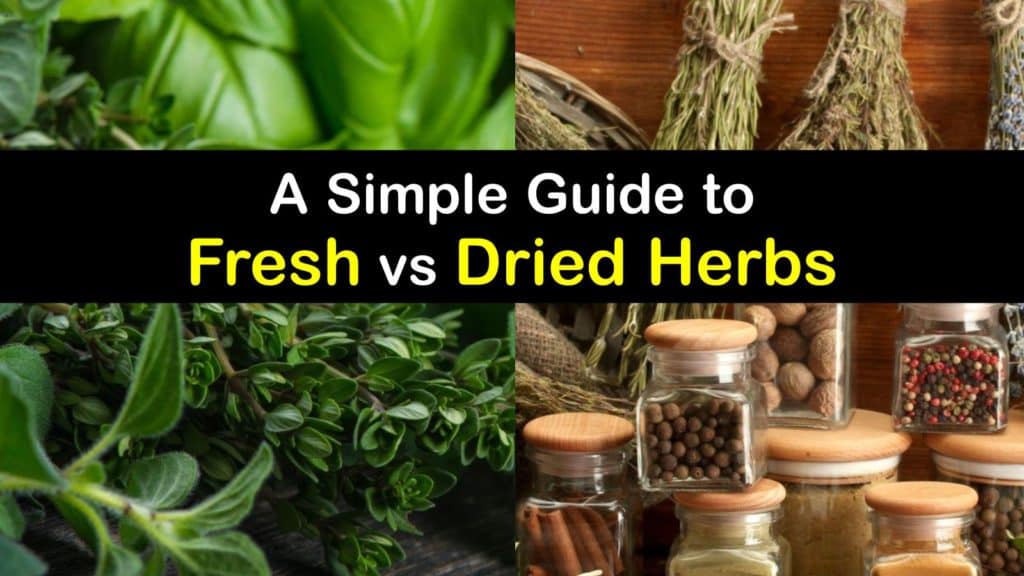 The Difference between Fresh and Dried Herbs
Comparing fresh vs dried herbs isn't that simple. Most home cooks even assume that they're the same. This common belief couldn't be further from the truth. Take some time to understand what benefits each one offers and how to make some yummy recipes with both.
What are Dried Herbs?
Dried herbs are created when someone takes fresh herbs and puts them through a drying process to help preserve their flavors and make them more shelf-stable.
The drying of the herbs gives them a more concentrated flavor, meaning you use less during the cooking process than with fresh. If the dried herbs lack any taste, they likely expired or are close to their best-by date. In general, any dry herbs over one year old are less flavorful.
When to Use Dried Herbs
Dried herbs are usually preferred when cooking something on the stovetop for more than five to ten minutes. You don't want to put these in toward the end of cooking because they won't have time to soften, whereas fresh herbs soften almost immediately.
While it's possible to use fresh herbs in dishes that cook for more extended periods, they don't hold up as well. Dried herbs take more time to release their natural oils but have the same overall flavor profile.
It is best to add dried herbs directly to recipes while cooking to infuse their flavor into the whole meal. The flavor won't be as potent if you add them at the end. Some herb varieties hold onto their flavor better after the drying process.
When you store these dry herbs at room temperature and in a cool, dark place, they last for a long time. Still, pay attention to the expiration date to ensure all of your food continues to taste delicious.
For an easy way to incorporate a bunch of dried herbs, create your own salad dressings with your favorite herbs and spices. Swap the ingredients listed here with others to create a custom dressing.
Carefully pour the ingredients into a small jar. Seal the jar and shake everything to help it combine. Store the salad dressing in the fridge until you're ready to use it. Shake the jar once again before pouring it over salad or using it as a marinade for chicken or Italian meatballs.
What are Fresh Herbs?
Fresh herbs help take your favorite dishes to the next level. What was once a bland tomato sauce is turned into delicious spaghetti that tastes as if it comes straight from Italy. Add fresh herbs at the end of cooking a meal or use it as a garnish just before serving.
There are two types of fresh herbs: soft herbs and hard herbs. Soft herbs have a lighter flavor and are usually better for raw preparation.
Examples of soft herbs are fresh basil and parsley. Hard herbs can also be enjoyed fresh but are much tastier after cooking them. Examples of hard herbs are fresh rosemary and fresh thyme sprigs.
It's easy to find fresh and dried herbs at the grocery store, but fresh ones are easy to grow and produce a high yield in little space.
When to Use Fresh Herbs
Fresh herbs are perfect for almost any recipe or situation. They are great for raw salad and often offer a refreshing, light flavor. It doesn't matter if you're on any food restrictions, like a gluten-free diet, either. They are your healthiest option for adding deep flavors to food.
If you enjoy adding herbs to your food, note that one big difference between basil and bay leaves is that dried bay leaves are favored, but fresh basil leaves are also preferred.
One of our preferred recipes to use with fresh herbs is basil pesto. Do not substitute dried basil for the fresh leaves in this recipe. The outcome won't be the same.
Place the pine nuts into a food processor with the bay leaves. Pulse the two ingredients several times. Add the minced garlic and cheese. Scrape down the sides of the food processor bowl with a rubber spatula.
With the food processor running, slowly add the olive oil. Stop every 15 seconds and use your rubber spatula to scrape down the sides.
Continue to add oil until you reach a consistency you like. Season the pesto sauce with salt and pepper and add more to taste. Toss with cooked pasta, marinate with chicken, or dollop over potatoes for a mouthwatering meal.
Fresh vs Dried Herbs
You now understand each type of herb, but what are the specific ways they compare to one another aside from flavor?
Moisture Content
Dried herbs have been heated to the point that all of the moisture is removed. As a result, a fresh herb has a juicier, fresher bite than the dried version.
Shelf Life
The shelf life is a significant factor people consider when buying fresh vs dried herbs. Dried herbs are shelf-stable and last for about a year before going bad.
Fresh herbs only last about five days in the fridge for their maximum flavor. Once they start to brown or lose their aroma, they aren't worth using. Growing herbs at home is ideal because it allows you to pick them right before using them.
Price
You would think that the process of drying herbs would make them cost more. However, that isn't the case. Fresh herbs cost more because they are perishable and have to be refrigerated. Dried herbs last a lot longer than the fresh ones, giving you more bang for your buck.
How to Substitute Fresh Herbs for Dried
Figuring out how to substitute fresh herbs for dried is a bit tricky if you've never done it before. The most important piece of information to remember is that dried herbs are more pungent than fresh.
A fantastic rule of thumb to follow is that you need three times the amount of fresh herbs than dried, and vice versa.
For example, if a regular recipe calls for one tablespoon of dried herbs, you would use three tablespoons of fresh herbs. If it calls for three tablespoons of fresh herbs, you would only use one tablespoon of dried.
It is easier to add more if the flavor isn't there than add too much to the point that you can barely choke it down. If you don't want to substitute dried herbs for fresh, that's okay too. Some people even use a mix of both fresh and dry.
Ground Spices vs Whole Spices
Another topic that comes up when cooking is what the difference is between whole and ground spices. We have covered fresh-vs-dried-herbs topics, but spices and herbs often go hand-in-hand when cooking.
Spices are at their most robust flavor when they are freshly ground. It is common to buy pre-ground spices at the store. Some people prefer to keep them whole and grind them right before adding them to a dish.
Spices often come from the flowers, roots, stems, and seeds of plants. Common cooking spices you might be familiar with are black pepper, cardamom, cloves, cumin, ginger, mustard seeds, and turmeric. Planting turmeric root and other spices is not that difficult but often takes a little time.
Ground ginger is one of the most well-known that people buy, although it is easy to keep it whole until ready to use. What is the difference between ginger and ginger root? You can use either in most recipes that call for ginger.
Storing Herbs
Every family has its own methods for storing herbs. Storing dry herbs is simple. Put them in a dry, dark place at room temperature. Fresh herbs are a bit different. There are a few excellent ways to store fresh herbs.
If your dried herbs come in a plastic container from the grocery store, leave them in the airtight packaging until you are ready to use them. They typically last a couple of weeks this way.
If they don't come packaged, storing fresh basil and other leafy herbs is easy. Wrap your herbs in damp paper towels and put them in the fridge crisper drawer. Keep the herbs on top of the other produce in the drawer to stop them from getting crushed and bruised.
Another way to store fresh herbs is to set the stems in a glass of cool water and keep them in the fridge. Make sure to swap out the water daily to keep them from rotting. This is an excellent way for properly storing cilantro until you are ready to use it.
Some people prefer to use their herbs in other ways in the kitchen, whether fresh or dried. Herbs have many medicinal benefits, and people turn them into DIY essential oils to use around the house.
Set your herb of choice in the crockpot and cover it with water. Don't fill the crockpot more than three-quarters full. Put the crockpot lid on the pot and turn it on high. Once the water is hot, turn it to low and allow it to cook for four hours.
Once the herbs cook down, allow the solution to cool. Place the crockpot in your fridge overnight. The following day, remove the crockpot from the fridge.
Work quickly to skim the thin film of oil from the top of the solution. Pour the herb oil into a bottle and seal it. Label the content of the bottle and discard any remaining liquid.
Shopping for Fresh Herbs
Shopping for dried herbs isn't the same as shopping for fresh. Dried herbs come prepackaged, and all you have to do is throw them into your cart. Fresh herbs might not be as fresh as you think.
The best herbs to buy are vibrant with color, aromatic, and have crisp leaves. Rubbing one of the leaves on your hands releases the oil and makes it easier to smell.
If you don't smell anything, the herbs won't add much flavor to a dish. When working with herbs, it's best to rely on your senses.
Growing Herbs
Having a personal herb garden isn't a challenge. Many people even have them sitting right on their windowsill inside the house.
As long as you give them fertile soil, full sun, and water, the herbs are likely to grow regardless of the ones you choose. Practice planting herbs next to each other that repel bugs and enhance the soil. Some of our favorite herbs for indoor gardening are mint, chives, cilantro, parsley, and basil.
Our favorite foods wouldn't taste the same if it weren't for the powerful aroma of both fresh and dried herbs. These plants are a staple in almost every household, and they are a truly magical discovery.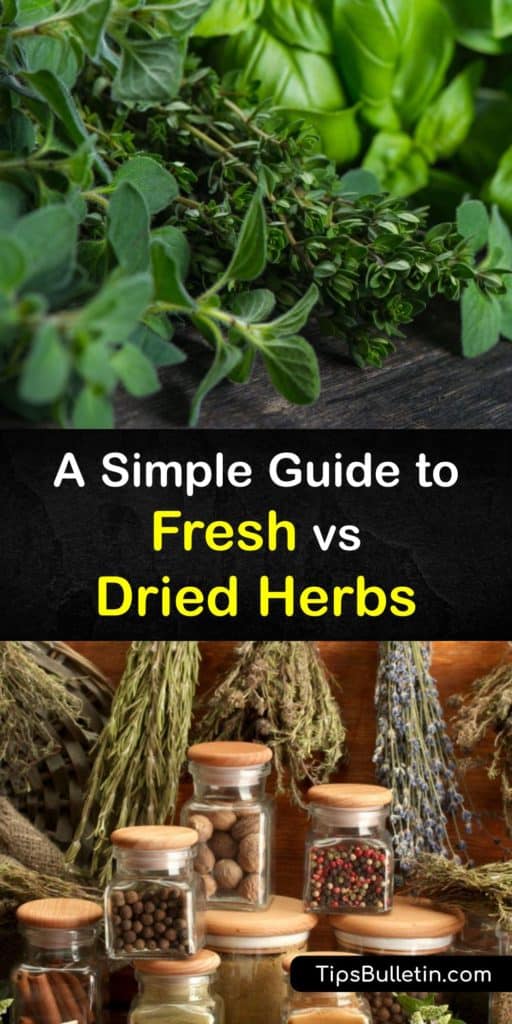 If this article comparing fresh vs dried herbs helped you use them properly in the kitchen, share this guide explaining the difference between fresh and dried herbs on Facebook and Pinterest.