Have you discovered a swarm of tiny flying insects buzzing around your kitchen that resembles a house fly? You may automatically jump to the conclusion that you have a fruit fly infestation and grab the phone to call in the pest control experts. However, you may not be dealing with fruit flies at all. Compare fruit flies vs gnats to learn the differences.
These small flies could be gnats. Now, you may be thinking, are fruit flies and gnats the same thing? The easy answer to your question is no. Fruit flies & gnats aren't the same. Both fruit flies and gnats belong to the Dipterans order of insects.
However, fruit flies belong to the Tephritidae and Drosophilidae family of the order, while fungus gnats belong to the suborder, Nematocera and include the Mycetophilidae, Anisopodidae, and Sciaridae families. So, how can you tell if you are dealing with gnats or fruit flies?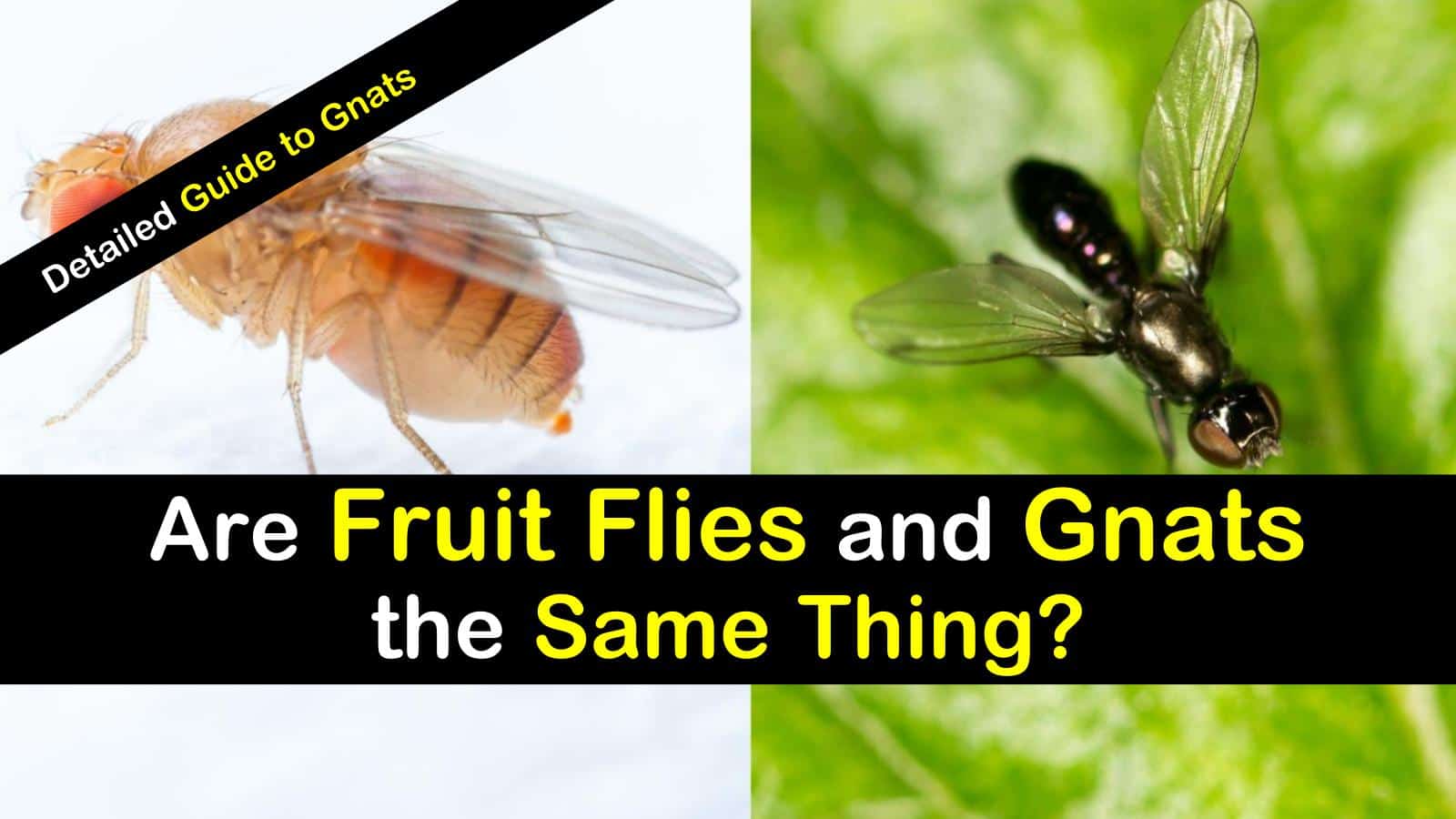 What are the Main Differences between Fruit Flies and Gnats?
When it comes to the age-old question fruit flies vs. gnats, some distinct differences between the two can help you determine which of the pests you are dealing with. The fruit fly typically has a brownish head and thorax, and bright red eyes, which sets them apart from different types of gnats in house. Fruit flies also have a distinct black color pattern on their wings and a dark tail and abdomen.
Gnats, on the other hand, are black with black eyes. Compared to their small bodies, which measure approximately ¼ to ¾ inch in length, a black gnat's wings are disproportionately large. Fungus gnats also have large, gangly legs, that resemble those of mosquitoes, giving them the ability to jump and fly quickly.
They also differ slightly in their life cycle. The lifespan of a gnat is different from a fruit fly. While fungus gnats have a life cycle of about four weeks, fruit flies have a life cycle of 30 days, but can survive for up to three months if the conditions are right. Soil gnats love to lay eggs in the moist soil of potted plants that are watered frequently.
The excess moisture in the plant's soil provides the perfect place for fungus gnat larvae to thrive on the organic matter and roots of your plants, which is their favorite food source, and grow into mature adult gnats.
Fruit flies, on the other hand, thrive on ripe fruits & vegetables sitting on your kitchen countertops and in your garbage cans, while drain gnats or often called drain flies like to feed of organic material in your garbage disposal and sink drains. The female fruit flies plant their eggs on the decaying organic material so that the resulting fruit fly larvae can feed on the rotting fruit and grow into adult fruit flies.
How Can I Quickly Get Rid of Gnats and Fruit Flies?
Whether you are dealing with fruit flies or gnats, there are several quick and easy ways to get rid of your fly problems, that don't require you to spend a lot of money. If you are looking for an immediate solution to get rid of gnats and fruit flies, here are several simple traps that you can make at home with everyday items to help get rid of your gnat infestation.
The most convenient and most accessible way to get rid of gnats is by purchasing or making your fruit fly traps. There are several kinds on the market that you can easily buy at your local home improvement store, or you can create sticky traps yourself from materials that you already have in your home. To make yellow sticky traps, take some brightly colored paper and cut it into strips.
Spread some honey on one side of the trap and place it, sticky side up, in the areas where you have a gnat problem. The gnats and fruit flies will be attracted to the sweet smell of the honey and become trapped on the paper strips when they land.
You can also use a paper cone and a piece of ripe fruit to lure gnats and fruit flies into a trap. Place a small amount of vinegar and a bit of overripe fruit in the bottom of a jar. Then, take a piece of paper and roll it into a cone, and place it in the pot, with the narrow opening pointing down. The smell of the fruit and the vinegar will draw the small black flies into the jar, but won't be able to get back out.
Are There Ways to Kill Fruit Flies Naturally?
If you want to get rid of fruit flies without resorting to toxic chemical pesticides, then there are several ways for how to kill fruit flies naturally, using safe, non-toxic ingredients. The go-to method that people often use to kill fruit flies is to construct a DIY cider vinegar trap.
Add all of the ingredients to the container and mix well. Place the bowl in areas around your house, like the garbage, sink drain, and potted plants, where you tend to find the most gnats.
The flies are attracted to the sweet smell of the vinegar and will fly into the container. The liquid soap will coat their legs and wings, rendering them unable to fly, and effectively drowning them in the liquid.
You can also make a similar trap using red wine. Just like with the vinegar, the gnats and fruit flies will be attracted to the sweet smell of the liquid and will drown when they become covered with the dish soap.
While fruit flies vs gnats are both incredibly annoying little pests, especially when they infiltrate your home, they are very different. When deciding on how to deal with these tiny pests, it's important to know which one you are dealing with as some extermination methods will work better than others depending on the kind of fly you have.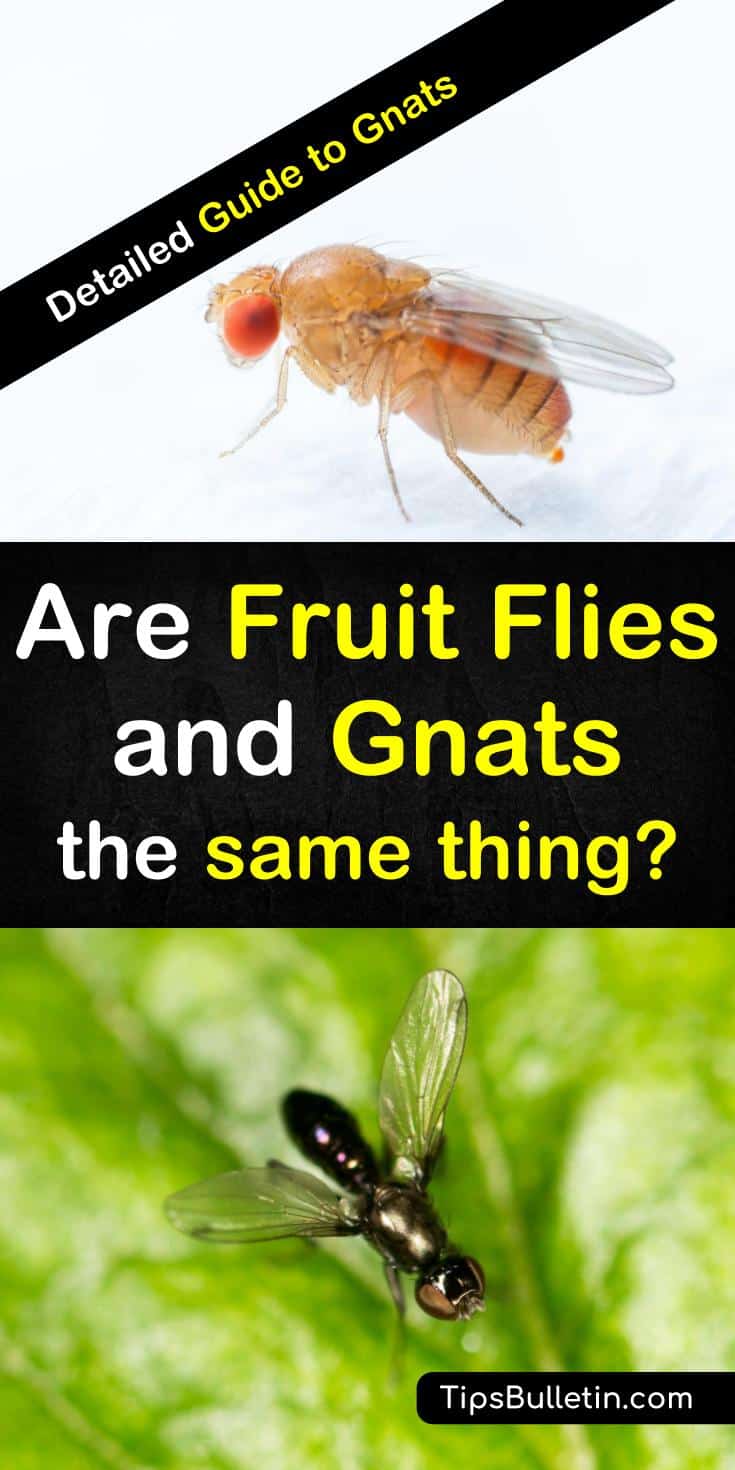 We hope you enjoyed learning the differences between fruit flies vs. gnats. If you found the information in the Q&A useful, please feel free to share it with all of your family and friends.