There's something so exciting about growing fruit at home. Although the results may not be perfect, it's incredible to think that you've cultivated the plant from its beginnings to the delicious fruit that you're putting in your mouth. Thankfully, the ability to grow fruit trees as shrubs allows you to savor homegrown fruit no matter your yard's size.
Some fruit naturally sprouts on shrubs or small trees. It's possible to graft others onto a dwarfing rootstock to reduce the mature tree's size. Among others, you can raise berries, citrus fruits, and stone fruits.
When planting fruit trees, pollination is key. Most species require two to three compatible plants close together so they can pollinate each other. A few species are self-fruitful, meaning that you only need one plant to enjoy fruit.
Fruit Trees that Make Excellent Shrubs
When adding bushes to your yard, it's important to note the proper placement and soil conditions, as well as the type you want to grow. Choose shrubs with color all year or smaller trees that yield delicious fruit. You can even grow tomatillos or tomatoes.
If this is your first time working with fruiting plants, you may be wondering how to get started. You have several options depending on the species.
How to Grow Fruit Trees as Shrubs
A fruit tree from a nursery may be in dormant bare-root form, in a container, or balled-and-burlapped. Another popular option is grafting onto a rootstock. Unlike raising from seed, this method guarantees that the tree develops true. A mulberry tree vs mulberry bush is determined by the size of the plant.
However, a few fruiting plants, like blackberries, are possible to grow from seed. You may also choose to propagate with cuttings.
When to Plant Fruit Trees
Set up bare-root specimens during the tree's dormancy—generally in late winter or early spring. This timing ensures that the plant has time to get settled before the winter.
There's more flexibility with potted and balled-and-burlapped trees. Plant them anytime the weather permits.
Keep an eye on your plants. You may need to make a homemade deer repellent for fruit trees if they discover them.
Blackberry (Rubus fruticosus)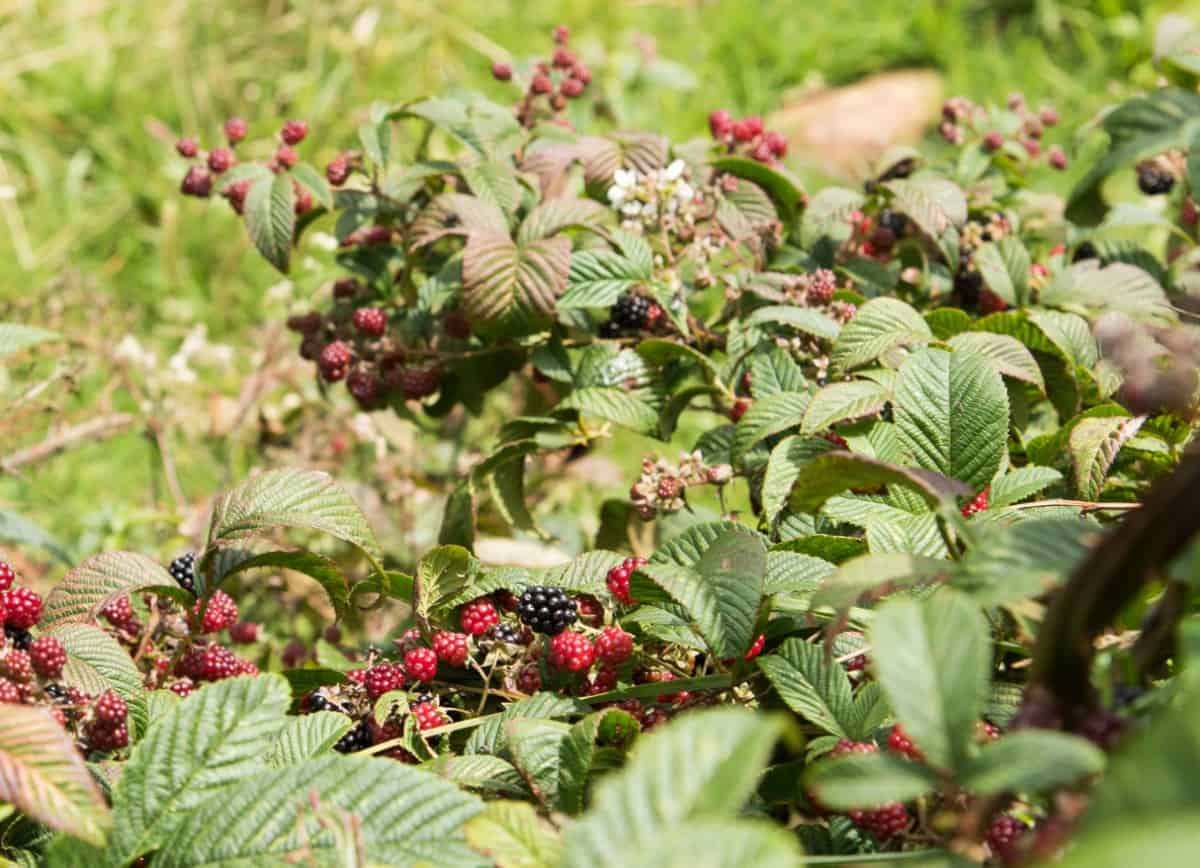 While many wildlife species enjoy blackberries, the spiny thorns make them shrubs to repel deer and other creatures if they get too close. Blackberries are not the same as blueberries in this way, as blueberries have no thorns. The blackberry shrub's berries start green before turning red, then black.
Put a bare-root or potted plant in the ground in early spring, sow seeds in the fall, or use late spring stem cuttings.
This plant needs cold to germinate but does not appreciate regular freezing temperatures or hot, dry wind. Place it in full sun—with afternoon shade if summers are hot—and fertile, well-drained, slightly acidic to neutral loam.
Blackberry plants can be upright shrubs with thorns, or trailing, in which case they act as groundcovers unless there's support.
When growing blackberries, give your plant mulch and one inch of water weekly. Spread 10-10-10 fertilizer in the spring, then manure and compost in the fall. Prune fruit-bearing canes after their second year.
There is not a significant difference when planting mulberry vs blackberry, so you can plant both in your yard to enjoy the fruits in season. A mulberry tree does typically grow taller so factor that into your garden planning.
Nectarine (Prunus persica var. nucipersica)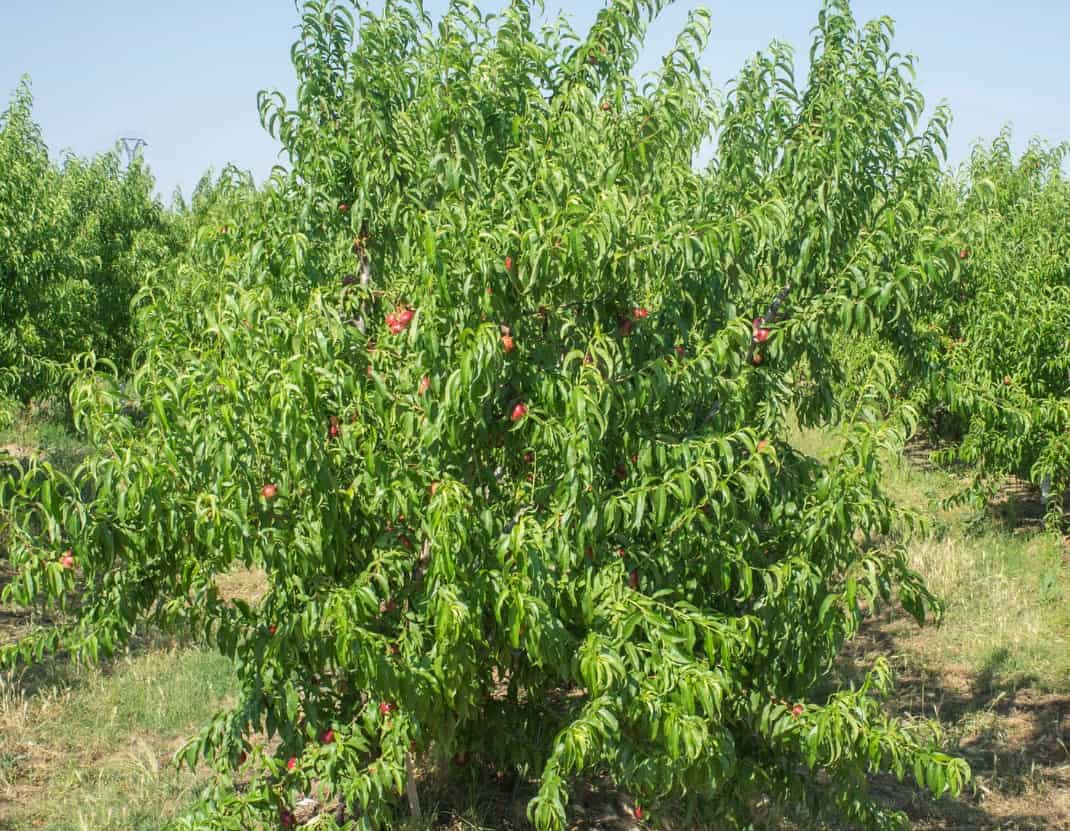 This cold-hardy tree displays pink flowers. Nectarines are mutations of peach trees, producing fruit that's smooth-skinned and smaller. New varieties are self-fruitful.
Plant the nectarine tree in the fall or spring somewhere with full sun, wind protection, and well-draining soil. Water regularly during the summer. In late spring or summer, add nitrogen-rich fertilizer.
Distribute organic mulch. Apply fungicide in the spring to prevent brown rot and copper spray in the fall—thin the fruit in the summer and the branches in the winter.
Apricot (Prunus armeniaca) – A Fruiting Plant with a Stone Fruit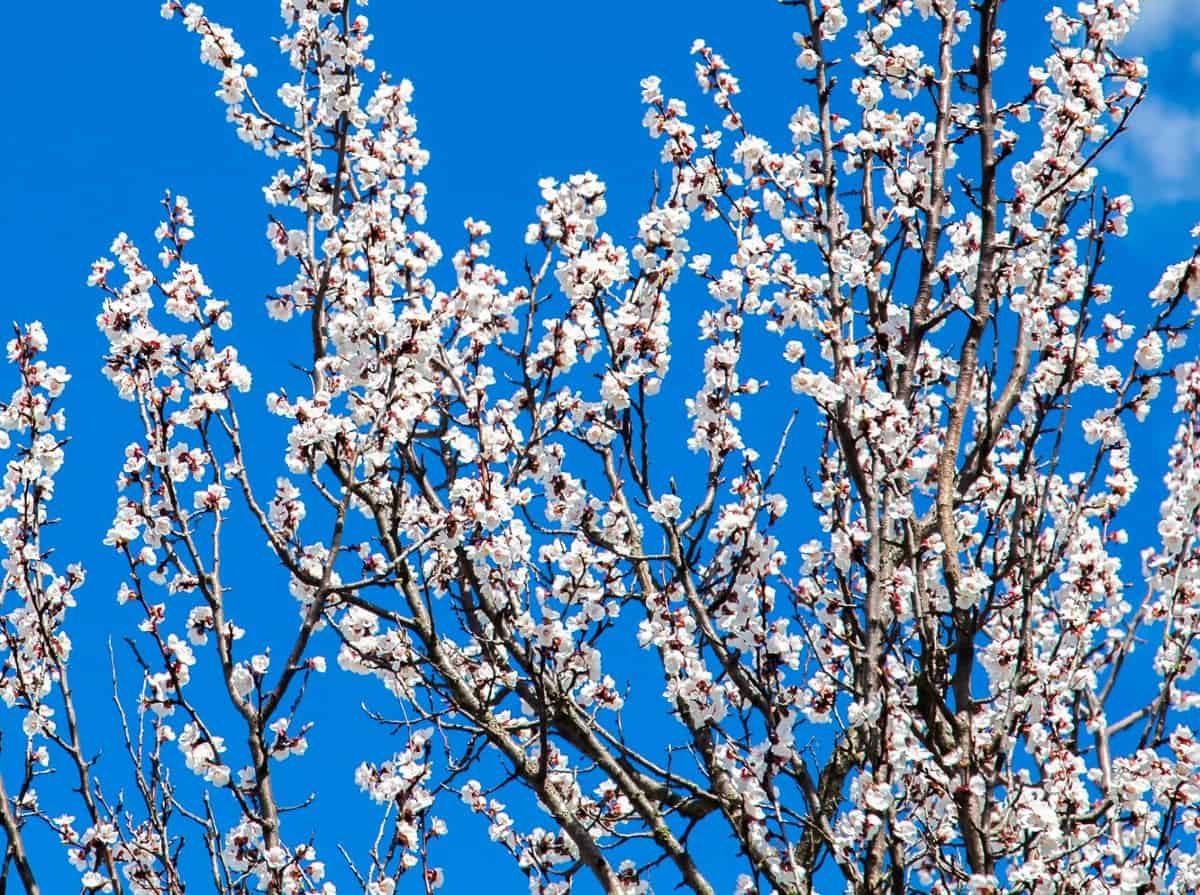 This self-fruitful tree yields blushing-orange, velvety-skinned fruit. It prefers to receive plenty of heat and sun and blooms early, so make sure to set it somewhere with protection from the cold.
Propagate apricots by grafting onto a rootstock. Use deep, fast-draining soil rich in organic matter. Apricot plants do not tolerate high levels of salt, boron, chloride, and other elements.
Usually, they get their necessary nutrients from the soil. Give them one inch of water weekly, spray fungicide in the spring, and prune between early summer and late fall.
European Plum (Prunus domestica)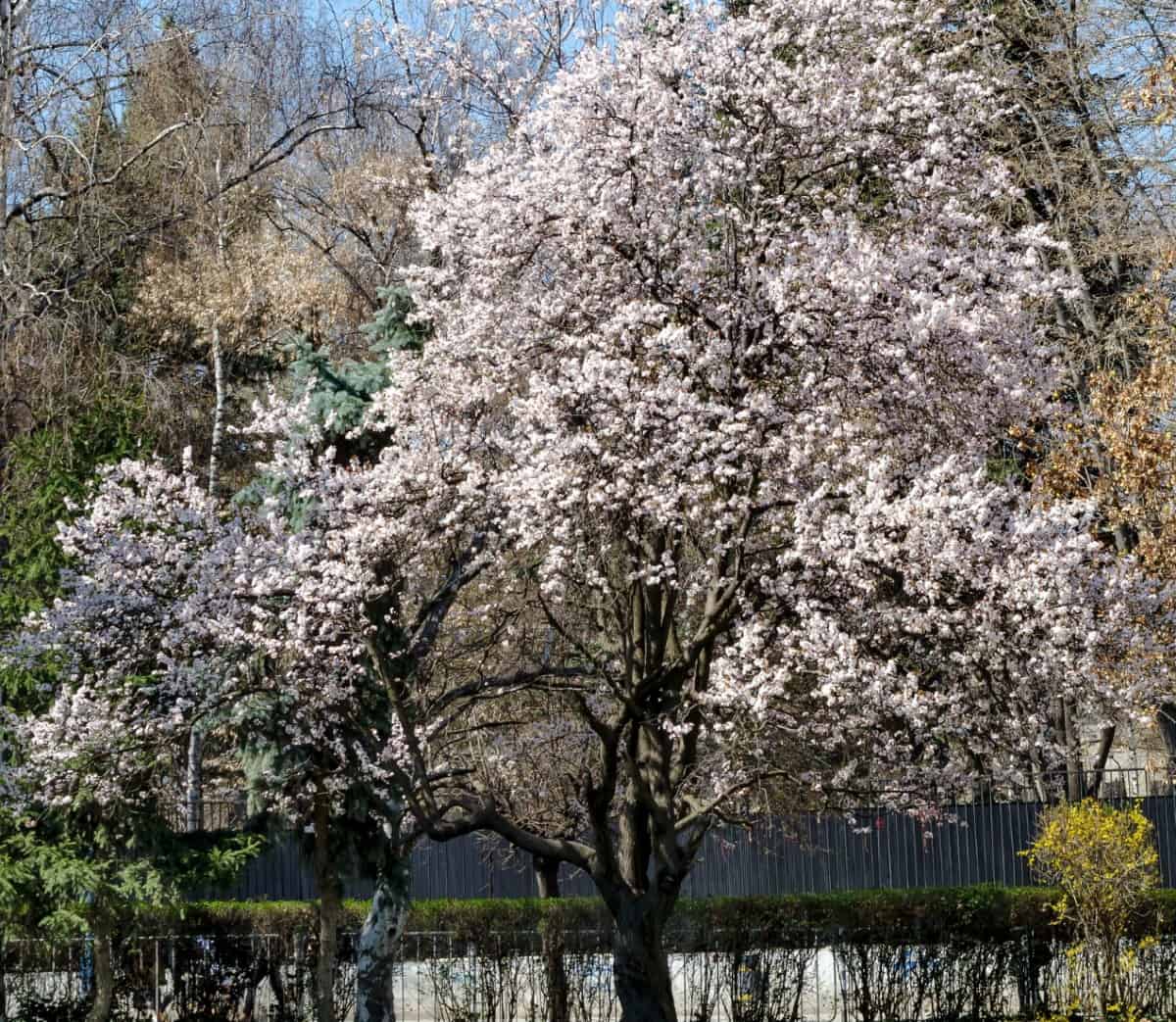 This tree exhibits white or pink flowers in late winter or early spring and sweet fruit that ripens between May and September. The fruit typically has blue or maroon skin but may also be green or yellow.
Plum trees are often self-fertile but may give better yields with other European plums nearby. In early winter, place them in a sunny spot with soil that drains well. Wait at least six weeks before adding fertilizer.
Water young trees heavily once a week during the growing season. Continue watering mature plants regularly, letting the soil dry between waterings.
'Indian Magic' Crab Apple (Malus 'Indian Magic')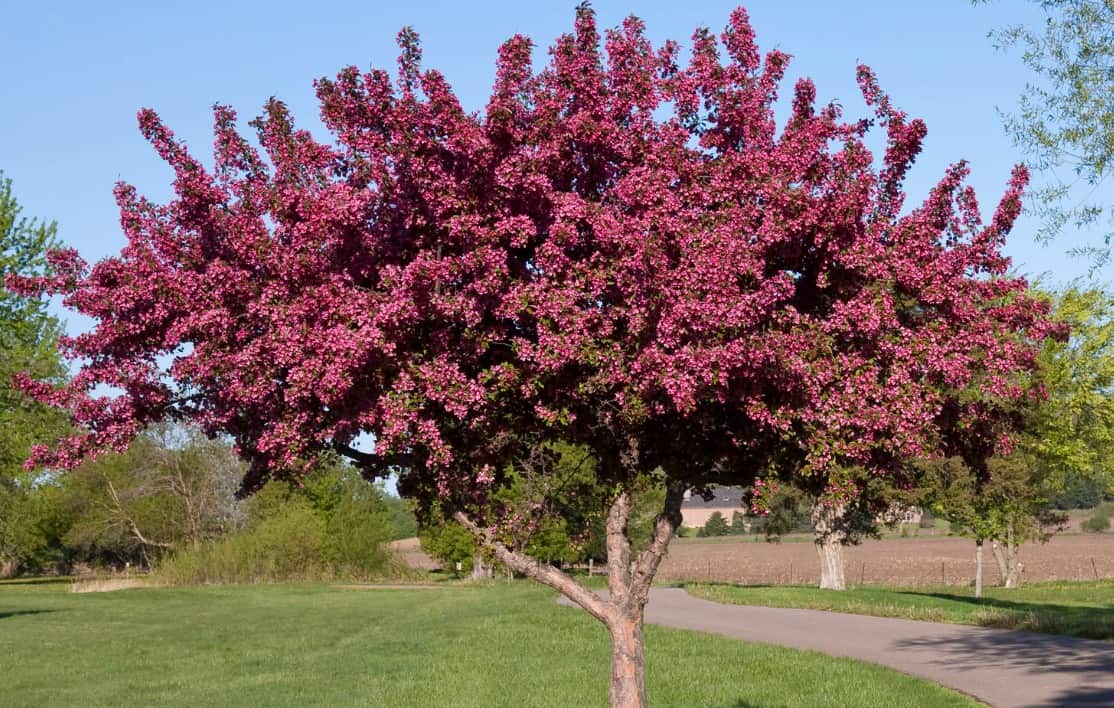 This small tree boasts fragrant pink blooms in clusters along its branches. It yields many small, edible but sour bright-red fruit that turns golden-orange. Its pointed deep-green leaves also turn golden-orange in the fall.
Plant a balled-and-burlapped or container-grown tree in the spring, summer, or fall. Find a site with full sun and moist, well-drained, fertile soil.
Newly planted crab apple trees benefit from mulch and regular watering but do not require fertilizer. Only water established plants if there's less than one inch of rain per week. Feed them either mulch or slow-release fertilizer.
Highbush Blueberry (Vaccinium corymbosum) – A Fruiting Plant with Berries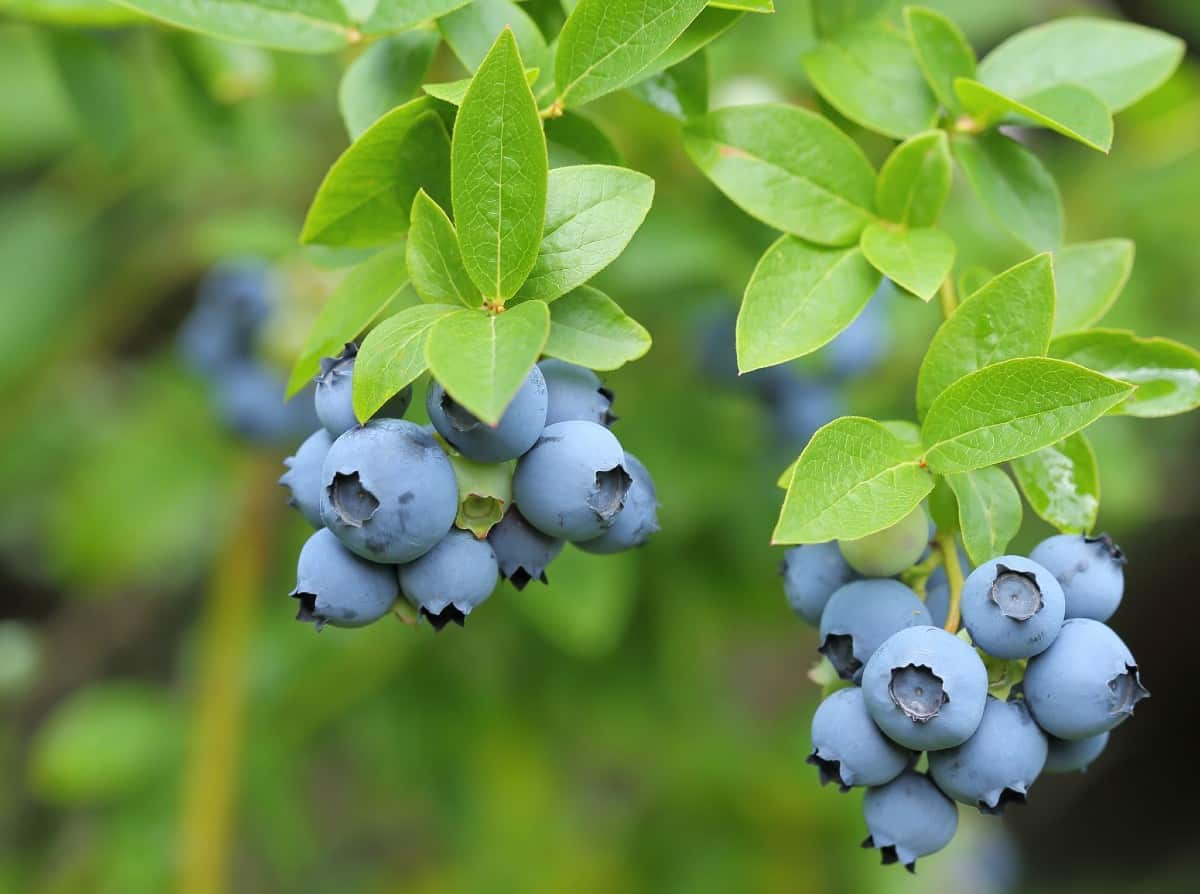 This bush has pointed leaves that turn red, white bell-shaped flowers in late spring, and deep purple-blue berries. It's self-pollinating, although you'll achieve better results using more than one cultivar.
Grow blueberry bushes by planting bare-root plants in early spring. Alternatively, propagate blueberries with softwood cuttings, seeds, or suckers. Use a site with full sun, protection from wind, and good air circulation.
The soil should be loose, well-draining, very acidic, and fertile, containing mulch and lots of organic matter. Provide at least two inches of water weekly.
After the shrub's first year, apply ammonium sulfate or fertilizer for acid-loving plants. During the first two years, remove all flowers. Starting in the fourth year, prune in early spring.
Red Currant (Ribes rubrum)
This bush bears small, tart, highly nutritious red berries. It's self-pollinating, although it produces larger fruit if you use two different types.
Note that currant plants are not permitted in some areas because they're susceptible to white pine blister rust, which ravages trees and crops.
Plant a bare-root bush in winter or early spring, or propagate currants with hardwood cuttings. They prefer cool conditions, full or partial sun, and fast-draining soil rich in organic matter.
Spread organic mulch, water regularly, and prune annually. Add a couple of spoonfuls of 10-10-10 fertilizer in early spring, leaving a gap around the trunk.
Mandarin Orange (Citrus reticulata)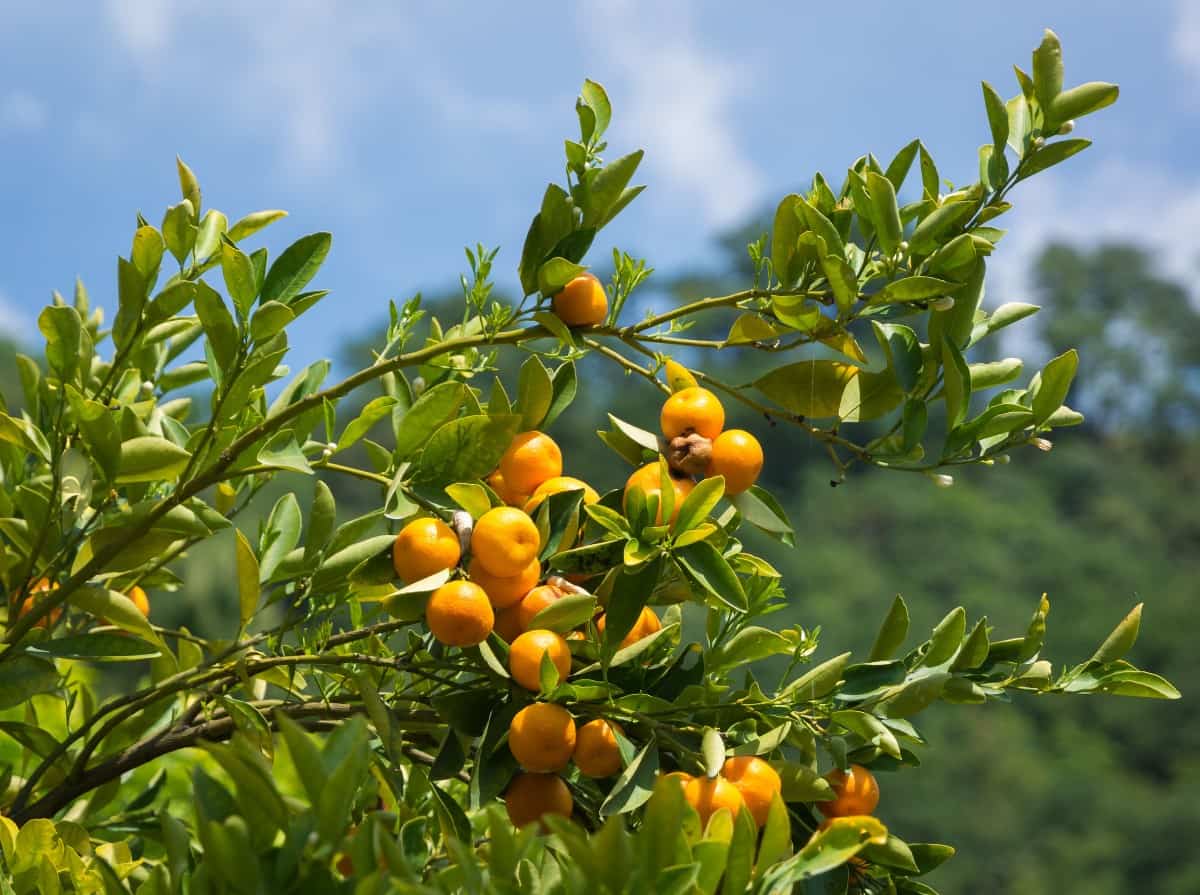 This thorny tree boasts small, slightly squished-looking citrus fruit. The orange fruit is cold-tender but displays more hardiness than sweet oranges. Start seeds indoors and transplant them outdoors once they've germinated, or purchase a rootstock.
Like other citrus trees, this plant thrives in full sun. Protect it from frost with a blanket or hanging lights. Mix organic matter into soil that drains well.
Water your orange tree once or twice a week. Feed citrus fertilizer according to the manufacturer's instructions. Prune dead or diseased limbs.
Grow a miniature orange tree in a container that you can move indoors or out, depending on the weather, and you may have a year-round crop.
Sweet Cherry (Prunus avium) – A Fruiting Plant with Red Fruit
This tree boasts white or pale-pink springtime blossoms and small red fruit. It suits a home orchard since at least two to three trees are necessary for cross-pollination.
Plant this tree in late fall or early spring, either grafting onto a rootstock or using a bare-root or container-grown tree. Cherry trees appreciate full sun, good air circulation, mulch, and deep, well-drained, slightly acidic to neutral soil.
Water your plant regularly, and prune it in late winter. Fertilize it in the spring until it starts bearing fruit—in about its fourth year—then only after harvesting.
Gooseberry (Ribes uva-crispa)
This thorny, self-pollinating shrub yields plump fruit that is usually pale-green but may also be red or yellow. Culinary gooseberries are sour, while dessert varieties are sweet enough to eat straight from the bush.
Like its relative the currant, the gooseberry bush is restricted in certain regions since it's a host for white pine blister rust. Plant a bare-root or container-grown bush between late fall and early spring.
Choose a sunny location with fertile, well-draining soil, adding compost or manure, and organic mulch. Water young plants regularly in hot, dry conditions. Distribute balanced organic fertilizer in late winter, and prune to maintain good air circulation.
Raspberry (Rubus idaeus)
This self-fertile shrub has white flowers in the summer and fall. Summer-fruiting raspberries develop red berries on the previous year's growth, often in June or July. Insert a cane in early spring or late fall or a potted plant in the spring.
To grow a raspberry bush, plant it somewhere with full sun, protection from the wind, good air circulation, and fertile, fast-draining, slightly acidic to neutral soil.
Distribute mulch, and feed compost or aged manure annually. Give your bush one inch of water weekly. Every year, prune raspberries by removing the dead brown canes that just produced fruit.
Common Pear (Pyrus communis) – A Fruiting Plant with a Pome Fruit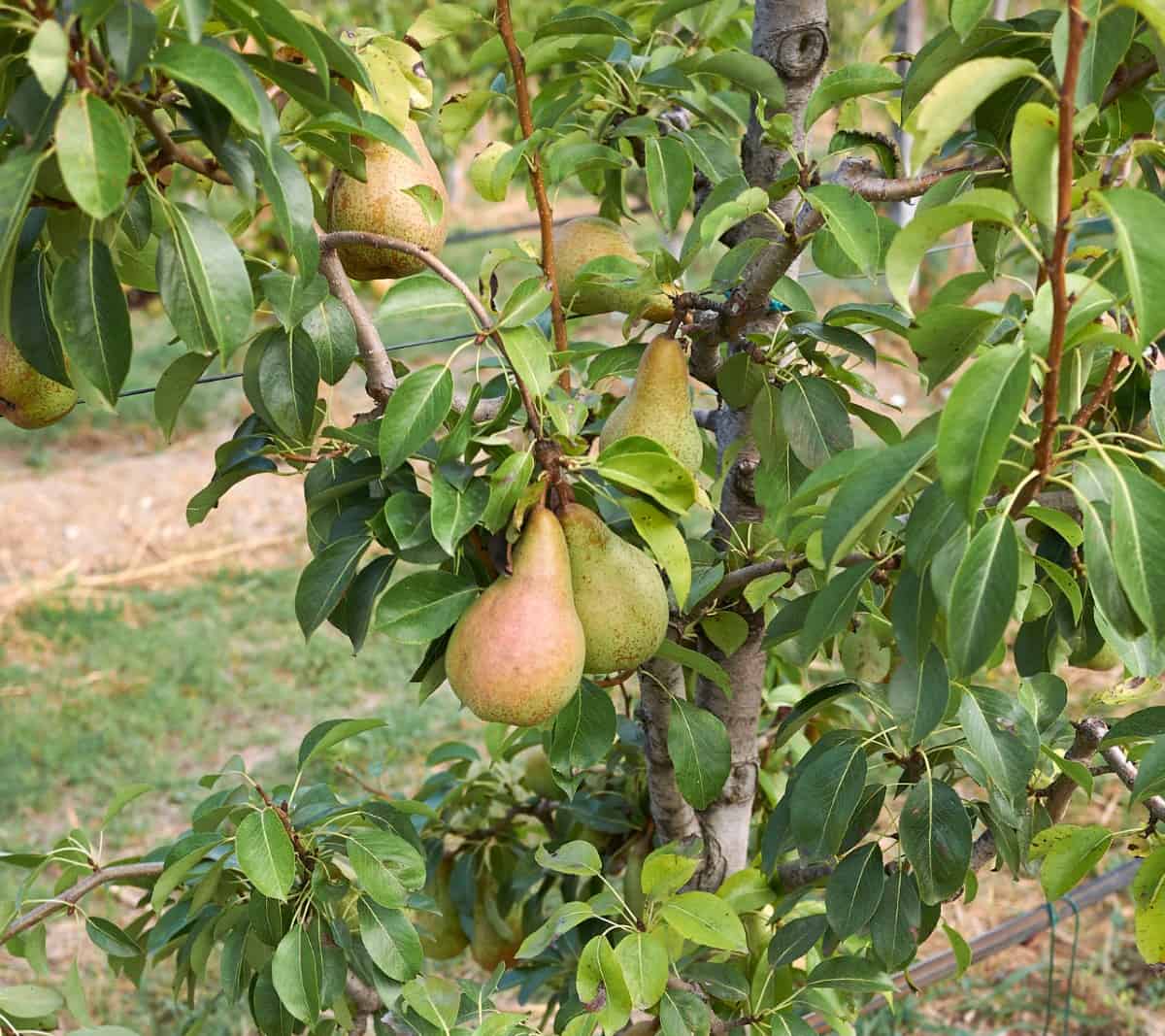 This small tree blooms in summer and fall. Two cultivars are typically necessary to enjoy flowers and fruit. It takes from three to ten years for pear trees to start flowering and fruiting.
Start fire blight-resistant varieties in late winter or early spring using potted plants or grafting. Pear trees do best with full sun, good air circulation, and fertile, well-drained, sandy or loamy soil.
Water young plants well during dry periods, and continue watering established trees regularly. Apply ammonium nitrate fertilizer early in the year. Pear trees benefit from annual pruning and thinning of their fruit.
American Persimmon (Diospyros virginiana)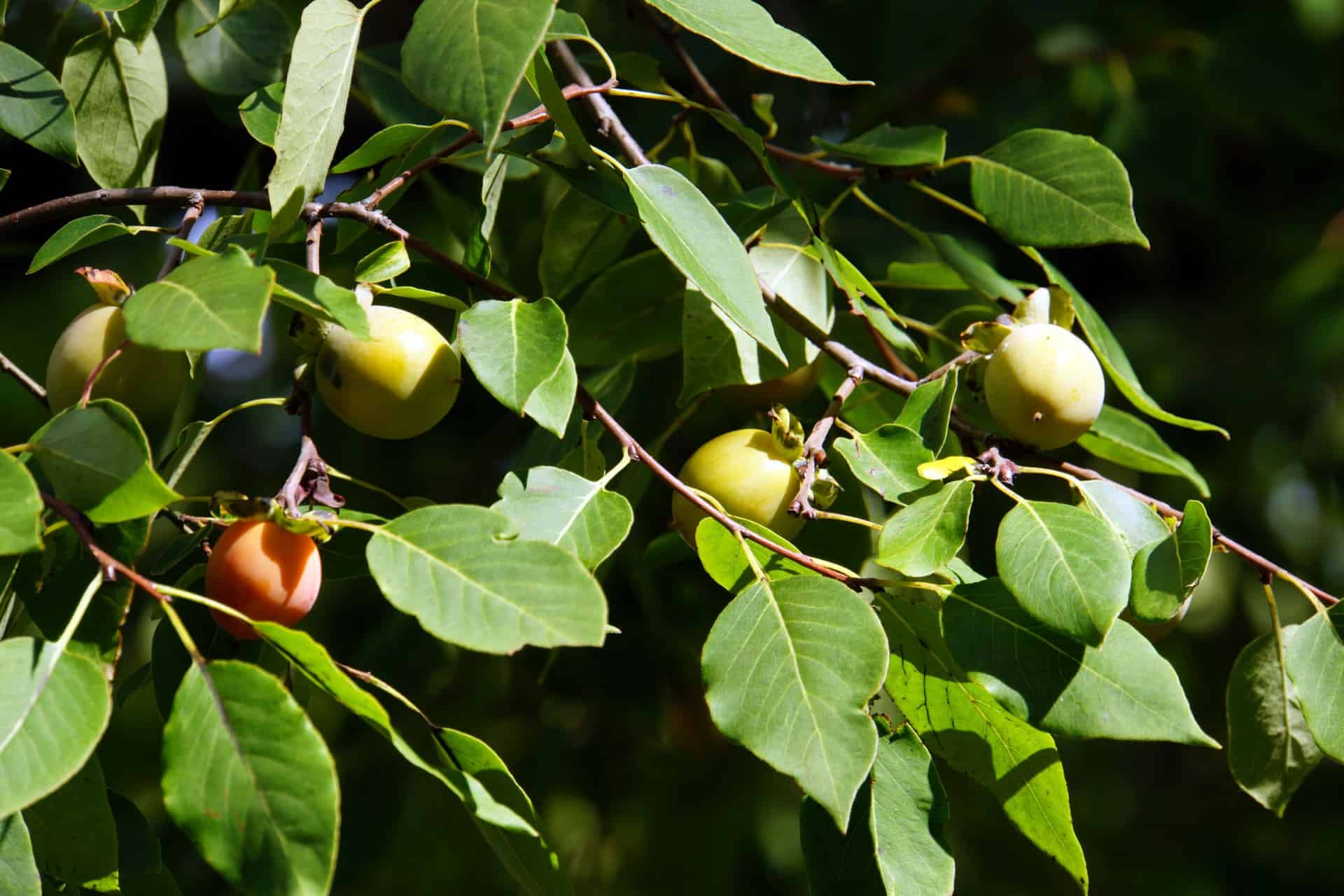 This cold-hardy tree boasts thick squares of bark and sweet, deep-orange fruit with a similar taste to apricots. Although this plant may take seven years to start bearing fruit, it's productive for decades. Having both a male and a female tree is essential for getting fruit.
In late winter or the start of spring, place the persimmon in full or partial sun and fertile, well-drained, slightly acidic soil. Water young trees well and then only during dry spells. This plant survives without fertilizer.
Common Fig (Ficus carica)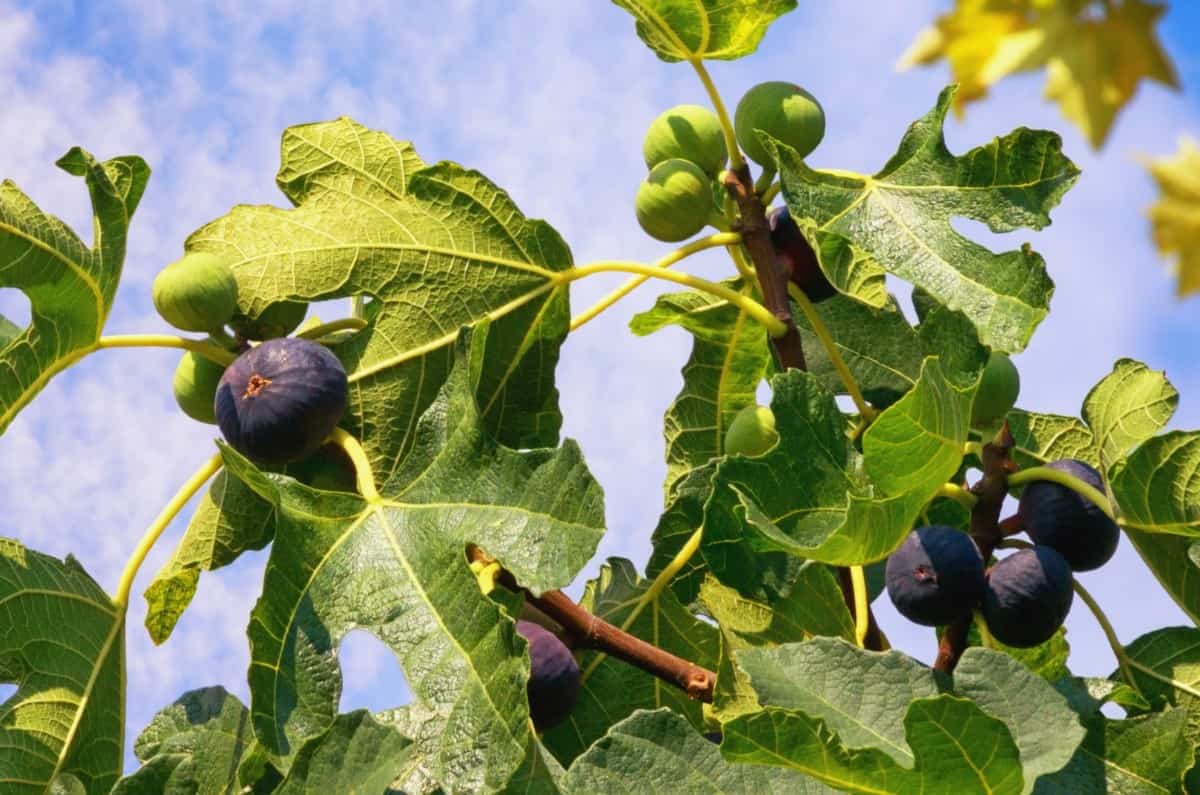 This tree has spring flowers that do not require visits from a pollinator and hard, dark fruit with a sweet red interior. Note that fig sap irritates the skin.
Fig trees flourish in warm climates. Put them outdoors in early spring or late fall. They prefer full sun and well-draining, slightly acidic to neutral soil rich in organic matter.
Water young trees regularly, particularly in dry climates. Figs do not generally need fertilizer but benefit from mulch. If your tree is high-yielding, thin the fruit on the branches.
Plant fig trees to grow in pots around the patio or as a statement piece in the yard or garden.
A pristine flower garden is all very well, but it lacks the satisfaction of a fruit garden, tree, or bush. There's nothing like resting and enjoying the fruits of your labor.
Besides, since so many fruiting species are flowering trees, you often don't have to choose between one and the other.
Growing fruit trees as shrubs lets you savor fresh berries, stone fruits, and more. Eat one ripe off the branch, or try your hand at making pies, jams, and other sweets.
If you found these shrub suggestions helpful, please share these fruit tree tips with your friends on Facebook and Pinterest.