You may think you have a clear understanding of veggies compared to fruits. While they are both the edible part of a plant, there are many distinctions between their flavor and structure. Learn how their growth habits determine whether they are fruit vs vegetable and their nutritional differences.
Fruits and veggies are a necessary part of our diet. Whether you categorize one as a fruit or vegetable depends on your perspective. For example, a culinary view classifies them based on taste, with fruits used for desserts, beverages, and veggies as a side dish or main course. Some are sweet and juicy, others mild and crispy, and those with a spicy kick.
Botanically, vegetables and fruits are categorized according to the part of the plant they come from throughout the growing season. With that said, you may be amazed to discover that some veggies you've been eating for years are actually fruits.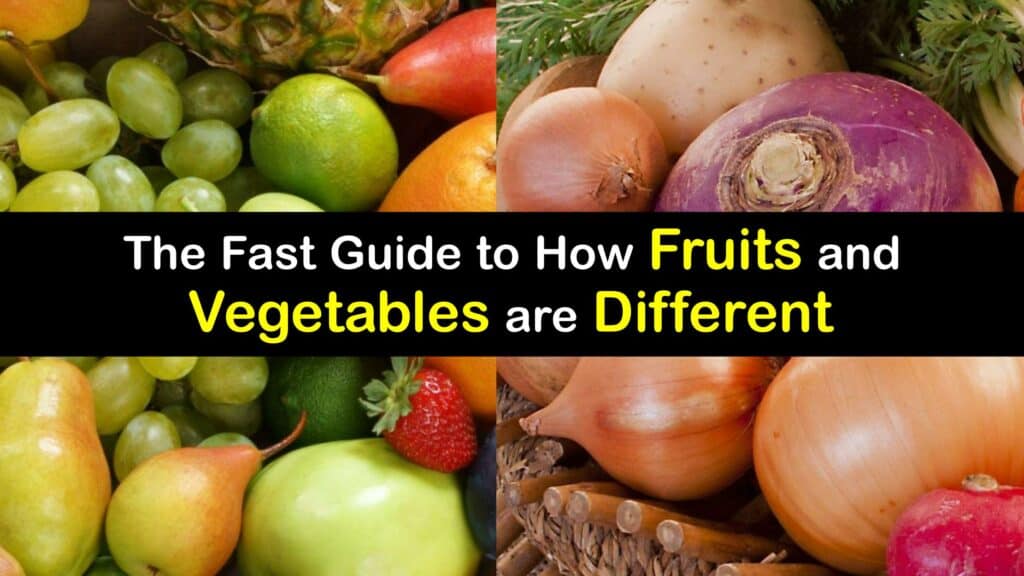 The Differences Between Fruits and Vegetables
If you browse through your local grocery store or farmer's market, you may notice they separate the fruit and vegetable bins into sections in the produce area. Therefore, it's easy to mistake a fruit for a veggie. What is the difference between a fruit and a vegetable?
Discover the difference between fruits and vegetables based on their growth and which parts of the plant are edible. Learn how they differ in appearance, flavor, and nutrition and how to put them together in a healthy recipe.
What is the Difference Between a Fruit and a Vegetable?
While the difference between fruits and veggies seems pretty straightforward since they look and taste different, it's a little more complicated. So, what is the difference between a fruit and a vegetable?
The word vegetable comes from a medieval Latin term that means growing or flourishing, and it eventually became known as a plant grown for food. However, that could technically define a fruit. What is the difference between them?
From a botanist's perspective, fruit comes from the flower buds of a flowering plant and contains seeds, while the rest of the plant, from the roots to the stem and leaves, is a vegetable.
On the other hand, the culinary world views many fruits as vegetables since they are more suitable for savory dishes than sweet ones. There is little difference between squash and pumpkin regarding sweetness and taste, depending on the cultivar.
Tubers and root vegetables, such as turnips, sweet potatoes, and carrots, are actual vegetables. Peapods, raspberries, tomatoes, eggplants, kiwi, strawberries, okra, watermelon, and stone fruits like apricots and nectarines are seed-bearing, botanical fruits that develop from the ovary of a flowering plant.
However, the supreme court ruled that the tomato is a vegetable for customs regulations. Carrots and radishes are among the fastest growing plants we use as veggies.
Nutritional Difference between Fruits and Vegetables
Now that you understand the botanical differences between vegetables and fruit, what about their health benefits? Explore the nutritional difference between fruits and vegetables and which ones are better for your diet.
Fruits and vegetables are rich in minerals, fiber, vitamins, and antioxidants, and both are beneficial to your diet, but their nutritional values vary. For instance, tubers are rich in fiber, citrus fruits contain large amounts of vitamin C, and cruciferous vegetables contain glucosinolates.
In addition, berries have anti-inflammatory compounds, and tomatoes, broccoli, and blueberries may prevent heart disease. Fruits have a higher sugar content and more carbohydrates than veggies.
Interestingly, the color of both fruits and vegetables plays a role in the type and amount of nutrients they contain. Dark leafy vegetables have high concentrations of fiber and antioxidants, while purple or blue fruits and veggies promote healthy aging, boost memory function, and improve urinary tract health.
Which Fruits Often Get Mistaken for Vegetables?
It's easy to tell most fruits and vegetables apart, but you may be surprised that some fruits are commonly mistaken for veggies due to their appearance and taste.
It may astound you to learn that some of the home-grown foods you call vegetables are, in fact, fruits. Green beans, bell peppers, zucchini, winter squash, avocados, pumpkins, cucumbers, tomatoes, and eggplants are some examples of fruits disguised as veggies. They produce a flower with an ovary, and a mature ovary is a fruit.
Fruit vs Vegetable Plants in the Garden
While all plants have a unique growing habit, there are some critical differences between vegetable and fruit plants. Note the difference between growing fruits and veggies in the home garden. Note that you can find easy to grow vegetables indoors in pots as well as a few fruits.
Most plants, whether a vegetable, fruit, or herbaceous plant, desire the right amount of sunshine to flourish, and six to eight hours of full sun each day is usually sufficient.
Many fruit-bearing plants need some support as they begin to produce heavy fruit to keep them off the ground and prevent the stems from breaking. Consider using a trellis or tomato cage if you plant tomatoes, cucumbers, pole beans, peas, melons, peppers, or pumpkins.
Depending on the type, they require about an inch of water weekly and a nitrogen, potassium, and phosphorus fertilizer at some point during their growth period.
Root veggies need smaller amounts of nitrogen to support root and stem growth. Leafy greens and fruit plants want higher nitrogen levels to perform photosynthesis. Cruciferous vegetables need a balanced fertilizer or one with less phosphorus for optimal growth.
Unfortunately, all plants suffer from pests, and plant diseases are common. Companion planting, performing crop rotation, growing disease-resistant plants, and using row covers are great ways to prevent crop loss due to an infestation or disease.
Fruiting plants, like peppers, strawberries, green beans, melons, cucumbers, and tomatoes, produce flowers that require pollination from beneficial insects for fruit production. Using a pollinator-friendly insecticide when treating your plants for bugs is essential to ensure that you get a healthy crop of fruits at the end of the growing season.
Can You Use Fruits and Veggies Together in a Recipe?
You may not consider putting vegetables and fruits in the same dish since one is usually sweet while the other is generally mild. However, combining them in a salsa creates a harmonious appetizer that is zesty, sweet, and delicious.
Pour the vegetables and fruits into a large mixing bowl and stir well to combine the ingredients. Squeeze the juice from a lime on the top, season with salt, and refrigerate for one hour to allow the flavors to mingle. Serve with tortilla chips, and enjoy.
Growing up, we all thought we had a clear distinction between fruits and vegetables, but what we thought we knew may have been wrong. Fortunately, that doesn't change the fact that they are all healthy, delicious, and great additions to the home garden.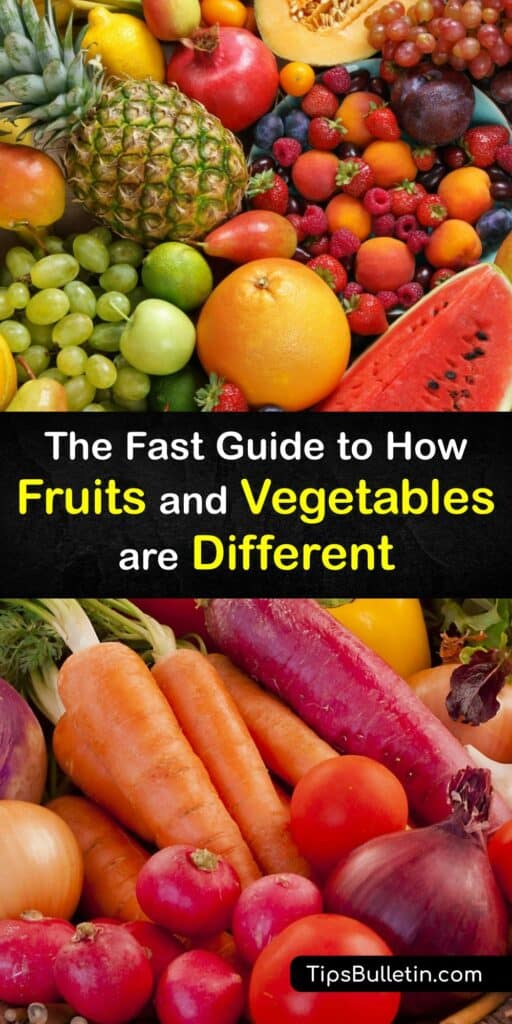 We hope that we've cleared up the confusion about a fruit vs vegetable, and we'd love it if you'd share our guide to the differences between fruits and veggies with your family and friends on Pinterest and Facebook.