Growing a garden in your front or backyard can bring a lot of benefits to your life. Flowers attract birds and butterflies, bring a lovely fragrance to your property, and boost your house's curb appeal. There are a lot of full sun plants that thrive in bright locations.
You might think that all plants want sun all the time, but that's not the case.However, not every flower is suitable for every location. One of the most significant factors in growing a successful garden is planting flowers that work well in the lighting that hits your property.
If you get a lot of sunlight during the day, then you need to find full sun flowers. You also need to figure out which plants work in the USDA (United States Department of Agriculture) hardiness zone where you live. In this list, we'll help you find the perfect sun loving flowers!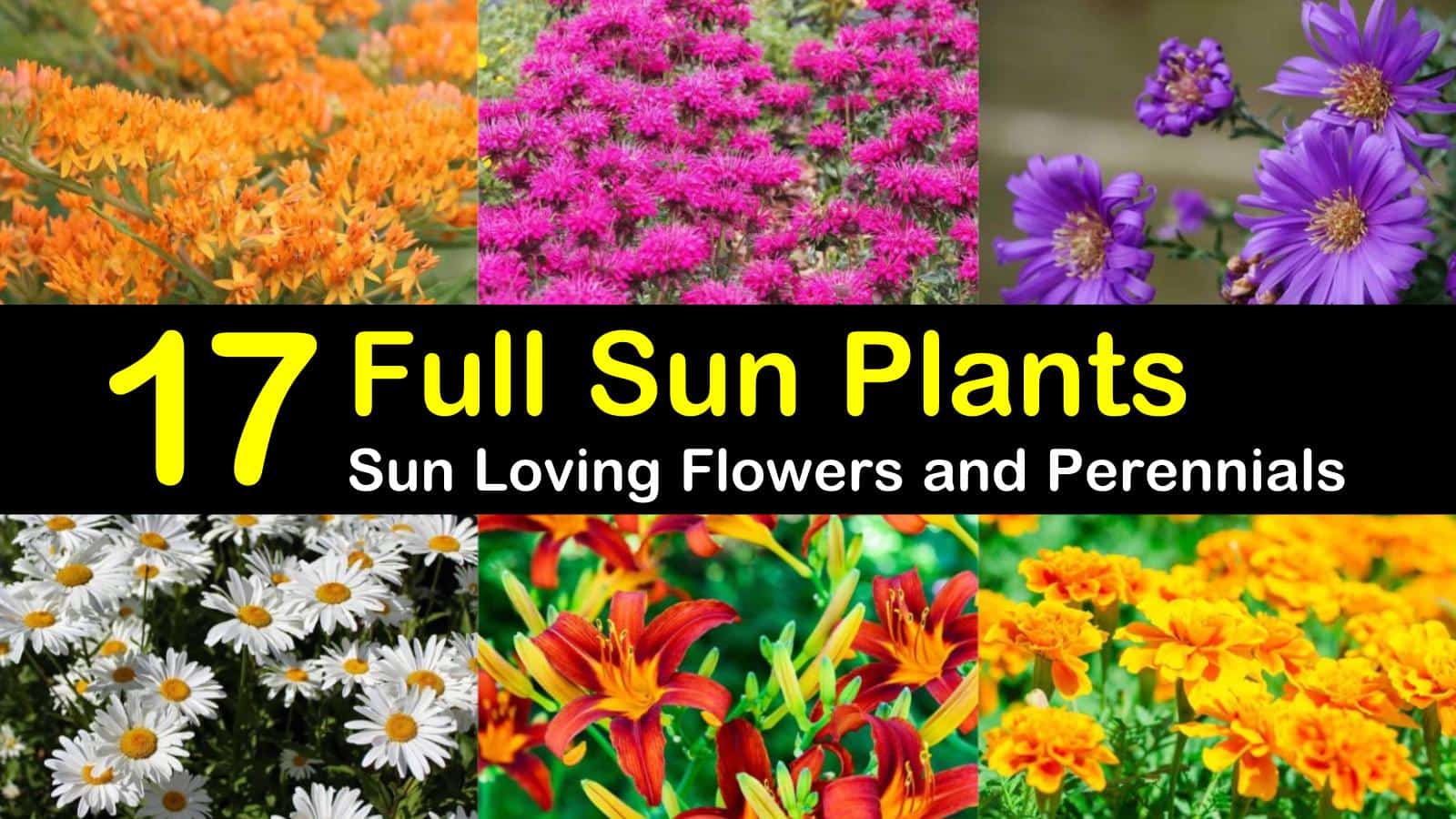 What are Full Sun Plants?
Full sun plants are those that thrive best in the sunniest parts of your garden. This type of plant, typically perennials and evergreen shrubs for sun, needs at least six hours of direct sunlight every day.
Plants usually fall into one or a combination of a few kinds of sun preferences. These classifications include full sun, part sun, part shade, and full shade. While there are also sun loving annuals, perennials are the most popular because they come back year after year.
How to Care for Full Sun Perennials
The most important aspect of caring for full sun perennials is to make sure they grow in a sunny spot in your garden. You can also get container plants for full sun to stick anywhere in your yard if you don't want to bother replanting your flowers. The plants on this list have their own preferences and specifications, but there are some characteristics that sun loving flowers have in common.
Most are low-maintenance flowers that are drought tolerant and prefer arid conditions. When choosing which full sun perennials to buy, it is best to choose flowers that are native to your area. These are easier to care for and will likely attract wildlife like bees, birds, and butterflies.
How to Plant Full Sun Flowers
The first step to planting full sun flowers is finding the healthiest looking plants. Check that there are no insects or diseases and that the leaves and petals have lively colors. Look to see that there the roots aren't sticking out of the bottom. Once home, lay down fertile, well-drained soil.
For healthier plants, add in some compost in the spring. Dig a hole in the ground that is a little larger than the root ball and then place the plant in the hole, being careful with the roots. Fill it in with rich soil and compost.
Water your new plant every day until you start to see fresh leaves sprouting. Afterward, water every five days if there is no rain. You can water less their second year, cutting back to once a week.
It's important to note that you don't just have to plant full sun flowers in the ground. There are many types of hanging plants that do well in the sun, too. Look at the care instructions for the plants you purchase and see if they will work in hanging baskets, too. This is a particularly great idea if you don't have a lot of garden space or live in an apartment but still want some greenery and flowers.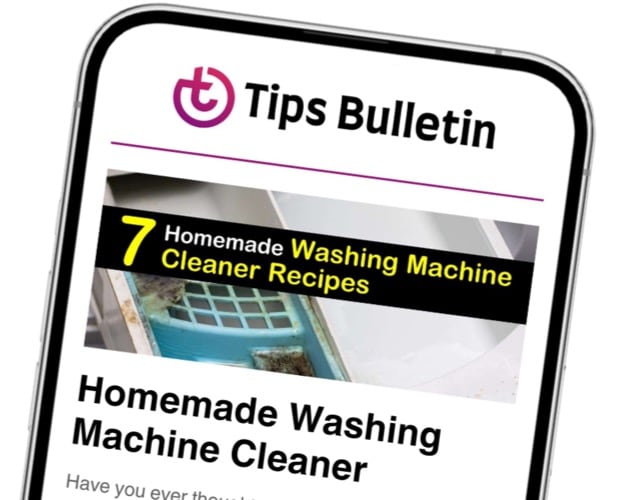 Finally, an email that Transforms Your Home.
Get the latest home and garden tips from our experts, delivered straight to your inbox.
Amazingly Beautiful Full Sun Plants
There are so many different blooming perennials and annuals that it can be hard to choose one or two or even just a few. Here are our ideas to add some color and interest to your flower beds or for that corner of the yard that seems to be missing something.
Shasta Daisy (Leucanthemum × superbum)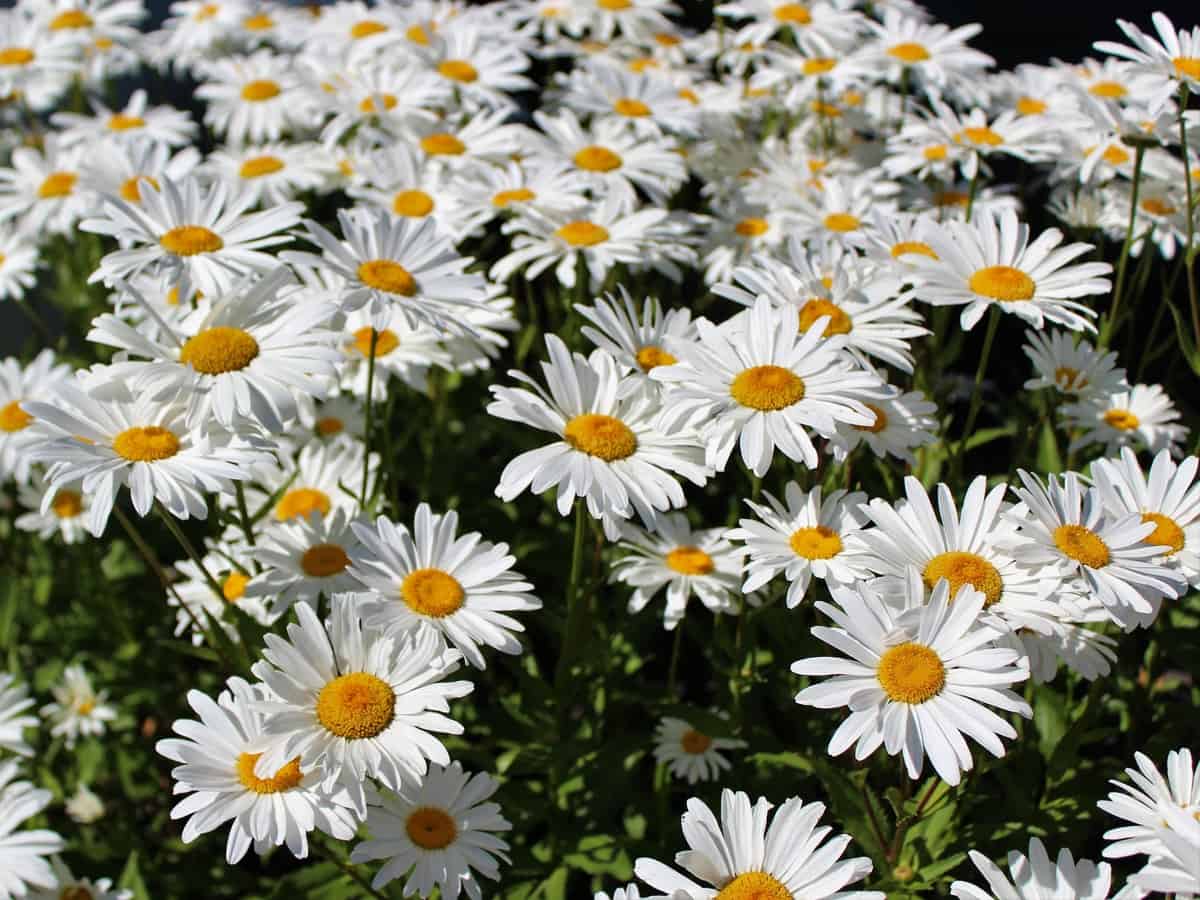 The Shasta Daisy is one of our favorite sun-loving perennials. The bright, cheerful blooms are adaptive and suitable for most types of gardens. These perennial plants for zone 6 prefer moist, well-drained soil and tolerate light shade in areas with hot summers.
Shasta Daisies are perfect for hardiness zones 4 through 9 and make great cut flowers for bouquets or vases. They bloom throughout the summer and grow up to 2 to 4 feet tall, so they can do well in the middle or in the back of your flower beds. These flowers tolerate drought, dry soil, deer, and rabbits and attract many different types of butterflies.
Petunia (Petunia)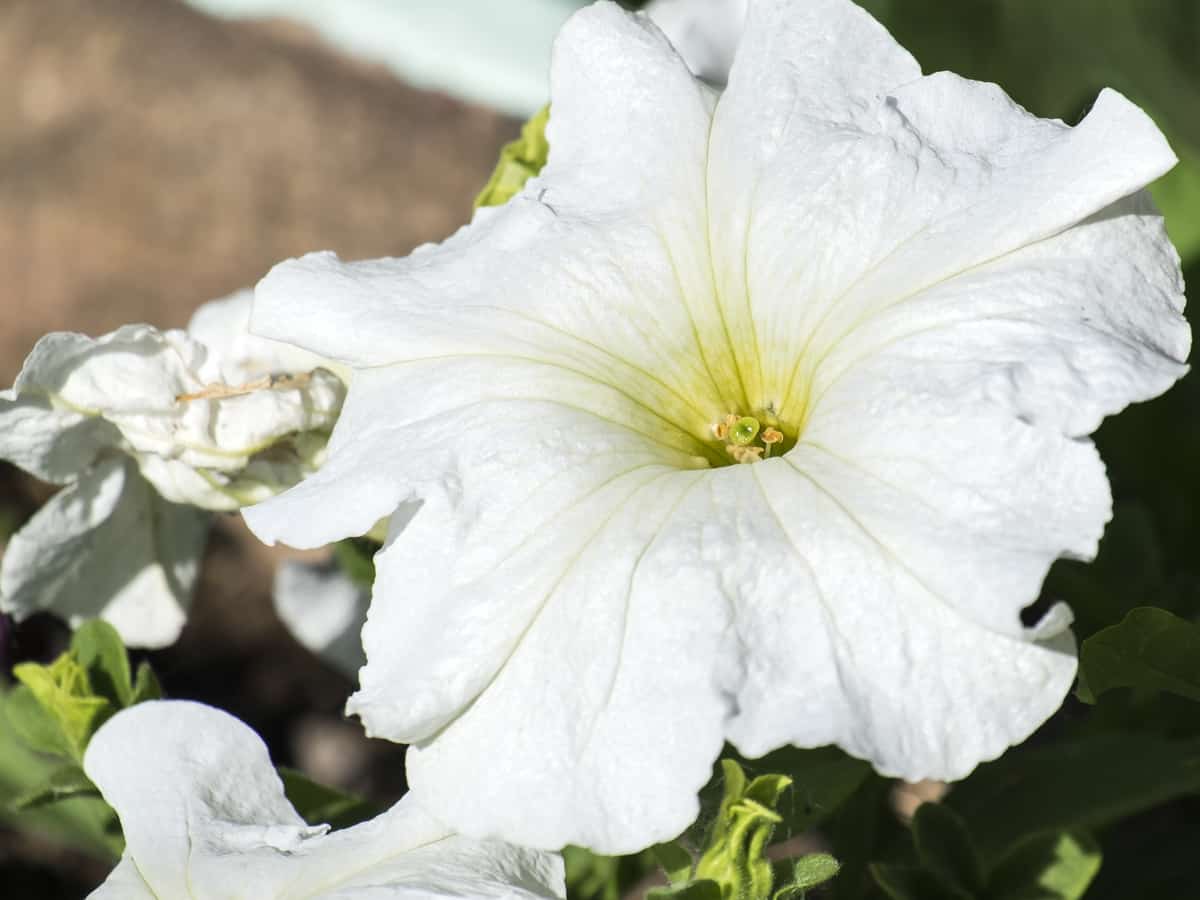 Petunias are a popular group of full sun plants that come in every color except brown and black. They are fragrant flowers and attract birds, hummingbirds, and butterflies. They are suitable for hardiness zones 10 and 11 and tolerate poor soil as long as it is well-drained.
The Petunia does best in average, medium moisture and tolerates light shade. It is the second most popular type of flower based on annual sales. It has a long blooming period, lasting from May to frost.
Rose Moss (Portulaca grandiflora) – Full Sun Flowers for Rock Gardens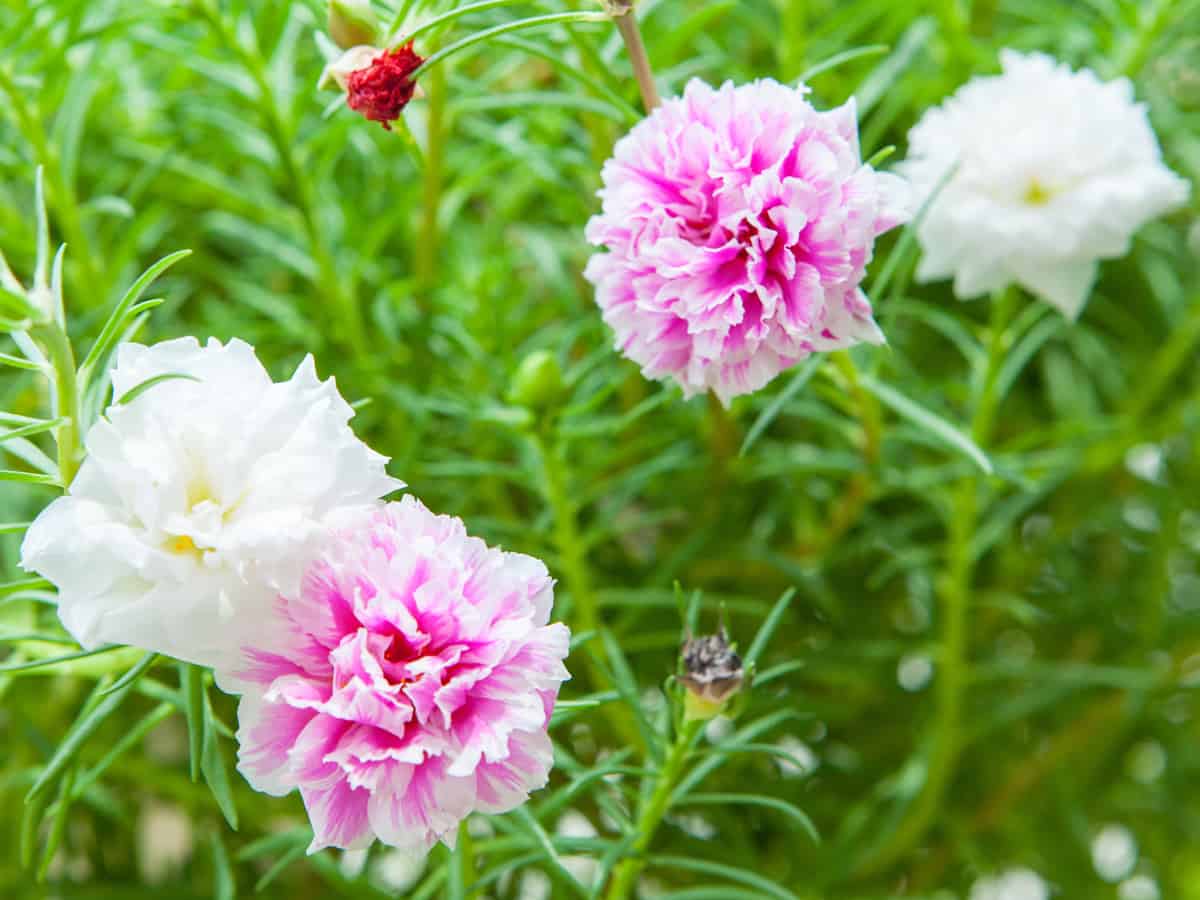 Rose Moss is one of the best drought tolerant plants, and also works as great ground covers. They come in different color varieties, growing red, orange, yellow, white, or pink flowers. They bloom from summer until frost and are suitable for hardiness zones 2 to 11.
Rose Moss tolerates dry soils, which makes them a perfect addition to a rock garden. They also do well in hanging baskets, containers, and flower beds. They typically grow from 6 to 8 inches tall and spread out 12 inches or more in width.
Common Marigold (Calendula officinalis)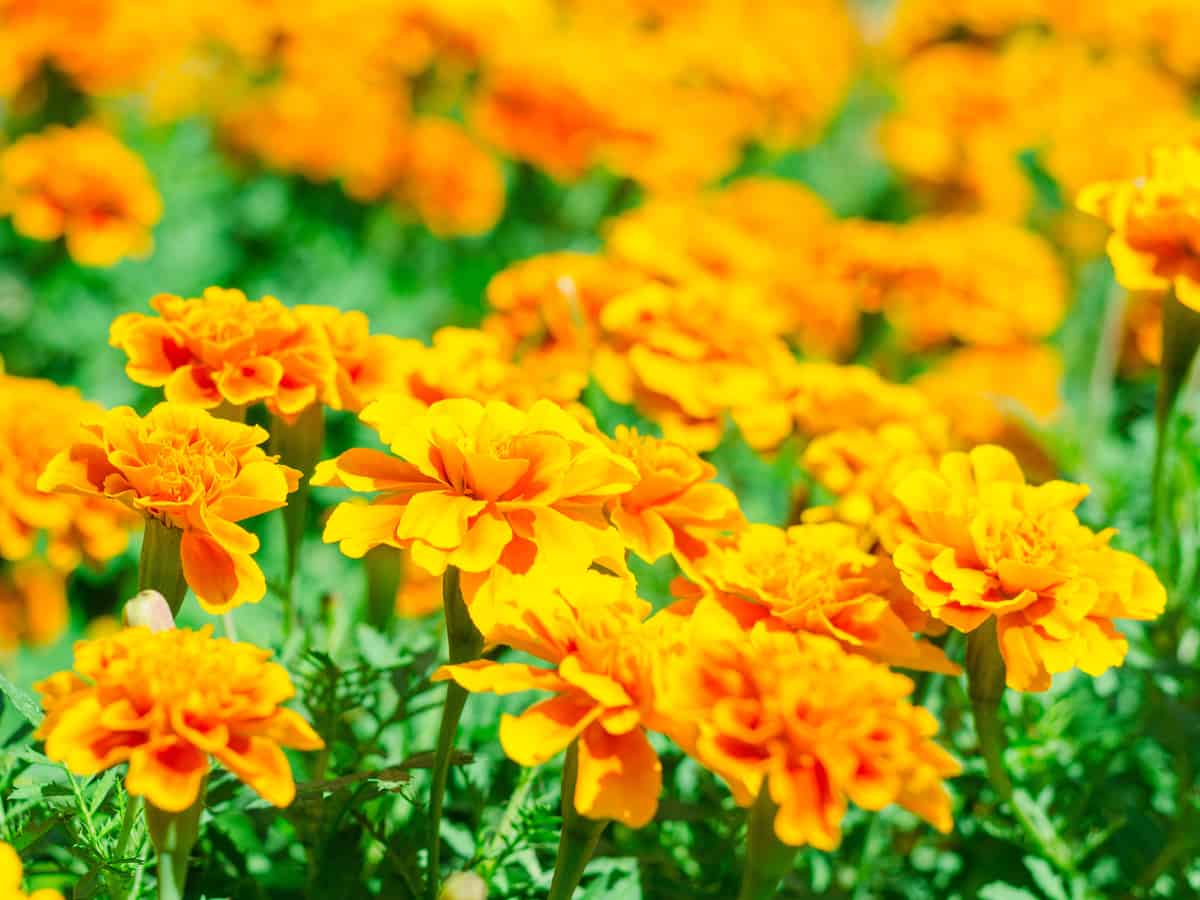 The Common Marigold is a showy flower that stands out thanks to its bright golden color. They grow in average, moderately fertile, and well-drained soils. Though they are sun-loving plants, they enjoy some afternoon shade in hot summer climates.
With a short blooming period from May to June, they do well in hardiness zones 2 through 11. The flowers give off a fragrance that attracts butterflies and can tolerate rabbits and growing near black walnuts.
Hardy Geraniums (Cranesbill)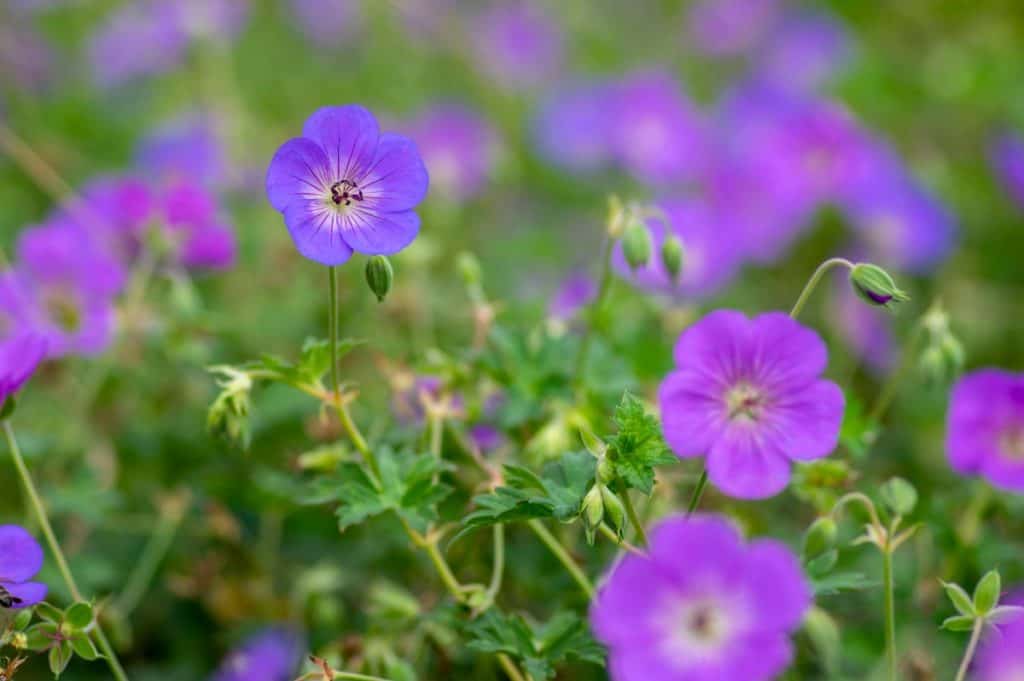 Hardy Geraniums are an excellent plant for beginners because they are so easy to grow. If you have well-drained, moist soil, then it's almost a guarantee that you can grow these lovely flowers. Most have a long blooming season, from spring to late fall.
They are deer resistant and are also tolerant of drought and rabbits. Geraniums attract butterflies and grow in hardiness zones 4 to 9. These low maintenance sun lovers need little water for their bright purple flowers to stand out.
Coneflower (Echinacea) – Sun-Loving Flower for Butterflies and Birds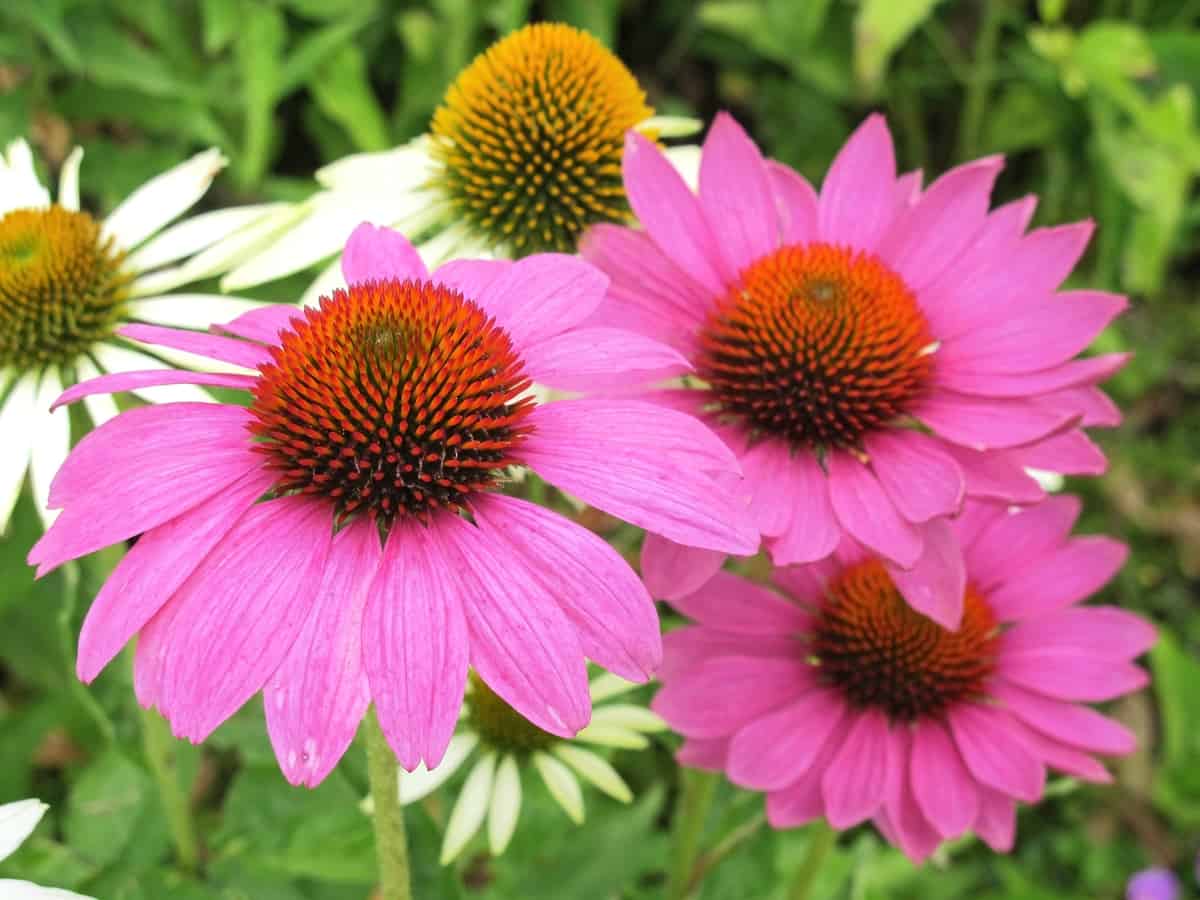 Coneflower is a full sun plant that prefers dry to medium well-drained soil. It is a very tolerant plant that attracts birds, butterflies, and bees to your garden. They are excellent flowers to plant in large groups and complement many other popular plants such as ornamental grasses and blue flowers like geraniums.
The daisy-like flowers blossom from late spring to fall and come in various colors, though the purple flowers are the most recognizable. They are well-suited to hardiness zones 3 through 9 and can tolerate partial sun.
Lamb's Ear (Stachys byzantine)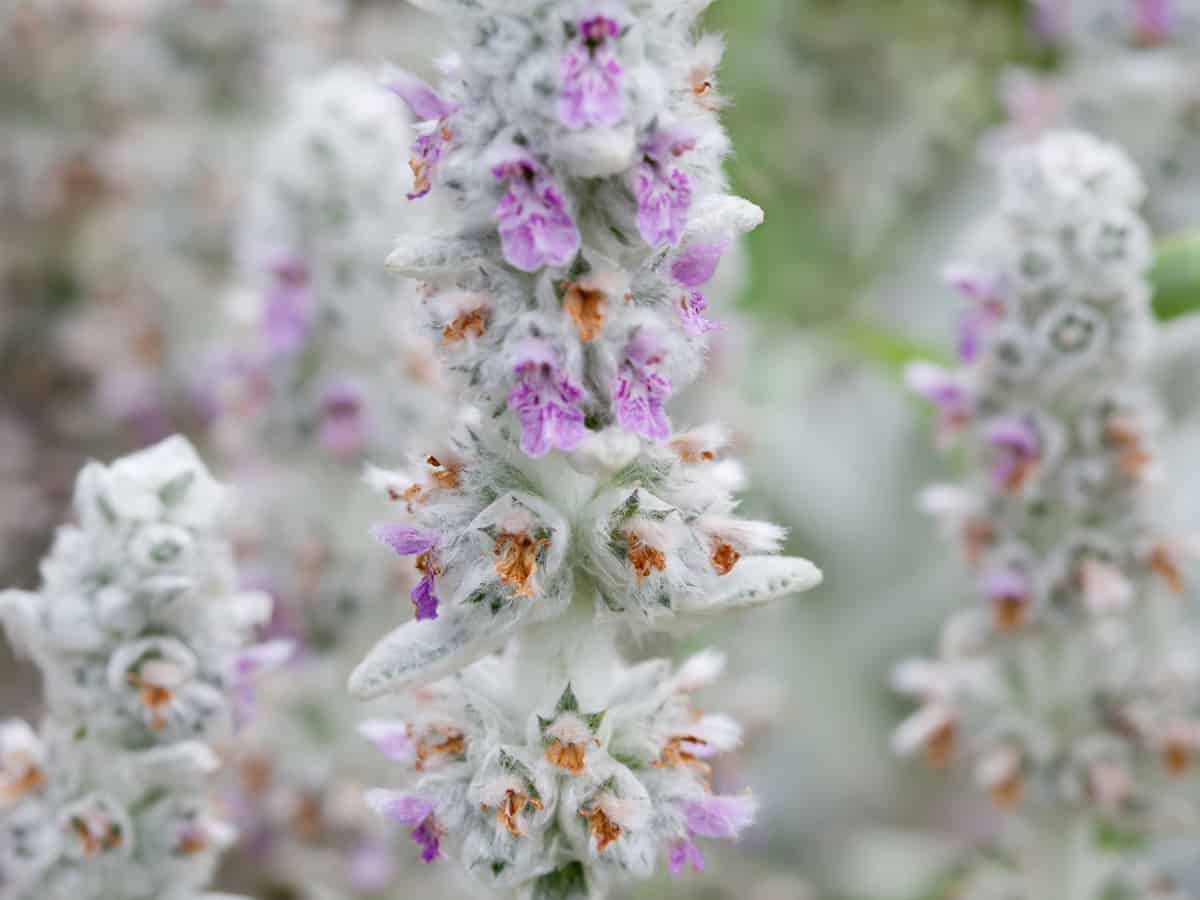 Lamb's Ear is one of the best full sun ground cover plants. It is a popular choice for flower borders and rock gardens. While it prefers full sun, it benefits from partial shade if growing in a desert climate. They thrive in poor, well-drained soil and are drought tolerant.
When they reach their full size, the Lamb's Ear can grow 12 to 18 inches tall and 12 inches wide. Lamb's Ear blooms in summer, revealing a beautiful light purple flower. They are native to the Middle East region and thrive in hardiness zones 4 through 7.
Chinese Hibiscus (Hibiscus rosa-sinensis)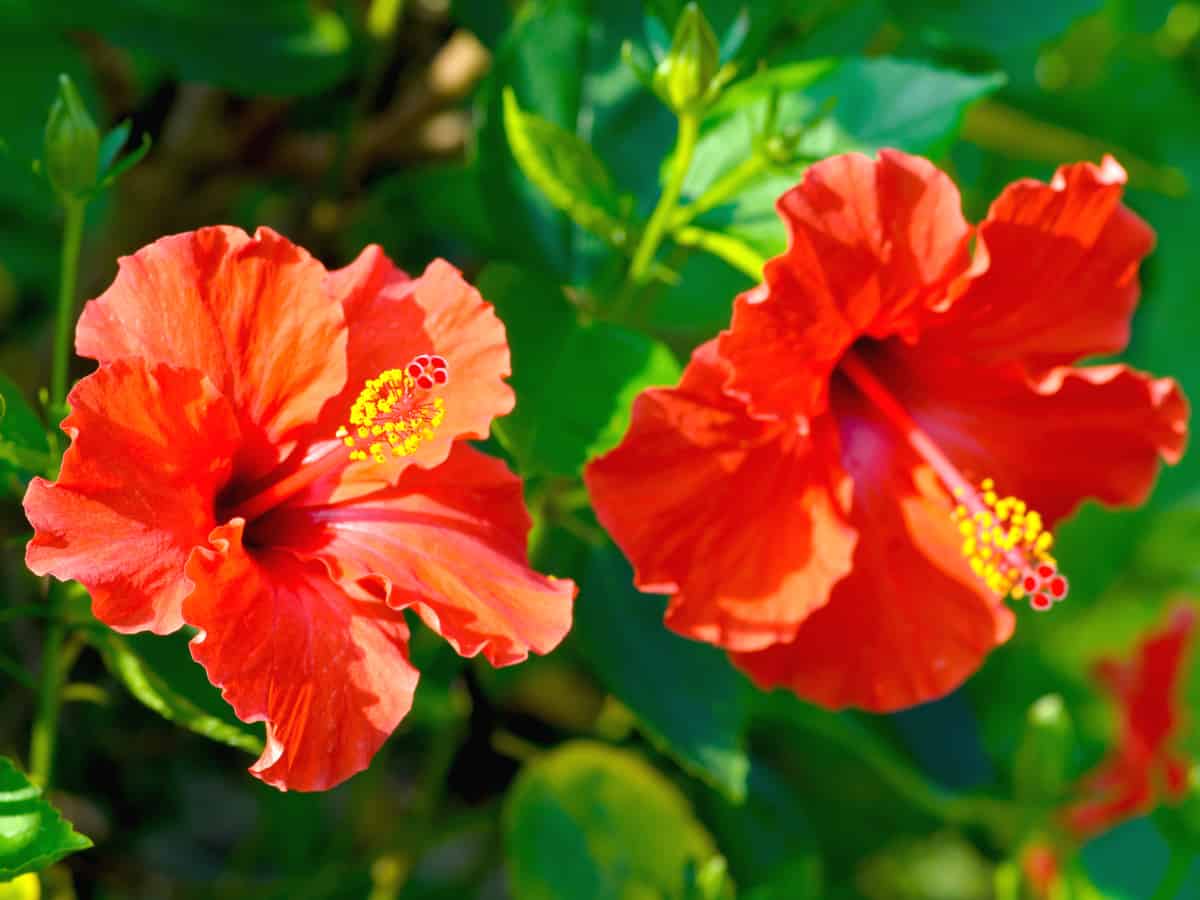 The dramatic flower colors of the Chinese Hibiscus makes this plant a show-stopper. Though flowers bloom continuously, each flower only lasts a day. This evergreen perennial is heat tolerant and can grow up to 15 feet.
These amazing flowers for full sun are suitable for hardiness zones 9 through 11, though it grows best in a container if planted in colder climates. The Chinese Hibiscus comes in many colors, producing yellow, purple, red, peach, and white flowers. It has large, bright blossoms from summer through fall, making it a gorgeous addition to garden landscapes.
Lavender (Lavandula angustifolia) – Full Sun Flowers that Smell Great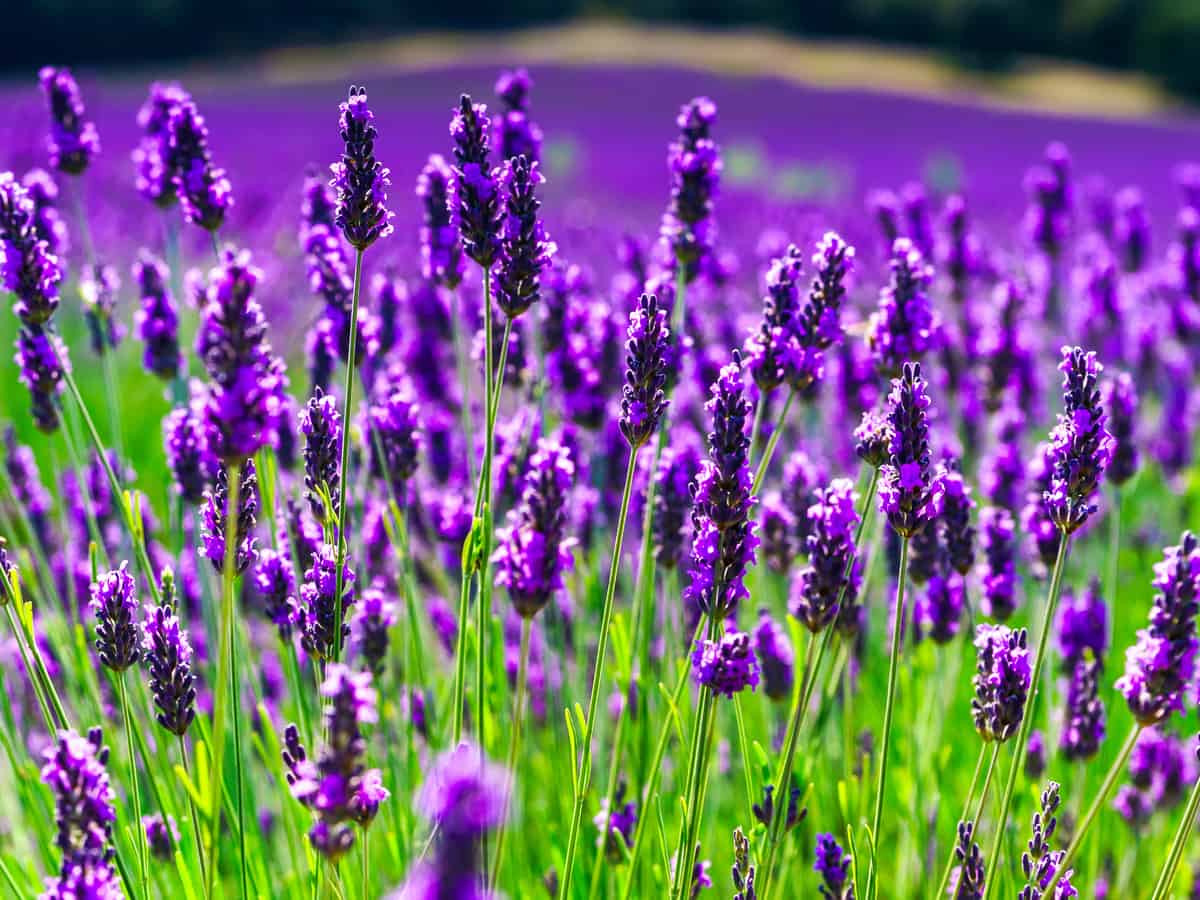 Lavender is one of our favorite evergreen shrubs and is beloved thanks to its lovely purple flowers, silvery foliage, and scent. These great smelling flowers prefer sandy, well-drained soil and can develop root rot if the soil is overly damp. When mature, Lavender grows up to two to 3threefeet tall and spreads two to four feet wide.
This plant blooms in early summer in warm climates but takes until mid-summer in all other weather conditions. It grows best in hardiness zones 5 through 8. Pick some Lavender to put in a vase in your home for a lovely, calming aroma or dry the stalks and make a sachet for your dresser drawers.
Sagebrush (Artemisia tridentata)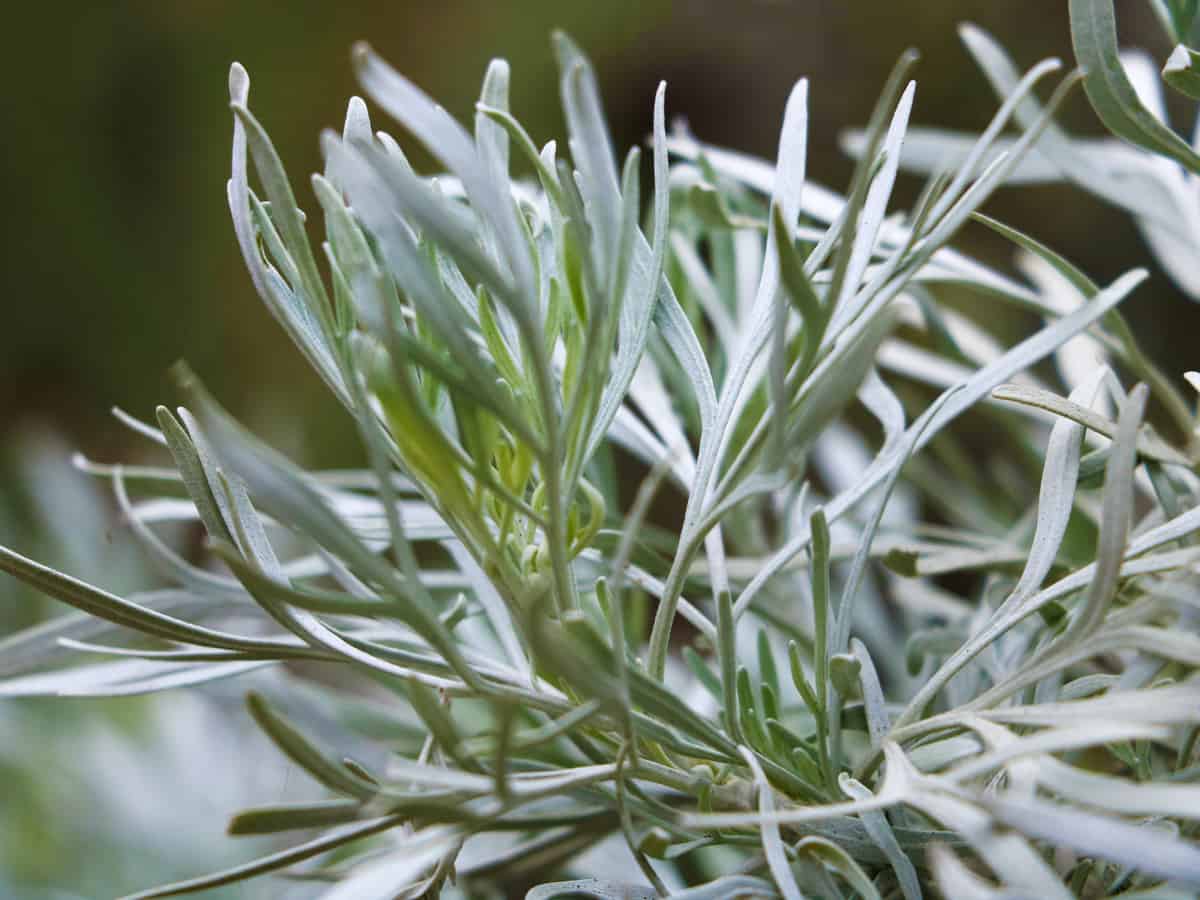 This aromatic plant grows in arid and semi-arid climates throughout the Intermountain West of North America. In the wild, these heat loving annuals serve as food to wildlife, including sage grouse, mule deer, and pygmy rabbit. It was used in the past by Native Americans as herbal medicine.
These attractive full sun shrubs grow in hardiness zones 4 through 8 and are a low-maintenance choice for a rock garden. They need soil that is well-drained but can adapt to a broad range of pH levels.
Carnation (D. Caryophyllus)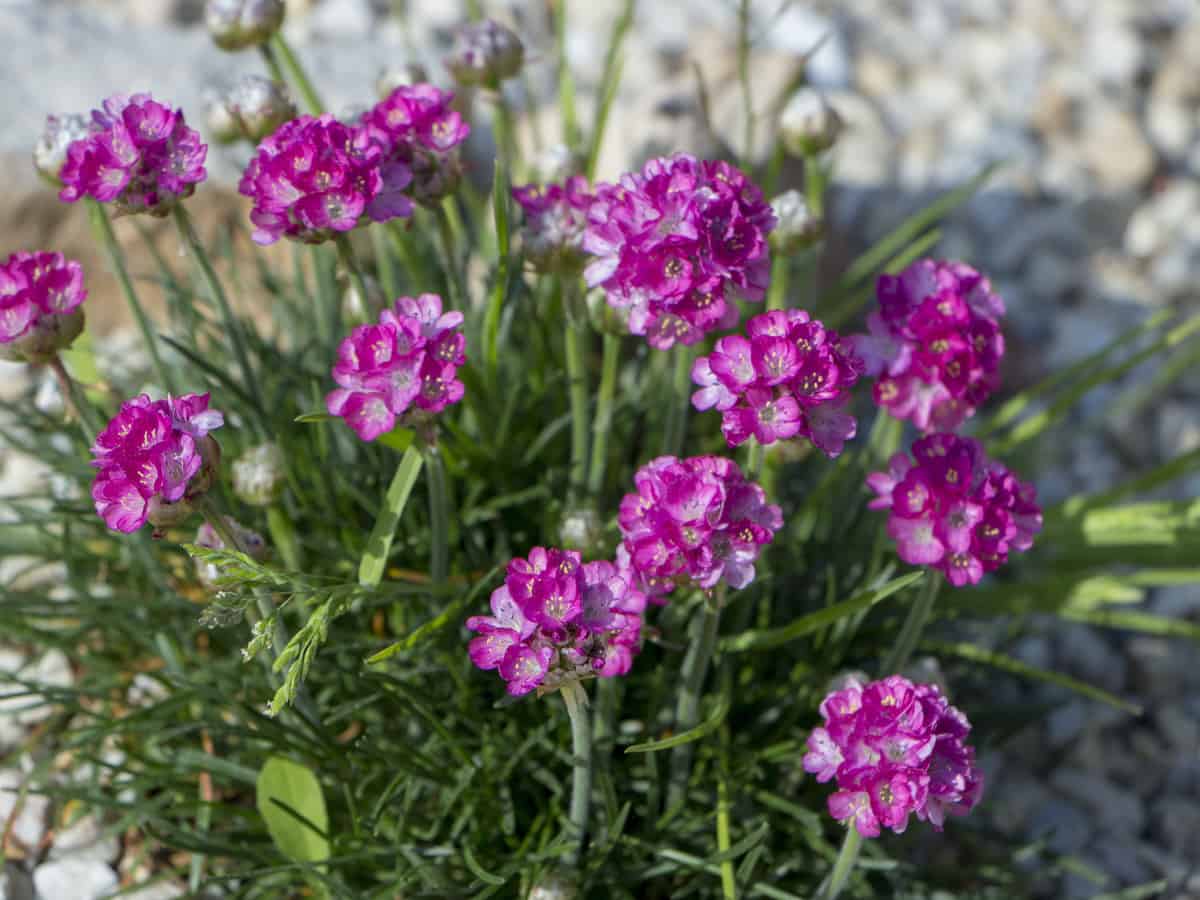 Carnations are amazing perennials for full sun that brighten any garden space or planter. They grow best in hardiness zones 3 through 9, depending on which species you grow.
They can reach a height of up to 24 inches and come in a variety of shades of white, pink, and red. These pretty flowers prefer rich, well-drained soil, and might require a top coating of mulch in the winter to ensure they grow back next year.
New Carnation plants need watering once a week, and an all-purpose fertilizer every month or month and a half will keep them healthy. Carnations also make wonderful cut flowers to add to a centerpiece or in a vase in the corner of a room.
Daylily (Hemerocallis lilioasphodelus) – Bright Flowers that Love Sun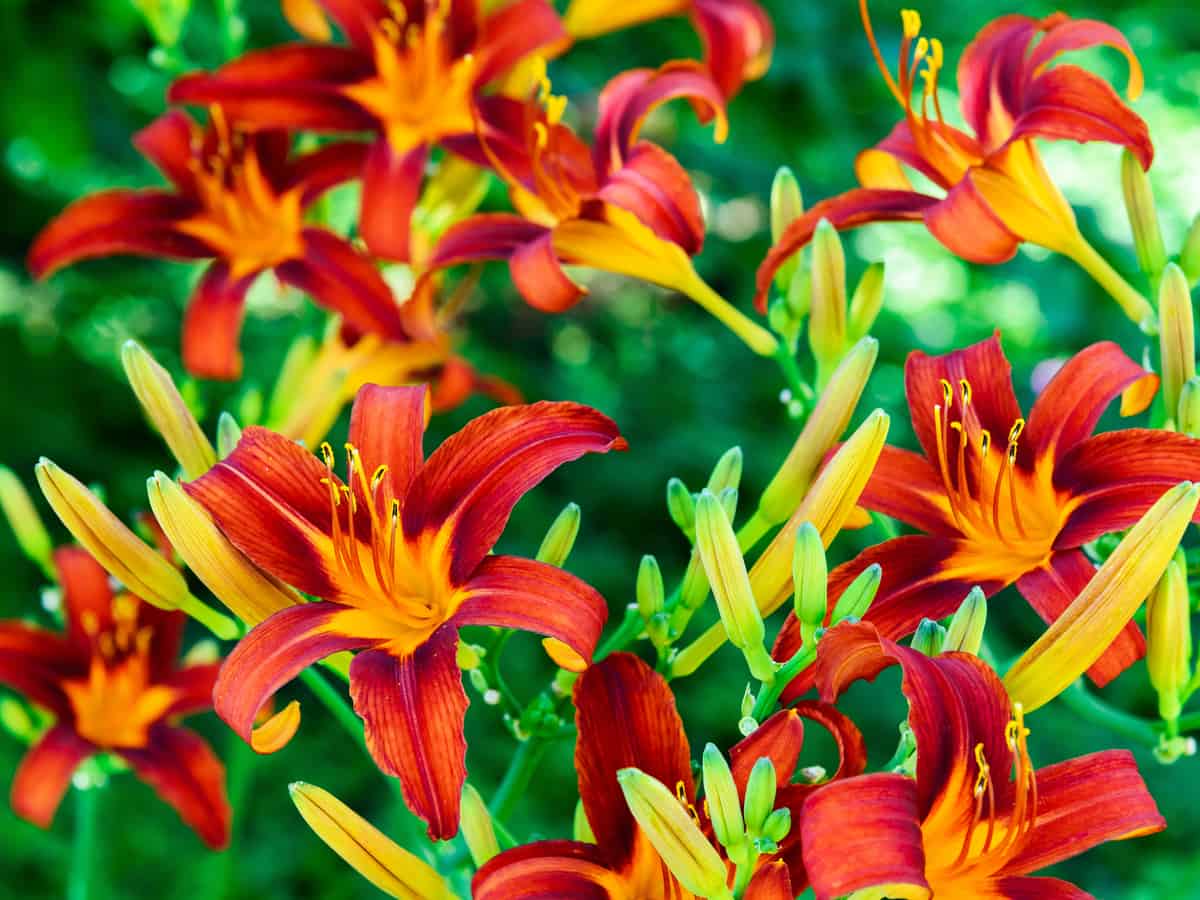 The Daylily or Lemon Lily produces beautiful yellow flowers that add a shock of color to any garden. The green foliage is also semi-evergreen so that you can have texture in the garden all year-round. These flowering perennials are also easy to grow, so they're great for beginners.
Along with full sun, they do well in part sun and prefer medium, well-drained soils. Daylilies also tolerate poor soils as well as heat and summer humidity. They grow in hardiness zones 3 to 10 and are great for attracting butterflies and hummingbirds.
Bee Balm (Monarda didyma)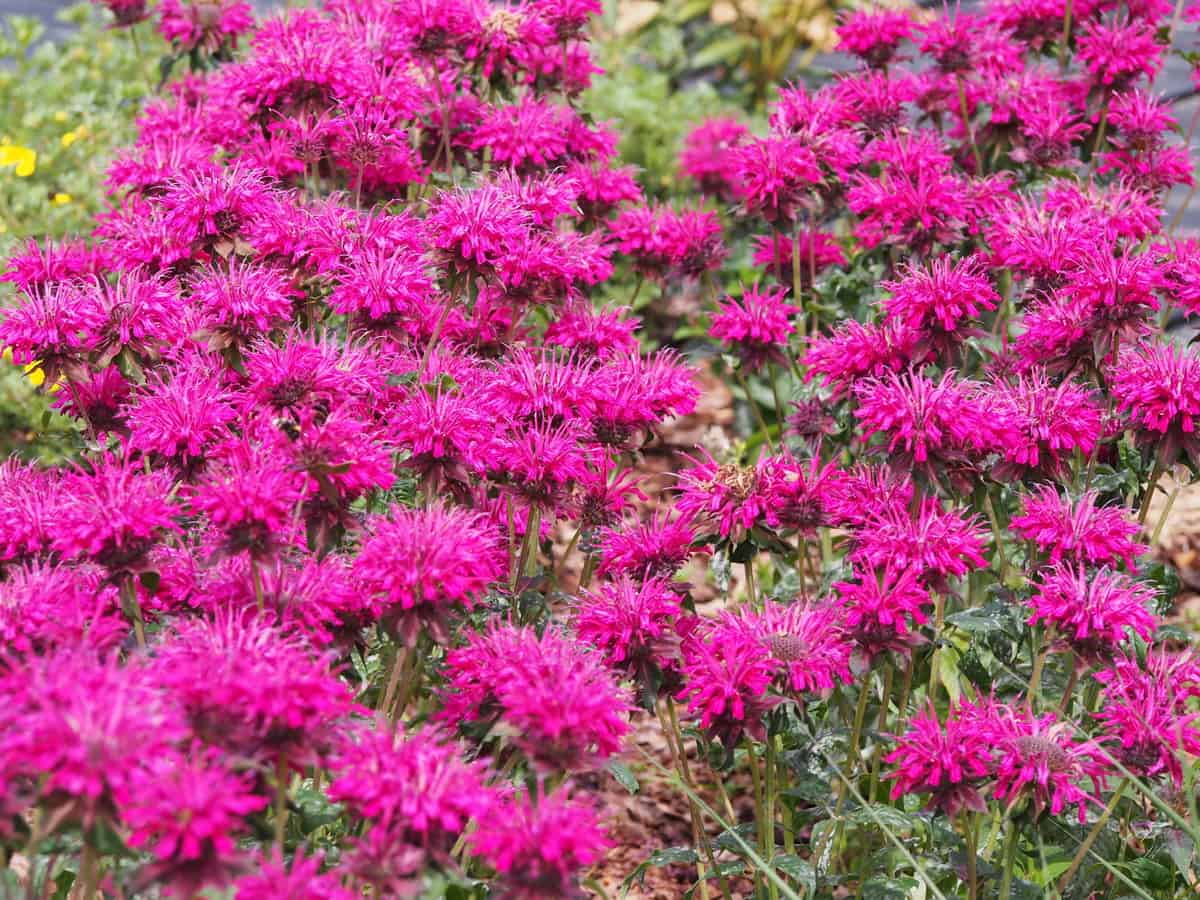 Bee balm is a unique herbaceous perennial that is in the mint family, so not only does it look beautiful, it smells good, too! These plants reach up to 3 feet in height and grow best in hardiness zones 4 through 9.
Bee balm is also edible and adds great flavor to dishes as a garnish or in a salad. They do best in moist soil, making them an excellent option for wet spots in your garden where other perennials might struggle.
Butterfly Weed (Asclepias tuberose)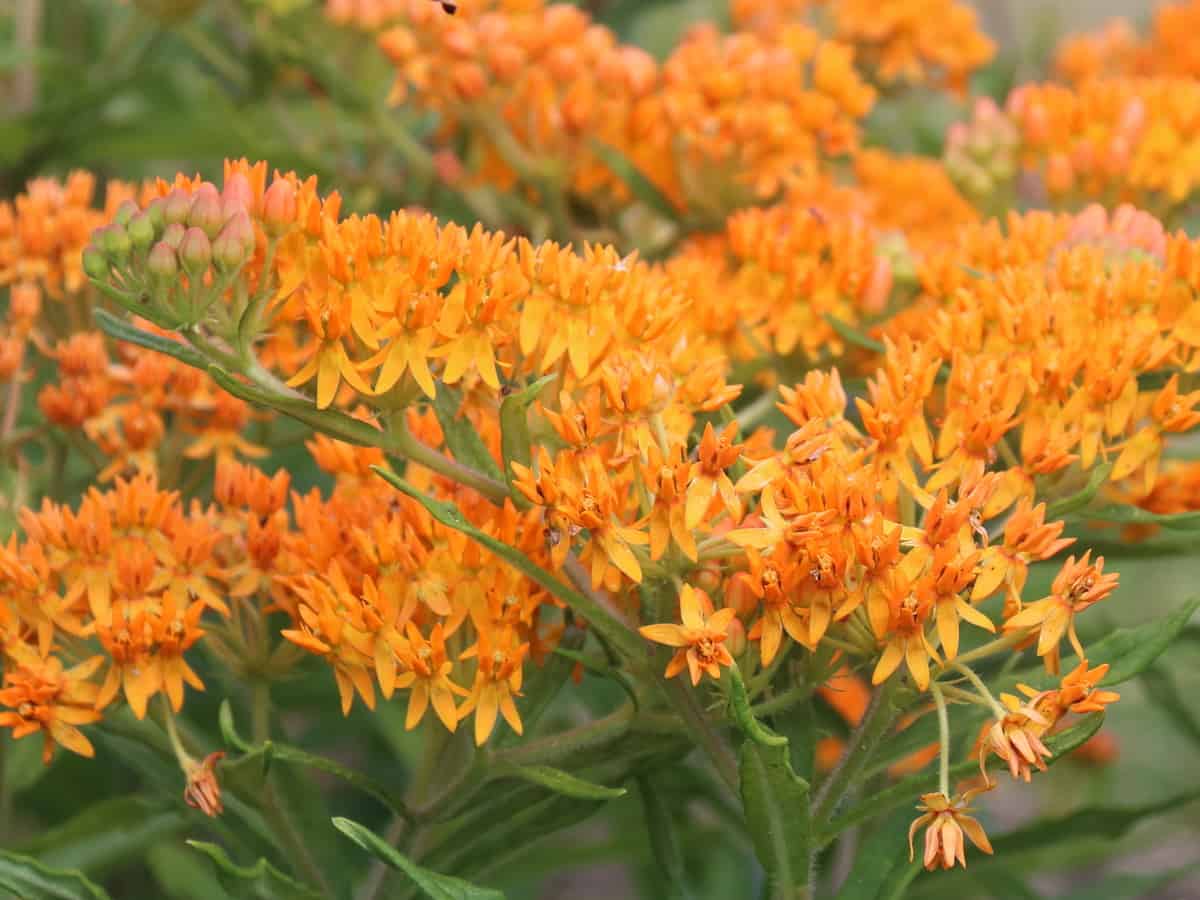 The gorgeous orange flowers of the Butterfly Weed attract more than just your neighbor's gaze. They bring Monarch, Queen, and Grey Hairstreak butterflies, as well as lady beetles, bees, and hummingbirds to any area they're planted.
Butterfly Weed was used by Native Americans for medicinal purposes and was commonly brewed into a tea to soothe stomach issues.
These flowers bloom from early summer to the first frost and typically grow 1 to 2 feet tall, making the smaller varieties perfect ground covers for full sun locations. They grow well in clay, dry, or rocky soil, and are even drought-tolerant. They do well in Southern hardiness zones.
Calliopsis (Coreopsis gigantean) – Low-Maintenance Sun-Lover for Beginners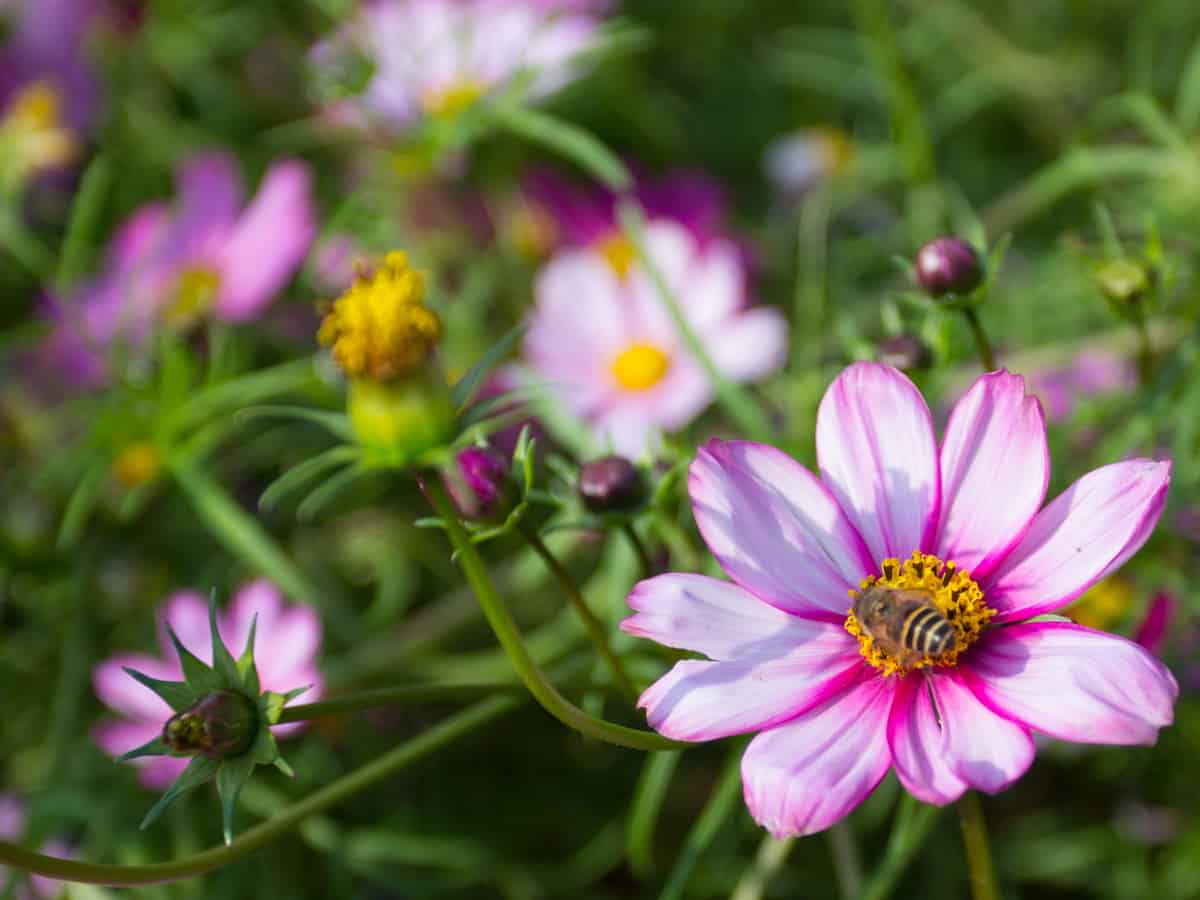 Calliopsis goes by many names, including Coreopsis and Tickseed. They bring a bright splash of color with their bright yellow flowers and green foliage. They are a summer flower and bloom through early, mid, and late summer straight to late fall.
They are sometimes able to handle dry soil but prefer permeable, nutritious soil that is well-drained. Calliopsis does best in hardiness zones 4 through 9 and attracts bees and butterflies. They are low-maintenance and disease-free.
Purpletop Vervain (Verbena bonariensis)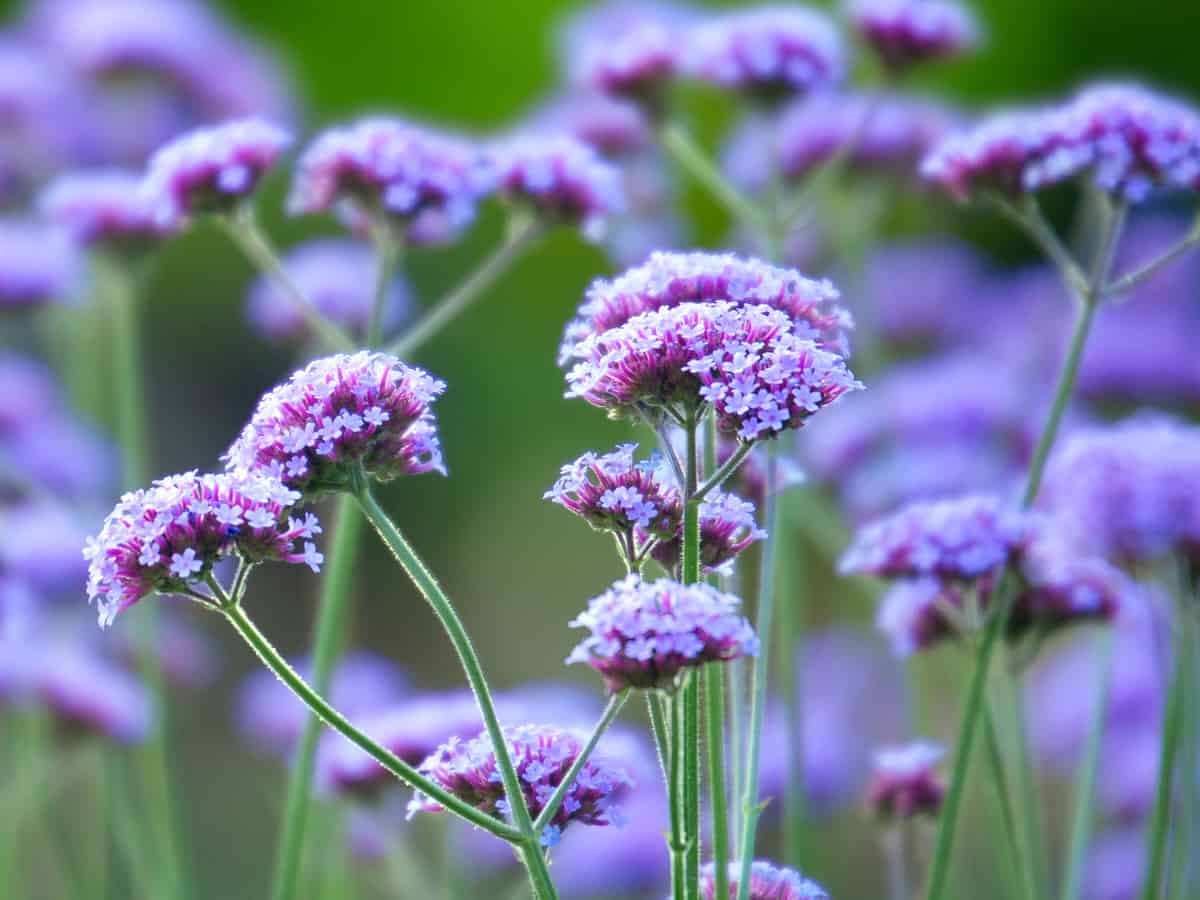 Purpletop Vervain is a lovely, unique full sun plant that sticks out due to its height. With clusters of basal leaves adorning a thin, tall stem reaching up to 5 feet tall, you can't miss these flowers. The tiny violet petals form in clusters that add the perfect touch of color.
This perennial plant grows in hardiness zones 7 and higher and thrives in regular moisture soil that's well-drained. It blooms in early spring as perennial and mid-summer when treated as an annual. The seed heads on the flowers make them easy to propagate.
Michaelmas Daisy (Aster amellus)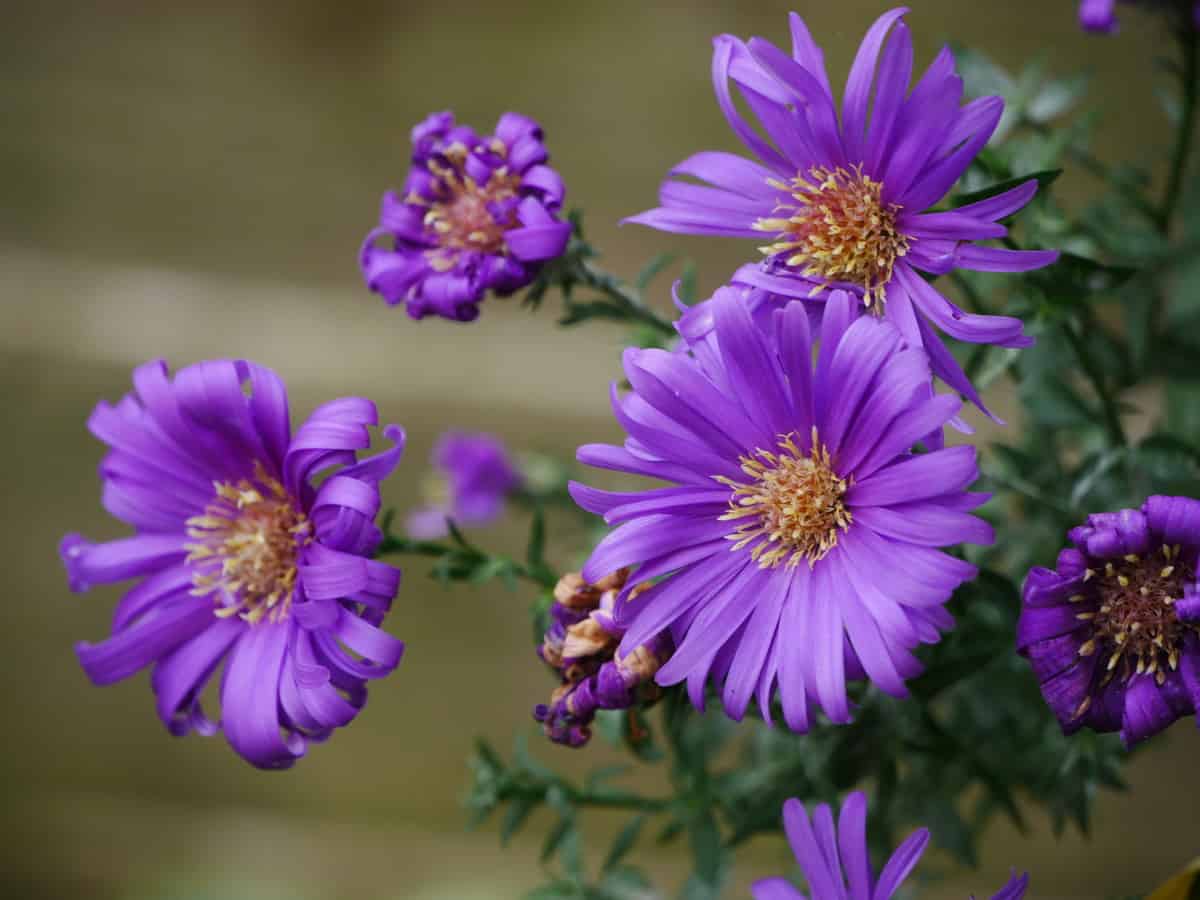 With its bold purple flowers, the Michaelmas Daisy, also called the Italian Aster, add the perfect splash of color to any garden. It is a fast-growing perennial that reaches a height of up to 1 to 3 feet. These flowers have a long blooming period, from late summer to mid-fall.
Along with preferring full sun, these flowers like medium moisture and well-drained soil. They are drought-tolerant, making them perfect for prairies, and look great as cut flowers. If you want to attract more birds and butterflies to your garden, then this is also an excellent choice.
Designing a garden is hard when there are so many lovely flowers from which to choose. That's why it's best to narrow down your options by looking at which plants will work best in your environment.
By establishing what level of sun your yard gets each day, you can decide which flowers you like the most of those that fit your needs. Once you make the tough choice of selecting your favorites, then the real fun begins!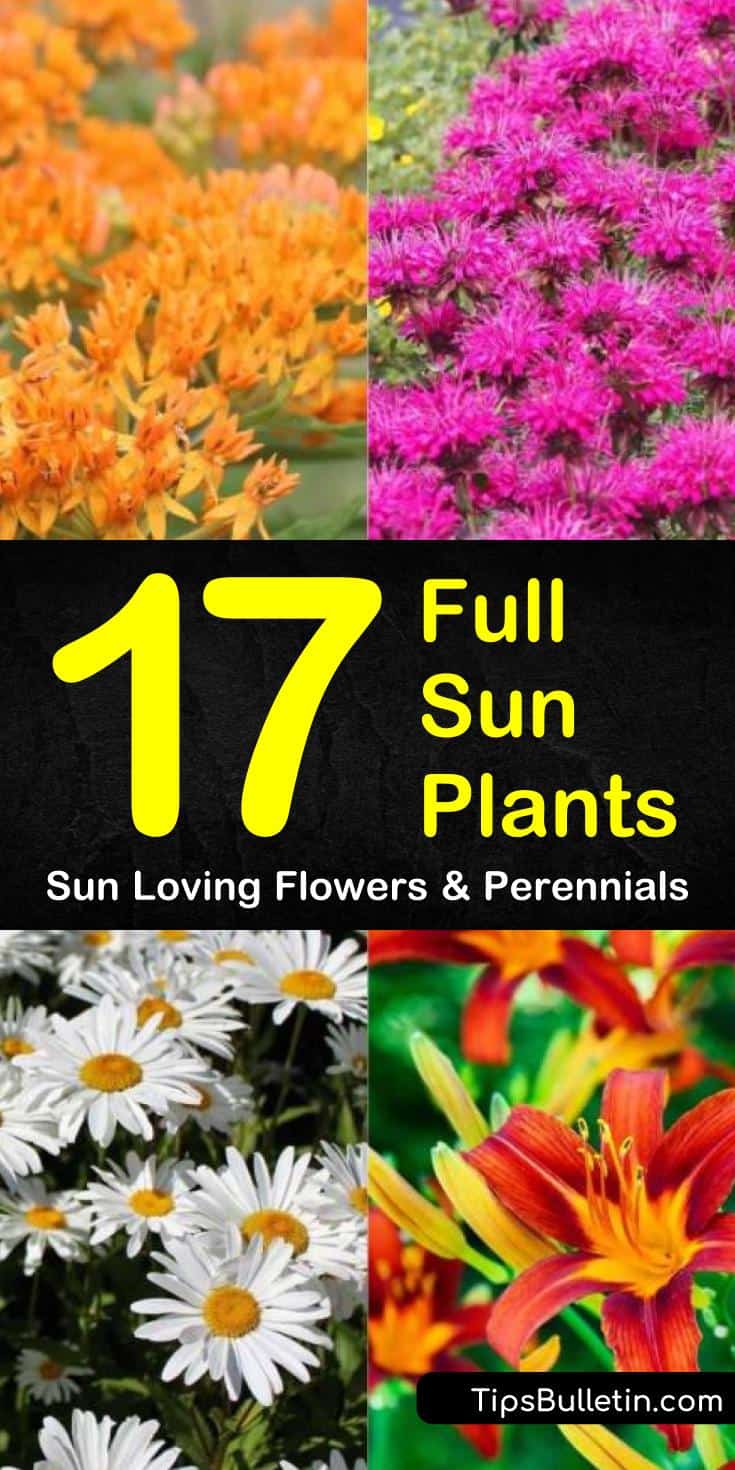 If you found some new favorite full sun plants on this list, then share our gardening guide with your friends and family!