Have you ever been grocery shopping for a new recipe and wondered, "Are chickpeas and garbanzo beans the same?" In short, the answer is yes. Learn more about the garbanzo beans vs chickpeas debate.
While chickpeas and garbanzo beans are two names for the same thing, there's more to the story. These healthful legumes have a long cultural history. They have been cultivated and consumed in the Middle East for over 10,000 years.
Experts believe them to be one of the earliest-grown legumes in human history. Garbanzo beans are a staple ingredient in many of our favorite foods, from creamy hummus to savory curry.
They're an incredibly versatile ingredient and typically get sold either canned or dried. They also have numerous health benefits, including weight loss, improved digestion, lower blood sugar, and more. Garbanzo beans are an outstanding source of plant-based protein, making them a key element of vegetarian and vegan diets.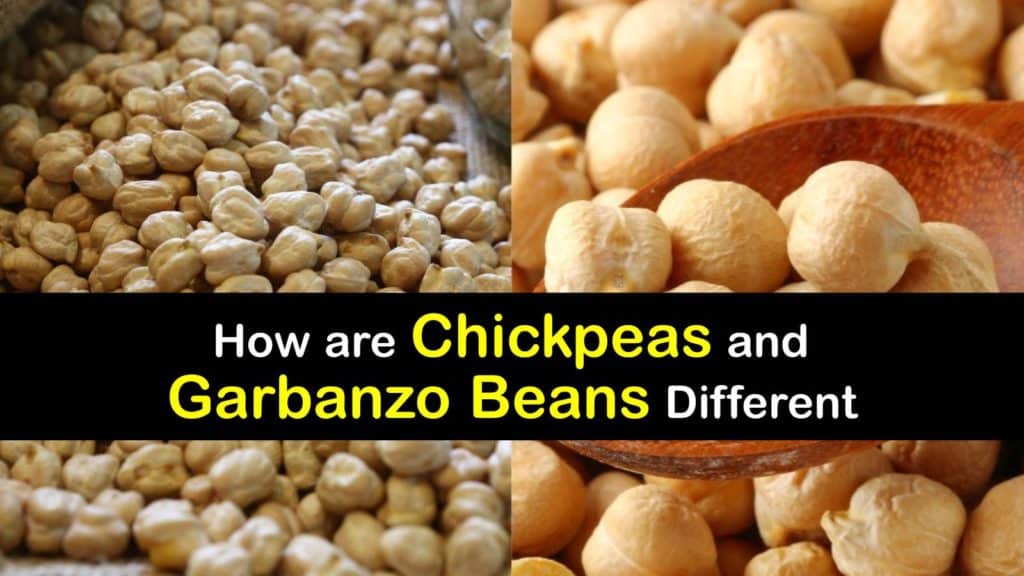 Is There a Difference Between Chickpeas and Garbanzo Beans?
Chickpeas, garbanzo beans, or Cicer arietinum by their botanical name – all of these terms refer to the same member of the Fabaceae or Leguminosae plant family, commonly called legumes.
Other legumes include pinto or black beans, lentils, mesquite, peas, soybeans, and some non-edible plants like lupine and vetch.
Garbanzo beans have a long and rich culinary history. The first evidence of their cultivation by humans dates between 8500-7500 BCE from Neolithic sites in the Fertile Crescent, a geographical region comprising modern-day Israel, Jordan, Lebanon, Palestine, Turkey, and Syria.
They spread to the Mediterranean around 6000 BCE and India around 3000 BCE. Garbanzo beans are one of eight "founder crops" associated with the development of agriculture in ancient human civilizations.
Today, the garbanzo bean is the second-most widely cultivated legume in the world after soybeans and are some of the quickest growing vegetables around.
India is the largest producer of chickpeas globally, accounting for approximately 65% of the world's supply. Australia is second, growing 14% of the world's chickpeas.
Garbanzo Beans vs Chickpeas: What's in a Name?
So if they're the same thing, why do they have two different names? The main difference between chickpeas and garbanzo beans is the origin of the name.
Chickpea is the modern English derivative of the original Latin name cicer. The French adapted the term to pois chiche. From there, the English changed the name again to "chiche pease." Eventually, the name evolved into its present-day version of chickpeas.
The term garbanzo is Spanish and dates back to the 1700s. While its origins are unknown, experts have identified two likely possibilities. The word may come from the Old Spanish term arvanço, meaning a plant of the pea family.
Others speculate that it's derived from the Basque word garbantzu, which means "dry seed." Basque is an ancient language still spoken today in the Basque region between northern Spain and western France.
Nowadays, the terms have become interchangeable. Other names for this legume include Bengal gram, Egyptian pea, Ceci in Italy, kichererbsen in Germany, and revithia in Greece.
If you've never tried making homemade hummus, it's worth it. Hummus is astonishingly simple to make, and it's easy to customize the recipe to add the flavors you prefer.
Strain the liquid from the canned chickpeas into a container and conserve for later. Add the drained chickpeas, garlic, lemon juice, salt, tahini, and any add-ins.
Purée for 30 seconds, then scrape down the sides of the bowl. Add the chickpea liquid one tablespoon at a time while pulsing the hummus mixture until you reach your desired consistency.
This recipe makes approximately three cups. Store refrigerated in a lidded container for up to one week.
Distinction Between Kabuli and Desi Chickpeas
Although garbanzo beans and chickpeas are the same things, that doesn't mean that they're all identical. The two main types of chickpeas are Kabuli and Desi.
Kabuli means "from Kabul." These chickpeas tend to be light in color with large, smooth, uniformly shaped seeds. They're principally grown in southern Europe, the Mediterranean, northern Africa, Afghanistan, Pakistan, and Chile.
Desi chickpeas are darker and smaller than Kabulis. They also have a rougher coat, are more irregularly shaped, and have yellow interiors. They're primarily grown in Ethiopia, Iran, India, and Mexico. Desi translates to "local" in Latin.
Health Benefits of Garbanzo Beans
Garbanzo beans are considered a powerful superfood and boast numerous health benefits. They're full of antioxidants, which break down free radicals in the body.
They're also rich in vitamins and minerals, including calcium, copper, iron, folate, magnesium, manganese, potassium, phosphorus, zinc, and vitamins B and C.
In addition, garbanzo beans are an excellent source of dietary fiber and plant-based protein and low in calories.
They're a popular weight-loss food for this reason since protein and fiber work together to slow digestion and make us feel full longer, as well as regulating blood sugar levels.
Garbanzo beans also provide a beneficial form of carbohydrate called oligosaccharides, which play a crucial role in cell interaction and immune function.
They're particularly favorable for people with diabetes. Instead of increasing blood glucose and insulin production, oligosaccharides dissolve in the gut and form a viscous gel that decreases glucose absorption.
The nutrients in garbanzo beans help to protect against various chronic diseases. Magnesium and potassium reduce the risk of heart disease by preventing high blood pressure.
Soluble dietary fiber lowers bad cholesterol. B vitamins, magnesium, and zinc help reduce the risk of type two diabetes.
Garbanzo beans promote the production of butyrates in the body, which are fatty acids that potentially reduce cancer risk. Their exceptional nutritional value makes garbanzo beans a worthwhile addition to your regular diet.
Falafel is a traditional Middle Eastern dish believed to have originated in Egypt. It has gained popularity in recent years as a hearty meat substitute. It's easy to make and an excellent way to add some variety to your kitchen.
Soak the dried chickpeas for 18-24 hours. Baking soda helps soften the chickpeas faster. It's critical to use dried chickpeas so that the falafel holds its texture when fried.
Add the soaked chickpeas, onions, garlic, herbs, and spices to a blender or food processor. Purée the ingredients for 30 seconds at a time until well-blended.
Place the mixture in a sealed container and refrigerate for at least one hour to set. Before frying, stir in the baking powder and toasted sesame seeds.
Wet your hands and form the falafel mixture into half-inch patties. Pour three inches of oil into the bottom of a heavy-bottomed pan and heat on medium-high.
Fry the patties for three to five minutes until golden brown and crispy on the outside. Cooking time varies by how large they are. Drain the fried falafel patties in a colander or on a plate lined with paper towels.
Serve hot with tahini, hummus, tzatziki, a pita sandwich, or tomato and cucumber salad. This recipe is ideal for making ahead and freezing. Reheat by baking or frying.
Best Substitute for Garbanzo Beans in Cooking
Garbanzo beans are a vital ingredient in numerous Indian and Middle Eastern recipes. If you don't enjoy their intense flavor, don't worry. Several other legumes make an adequate substitute for garbanzo beans in the kitchen.
The best substitute for garbanzo beans is cannellini beans because they have the most similar flavor and texture. These white kidney beans are popular in French, Greek, and Italian cuisine and have a mild, nutty flavor and creamy texture.
Lentils are closely related to garbanzo beans and have a milder flavor. The small, round, lens-shaped seeds are also rich in protein, fiber, iron, and folate. They're typically black, green, red, or yellow.
Kidney beans, native to Central America, have a milder taste than garbanzo beans and a similar texture. Kidney beans have comparable nutritional value and health benefits to garbanzo beans.
Whether you prefer calling them chickpeas or garbanzo beans, these healthful legumes are both nutritious and delicious. Packed with vitamins, minerals, and antioxidants, they're an excellent addition to your diet.
Garbanzo beans are a fabulously adaptable ingredient and get used in a wide variety of dishes across cultures. The only difference between chickpeas and garbanzo beans is the origin of the two different names.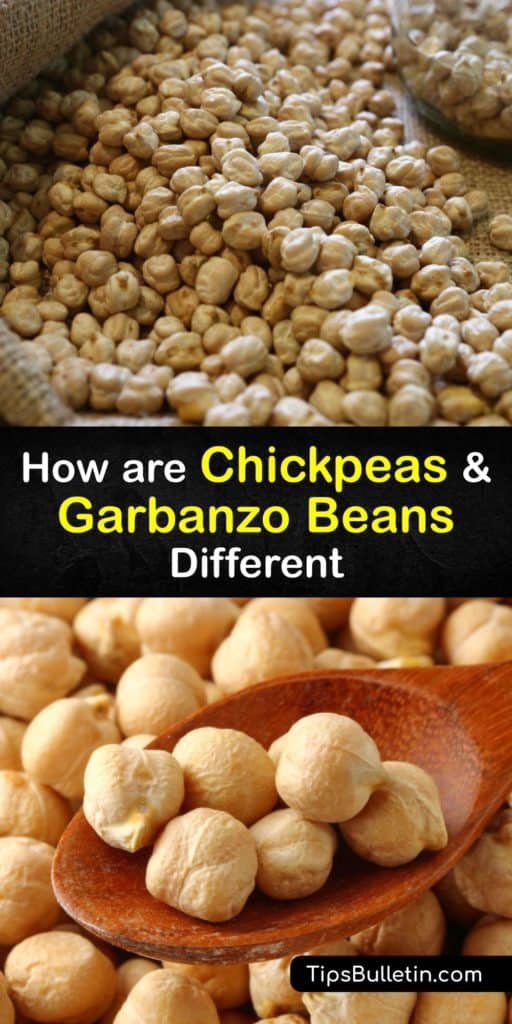 If you enjoyed reading about these ancient legumes, please share this article about garbanzo beans vs chickpeas with your friends and family on Pinterest and Facebook.