Has your gas stove top seen better days? Are you embarrassed by the unsightly build up? Do you feel like your gas stove top cleaner isn't working? If you are anything like us, your gas stove top gets used at least once a day; for some of us, it gets even more frequent use.
No matter how often it is used, drips, spills, splatters, and stains are bound to occur. One of the biggest reasons why gas stove tops look as bad as they do is we don't clean up these accidents as soon as they happen. Burners and drip pans are often too hot to clean when you first finish cooking, and many times we forget to come back and clean them, which makes the stains and burnt-on food that much harder to clean.
While commercial cleaners may make easy work on the toughest jobs, many of us prefer not to use harsh chemicals as they emit toxic fumes. Instead of relying on harmful cleaners, we have put together several natural gas stove top cleaner tips and recipes for you to try.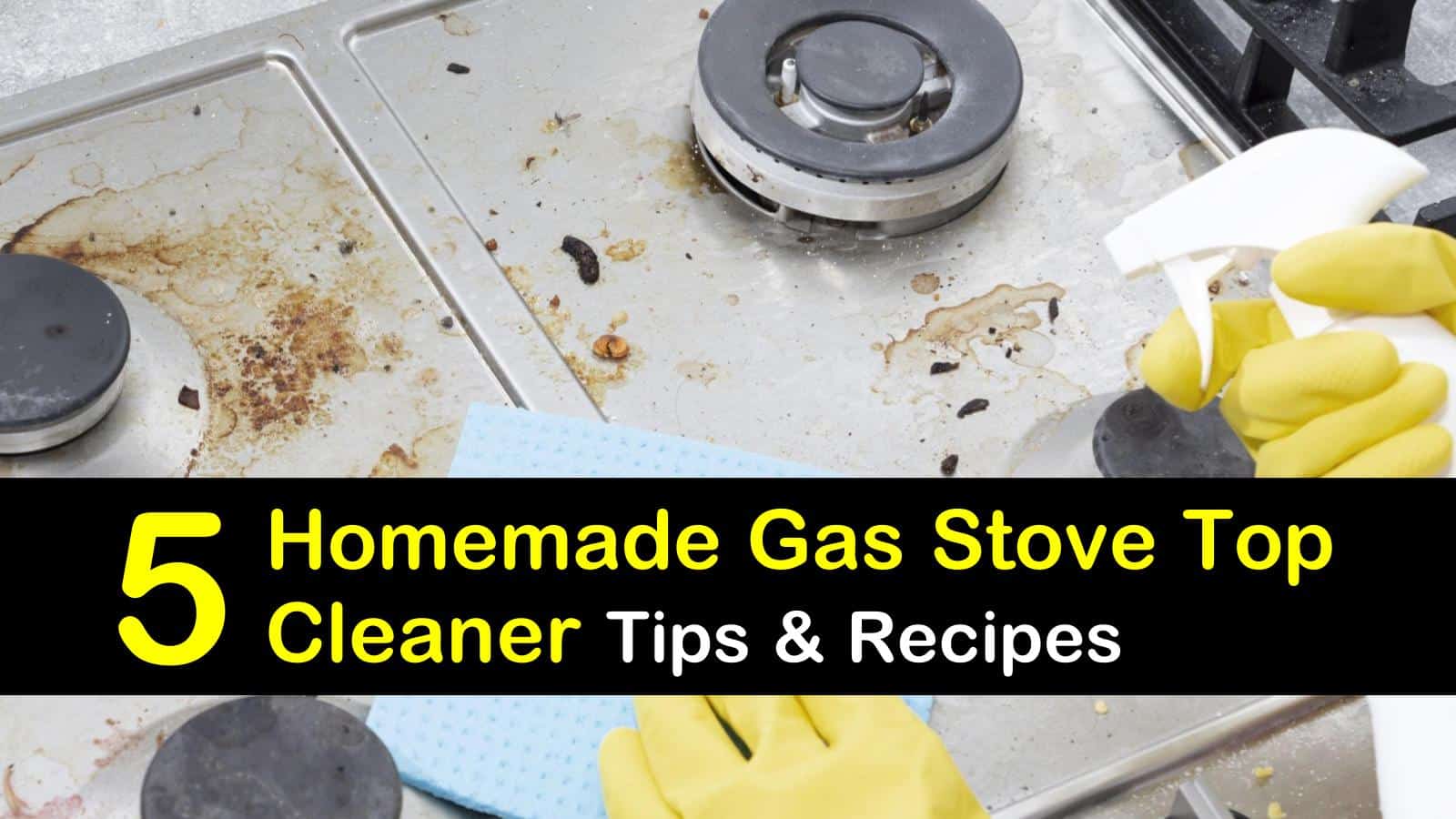 Best Cleaning Tips and Recipes for Gas Stove Tops
Tackle grease stains on your gas stove top or clean grease off a stove hood with these great recipes. You likely already have the ingredients in your cupboard.
Abrasive Gas Stove Top Cleaner
If you need to cut through a lot of burnt on grime, you need a stovetop cleaner that is a bit more abrasive. This homemade cleaner is safe enough to use on the stovetop, as well as inside the oven, and will not scratch a glass cooktop, either.
Begin by taking the grates and burner caps off the gas stovetop. Burner caps and gas grates cleaning require a quick soak in hot, soapy water while you are cleaning the rest of the stovetop and inside the oven. Remove all knobs from the stove top and wash in warm, soapy water.
Wipe the stovetop with a dry cloth to remove any loose debris. Mix the salt, baking soda, and water to form an abrasive cleaner. Apply it to the gas stove top with a sponge.
Be careful not to apply any cleanser to the igniters, as it will leave a film behind that makes igniting the burners nearly impossible. Allow the cleaner to sit for about 15 minutes. Use a copper scrubber or steel wool to scrub the stovetop clean.
Wipe down the stovetop to remove all cleaning residue. If you want really clean stainless steel appliances along with your stove, wipe in the direction of the grain to prevent streaks or use a stainless steel cleaner such as Weiman. Wash and rinse the burner caps, gas grates, and knobs.
Allow everything to dry naturally or use a towel to dry them before putting the stovetop back together. After cleaning gas stove burners and other components, check to see that all burners properly ignite. Never use copper scrubbers on glass top stoves as they will etch the glass beyond repair.
DIY Gas Stove Top Cleaner for Grease
When learning how to clean a gas stove top, people will tell you to use Bar Keepers Friend. But why buy the commercial product when you can make a homemade version that works just as well?
Mix both ingredients inside a shaker container and start disassembling the stovetop. Remove all grates, burner caps, and knobs. Wash knobs in hot, soapy water.
Soak burner caps and grates in soapy water, or you can apply a cleansing paste to help cut through the grime. Generously sprinkle the gas stove top with powder. The powder is safe for gas stove tops, as well as a ceramic cooktop.
Use some elbow grease and a wet non-abrasive sponge to scrub the stovetop. Clean stove top with circular motions. Wet a second clean cloth and wipe everything down again to remove all traces of residue.
Remove stubborn stains with a scraper or a small knife. As you scrape off the grime, wipe with a damp cloth to remove any new debris. You can also add more powder as needed.
Citrus Scented Homemade Cleaner for Gas Ovens
If your stovetop has its fair share of grease and grime, you need something powerful enough to cut through it all. A citrus-based cleaner is a perfect choice for that arduous task, plus it will leave your kitchen smelling fresh.
To make this simple yet effective stove degreaser spray, start with the citrus peels. You can use any citrus peels you want, although lemon or orange are the two most popular choices. Pack the peels tightly inside a glass jar. Pour white vinegar into the jar until full and then close the lid. Allow the peels to steep in the vinegar for two weeks.
Pour the vinegar mixture through a strainer to remove the peels. Measure out equal parts infused vinegar and water and mix inside a spray bottle. Spray stovetop, grates, and oven directly with the citrus cleaner.
Using a damp microfiber cloth, wipe everything to remove all traces of residue. Use a paper clip to remove small food particles from fuel ports.
Best Natural Gas Stove Top Cleaner
Sometimes you need an oven cleaner that will give you that deep clean you are after. Whether you are cleaning a gas range or an electric stove, this natural cleaner is an excellent choice as it cuts through all of that cooked-on gunk.
Mix the water, baking soda, and lemon in a large bowl. Dip several paper towels or rags into the solution. Gently wring out the sheets, so they are still wet but no longer dripping.
Place towels across the entire stovetop and allow to sit for 30 minutes. Remove towels and using a clean, damp cloth wipe clean to remove all traces of cleaner.
Other Useful Gas Stove Top Cleaning Tips
If you need a powerful degreaser, try using half a lemon and some baking soda. Sprinkle the baking soda directly onto the grease and grime and then use half a lemon to scrub the baking soda. Wipe clean with hot water and a sponge.
Another heavy-duty cleaner, one that is powerful enough to clean a BBQ with, involves making a cleaning solution with vinegar, Borax, and baking soda. Before adding baking soda and Borax, dilute the vinegar with some water and add only about a tablespoon of Borax and two or three tablespoons of baking soda. Spray the cleaner directly on stove grates and then wipe clean.
You can also use this spray to cut through grime on your countertop. Create a thick paste by combining baking soda and liquid dish soap. The paste is strong enough to cut through the stickiest messes and is effective on cast iron grates and surfaces.
Apply the paste with an old toothbrush or paper towel and rinse clean with a damp sponge. You can also clean your stove grates inside the dishwasher using the toughest setting.
Recipe for Gas Stove Top Cleaner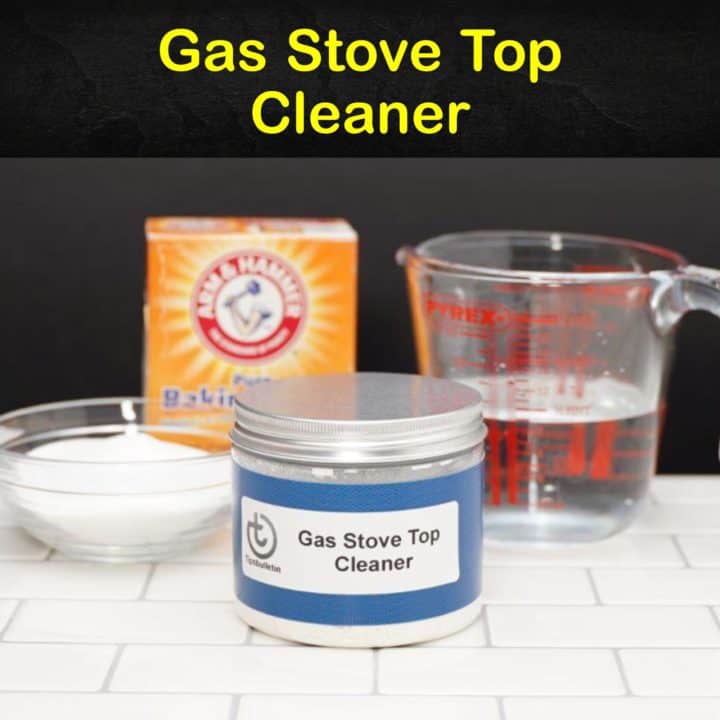 Gas Stove Top Cleaner
Gently abrasive but safe for all materials!
Materials
8 ounces water
8 ounces baking soda
8 ounces salt
Tools
Quart jar
Measuring cup
Spoon
Sponge
Dish towel
Instructions
Pour the baking soda and salt into the jar. Stir.
Add the water and mix to create a paste.
Remove the burner tops and grates from the stove.
Apply the paste to the stovetop with a damp sponge.
Let it sit for up to 30 minutes.
Rinsing the sponge frequently, wipe the stovetop clean.
Dry with a dish towel.
Clean the grates and burner tops separately and replace them on the stove.
Notes
Avoid wiping the igniters.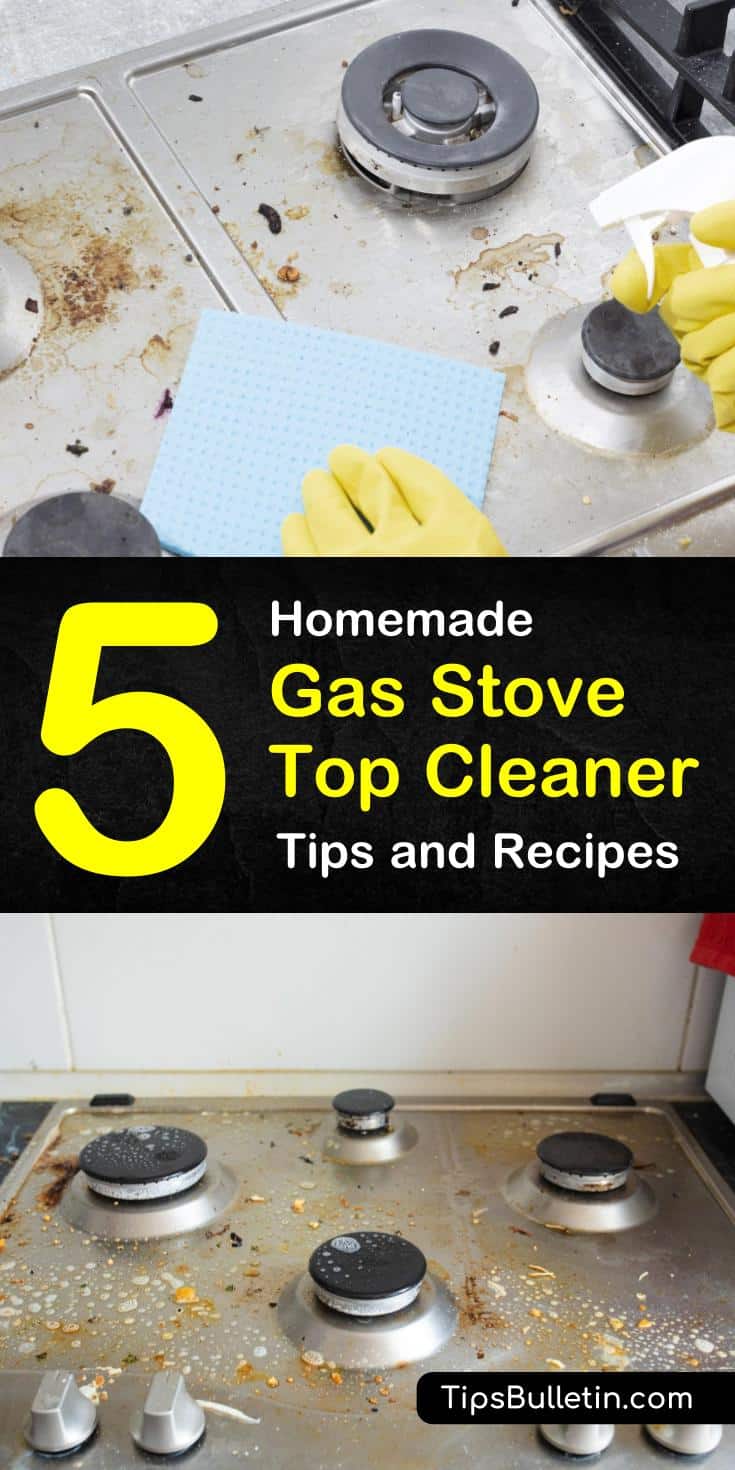 Thank you for reading about our homemade cleaner for gas ovens. If you have found any of our DIY gas stove top cleaner recipes helpful, please take a few seconds to share our gas stove top cleaner tips and recipes with others on Facebook and Pinterest.