There is nothing more bothersome than having an infestation of fungus gnats invade your home. One day you see a few adult fungus gnats circling your indoor plants, the next thing you know the gnat populations have exploded, and you are now facing a severe gnat control problem.
Your first instinct when dealing with gnat infestations might be to contact your local pest control professional to deal with the issue. Unfortunately, this kind of gnat control can be costly, as well as introducing harmful chemicals into your home and environment.
Luckily, you can control gnats organically with several home remedies to control both adult gnats and gnat larvae. You can easily distinguish fungus gnats (Sciaridae spp.) from fruit flies by their darker color and have a shiny black head, similar to that of mosquitoes.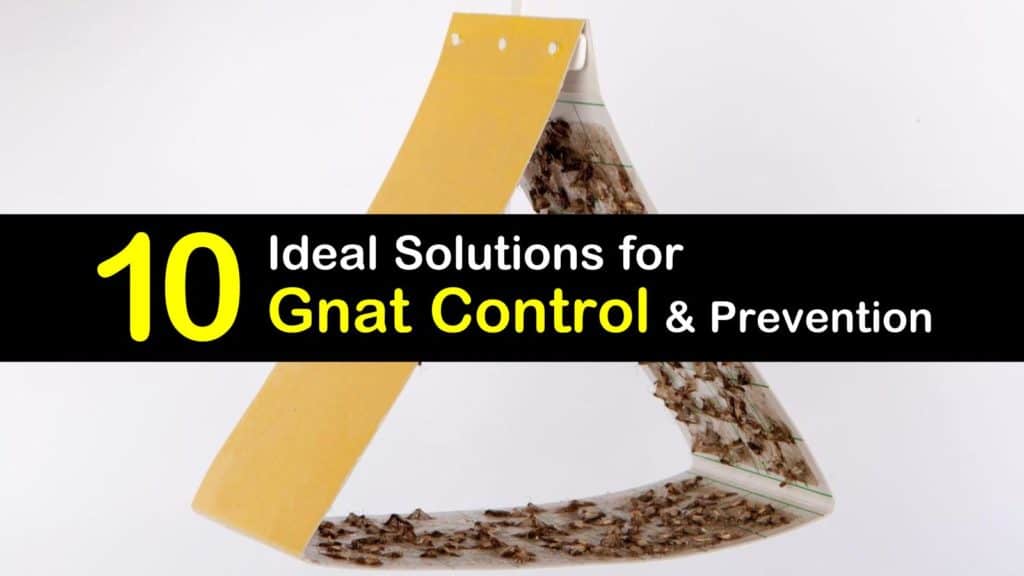 How to Control Gnats Indoors
Gnats have a relatively short life cycle, but each female adult gnat can lay up to 300 eggs on the soil surface of your potted plants during the adult stages. Within ten days the eggs hatch and during the larval stage, the fungus gnat larvae feed on the root hairs of your houseplants.
After 14 days of feeding on your plants or in your drain, the fungus gnat larvae develop into pupae, continuing to feed off your plant's roots and fungi in the soil. Within six days, the young adults leave the ground, and the cycle begins again.
Fungus gnat infestations can be incredibly frustrating to deal with and a challenge to get rid of gnats in your home. Fungus gnats are attracted to standing water and moist soil, while fruit flies are attracted to the sweet smell of rotting organic matter, like overripened fruits and vegetables.
Fortunately, several DIY fungus gnat control solutions can get rid of sink gnats and gnats elsewhere in your house with a few natural, everyday items. Here's how to get started dealing with fungus gnats.
Utilize Yellow Sticky Traps
The yellow sticky traps that you can buy from your local home improvement store are a simple and effective gnat control method. Just place them around your plants, windows, lights, and other damp areas in your home.
Yellow sticky traps are a natural pest control for flies and gnats and can also effective with controlling other plant pests. Unfortunately, yellow sticky traps aren't selective when it comes to insect control and can sometimes catch beneficial insects.
Use Food-Grade Diatomaceous Earth
Diatomaceous Earth (DE) has a variety of uses, including as an effective insect killer. Use Diatomaceous Earth to kill fungus gnats, as the powder is a naturally occurring, siliceous sedimentary rock that is made from the fossilized remains of diatoms.
The powder is effective at killing fungus gnat larvae and other insects, including roaches, fleas, and ants, as well as being the best way to kill chiggers. DE works like little razors that tear into the insects and dehydrate them from the inside out.
Make a DIY Vinegar Gnat Trap
A good gnat trap that is a highly effective gnat control indoors is an apple cider vinegar trap. Fruit flies and fungus gnats are attracted to the sweet aroma of apple cider vinegar and will do anything to get near it.
Here's how to deter flies with this effective fly trap out of items you probably already have at home.
Fill the jars halfway with the apple cider vinegar. Add several drops of dish soap to disrupt the surface tension. Place the plastic wrap over the container opening and secure it with the rubber band. Poke several holes in the plastic wrap using a toothpick or other pointed object.
Place the jars in areas when you are having a problem with gnats. The fungus gnats will fly into the pot and dive into the vinegar and drown.
Sprinkling apple cider vinegar throughout the yard or particularly prone areas is also one of the best natural ways to repel chiggers and other unwanted pests.
Sprinkle Cinnamon on Your Soil
Cinnamon powder has been proven to be an effective natural fungicide that can help control fungus gnats in plants. When sprinkled on the topsoil of your potted plants, it destroys the fungus that gnat larvae love to feed on.
Using cinnamon verum, which you can find online, sprinkle enough over the top layer of soil to form a visible layer. Repeat the process every other week until the fungus gnat problem has been solved. At the same time, you may be able to use this solution as one of the home remedies for getting rid of chiggers.
Make a Hydrogen Peroxide Insect Spray
A solution of 3% hydrogen peroxide is one of the best methods for getting rid of fungus gnats both inside and outside your home. Due to their delicate bodies, hydrogen peroxide is an extremely effective fly control method.
Upon contact, hydrogen peroxide will kill fungus gnat larvae without harming your plants or the soil, and won't kill any beneficial garden insects like ladybugs. You can make your own fungus gnat insect spray to get rid of these pesky insects.
Pour the hydrogen peroxide and water into the plastic spray bottle. Replace the cap and gently shake to mix the ingredients. Allow the top layer of the soil to dry before starting the treatment. Spray the solution underneath and on top of your plants.
Make sure to drench the ground where the fungus gnat larvae live. The hydrogen peroxide will break down into oxygen and water molecules and supply water to your plant. Repeat the treatment until you no longer see any more fungus gnats.
Use this spray as one way to get rid of fruit flies on the ceiling and throughout the house.
The Best Methods for Controlling Gnats Outdoors
Nothing can ruin an outdoor gathering in your yard quicker than the nuisance of a swarm of gnats. While harmless, these tiny insect pests have a way of emerging at the worst times. They are technically black flies but look more like mosquitoes.
The best way to take care of a fungus gnat infestation in house or yard is by changing the environment in which they thrive. It's also one of the best chigger control tips, as well as for a variety of other unwanted insects.
Get Rid of Decaying Organic Material
If you have a gnat problem in your yard, the best thing to do for a gnat deterrent is to clean up any decaying organic material and change the environmental conditions that attract the gnats in the first place.
Make sure you allow your garden beds and lawn to thoroughly dry out between watering to minimize the moisture that gnats find attractive. Remove grass clippings, rake the leaves, and pick up any dead plant matter from your yard.
Introduce Beneficial Nematodes
The most effective solution for eliminating gnats in your yard is introducing beneficial nematodes (Steinernema feltiae) into the environment. Beneficial nematodes are a natural predator of gnats and are microscopic parasites that feed on the fungus gnat larvae, as well as other garden pests in the soil.
The won't harm your plants or pets and will continue to work at eliminating gnats for up to 18 months. Drench the soil in your garden once to kill off the population until they have been removed.
Treat the Area with Bacillus Thuringiensis Israelensis (BTi)
BTi is a naturally occurring bacteria that is an effective method for controlling gnats outdoors. After a few treatments, you will be able to rid your home of fungus gnats. It is also an effective method for killing mosquito larvae, and eliminating a mosquito infestation, as well. To use, add two tablespoons of the BTi to a gallon of water and drench the soil.
The bacteria release a special protein crystal that is converted into a toxic protein molecule when the larvae ingest it, which will destroy the inside of the larvae's stomach. You can find Mosquito Bits online or at your local home improvement store.
Create a Citronella Oil Spray
Citronella oil is one of the few things that fungus gnats hate the most and is great when it comes to how to deter mosquitoes from your yard. You can make a homemade Citronella oil spray that you can use to deter gnats and other breeds of flies.
Add the water, citronella oil, and dish soap to the spray bottle. Replace the lid and gently shake to mix the ingredients. Spray the mixture around your home, near your plants, and around your garbage cans. The strong aroma will keep gnats at bay and is safe to use around your plants and family.
Try adding a bit of neem oil to this mixture for fungus gnat control with neem oil. This natural oil is ideal for eliminating a variety of unwanted pests.
Use a Non-DEET Gnat Repellent Spray
A revolutionary gnat spray, the Non-DEET gnat repellent is made out of natural ingredients. You can safely use it on your kids without worrying about them developing any itching or rashes.
The effective spray works well to repel gnats as well as ticks, mosquitoes, sand flies, chiggers, fleas, and fire ants. Use the spray anytime you are outside working in your yard or when you are trying to enjoy a fun evening outdoors.
Gnats are a frustrating flying insect that can quickly ruin a day outside and infest your house. Thankfully, there are several natural home remedies that you can use to get rid of gnats quickly. With these ten methods for ridding your home and yard of these annoying pests, you can eliminate the problem and start enjoying your home once again.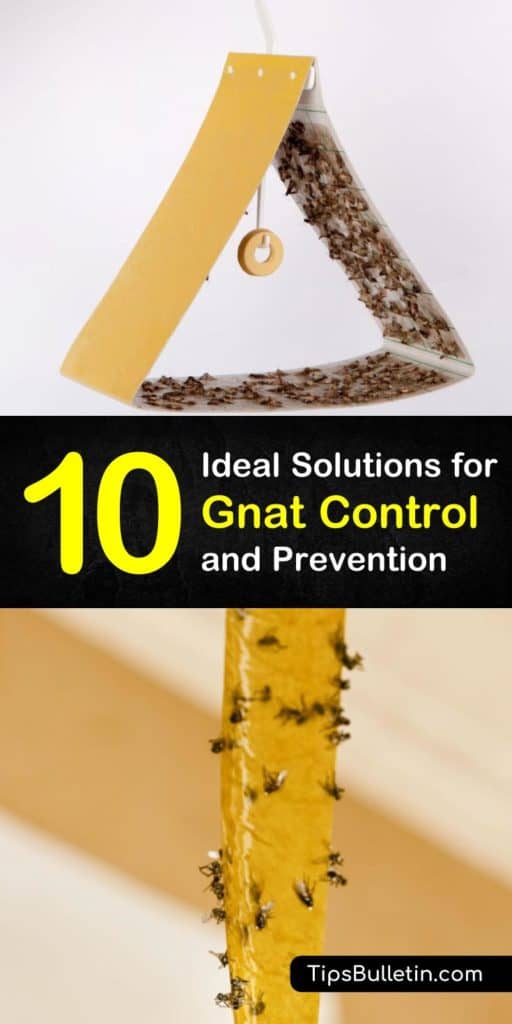 We hope you enjoyed learning about the best methods for gnat control and prevention. If you found this gnats information in this article useful, please feel free to share it with all your family and friends.