Autumn is here, the leaves burst with yellow, orange, and red colors, and it's time to pick pumpkins from the garden for baking pumpkin pie and decorate the home with cheerful gourds and jack-o-lanterns. Are gourds and squash the same thing?
Learn the differences between a gourd vs squash, their nutritional values and uses, and how to grow them at home. The Cucurbitaceae family consists of many members, including squash, gourds, and even melons like cantaloupe and watermelon. While they come from the genus Cucurbita, they are quite different from one another.
For example, you can use a pumpkin as a Halloween decoration or make a pie, but a warted gourd is not for consumption. It's common to refer to squash as a gourd, and while many people think that zucchini and squash are the same, there is a distinction between them.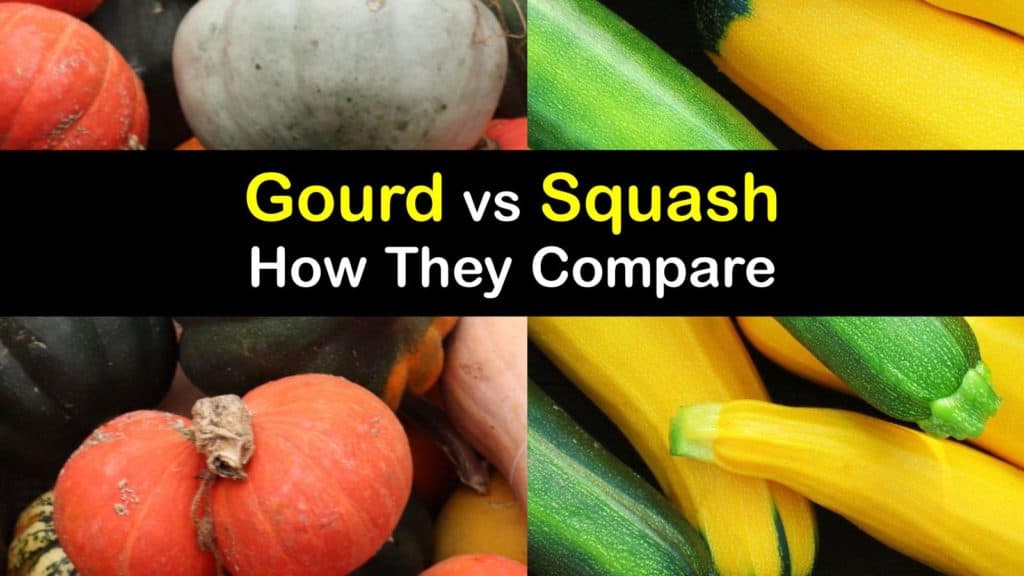 Understanding Gourd vs Squash and Their Uses
There is a difference between summer squash, winter squash, and gourds, and it's essential to understand their differences before growing them in the garden and preparing them in recipes.
We're all familiar with the color and shape of different types of pumpkins, butternut squash, and zucchini, but it's not every day that you see different types of gourds made into musical instruments. What's the difference between squash and gourd, and how can you tell them apart?
There are two main types of squash, and both of them are edible. While pumpkin and squash are not the same, they are similar and have identical growing requirements.
What is a gourd? We grow gourds for practical or decorative purposes. Learn how to tell the difference between gourds and squash, their nutritional values and uses, and ways to grow them in the home garden.
How to Tell the Difference between Gourds and Squash
If you're unfamiliar with the varieties of squash and gourds, you may have some difficulties telling one apart from the other. Find out how to tell the difference between gourds and squash and what makes them unique from each other.
Gourds have a thick rind, are grown to maturity and dried, and have been used for centuries as water vessels, utensils, dippers, and storage containers. There are many varieties, including the Turkish Turban, snake, and bottle gourd.
Cucurbita pepo is a small, colorful ornamental gourd common for decorating, and these types come in many shapes, textures, and color variations. Sponge gourds make the famous luffa sponge, while snake gourds are tough enough to make into didgeridoos.
The bottle gourd cultivar is a hardshell gourd that lasts for several years and is popular for making everything from birdhouses to ornaments. Growing bird house gourds is easy and fun.
There are several Lagenaria varieties, including Powderhorn, Caveman's Club, and dipper gourds. They are Lagenaria siceraria, which means drinking vessel, and are edible when immature.
Like decorative gourds, winter squash (Cucurbita maxima) has a thick, tough rind, and you wait until it's mature to harvest. The way to tell the difference between pumpkins and gourds is by the thickness of the rind.
Winter squash is grown for eating and the spaghetti squash growing season is similar. Grow butternut squash from fresh seeds like other squash and gourd varieties.
Common winter types include spaghetti squash, buttercup squash (Cucurbita moschata), delicata squash, and acorn squash. How long does a butternut squash last? Winter squashes last longer than their summer counterparts.
Summer squash types are also edible, and you harvest these varieties while immature. They have thin and tender skins, and zucchini, Chayote, Pattypan, and yellow crookneck are perfect examples of this squash type.
Nutritional Difference between Squash and Gourd
The main difference between squash and gourd is that we generally grow squash for consumption, but grow gourds for decoration or other uses. However, squash contains many nutrients.
Discover the benefits summer and winter squash provide to your health. Learn to freeze summer squash and winter squash to eat throughout the year. You can also discover the way to can spaghetti squash to save it even longer.
While the different types of squash vary by some degree, they all contain vitamins, minerals, and antioxidants. They have vitamin C and beta-carotene for eye health, are high in fiber for digestion, and are rich in vitamin B6.
Squash is a good source of calcium, magnesium, iron, and vitamin A. One cup of raw butternut squash has 63 calories, 16 grams of carbohydrates, and less than a gram of fat.
Growing Gourd vs Squash in the Garden
There is nothing better than producing homegrown food or growing plants for decoration, like when you plant cantaloupe seeds or tomato seeds. Learn how to grow your own squash or gourd plant in the garden and give them the TLC they require, how gourds vs squash differ while growing, and when they are ready to harvest.
Wait until after the danger of frost passes, and follow the seed pack instructions for sowing your gourd or squash cucurbits seeds in a prepared garden bed in full sun. The general rule to plant gourd and squash seeds is to sow them one to two inches deep and five feet apart.
Water them right after planting, and do not let them dry out as they germinate. Avoid getting the stems, vines, and leaves wet while watering after the plants begin to mature. Spread mulch over the bed to retain moisture and stop weed growth and keep an eye out for pests. Find out what to grow next to gourds and squash to keep unwanted insects away.
Pick summer squash as soon as it's large enough to eat, and let the gourds and winter squash remain until they are fully mature. Use some garden shears or a sharp knife to harvest the gourd or squash, leaving an inch of the stem intact.
Keep summer squash in the fridge and store winter squash in a cool, dark area. Wash and dry gourds and store them in a warm, dark, and dry area until the seeds rattle on the inside when you shake them.
How to Prepare Winter Squash in a Recipe
There are many types of edible squash and many ways to prepare them. Butternut squash is one of our favorite winter varieties since it has a long storage life, and they are delicious pureed and or prepared in dishes.
This recipe combines the earthy flavor of roasted butternut squash with maple syrup and cinnamon, perfect for a holiday dinner.
Prepare the squash by slicing it into one-inch pieces, heat the oven to 400°F, and generously spray two baking sheets with non-stick spray.
Put the cubed squash in a bowl and coat them with olive oil, maple syrup, salt, cinnamon, and black pepper. Divide the squash chunks between the two baking sheets and spread them in a single layer. Set the pans on the upper and lower racks of the oven and bake them for 15 minutes.
Flip the cubed squash with a spatula and bake them for ten to 15 more minutes on alternate racks before removing the pans from the oven. Finish by sprinkling the squash with fresh rosemary, and serve them warm.
While gourds and squash are both members of the Cucurbitaceae family, they do not have the same purpose. Winter and summer squash are great additions to the garden to grow a food crop, and ornamental gourds are perfect for decorating your home.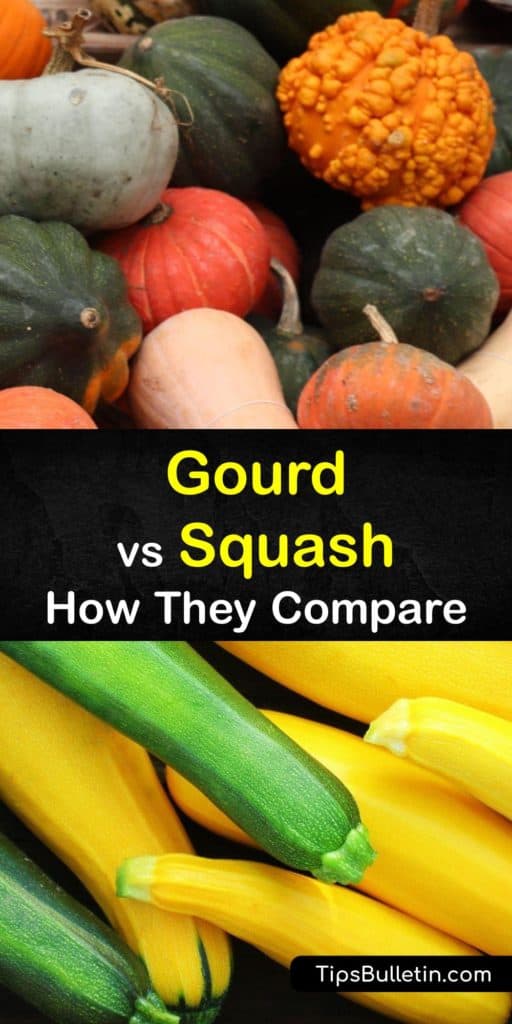 Now that you understand the unique difference between a gourd vs squash and how to grow your own for food prepping and decoration, why not share our squash and gourd guide with your family and friends circle on Facebook and Pinterest?