Coastal gardens offer ornamental grasses with silver and green foliage that sway in the breeze. Choosing grasses for seaside gardens is tricky. The coastal conditions are often hostile environments for many plants.
Salt spray, strong winds, and sandy soil form a combination of elements that creates various challenges for gardeners and homeowners. Regardless of the tricky location, there are plenty of species of grasses for seaside gardens that thrive in severe conditions.
Your garden deserves to look beautiful and breezy. Native grasses possess built-in protection that defends them against salt and strong winds.
Some grasses have fuzzy foliage that helps them break the strong winds and halt the salt spray from penetrating the plant. Other plants have adapted themselves to become drought-tolerant from the hot sun that accompanies a coastal lifestyle.
This list provides a summary of plants that fit your needs if you're looking to incorporate more coastal grasses around your home.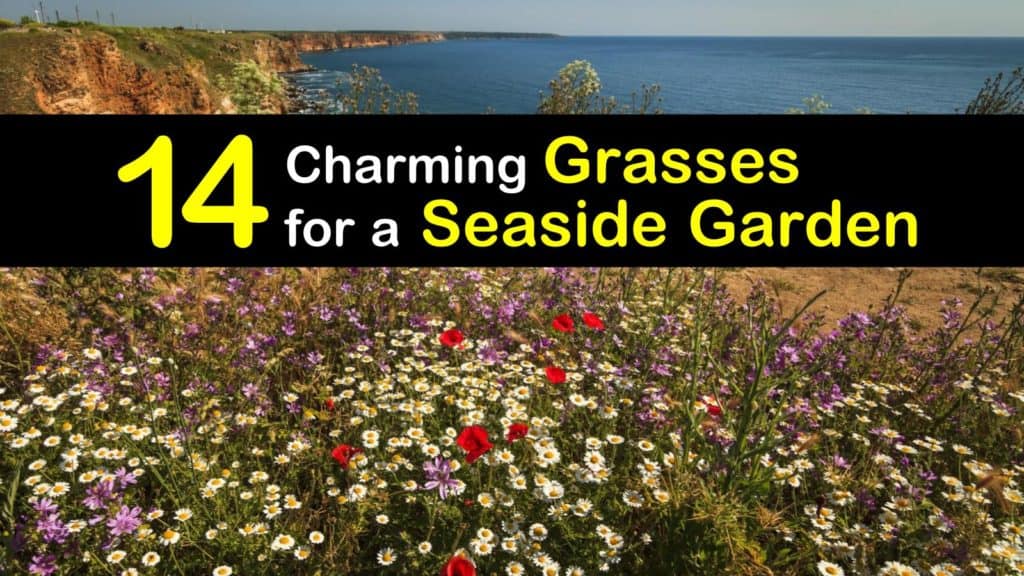 Resilient Grasses for Seaside Gardens
While the overall aesthetic of ornamental grasses is a significant benefit to your coastal gardens, these plants are necessary for erosion control. The seashore is steadily eroding from water and winds.
Planting grasses around the barrier of your garden where you have carefully selected perennials and annuals for the beach not only prevent your soil from moving, but it also filters sediments from roads and landscapes and halts them from entering and polluting the coastal water.
Plenty of grasses for seaside growth have adapted waxy coatings that repel the salty water. Their silver and gray colors protect them from harsh sunlight. Unfortunately, these adaptations aren't always enough to keep your plants happy.
What kills grass most often? Grasses in coastal areas may require extra nutrients that are not present in the soil or sand to keep them from dying. Composting is a great way to add necessary nutrition to your soil. The best time to plant is in early spring or late fall when the days are cool with lots of rainfall.
If your garden is next to dunes, make sure not to mulch, or they risk washing away. Most importantly, do as much research as possible when choosing grasses for seaside areas to ensure they thrive in their new home.
Feather Reed Grass (Calamagrostis acutiflora) – The Hardiest Coastal Grass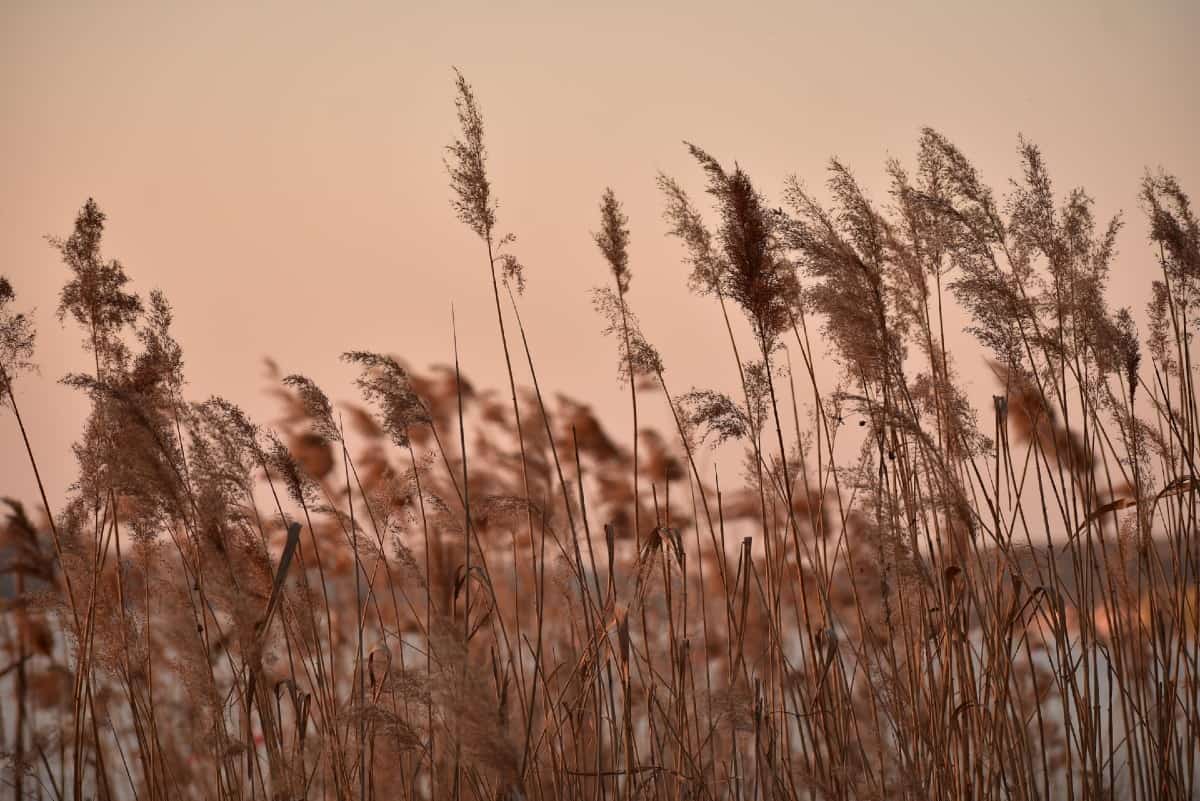 Feather reed grasses start to bloom in the early spring through the late summer. They have upright, narrow blades in shades of yellow and green. Reed grass and seaside perennial flowers come in yellow, red, or white.
They are tall and straight and grow in clumps that don't aggressively spread. Feather reed grasses are also semi-evergreen, which means their color remains even in milder climates.
These seaside grasses are very drought tolerant but prefer well-drained soil with a neutral pH. Plant them in an area with partial to full sun.
Young plants require watering but won't once mature. Remove old foliage in the fall or early spring by trimming stems so they only reach three to five inches tall.
Sea Lavender (Limonium perezii)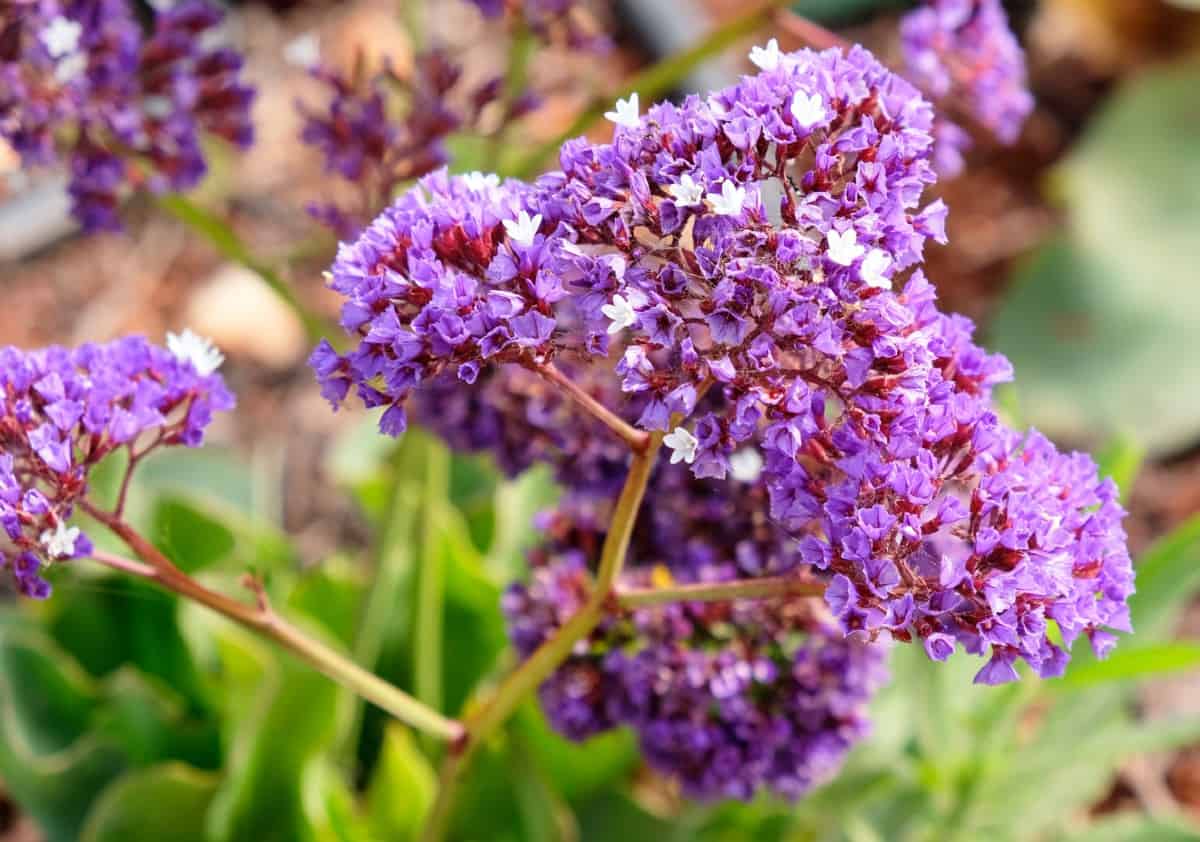 Sea lavender is a perennial often found growing along dunes and in salt marshes. It has reddish-tinted stems and oval-shaped green leaves. Delicate purple flowers make their appearance in the summer.
Do not remove wild sea lavender from its habitat because it is protected in most areas. Plant sea lavender throughout the summer in full sunlight and enjoy these ground cover plants for the beach every year.
Afternoon shade is encouraged if you live in a hot climate zone. Growing these plants beneath trees for a beach or seaside garden is ideal. Water the new plants daily to establish the root system. Dig deeply under the long roots to divide the plant every two to three years.
Yarrow (Achillea millefolium)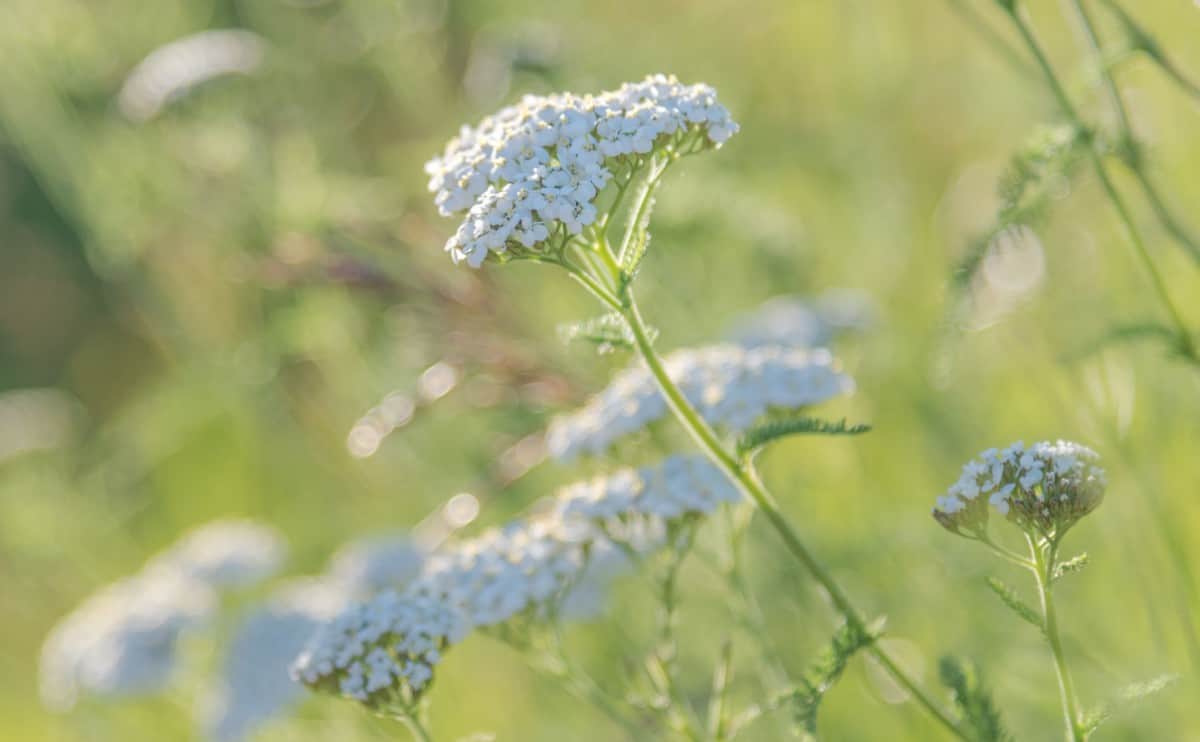 Yarrow is another hardy perennial that thrives in seaside gardens. The dome-shaped clusters of small flowers bloom anywhere from April to October with bright yellow, red, and pink shades.
If the beauty weren't enough, yarrow is drought and pest resistant but attracts welcomed guests like butterflies. Plant yarrow in a full sun area with well-drained soil. It performs best in dry, hot conditions.
If planted in soil that is too fertile, they overgrow and may require staking. Space plants up to two feet apart. Be careful with this plant, as yarrow establishes itself quickly and easily takes over a garden if not responsibly planted.
Adding yarrow and other annuals and perennials along with attractive shrubs and trees for pool areas, whether at the beach or not, provides interest and beauty at the same time.
A Long-Time Favorite: Blue Fescue (Festuca glauca)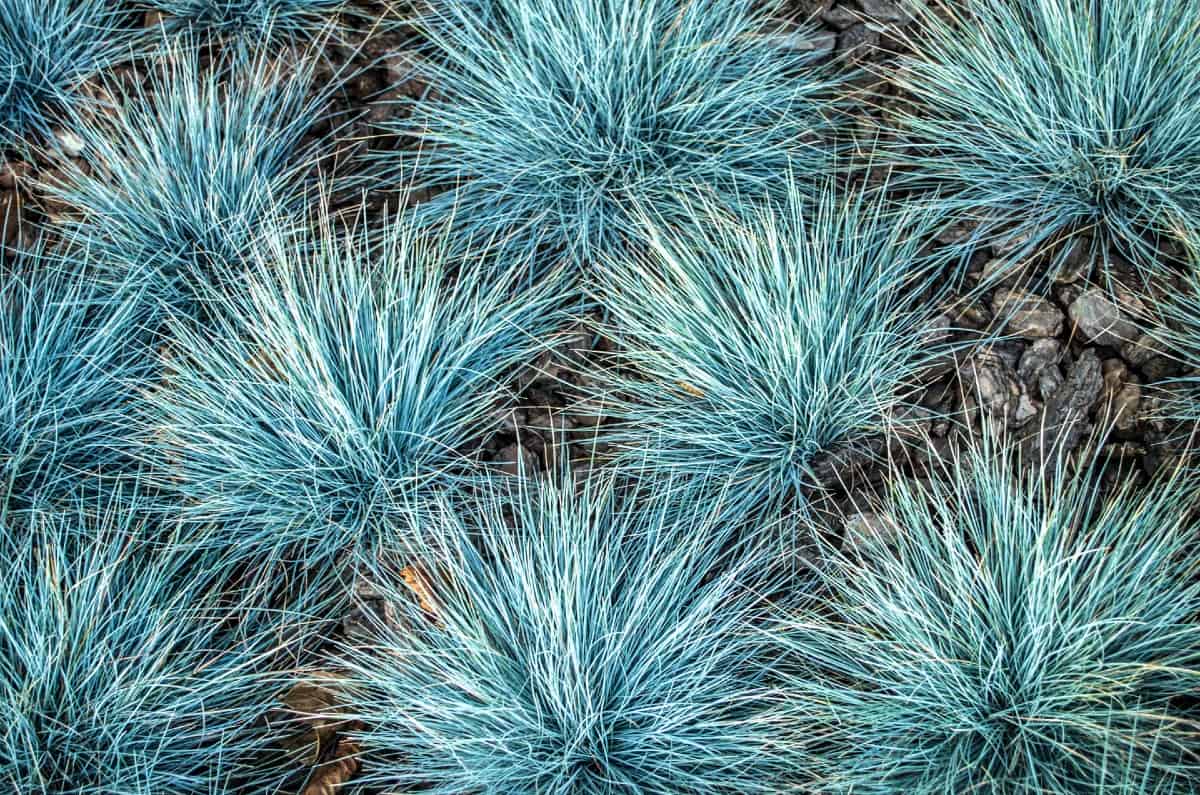 One of a gardener's most-loved grasses for seaside gardens is blue fescue grass. Grow ornamental grass like blue fescue because it offers spiky, ice blue foliage that adds a pop to your landscaping. They are an excellent companion plant for more dramatic and heavier plants.
Although blue fescue as one of the decorative perennial grasses tolerates almost any soil, it's best to plant it in well-drained soil and full sun. The more sun it has, the more the great color stands out.
Water these plants every week during the hottest months of summer. Cut back the foliage in the early spring so they are only a few inches above the ground.
Little Bluestem (Schizachyrium scoparium)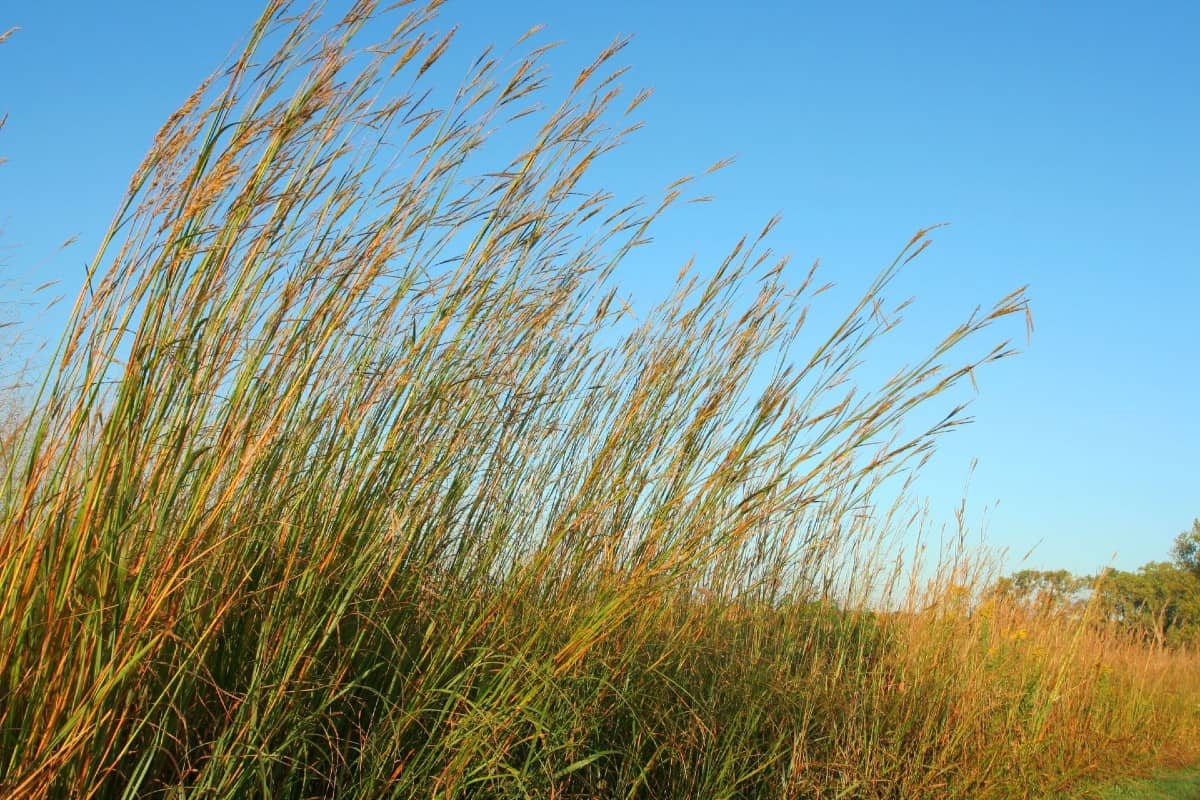 Little bluestem may be one of the hardiest seaside grasses. It requires hardly any care and doesn't make a fuss about soil and moisture.
Although the flat, bluish leaves don't offer anything overly unique visually, the long roots extend as far as five feet down and anchor the soil in place to prevent erosion. Plant little bluestem in zones three through nine and in full sun.
Because this plant prefers warmer weather, it sometimes won't make an appearance until late spring once temperatures reach around 80°F. This resilient plant self-seeds, but can be divided in the early spring.
Sea Thrift (Armeria maritima)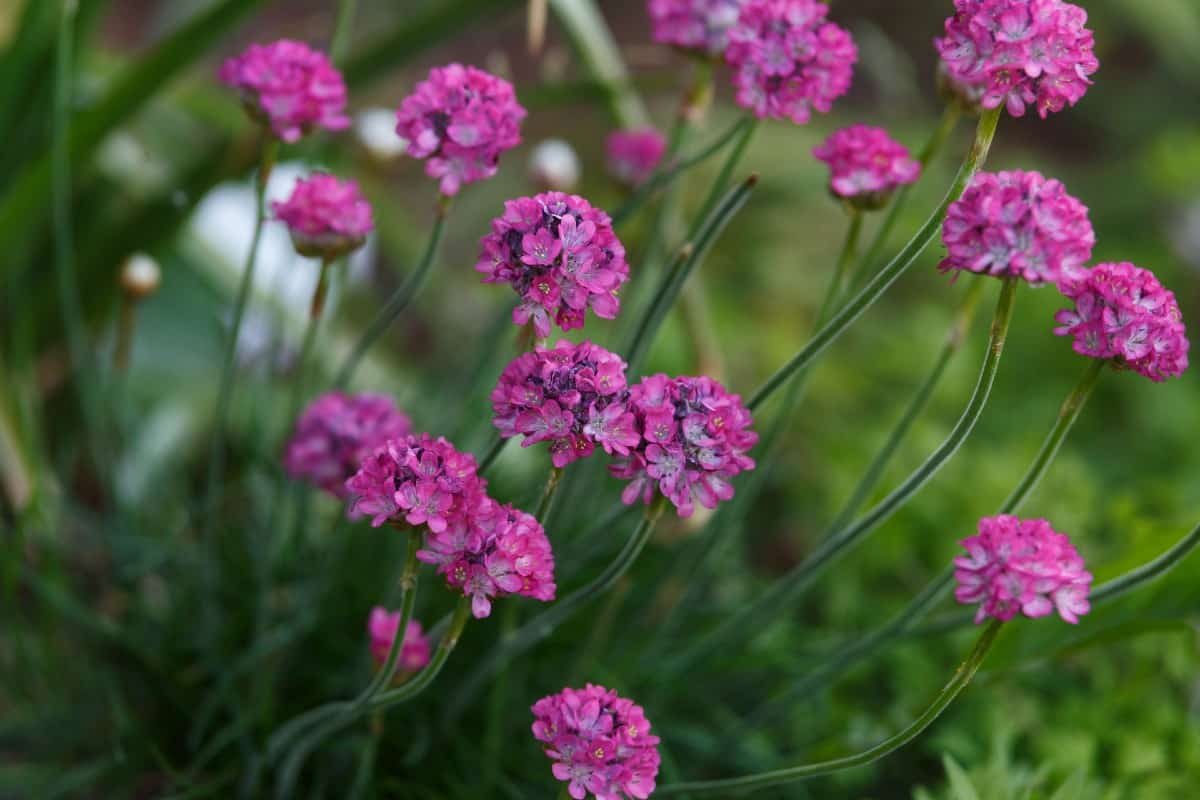 Also commonly referred to as sea pink, this bright-colored plant adds beauty and hardiness to any garden in zones four through eight. It grows to a foot high, has needle-shaped leaves, and globular clusters of pink and white papery flowers.
Deadhead the whole flower stems to promote additional flowering throughout the entire summer. Sea thrift thrives in full sun and does not tolerate moist soils. The one downside to these beauties is that they are famous for being short-lived.
The center of the plant often rots and kills the entire plant if placed in too fertile soil or heavy clay. However, the proper environment keeps them alive for years, and they require very little maintenance.
Silver Grass (Miscanthus sinensis)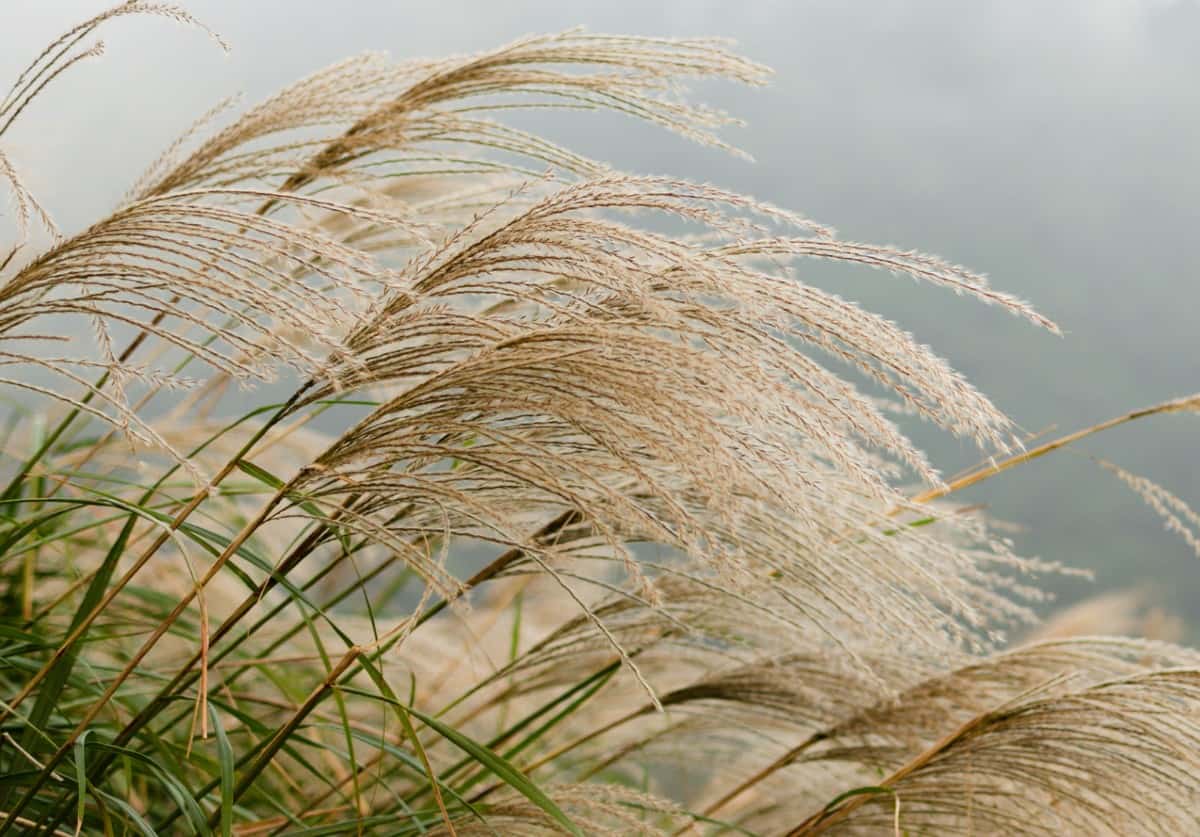 Silver grass goes by many names, such as Eulalia, maiden grass, and miscanthus. This large plant grows higher than 2 feet, with some species reaching eight feet tall and prefers full sun and moist soil.
It has long, cane-like reeds with feathery flower clusters from mid-summer to early fall. Silver grass is beloved because it maintains its look throughout winter.
Silver grass is also extremely versatile and looks great along borders, in plant beds, or mass plantings. Use with caution, however, because this plant is sometimes considered one of the invasive grasses because the seeds invade other areas.
Switchgrass (Panicum virgatum) – An Easy-to-Maintain Seaside Grass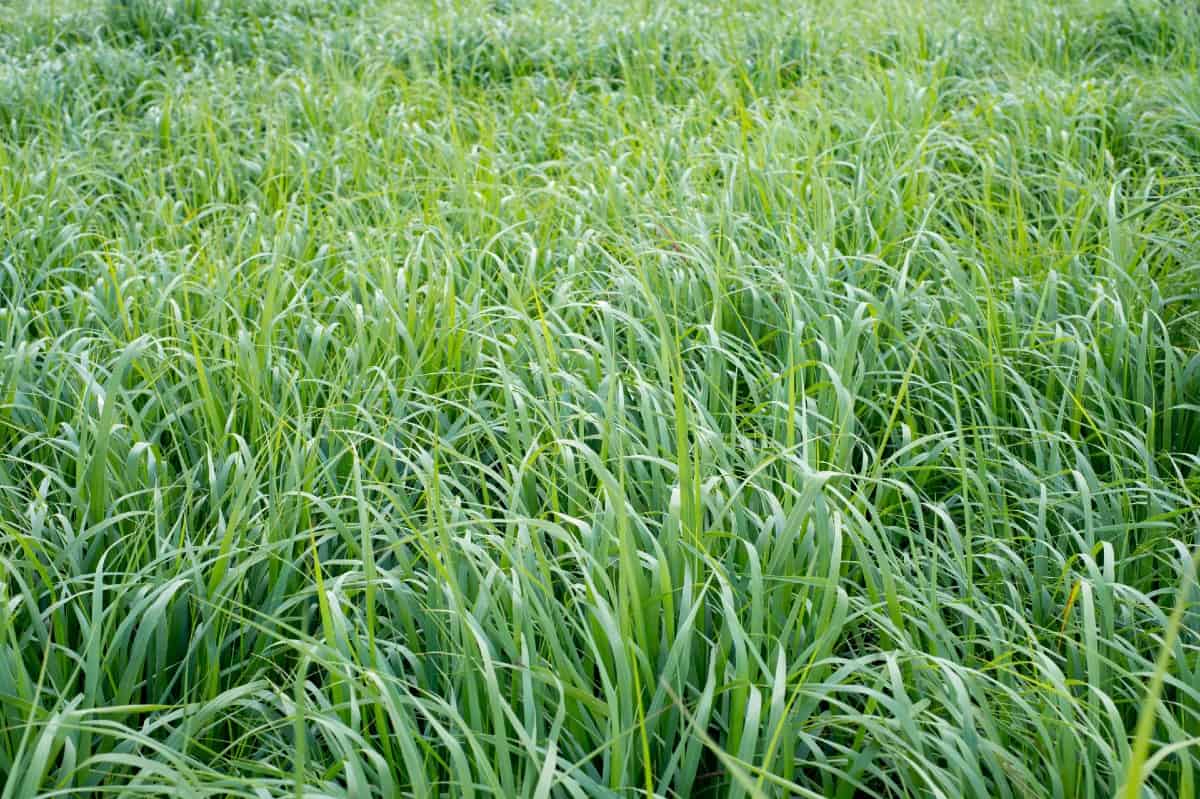 Commonly found in the midwest prairies of the United States, switchgrass is one of the summer flowering grasses that produce delicate, airy flowers of deep red and purple hues that flow in the wind from July through September.
Its high tolerance for various planting sites makes switchgrass an easy-to-maintain grass for any coastal locality. Switchgrass grows in clumps and up to six feet high. The bluish-green leaves add soft color in your garden.
When planting it, consider the height and place them in the rear of the beds at least 12 inches apart. The taproot grows ten or more feet long, so make sure the area properly accommodates it.
Plant switchgrass in full sun to partial shade and provide your home with years of beauty.
Sedges (Carex oshimensis)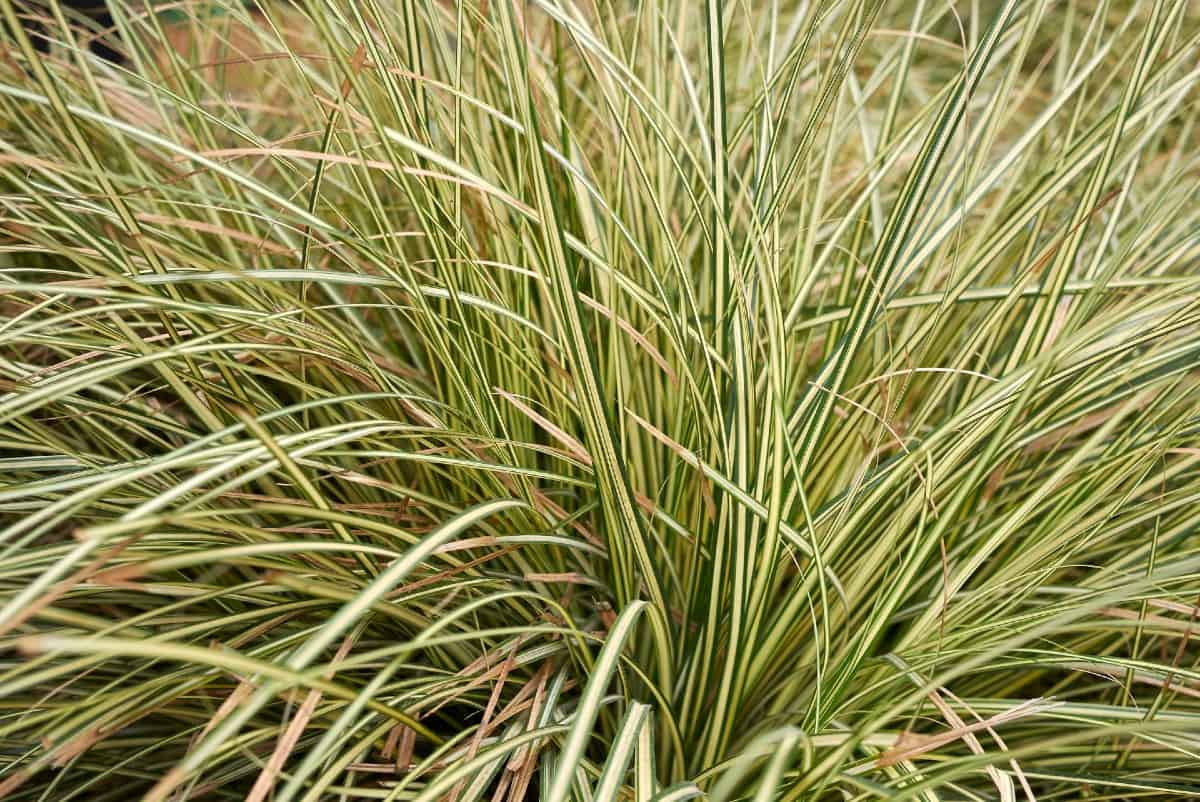 Sedge plants involve over 100 species, but they all have three things in common: drought-tolerance, very low maintenance, and easy to grow. Whichever species you choose for your garden, sedges bring color, texture, and movement to your home.
Sedges are most useful around wet areas like ponds, lakes, and oceans, but survive in dry conditions as well. The seeds provide food for birds, and the long, green leaves allow animals to create nests.
These plants require hardly any care. Fertilize the plant in the early summer with nitrogen plant food. Plant them in either sunny or shady areas and water two times per month if the season is dry.
Sedges do most of their growing in the colder seasons, and growth may stop in the hot summer months.
Mexican Feather Grass (Nassella tenuissima)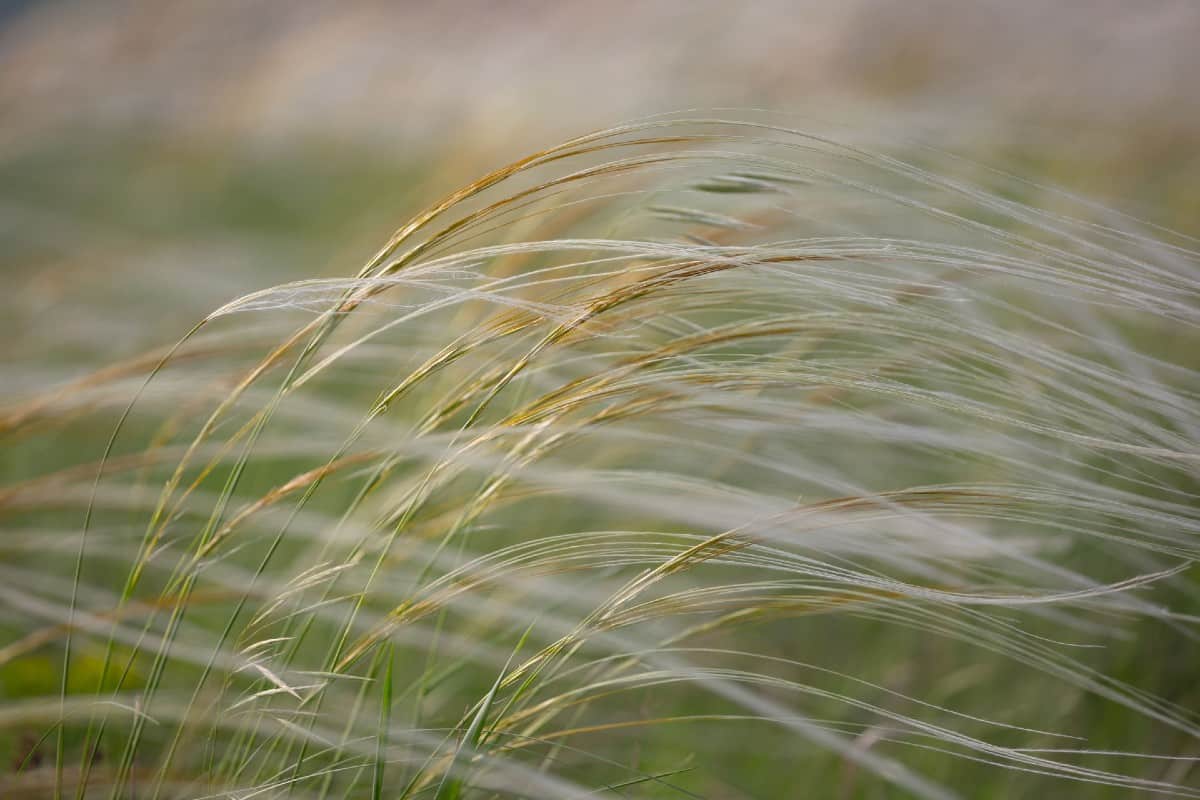 Feather Grass's wispy foliage dances in the wind and gives an authentic, beachy vibe. The appearance provides it with nicknames such as hair grass or ponytail grass.
Silky seed heads appear in the summer and grow up to 24 inches tall. It also makes an excellent plant for erosion control. Mexican feather grass best grows in well-drained soil with exposure to full sun.
It prefers the soil to be on the drier side and may die if the soil is too heavy or wet. Songbirds are also attracted to this charming grass.
A Grass that Becomes a Focal Point- Flax (Phormium tenax)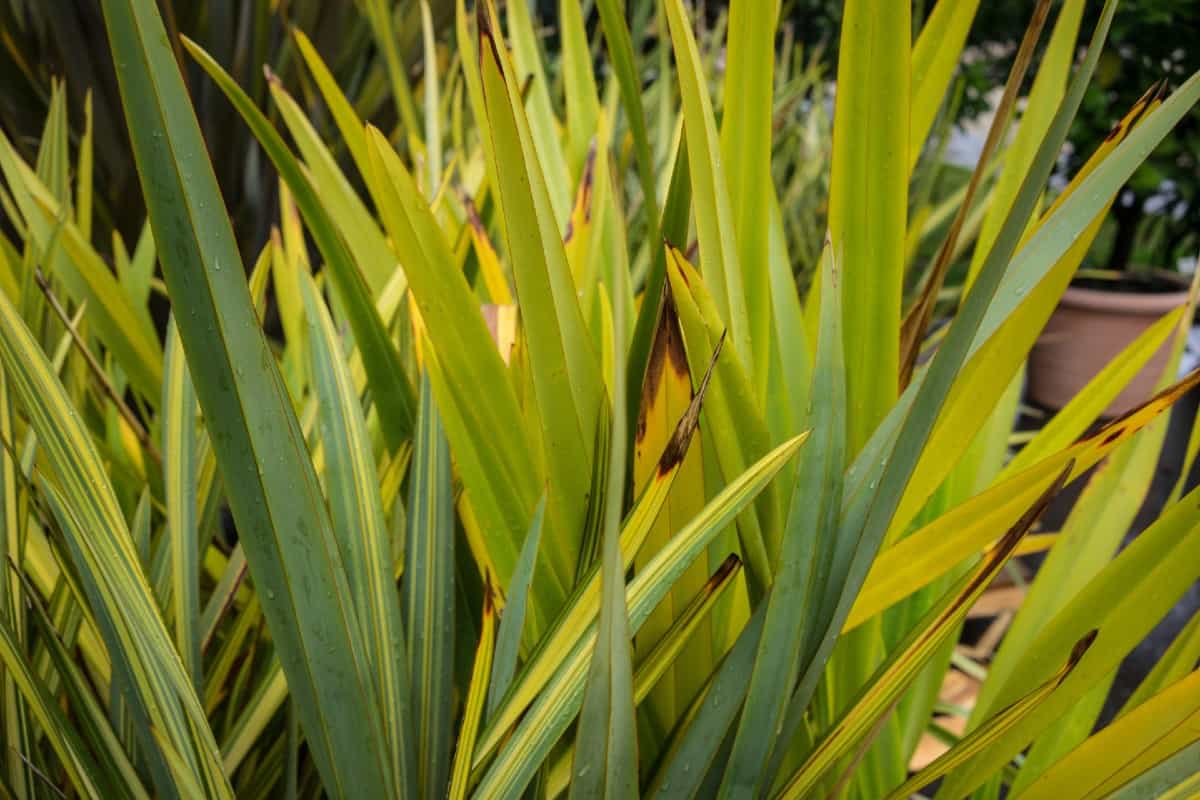 If you see spiky green and yellow leaves, you're probably looking at a flax plant. Flax grass is often used as focal points in gardens because their sword-like leaves reach up to the sky and look like a sculpture.
These evergreen perennials include species that grow anywhere up to seven feet tall and produce tubular blossoms that attract hummingbirds.
Plant flax in full sun to partial shade. Use a fertile potting soil if growing it in containers and relocate them outdoors once the weather is at least 60°F.
Sweet Flag (Acorus gramineus)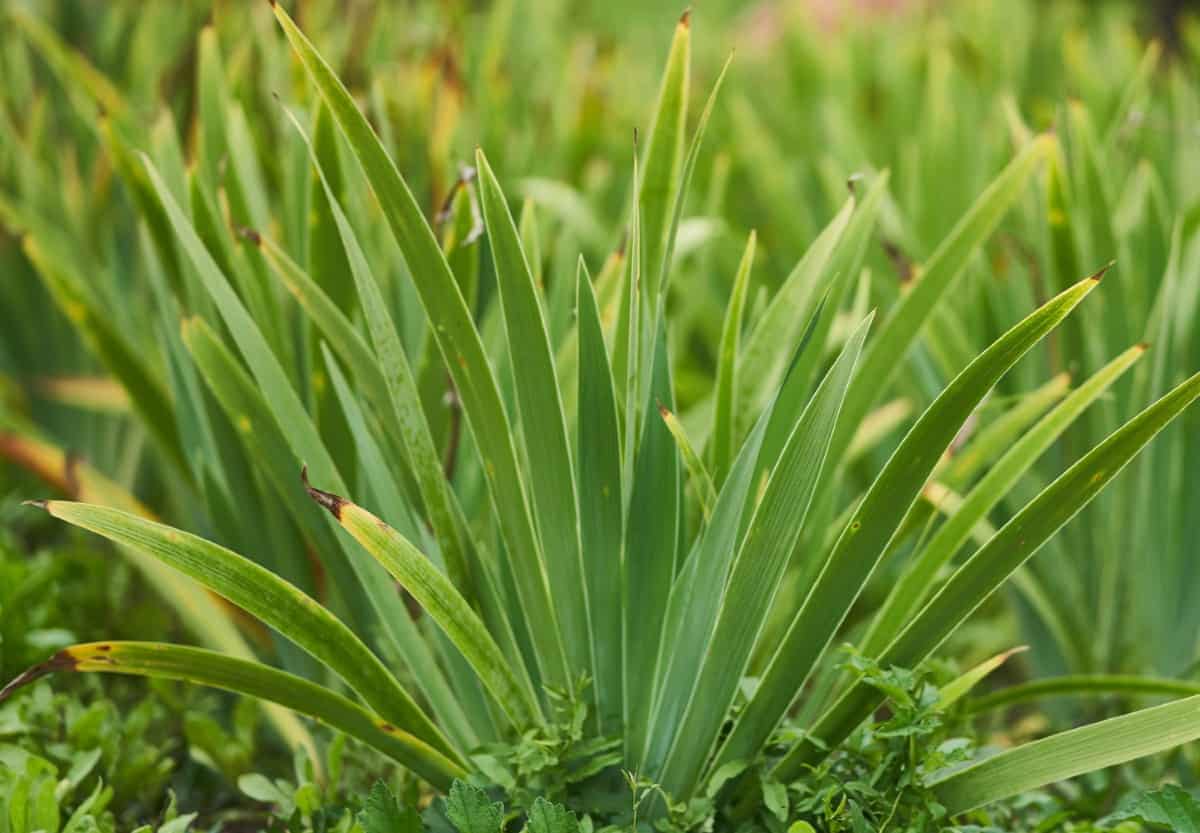 Another grass that adds texture around your home is called sweet flag. It makes an excellent edging plant or looks nice placed in hanging baskets or window boxes.
Sweet flag doesn't mind moist environments, so it makes a fun addition around ponds or other water areas.
Sweet flag tolerates partial shade but prefers sunny spaces. It struggles to grow in full shade, especially with dry soil. If healthy, sweet flag spreads to become a beautiful groundcover grass.
Cape Rush (Chondropetalum tectorum)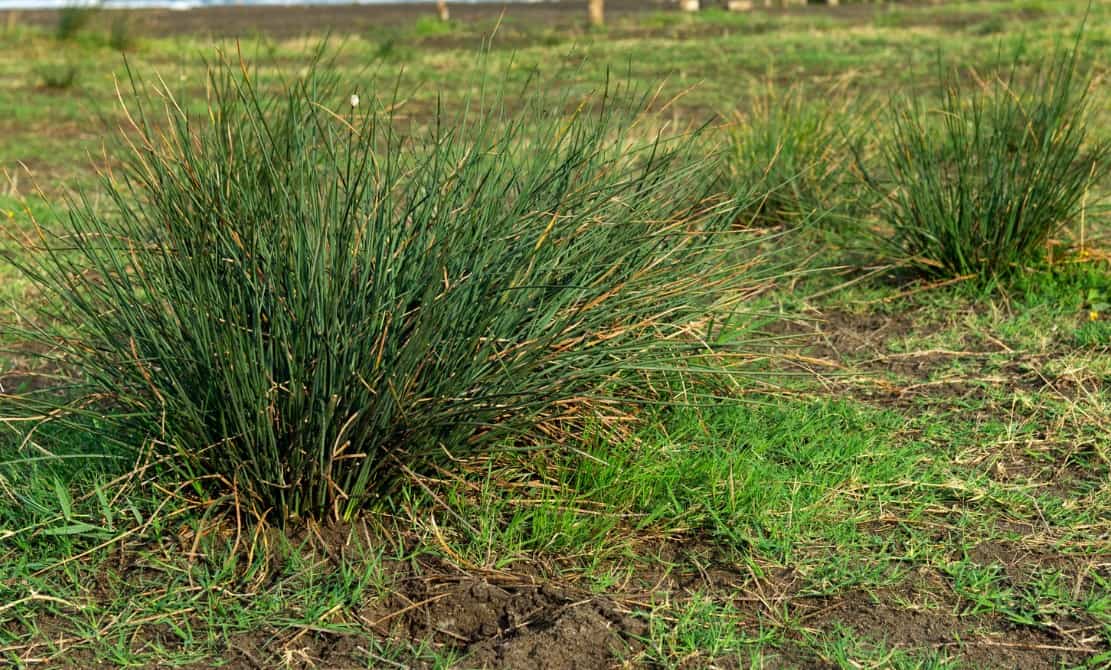 Okay, cape rush might not technically be considered a grass, but the long reeds look similar to grasses and flourish in seaside conditions. Cape rush is an attractive plant for perimeters when planted in clumps.
The stems fan themselves out from the cluster in the middle. Plant cape rush grass in full to part sun. Not enough sun causes the stems to bend over.
It is drought tolerant once established but doesn't mind an occasional watering. Trim the stems to the base every spring.
Blue Oat Grass (Helictotrichon sempervirens) – Perfect for Sandy Soil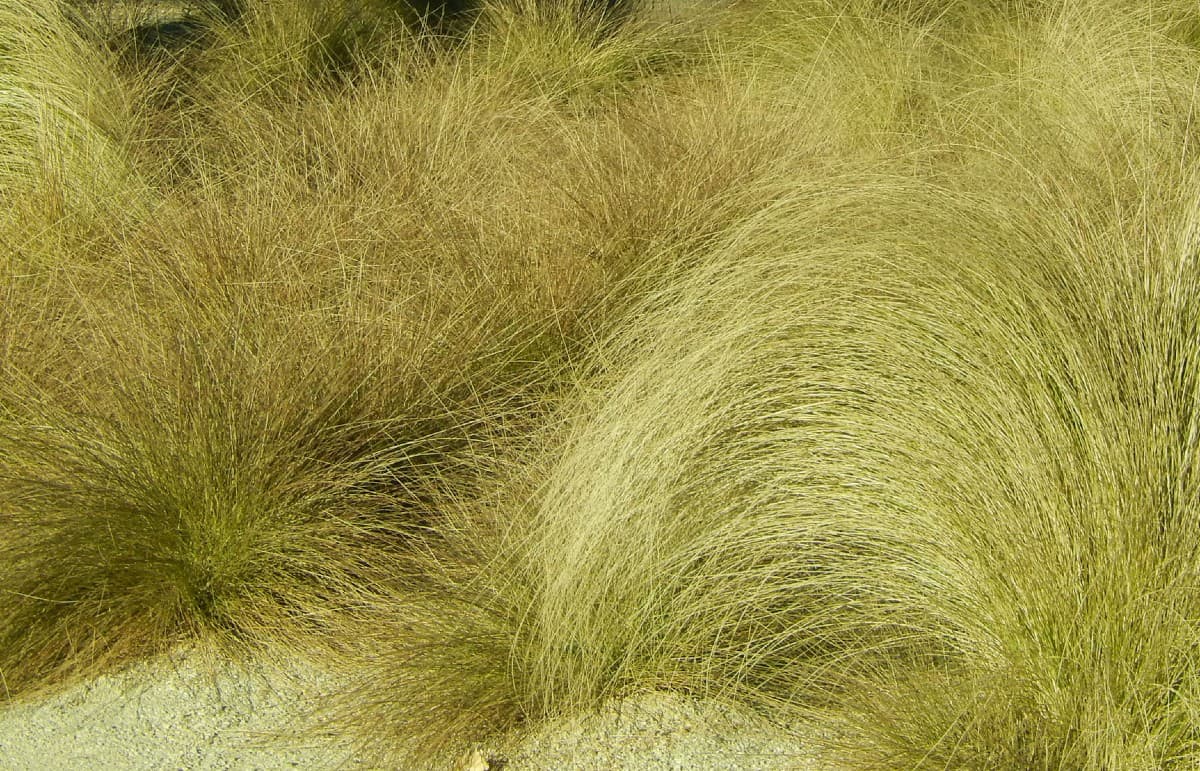 Blue oat grass is cool-season loving, and the steel-blue foliage is a favorite among garden beds. The stems arch over with wiry leaves. If properly maintained, they grow up to two feet tall and three feet wide. Pale blue flowers bloom on the grass in midsummer.
Well-drained soil is necessary for winter survival. Blue oat grass prefers full sun and moist soil but tolerates sandy soil as well. When the leaves die back in the winter, rake the plant to remove old foliage.
There are plenty of grass options if you live in a coastal home. Grasses for seaside gardens are equipped with survival methods that help them sustain life in harsh weather.
The varieties offer different shapes, sizes, colors, and textures that make your home's landscape stand out from the rest and give your yard a beachy feel.
Regardless of what grasses you decide to incorporate into your garden, this list provides the hardiest grasses for your area while still looking beautiful enough for you to be proud of.
If you've discovered some grasses for seaside properties to add around your home, share these coastal grasses on Facebook and Pinterest.