Tall and bold ornamental grasses are common in plenty of landscapes. Although they are great for catching attention, there are plenty of dwarf grasses that stay small, while still making a memorable statement.
Dwarf grasses provide texture, movement, and contrasting colors in your garden without being too loud. Dwarf-sized grasses fit much better in small to medium-sized yards since full-size grasses sometimes tower as high as 20 feet.
This type of height is unnecessary for a lot of homes. Dwarf grasses tend to average around three feet tall. Their smaller size makes them ideal for containers, balconies, patios, and more.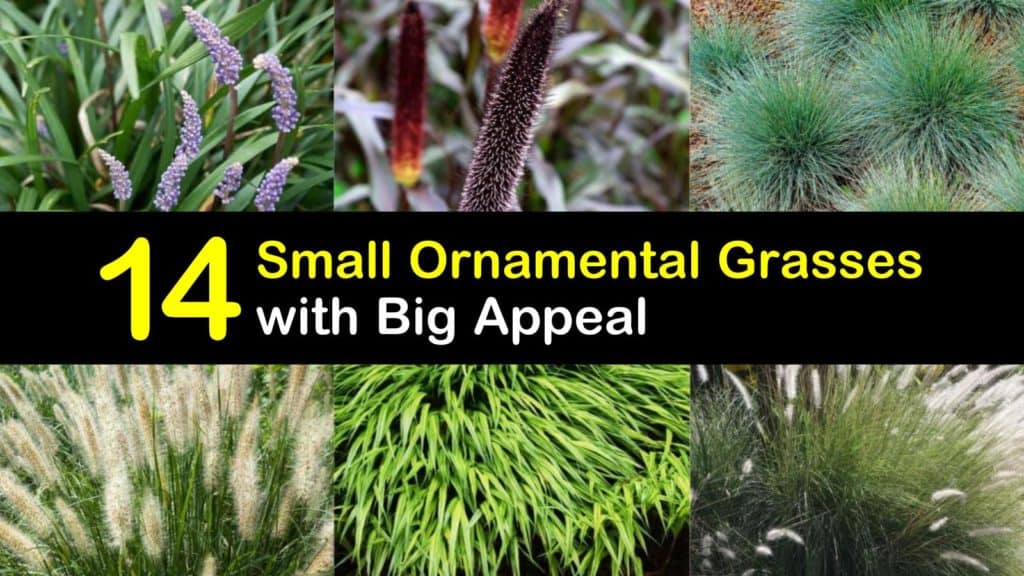 How to Choose Ornamental Grasses for Your Home
When we talk about ornamental grasses, this includes four different families: reeds, rushes, sedges, and real grasses. Although you may assume they're similar, they each grow and spread differently and have separate living requirements.
Taking some extra time to guarantee that you choose the right dwarf grasses that stay small makes the difference between the plants pulling off the space or completely taking over. With so many grasses to choose from, always begin by considering the size.
This factor is often the most crucial because you want the greens to fit into the space successfully. After that, think about the purpose of the grass. Is it for creating a unique pattern in your landscaping, or helping with erosion control?
Think about how the plants benefit you and your location. Finally, make sure your chosen area has all the requirements necessary to give your dwarf grasses a happy, healthy life.
Elijah Blue Fescue (Festuca glauca) – Unique Dwarf Grasses that Stay Small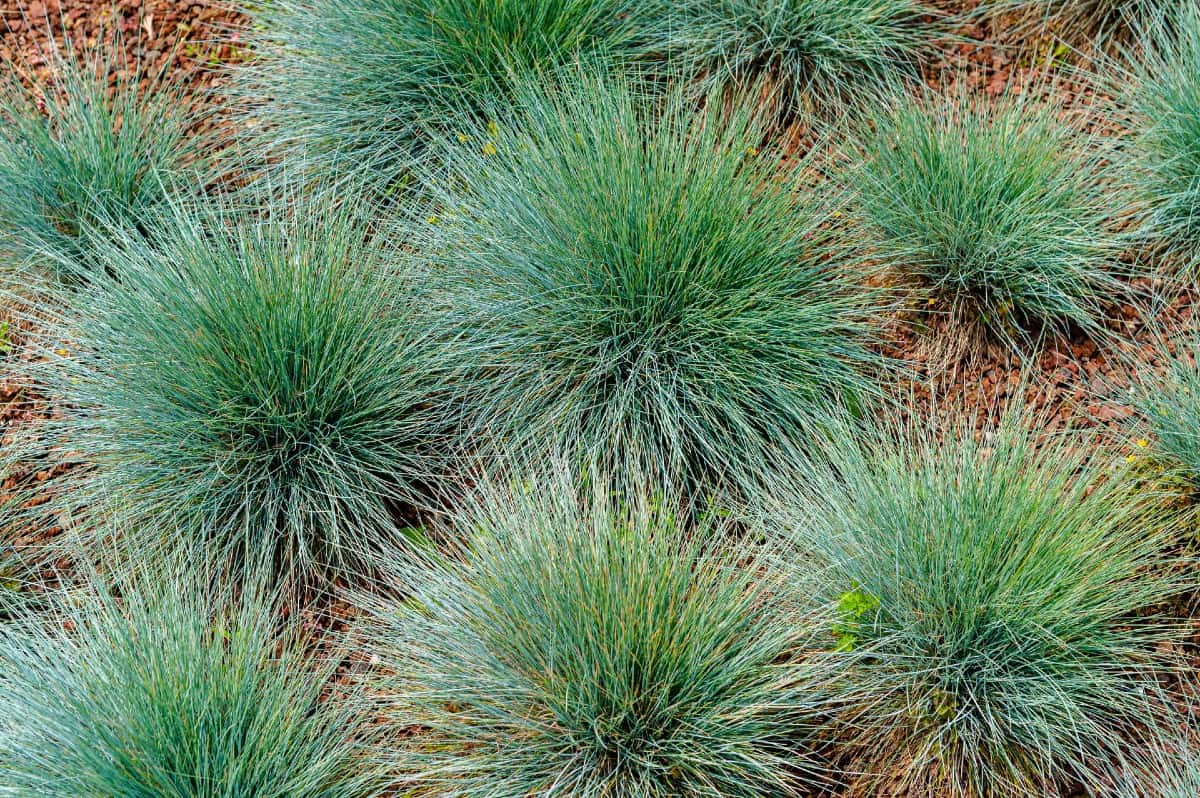 Blue fescue is a popular ornamental grass. It has icy, blue-green foliage and blooms with pastel yellow flowers.
People love these narrow ornamental grasses that stay small for their unique textures and versatility as a companion plant. It is hardy in USDA zones four through eight and grows only nine to 12 inches tall and six to nine inches wide.
Plant blue fescue is well-draining soil, although it tolerates poor soils as well. Choose a spot around your yard that gets plenty of sun to accentuate the color of the foliage. Space each clump of grass about ten inches apart.
Japanese Sedge (Carex morrowii)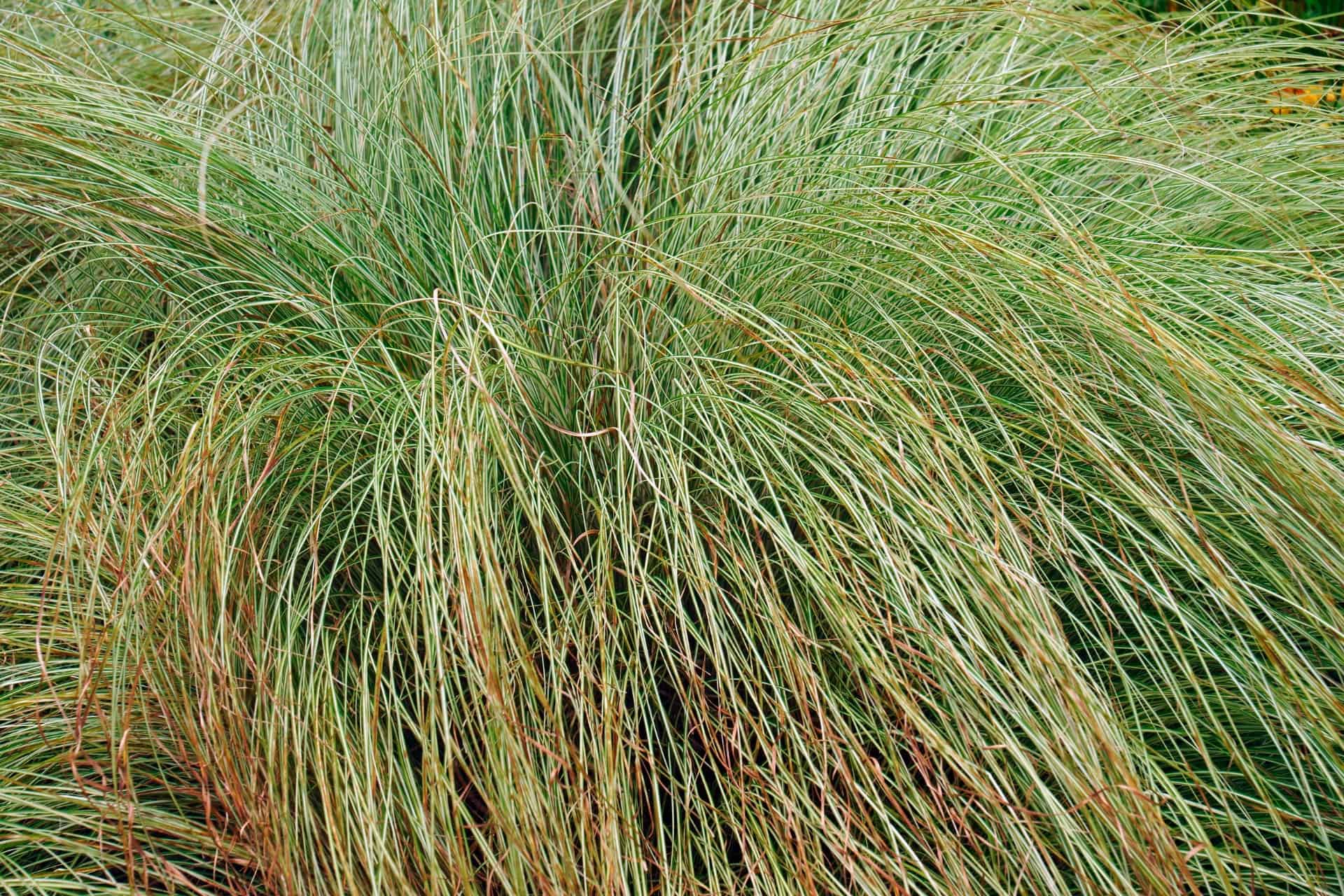 Sedge is a visually appealing dwarf grass that is simple to grow. This plant is a low-growing, clumping plant with arching, variegated foliage. It grows about a foot tall and reaches its maximum size after a few years.
Japanese sedge requires moist soil and full sun to partial shade. It looks great when planted under trees and shrubs and is hardy in USDA zones five through nine. Pruning isn't necessary but does help enhance the overall appearance of the foliage.
Little Bluestem (Schizachyrium scoparium)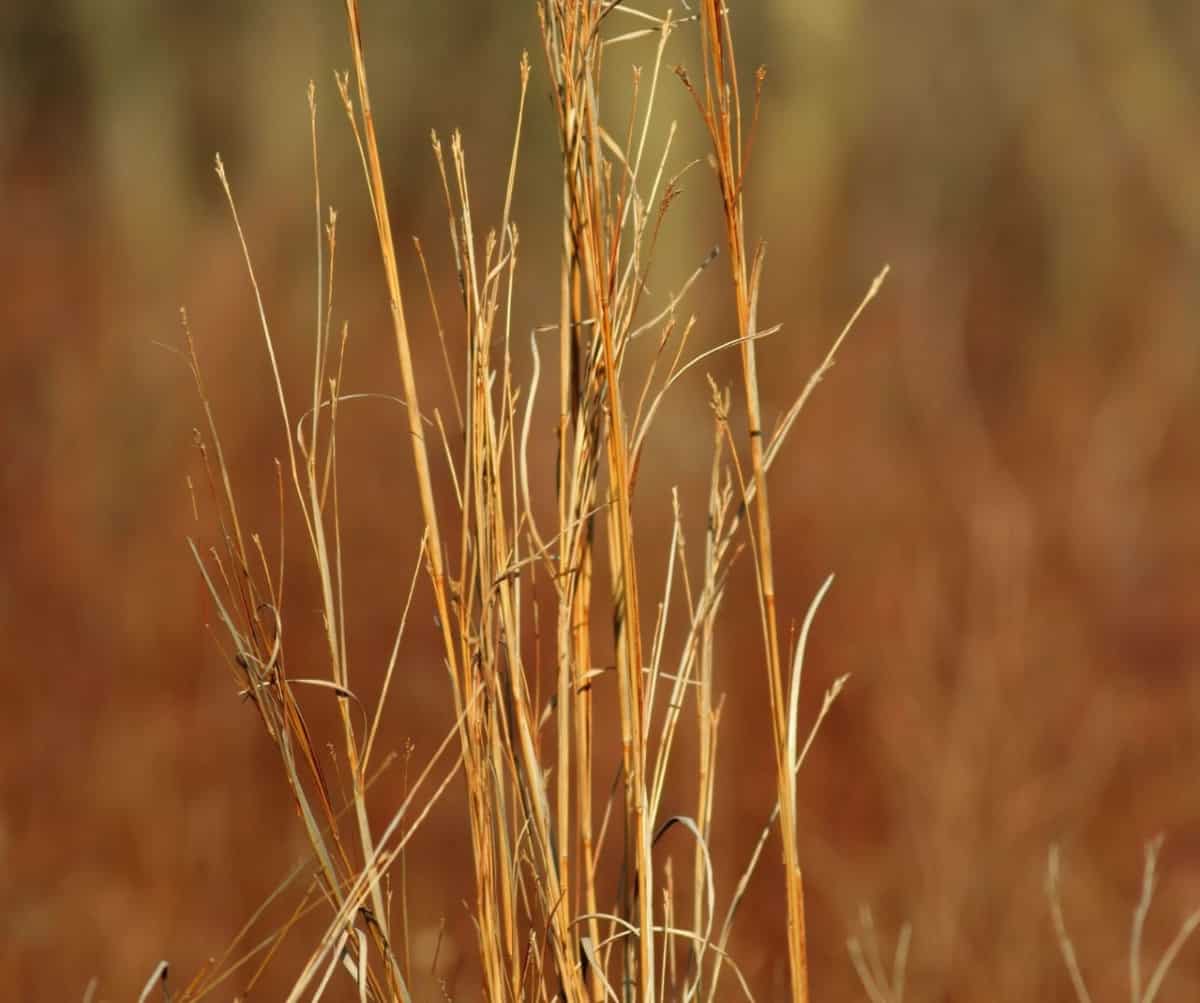 Little bluestem grasses are native to the North American prairies and are found in 48 states. The plant gets its name from its silver-blue foliage, and it is hardy in zones two through ten.
Once it matures, little bluestem is drought-resistant and easy to maintain. The deep root system makes it successful in even the most impoverished conditions.
Little bluestem grows in clumps that reach one to two feet tall. This type of small grass thrives in full sun but do not overfertilize it. Cut the old leaves down by four inches in the early spring.
Shade-Loving Dwarf Grasses: Japanese Forest Grass (Hakonechloa macra)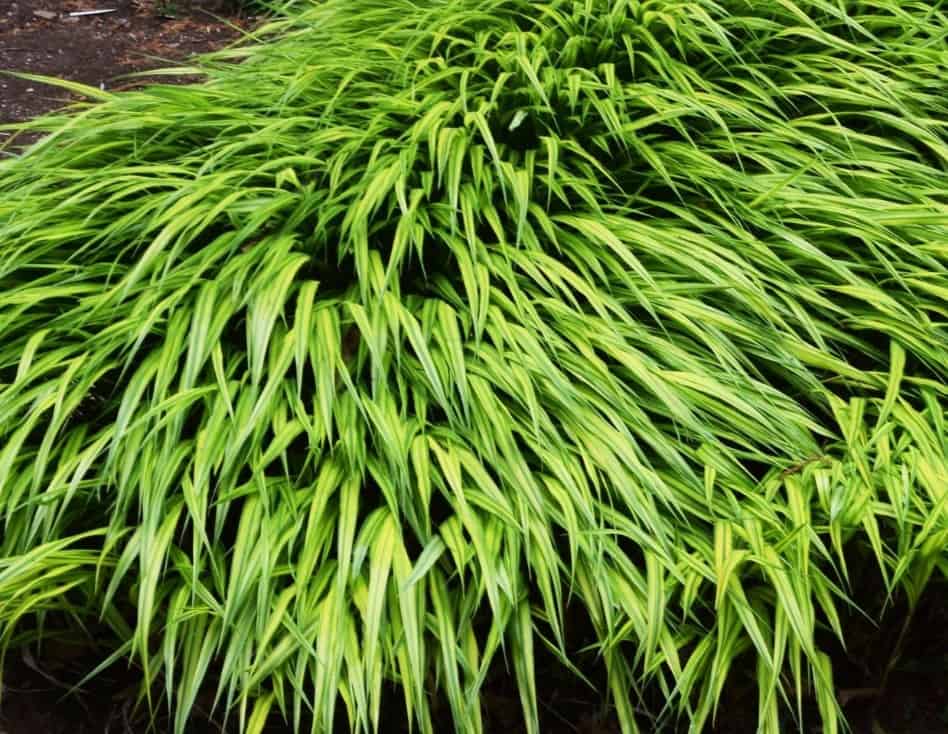 Japanese forest grass is a plant best known for thriving in the shade. It has distinctive, variegated leaves that make it easily recognizable. This grass is originally from the mountains of Japan and hardy to zone four.
These slow-growing, perrenial ornamental grasses form cascading mounds of texture around your garden. The clumps each grow two feet tall and wide. Japanese forest grass enjoys humus-rich, well-draining soil.
Keep the ground evenly moist, especially at the beginning of the growing season and during the hottest parts of summer. This grass has hardly any disease or pest issues and is deer-resistant. Divide the clumps in the spring once new foliage emerges.
Japanese forest grass adds a little something extra when planted beneath dwarf evergreen trees or other hardy tree specimens. It is ideal because it does well with little sunlight.
Fountain Grass (Pennisetum setaceum)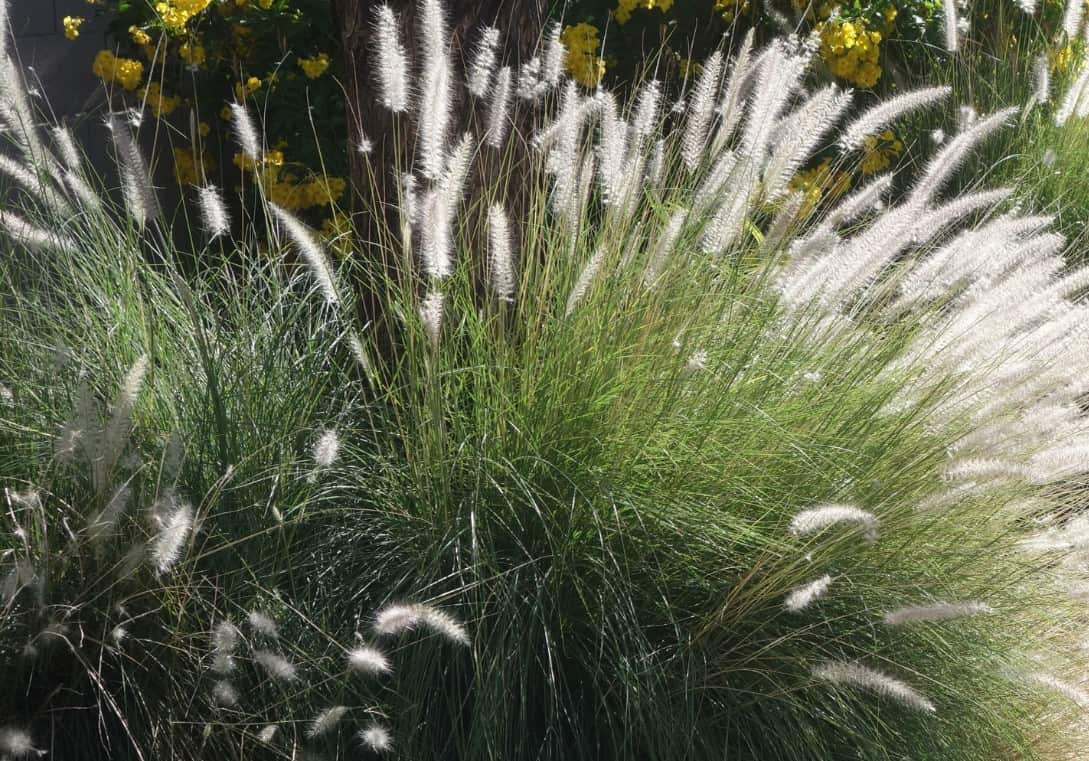 As a popular ornamental, purple fountain grass is one that gardeners and landscapers use. It has soft, fuzzy blooms that make a statement, and it works well with other plants.
It doesn't like cold winters, so it is best for those who live in zones seven and higher. This fountain grass grows three feet tall and two feet wide and requires little work to maintain once it establishes itself.
Fountain grass can be planted at any time, but these grasses for spring planting are ideal. Place the plants in sunny areas and well-draining soil. Because they are drought-tolerant, only water these plants once every week or two.
Maiden Grass (Miscanthus sinensis)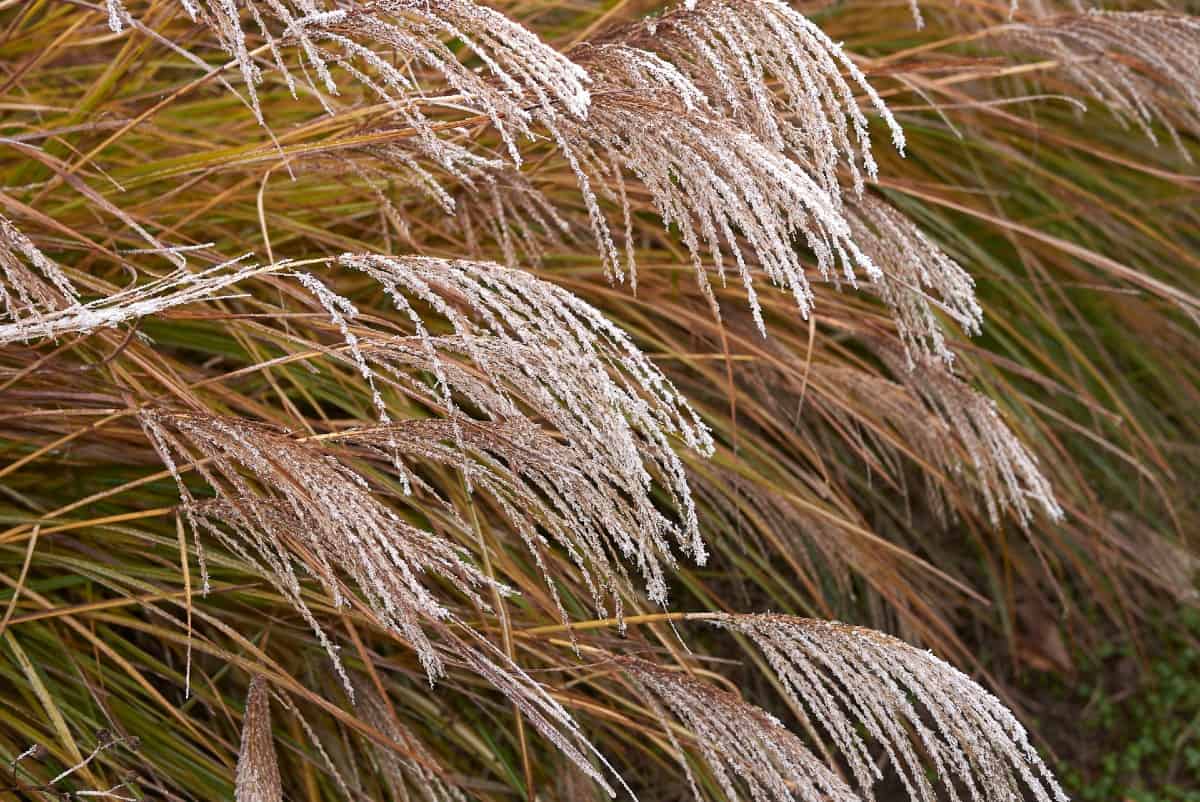 Maiden grass is one of the biggest grasses on this list. Although it is taller, it is one of the hardiest grasses. It has arching stems with plumes in the summer that turn bronze and burgundy in the fall.
It is hardy in USDA zones five through nine and tolerant of various conditions. Plant maiden grass in well-draining soil and full sunlight.
Divide the plants every two to four years and plant them as an entirely new clump of grass. These grasses have no common pest and disease problems aside from rust, a fungal disease that forms from water splashing onto the leaves.
Switch Grass (Panicum virgatum) – Small Grasses that Flower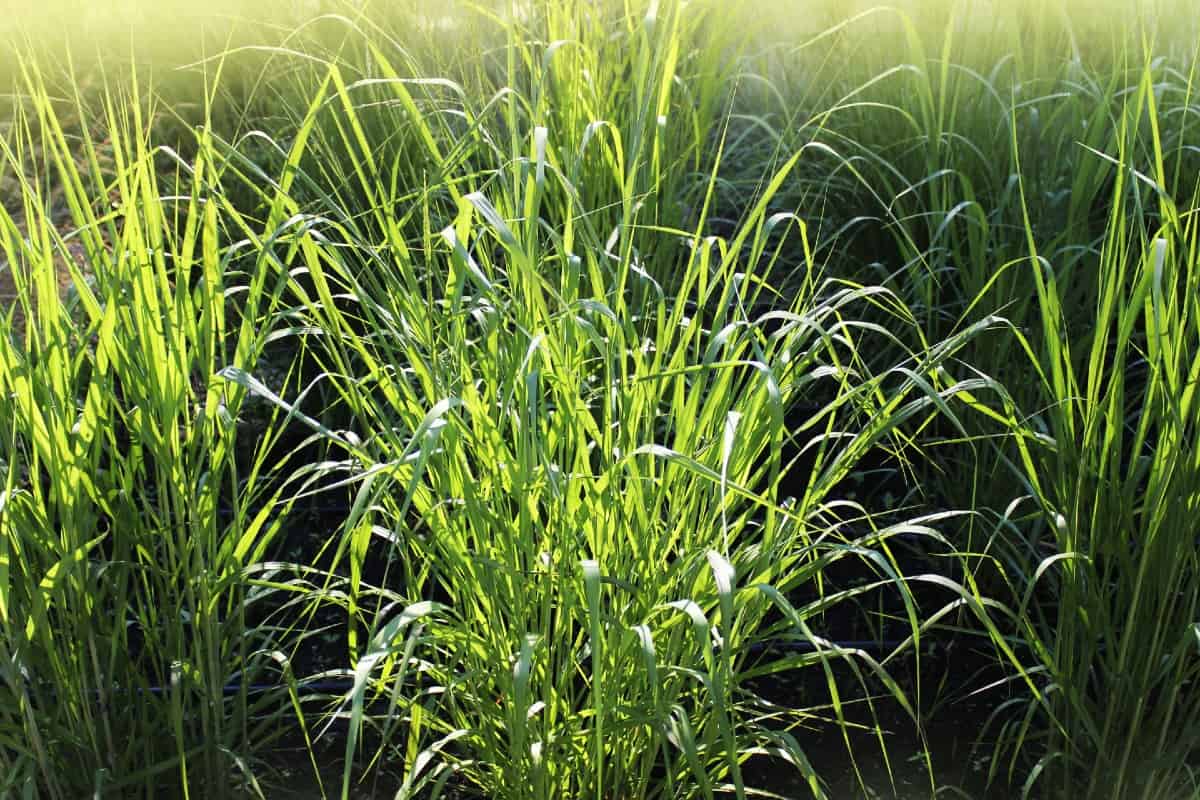 Switch grasses have gorgeous blue foliage in the spring accompanied by golden flowers from mid to late summer. In the fall, the foliage transforms into a golden-beige color.
These grasses grow in clumps that reach about five feet tall. They look beautiful in borders and along ponds and streams.
Switch grass prefers areas that receive full sun and moist but good-draining soil. Once established, this plant is both drought and soggy soil tolerant. Cut the old foliage to the ground after winter or in the early spring.
Evergold Sedge (Carex oshimensis)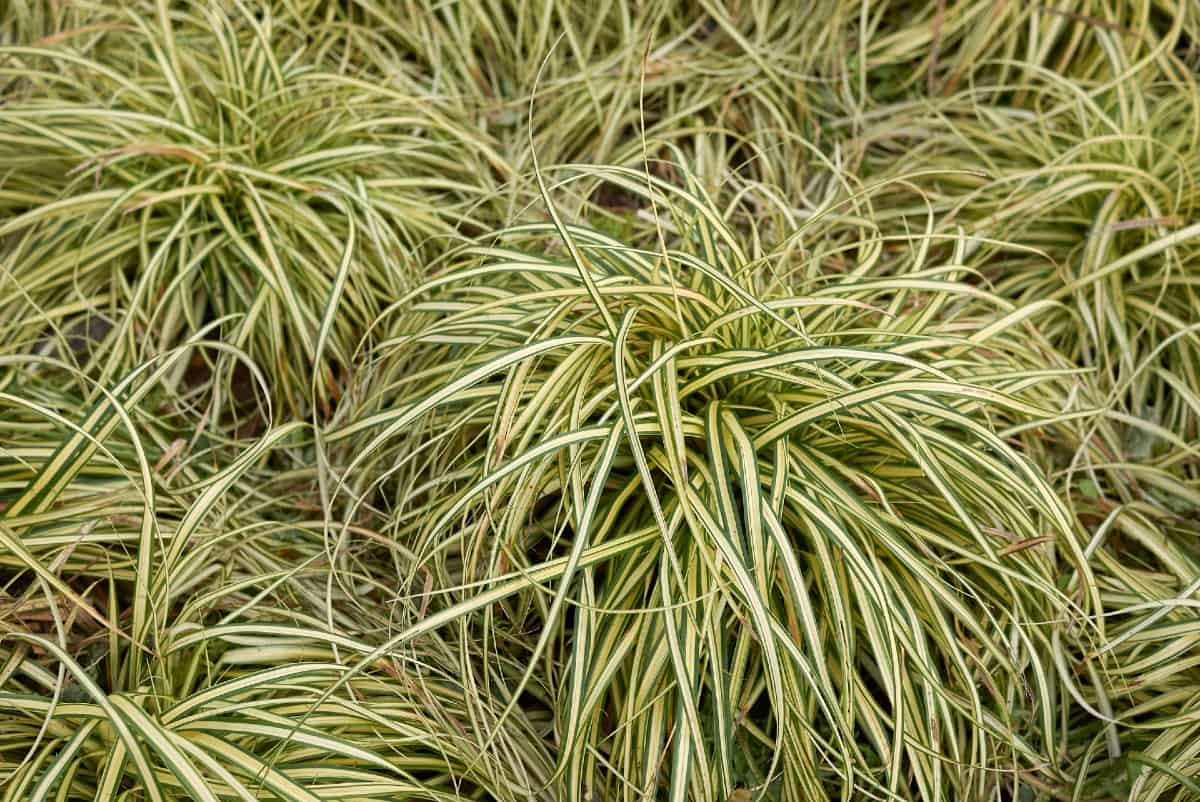 Evergold sedge is closely related to Japanese sedge. It grows in low, grass mounds that grow 16 inches tall and wide. In nature, it grows in dry woods and along rocky slopes.
It is considered an evergreen in the southern United States, so it holds on to most of its foliage year-round.
Evergold sedges grow most efficiently in wet soils and part shade. The color of the leaves is more robust with shade, but it tolerates some sun as well. Use these as a groundcover plant or in shaded areas along borders or for edging.
Chinese Fountain Grass (Pennisetum alopecuroides)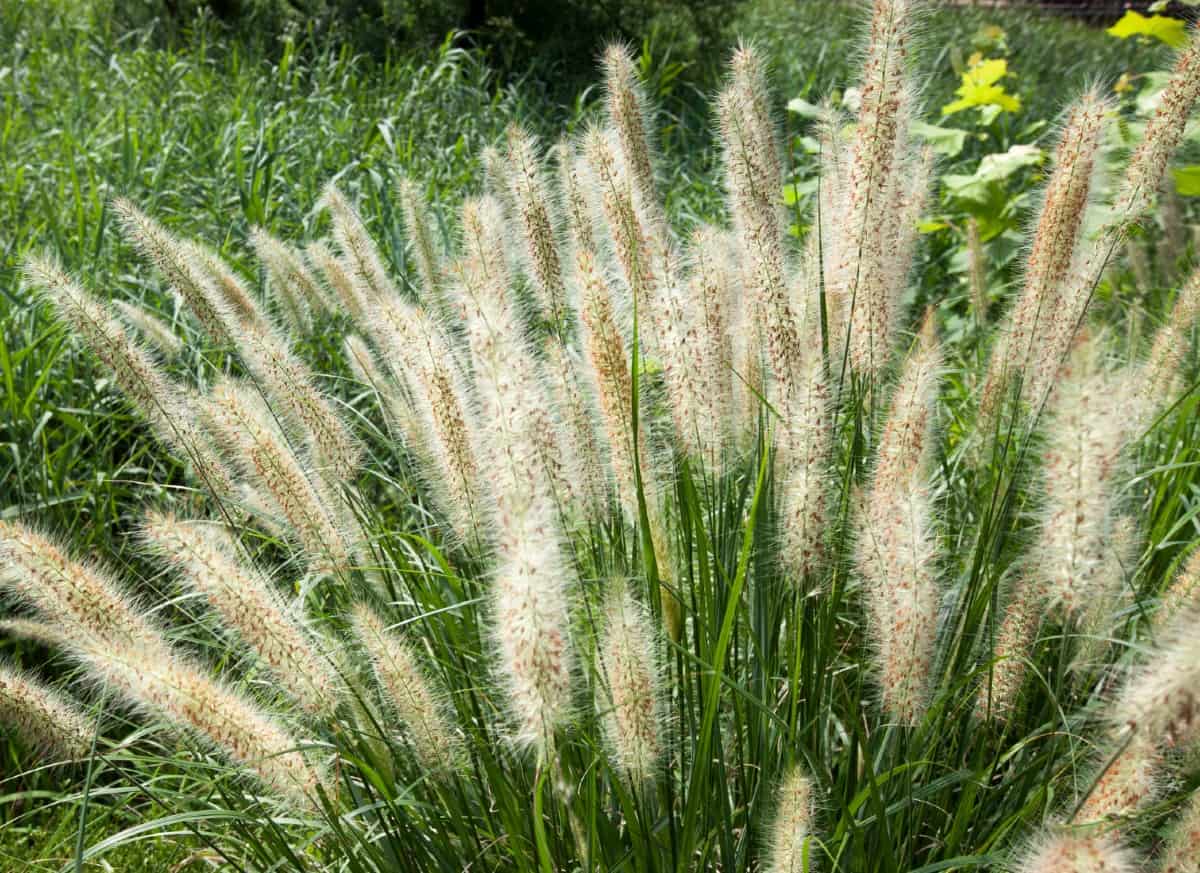 Another type of fountain grass is Chinese fountain grass. These ornamental grasses add soft textures to your landscape with arching foliage and purple and pink flowers in the late summer.
These dwarf shrubs or grasses make an excellent choice for flower beds, borders, rock gardens, and container gardening. The dry foliage in the winter also adds interest throughout the colder months.
Add some type of organic matter, like dead leaves, to the soil before planting Chinese fountain grass and spread a two-inch layer of mulch around the base to protect the roots.
Water new plants daily for several weeks, then transition to watering them every two or three days. Cut the blooms once they begin fading and prune the foliage as necessary.
The Toughest Dwarf Grass – Lilyturf (Liriope muscari)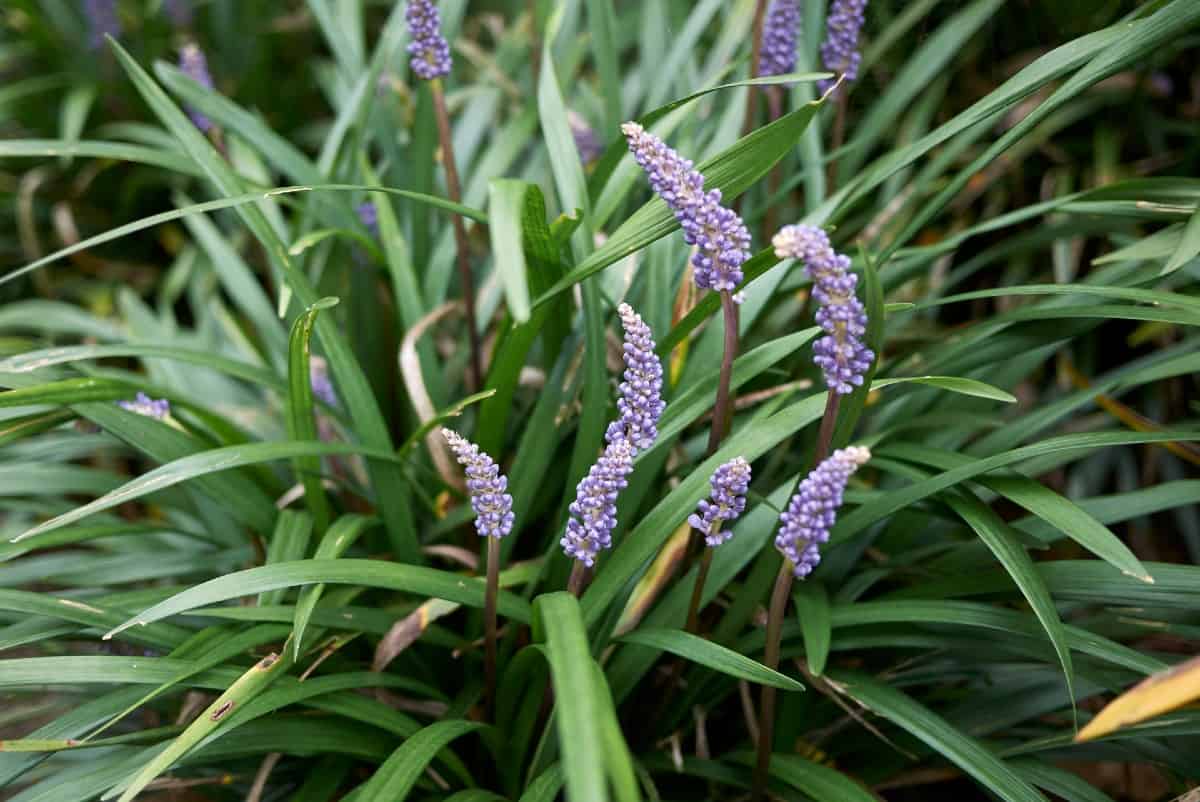 You might hear lilyturf called liriope or monkey grass. These good ground cover plants are tough, low-maintenance grasses that are perfect for a garden bed or edging. It closely resembles regular grass, but the unique purple flowers make it special.
Lilyturf withstands either sandy or clay soil, as well as part-shade or full sun. The only requirement for this plant is that it must have well-draining land.
Space each plant one foot apart, keeping in mind that this creeping plant spreads. Lilyturf is drought-tolerant once established, but new plants require regular watering.
Blue Oat Grass (Helictotrichon sempervirens)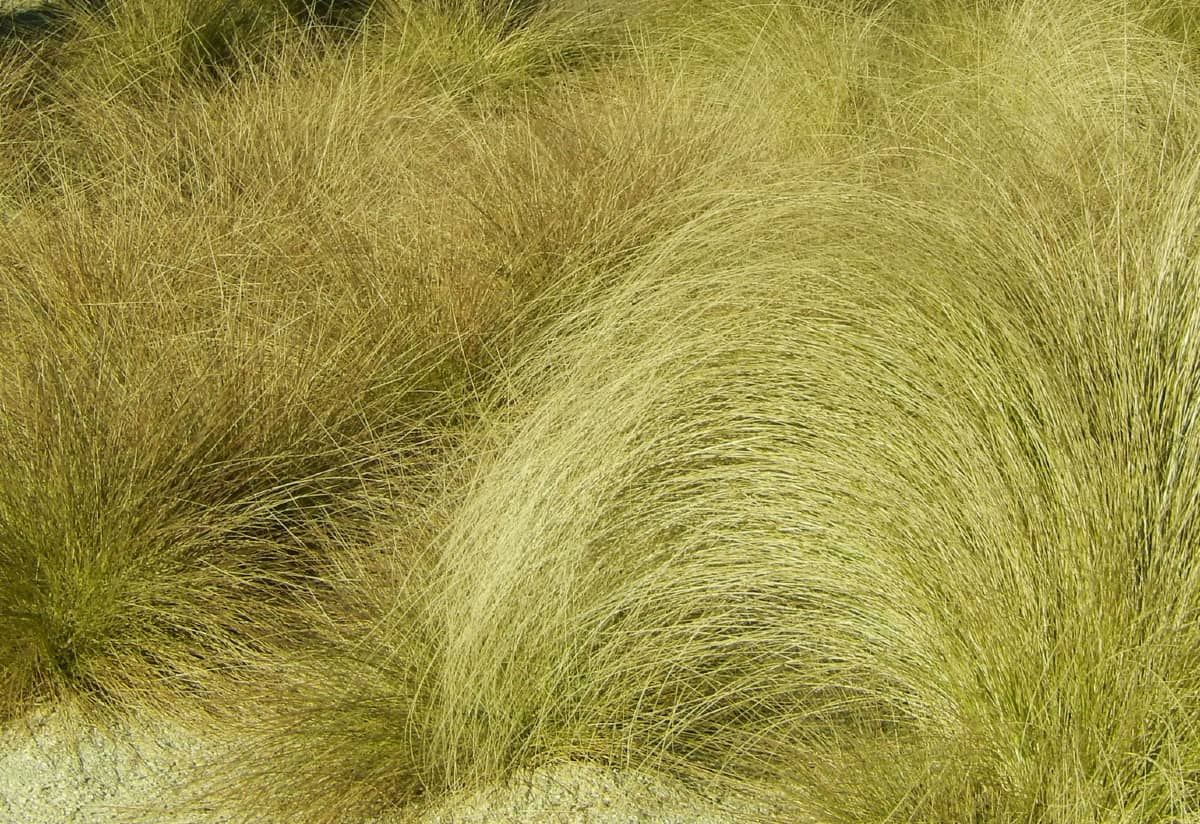 Blue oat grass is indigenous to Europe and has dense, blue-green leaves. It looks similar to blue fescue, but it is larger and reaches about 30 inches tall. Flowers bloom from the tips of the leaves that have seed heads and display light brown colors in the fall.
Blue oat grass is hardy in USDA zones four through nine. It prefers to have moist, well-draining soil but tolerates sandy and clay soils as well. Place these grasses two feet apart in an area with full sun to part shade.
Purple Millet (Pennisetum glaucum)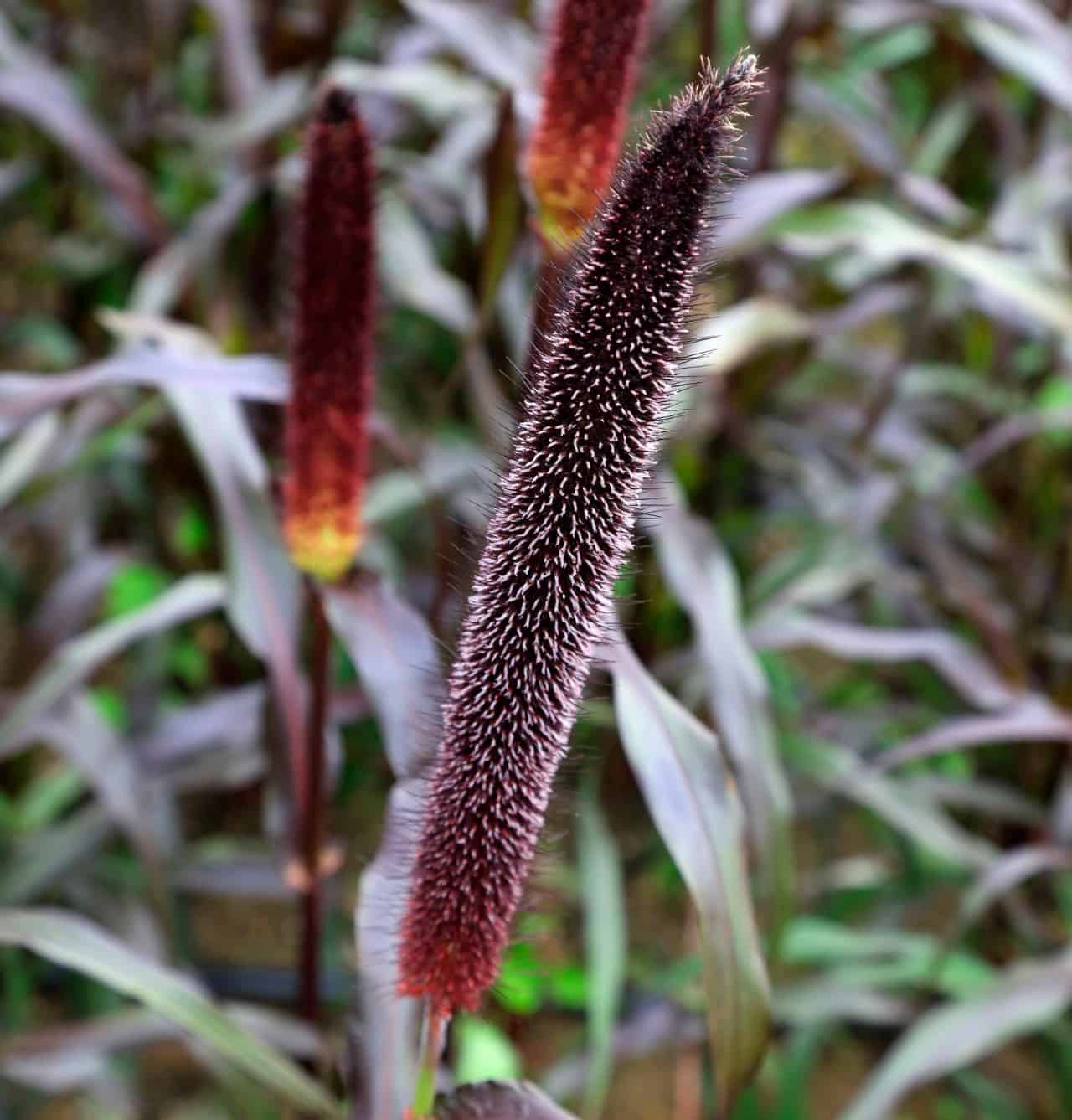 Purple millet grass is grown as a cereal grain in Asia and Africa. It has beautiful purple foliage and a massive seed spike. If left on the plant, the seed spike provides food for wildlife like birds.
The entire plant grows three to five feet tall and is hardy up to zone seven. Purple millet is attractive in mass plantings or as a focal point. Plant this dwarf grass that remains small after the last frost of spring.
Place purple millet in an area with full sun and well-draining soil. Mulch around these plants or add other organic compost to the ground to help it reach its maximum potential.
Dwarf Mondo Grass (Ophiopogon japonicus) – Dwarf Grasses under a Foot Tall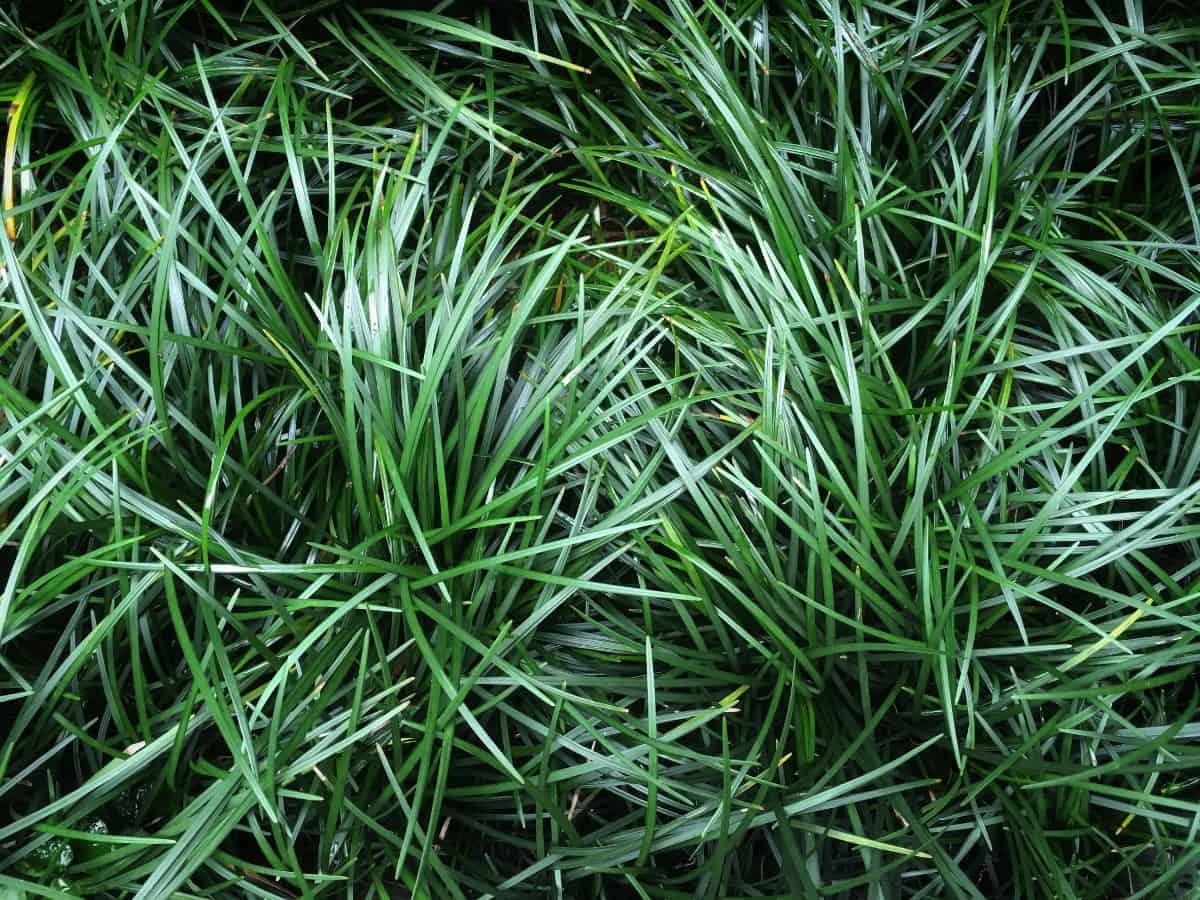 Mondo grass is a slow-spreading grass that forms a lush, cushiony turf with white flowers and blue berries. It is small enough, reaching only 12 inches tall, for rock gardens and along border fronts.
It is perfect for groundcover locations as well. Plant dwarf mondo grass with organic matter from spring to fall. Water the grass every day for two weeks, then as needed after that.
If your soil is sandy, water them frequently. Snip off faded blooms or prune the foliage throughout the season.
Lucerne Blue-Eyed Grass (Sisyrinchium angustifolium)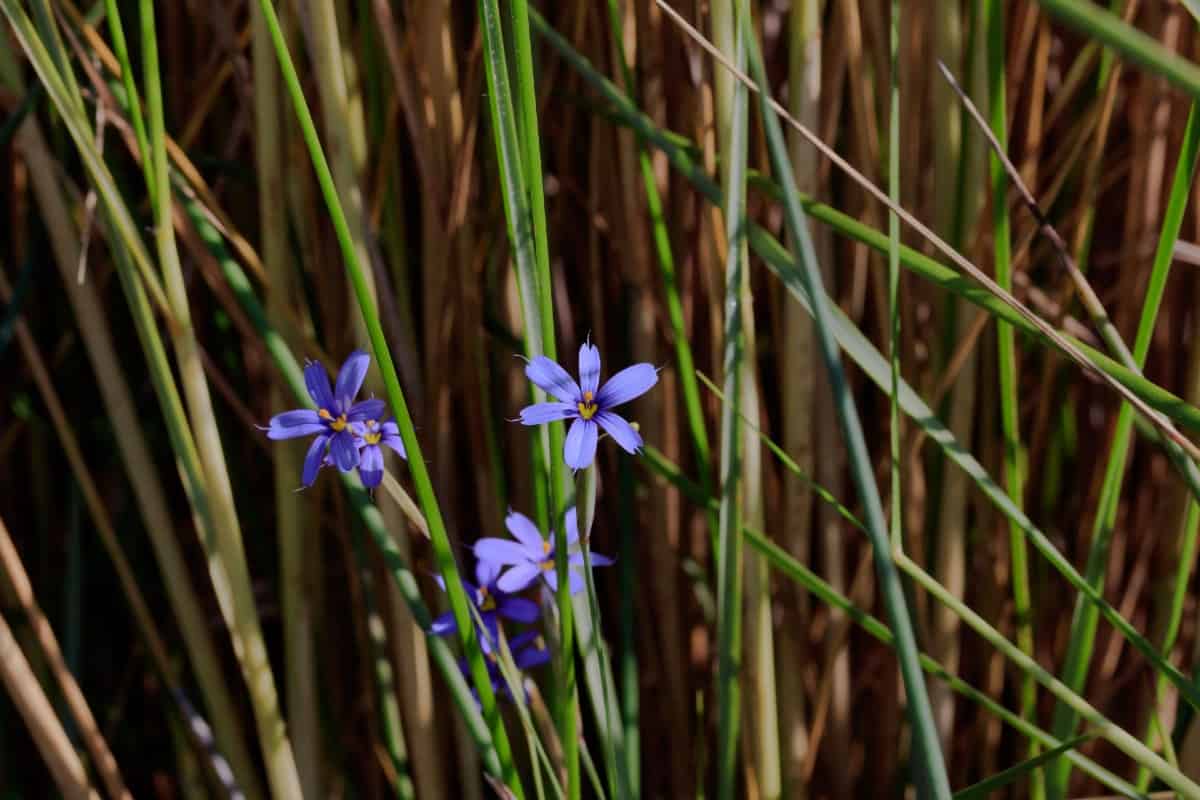 Lucerne blue-eyed grass is a wildflower and part of the Iris family. This native North American plant forms clumps and has eye-catching, light purple flowers that attract wild birds and bees. It grows four to 16 inches tall and wide.
This grass is hardy in zones four through nine and is useful for rock gardens, containers, and borders. Plant Lucerne blue-eyed grass in partial shade.
It tolerates nearly all soil pH levels but thrives in an average, moist garden. Divide the clumps between the late winter or early spring every two or three years.
Dwarf grasses that stay small aren't always what your mind thinks of when wanting to make a statement with your grass and small shrubs for landscaping, but don't sleep on these treasured gems.
Some of the smallest plants can make a significant impact and completely transform a space. When you take the time to find the right match of ornamental grasses for your yard, there is certain to be a huge reward.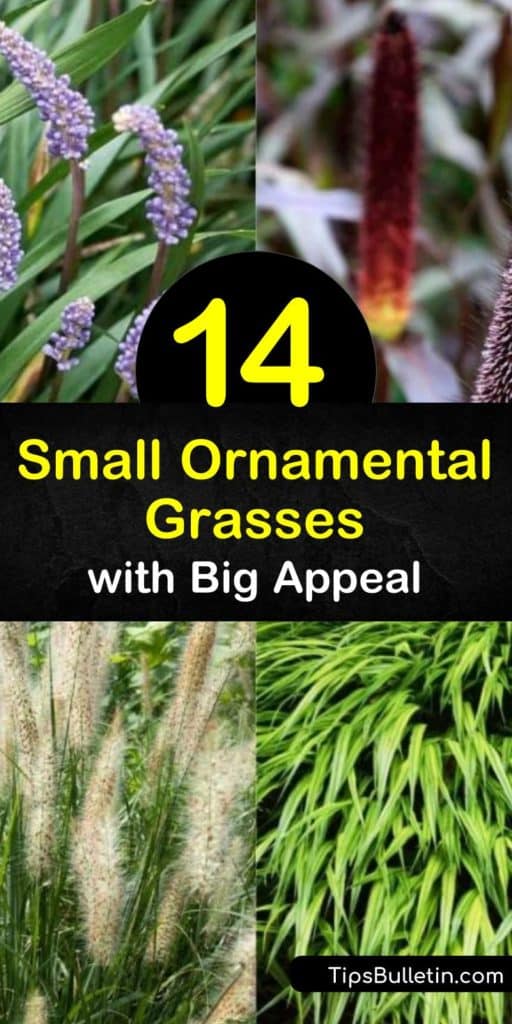 If you enjoyed learning about how dwarf grasses that stay small make a big impression, share these small ornamental grasses on Facebook and Pinterest.