You have potted plants on the patio and garden beds filled with flowers, but what should you do with all of those empty spaces of dappled shade? Ferns are a great way to fill shady areas of the yard, and unlike the hosta plant, deer will not bother them. We made a long list of ground cover ferns that not only grow well in the shade but fill the space with texture and color.
Take a walk through the moist soil of a shady woodland area, and it's easy to spot gracefully textured fronds carpeting the ground. Native ferns gather around swamps and streams, spreading with ease through rhizomes and spores.
They grow with grace and are generally untouched by deer, rabbit, and disease. Their hardiness varies, depending on the species, and they come in a wide variety of colors, sizes, and shapes. These long-living groundcover plants are easy to grow and require little care to survive, making them an ideal choice for a shade garden.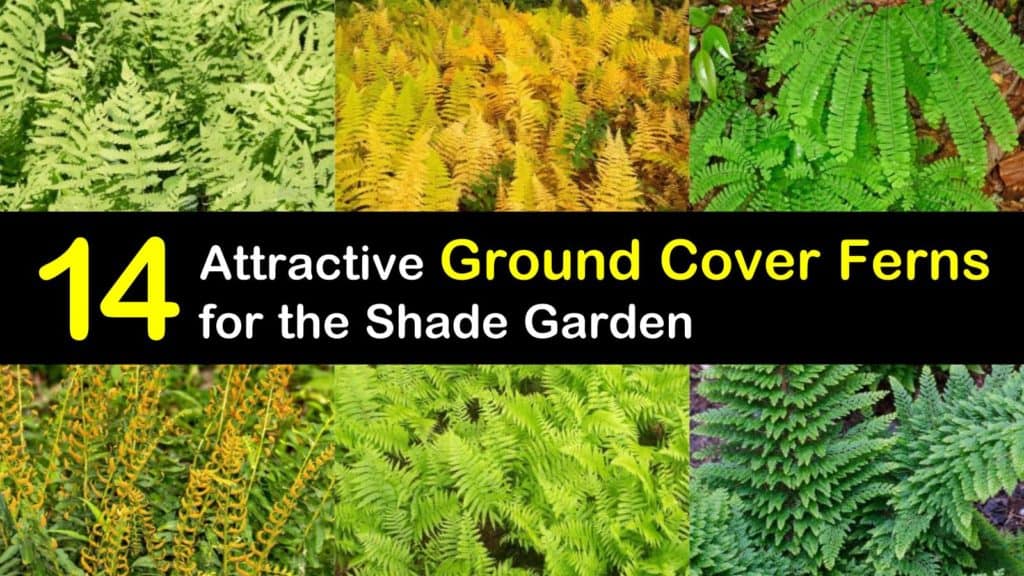 Growing Ferns in a Shade Garden
There are many different types of ferns, and knowing the difference between them and the conditions they need to thrive goes a long way in creating a beautiful landscape.
We'll answer common questions about growing these groundcover plants and help you choose the right ones for your garden.
What are the Different Types of Ferns?
There are many fern varieties, but there are two basic types of growth forms. Crown forming ferns have fronds in a vase-like cluster or circle that grows upright from the rhizomes.
Ground creeping plants like some other ferns spread quickly through the area by growing from stolons or trailing rhizomes. The fronds of these types of ferns grow in loose clusters along the rhizome.
Can I Grow Ferns Anywhere?
Ferns are easy to grow almost anywhere, but they do require specific conditions to thrive. While they do withstand some drought, they prefer constant moisture. They also tolerate some sun but grow best in partial to full shade.
Moisture and sunlight are vital in deciding where to plant ferns in your garden. Check the USDA hardiness zone for your ferns and compare them to your location before bringing your new plant home.
Most ferns are not plants to grow between pavers but you can add them as a border for a path in a shaded area to give some interest to the area.
How Do I Grow Ferns in the Garden?
Plant ferns in fertile, well-drained soil in partial or full shade. Choose an area where they have protection from the afternoon sun to protect their fronds from drying out or scorching. Mix organic matter or compost in the hole before planting and cover the soil with a couple of inches of mulch.
Ferns are easy to divide in the spring or fall, and this is a great way to create new shade gardens while keeping them in check. Water the new divisions regularly until they are established.
Which Types of Plants Grow Well with Ferns?
Many different perennials love growing in the shade, and they are great complementary plants for ferns. Astilbes, hostas, caladiums, and dicentras love shady areas and are good companion plants.
Ferns prefer moist soil, and so do other types of plants. Consider including moisture-loving plants with your ferns, such as ornamental dwarf grass like Mondo, Joe Pye weed, and monarda, to create a colorful and contrasting garden.
Maidenhair Fern (Adiantum)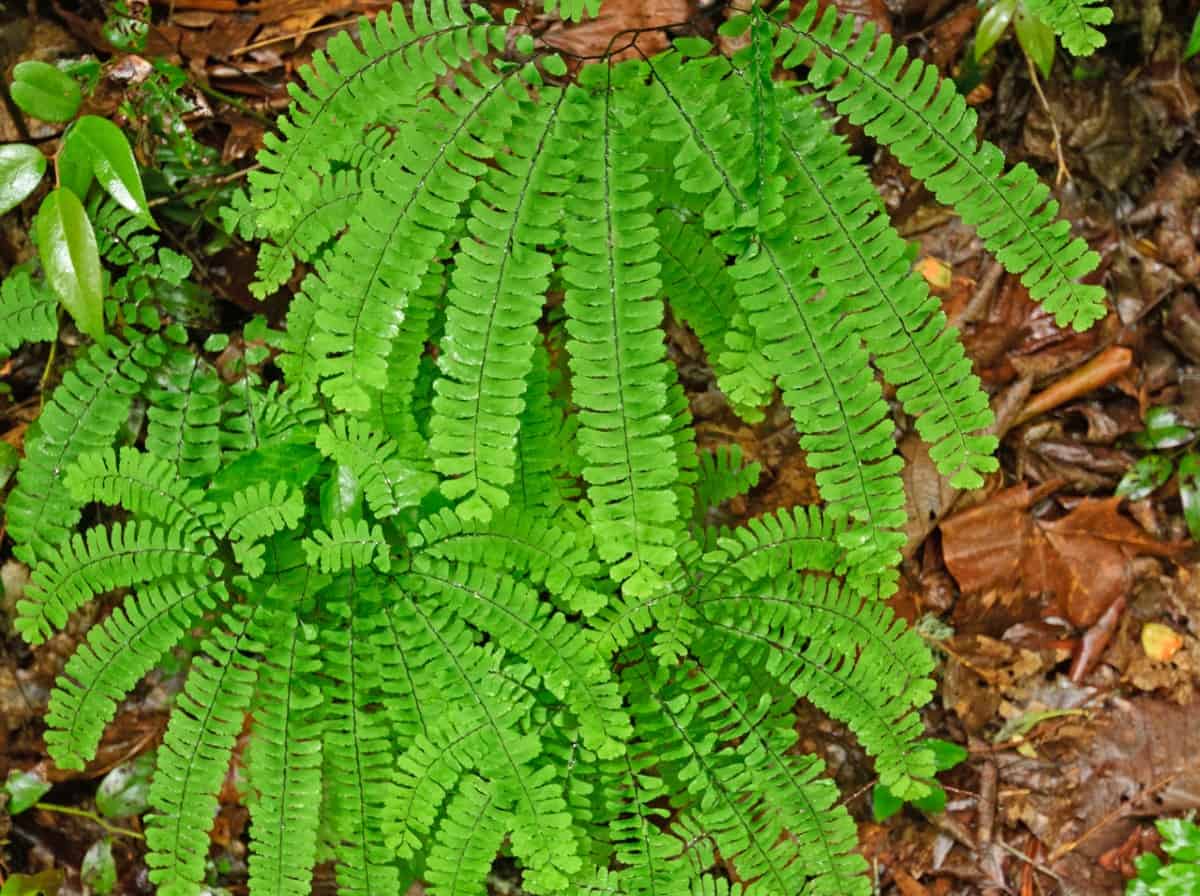 This perennial has feathery green foliage with small fronds and a lacy appearance. The graceful habit of this fern makes it a great addition to the garden with a tropical appeal. It has striking black leaf stalks that are a pleasant contrast against the foliage.
The maidenhair fern thrives in full to part shade. This plant has a mature height of 1 to 3 feet and spreads up to 2 feet. It is a winter-hardy plant that grows best in zones 3 through 11.
Japanese Painted Fern (Athyrium niponicum 'pictum') – Ground Cover Ferns with Contrasting Foliage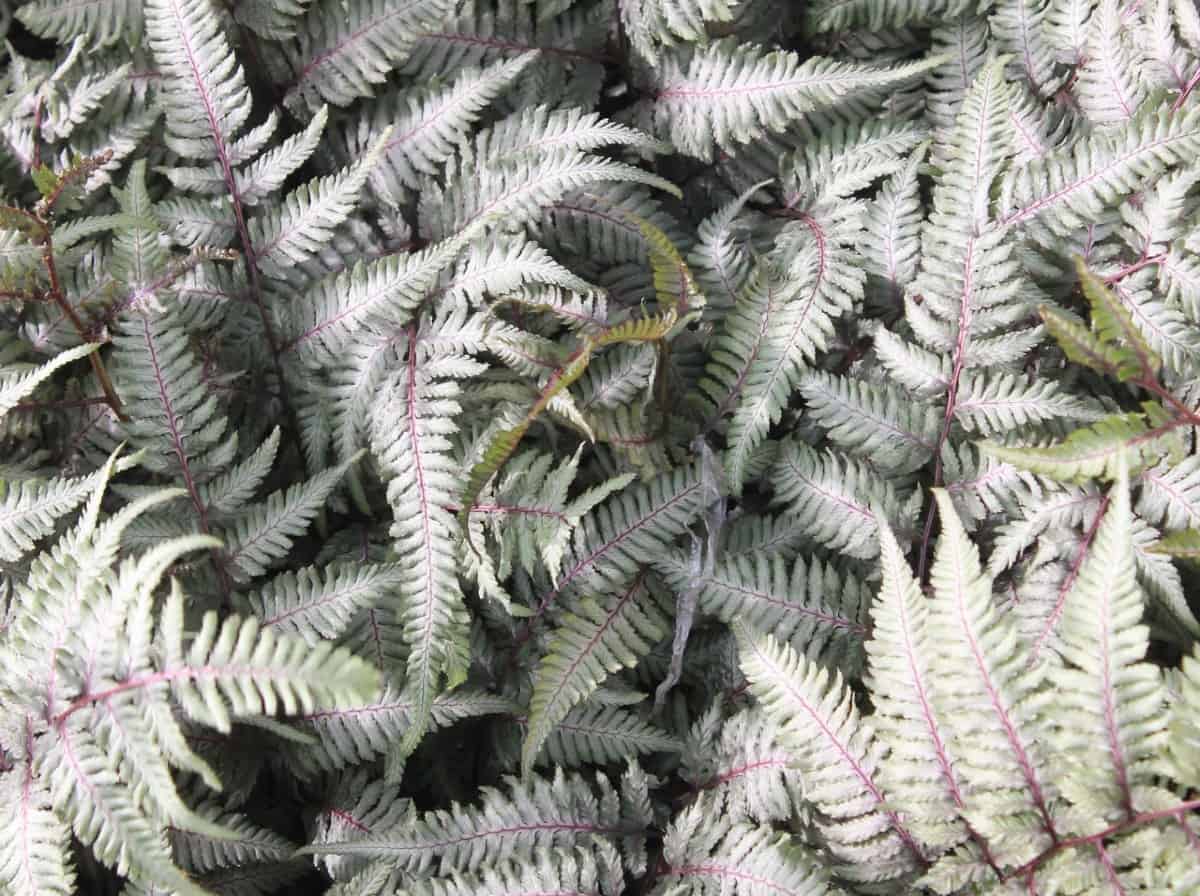 This deciduous fern is more colorful than traditional ferns with its triangular silvery leaves. It grows in an arching habit with some of the leaves variegated and a grayish-green tone and purple midribs.
Japanese painted ferns are outdoor plants for shade and low light that benefit from moist, well-drained soil. They can handle a little light but not too much. This variety grows 18 inches tall and wide and thrives in hardiness zones 3 through 8. It is tolerant of deep shade and very acidic soil.
Royal Fern (Osmunda regalis)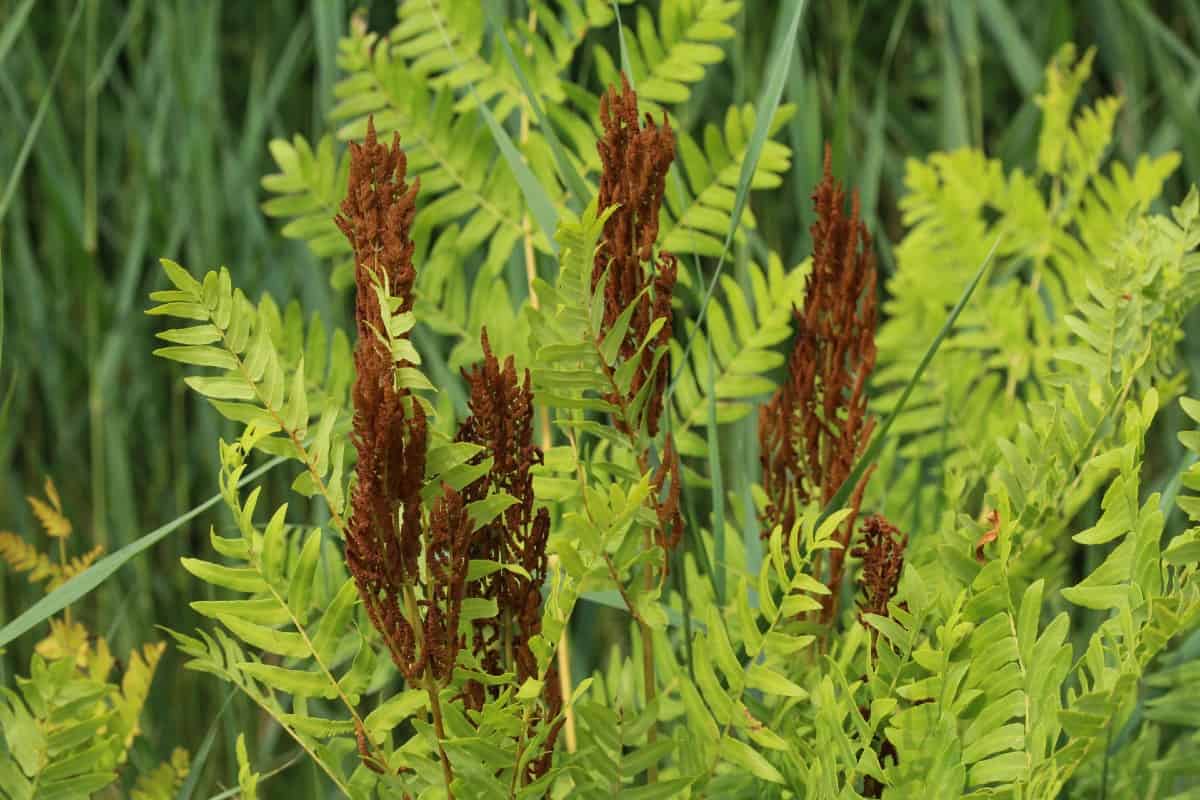 The Royal Fern is large, with twice cut leaves that sometimes produce bead-like spores at the tips. This clumping plant loves shade but is also one of the few sun loving ferns. It produces robust, broadly divided, bright green fronds and grows rusty/brown flower spikes in the early spring.
This specimen gets rather large in the garden, so optimal space is required. Plan wisely before planting. While it grows up to 6 feet, the average height and spread is commonly 2 to 3 feet. It is rabbit, deer, and clay soil tolerant, and thrives in zones 3 through 9.
Christmas Fern (Polystichum acrostichoides) – Robust Evergreen Fern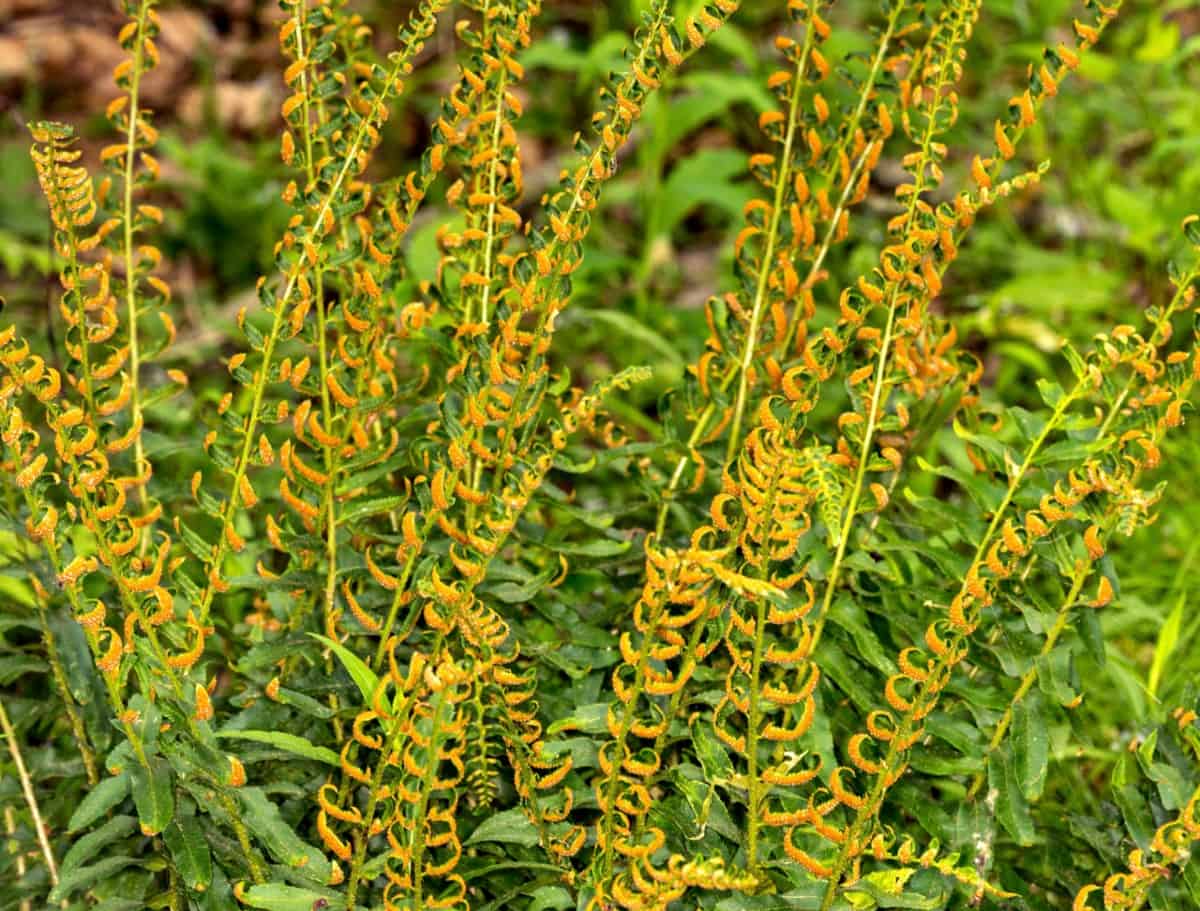 This evergreen fern is a clump-forming plant with a fountain of feathery rich, green fronds with holly-like pinnae. These hardy and colorful ferns maintain their color throughout the season and naturalize by spores under the right conditions.
This low maintenance plant is suitable for zones 3 through 8 and is one of the plants that thrive in shade, whether full or partial shade. The Christmas fern grows 1 to 2 feet tall and wide and is both rabbit and deer resistant.
Cinnamon Fern (Osmundastrum cinnamomeum)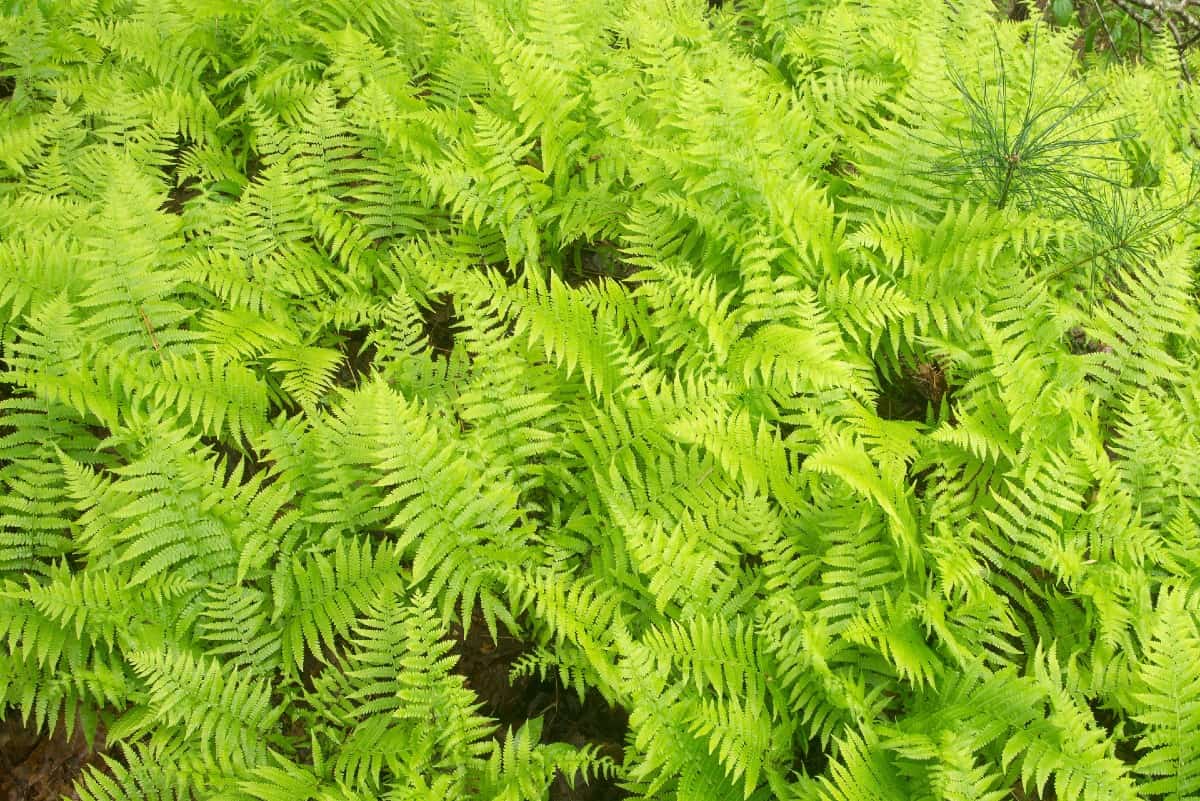 This deciduous fern has large, blue/green foliage with spikes of cinnamon-brown spore-producing fronds that emerge from the center of the plant. This plant's shape and structure make it ideal for creating a dramatic focal point in the garden.
Cinnamon ferns are clump-forming and grow 2 to 5 feet tall and 2 to 3 feet wide with ease. They thrive in zones 4 through 8 and tolerate partial sunny locations. They are low maintenance, as well as pest and disease-free.
Lady Fern (Athyrium filix-Femina) – Deciduous Fern with Arching Fronds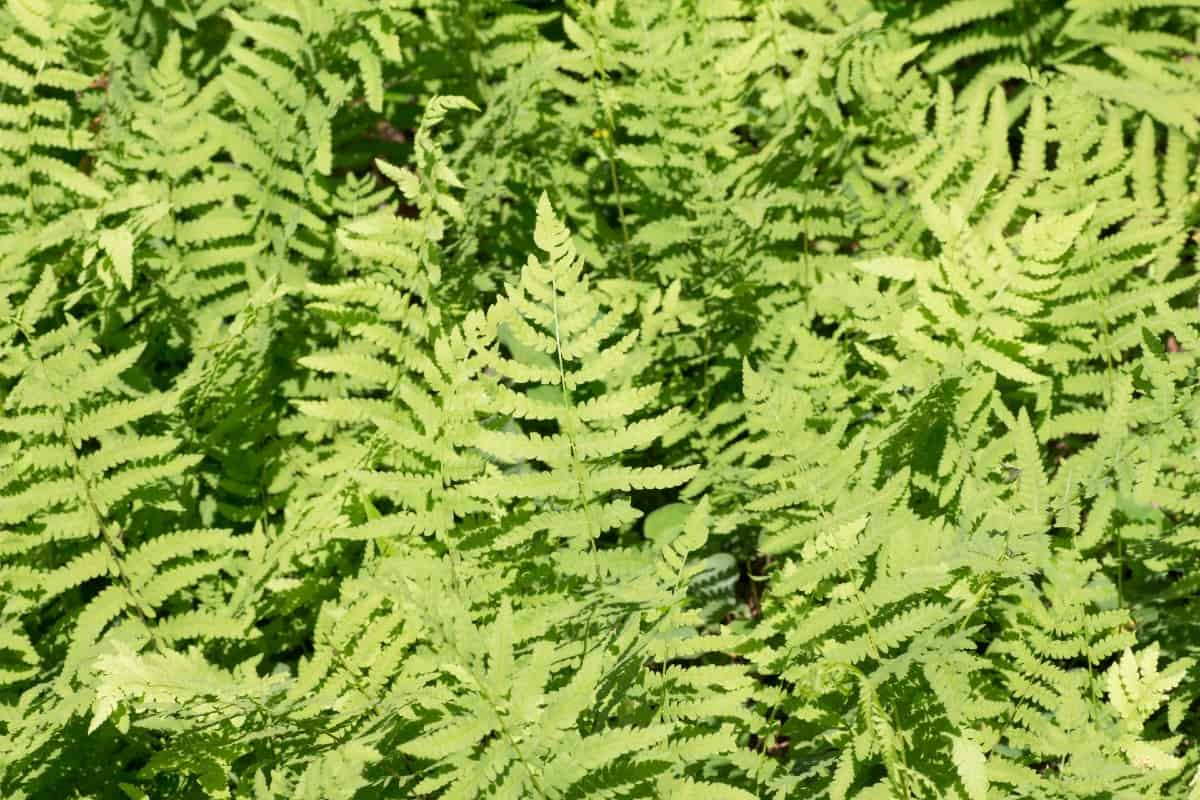 This deciduous fern grows in a large rosette of lacy, arching green fronds. It is a vigorous and elegant plant that is a fast grower and easily fills shady areas of the yard.
This clump-forming plant is pest and disease free and is easy to maintain. The lady fern grows 1 to 3 feet tall and over 2 feet wide, and is more tolerant of dry soils than other plants. It is hardy in zones 4 through 9 and grows best in part sun to full shade.
Japanese Shield Fern (Dryopteris erythrosora)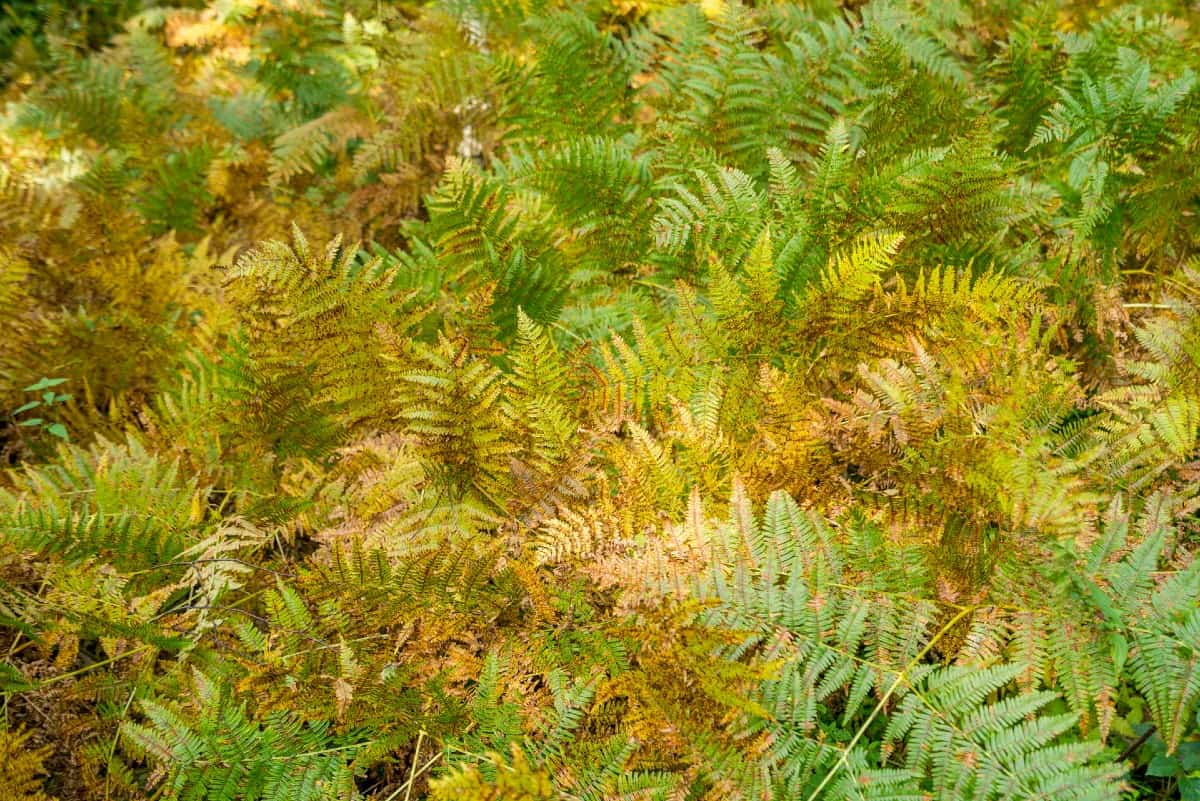 This plant is commonly called an autumn fern due to its spring fronds with coppery tints that are a stark contrast to the bright green mature fronds. These colorful ferns thrive on neglect and are an excellent choice for a low maintenance garden.
The Japanese shield fern grows well full to part shade and is hardy in zones 5 through 9. This clump-forming plant is deer and rabbit resistant and grows up to 2 feet tall and wide.
Wood Fern (Dryopteris) – Tough and Adaptable Fern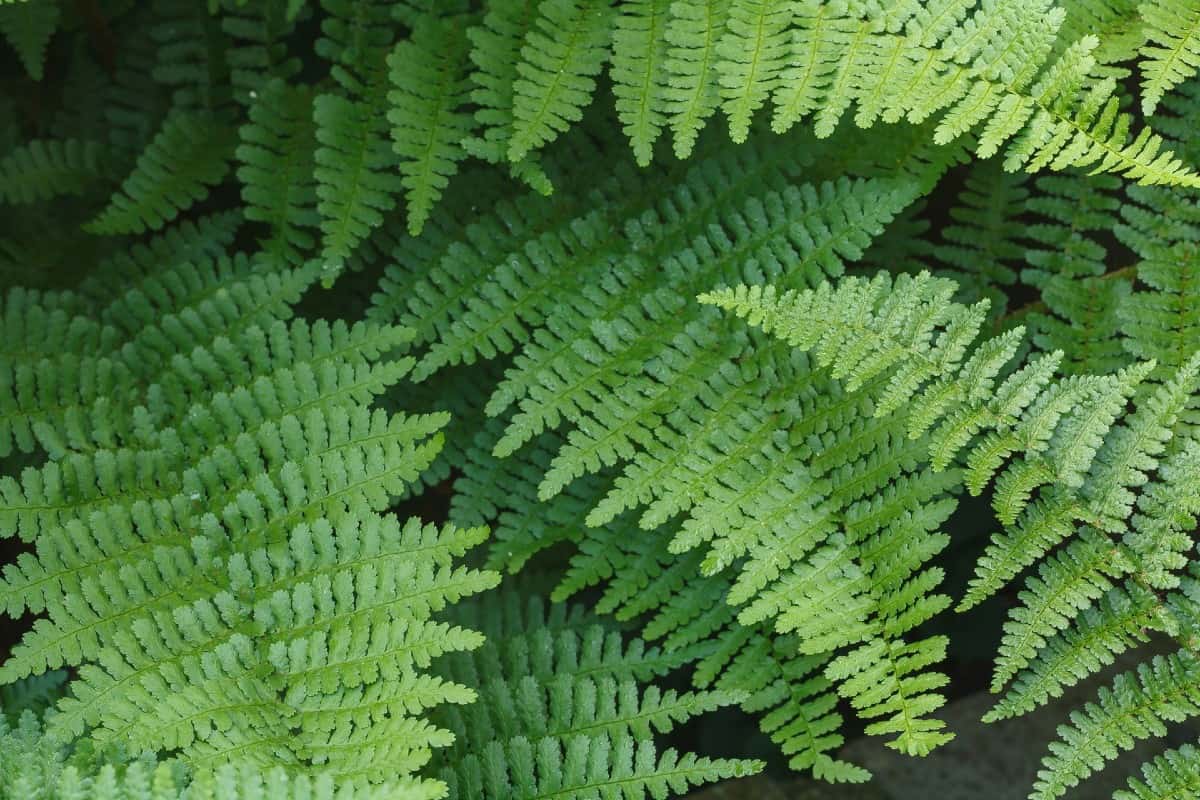 The wood fern is a versatile plant that is tough with a bold texture. These medium-sized ferns fill shady areas with their rich green fronds, as long as you grow them in rich and moist soil.
These plants have an average height and spread of 3 feet and thrive in hardiness zones 3 through 8. They are low maintenance and thrive in part to full shade. They grow well in areas that other ferns do not.
Ostrich Fern (Matteuccia struthiopteris)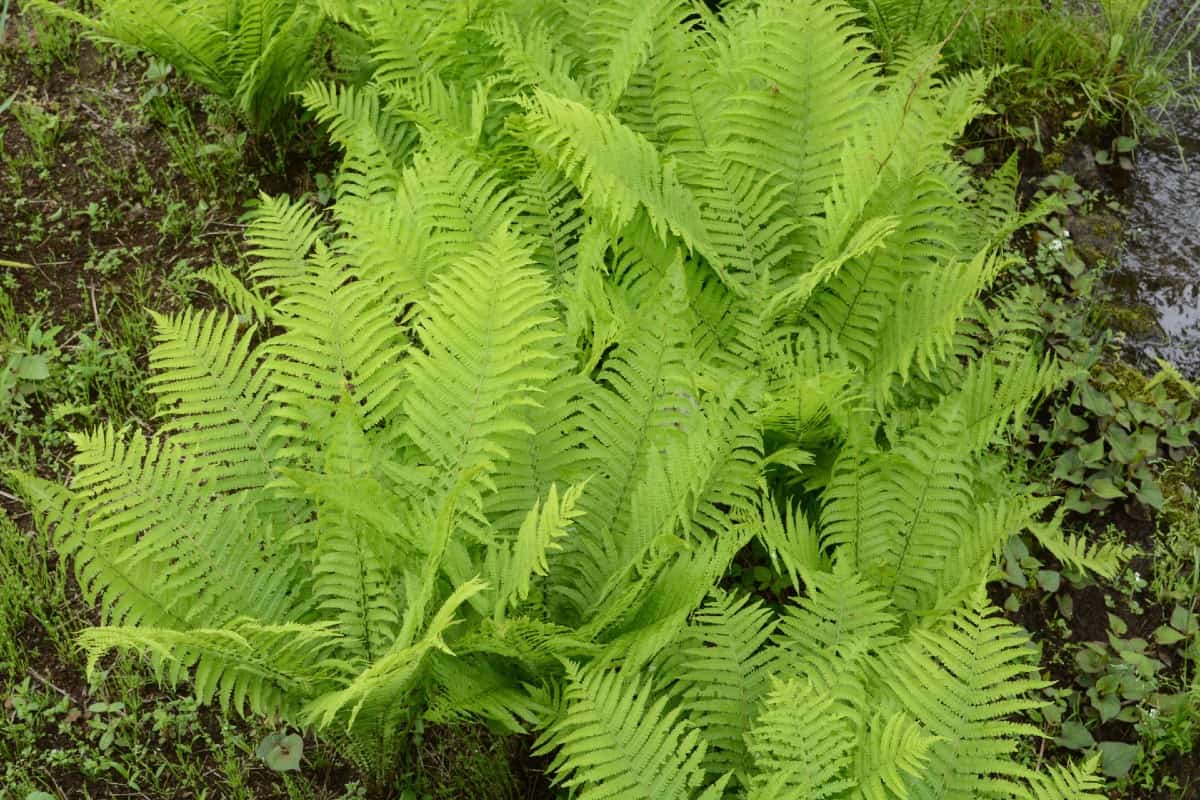 This fern produces fronds that resemble tall, feather ostrich plumes with an elegant and arching show. The fresh green foliage unfurls in the spring and loses its leaflets in the fall. It has a clump-forming nature and is pest and disease-free.
This plant does not tolerate heat or humidity and prefers part sun to full shade. It is hardy in zones 3 through 7 and naturalizes well. The ostrich fern is low maintenance and easily grows up to 6 feet tall and 4 feet wide.
Holly Fern (Cyrtomium falcatum) – Drought Tolerant Fern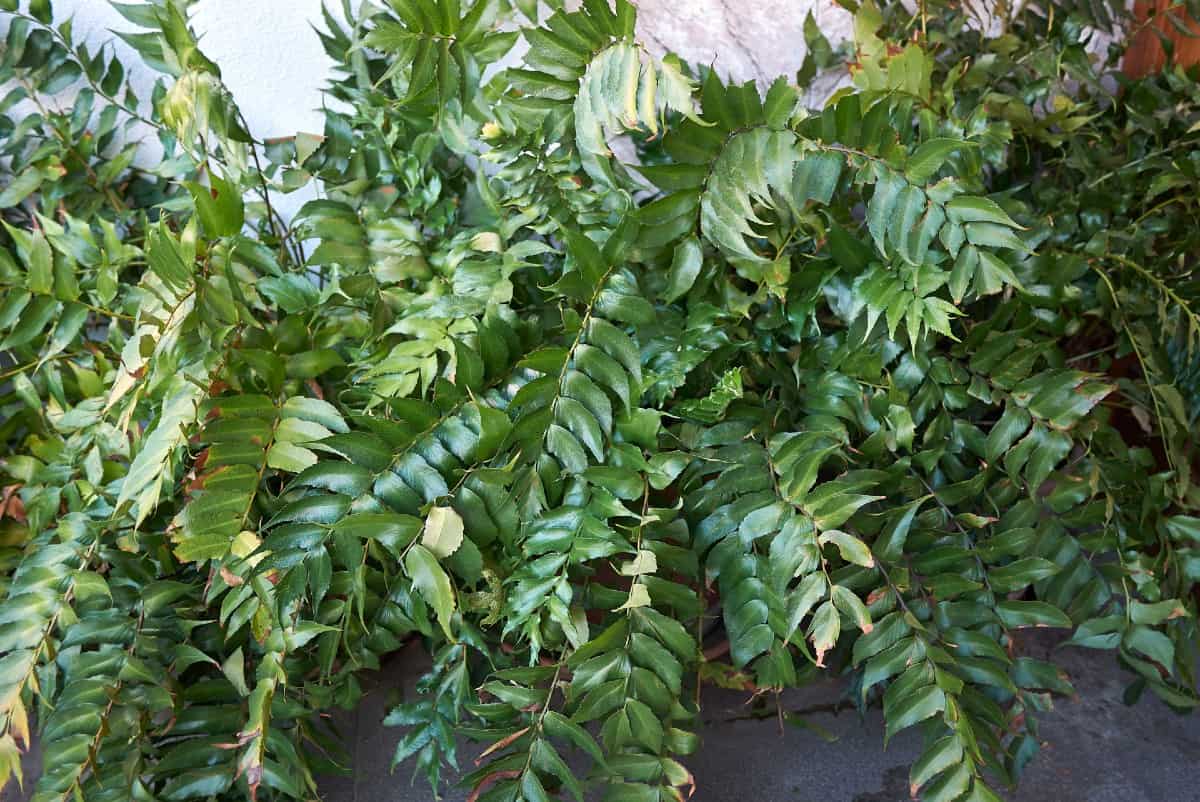 This woodland native has a coarse and bold texture with large fronds. It grows in dense, arching clumps of glossy green foliage, and it is ideal for groundcover and slope/erosion control.
The holly fern grows best in part to full shade and moist soil. It is a long-lasting plant with a mature size of 1 to 3 feet tall and 1 to 4 feet wide. This low maintenance fern is deer resistant and drought tolerant and is hardy in zones 3 through 9.
Western Sword Fern (Polystichum munitum)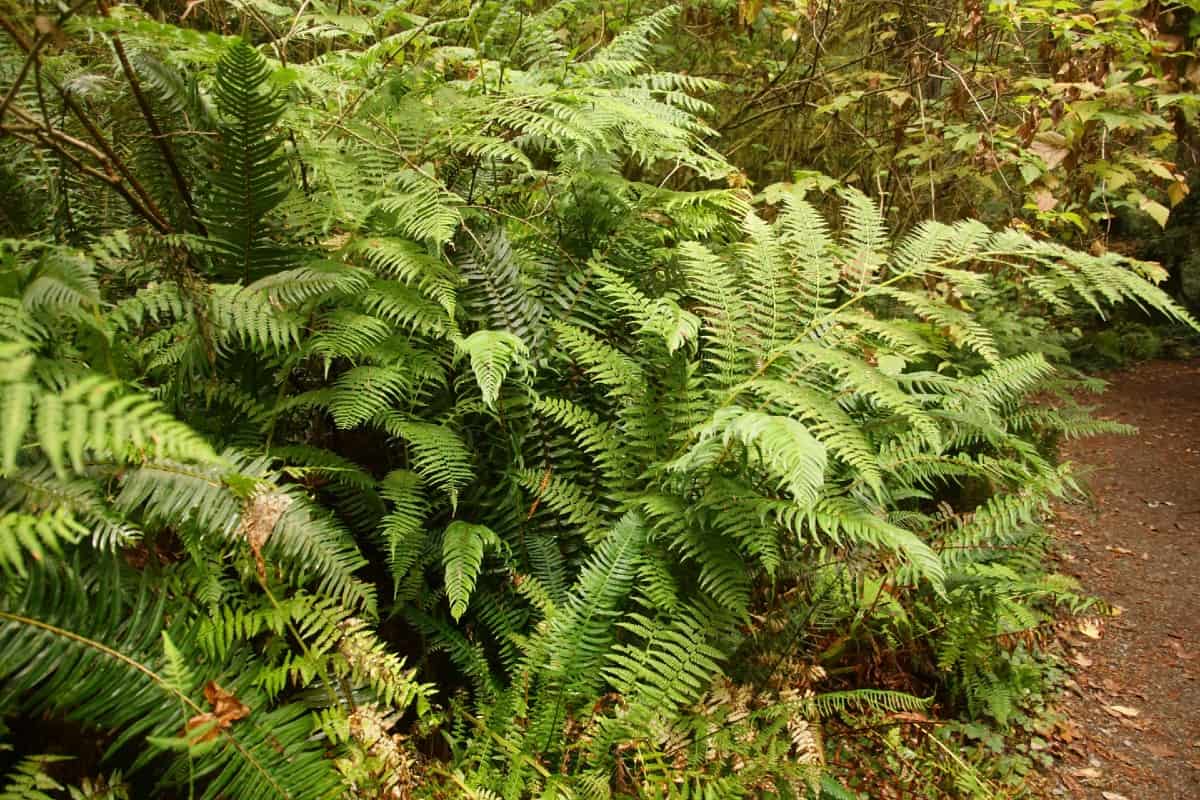 This majestic and robust evergreen fern has narrow, lance-shaped fronds that form an arching mound of dark green foliage. Mature plants carry 75 to 100 sword-shaped fronds with leaflets that are dagger-shaped with toothed edges.
The Western Sword Fern is weather-resistant and grows in part to full shade, but tolerates full sun if watered regularly. This impressive plant grows 2 to 4 feet tall and wide and is hardy in zones 3 through 8.
Hay-Scented Fern (Dennstaedtia punctilobula) – Ferns with a Distinctive Scent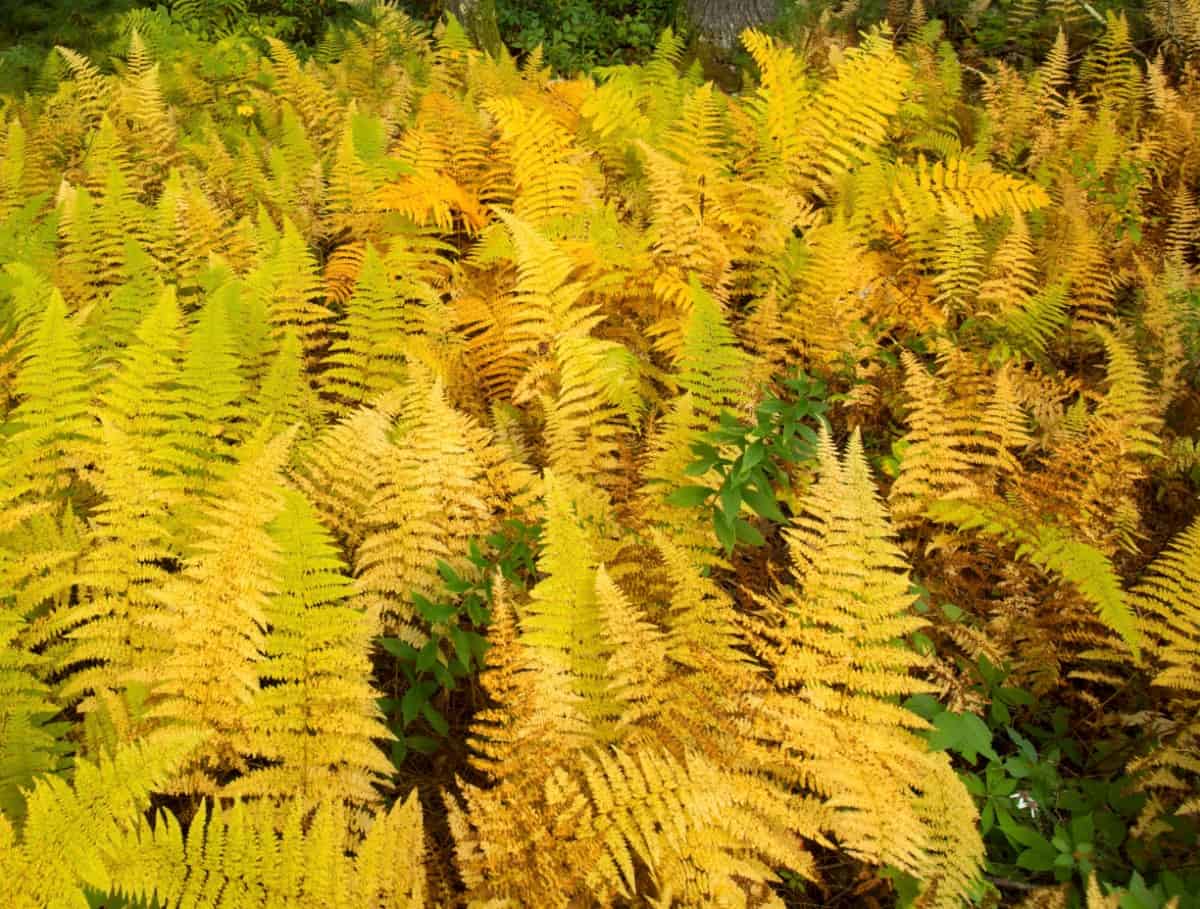 Hay-scented ferns have lacy green fronds and give off a scent of freshly cut hay if you brush up against them. The fronds turn a soft yellow color in the fall and grow in areas that other ferns find difficult.
This deciduous fern enjoys part sun to full shade. It is low maintenance, drought tolerant, and deer resistant. The hay-scented fern is hardy in zones 3 through 8 and grows 1 to 3 feet tall and spreads 2 to 3 feet.
Interrupted Fern (Osmunda claytoniana)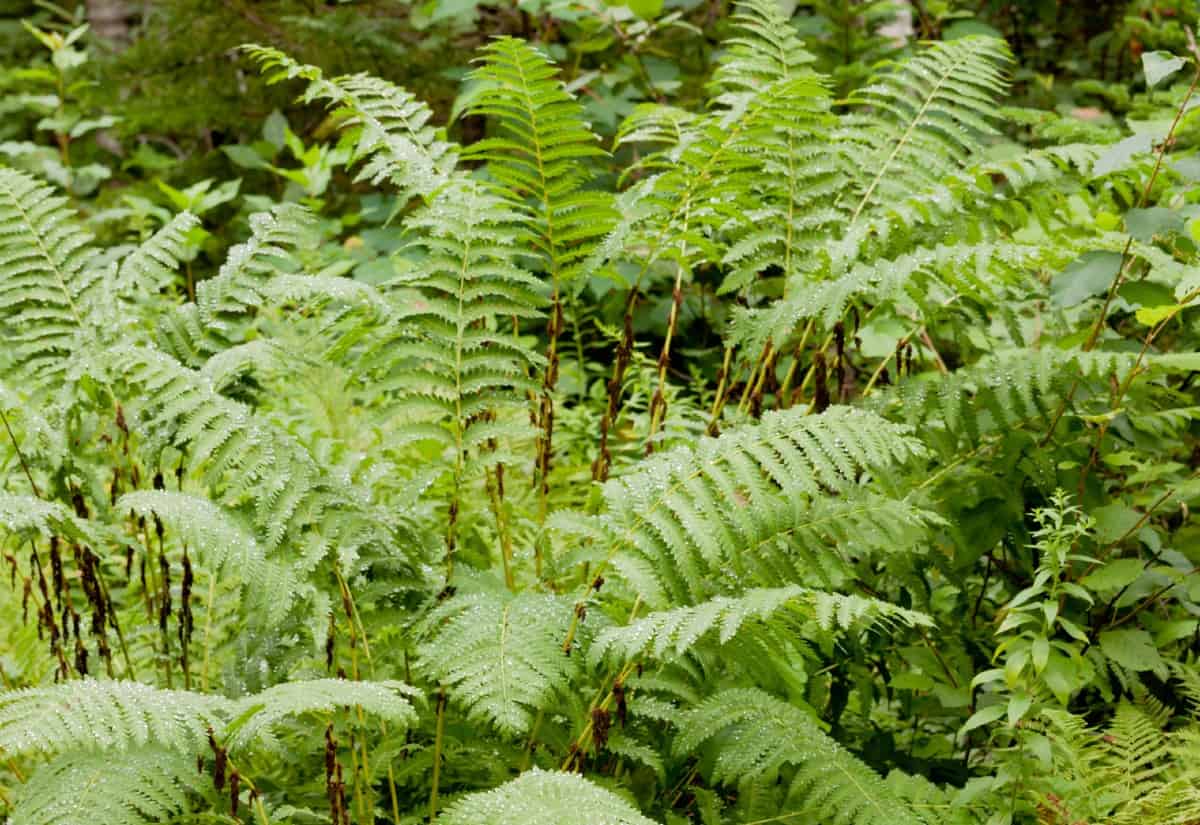 This charming deciduous fern has showy, pale-green fronds that are lance-shaped and divided. It produces erect, fertile fronds with brown leaflets from the center. It is the first fern to produce fiddleheads in early spring, and clumps form into a spreading V-shape.
Interrupted ferns are shade-lovers that grow best in consistently wet soil. They are rabbit and deer tolerant and grow up to 3 feet tall and wide. These ferns are hardy in zones 3 through 8.
Soft Shield Fern (Polystichum setiferum) – Ferns with Lace-Like Fronds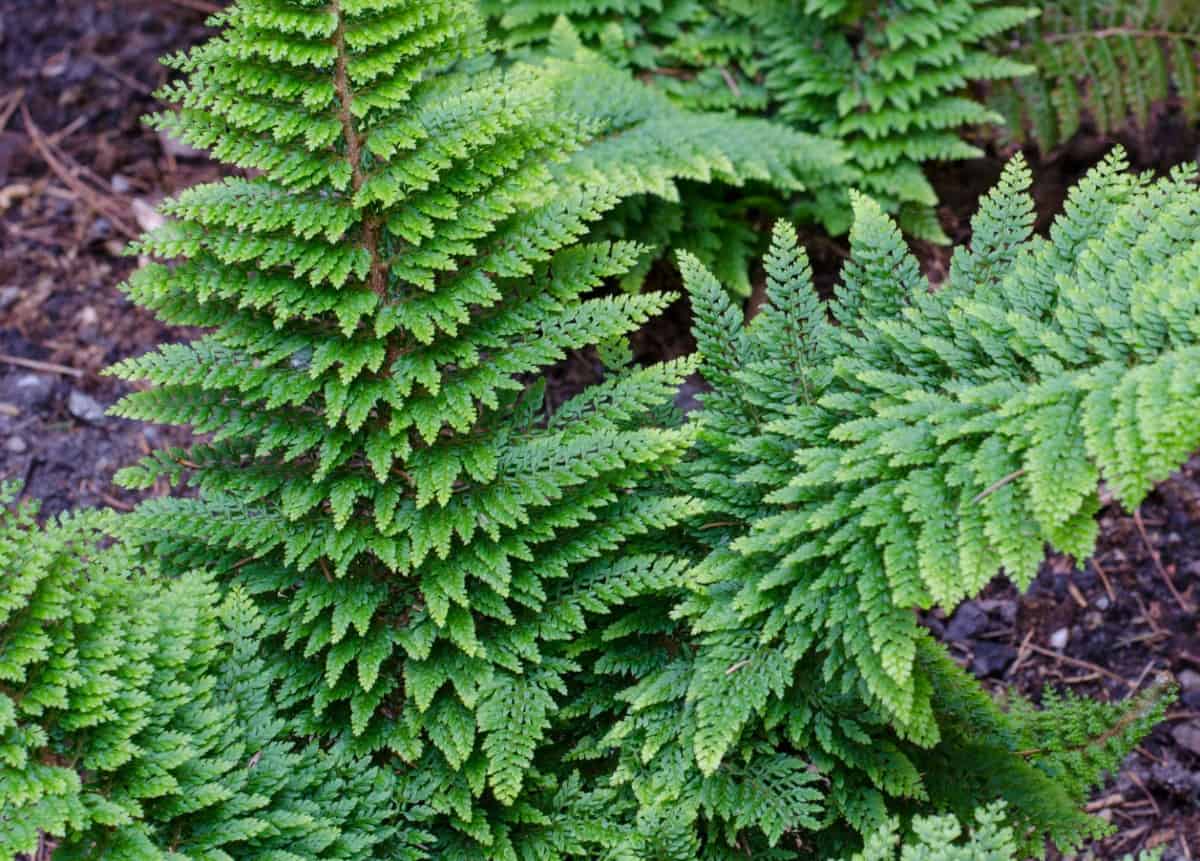 This soft-textured fern has drooping fronds with a lace-like appearance. It is a tufted evergreen or semi-evergreen fern that has appeal all year. The lance-shaped medium green fronds grow in a shuttlecock form.
The soft shield fern has a mature size of 3 to 4 feet and grows well in hardiness zones 6 through 8. These year-round green ferns grow well in both full and partial shade and are low maintenance. It tolerates dry soil and dense shade.
Beautiful gardens don't always have to grow in full sun. Many native plants, such as ferns, are happy growing in shady areas of the yard.
Ferns are some of the easiest plants to grow, and most varieties are deer, rabbit, and disease resistant, making them the perfect choice for a low-maintenance garden.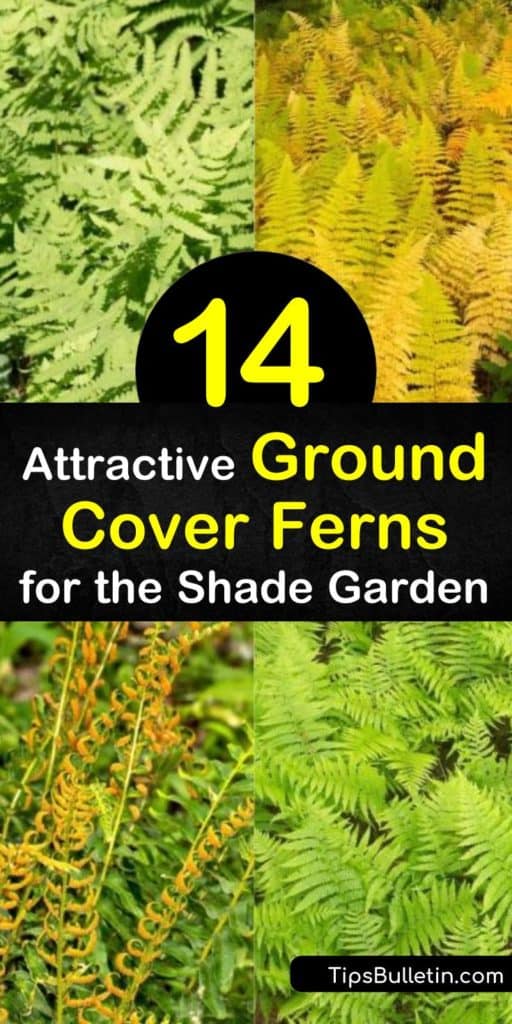 It's easy to fill shady areas of the garden with varying types of ground cover ferns, so why not share our guide of ferns for ground cover with your family and friends on Pinterest and Facebook.