Whether you are designing new landscape or looking to make improvements to the one where you currently have ground cover, perennials play an essential role. Ground cover perennials give your property a host of solutions to ordinary landscape troubles. These low growing plants work for erosion control, keeping the soil moist, and enhancing pollinators' habitat.
When it comes to filling in barren places, most homeowners lean toward grass. While grass works as it grows just about anywhere, it's not always the best option as it is boring to look at, and maintaining it is time-consuming.
Ground cover perennials are a favorite choice as they are prettier, especially the flowering ones, plus they are easy to maintain. Another benefit of using ground cover perennials in place of grass is the different options to choose from. Many gardeners prefer ground cover perennials over annuals, as you plant them once, and you are done.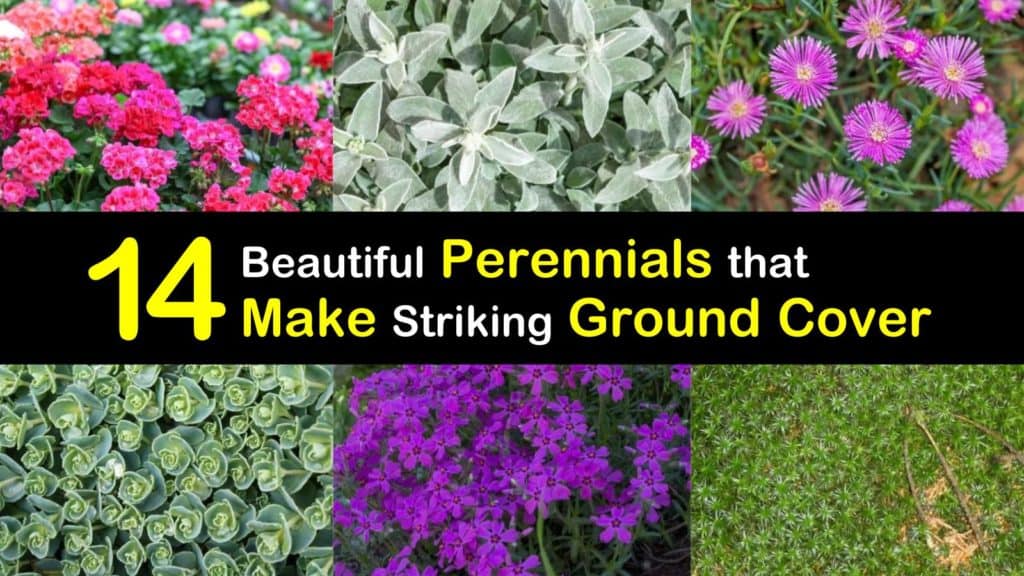 Choosing and Planting Ground Cover Perennials
When you are ready to purchase ground cover perennials, you might notice they cost a bit more than annuals. Let us tell you this extra cost is worth it, as you won't have to buy new plants each year.
Perennials die back during the winter, but new growth appears every spring or summer. In some instances, perennials keep their colored foliage all year long, like Japanese royal ferns.
Before purchasing your perennials, be sure to monitor the planting location to get an idea of how much light it receives. As you are buying low growing perennials, consider how the taller plants in your beds affect the light the low growing ones receive.
Think about the varying bloom times of the ones you are purchasing and what you currently have in your garden. This is vital for keeping color year-round. At planting time, follow the spacing directions on the care instructions.
No matter how tempting it is, never plant your perennials too close together. Planting them too close might give a full and luscious looking bed, but it creates problems down the line.
The most significant difficulty is not enough room for your perennials to grow and spread, which causes challenges with air circulation. Lack of air circulating between plants leads to disease. The other issue is the roots, as each plant's root system competes for space. Discover the best perennials for the Southwest here to ensure you've found the right plants for your landscaping.
Breathtaking Ground Cover Perennials for Your Landscape
Keep in mind, it takes about three years for ground cover perennials to reach their mature size.
Not much happens during the first year, a little growth occurs during the second year, but the plant seems to explode by the third year. Be patient. Give your plants time to grow and fill in.
Creeping Phlox (Phlox subulata) – Flowering Ground Cover Perennials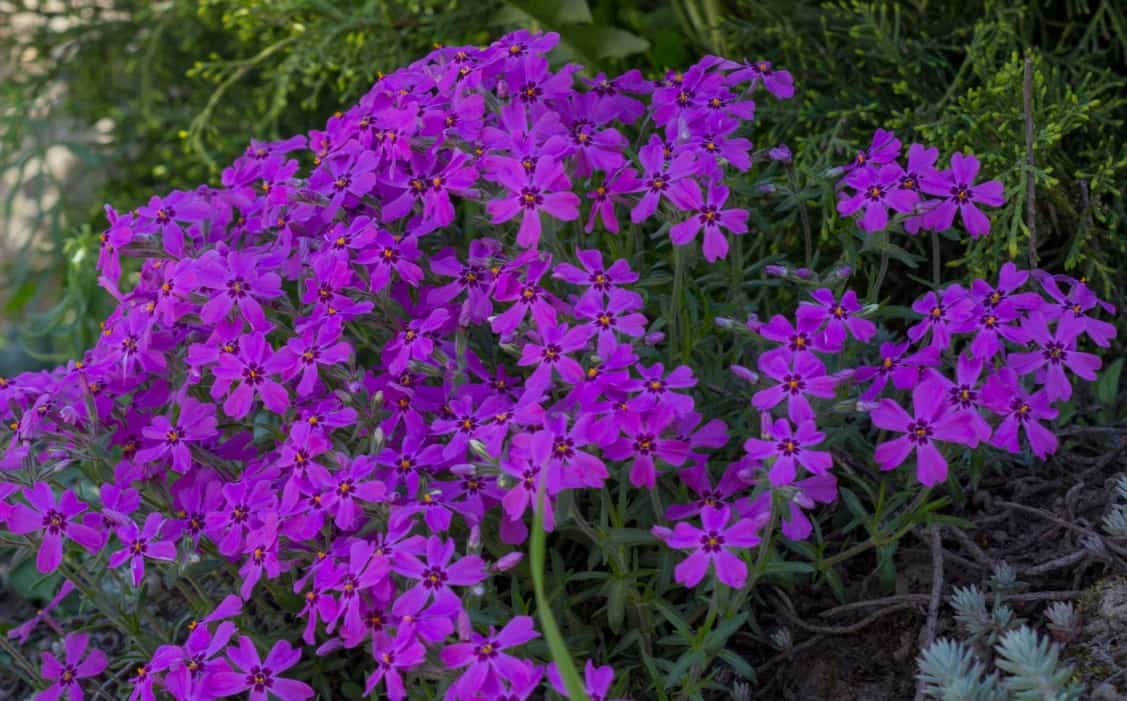 Creeping Phlox grows well in poor soil conditions, including clay soil and rock gardens. The cascading style perennial's needle-shaped foliage pairs with small star-shaped bluish-purple, red, lavender, pink, or white flowers that bloom in the springtime.
When planting this low maintenance perennial ground cover, choose a spot with full sun to part shade.
For optimal growth and the best blooms, plant it in well-draining but moist soil. Cut back the stems after the first blooming period to encourage a second round of flowers.
Stonecrop (Sedum)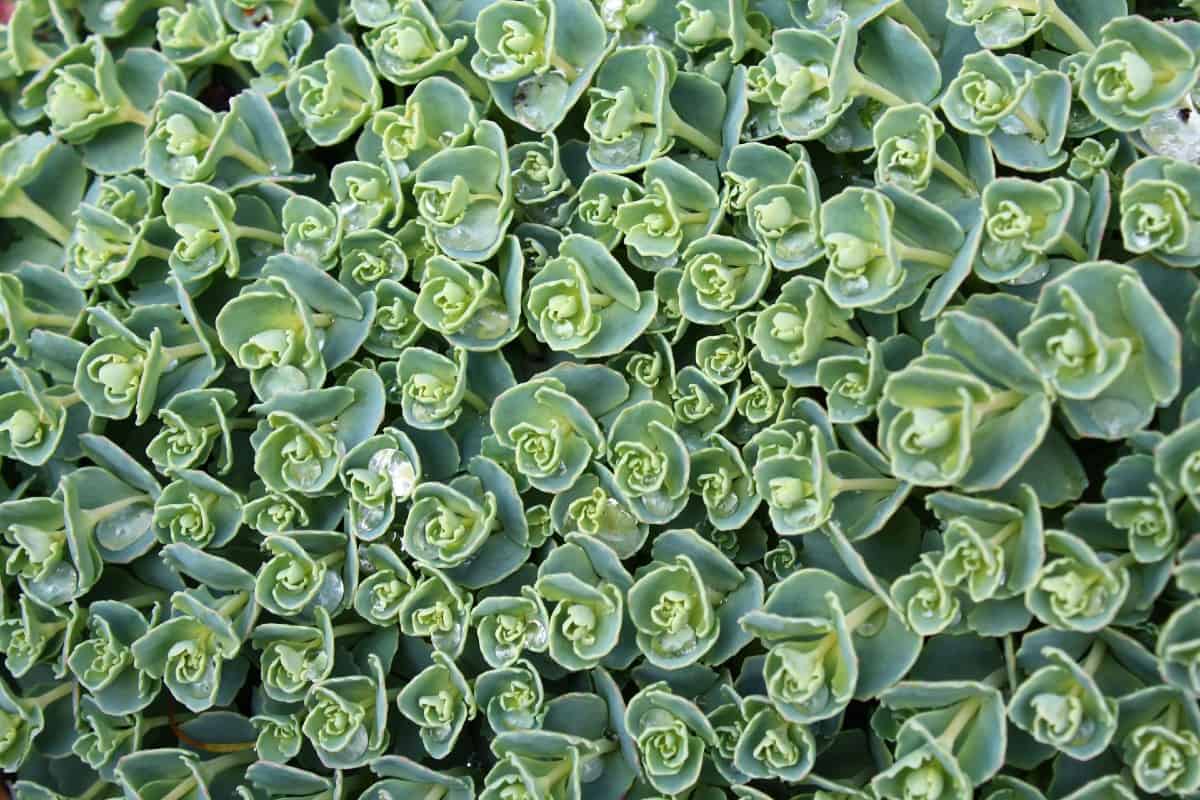 Use low-growing sedums, as they only grow a few inches tall and quickly fan out across the ground. The cascading style of this plant makes them a perfect choice for edging around stone walls.
When growing in zones five or colder, only plant Stonecrop in full sun to improve its ability to overwinter. Plant Stonecrop in well-draining soil, as it's prone to rot when too wet.
Although low-growing sedums tolerate part shade, they grow best in full sun. Blue Spruce is a popular choice with its blue-green foliage and yellow flowers.
Creeping Thyme (Thymus praecox)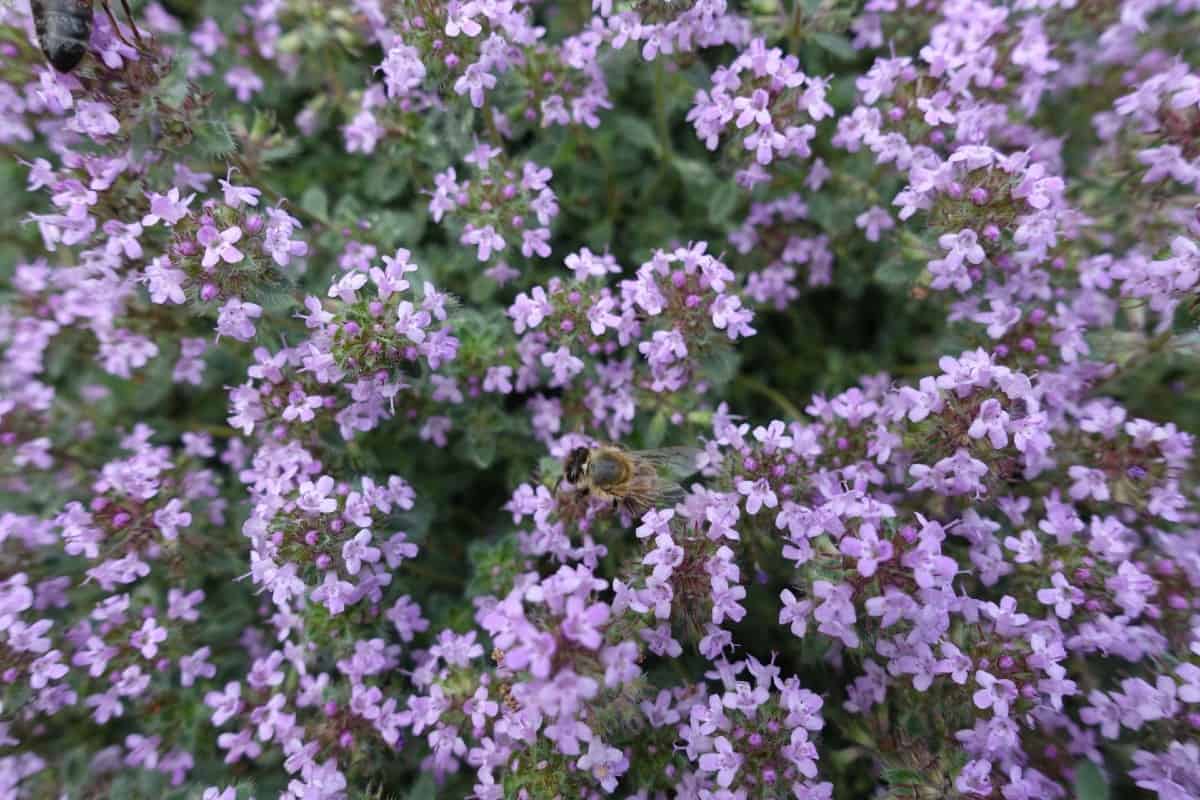 Creeping Thyme is also referred to as Mother of Thyme and serves well in areas you are looking for a lawn substitute, as it's easy to grow and spreads quickly. Creeping Thyme grows well in zones four through nine with minimal care.
This creeping cultivator is also edible; simply harvest the leaves from the stems. This perennial is deer resistant, as well as kid resistant, as it handles walking.
This plant adapts to a variety of growing conditions but prefers well-draining, light soils that are kept slightly moist.
Ground Cover Perennials – Carpet Bugle (Ajuga reptans)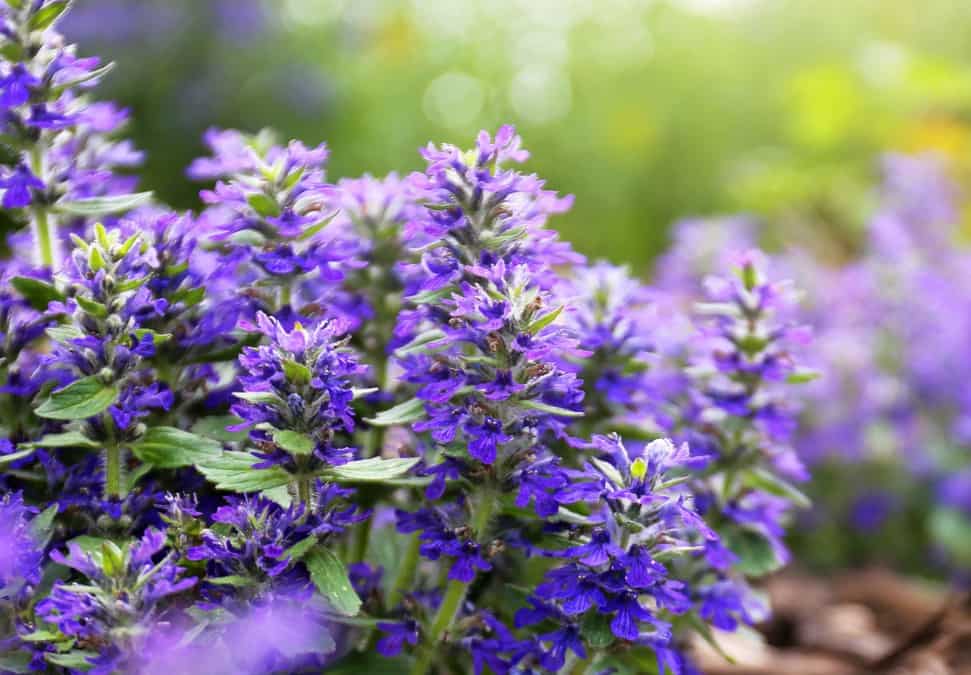 Carpet Bugle is a colorful ground cover with breathtaking leaf rosettes. The low growing perennial quickly forms into a mat, covering barren areas where nothing else grows.
In the center of each leaf rosette is a spike of white, pink, blue-violet, or purple flowers that start blooming in the late spring to the early summer.
Carpet Bugle isn't grown for its flowers, but it's carpeting ability. This ground cover perennial thrives in partial shade to full shade. The ground floor covering plants adapt well to various soil types as long as they are kept moist and provide excellent drainage.
Ice Plant (Delosperma)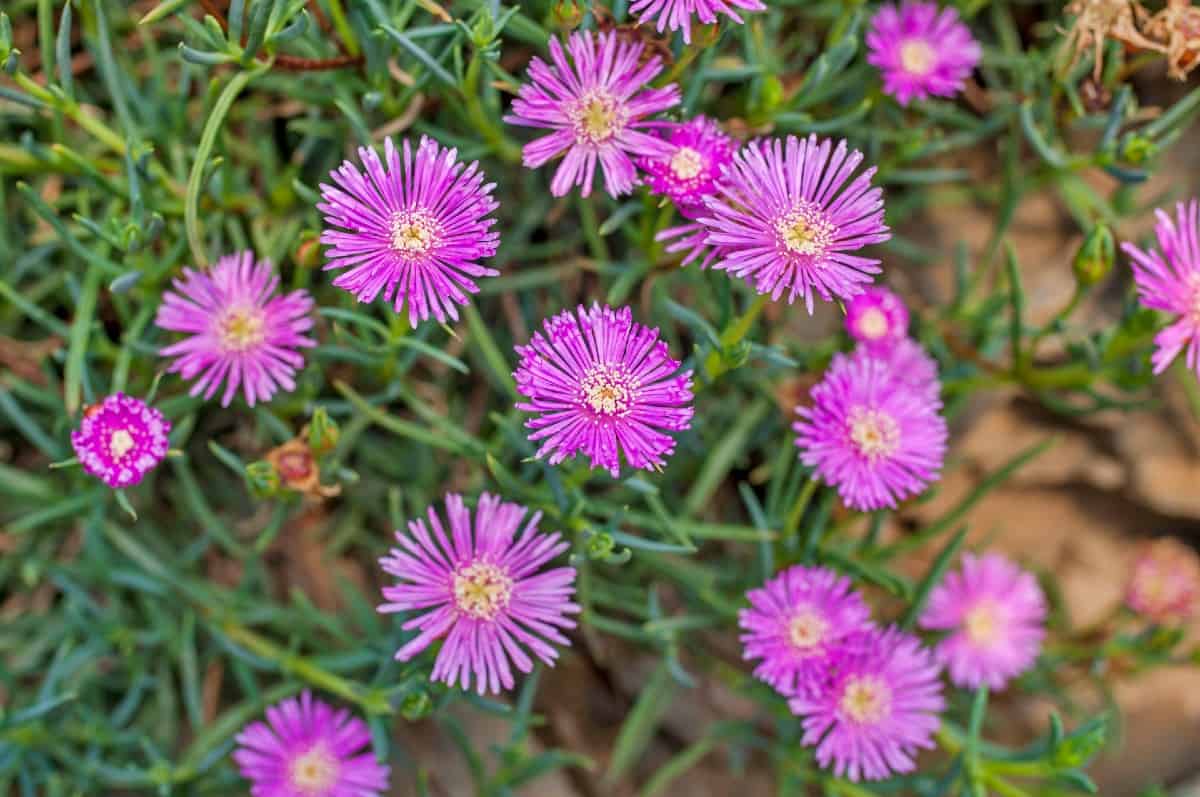 Ice Plant is an excellent succulent style ground cover for those living dry and less humid regions. When planting these beauties, choose a sunny place with fast-draining soil. Ice Plant does best in gravelly or sandy soil types but adapts to garden loam in dry areas.
Ice Plant requires weekly watering in the summer, as it's native to areas where summer rain is frequent. Do not water these ground cover plants for wet soil in the winter; if snow sticks in your area, cover with a frost blanket to keep crowns and foliage dry. Remove winter-damaged stems each spring.
Dead Nettle (Lamium)
Dead Nettle is named after its leaves that resemble stinging nettles, but these quick growing plants don't produce any sting.
There are about 50 species of Dead Nettle for home gardeners to choose from, belonging to the mint family and providing a sprawling habit with square stems and saw-toothed edged leaves.
Mostly grown for their variegated leaves, Dead Nettle sometimes flowers in the late spring or beginning of summer.
The small, white, purple, or pink flowers strongly resemble snapdragons. When choosing a variety to grow, opt for a less aggressive one to prevent unwanted spread.
Lamb's Ear (Stachys byzantine) – Amazing Ground Cover Perennials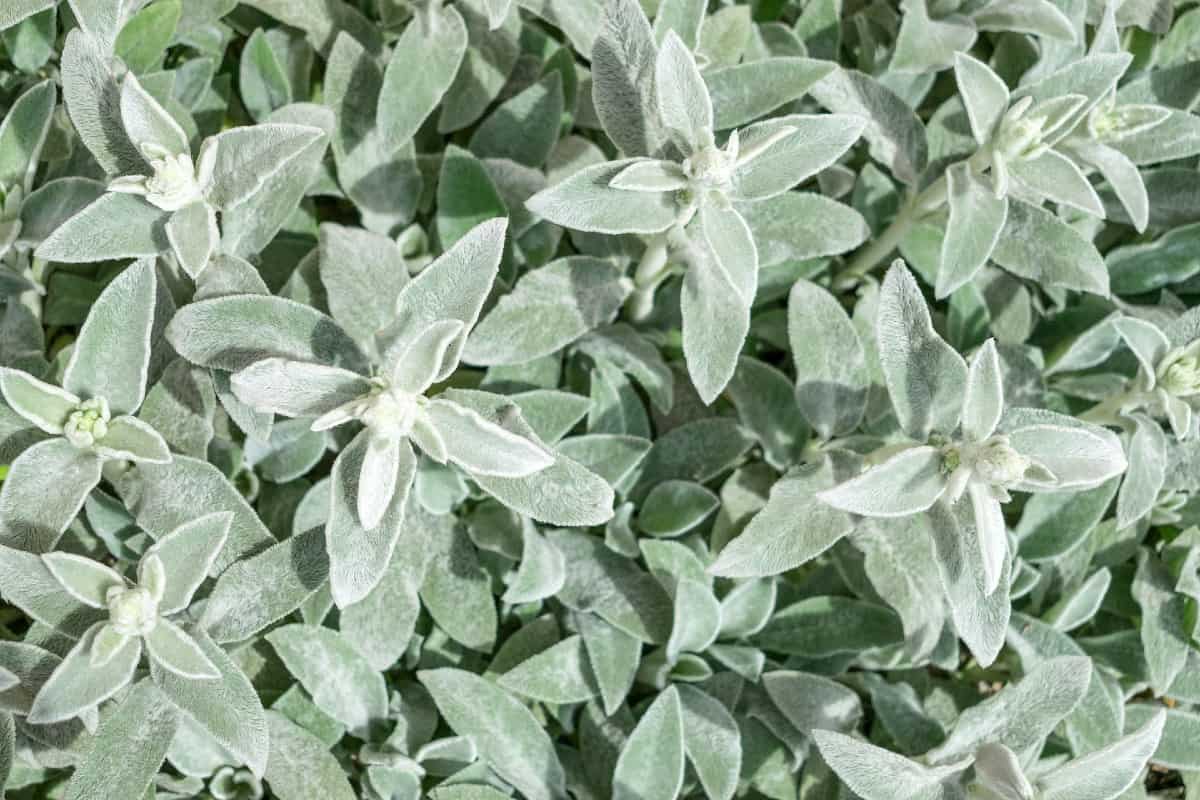 The velvety-soft silver to gray-green leaves of Lamb's Ear are shaped like the ear of a sheep, hence its name. In the early summer, pink to purple showy flower spikes appear.
The leaves provide medicinal use, as they help ease the pain of a bee sting and, in some cases, assist in healing other wounds.
Lamb's Ear grows best in zones four through eight and is an excellent choice for a drought-tolerant ground cover. This plant adapts to most common soil conditions, but it requires well-draining soils as it doesn't tolerate being wet.
Lilyturf (Liriope spp.)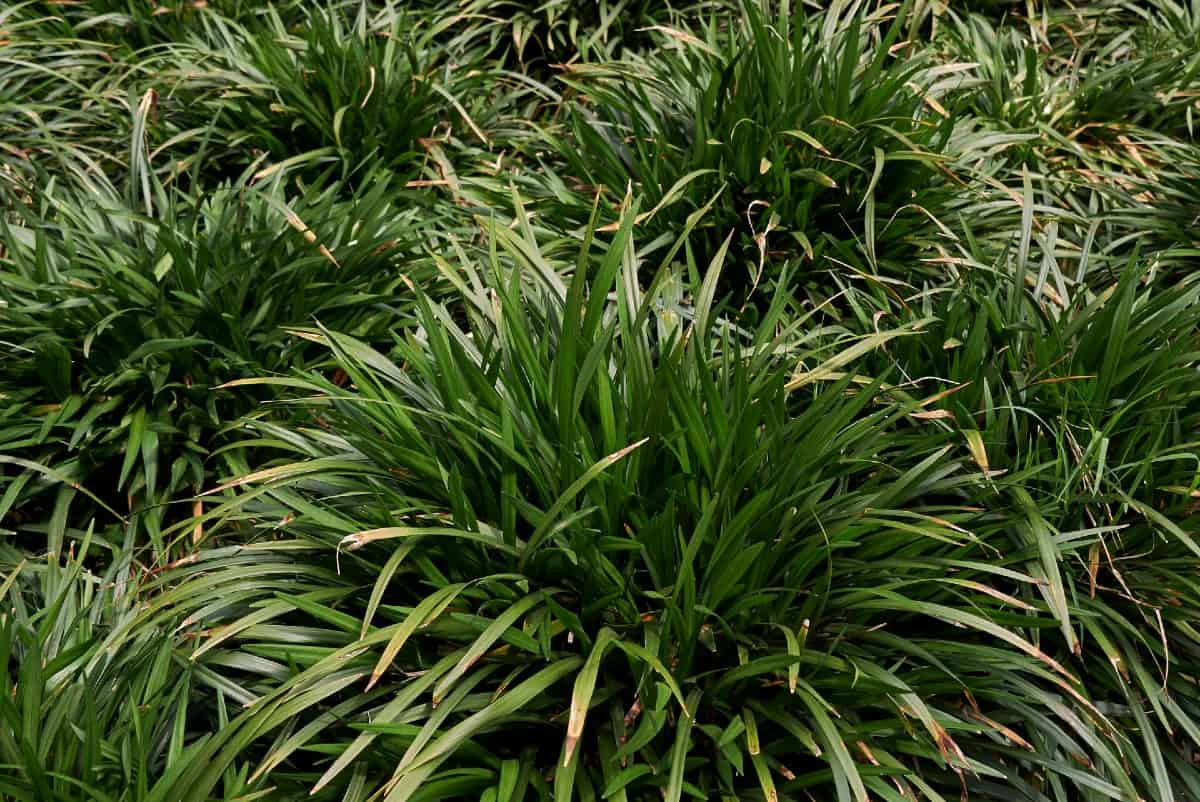 Lilyturf, also known as monkey grass, is the ideal choice for those looking for a tough and drought-tolerant perennial ground cover that blooms in the late summer.
Most home gardeners use Lilyturf to help with weed and erosion control; others use it as an edging along garden beds.
The two cultivators grown in the United States are Liriope spicata, which is known for its spiky flowers, and the Liriope muscari, which is similar in flower appearance to grape hyacinth. Plant both types in full sun to part shade in well-draining, average soil.
Periwinkle (Vinca minor)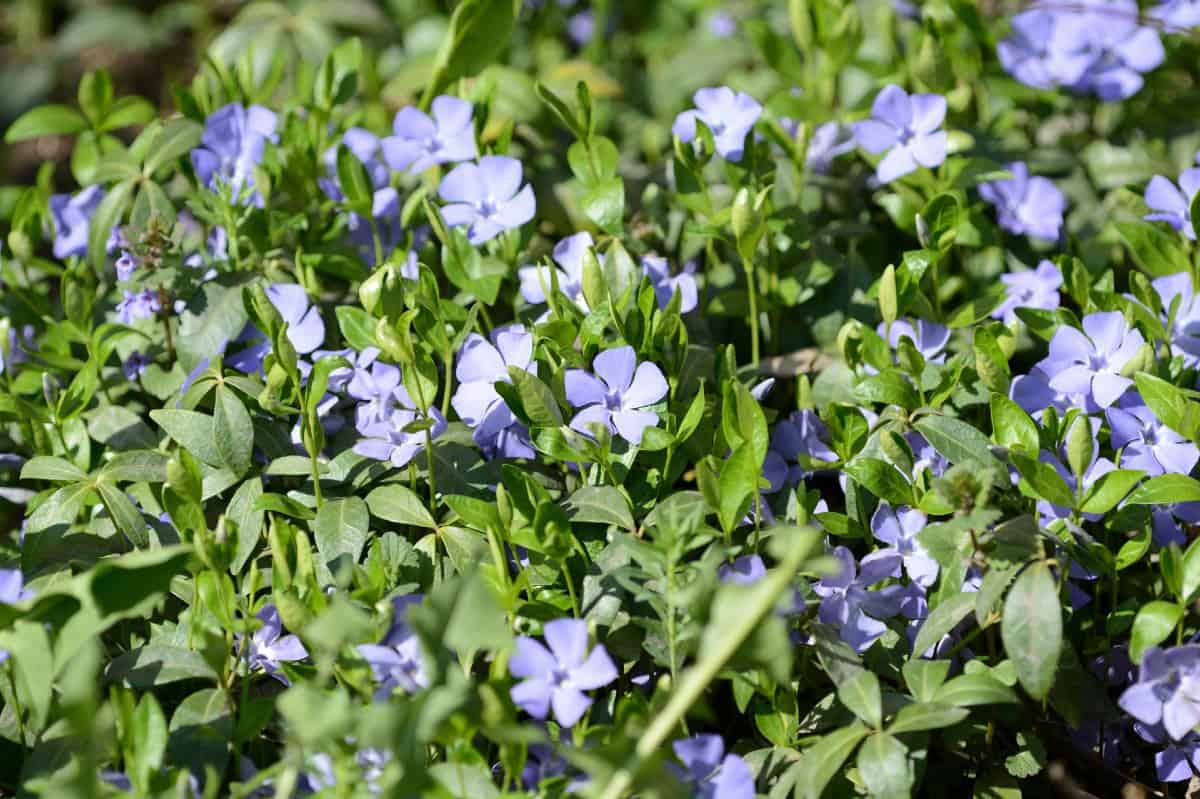 Periwinkle is often used as a way to help curb erosion on steep hillsides and along stream banks. A sprawling type shrub, Periwinkle thrives in zones four through eight and is sometimes referred to as Creeping Myrtle or Creeping Vinca.
A broadleaf evergreen perennial that is easy to grow, Periwinkle requires very little care, aside from keeping the plant from branching out too much.
Once fully established, this drought-resistant beauty helps with weed control and does best in partial shade in acidic soil.
Flowering Ground Cover Perennials – Geraniums (Pelargonium x hortorum)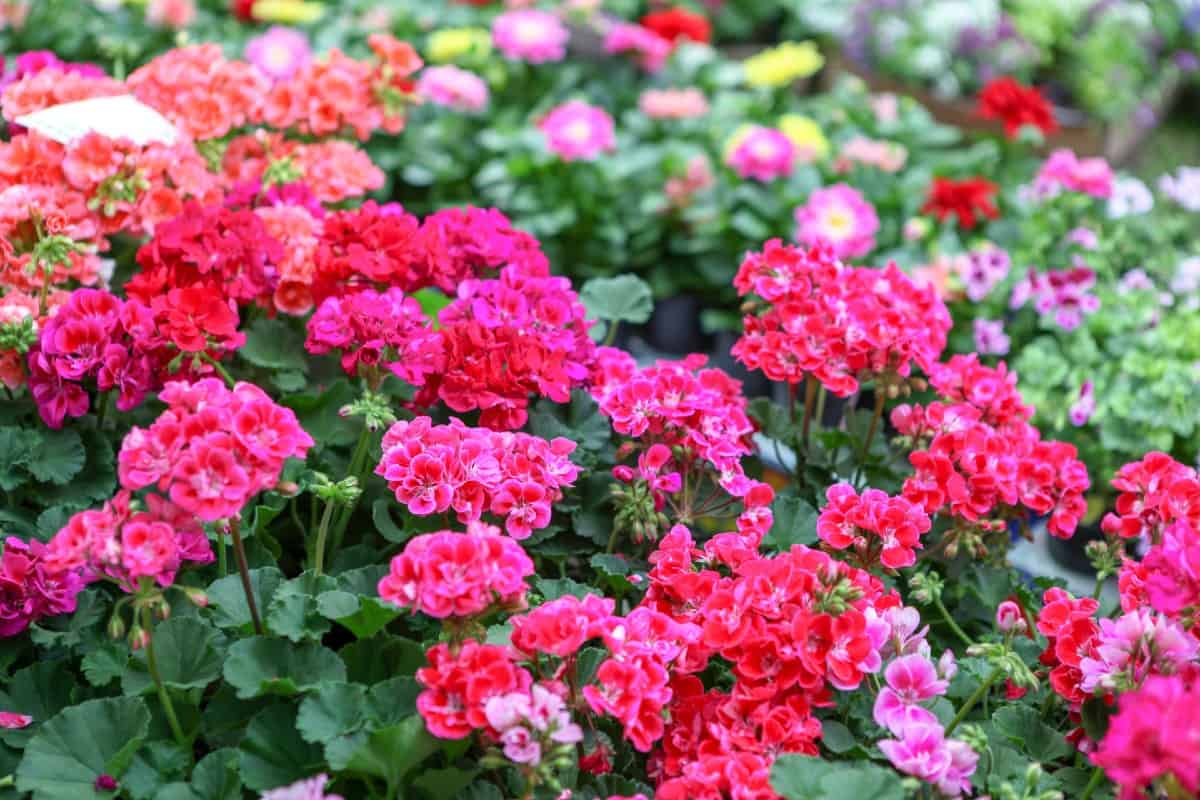 Geraniums make a great bedding plant for flower beds, but require a little more precise care than other ground covers. When planting outdoors, put in an area with equal amounts of perlite, peat, and soil.
They also require a well-draining place in full sun, as they need between six to eight hours of sun a day. Although geraniums have specific soil requirements, the rest of the care is pretty simple.
When growing them outside, water them deeply about once a week from the plant's bottom to prevent disease and pests. Remove any dead flower heads to help encourage new blossoms. As an added benefit, use these pretty plants to repel cats that may wander into your yard.
Roman Chamomile (Chamaemelum nobile)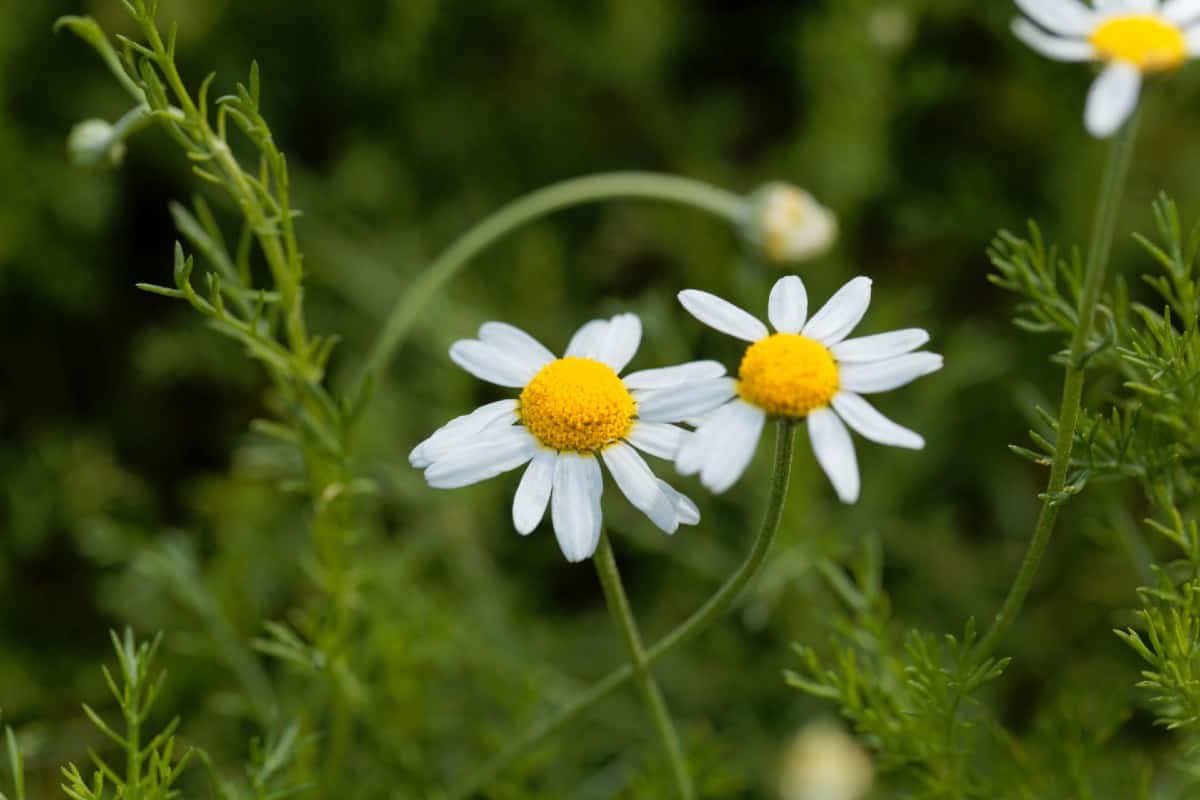 Sometimes called English Chamomile, Russian Chamomile is a creeping style ground cover herb that forms a mat along flower beds. The feathery green leaves pair with small flowers that bear a striking resemblance to daisies, as they have white petals surrounding a yellow center.
Chamomile grows well in zones three through nine. When growing this ground cover, select a location with colder conditions. Many home gardeners use this ground cover in their vegetable gardens to keep pests away, as it offers a strong scent.
Sweet Woodruff (Galium odoratum)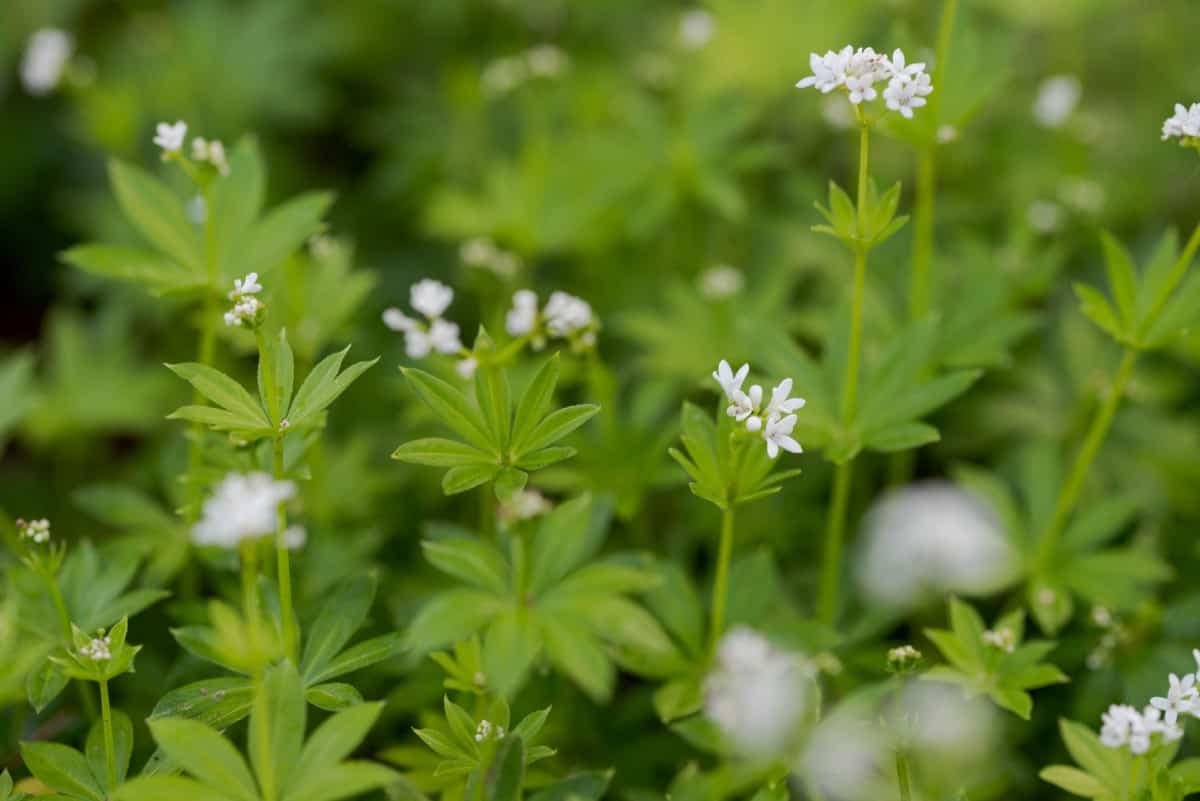 This low growing herb is an excellent choice for shade gardens. Technically an herb, this sweetly scented perennial, was initially grown to use as a type of air freshener, but it also has medicinal purposes.
The lacy white flowers rest against star-shaped leaves. Always choose a shady location for planting Sweet Woodruff, as it doesn't do well in full sun.
It prefers well-draining soil kept on the moist side but endures drier soil. In wet soil, it expands so quickly it becomes invasive. Prune back by severing the runners with a spade.
Dianthus (Dianthus spp.) – Ground Cover Perennials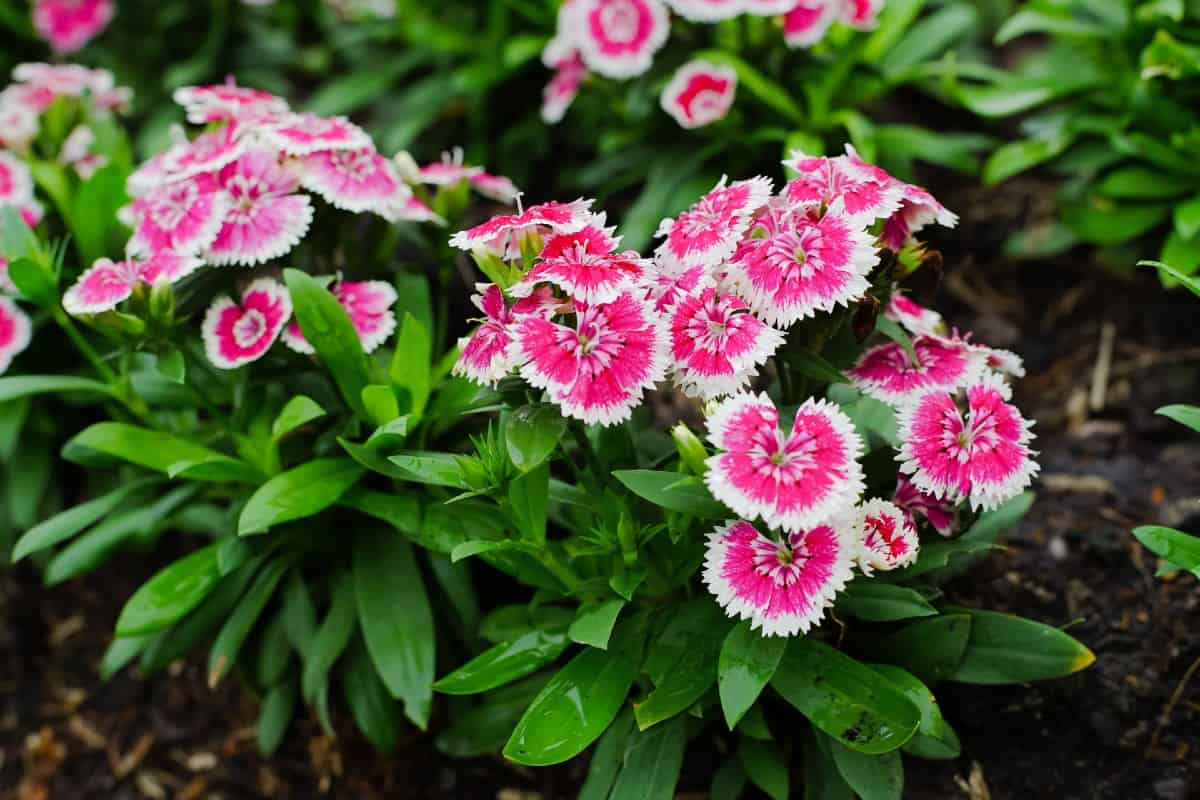 This popular perennial is often grown for the sweet vanilla scent emitted by its beautiful flowers. The plant is commonly called Pinks as the petals look like they were trimmed with a pair of pinking shears.
Many varieties only reach up to 18 inches tall and about the same width. Most flowers appear in shades of white, red, salmon, or pink and bloom from May through October.
These ground cover plants require full sun but tolerate partial shade as long as they receive at least six hours of light – only water plants when the soil is dry to the touch.
If you deadhead spent flowers, you can count on these flowers that bloom all summer to provide a burst of color throughout the entire season.
Irish Moss (Sagina subulata)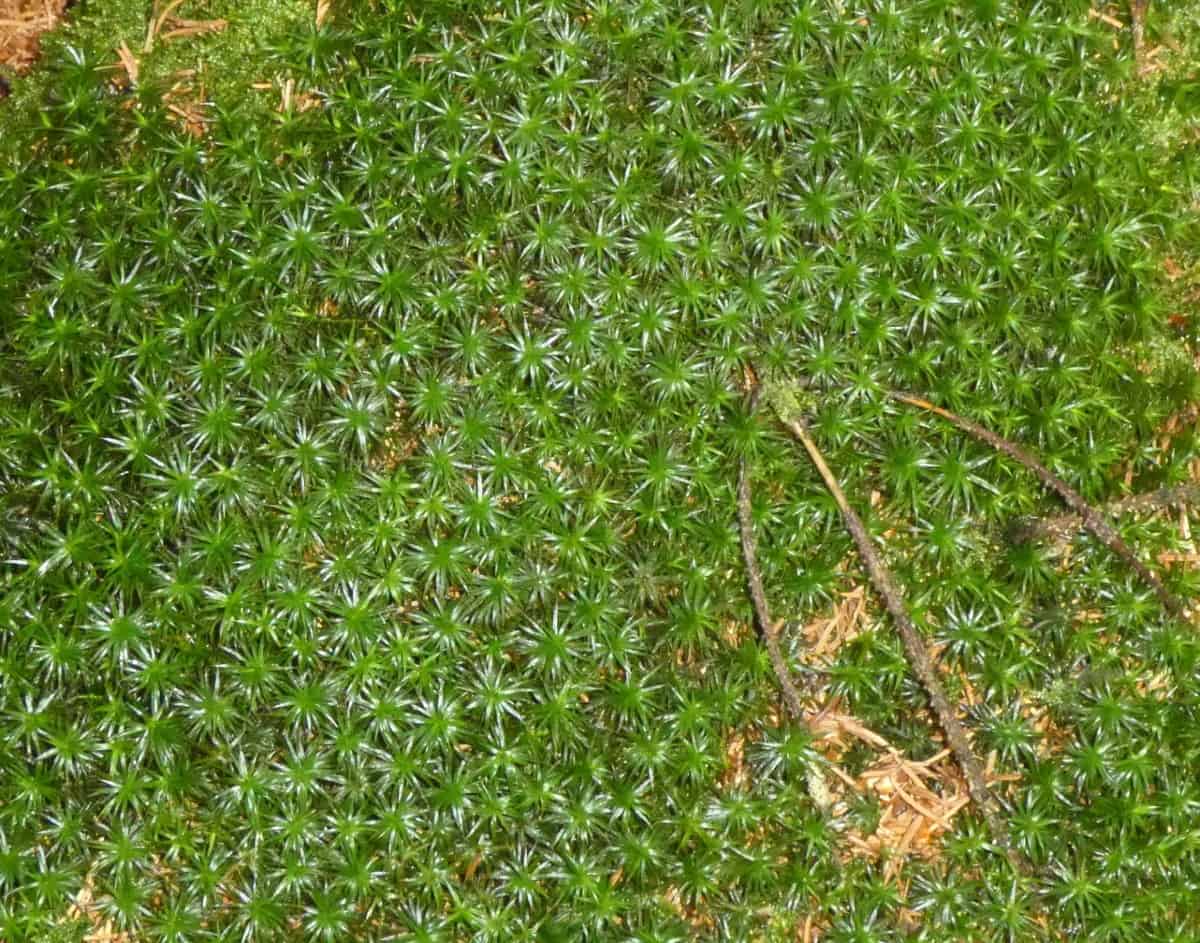 Irish Moss adds year-round interest to your landscaped yard. Although called Irish Moss, it is not a member of the moss family but earned its name for how it behaves similarly to other moss plants.
In warmer areas, this herbaceous perennial works as an evergreen, but it requires light to keep its emerald green foliage color. This perennial ground cover does well in zones four through ten, but how well depends on the type purchased.
Do not plant Irish Moss in direct sunlight, as they are not heat tolerant and require protection from the warmth of the day. In summer, the foliage turns brown but returns to green once cooler temperatures come back.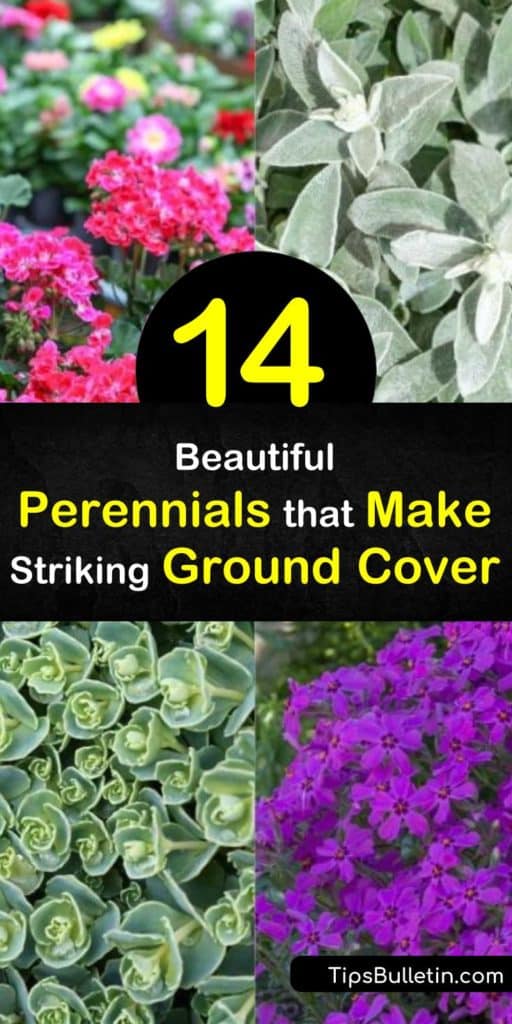 Thank you for reading about our choices for the best perennial ground cover plants. If you found that our ground cover choices were useful, please take a minute to share our best ground cover perennials with others on Facebook and Pinterest.