Having a yard that lacks moist soil often feels like a curse. These areas are difficult to grow turf grass, yet seem to produce an abundance of weeds. Fortunately, there are many ground cover plants for dry areas that take the place of grass and prevent weeds from taking control of your yard or garden.
Ground cover plants are great for filling in areas where turfgrass refuses to grow. They also fill empty spaces beneath trees and around the base of your home, and they provide the area with both greenery and flowers.
However, there are many challenges to growing plants in dry conditions. Growing plants in dry areas isn't impossible if you use the right types of plants for the job and throw in a little extra effort while planting and maintaining them. Many of these plants not only endure these conditions but flourish in dry soils.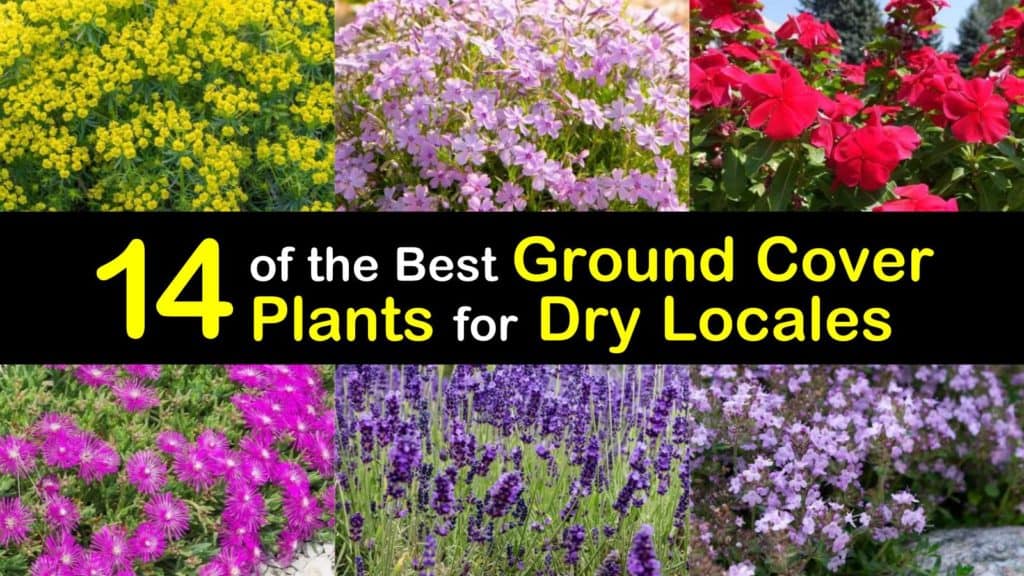 Dry Gardening to Grow a Green and Colorful Landscape
While it's tempting to pick your favorite flowers from the local nursery and plant them around your home, doing this with a dry yard is a mistake. We'll guide you into choosing the right plants for your landscape and help you determine where to plant them.
What is Dry Gardening?
Dry gardening uses strategies for growing plants and flowers in an area with dry soil and conditions. There are several steps for creating the optimal dry garden, including choosing drought-tolerant ground covers, encouraging plants to root deeply, and proper irrigation to help them thrive.
Most of the time ground cover ferns will not work well in a dry environment. Always check the care tag before selecting plants at the nursery.
Which Ground-Cover Plants Grow in Dry Soil?
The best way to determine which plants grow best in dry soil is to check the plant care tag. Look for the keyword "drought-tolerant" and make sure it is suitable for your yard's sun requirements.
Choose sturdy, low-growing plants such as creeping thyme, garden phlox, and sedum, and consider planting in combinations to create visual appeal.
Where is the Best Area of My Yard to Grow Drought Tolerant Plants?
Drought tolerant plants grow well in almost any area of the yard, but some spots are better than others. Planting around the shade of a tree provides dappled sunshine throughout the day to prevent them from drying out too fast.
Other good areas are around a porch or the base of your home to create a soft landscape of colorful foliage and flowers.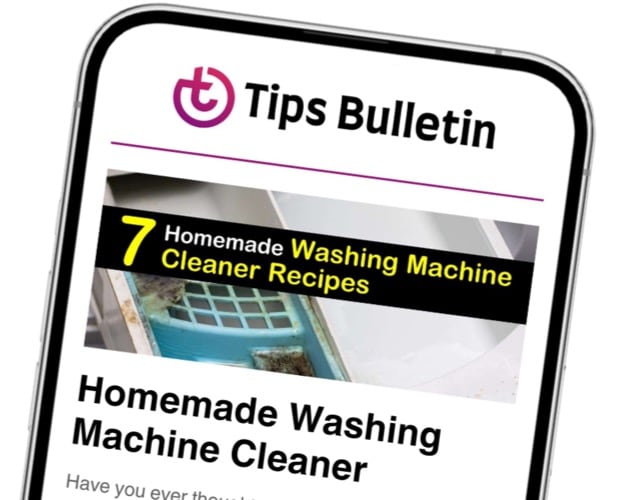 Finally, an email that Transforms Your Home.
Get the latest home and garden tips from our experts, delivered straight to your inbox.
How Should I Maintain My Dry Garden?
The first step in growing the best dry garden is to choose plants that are drought tolerant. These plants adapt to handle dry conditions in both the soil and climate.
When planting, dig a bigger hole than the roots and water frequently and deeply to encourage a deep root system.
Grow small plants rather than large ones with shallow root systems, and do not feed them to encourage them to grow slowly and more resiliently. Mulch the ground around them with bark, rocks, or gravel to retain moisture and keep the roots cool.
Sedum (Hylotelephium spectabile)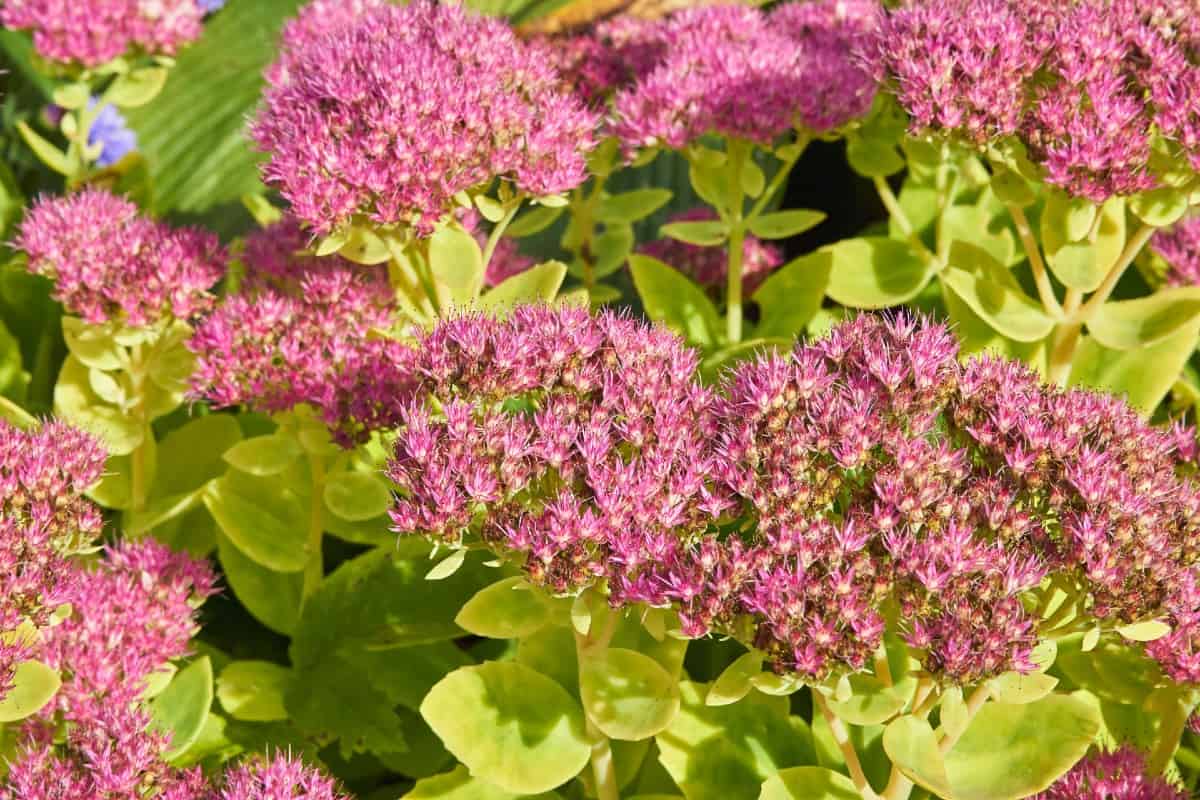 Sedum is a diverse group of succulent ground-cover plants, sometimes referred to as stonecrop. Most of them are low growing plants with green and chartreuse foliage that produces flowers in shades of purple, orange, pink, yellow, and white flowers.
These plants tolerate drought conditions with ease and spread quickly to fill empty spaces. Sedums are perennials for dry ground that are hardy in zones 3 through 10, and the ground-cover varieties grow 6 to 12 inches in height. They are low maintenance plants that attract birds.
Garden Phlox (Phlox paniculata) – Ground Cover Plants for Dry Areas that Attract Pollinators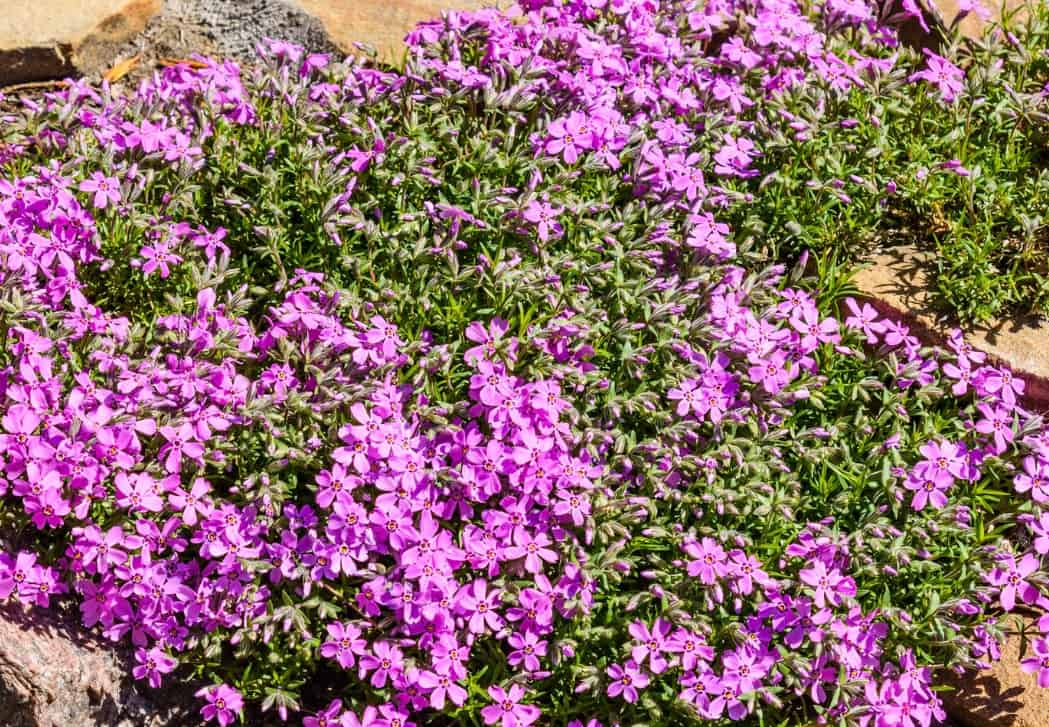 There are many different types of phlox, and the garden phlox produces large clusters of flowers. The purple, pink, lavender, and white blooms attract butterflies and hummingbirds and make excellent cut flowers for the home.
These plants thrive in part to full sun and are hardy in zones 4 through 8. The flowers of garden phlox reach up to 3 feet tall, and clipping away the dead flowers encourages more blooms. They are both drought tolerant and low maintenance.
Lilyturf (Liriope muscari)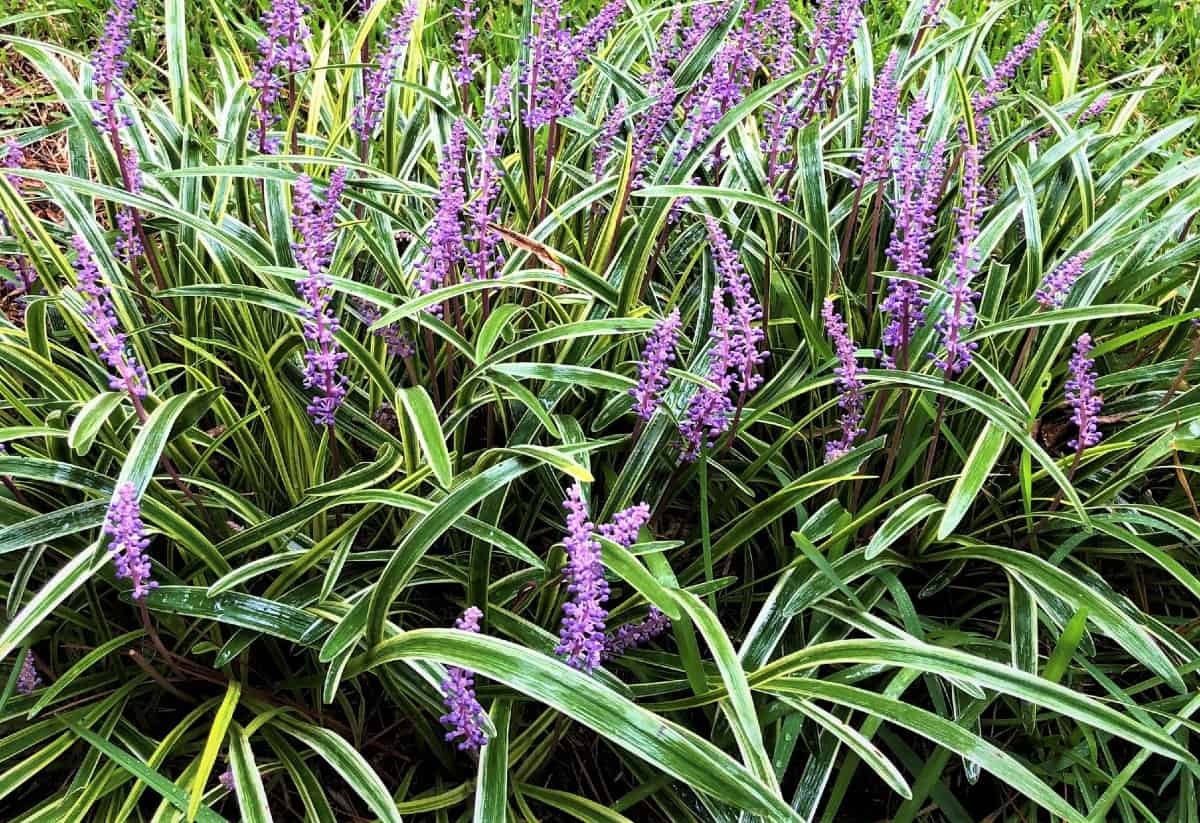 This semi-evergreen ornamental grass is the ideal choice for dry areas. It grows in spreading and attractive clumps of variegated or blue-green leaves with a bronze shade during the winter. They have tiny flowers during late summer and pea-sized berries during the fall.
Lilyturf plants grow well in almost any light condition, from shade to sun, and tolerate a wide range of soils. These perennials grow in hardiness zones 4 through 10 and reach a height of 8 to 18 inches tall and 24 inches wide, depending on the type.
Periwinkle (Catharanthus roseus) – Quick Spreading, Flowering Ground-Cover Plant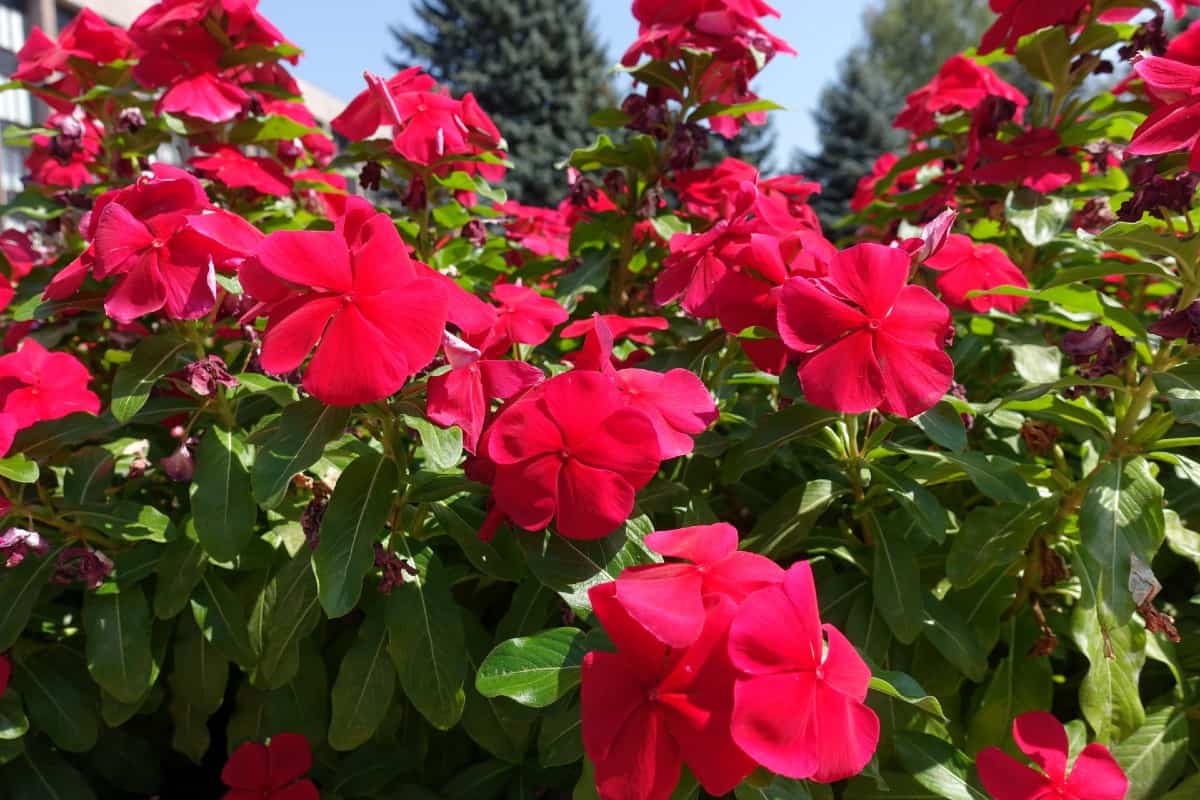 Periwinkle or vinca minor is a trailing plant that covers the ground with sprawling deep green foliage and purple, pink, white, or blue flowers. It is tough-as-nails and tolerates just about anything nature throws its way.
Vincas are drought resistant plants for pots as well as for growing in a garden setting. The plant has an average height of 12 inches and an almost indefinite spread.
Tolerating dry soil and drought conditions and being deer resistant makes this the perfect plant. Periwinkle grows as a perennial in zones 4 through 9.
Creeping Thyme (Thymus serpyllum)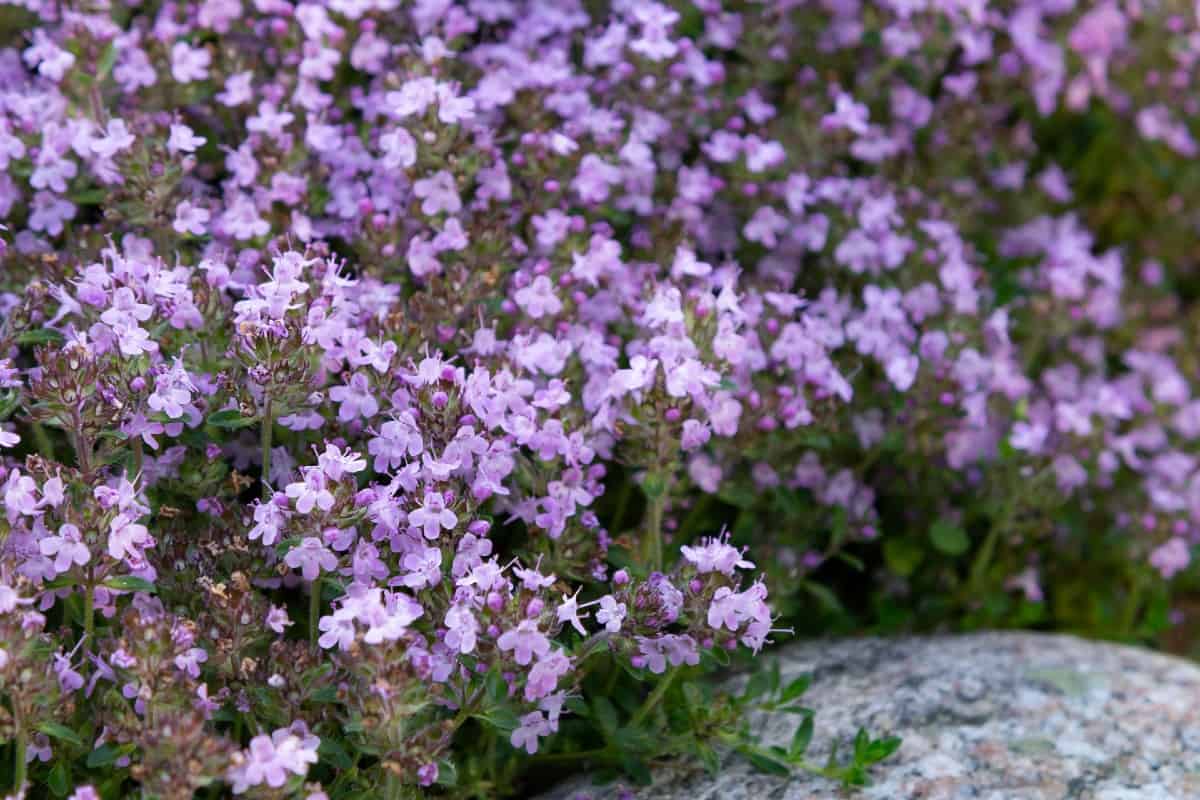 Creeping thyme is a low growing perennial that looks beautiful growing as ground cover for pavers or in a rock garden, and is an excellent choice as a substitute for lawn grass in dry areas. It grows in dense mats of foliage and pink flowers.
This plant is very hardy and handles foot traffic and drought conditions easily. It is a tiny creeper and rarely grows more than 3 inches tall. Creeping thyme is hardy in zones 4 through 9 and prefers sunny areas of the yard.
As ground cover plants that grow fast, you will have a pretty patch of foliage and flowers before you know it.
Pachysandra (Pachysandra terminalis) – Lawn Substituting Ground-Cover Plant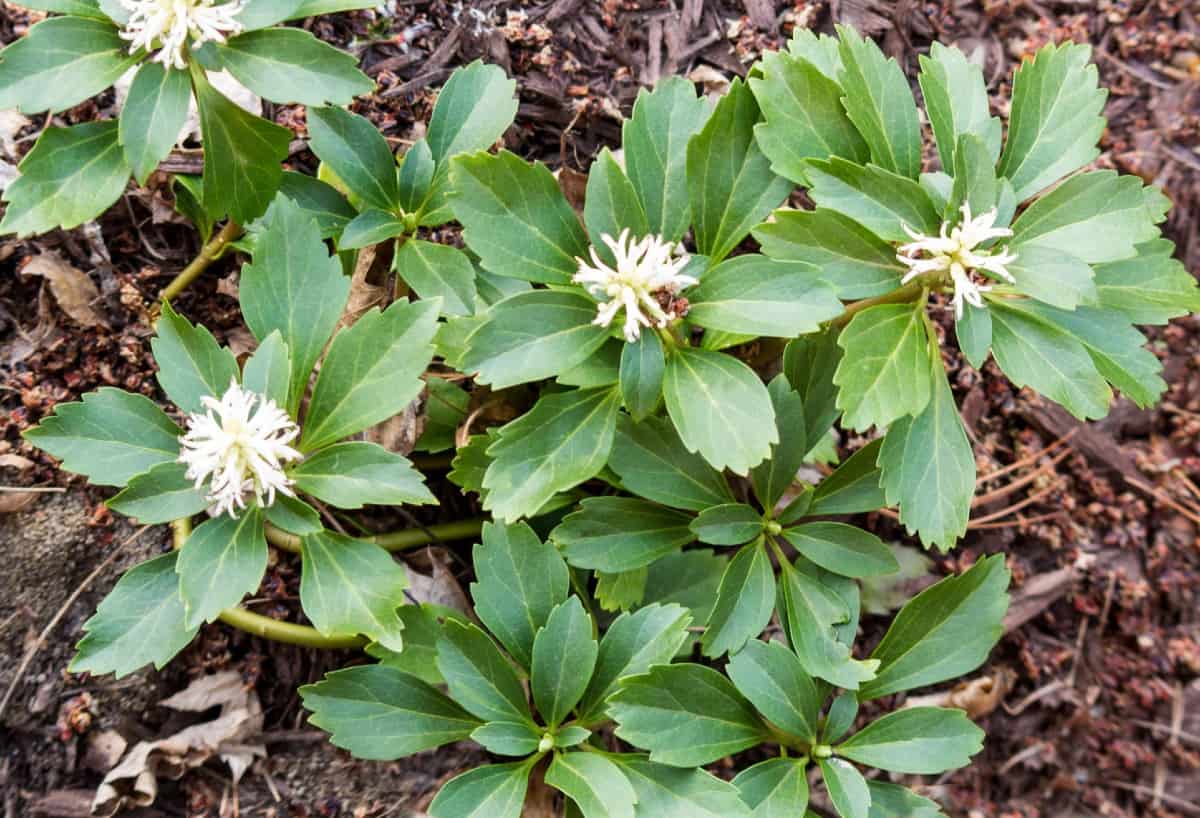 Pachysandra is a tough, low-growing plant, making it ideal for growing in challenging conditions. It is an evergreen perennial that belongs to the boxwood family and grows in green and variegated varieties.
These plants spread nicely through bare spots and carpet the ground in a way that mimics a lawn. Pachysandra grows up to 12 inches and several feet wide and is hardy in zones 4 through 9. This deer resistant plant is also ideal for erosion control.
Moss Phlox (Phlox subulata)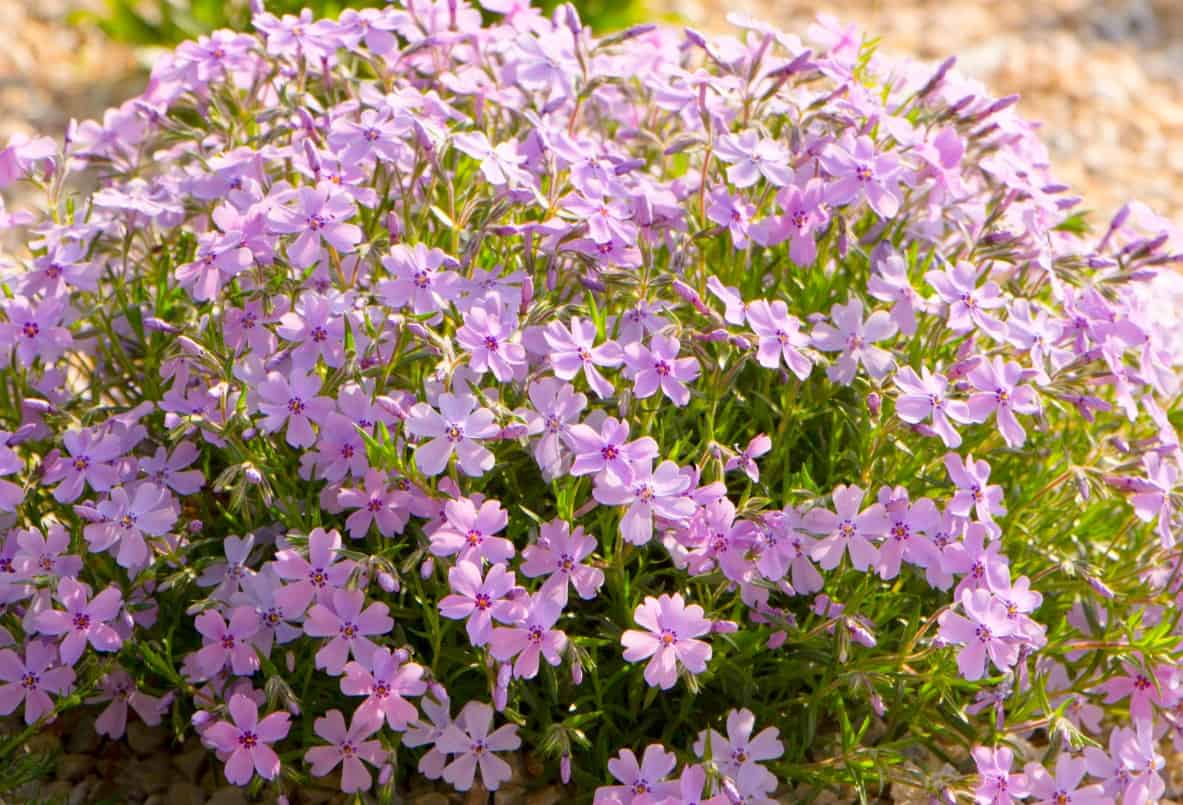 This dense ground cover plant blankets open and dry spaces with a carpet of dark, green foliage and flowers in shades ranging from pink and purple to blue and white.
These reliable and low-maintenance plants tolerate sand, drought, and low-fertile soil. Moss phlox are sun loving plants that bloom from April through May with leaves that darken to burgundy during the winter months. They thrive in hardiness zones 2 through 8.
Bicolor Barrenwort (Epimedium) – Dry Shade Ground-Cover Plants with Multi-Season Interest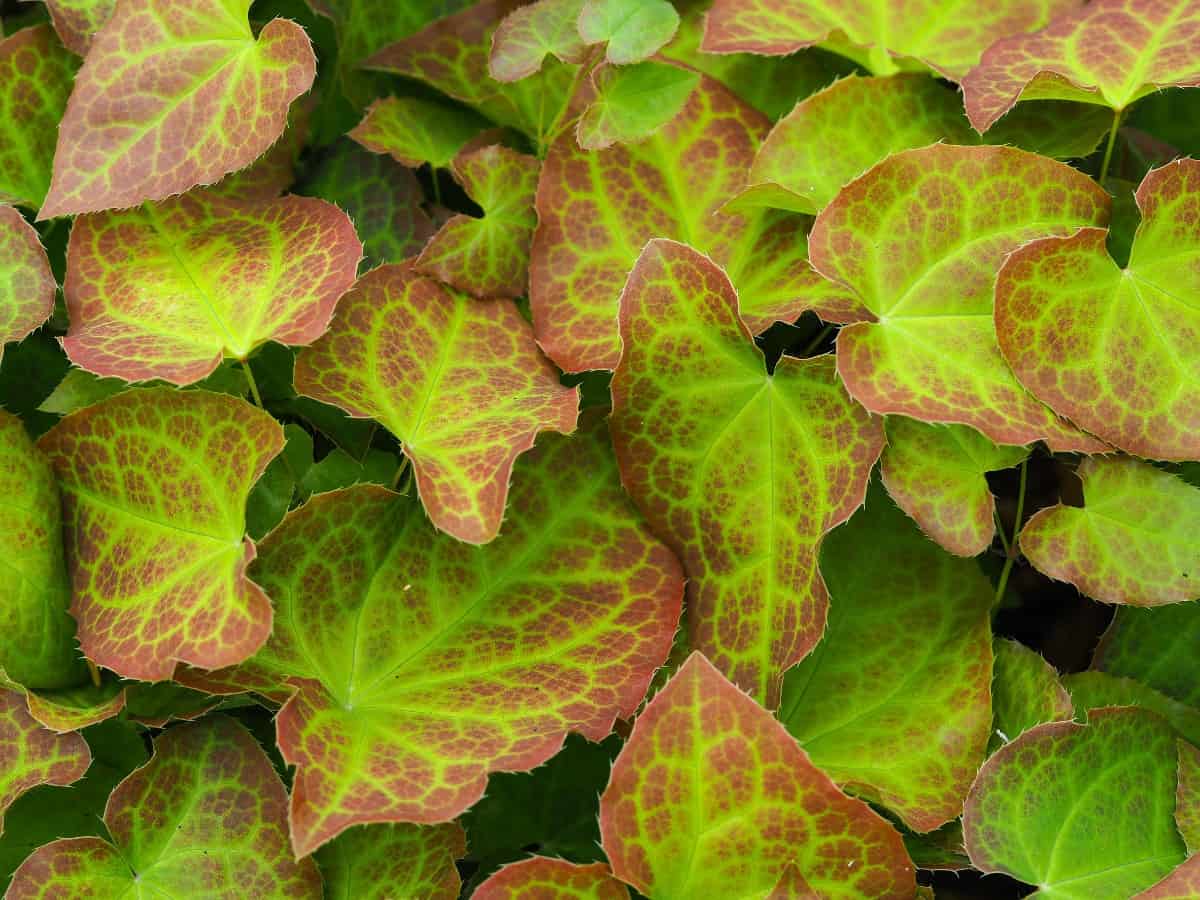 These shade-garden plants provide the yard with multi-season interest. The early spring foliage emerges in delicately veined red and gold colors, which mature to deep green. They produce soft-white blooms with a yellow center in the spring and colorful leaves in the fall.
Bicolor barrenwort has a mature height of 8 to 12 inches tall and is hardy in zones 5 through 9. It is a low-maintenance, drought tolerant plant with thick leaves that help it tolerate tough conditions.
Hardy Ice Plant (Delosperma cooperi)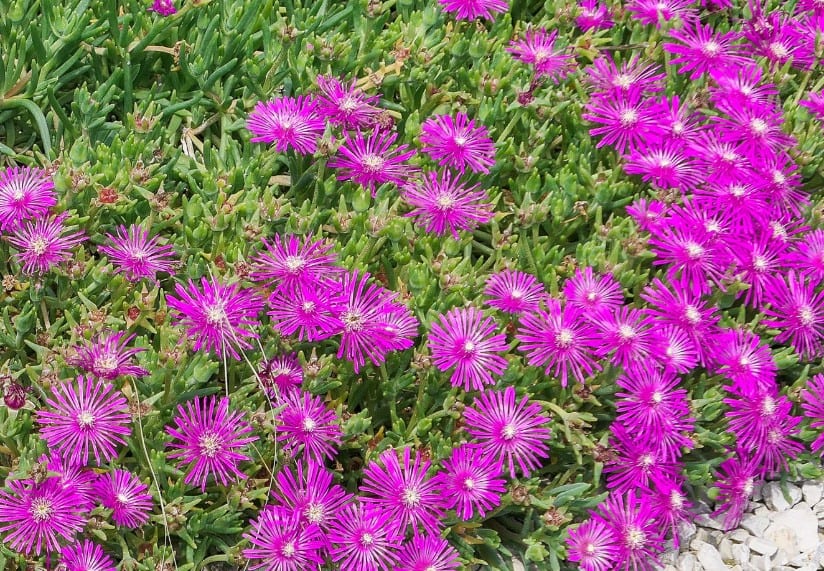 This spreading ground cover perennial is a warm-weather plant that flowers all summer long. The red-purple blooms are intense in color and rest over fleshy and succulent-like foliage. The leaves darken as the temperatures drop and create contrast in the garden.
Hardy ice plants are sun-lovers that grow 3 to 6 inches tall and spread up to 2 feet. They are a low maintenance and drought tolerant plant that is hardy in zones 5 through 10.
Lavender (Lavandula) – Ground-Cover Herb with a Relaxing Scent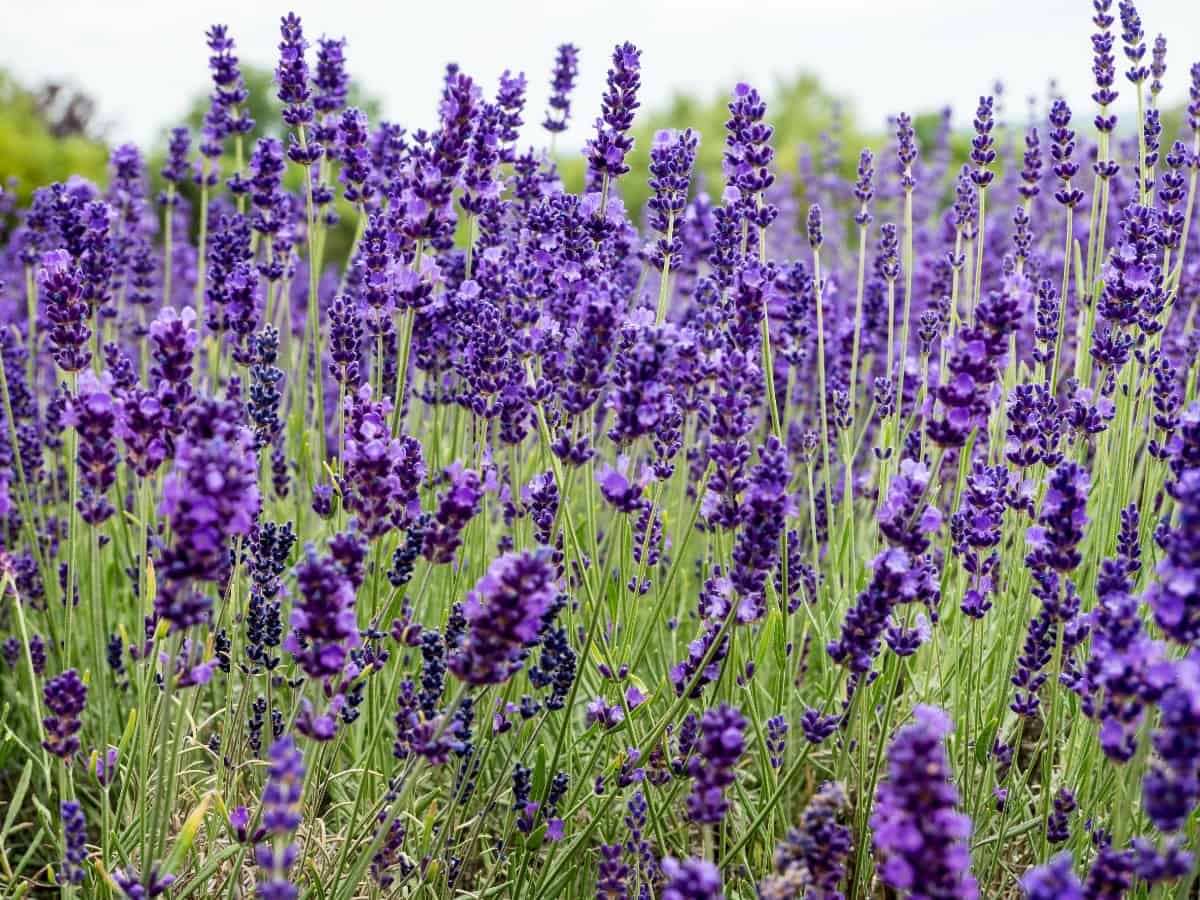 The gray-green foliage and upright lavender flowers of this plant create a beautiful contrast in the garden. Both the leaves and flowers are aromatic, with a calming fragrance often used in potpourri and culinary dishes.
Lavender is a short-lived herbaceous perennial that is a popular choice for ground cover gardens due to its versatility.
Blossoming in late spring and early summer, this plant has a mature size of 20 to 24 inches tall and wide. This flowering herb is hardy in sunny zones 5 through 9.
Switchgrass (Panicum virgatum)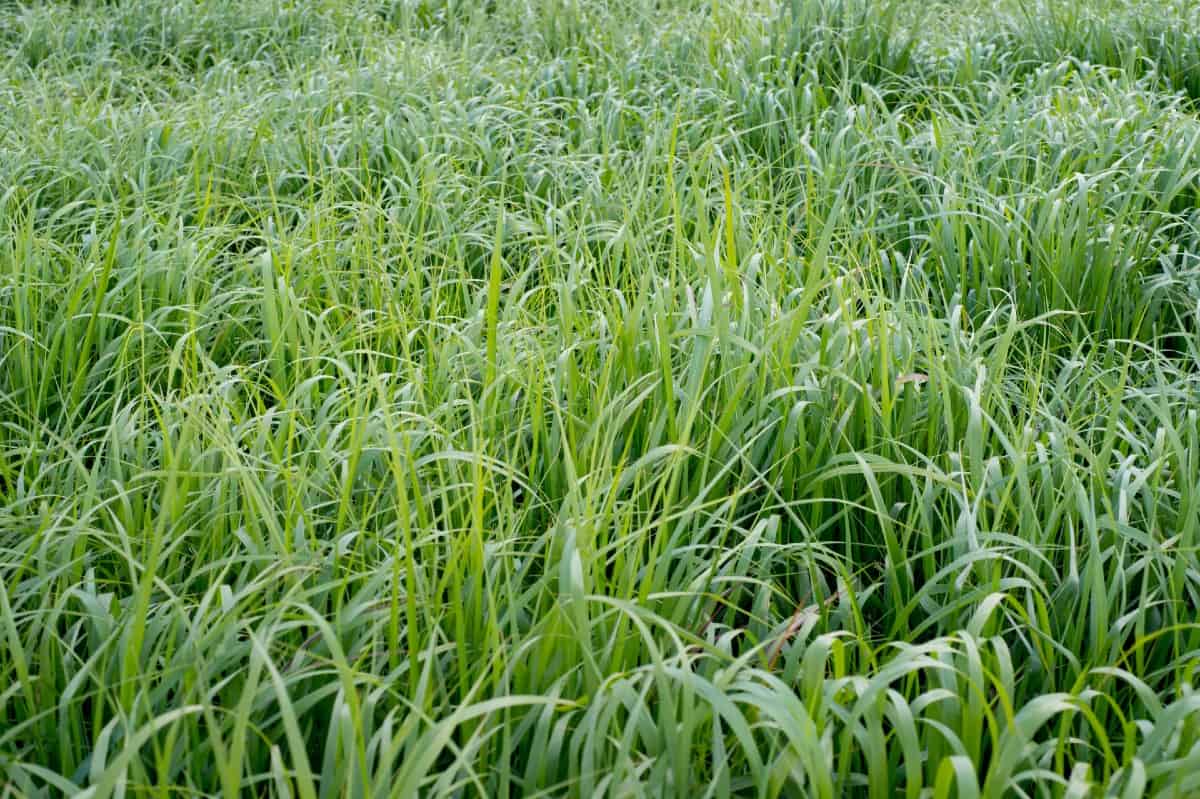 Switchgrass is an ideal ground cover for areas that have both moist and dry conditions. Its foliage grows in a display of colors ranging from green to burgundy and produces pink flower seeds during the summer and fall.
The size of this ornamental grass is perfect for a border or areas you desire privacy, with an average size of 3 feet tall and wide. Switchgrass is low maintenance and deer resistant and hardy in zones 4 through 9.
Yellow Alyssum (Alyssum alyssoides) – Flowering Herbaceous Perennial Plant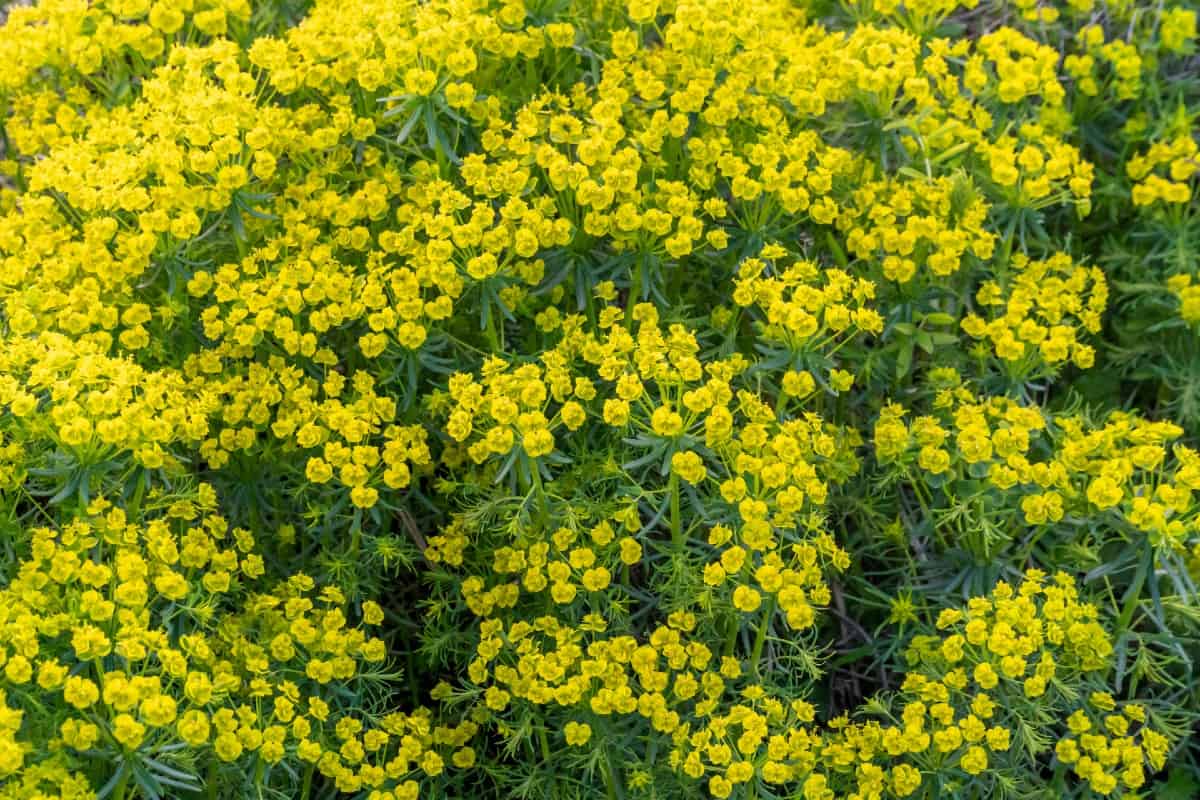 Yellow alyssum, sometimes called sweet alyssum, is a perennial flower with a spreading habit. It has blue/gray foliage and puts out upright stalks with clusters of dainty yellow flowers in April and May.
This species plant reseeds itself and reaches a height of 24 inches tall with a spread of up to 18 inches. It is a stunning plant for ground cover and borders and has a cascading effect in rock gardens. This sun-loving plant is hardy in zones 3 through 7.
Candytuft (Iberis)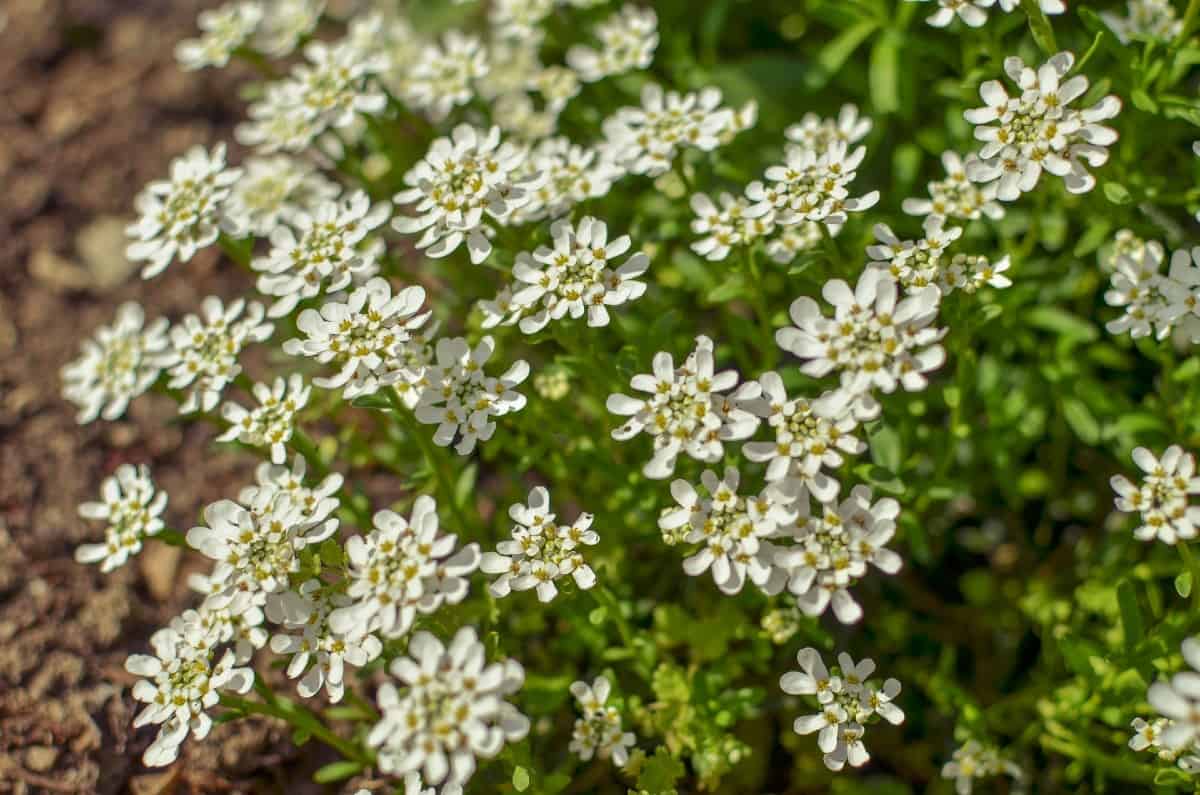 This mid-spring bloomer produces masses of showy white flowers that are eye-candy in the yard. The dark green foliage is a stark contrast to the flowers and creates visual appeal in a moon garden.
Candytuft is a perennial with a mature size of 6 to 10 inches tall, depending on the variety. They prefer hardiness zones 4 through 8 and prefer sunny locations, but tolerate some shade.
Bugleweed (Ajuga) – Fast Spreading Evergreen Perennial Plant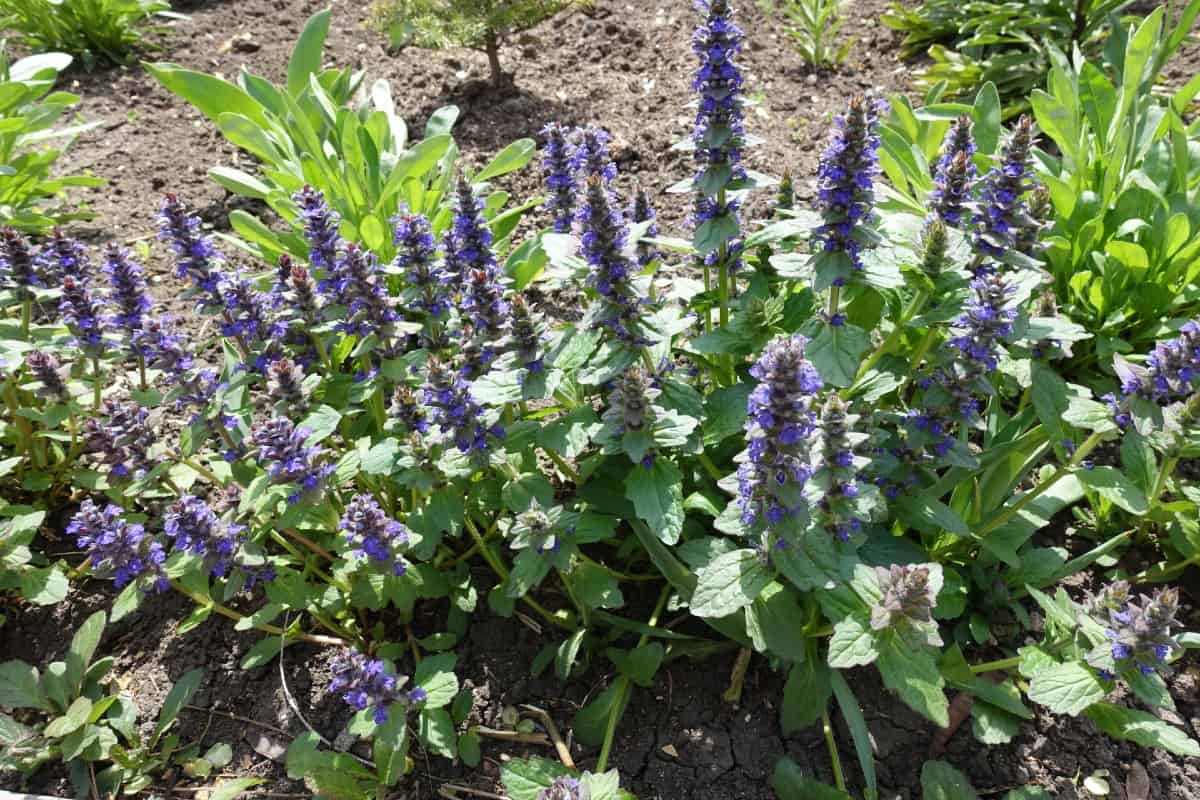 This perennial is a fast-grower with dark green and shiny evergreen leaves. It is a mat-forming plant that grows in a dense form and produces small blue/violet flowers on 8 to 10-inch spikes from mid to late spring.
Bugleweed requires part shade or full sun and well-drained soil to grow well. It grows well in hardiness zones 3 through 10 and vigorously spreads with ease.
Instead of scowling at your dry backyard, try your hand at dry gardening. Growing ground cover in soil that is undesirable to most plants is easier than you think if you follow some simple rules.
Plant drought tolerant ground-covers in the right spots and water them regularly to enjoy a lush, green landscape and beautiful flowers, no matter where you live.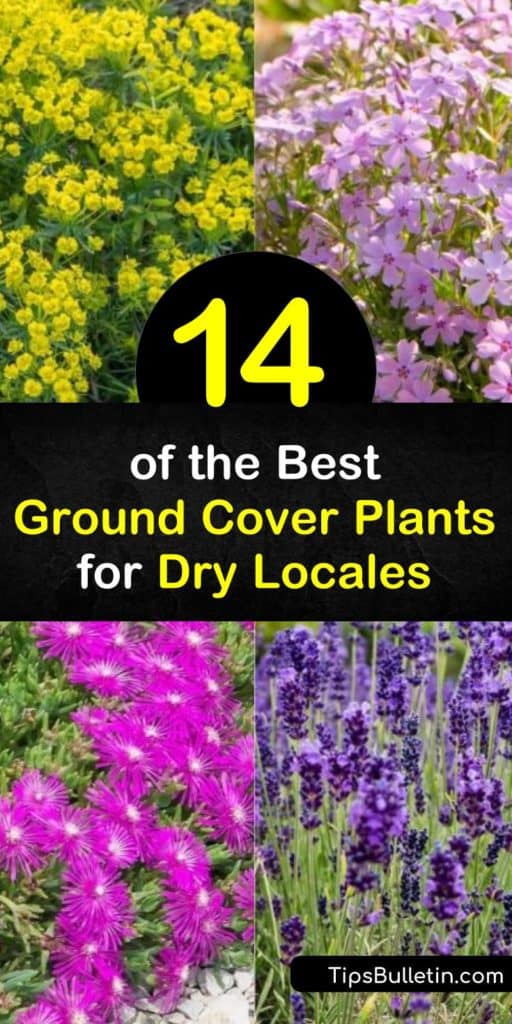 It's easy to create a lush landscape by planting ground cover plants for dry areas, so why not share our drought tolerant ground cover plant guide with your family and friends on Pinterest and Facebook?