orPavers and stepping stones often add a unique flair to our yards and landscaping. Unfortunately, we often neglect the small spaces between them, leaving them barren or looking like a welcome mat for weeds. Finding the perfect ground cover plants for pavers or a flagstone patio is simple because there are so many charismatic options.
Consider all factors when purchasing ground cover plants for pavers and stepping stones. How much foot traffic is the area going to receive? Not all ground cover perennials have enough hardiness to withstand such movement.
Does the area receive full sun and well-drained soil? If not, make sure the plant you choose can survive under the area's specific conditions. Is mowing over the area your ideal, or are you looking for simple flowering plants for edging? Your landscape design and functions all play a role in your decision.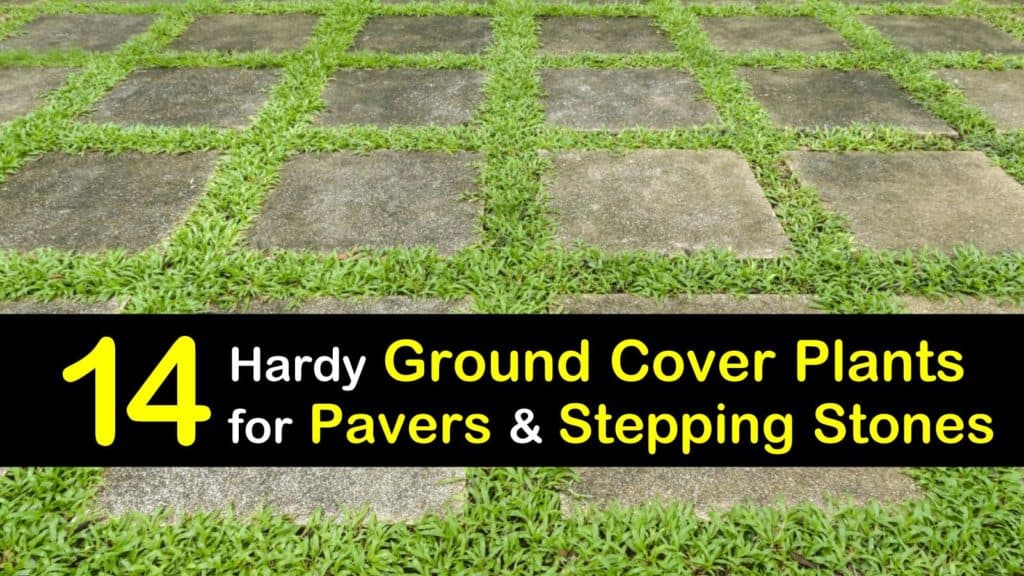 Characteristic Ground Cover Plants for Pavers, Stepping Stones, and Flagstone
The crevices between pavers vary in sizes and play a significant role in how low-maintenance they are. For stones with only about two inches of space between them, the plants may cover the stones and require more trimming, whereas areas with more space between stones are more maintainable.
For narrow spaces, using non-vining plants like Blue Star Creeper or Mondo Grass is best. Once you decide on what plants to use, start by planting in a broader space. This placement allows the plant to fill in the spaces faster.
Make sure there is plenty of fertile, loose soil between each paver. Although the spacing is awkward, there should ideally be a half-foot of loose soil for the roots to establish themselves.
Once planted, cover any bare spots around the stepping stones with organic material, such as mulch, to retain moisture for the plants to grow. Decide which type of irrigation you want to incorporate, and you'll soon be on your way to a beautifully finished flagstone patio.
You can also grow moss between stones and pavers but be aware that it sometimes spreads. If this is a problem, kill moss on bricks by cleaning them with an oxygen bleach solution.
Sometimes weeds and other plants take root in your gravel or cement driveway, too. Make a DIY concrete driveway cleaner to eliminate them and keep them from re-growing anytime soon.
A No-Fuss Plant – Blue Star Creeper (Isotoma fluviatilis)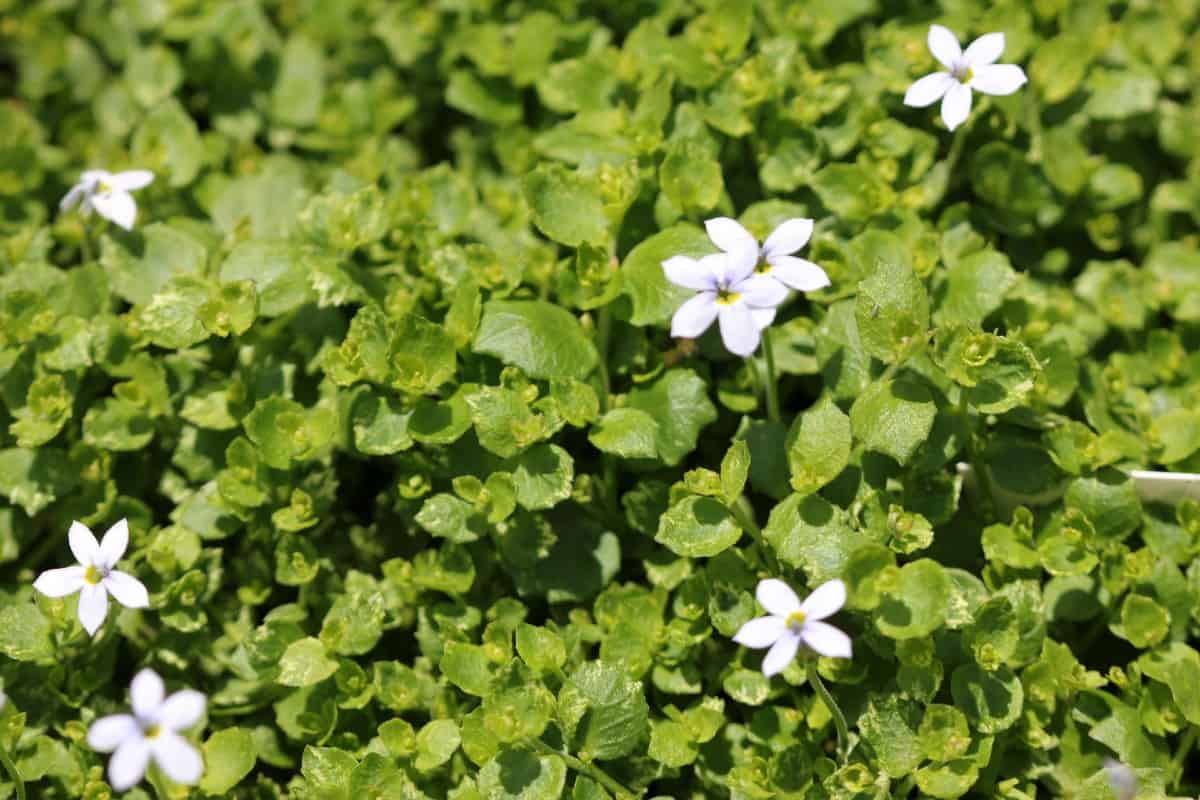 Blue star creeper is a creeping plant that makes an excellent lawn substitute. The dense shrubbery looks like a green carpet, and small, light blue flowers bloom in the spring.
These ground covers for shady gardens reach a height of only three inches, withstand heavy foot traffic, and require no mowing. On top of that, it tolerates full sun, partial shade, or full shade. Blue star creepers require hardly any maintenance.
It is drought tolerant but enjoys moisture in the hot summer months. Applying fertilizer in the early spring before new growth helps keep it nourished throughout the season. Cutting it down to an inch tall helps clean up the area for the winter months.
Irish Moss (Sagina subulata)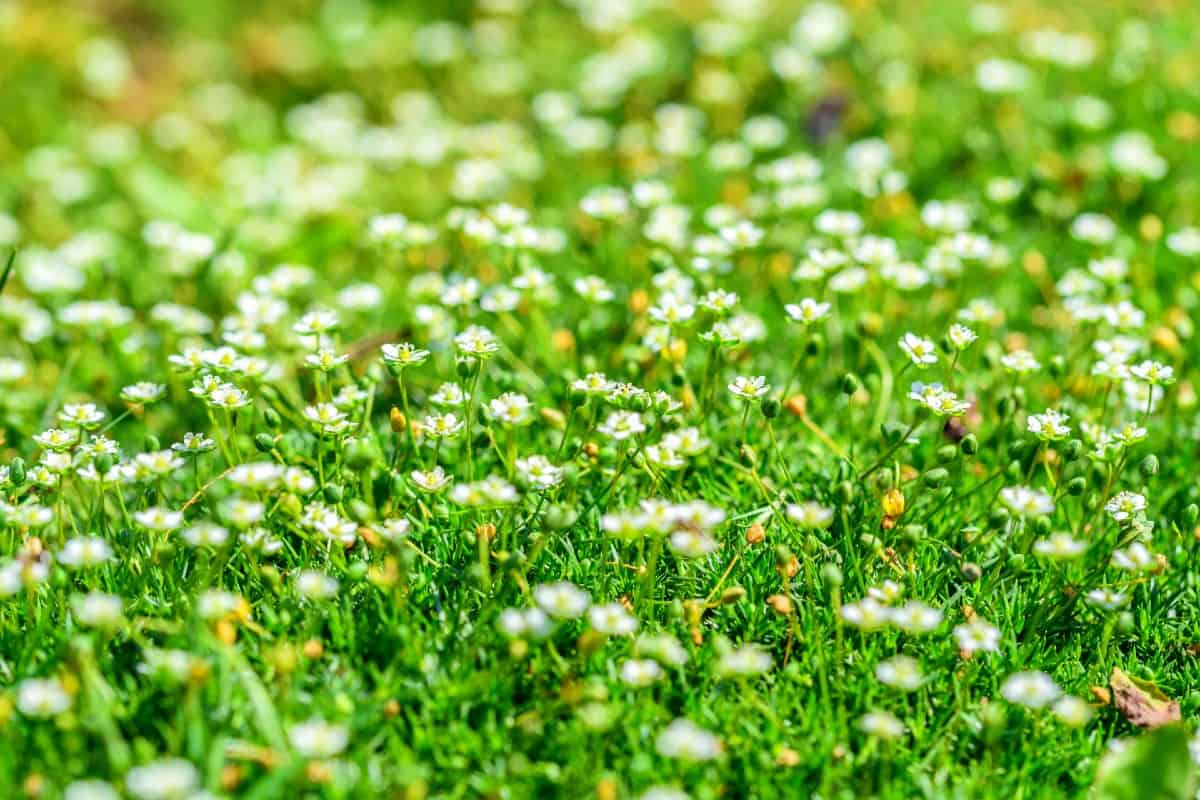 Irish moss gets its name because it resembles the moss that you're probably used to seeing. The dense green matting hugs the ground and produces awl-shaped leaves. White, star-shaped flowers bloom on the end of thin stalks in the spring.
Plant Irish moss in the spring after the frost has passed. Place each plant 12 inches apart in fertile soil with good drainage. Water them regularly without making the roots soggy and cut out any brown patches that you come across. For further use, grow the plant for edging along a rock garden.
Creeping Thyme (Thymus serpyllum)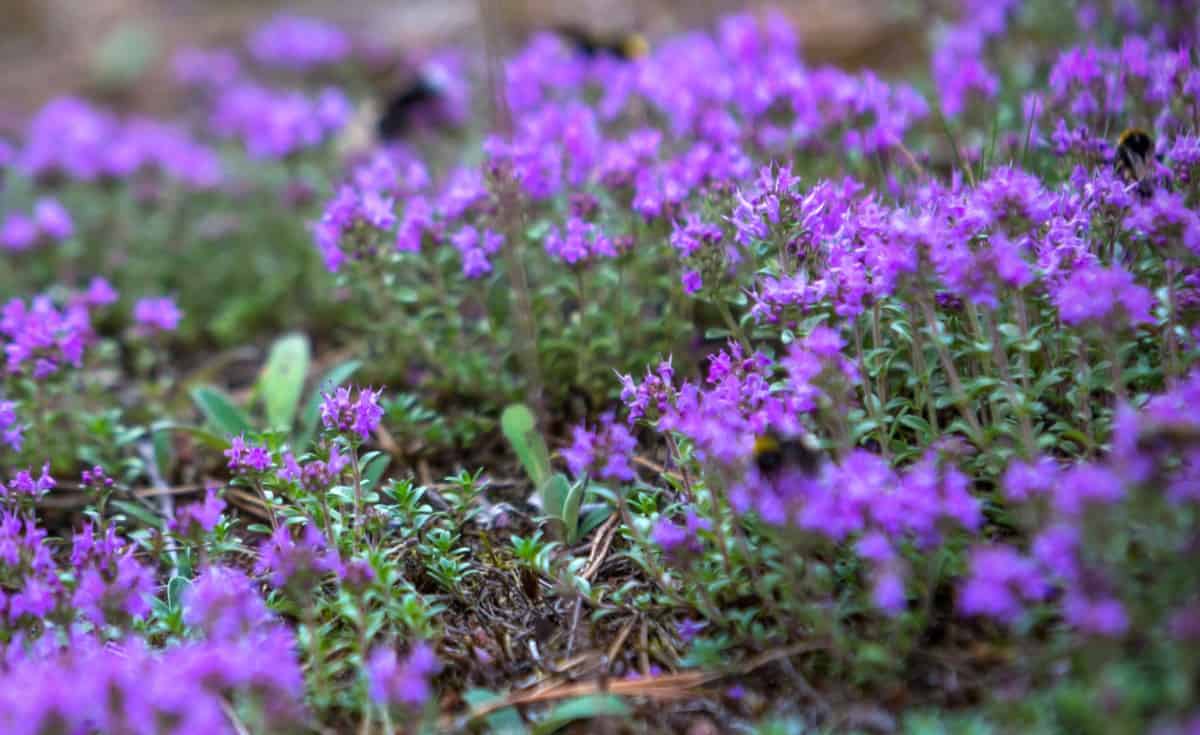 Creeping thyme, also commonly referred to as elfin thyme, is one of our favorite ground cover plants for pavers and stepping stones. Creeping Thyme is aromatic around your home, and the green leaves can be used in cooking.
Depending on the type, there are a variety of colors of flowers that bloom from mid-spring to late summer. It attracts bees as well, bringing essential pollinators to your garden. Creeping thyme is a hardy perennial that grows in USDA zones four through nine.
It reaches a height of about three inches, and the low, dense mats of foliage quickly spread between cracks of stepping stones and flagstone. Keep the soil moist when planting creeping thyme and keep plants eight to 12 inches apart to help them spread.
Stonecrop (Sedum ternatum)- Hardly Any Watering Required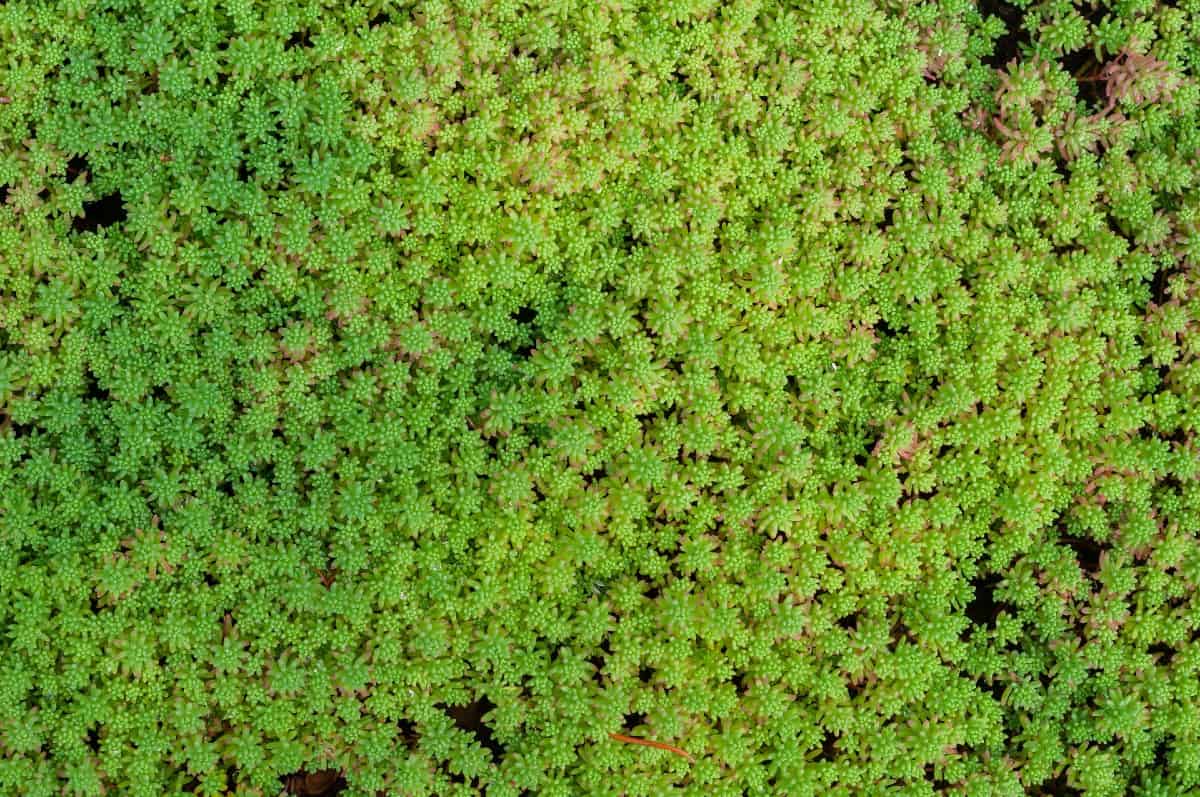 Stonecrop is native to the United States and named after its ability to survive atop boulders and stones. The leaves appear in groups of three and closely resemble succulents. Their small, white flowers bloom from April through May and are best f shady areas.
Because stonecrops are so similar to succulents, they don't require frequent watering. As long as the soil isn't parched, survival isn't a problem.
Stonecrop prefers leaner conditions; over-fertilizing is as equally damaging as overwatering. If transplanting this groundcover plant, simply snip a stem off and bury it in a pot to take root before planting it elsewhere.
Red Carpet (Sedum spurium)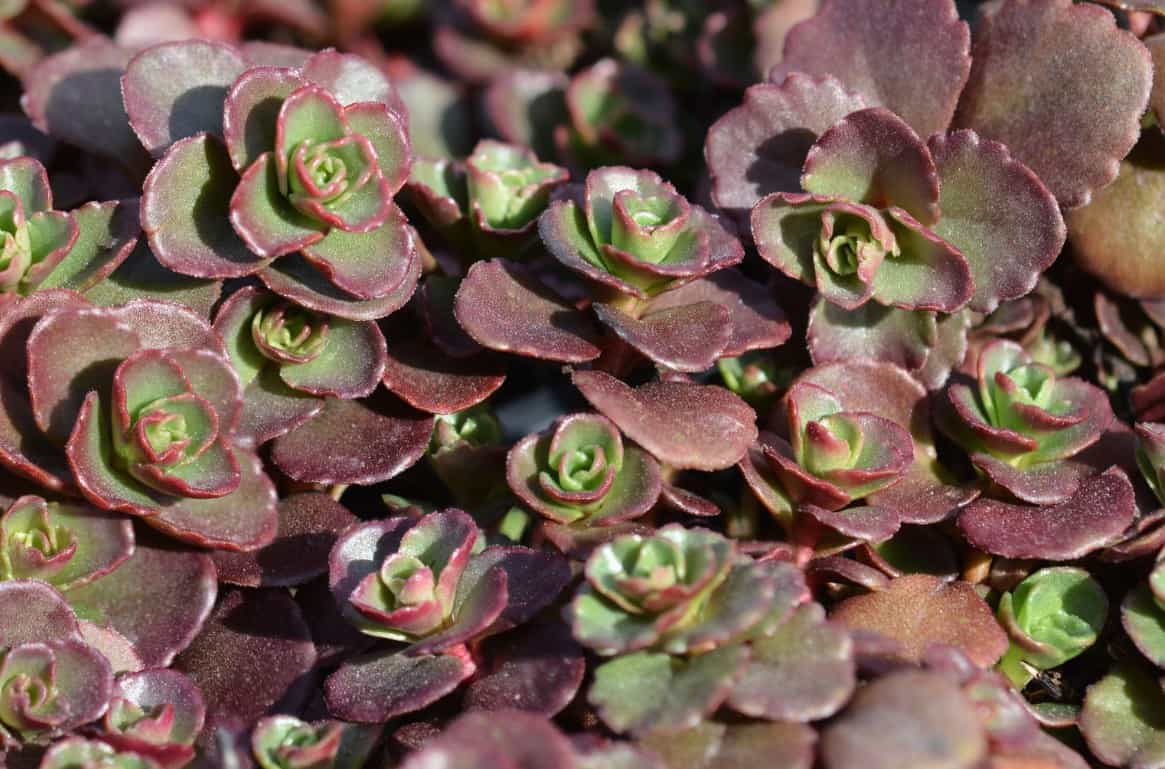 Very closely related to stonecrop listed above, red carpet sedum is another type of plant out of the 600 species of sedum. The reddish leaves spread to form a mat between pavers that add a bold pop of color.
One plant grows from three to six inches and spreads up to 24 inches across. Red carpet sedum is one of the full sun ground cover plants but it tolerates partial shade as well.
Like stonecrop, it is sensitive to overwatering and may contract a fungal disease if it receives too much. Grow red carpet in sandy, dry soil with low moisture. Trim the plants to ground level every fall to encourage new growth in the spring.
Chamomile (Chamaemelum nobile)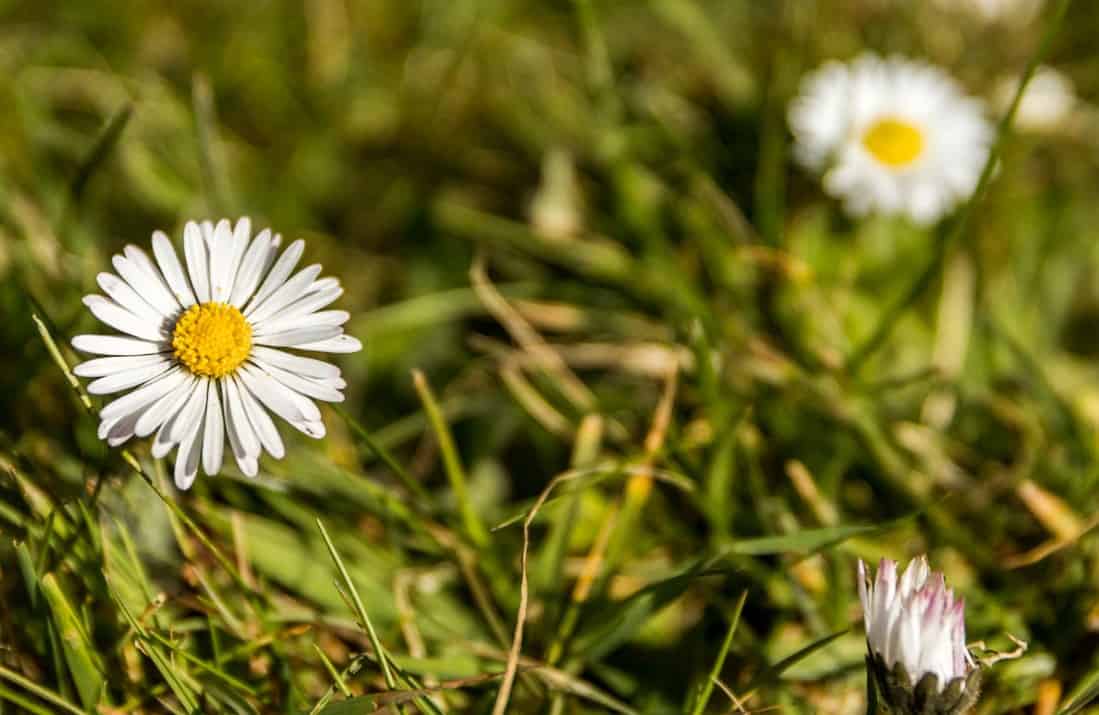 Chamomile is a low-growing, evergreen perennial that spreads by forming a mat of foliage. It is aromatic, and the flower heads make a delicious tea when dried. Chamomile tea fights headaches, colds, the flu, and an upset stomach.
Chamomile grows three to six inches tall and has daisy-like flowers that continue to bloom throughout the summer. It is mowable, but it tolerates little foot traffic, so be sure to place it in an area that doesn't get used too often. Trim regularly to promote growth.
A Moss-like Plant – Pearl Grass (Hemianthus callitrichoides)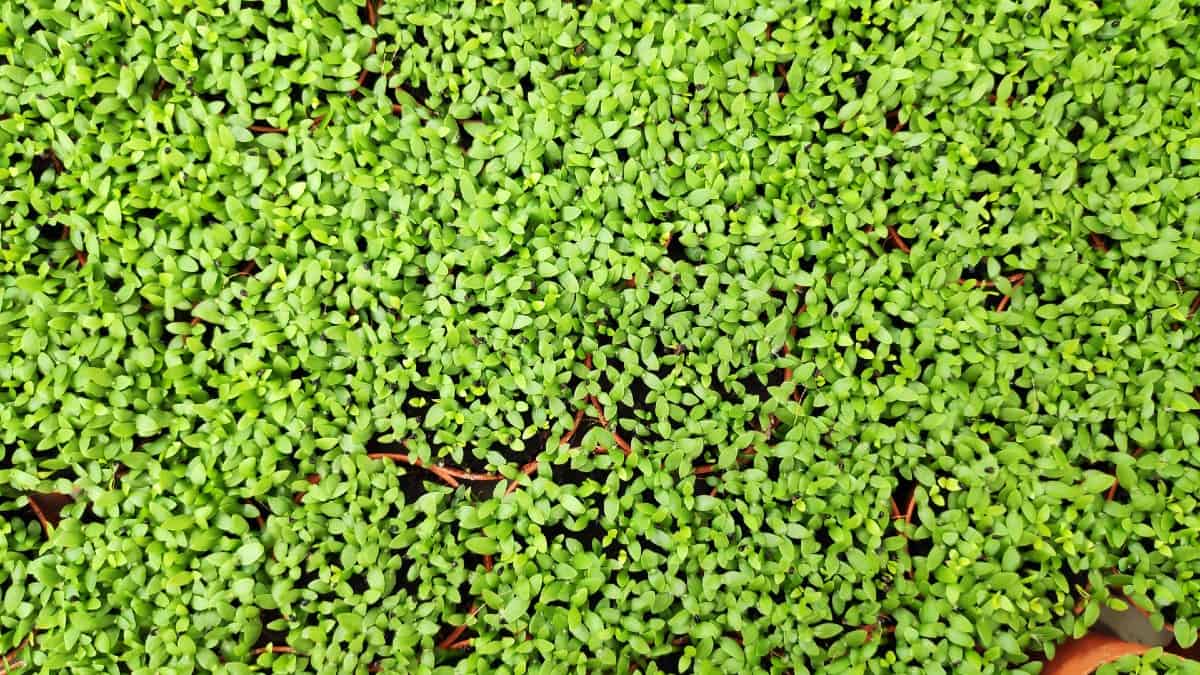 Pearl grass is also commonly called baby's tears and has the appearance of moss. The round, green leaves grow on stems and only reach six inches tall. Despite lacking a flower bloom, the leaves turn a vibrant, lime green color when given the proper conditions.
Pearl grass loves humidity and moist soil and good air circulation. Give this plant a home with a moderate amount of sun. To propagate, bury a stem or shoot in moist soil and watch it begin to root.
Dwarf Mondo Grass (Ophiopogon japonicus)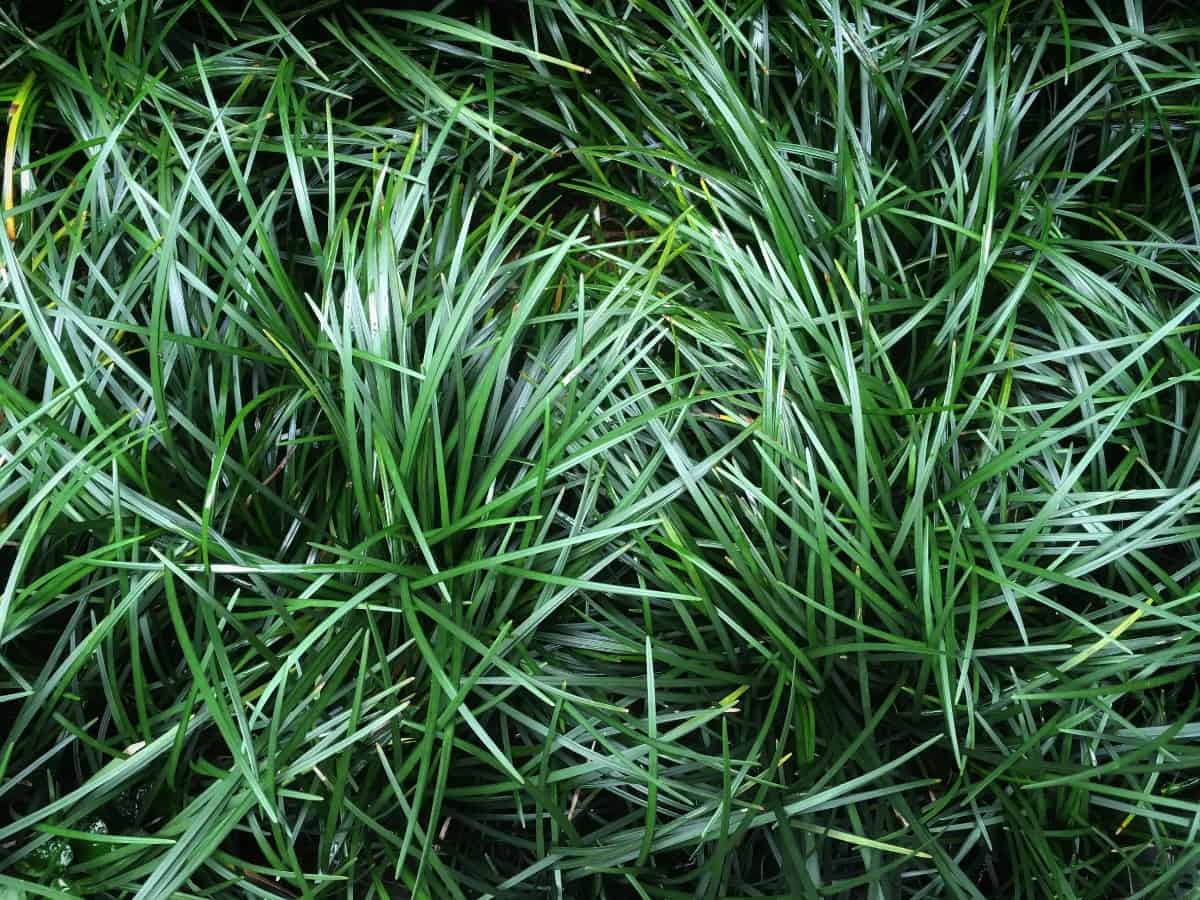 Mondo grass tolerates nearly anything you throw at it, including deer. Although it isn't technically a grass, the long leaves resemble blades of grass. In mid-summer, lavender, white, and light blue flowers bloom to add a striking look to your yard.
Once established, Mondo grass doesn't require a lot of work. Dwarf mondo grasses prefer full sun to partial shade and well-drained soil.
Because it grows in clumps, plant each cluster anywhere from four to twelve inches apart, depending on how quickly the area needs to fill. Remove weeds as they appear and keep an eye out for snails and slugs.
If you use mondo grass as edging, it may start to spread into your gravel driveway over time. Kill grass in gravel driveway areas by establishing a clear border between the two areas and keep the plants trimmed.
Sweet Woodruff (Galium odoratum)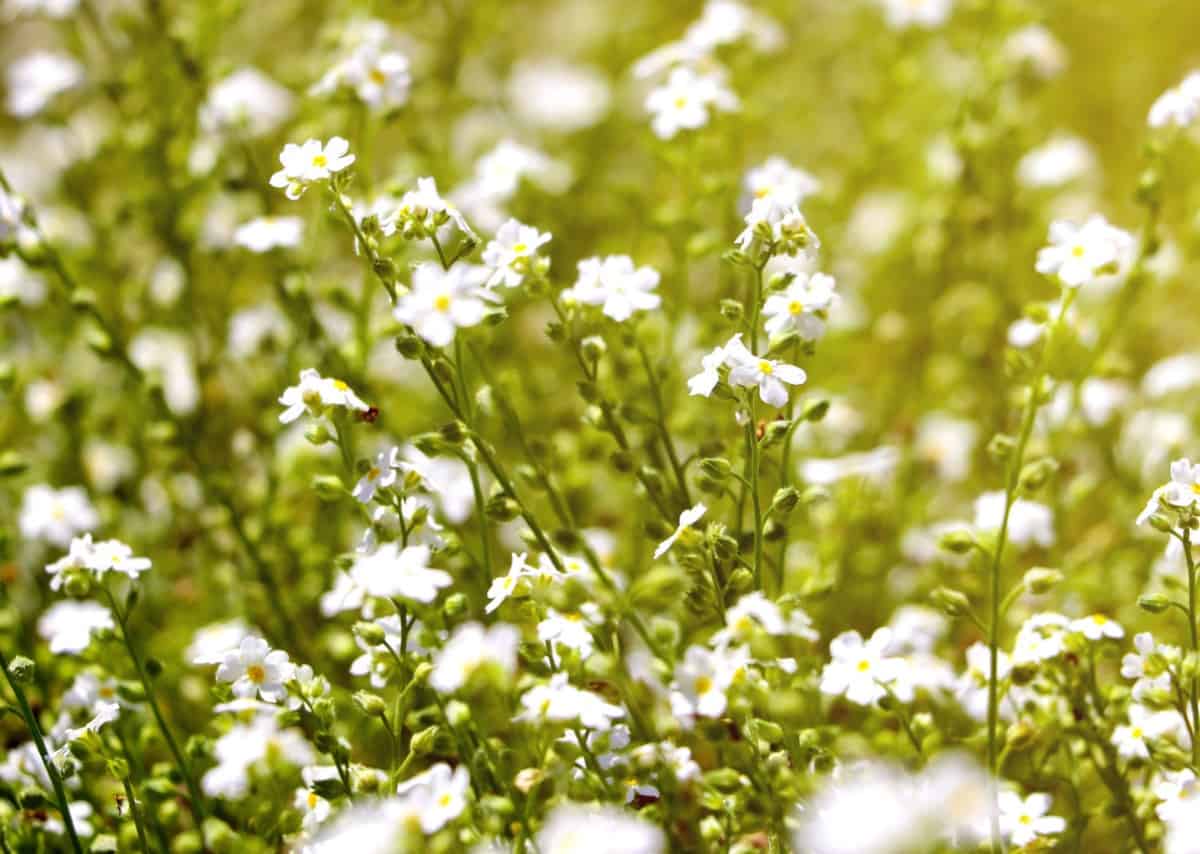 Sweet woodruff has historically been grown as a type of air freshener. The leaves give off a fresh scent that makes this ground cover plant a fan favorite. Today, this plant is used for ground cover in shady areas.
The star-shaped leaves and lacy flowers offer a unique look with loads of texture. This is one of the few creeping plants that prefer moist areas with lots of decomposing organic material.
However, it grows in dry soils as well. It becomes more invasive in moist soil, though, so keep an eye on it to make sure it doesn't take over the entire area.
Creeping Jenny (Lysimachia nummilaria)- The Hardiest Groundcover Plant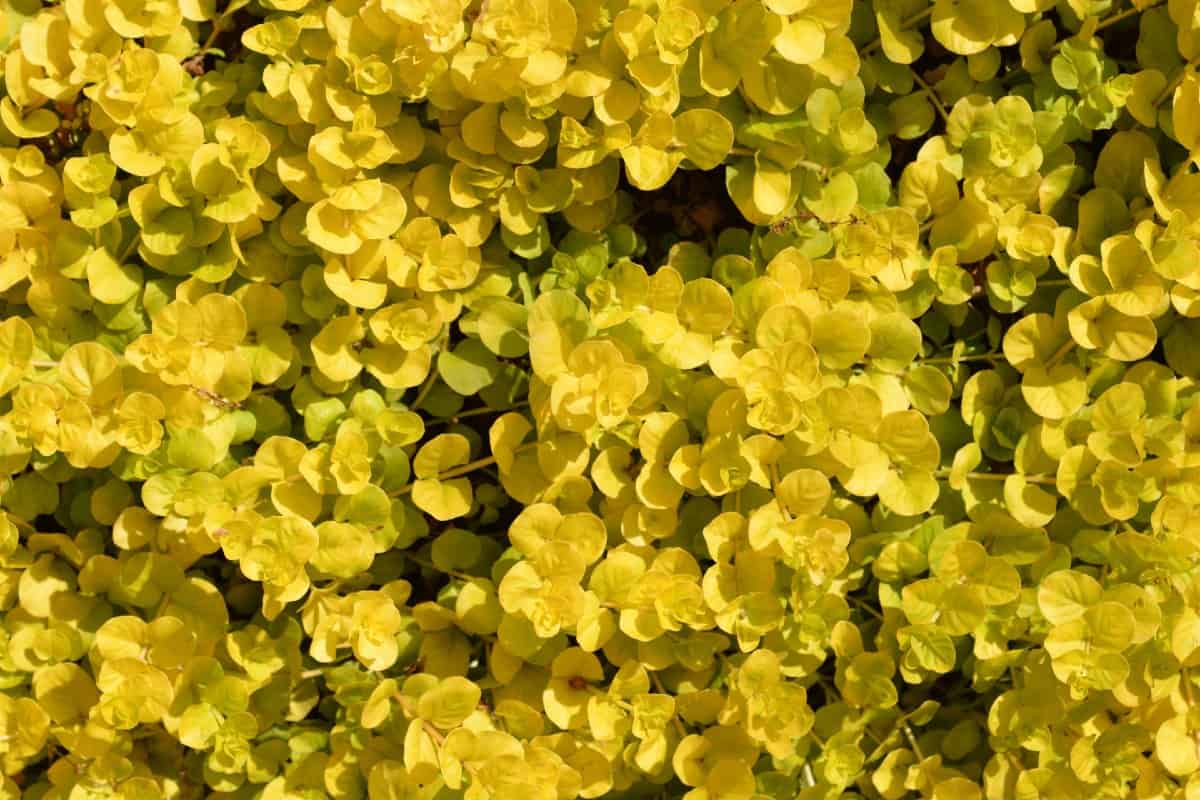 As one of the hardiest plants for between pavers, creeping Jenny grows in USDA zones two through ten. It works so well that it's like it was destined for placement between stepping stones and in rock gardens.
Because it grows so well, do some research to make sure it isn't considered an invasive species in your area. One of the quick spreading ground cover plants, creeping Jenny is attractive and a mixture of yellow and green.
Prune it regularly to keep the growth under control. If this is your first time planting it, water it daily and use organic fertilizer to establish it.
Dwarf Bugleweed (Ajuga reptans)
With its narrow, dark chocolate leaves and lacy blue flowers, dwarf bugleweed makes a beautiful addition to a flagstone patio. It grows only two to three inches in height and survives in zones four through nine.
Grow dwarf bugleweed in full sun only if you're willing to provide it constant moisture. It tolerates a majority of soil types as long as it is well-drained, and there is good air circulation. This plant is best for areas requiring mass ground cover because it proliferates.
Bronze Dutch Clover (Trifolium repens)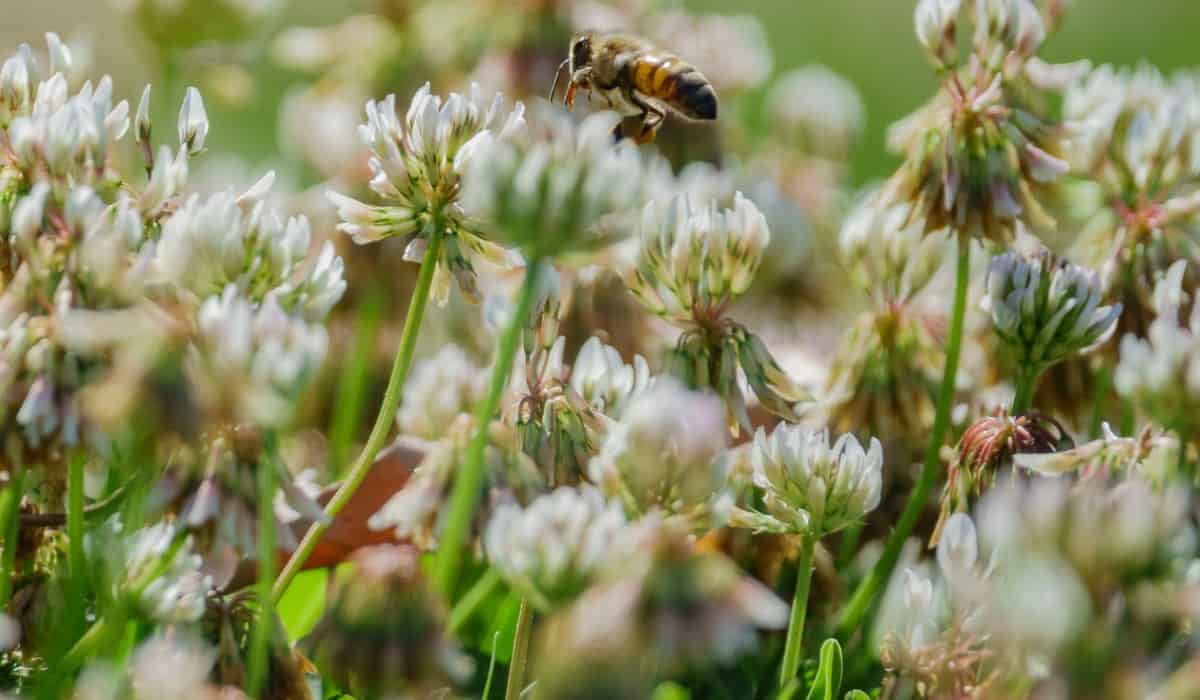 Bronze Dutch clover is a moderately growing groundcover plant that ranges anywhere from one inch to one foot in height. It prefers either full sun with afternoon shade or early morning shade with afternoon sun.
The foliage provides a variety of dark green and burgundy colors, and the shape resembles the standard three-leaf clover. The bronze Dutch clover is especially useful in areas that are desperate for erosion control but also make great addition along pathways and patios.
A Plant with an Individualistic Look: Silver Carpet (Dymondia margaretae)
Silver carpet is a dense ground cover plant. The clumps have grey and green leaves with fuzzy undersides. They reach up to only two inches high and offer a unique look between pavers and stepping stones.
Dymondia grows slowly but spreads more quickly with regular watering. One of the most significant benefits is that it crowds out a majority of weeds over time.
The hot summer sun begins, the plants bloom yellow, daisy-like flowers. It withstands only a little foot traffic. Make sure the soil isn't poor draining and deadhead the flowers as soon as they begin to fade.
Corsican Mint (Mentha requienii)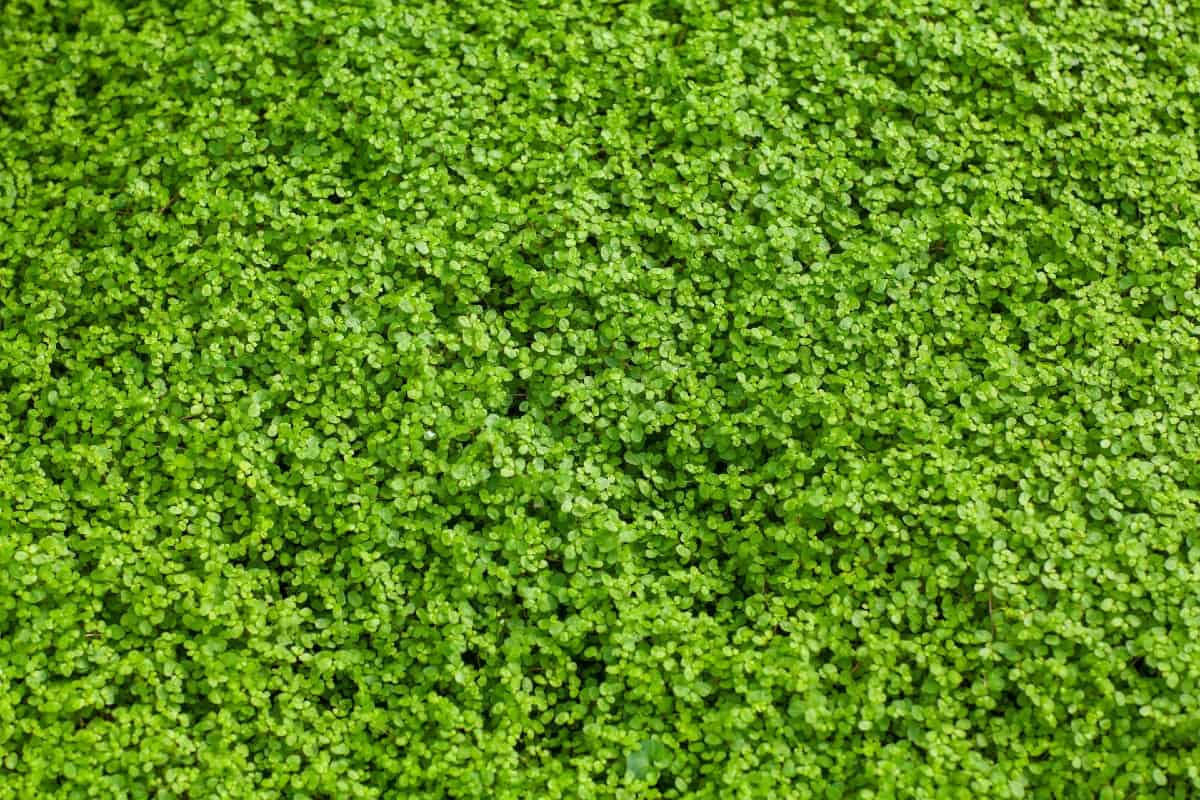 Corsican mint has round petite leaves that offer a strong, minty scent. Snip the leaves and add them to a home-cooked meal, dessert, or refreshment. Who doesn't love a mojito, after all?
They look fabulous in the crevices between flagstone. However, they aren't hardy enough to withstand heavy foot traffic. Corsican mint prefers full to partial sun.
Any moist, well-drained soil is often suitable. Because it's self-seeding, it grows aggressively and requires trimming. This plant doesn't tolerate drought, so keep the soil moist, but not soggy.
We understand that growing plants in small nooks and crannies isn't always the simplest of tasks. There are plenty of plant options to choose from as long as you're able to identify the growing conditions.
Deciding on the right ground cover plants for pavers pays off in the end. They add a charming feel to your home and yard and make an often unfinished area look flawlessly maintained.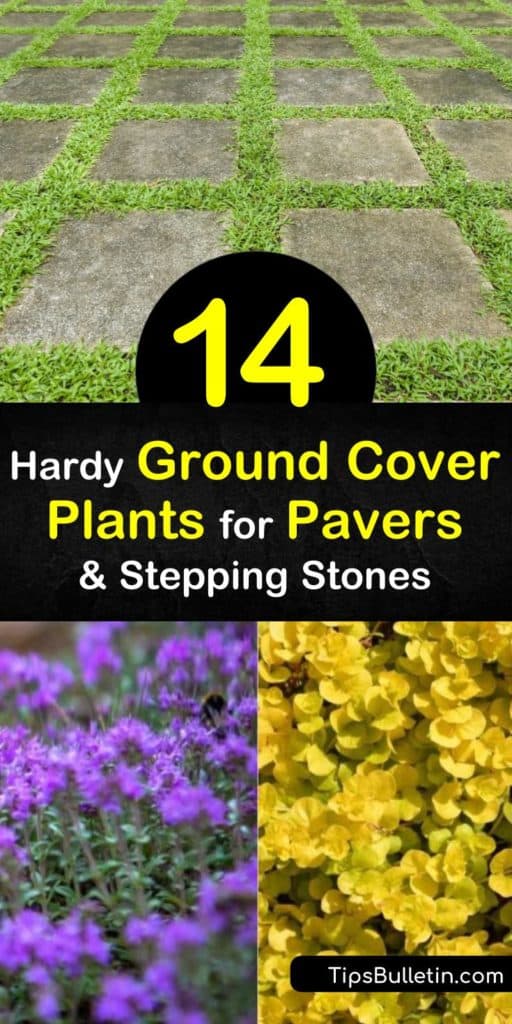 If you found the ideal ground cover plants for pavers in your yard, share this list of plants perfect for a flagstone patio on Facebook and Pinterest.