Do you live in a coastal area and struggle with plant maintenance? Are you worried about the little number of nutrients your sandy soil provides? The best ground cover plants for the beach and other parts of the coast call for hardiness and heat tolerance.
Growing a lush garden full of ground cover is not the most straightforward task in hot and dry places. Traditional grass might be an everyday occurrence for homes in many parts of the world, but it is not as practical for all landscapes.
Low-growing options spread quickly and densely, appearing stunning no matter how you arrange the plants. Viable plants for the beach also solve the planting problems you may experience on the coast.
There are robust beach plants for hillsides, roadsides, no-mow yards, erosion control, borders, rock gardens, edging, containers, and more. Use our extensive list of coastal plants to find the right foliage for your garden.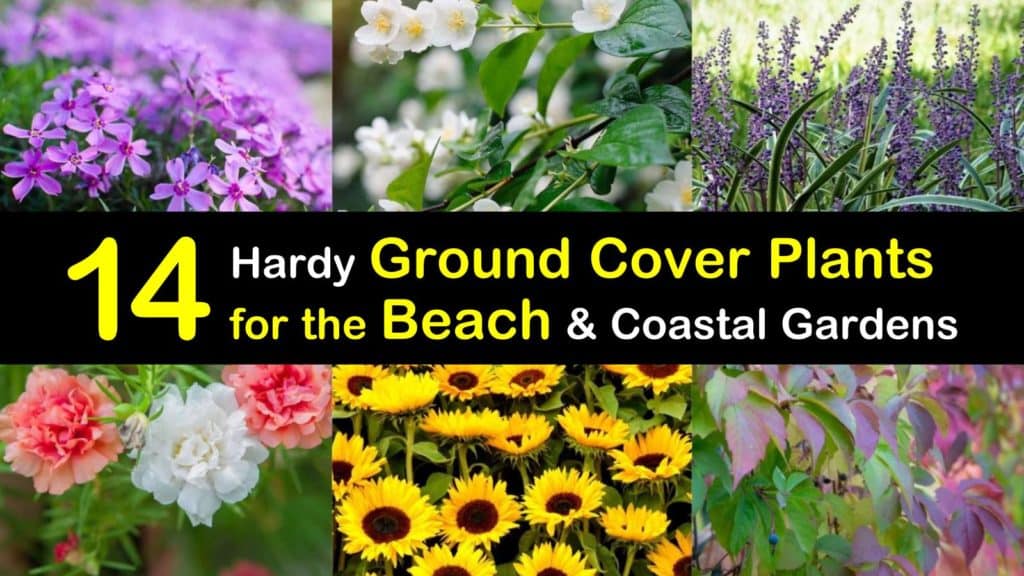 What Plants Thrive on the Coast?
The beach is one of the hardest spots to grow plants. To find ground cover plants for the beach, consider the climate where you live. If you live in a desert region by the coast, drought and heat tolerant plants are more appropriate.
Some areas offer clay soil, while others have sand. Planting in these places means the soil will not hold water and fertilizer as long. All of these things add up to which plants work in your locale.
Many coastal gardens include colorful blossoms with plenty of texture and movement. The plants withstand storm winds, intense weather, salt spray, waves, or icy winters.
Sunlight Requirements
Plants for the beach or coastal areas range from full sun to full shade. Our list contains options for any type of setting. Many times, a hardy plant survives bright sunlight better. The low-growers tend to succeed in the shade.
Watering and Fertilizing
Some coastal plants may not come with fertilizer or much water requirements. However, increase the speed your plants grow by adding organic matter to boost the nutrient content of poor soil.
Is Soil Erosion an Issue?
Another primary concern in beach or coastal sites is how easily the earth erodes. Erosion is familiar with sandy soil, which is much looser than clay. There are native plants that might help boost the quality of the ground.
Overall, most plants with well-draining soil and heat tolerance prosper. Plants that prefer well-draining soil may come with little maintenance or care, such as cacti or succulents.
Where Should I Plant Ground Cover?
Rock gardens and edging are famous in these environments. They are perhaps the best type of garden to grow because the plants flourish in rocky, sandy, or shallow soil.
Ground cover plants also do well in sand, and they provide less yard work for you throughout the year. Use them as a grass alternative to never mow again, or fill in hillside gaps. Wherever growing most plants is a challenge is an exceptional place for these plants.
Ground Cover Plants for the Beach
When looking for ground cover plants for the beach, make sure they prosper in sandy or poor soil conditions. Planting ferns as ground cover may not be the best idea unless the location stays damp and has enough shade.
The plants you choose should also not be invasive in your planting zone, or they may spread too quickly for you to manage. Use the following list to determine which plants will cover your garden.
Lilyturf (Liriope spicata)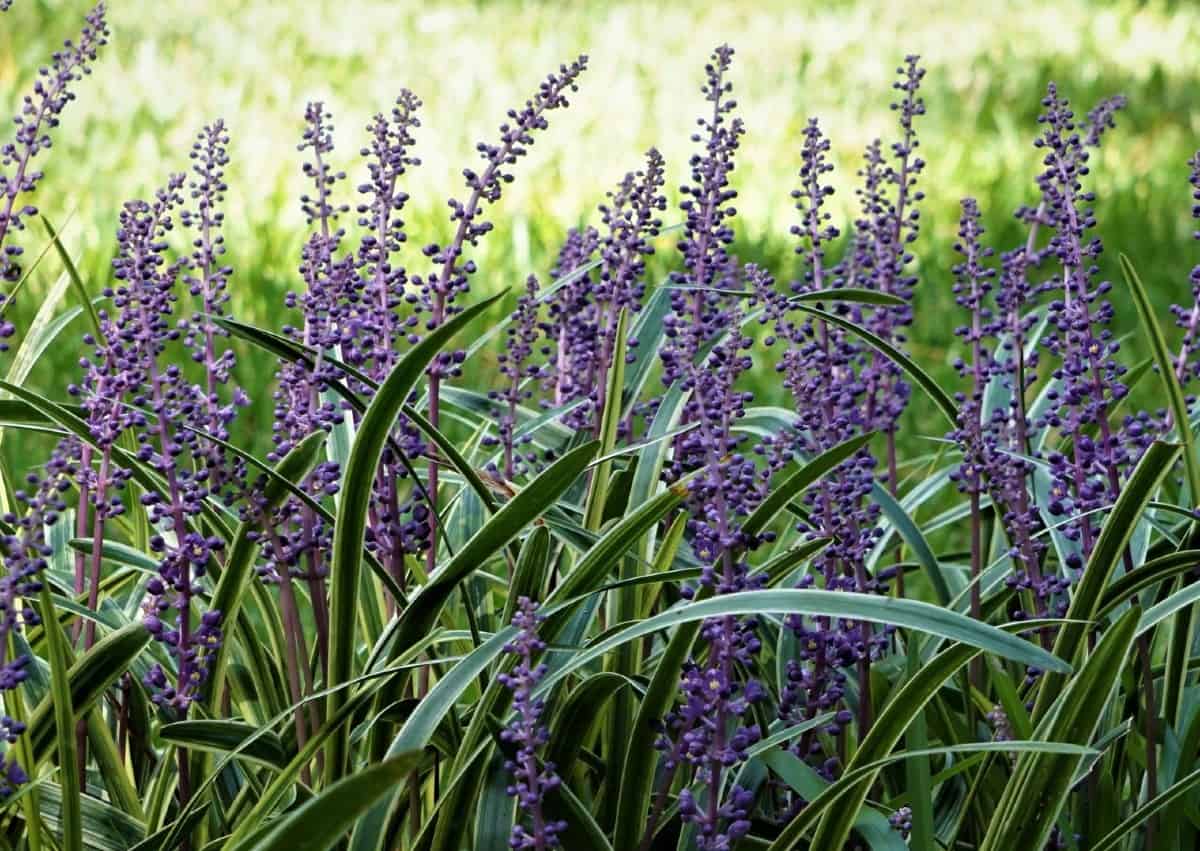 A grass-like plant, lilyturf covers the ground across zones four to ten. The plant spreads up to two feet and around 18-inches-tall. Variegated lilyturf is popular as edging for erosion control or ground cover in warm climates.
The best part about lilyturf is the colorful fall foliage. It blooms in summer and fall,and the blue or white flowers are fragrant and gorgeous in bouquets. Lilyturf is also drought tolerant, prospers in sun or shade, and remains resistant to deer.
Moss Rose (Portulaca grandiflora) – Forgiving Flowers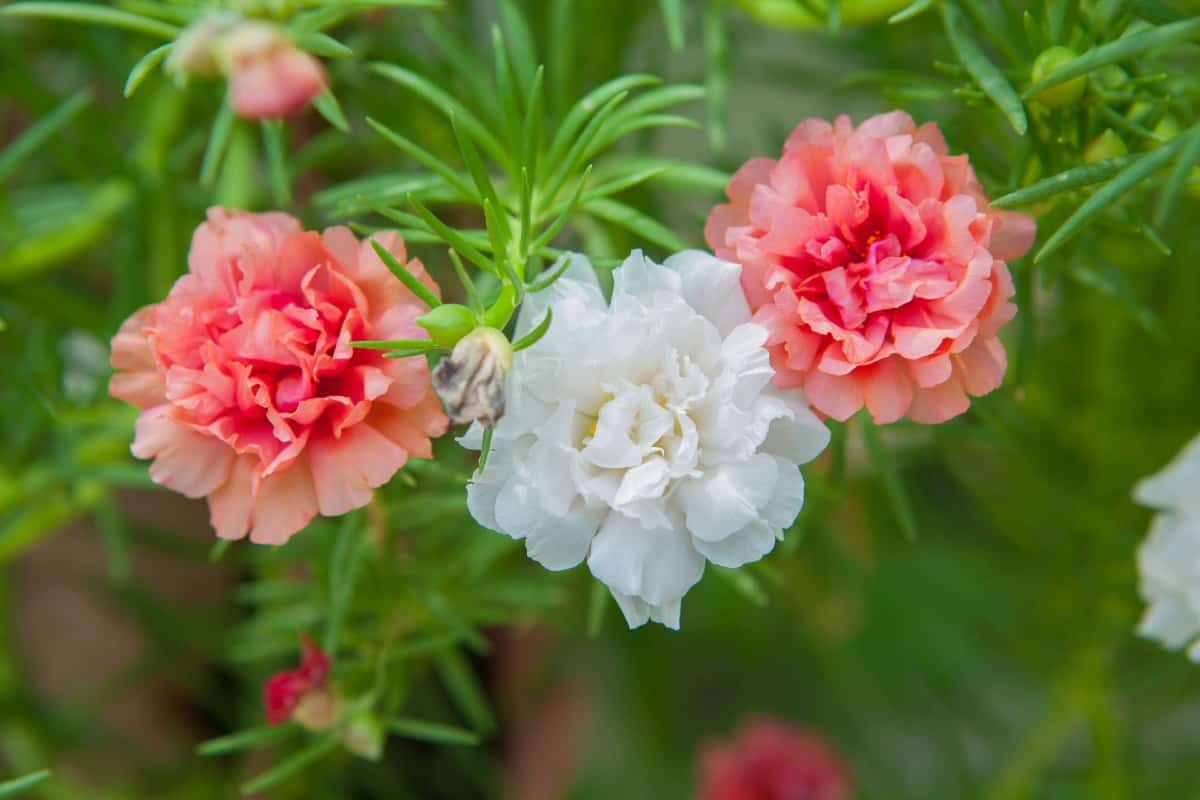 Can you grow roses at the beach? You sure can. Roses for the beach include the moss rose. It is a drought tolerant creeping succulent. The annual flowers grow only a few inches high every summer but spread out a couple of feet to cover the ground. Blooms range from yellow and red to shades of pink, orange, purple, or white.
If it is hot and hardly rains where you live, portulaca is the robust plant for you. The hardy plant is attractive as edging in a border garden or rock gardens, garden beds, or indoor containers and hanging baskets. The seeds are even edible.
Virginia Creeper Vines (Parthenocissus quinquefolia)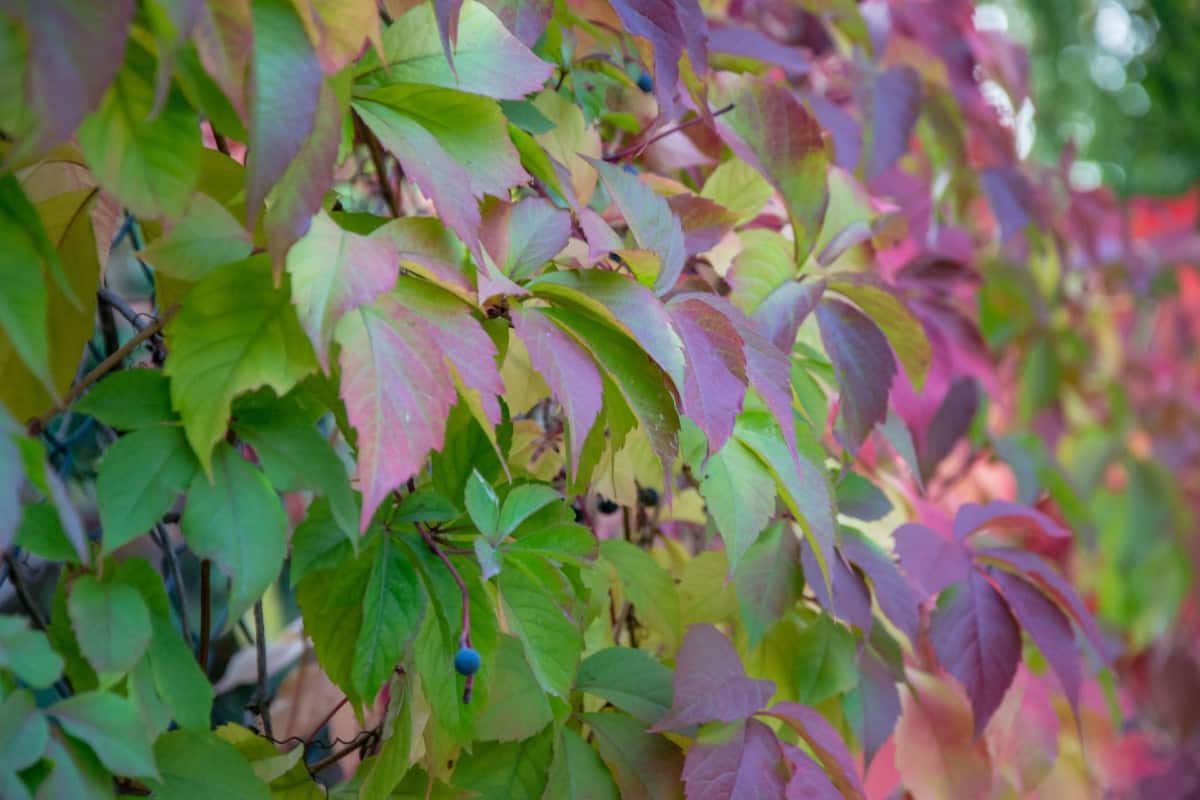 Virginia creeper vines grow aggressively, but they are native to North America. The plant offers green foliage in the summer that turns a reddish-orange or burgundy shade in the fall.
In a full sun location, the vines may grow up to 50 feet long. Plant it as ground cover or allow it to climb a trellis or stone wall. The plant thrives in sandy, loamy, or clay soils.
Although the blue flowers are not spectacular, the blooms and berries attract birds. The fruit is toxic to humans, though. It overgrows as well, making it unappealing for low maintenance yards.
Creeping Phlox (Phlox subulata) – A Late Spring Superstar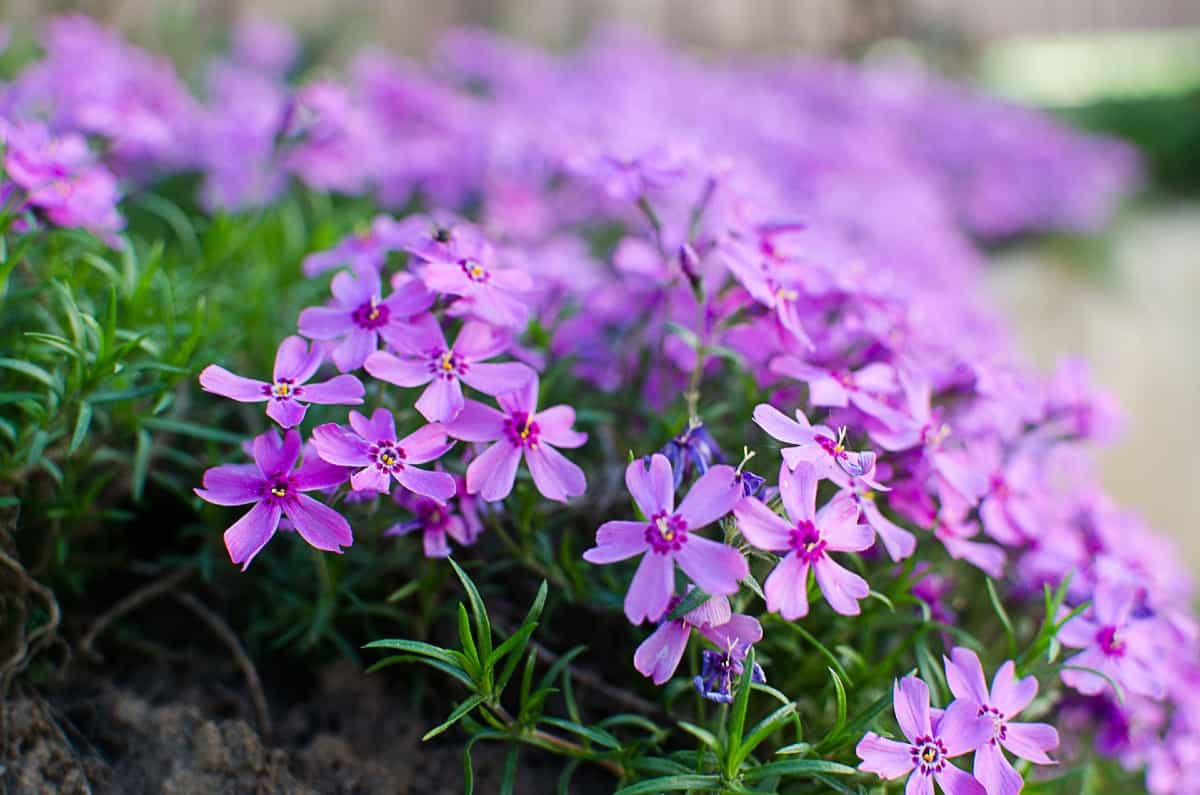 For gorgeous violet ground cover plants, go with phlox varieties. They tolerate sandy or clay soil and provide colorful flowers in the late spring.
In a full sun location, the plants do best with moist soil. Phlox grows in zones four to eight, attracting hummingbirds in the summer.
The creeping type enjoys a hillside or retaining wall, and you must cut back the flowers at the end of the season. It's easy to pull if the plant starts to spread out too much.
Creeping Juniper (Juniper horizontalis)
The creeping type of juniper is a sprawling evergreen for sandy soil. It has blue flowers and green leaves, and in the right conditions, the spread exceeds eight feet. The low maintenance cover grows in zones three to nine.
Creeping juniper is ideal for beach shrubs and optimal for steep or challenging terrain. Plant creeping juniper on a grassy slope to never mow the grass again. Start by laying landscape fabric, poking a few holes for the plants, and covering them with mulch.
Basket of Gold (Aurinia saxatilis)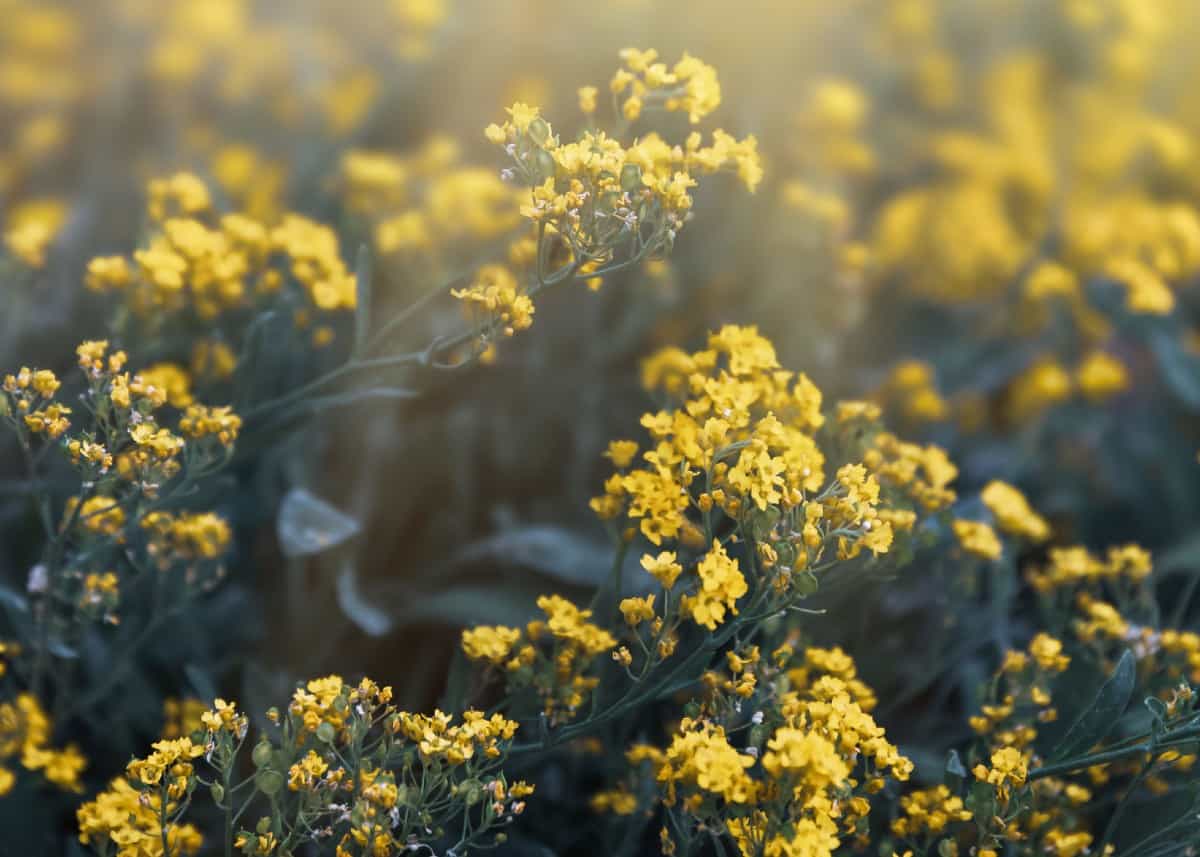 Sometimes called yellow alyssum due to the stunning yellow flowers, Basket of Gold is a drought tolerant, low maintenance plant. It's favored in full sun rock gardens or as ground cover. Grow yellow alyssum in zones four to seven.
Overall, there isn't a ton of maintenance work for this plant besides occasional watering in the summer. Trim the plant back after the flowering period each season or when it starts to appear scraggly. It even survives poor soil.
Creeping Thyme (Thymus serpyllum) – Attracts Pollinators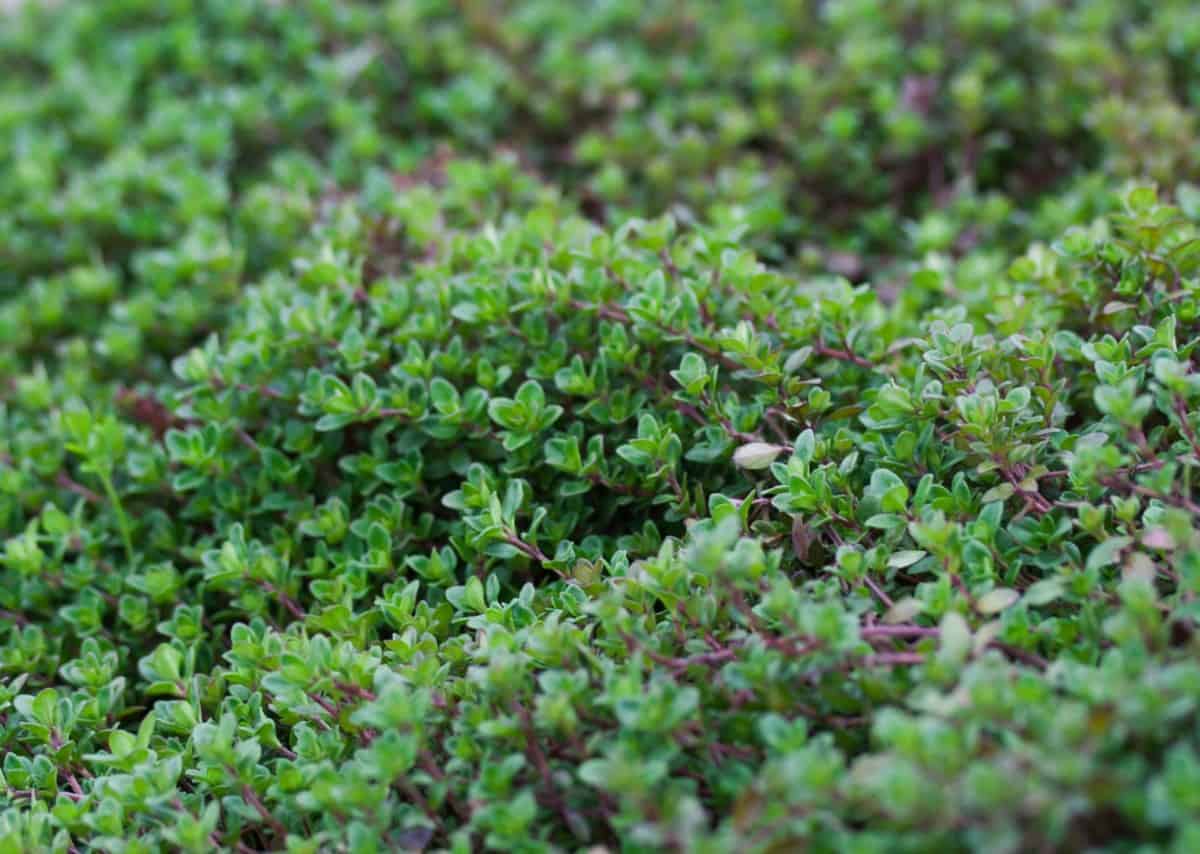 Creeping thyme is also known as wild thyme or mother of thyme. The perennial is a prominent low maintenance ground cover plant in alkaline soils. The purple flowers are fragrant and develop in June and July. There are also white, pink, and red flowers available.
Plant creeping thyme in between stepping stones in your garden or along the pathway to your nearby beach. These plants that spread out over their growing area and beyond only grow about three inches tall. Make sure to weed the area regularly for the best results.
Mondo Grass (Ophiopgon japonicus) – Lawn Alternative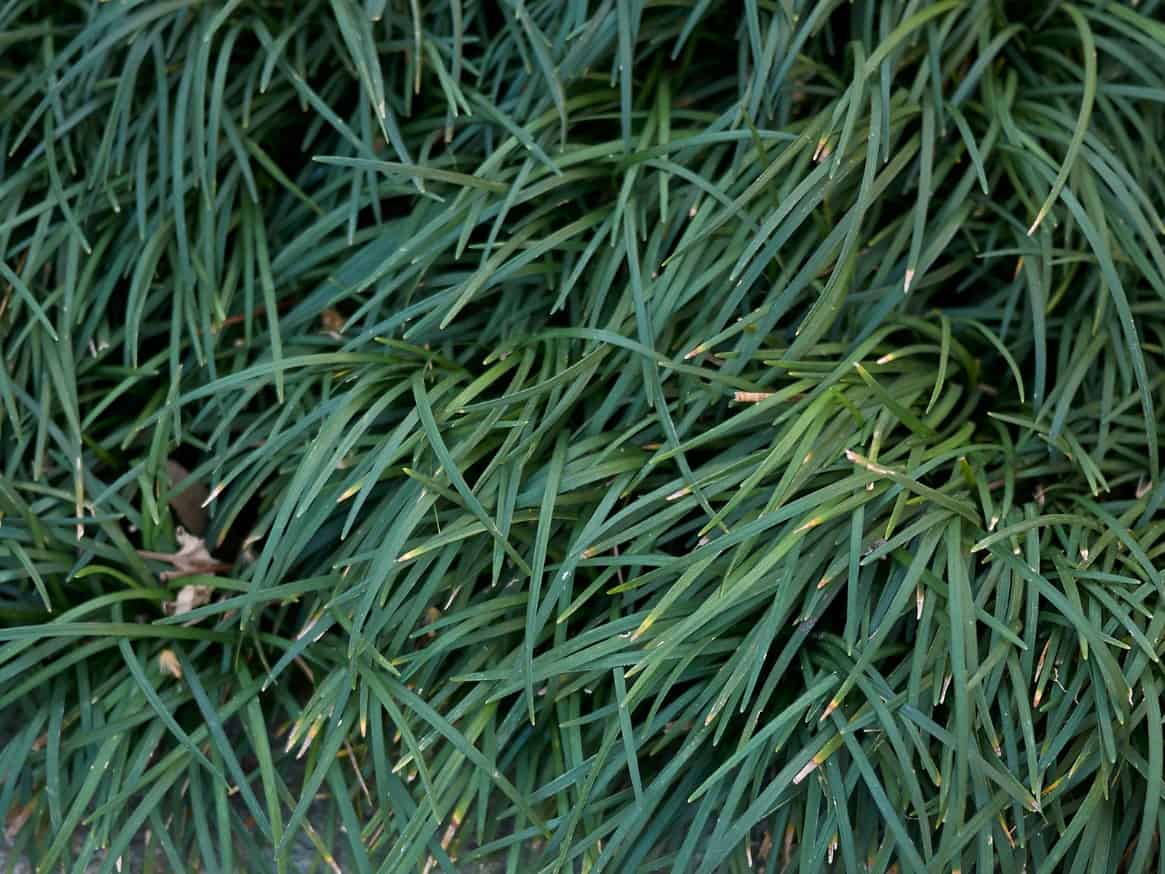 Never cut the grass again with this low maintenance yard alternative. Mondo grass is a dark green plant popular in the southern U.S. It enjoys full or partial shade and can withstand moderate to light foot traffic.
Variegated dwarf mondo grass is similar, but it grows only two to four inches from the ground and doesn't blossom. This type of ground cover requires well-draining soil and light shade.
However, it's common in garden borders or planted between pavers. Choose regular mondo grass for erosion control.
Spotted Deadnettle (Lamium maculatum)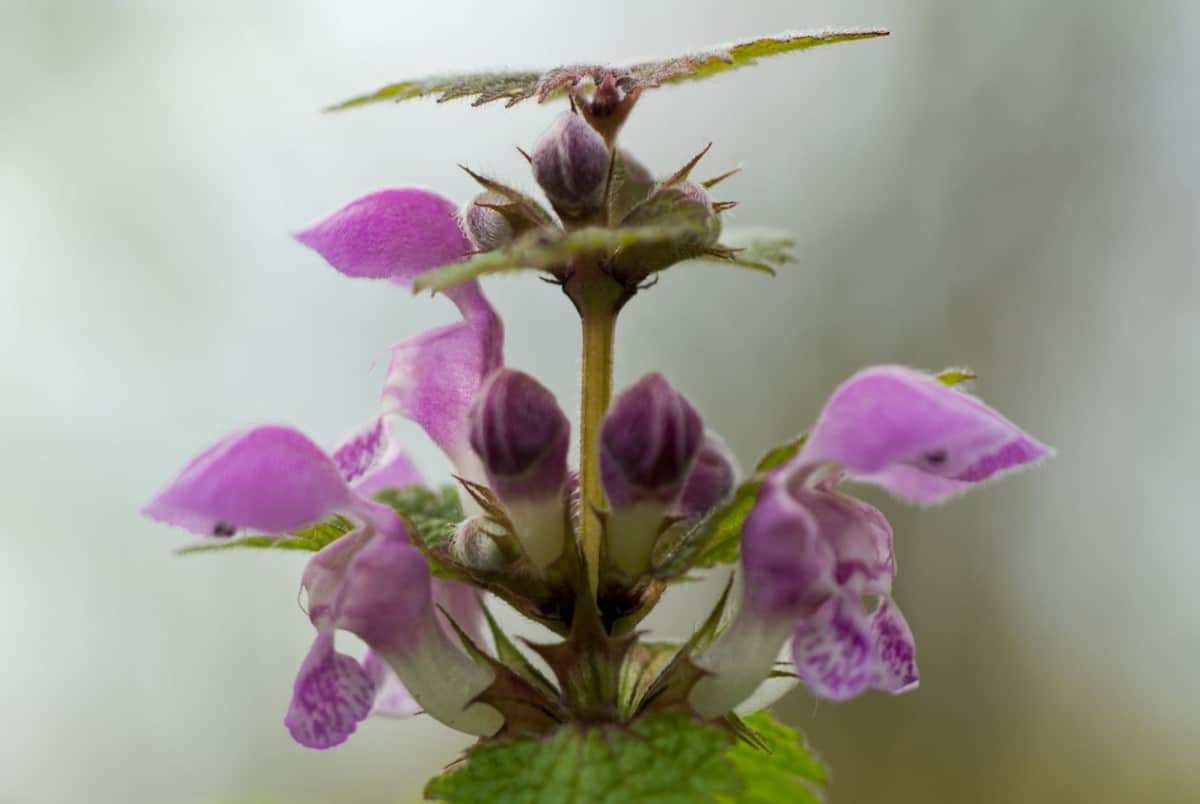 Invasive to some locations, check your local extension office before planting spotted deadnettle. If the plant is not invasive in your area, it makes sufficient ground cover in partial shade or full shade.
The pink or white flowers (depending on the cultivar) and eye-catching silver foliage are attractive all year long.
While the soil must drain well, spotted deadnettle survives in a wide range of conditions, like acidic or sandy soil. It is invasive in many coastal areas, like the northeast and the pacific northwest.
English Ivy (Hedera helix) – Great Indoors or Out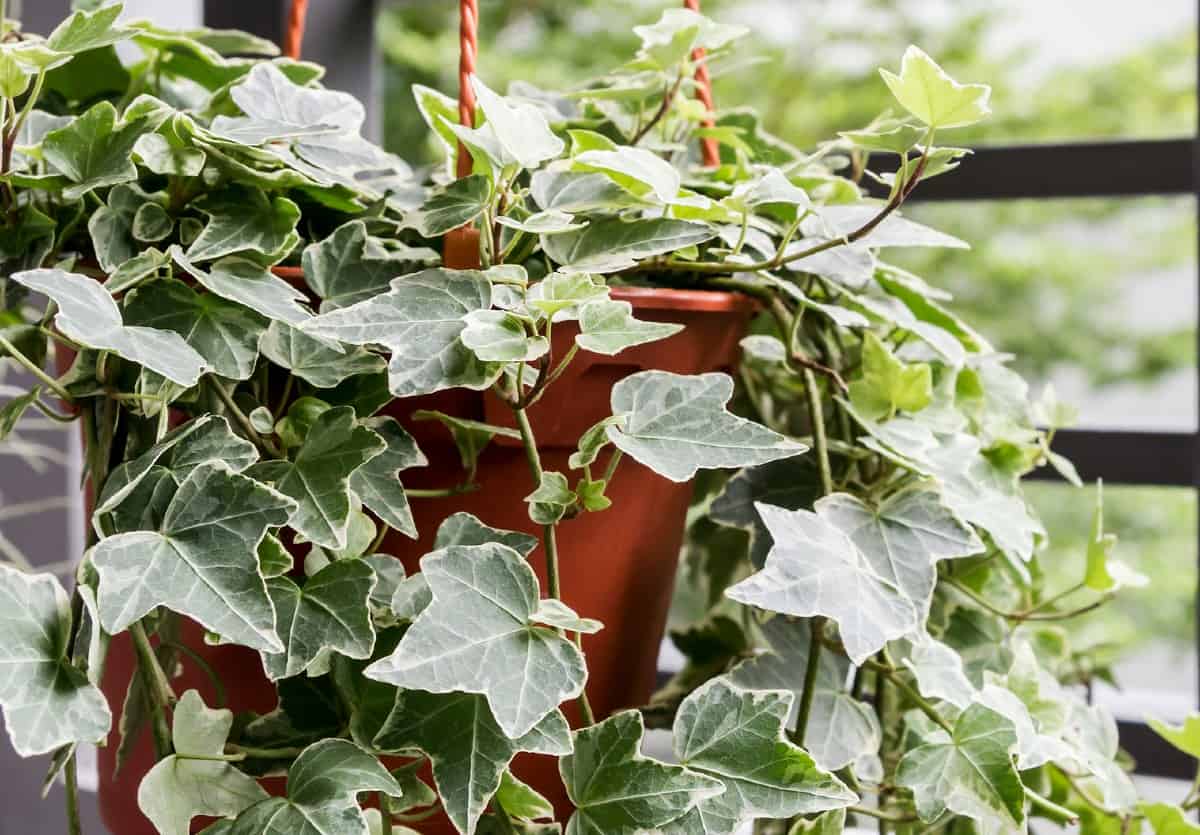 English Ivy or European Ivy is an evergreen plant with a 15-foot spread that is one of the best vines for the beach and almost any other area.
The leaves are dark green and shiny, and it favors partial shade and moist soil. Ideal for zones four to nine, this climbing vine even works well in hanging baskets or along a hillside.
However, English Ivy is an invasive plant for specific regions. Check the invasive species for your area. If you live in such a location, try lilyturf for ground cover in partial shade landscape instead.
Sea Rocket (Cakile lanceolata)
The sea rocket is perfect for beach ground cover because it's native to the Atlantic or Gulf of Mexico areas. Growing at least two feet tall, the plant offers lavender or white flowers from late winter to the fall. It's also resistant to both strong winds and hurricane season.
Plant sea rocket in a beach dune to hold the loose sand together. It spans two feet long, making it an excellent option for seashores. The succulent leaves store water, helping it withstand drought and bright sunlight.
Beach Sunflower (Helianthus debilis) – The Sandy Soil Sunflower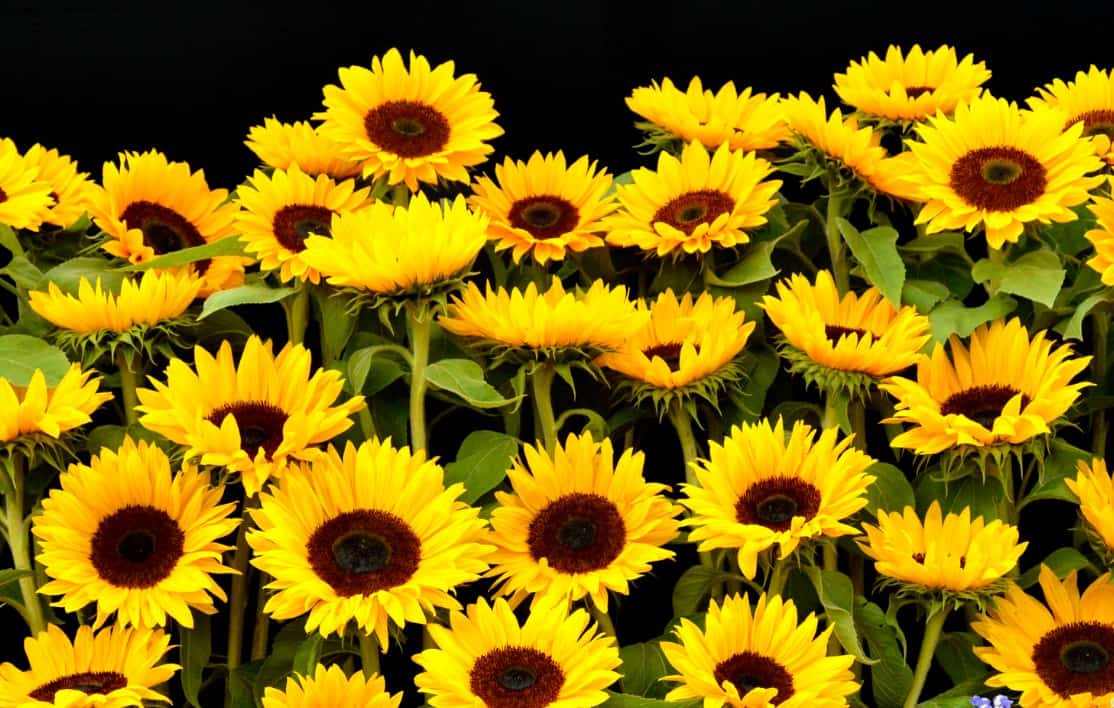 The beach sunflower, sometimes called the dune sunflower, is a perennial with a spreading habit. The flowers appear like small sunflowers, with yellow petals and dark centers.
Blooms last the entire year, and the showy flowers attract butterflies. Although these flowers aren't traditional low-growing cover, they self-seed.
Many of these flowers on the beach germinate on their own, and the foliage spreads fast with two applications of fertilizer per year and well-draining sandy soils. With full sun, beach sunflowers can resist salt spray. The cut flowers also make excellent indoor arrangements.
Asiatic Jasmine (Jasmine minima)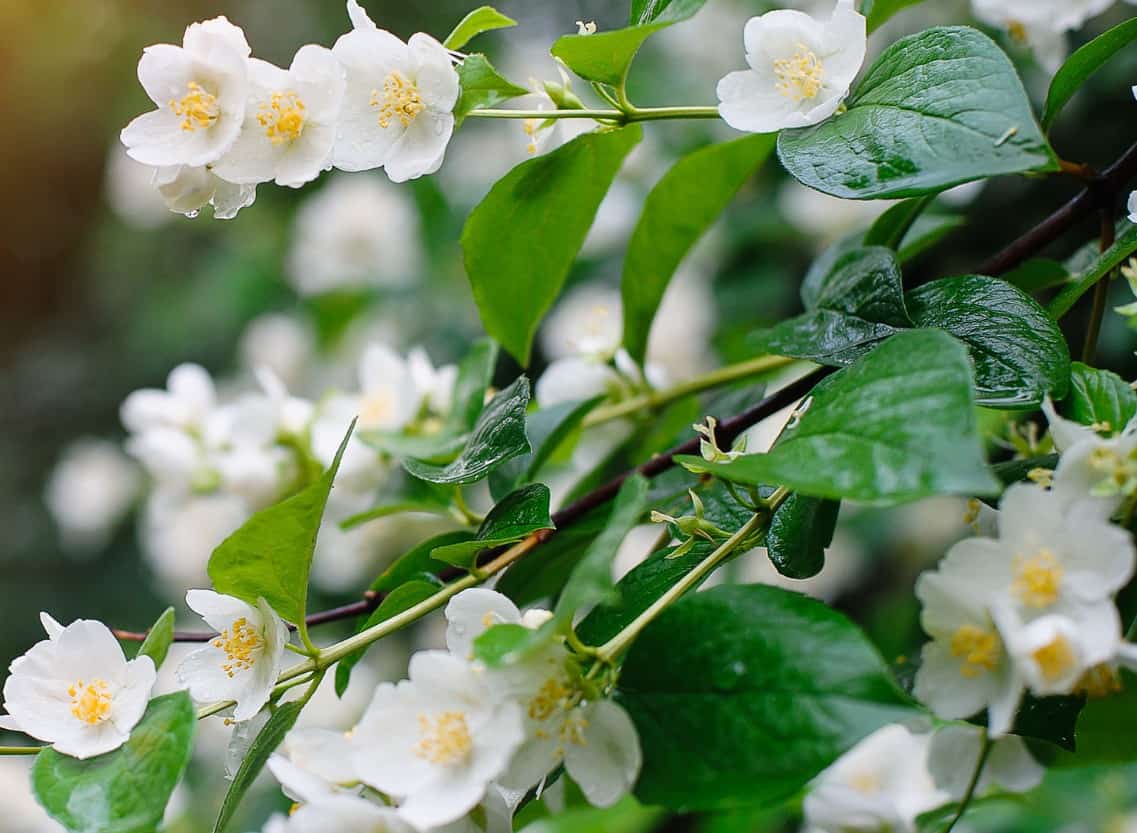 A low-growing evergreen cover, Asiatic jasmine is a low maintenance option that grows up to 18 inches tall and spreads around three feet long. The plant tolerates the most growing conditions and is trendy in beach locations in Florida.
This type of jasmine requires well-draining soil and anywhere from full sun to full shade. Little water is necessary with the right growing conditions.
In mass plantings, the hardy vine-like plant makes an attractive turfgrass. Expect it to spread quickly in warm weather.
Creeping Fig (Ficus pumila) – Unique Vines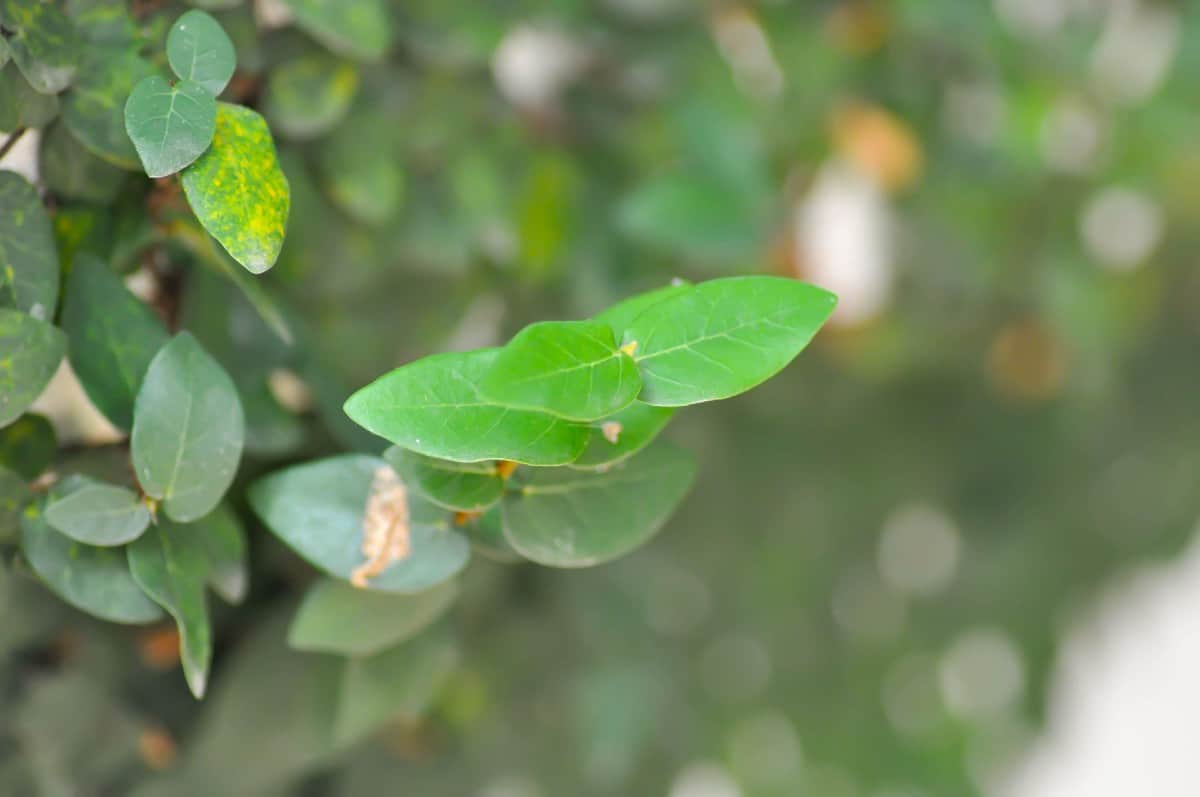 With unique vines that trail a fence or cover the ground, the creeping fig is particular. In partial shade or full sun, the plant grows around three-feet-long. This option grows fast, so it often covers walls outside of a country cottage in hot locations.
In cold areas, keep this fig as a houseplant. The lush green leaves need bright, indirect sunlight. In zones eight and higher, the plants grow outside all year in either full or part shade. Well-draining soil is best.
What are your favorites? Do you prefer to choose flowers over foliage? Native plants to your space are helpful because the various beach climates change so widely across the country. Select the best species for your needs. Flowers are a plus.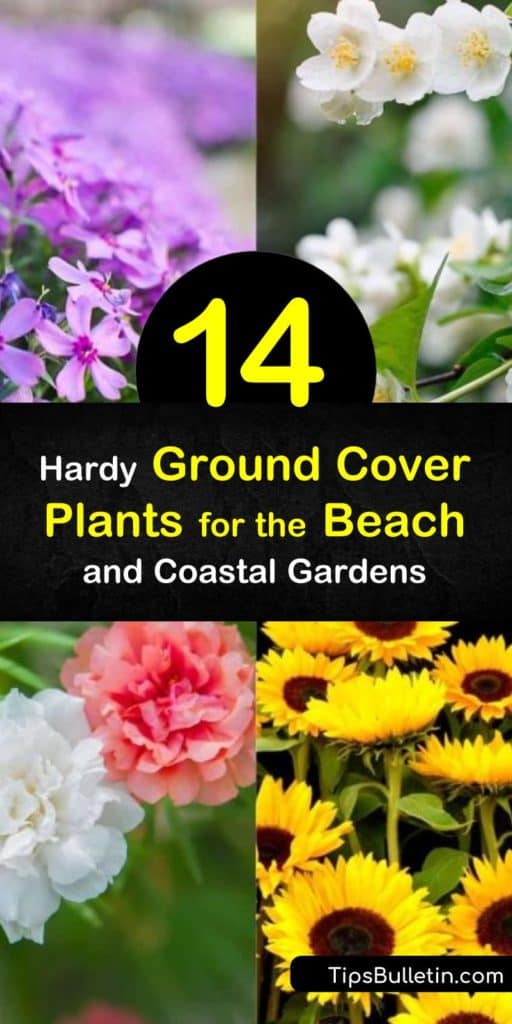 If you found our extensive list of ground cover plants for the beach beneficial, please share the attractive greenery with your friends on Pinterest and Facebook.