We all know that April showers bring May flowers, but that also means that areas around our property are prone to excessive moisture. Using ground cover plants for wet soil is a great way to fill in the parts that don't drain well.
A vast majority of plants are unable to survive in such moist conditions. Thankfully, some species like having wet feet. Sometimes there isn't action to accurately remove the amount of water in the ground. If you live in northern locations, the thawing snow and ice flood some areas. The showers that the spring season brings add more water to the earth.
Although wetness during the first half of the year is expected, it causes frustration when areas of gardens and flower beds are mushy and water-logged all year. Add ground cover plants for wet soil around places with excessive water or poor drainage to keep your garden looking lush with greenery.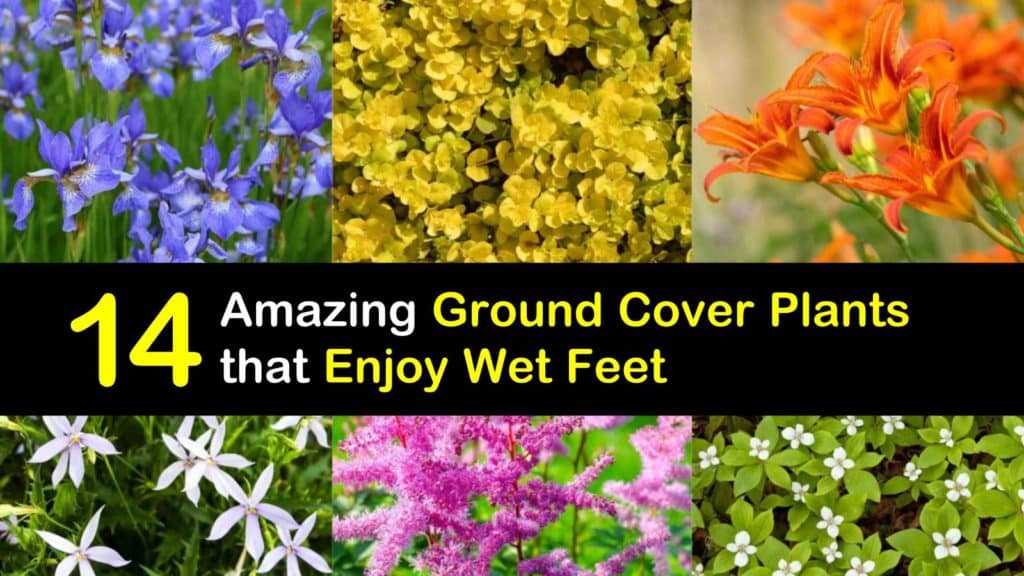 Water-Loving Plants to Add Around Your Home
Soil composition includes solid particles with small spaces for air and water to flow between them. The ideal soil for most plants contains about 50 percent matter, 25 percent air, and 25 percent water.
Soil that retains moisture for long periods compacts from the lack of air in the dirt. Without these pores in the ground, the plant's roots don't receive enough oxygen and lose the organisms and bacteria that help keep plants healthy.
Some people try to fix the problem by improving the drainage of the affected area. This solution is achievable by building raised beds.
Sometimes adding gravel to the dirt helps as well. If these don't work, though, it requires calling in a professional. Making a water-logged area drier is made simple by incorporating ground cover plants for wet soil in your landscaping.
Plant an attractive ground cover between pavers in a walkway or in a garden bed. These plants reduce the amount of weed growth, too.
The Perfect Grass for High Moisture – Japanese Sedge (Carex morrowii)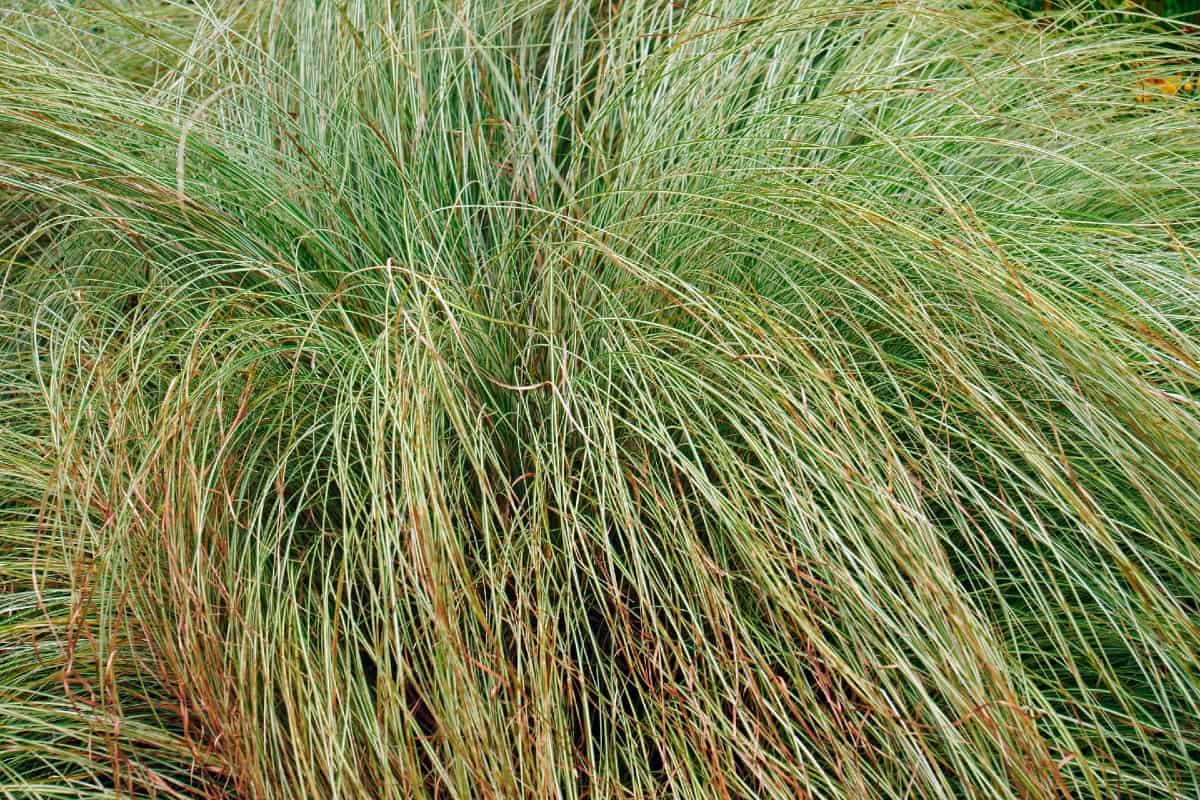 Japanese sedge is a favorite of all the ornamental grasses and used in a variety of landscapes. This plant is low growing and appears in clumps.
The arching, variegated foliage grows about 12 inches tall and reaches its mature size after about two or three years. It is also an excellent plant for adding texture and color throughout the winter.
Fertilized moist soil is a must for the success of this plant. Japanese sedge tolerates either full sun or partial shade and is hardy in USDA zones five through nine.
Water the soil deeply when it feels dry to the touch. Prune it toward the end of winter to enhance the foliage's appearance in your garden.
False Goat's Beard (Astilbe x arendsii)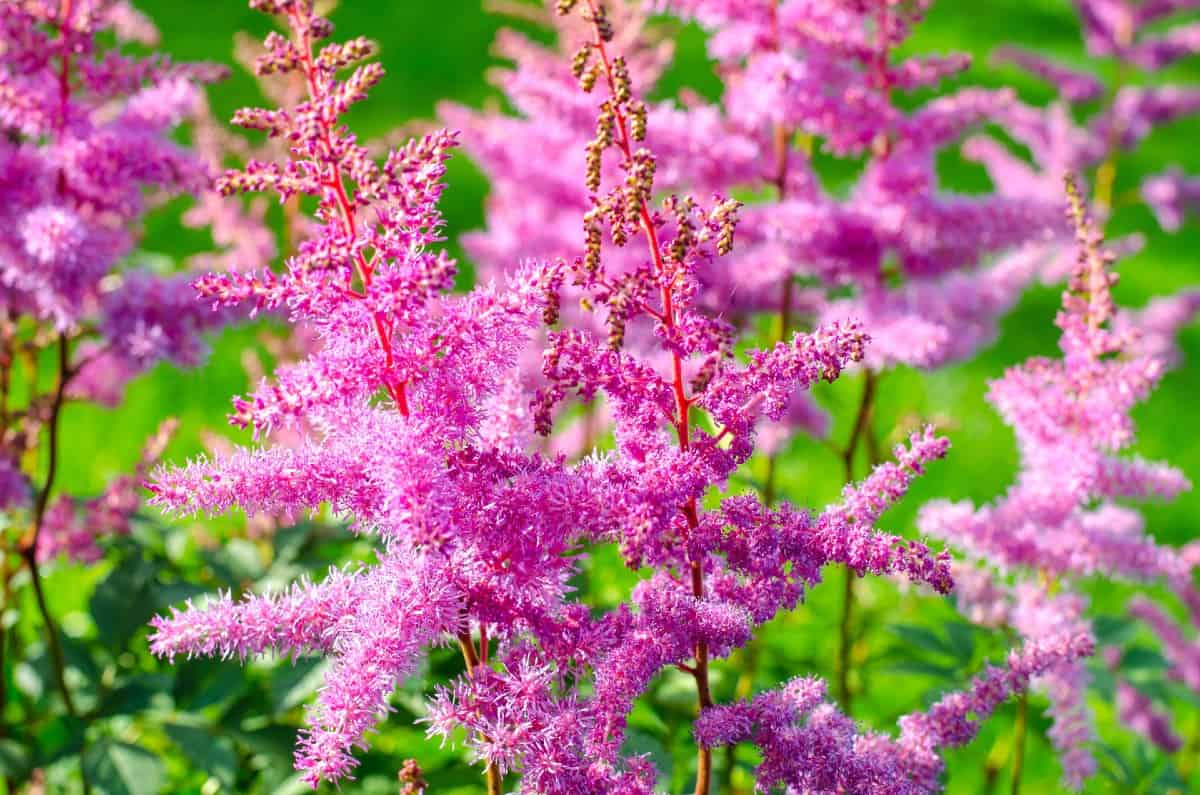 Astilbe, or false goat's beard, is a ground cover perennial flower. The feathery blooms grow on tall stalks with colors of white, red, and pink. They are pest-free and extremely low-maintenance. It is famous for its long-lasting luster and textural contrast.
Astilbe plants prefer areas with partial shade but tolerate full sun as well. For hot, dry weather, provide extra water and afternoon shade.
They like soil with an acidic pH of around 6.0. Divide them every four years to keep them healthy and prune the flower heads whenever they look dried out.
Daylily (Hemerocallis fulva)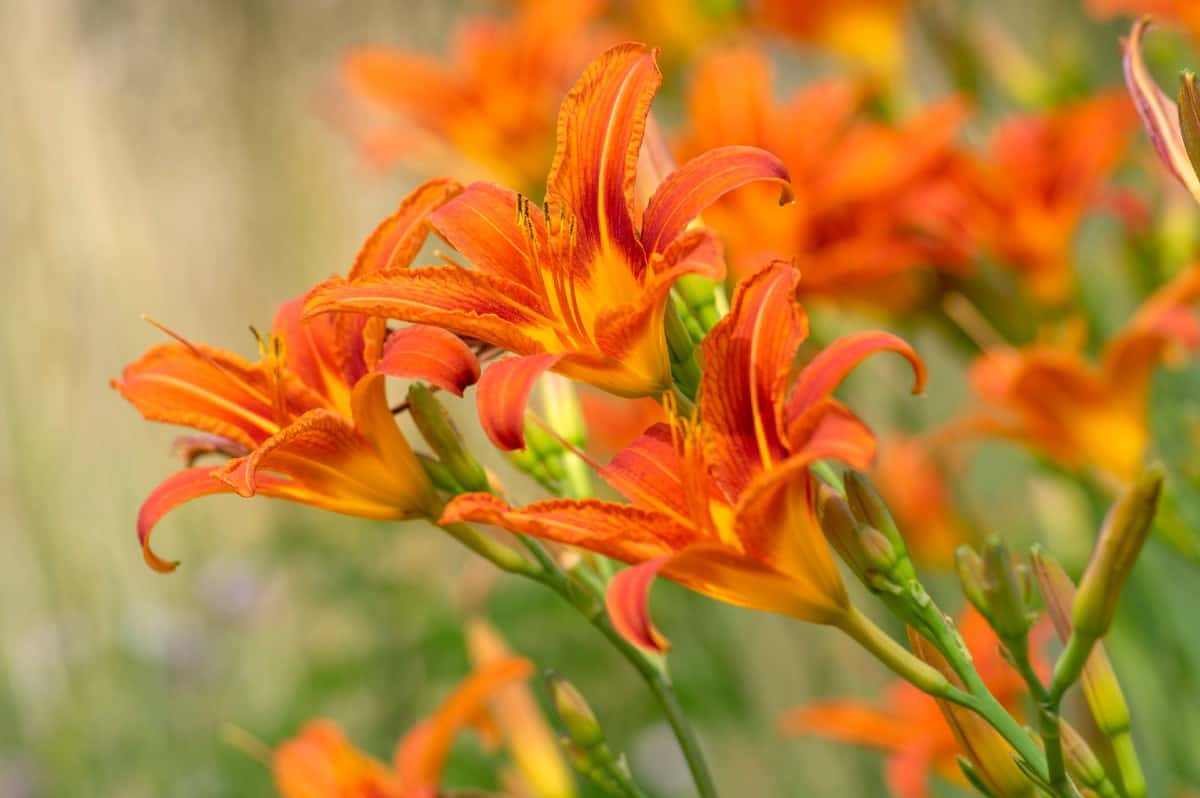 Daylilies are extremely hardy and thrive in USDA zones three through nine. They don't attract diseases or pests, bloom for many years, and tolerate nearly any soil condition.
The flowers have soft, orange and yellow petals and green leaves that cascade to the ground. Daylilies like areas with full sun and appreciate some afternoon shade to help them retain their color. They enjoy wet soil as long as the area is well-draining.
Add compost to the ground before planting. Place them about one foot apart, so they have ample space to spread. As mentioned previously, daylilies are resistant to most pests.
However, a new rust disease has been spreading to them in the United States, so keeping them in an airy place helps prevent this.
The Most Stunning Ground Cover Plants for Wet Soil: Creeping Dogwood (Cornus canadensis)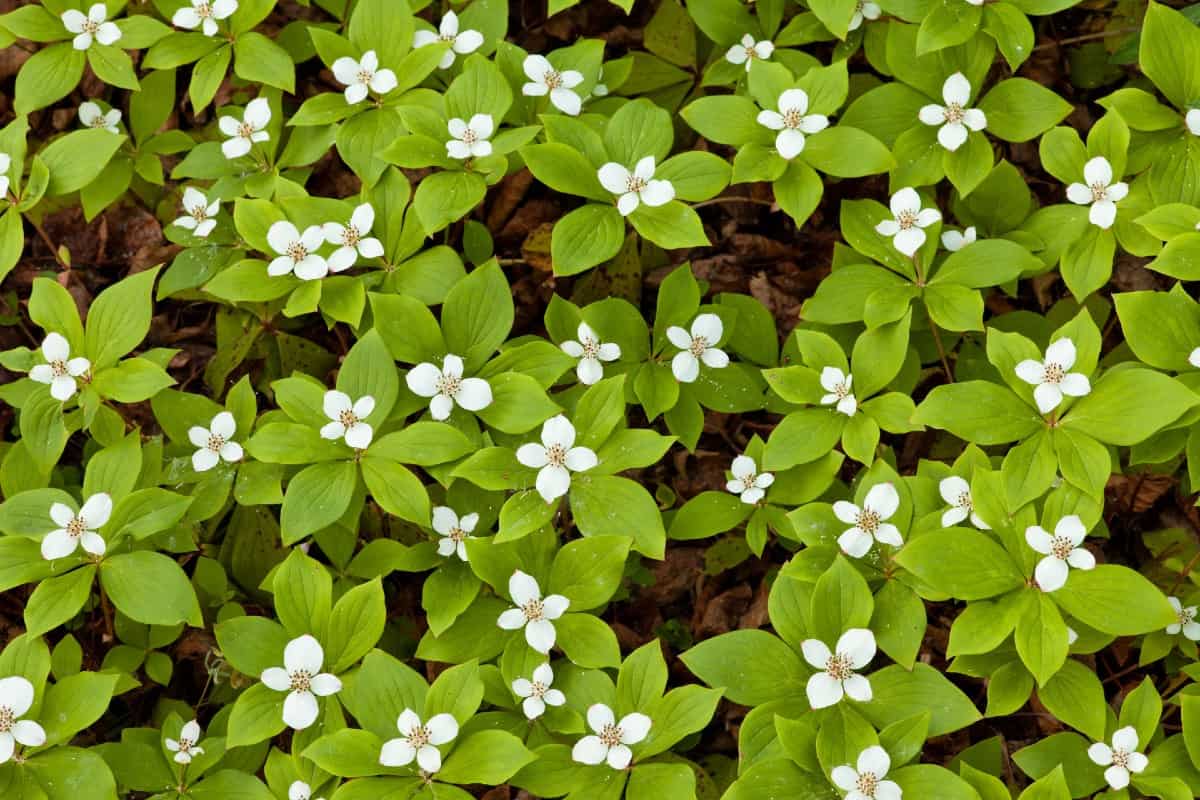 Creeping dogwood is a low-growing perennial that reaches about eight inches tall. Small yellow and white flowers appear from early to late summer, and the foliage transforms into a vibrant burgundy color during the fall.
This evergreen is a native plant to the Pacific Northwest, but hardy in zones two through seven. It attracts deer, birds, and other wildlife. Creeping dogwood is one of the ground cover plants for shade but tolerates morning sun.
Creeping dogwood loves soggy soil because if the temperatures of the soil reach above 65°F, the plant might die. Adding a layer of mulch or pine needles helps the ground maintain a cold temperature.
Siberian Iris (Iris sibirica)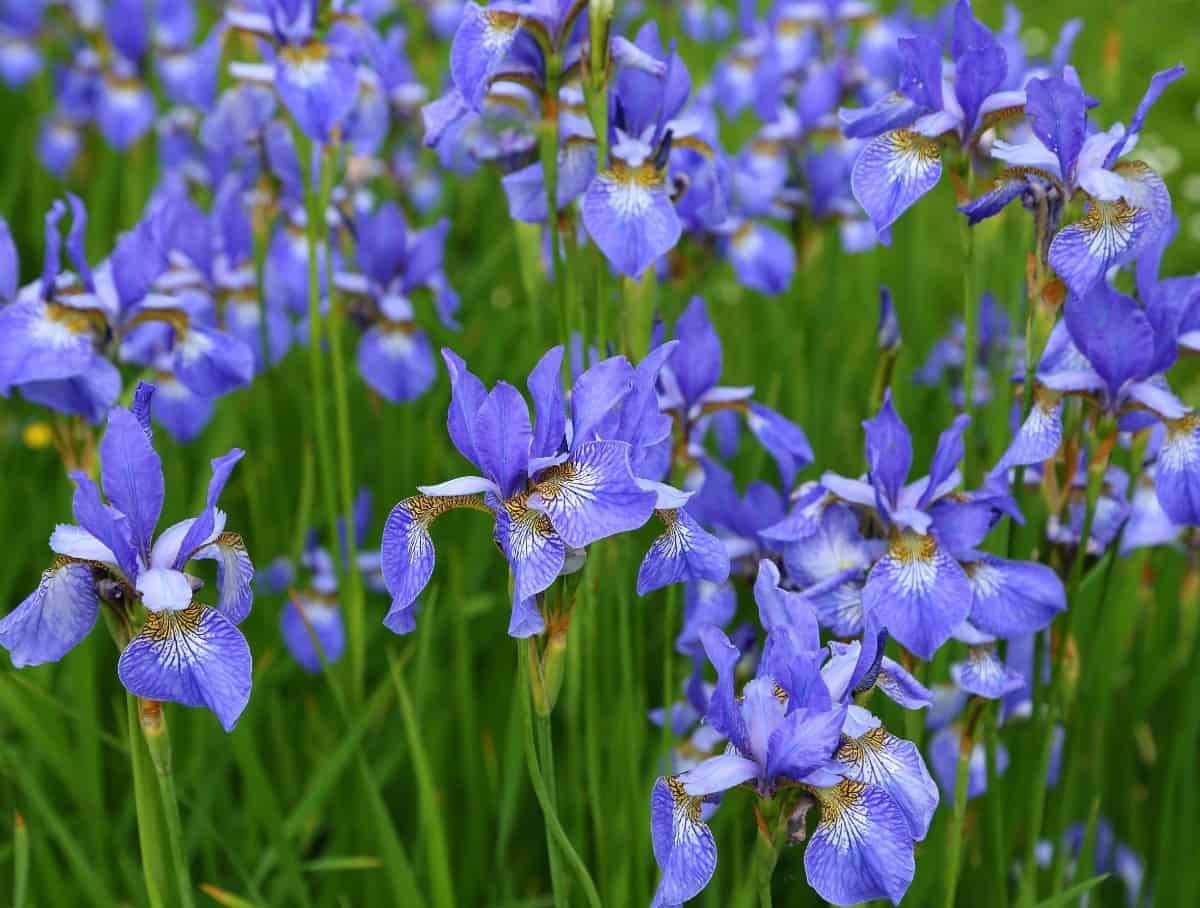 Siberian iris is a spreading perennial flower. This plant grows in clumps with long stalks and pale blue and violet, frilly flowers that bloom from early spring to early summer.
Each bloom has three flowers with an additional three that droop below them. Once established, iris is low maintenance. Water Siberian iris regularly for the first year. Divide the clumps every three to five years to keep them healthy and happy.
They prefer well-draining fertile soil but survive in more impoverished conditions like clay soil as well. As long as they are in wet areas, they are likely to endure for years to come. Plant Siberian iris in either full sun or partial shade and watch them thrive.
Hostas (Hosta lancifolia)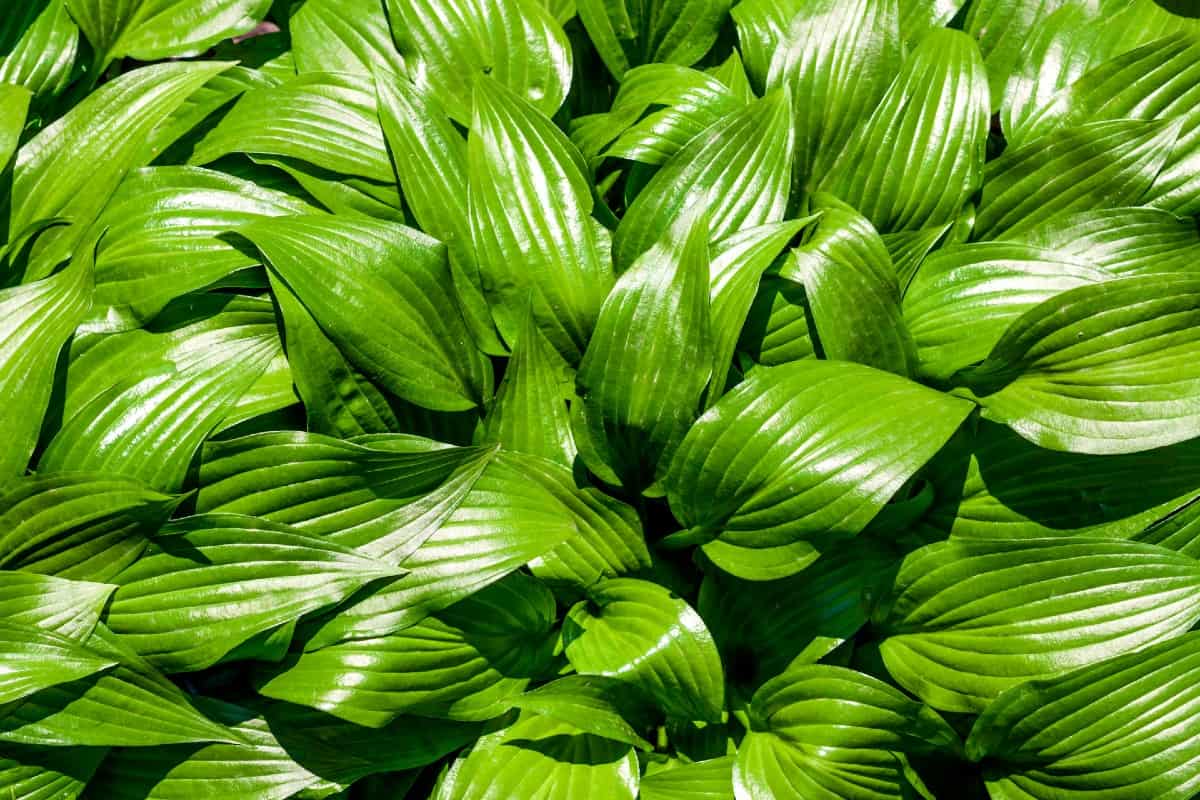 Hostas are one of the toughest plants you can incorporate into gardens with soggy soil. The variegated foliage comes in an array of colors and adds intensity to your beds from early spring to autumn.
They are likely going to outlive the owner and require very little work to maintain. They produce white, lavender, or pink flowers that hummingbirds love.
Keep the soil moist without becoming overly soggy and spread a two-inch layer of mulch around the base to protect the roots. Remove brown leaves in the fall and transplant them in the early spring before the plant has shown a lot of growth.
Leopard Plant (Ligularia dentata) – A Hardy Plant for Areas with Wet Soil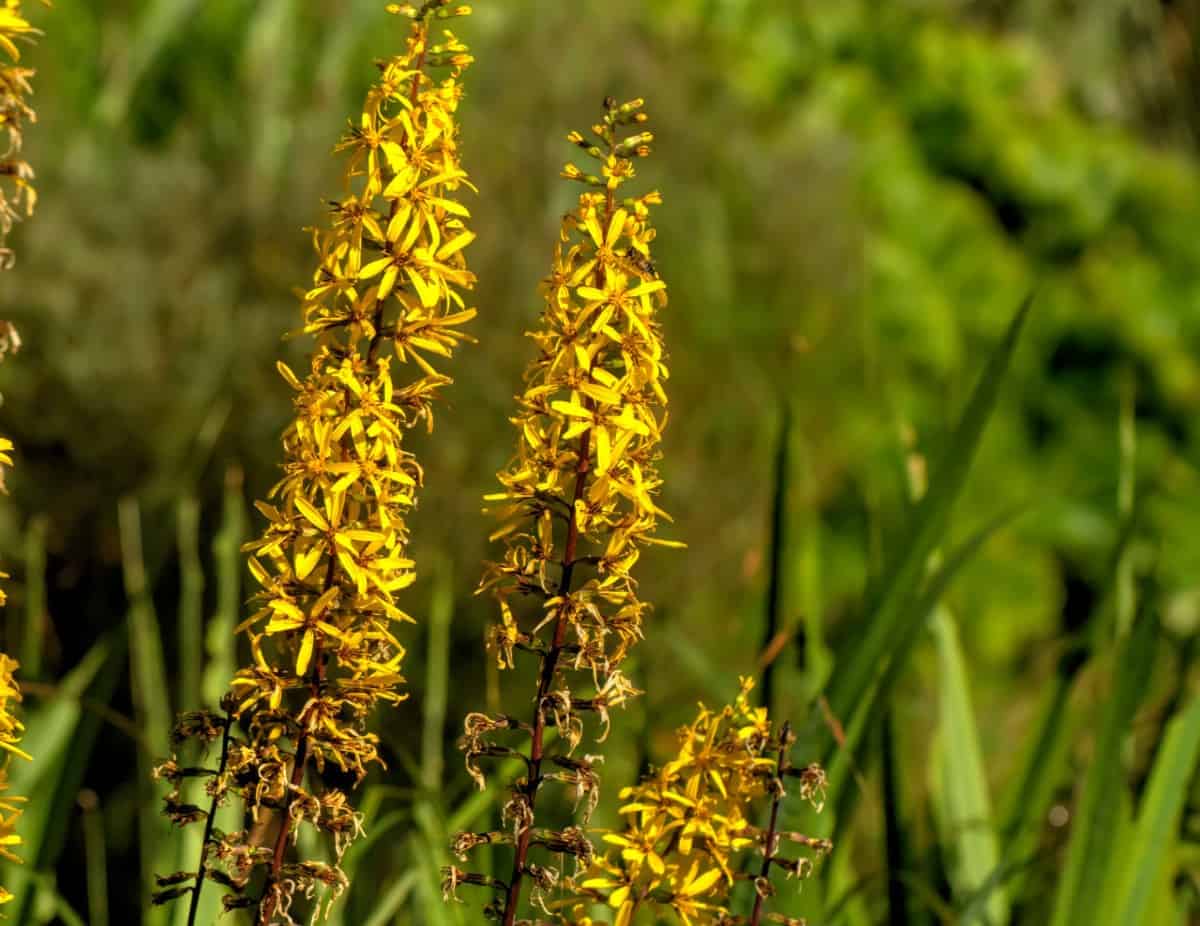 Ligularia, or leopard plants, are water-loving plants often found in boggy and marshy soils around water bodies. This plant has notched leaves and yellow flowers that bloom in late summer.
Leopard plants are hardy in USDA zones four through eight. Although leopard plants prefer to be next to ponds, they survive in naturally wet areas or dryer areas with regular watering. These plants require soil that is rich in nutrients.
Adding compost, dried leaves, or pine needles to the ground helps them thrive. The biggest issues homeowners face with these plants is that they're susceptible to slug and snail damage, so keep an eye out for critters hanging around.
Ostrich Fern (Matteuccia struthiopteris)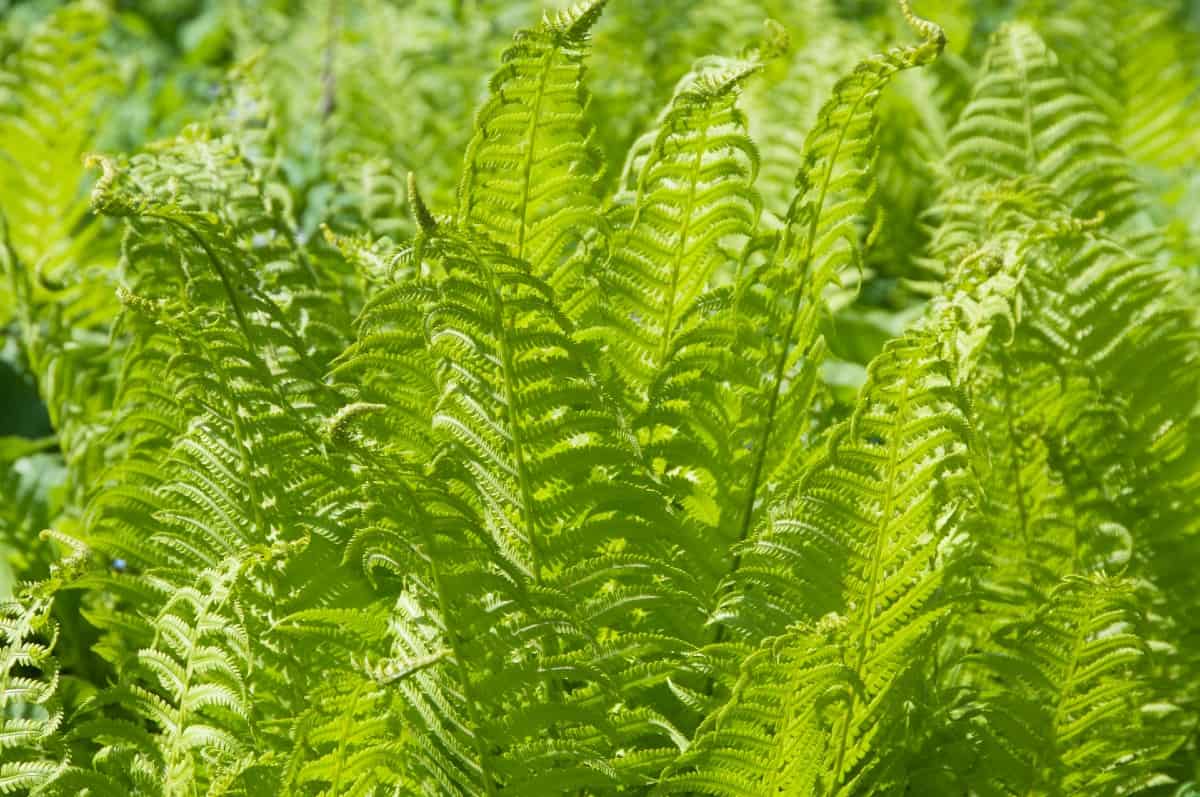 Ostrich ferns are the perfect plant for areas with lots of shade and damp soil. Even the areas where nothing seems to grow don't stand a chance against this fern. They are native to North America and hardy in zones three through seven.
They grow from three to six feet tall. The foliage grows in vase-shaped clumps, and the fronds arch over. Plant ostrich ferns in a shallow hole with plenty of room for the roots to spread.
The roots take to nearly all soil and water types. Once established, the plant spreads through underground rhizomes and fills the area with lush green foliage.
Japanese Sweet Flag (Acorus gramineus)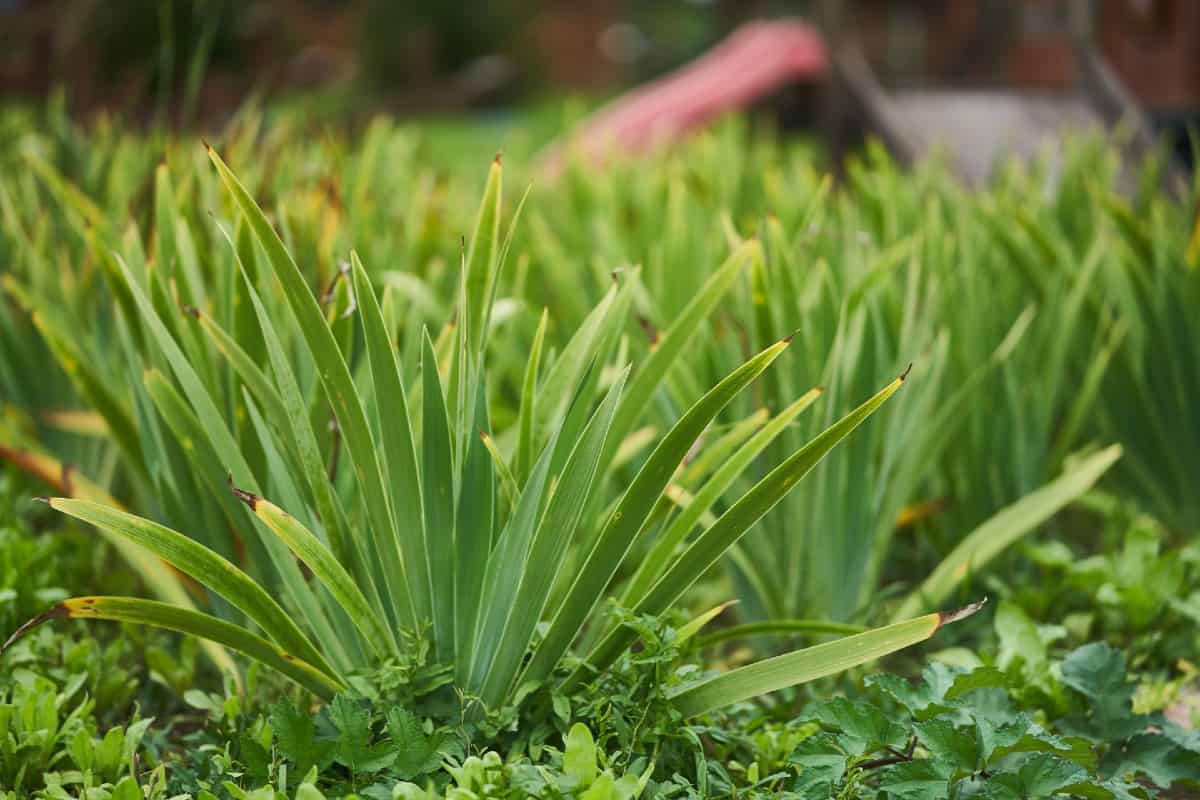 Japanese sweet flag is another ornamental grass that produces long, narrow blades streaked with creamy yellow and green colors. Although it looks similar to grass, it is not related to it and provides enough variety to add intrigue.
It takes a maximum of five years to reach its mature height, but the fan-shaped clusters and sweet fragrance bring something new to your landscaping.
Sweet flag prefers full sun with some light shade during the hotter afternoon hours. It is hardy in zones six through ten and withstands temperatures lower than 39°F.
Eye-Catching Grounder Cover Plants – Blue Star Creeper (Laurentia axillaris)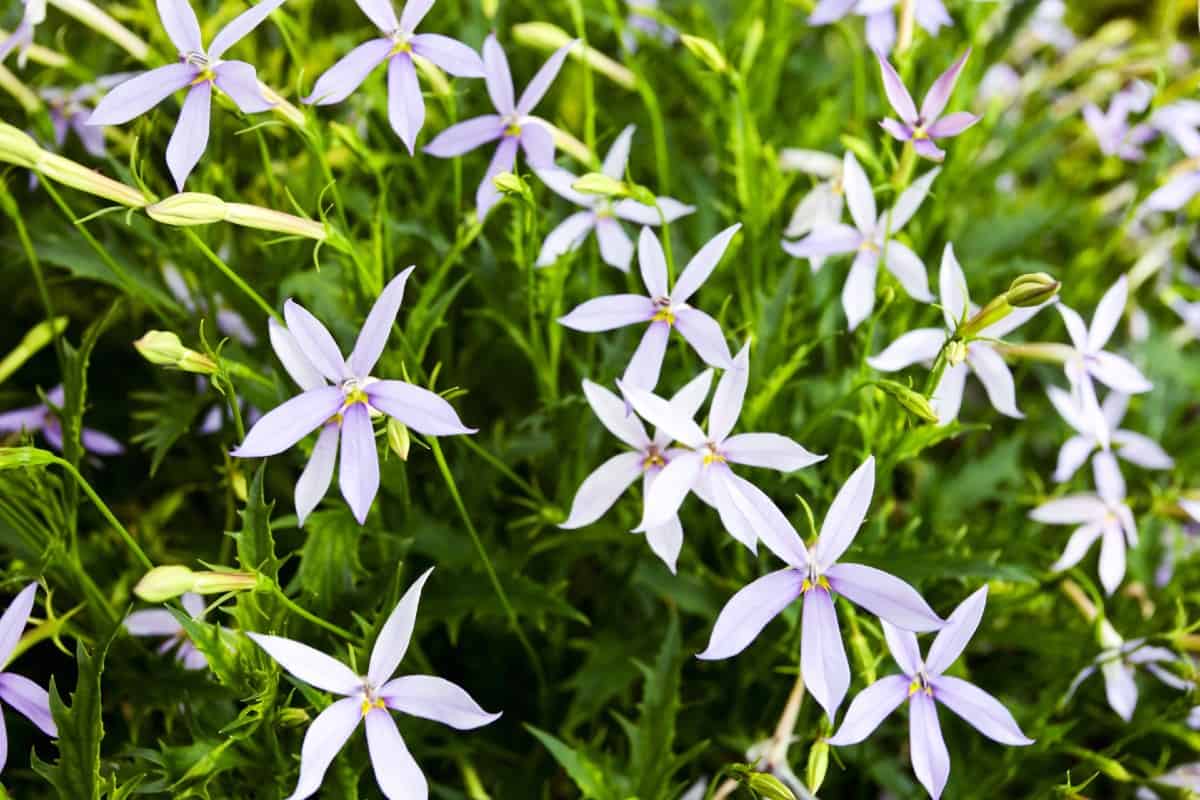 Blue star creeper is one of the best ground cover plants for wet soil that is perfect for replacing grass or filling gaps between pavers or under shrubs. It reaches only three inches high and has small, blue flowers that bloom in the early and late spring.
Blue star creeper appears fuller and lusher with a few hours of sunlight per day. Keep in mind that it spreads very quickly, and over-fertilizing or watering may create invasive ground cover vines. If this plant starts to take over an area, it is easy to pull to make it look cleaner.
Golden Creeping Jenny (Lysimachia nummularia)
Creeping Jenny is another groundcover plant that grows fast. The rounded foliage provides lemon-lime colors with small, bright yellow blooms in the summer.
One, single creeping Jenny plant spreads over two feet wide. It adds a softness to hard edges and looks stunning along pathways and hanging over containers.
Plant each creeping Jenny about 12 to 18 inches apart. The dense carpet grows to a max of eight inches tall. It demands damp, but not soggy, soil with protection from the hot afternoon heat.
Scarletta Fetterbush (Leucothoe fontanesiana)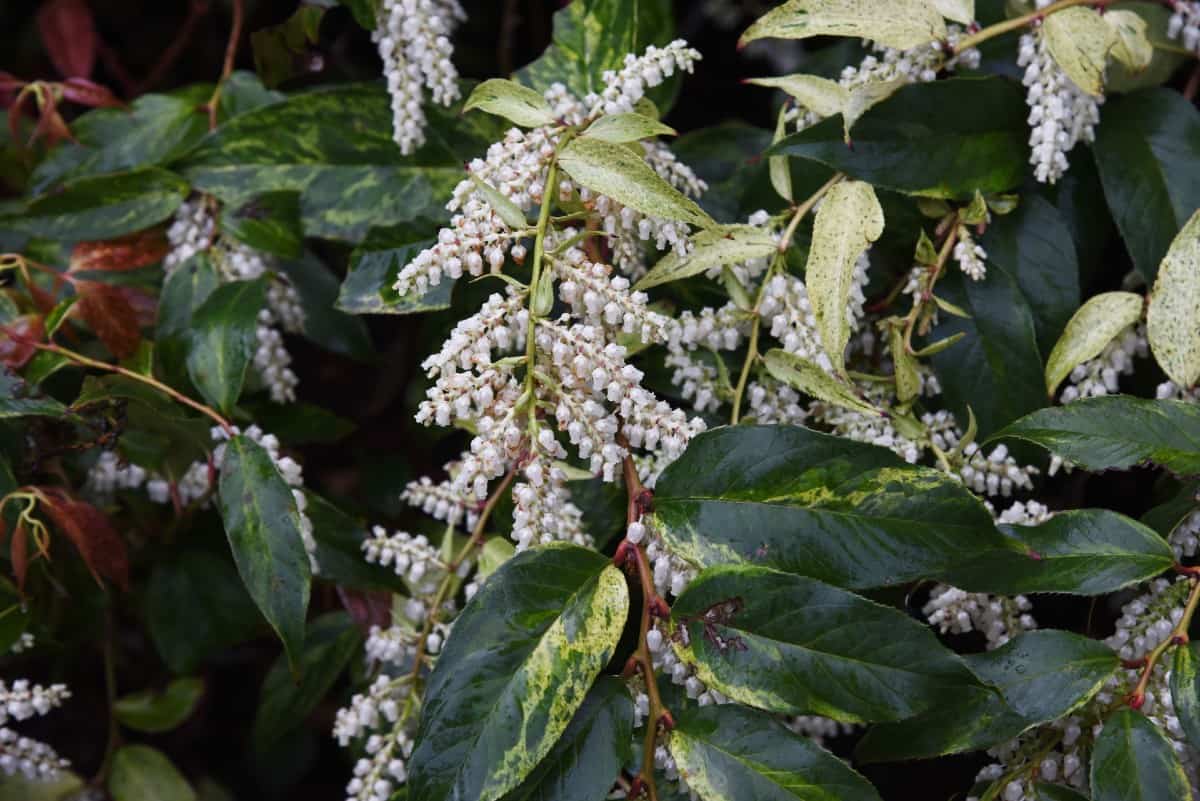 Although this plant isn't technically a ground cover plant, it is highly tolerant of wet soil and looks impressive in mass plantings. This evergreen shrub grows in nearly all soil conditions.
This shrub provides a vibrant green, red, and bronze foliage and stems lasting throughout even the harshest winter months. They also bloom dangling, bell-shaped flowers. The plant grows about three feet high.
Scarletta fetterbush requires consistent moisture, making it the perfect addition to wet areas in your garden. Plant this bush in an area with partial to full shade. Add organic matter to the location where you plant it.
Stonecrop (Sedum ternatum) – The Toughest Ground Cover Plant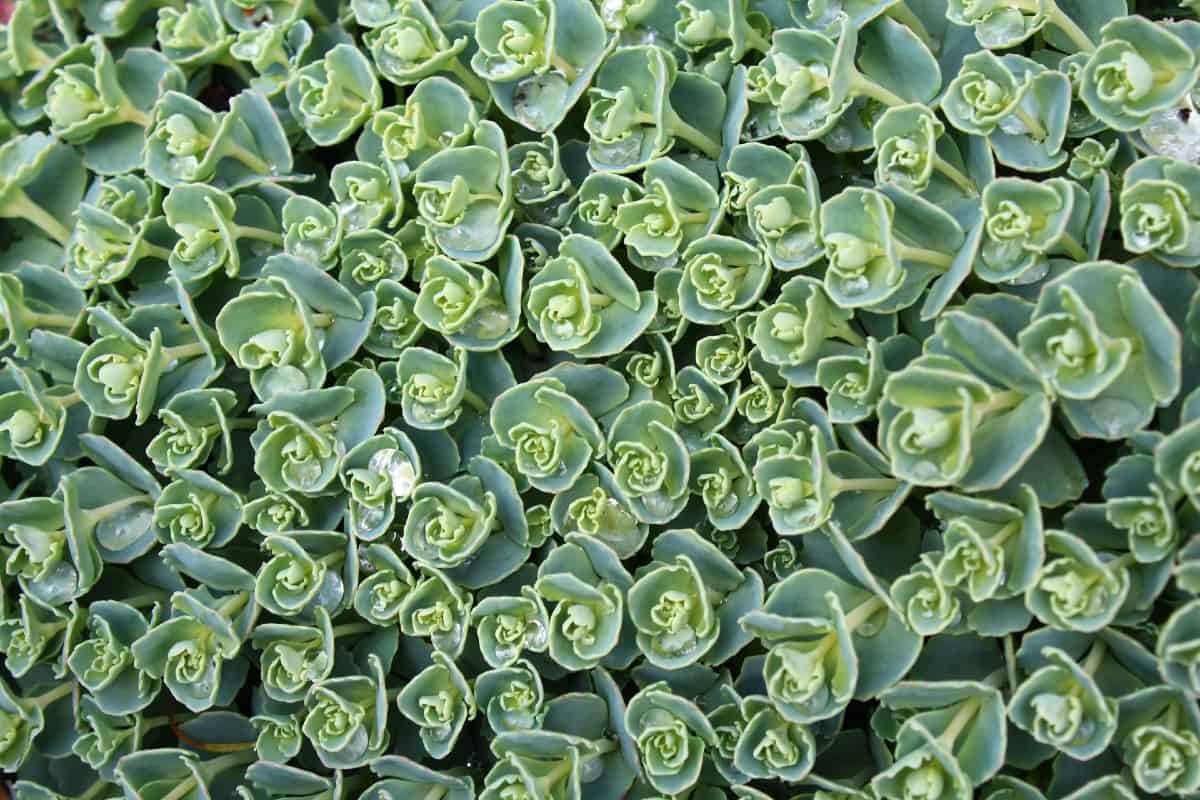 Stonecrop is an evergreen perennial with mat-forming foliage. The leaves are round and fleshy and resemble a succulent. It has star-shaped white flowers that bloom from mid-spring to early summer.
Stonecrop grows three to six inches tall and up to nine inches wide. It spreads by its creeping stems. Stonecrop plants thrive in full sun to partial shade with moist, well-draining soil and are ideal perennial flowers for rock gardens. It is also drought-tolerant once it becomes well established.
Spike Moss (Selaginella stellata)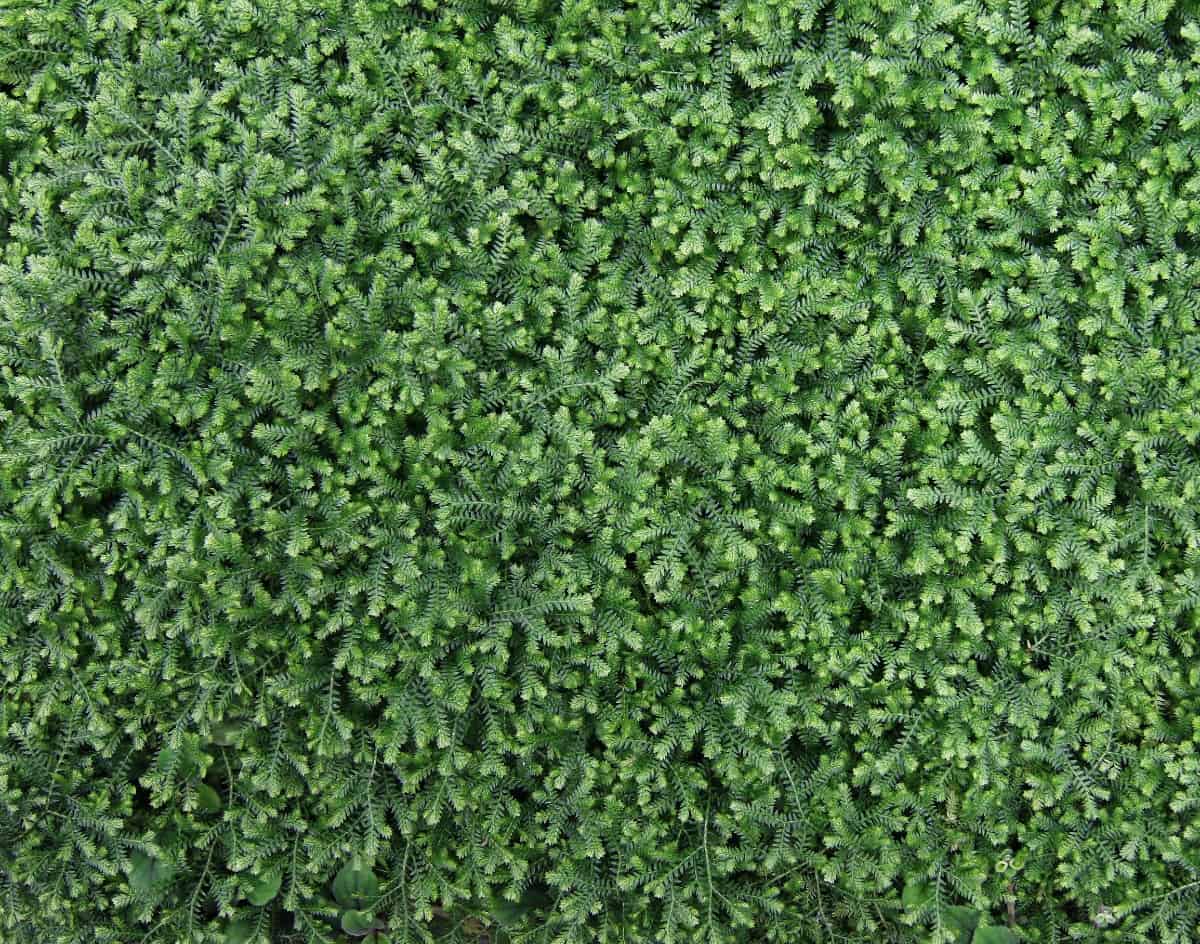 People tend to think of moss as the airy, green plant that covers rocks and trees, but spike moss is an entirely different kind of plant. It is more closely related to a fern and is one of the best ground cover plants for wet soil.
Spike moss produces large mats of spiky green foliage. Without the right amount of water, the plant goes dormant but resurrects itself when given water again.
Spike moss is hardy in all USDA zones up to 11 and tolerates temperatures as low as 30°F. Plant these ground cover ferns in wet, well-draining soil and full to part shade. Add peat moss to the soil to ensure healthy growth.
We understand how frustrating it is to have areas of your yard and beds drowned in water that refuse to drain.
Although making adjustments to your flower beds' height may seem like the best solution, there are tons of water-loving plants that add years of beauty and charm to your property.
Choosing the right plants for the area is essential to the survival of your flowers, shrubs, and bushes. Plants that already enjoy the muck require far less work and far more interest.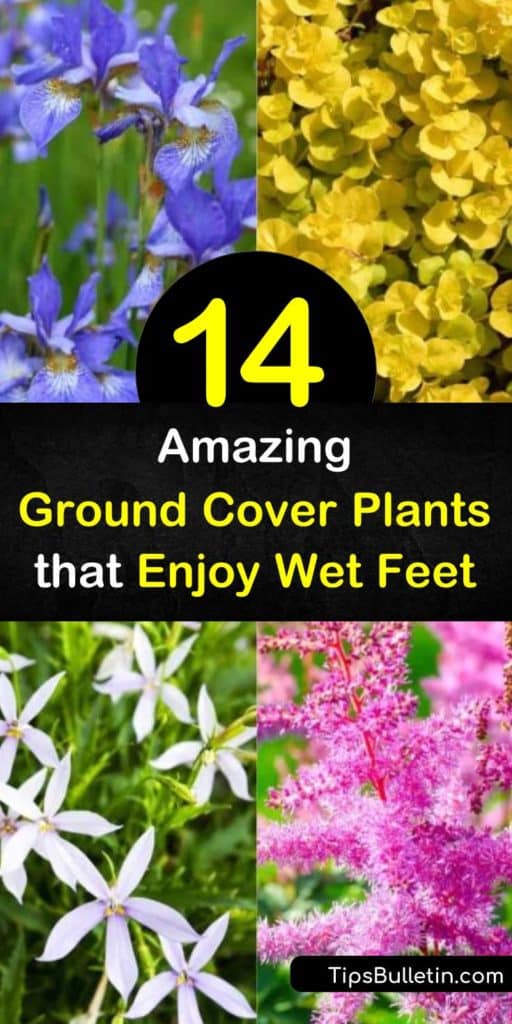 If your home is cursed with several locations that require ground cover plants for wet soil, please share these water-loving plants on Facebook and Pinterest.