There is nothing like evergreen ground cover plants to fill a vacant space in your yard and minimize the amount of time that you spend maintaining your garden. Over the first few seasons, after you plant these fast-growing ground cover plants, your flat space will be transformed into a rich tapestry of colors, textures, and leaf shapes.
They are perfect for sprucing up challenging areas under and around trees, accenting transitional locations along a home's foundation and pathways, and are perfect for adding visual interest to broad areas throughout your yard.
To begin transforming your yard, it's best to plant ground cover plants in the spring or early summer. Planting during this time of year gives them the opportunity to get well rooted, reducing the chances that they will heave out of the ground come winter.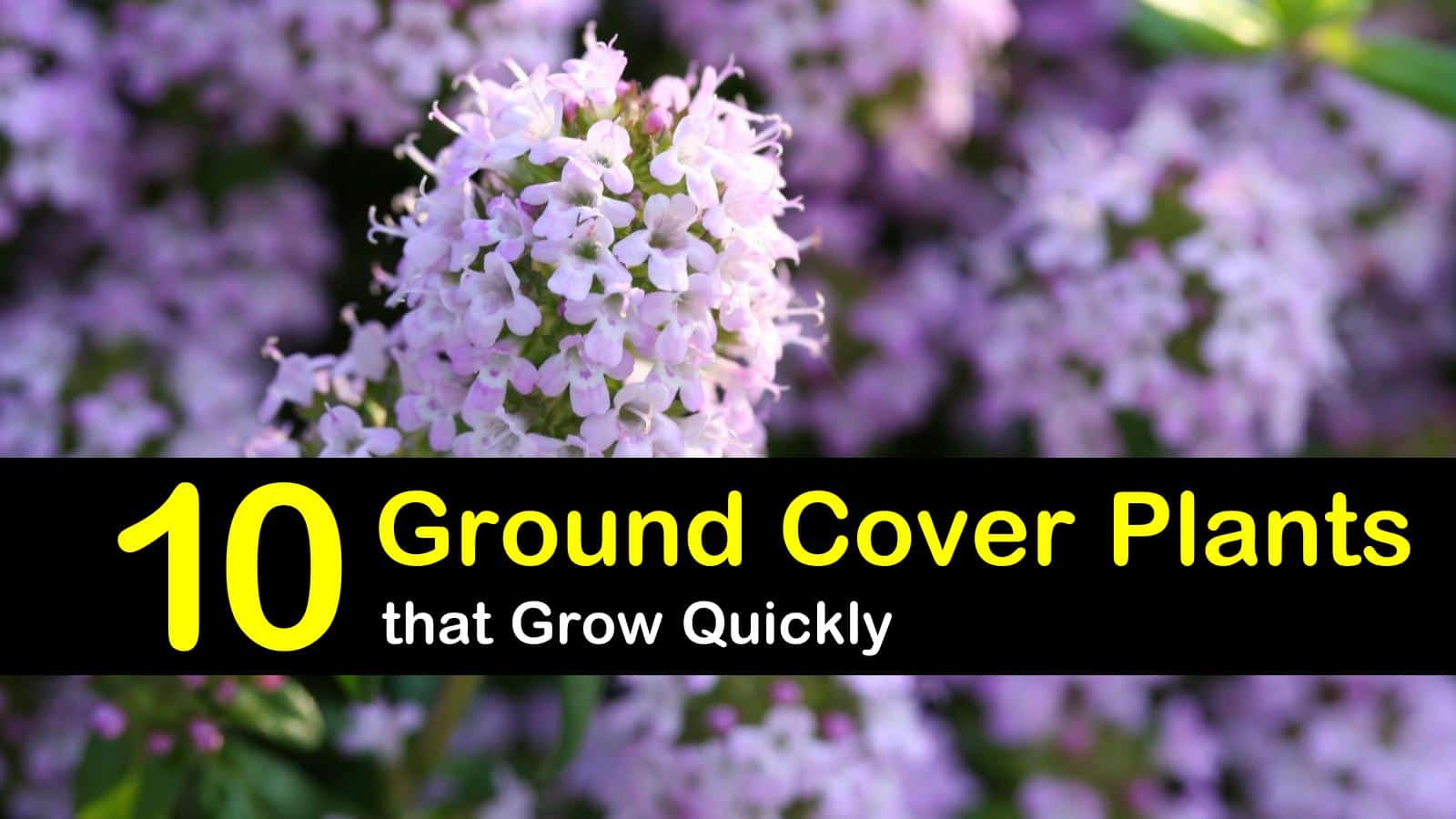 Fast-Growing Ground Cover Plants
It is vital that before you do any planting that you adequately assess the conditions of the area and prepare the soil. It is also essential to sufficiently space the plants and maintains them until they've become established.
Before you can enjoy the billowing waves of green leaves and foliage, you will have to take the time to care for the plants diligently, but it will be well worth it.
Similar to our article on evergreen shrubs, one bonus that evergreen ground cover plants and perennials provide, unlike turf, is a seasonal show of colors, fruits, and flowers.
Assess the Conditions of the Area
The most important and first step in establishing your ground cover plants, whether flowers or perennial grasses, is to evaluate the area and the soil. You will have to determine the texture of the soil first to determine if it is sandy and dry or if it's wet if it's a soggy clay or a lovely loam. At the same time, you'll need to test the acidity level and adjust the soil to raise or lower its pH.
You may also have to modify its texture by adding gravel or organic matter. Take the time to assess the shade and sun patterns of the area, as well as the degree of protection the area provides during the winter. Is it protected from the prevailing winds and sun, or is it exposed to the harsh winter elements?
Once you've come to understand the soil you have in the area, you can begin selecting plants that are best suited to the pH, drainage, texture, and degree of shade, sun, and exposure.
The Best Fast-Growing Ground Cover Plants
Fast-growing ground cover plants are great for filling underdeveloped areas of your yard with lush, green foliage and flowers when the season permit. As well as rose bushes, the following evergreen ground cover plants are great to use in areas of your yard that are underdeveloped or in an informal garden. With their capability to grow quickly and densely, you'll have a beautiful yard in no time.
When choosing your ground cover, it's essential to not only look at the conditions in your area and how quickly the plants grow, but also consider how prolific they are. Plants like English ivy are pretty, but they are highly invasive plants and can quickly take over not only your garden but your yard. They are also difficult to eliminate once established.
In addition to beautiful ground cover flowers, think about adding some herbs to your garden space, too. Not only will many herbs that grow in full sun complement your other plants, but you can likely use them in other ways, as well. Many herbs deter annoying insects from the yard and others can be used to add flavor to your recipes.
Trailing Periwinkle (Vinca minor)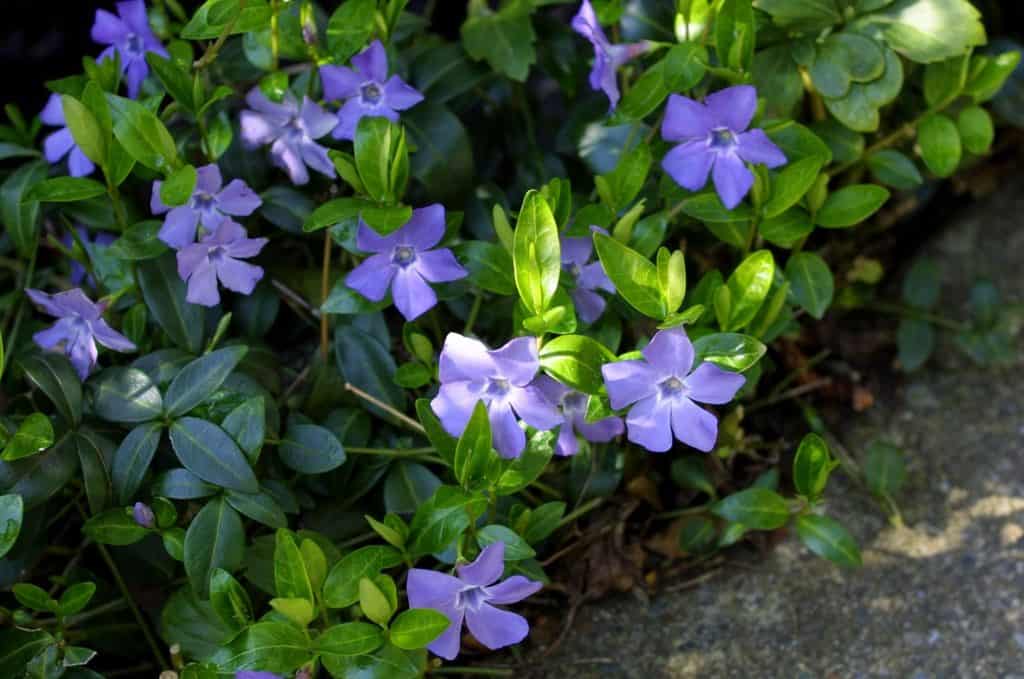 This ground cover plant yields beautiful periwinkle blue or violet blossoms that release a lovely scent. If it is left unattended, it will quickly spread throughout your garden.
It is crucial that you carefully monitor its growth so that it doesn't spread into other areas of your garden where you don't want it to go. The periwinkle plant is a great choice because it grows just as strong and dense in full sun as it does in full or partial shade.
Finding shade tolerant plants like periwinkle make it an excellent plant to place around the base of your trees, beneath tall shrubs, or on top of a rock wall where it will cascade down like a waterfall once it has become established. For a touch of lavender blue, choose some periwinkle. You won't be disappointed.
Dragon's Blood (Red Sedum)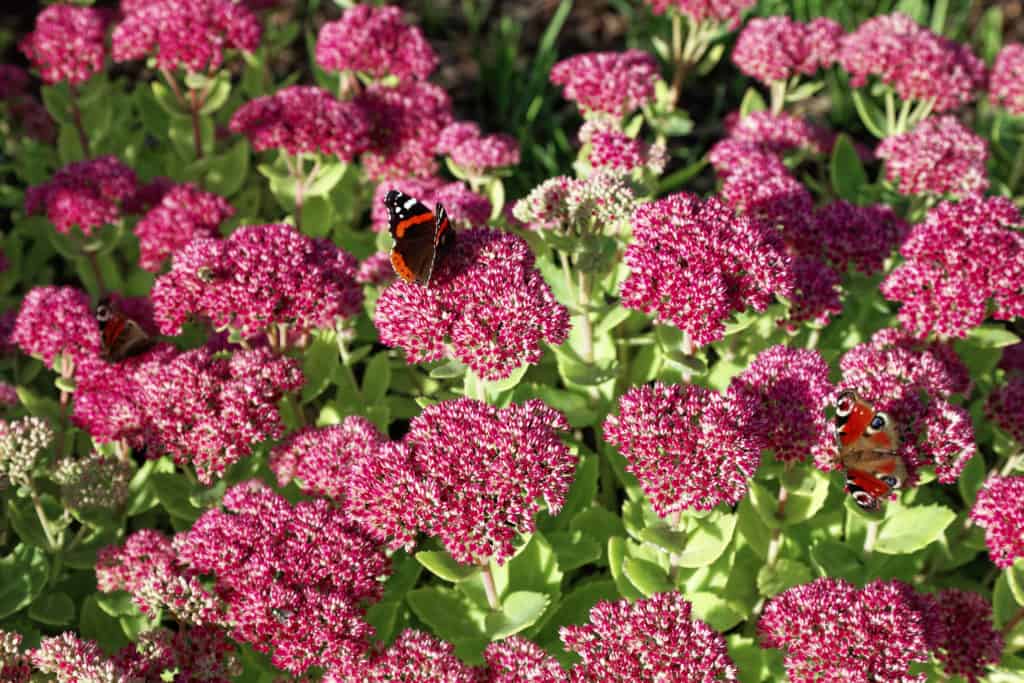 A beautiful and bold ground cover plant, Dragon's Blood loves the sun. It boasts a beautiful deep red color, and the more sun it absorbs, more brilliant color it will develop.
After several years, when these sun loving ground cover plants are fully established, they can stand 8-inches tall and become a wonderful perennial.
It grows quickly and will spread thickly throughout your yard. Dragon's Blood is an extremely hardy ground cover plant and will tolerate dry soil and temperature variations.
Creeping Phlox (Phlox subulata)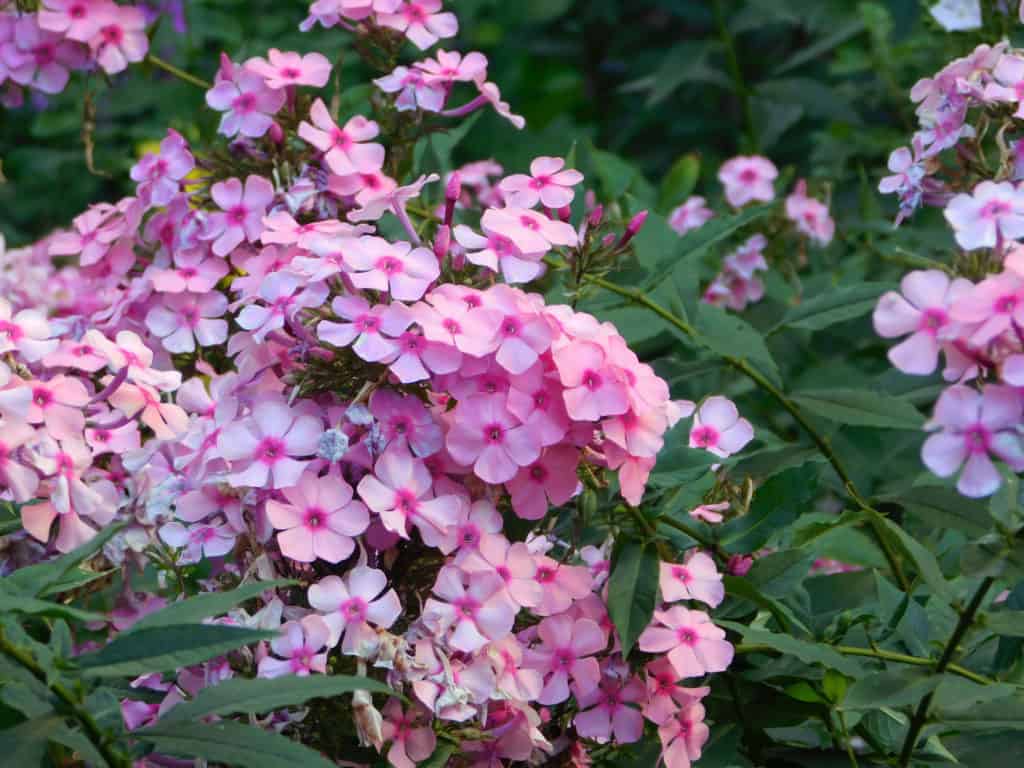 This low-lying ground cover plant produces flower blossoms in an array of outstanding colors. This particular species of ground cover plant is the fastest growing plant on this list, so it needs to be trimmed regularly, especially if you are using it along a pathway or as a border.
When the plant isn't in bloom, creeping phlox has tiny green leaves, transforming into a blanket of color when it blooms.
Golden Creeping Jenny (Lysimachia nummularia)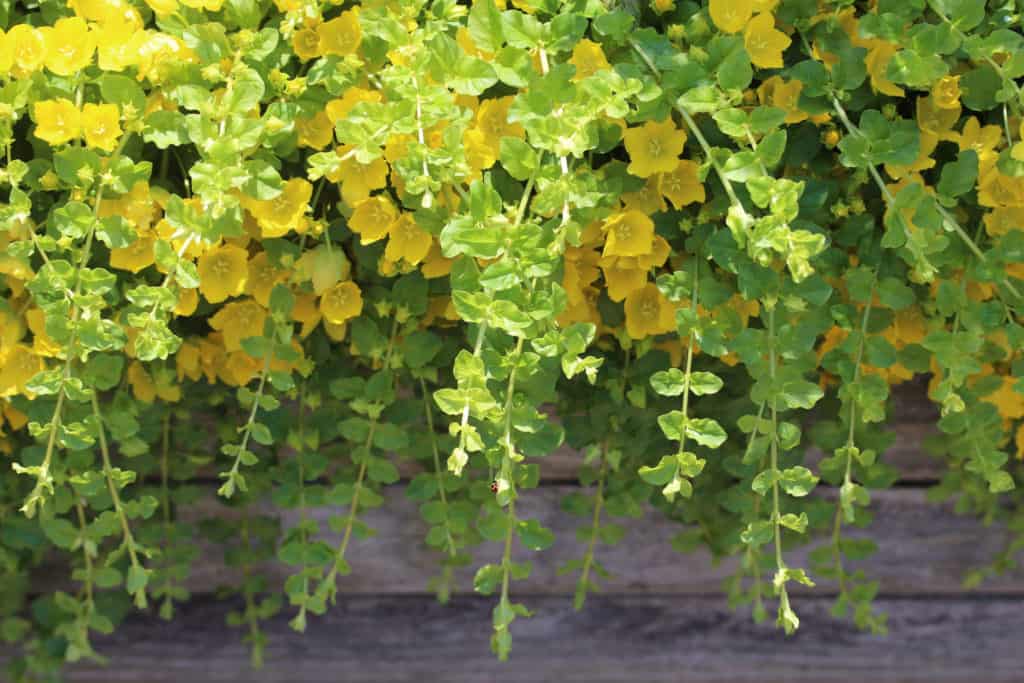 This rugged, ground cover plant thrives in wet areas. While it will grow in partial shade, planting it in an area with full sun will provide you with more vibrant colors.
It has long trailing stems, round chartreuse leaves, and vibrant yellow flowers. It can quickly cover large areas, choking out weeds and pulling out roots along its stems.
Mazus (Mazus reptans)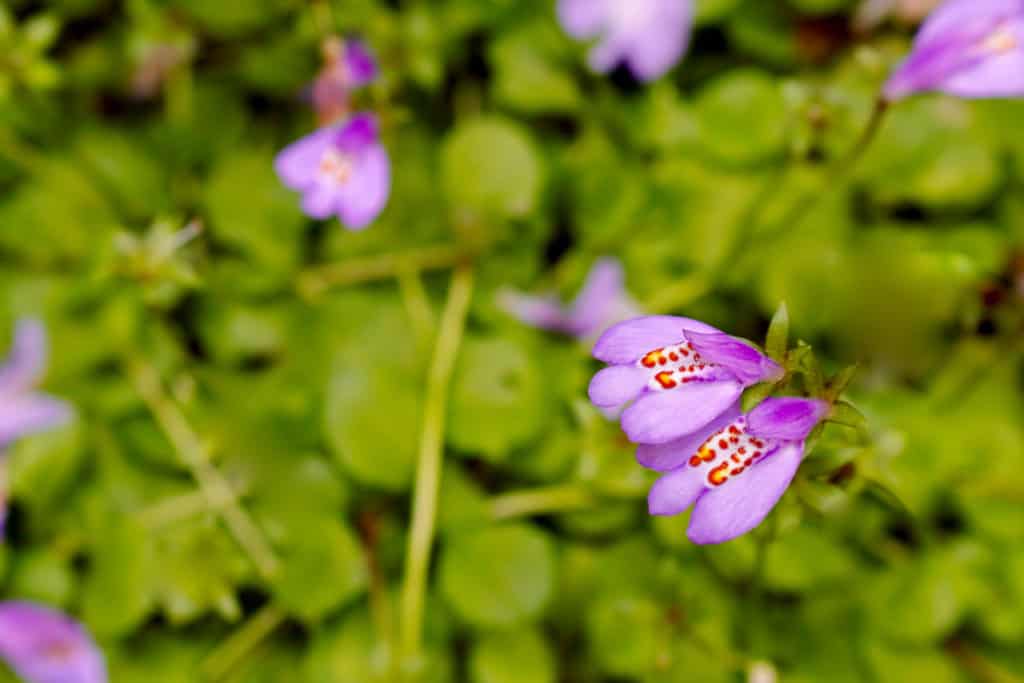 This is another perennial ground cover plant that's low-maintenance. This is one of the shade perennials that performs best when planted in partial shade but will also grow in full shade.
If planted in mild climates, it will remain green throughout the year and will begin to bloom in early spring. If you live in a tropical environment, it's essential to keep the Mazus moist during hot weather.
Tufted Creeping Phlox (Phlox stolonifera)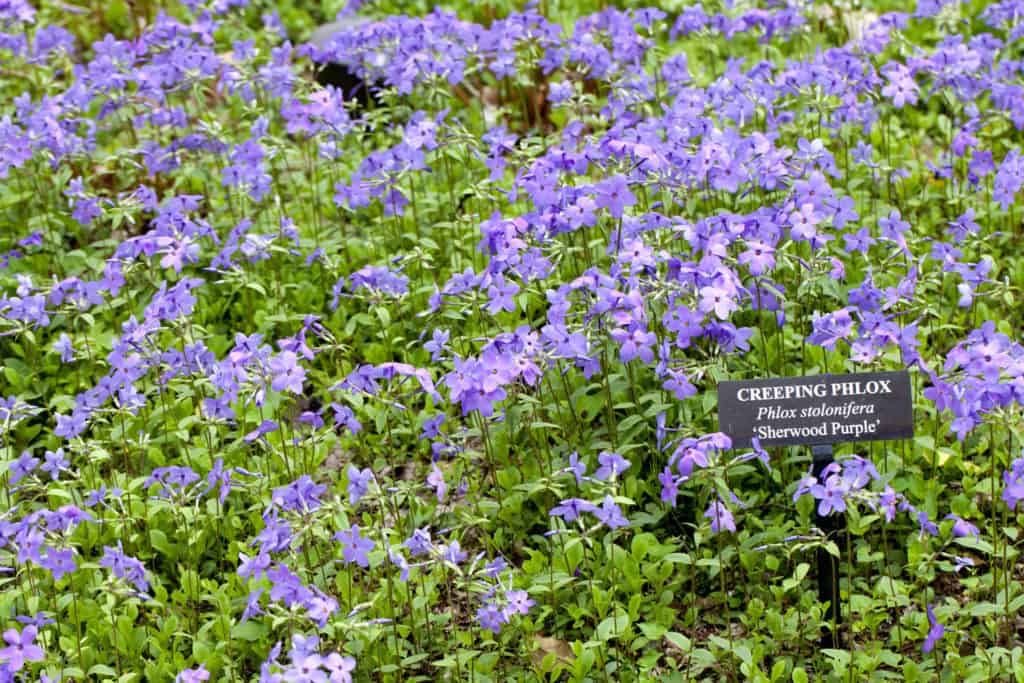 Native to North America, the tufted creeping phlox prefers to be planted in partial sun and moist soil. It is part of the phlox subulata easy to grow perennials family.
The needle-like evergreen leaves form a dense mat across the ground to efficiently suppress any weeds. It produces small pink or white flowers in the early spring and can reach up to 12-inches in height.
Creeping Thyme (Thymus Serpyllum coccineus)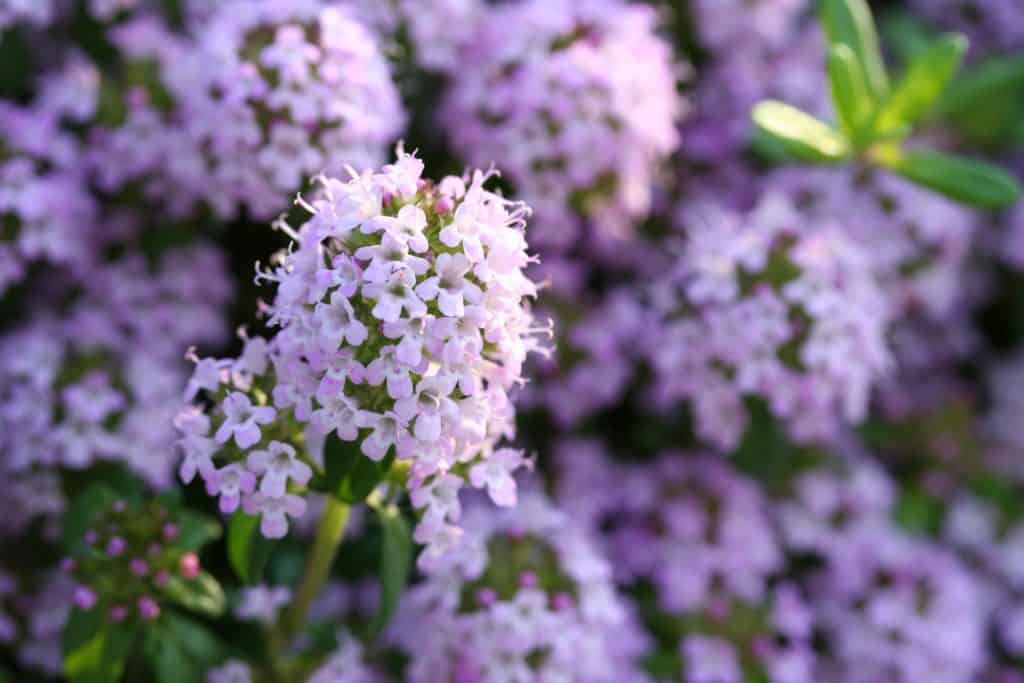 Red creeping thyme is tolerant to heat as well as being drought tolerant. It grows close to the ground and thrives in full sun. It is like the deer resistant shrubs and is great for planting around stepping stones, or along borders.
In the spring it enhances your yard with a deep green color, erupting into gorgeous crimson flowers in the summer. Because it grows close to the ground, it chokes out weeds.
Big Root Geraniums (Geranium macrorrhizum)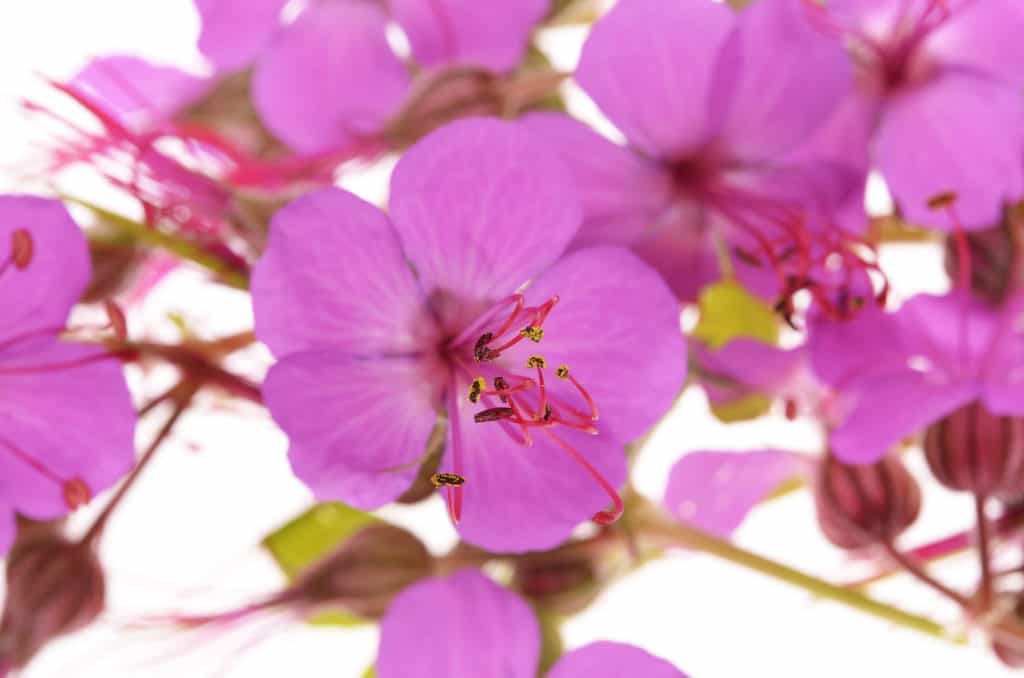 The big root geraniums need to be planted in well-drained soil which also helps to kill fungus gnats and thrive in dry to medium moisture and full sun. They can grow to 12-inches in height and form a thick, weed-resistant ground cover.
In late spring and early summer, the otherwise grayish-green plant transforms into a beautiful array of purple-pink flowers with inflated red calyces blooms. Sidenote: As a variety of the big root geraniums, try apple geraniums as they are very drought tolerant ground cover plants for hot areas.
Bearberry (Arctostaphylos uva-ursi)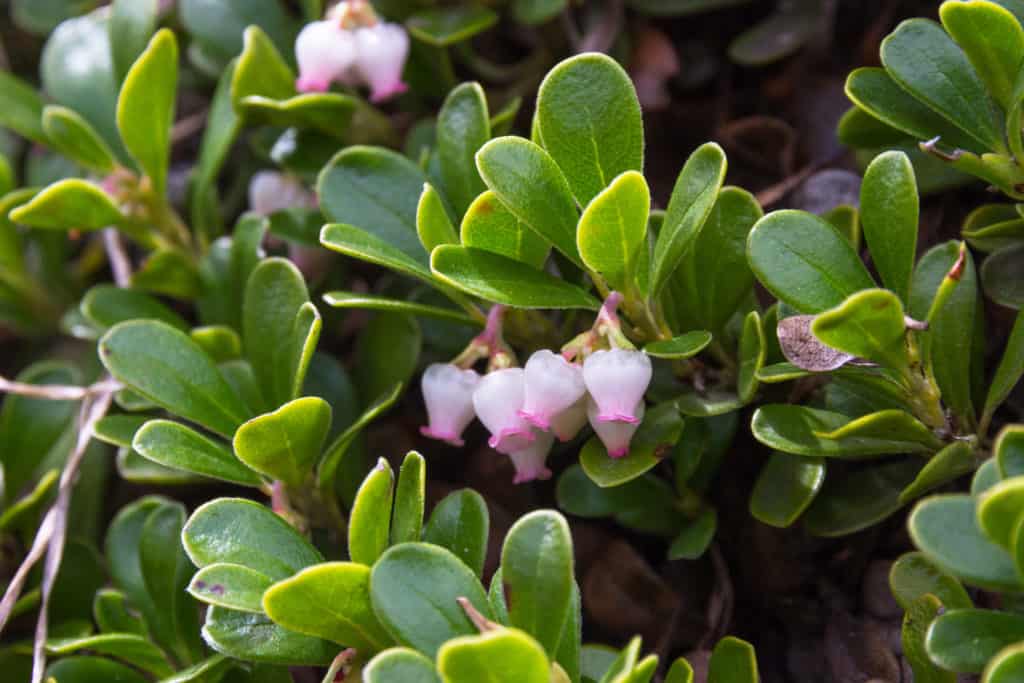 A low growing evergreen shrub, the Bearberry can be planted in dry, sandy, and rocky soils. It is a hardy winter plant that is slow-growing. It typically grows between six and 12 inches high, and three to six feet or more in width.
The Bearberry plant begins to bloom in early spring with miniature, drooping, white or pink flowers, and transitioning into rounded, berry-like fruits in August and September. These evergreen bushes have leaves that have been included in traditional medicine in Europe and by Native Americans in the United States.
Sweet Woodruff (Galium odoratum)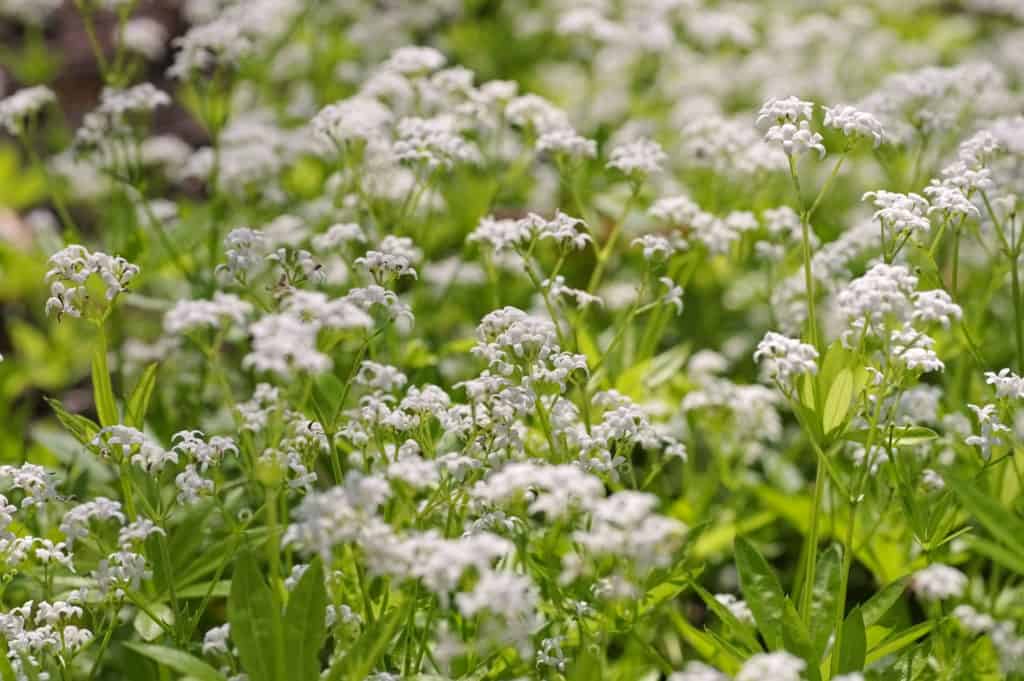 Sweet Woodruff flourishes in densely shaded areas, making it the perfect perennial and ground cover plant to have under trees and dwarf evergreen shrubs. It will add interesting textures to your yard with its star-shaped whorls of leaves and fragrant lacy white flowers.
If you have a problem with deer nibbling on your trees and plants, Sweet Woodruff is the perfect choice for your yard. Deer don't like this beautiful plant so it can help you create a deer proof garden with strategic planting.
Once the Woodruff plant becomes well established, maintenance is simple. Add some Epsom salt, but generally speaking, you won't need to fertilize it and will only have to water it in times of drought.
If you're trying to figure out how to add color and texture to undeveloped areas in your yard, consider planting an assortment of ground cover plants, dividing grass, or even large or small evergreen trees, in addition to a selection of perennials and annuals. The variety of plants will fill your yard with an array of beautiful colors and rich textures, with little maintenance required.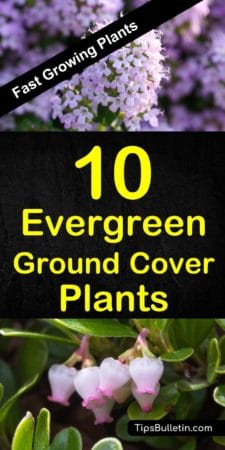 We hope you enjoyed learning about the best ground cover plants to bring into your yard. If you found this information about evergreen ground cover plants useful, please feel free to share these ground cover plants with everyone you know on Facebook and Pinterest.