Grasses are dull when it comes to filling in bare spots around our yard. Even if we did decide to plant grass as a filler, there are locations around our home that won't let anything grow. This is when ground cover shrubs swoop in to save your yard from being bland.
Ground cover plants include groups of low-growing plants with a creeping or spreading pattern. They are frequently used for covering areas of ground that you'd like to keep low maintenance, or that withstand more stringent conditions like lots of shade.
While this category does include different types of grasses, there are plenty of shrubs with pretty flowers and eye-catching foliage.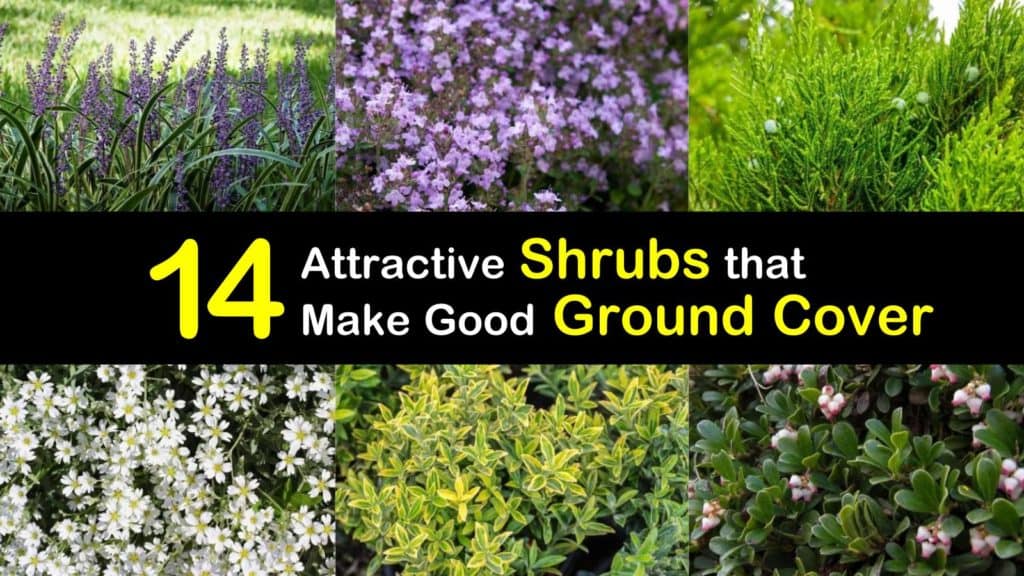 Information about Ground Cover Plants
Adding ground cover shrubs into your landscape design is a simple way to introduce textures and colors in otherwise dull or high-maintenance areas.
They are often chosen for specific reasons, such as locations with full shade, along steep slopes for erosion control, or solely for beauty.
Choosing your ground cover shrubs is the hardest part of the process. Most people can handle planting these plants. Once the plants fill the area, they are mostly maintenance-free.
There is no mowing required and there are minimal weeding, watering, and fertilizing requirements. They are so useful that we think everybody should add ground cover plants to their property.
Note that there are many more plants to add to your garden repertoire than we can list here. Choose a mixture of annuals and perennials, trees, fast spreading ground ferns, and grasses for variety and interest.
Bugleweed (Ajuga reptans) – Hardy Ground Cover Shrubs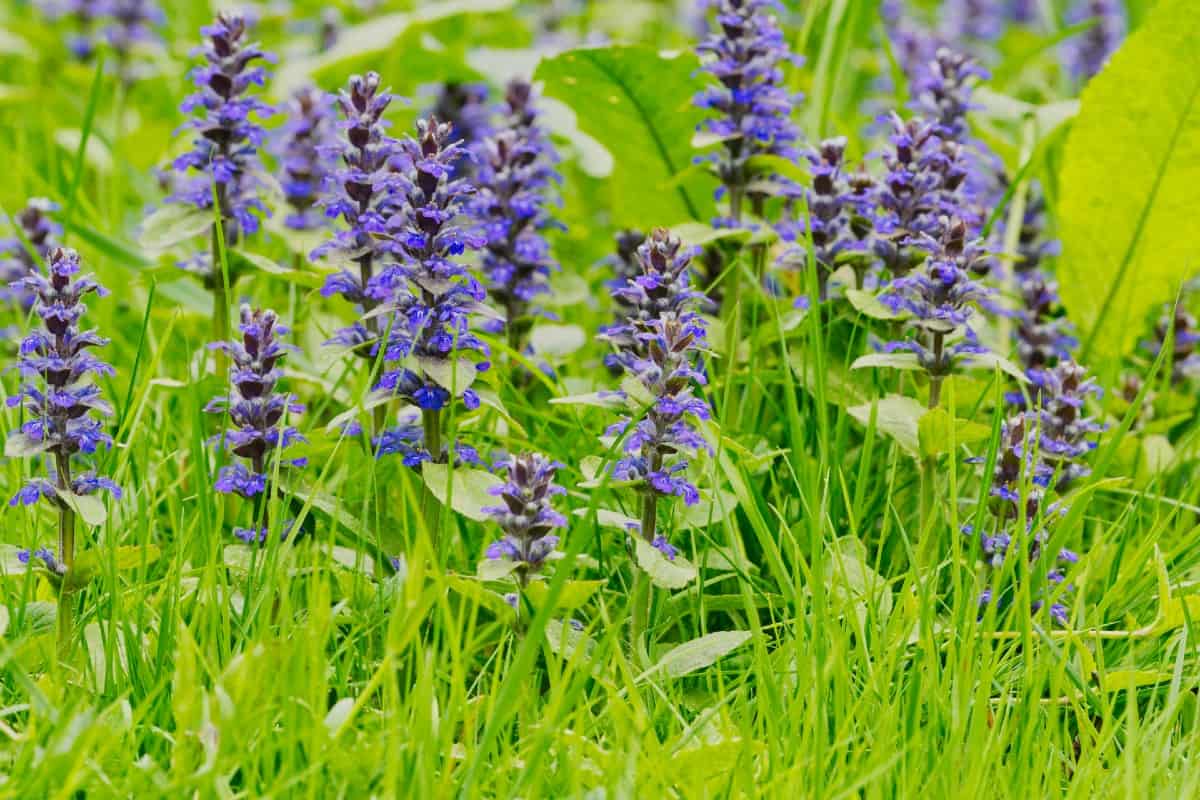 The bugleweed is a shrub that quickly fills in large areas that are begging for ground cover plants. This plant is a creeping evergreen that smothers out other weeds and adds attractive foliage and bluish-purple blooms.
They also work as erosion control and have year-round visual interest. This weed is also similar to spurge plants, another type of weed for ground cover. Bugleweed is part of the mint family and spreads quickly, so be sure to prune them to prevent overgrowth.
It forms a greenery mat that thrives in shady areas but does okay in the sun as well. Once these plants establish themselves, they require little maintenance and are deer resistant.
English Ivy (Hedera helix)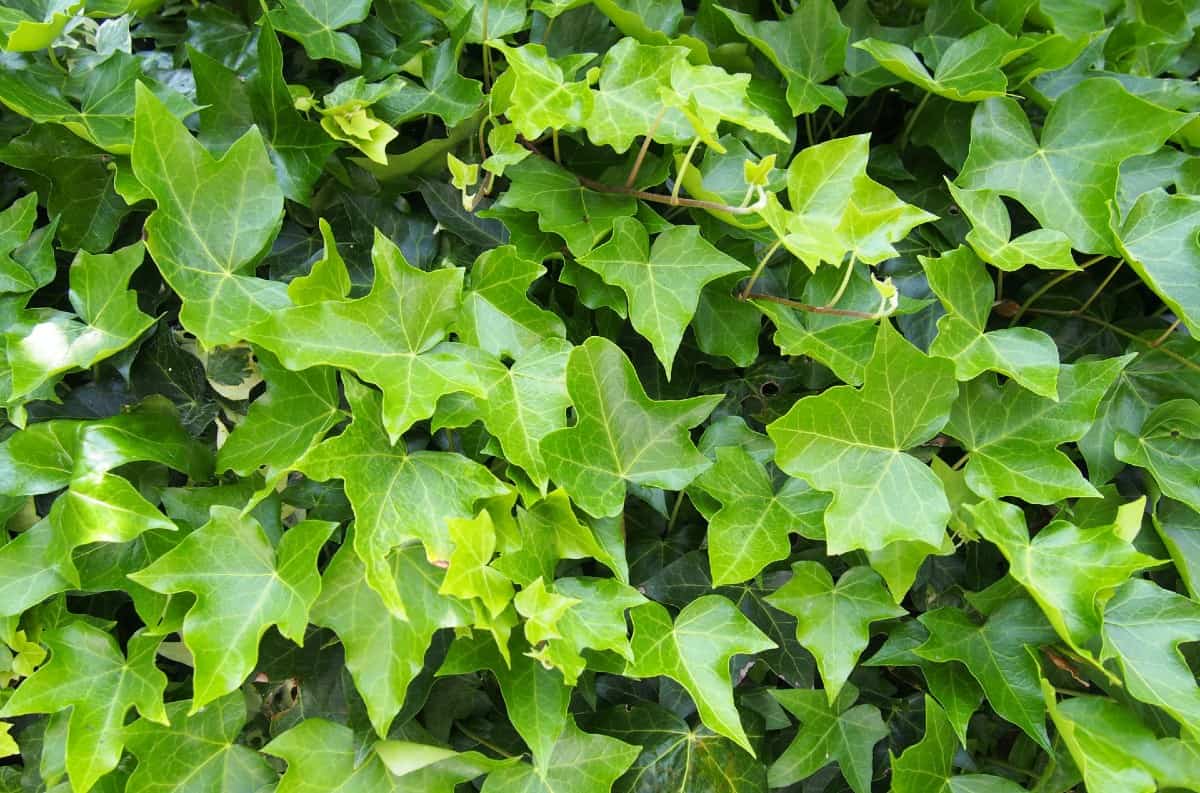 Many of us have seen English Ivy creeping up the side of a brick building, but they are perfect for areas requiring ground cover shrubs. The one downside to ivy is that they're susceptible to spider mites, aphids, and scale insects.
Keep an eye on them to make sure your plant is as healthy as possible. English ivy grows naturally in woodland areas.
Giving them plenty of filtered light helps them produce more color while preventing them from drying out. Water the ivy regularly during the growing season, making sure the entire plant is evenly moist.
If you don't prune your English ivy regularly, this plant can become one of the invasive creeping ground covers that can take over. Trim it at least twice a year to maintain control.
Fortune's Spindle (Euonymus fortunei)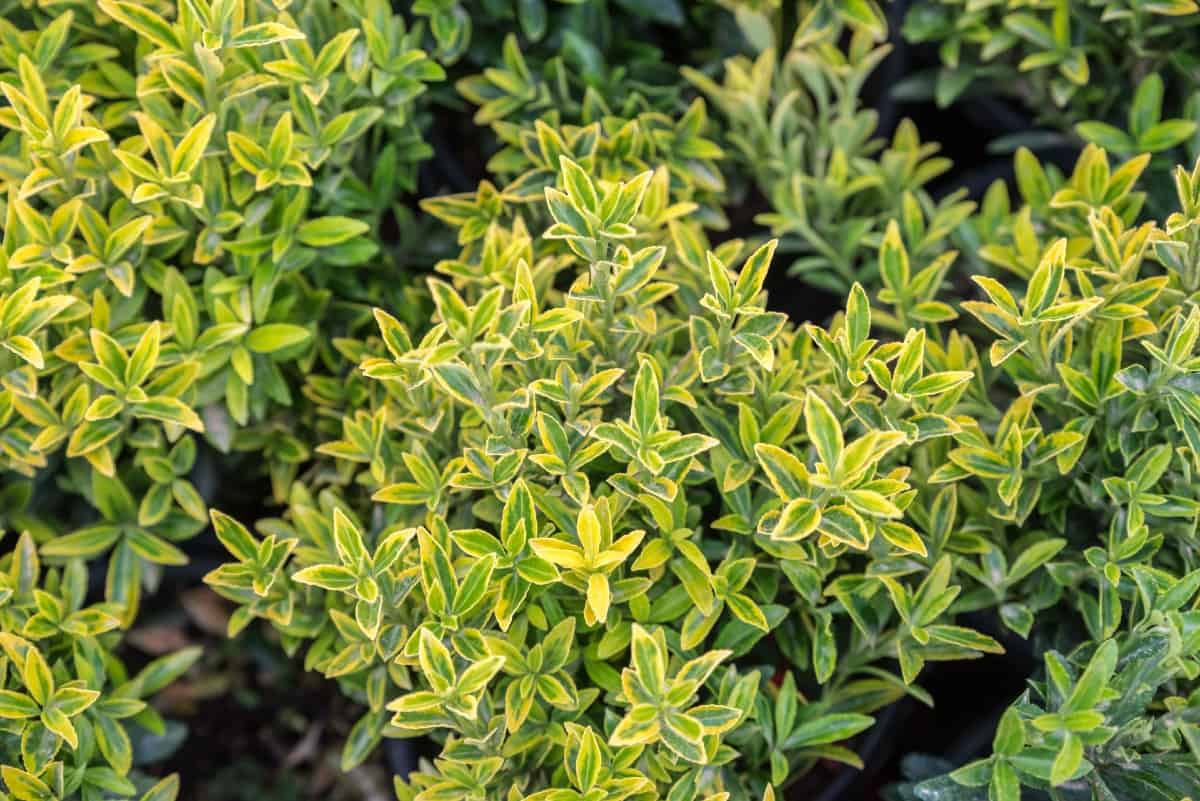 Fortune's spindle, also called wintercreeper, adds bright green and purple shades of foliage to a backyard. They grow up to four feet high and wide as a shrub, but grow up to 20 feet long as a vine.
Fortune's spindle survives in full sun to full shade, but somewhere right in the middle is when they perform best. Plant fortune's spindle in well-draining soil and water them once per week or more, depending on the temperature that week.
Flowering Shrubs for Ground Cover: Liriope (Liriope muscari)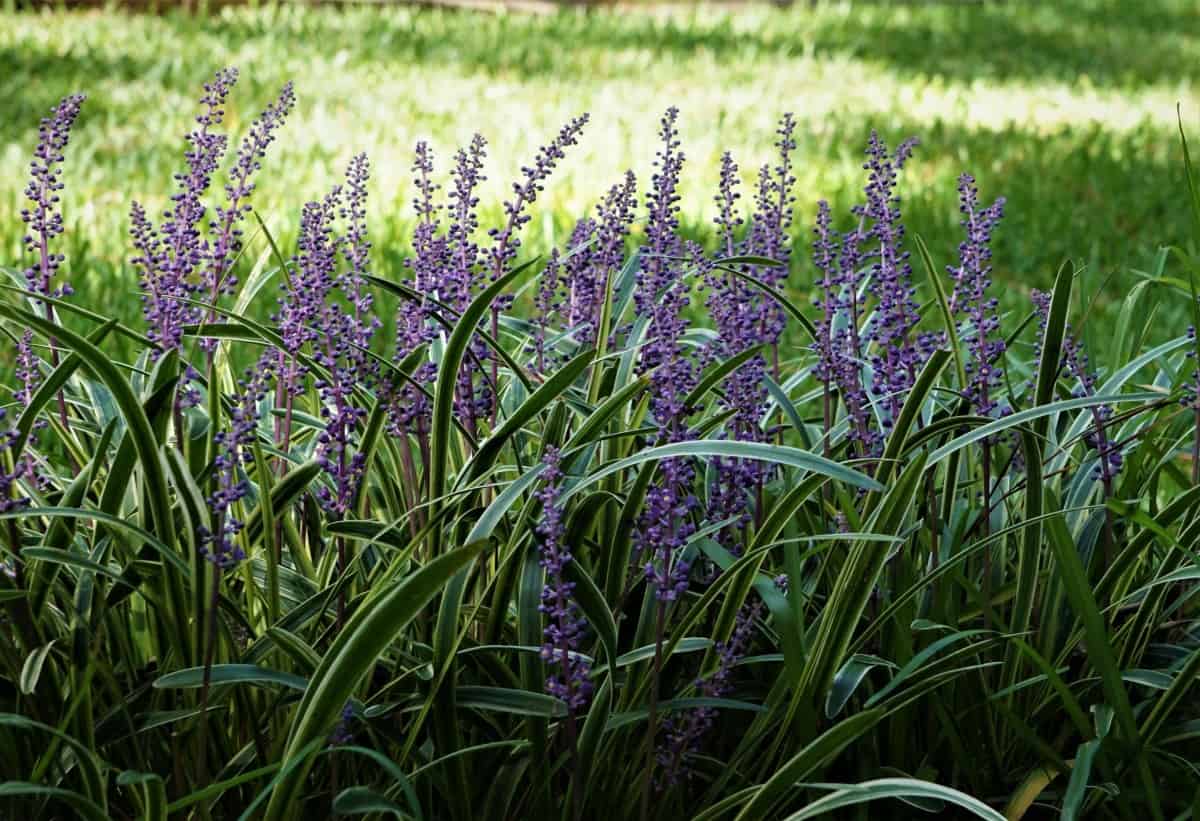 Liriope is a hardy, drought-tolerant ground cover plant. It is a flowering perennial of the asparagus family and helps prevent erosion and control weeds. It gets its name for its spiky purple flowers and grows up to 18 inches tall and 24 inches wide.
As shrubs for dry sites, Liriope does best in full sun or part shade. Plant them in slightly acidic or neutral soil. Liriope is hardy in USDA zones four through ten and is one of the prettiest ground cover shrubs.
Japanese Pachysandra (Pachysandra terminalis)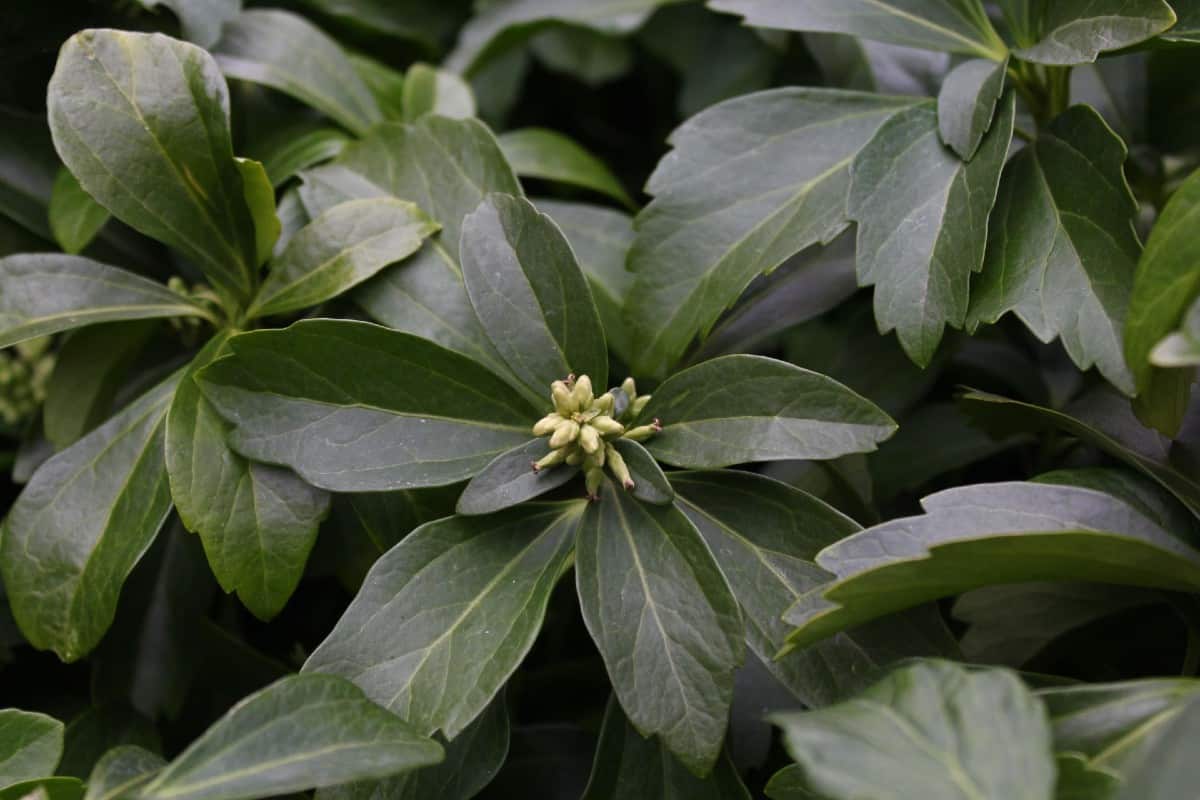 Japanese pachysandra is a low-maintenance, low-growing plant. These plants have leathery, evergreen leaves and, depending on the amount of shade, reach six to ten feet tall. Japanese pachysandra is hardy in zones four through seven.
Plant Japanese pachysandra in partial to full shade. Morning sun is okay, but too much makes the foliage bleach out. Space the plants twelve inches apart and them water regularly to make attractive low growing border shrubs along a walkway or on the property perimeter.
Sedum (Sedum album)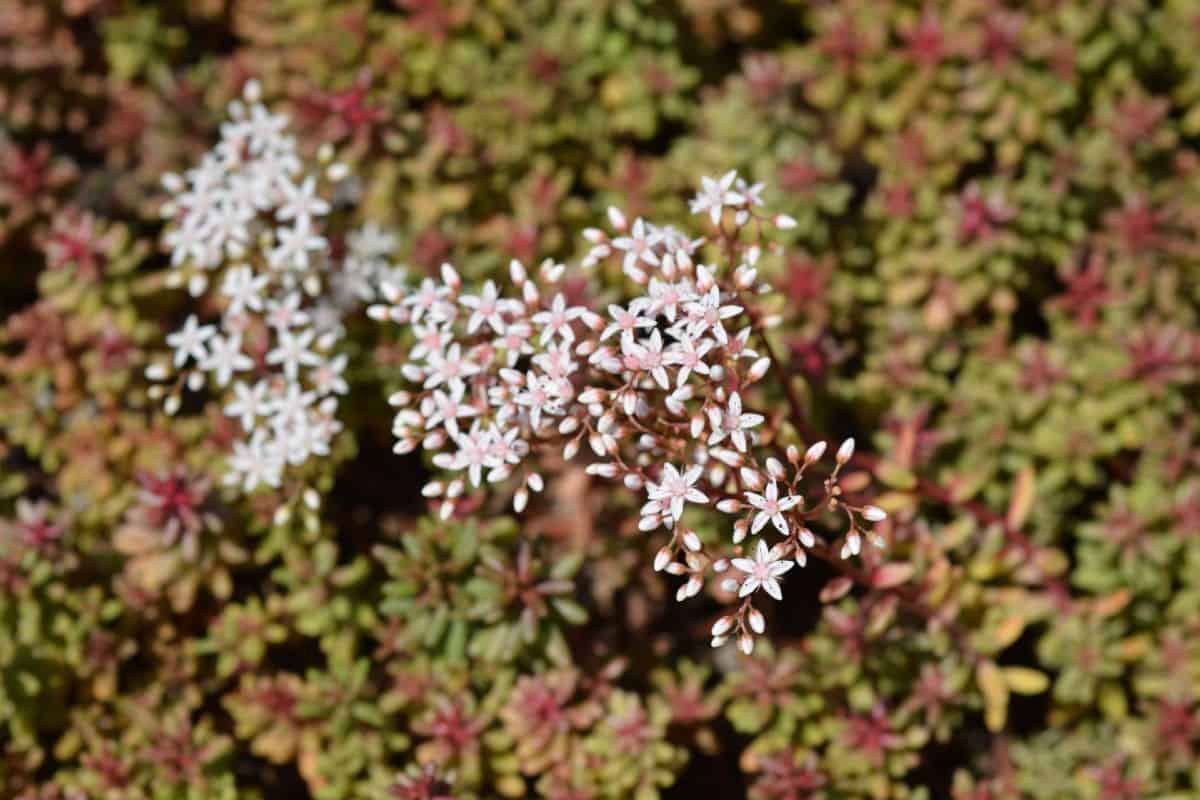 Sedum is an extra-hardy plant that comes in various shapes, colors, and sizes. One of the best ground cover varieties has fleshy leaves that look similar to a succulent. They grow pink and yellow flowers that bloom from mid to late summer.
The plants reach only six inches high. Space each plant about nine inches apart and add organic matter to the soil at the beginning of each year to improve drainage.
Water new plants daily for several weeks, then adjust to watering them every three days until they are mature. Mulch around the base to protect the root systems.
Creeping Phlox (Phlox stolonifera) – Well-known Ground Cover Plants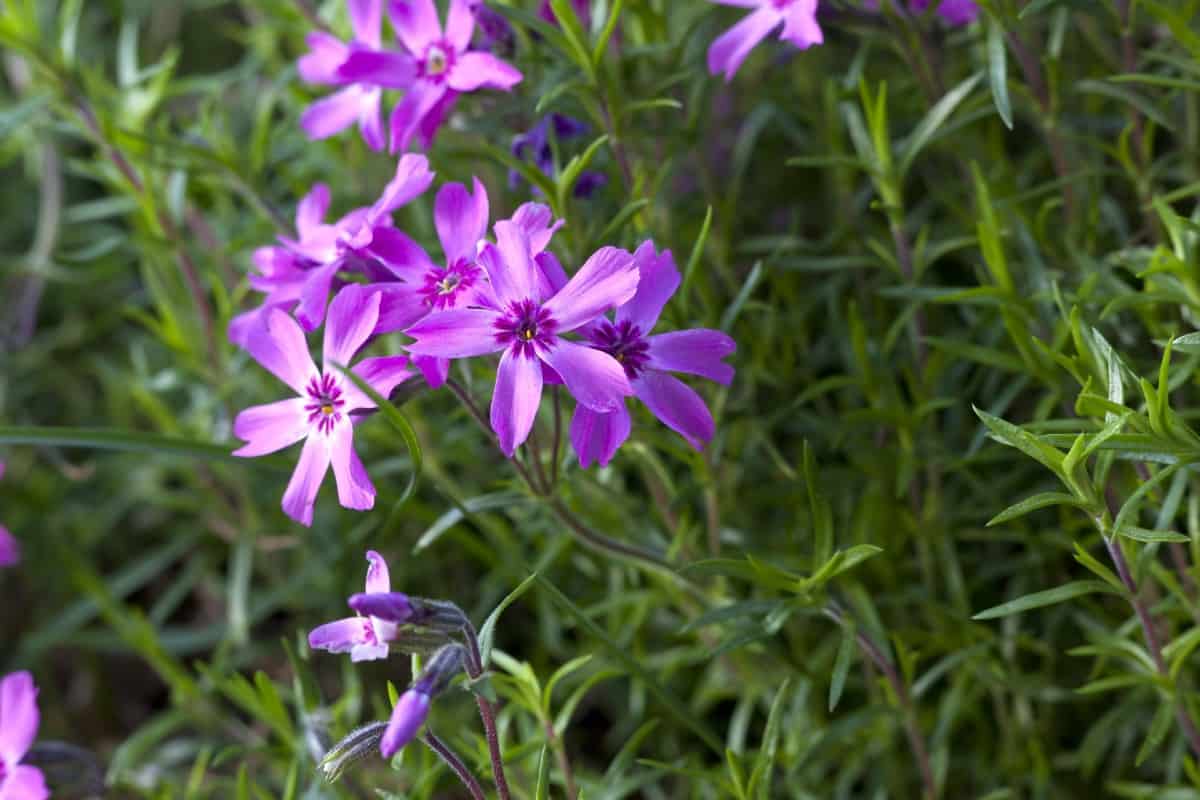 Creeping phlox plants are ground cover shrubs that lots of gardeners recognize. They are a go-to for rock gardens and areas desperate for extra interest.
The flowers of phlox bloom in the spring, are densely packed together, and the small, green leaves remain colorful for most of the year.
Creeping phlox is a great perennial for sunny locations. They require minimal care and an average amount of water. Prune them as necessary to keep them looking neat and tidy.
Periwinkle (Vinca minor)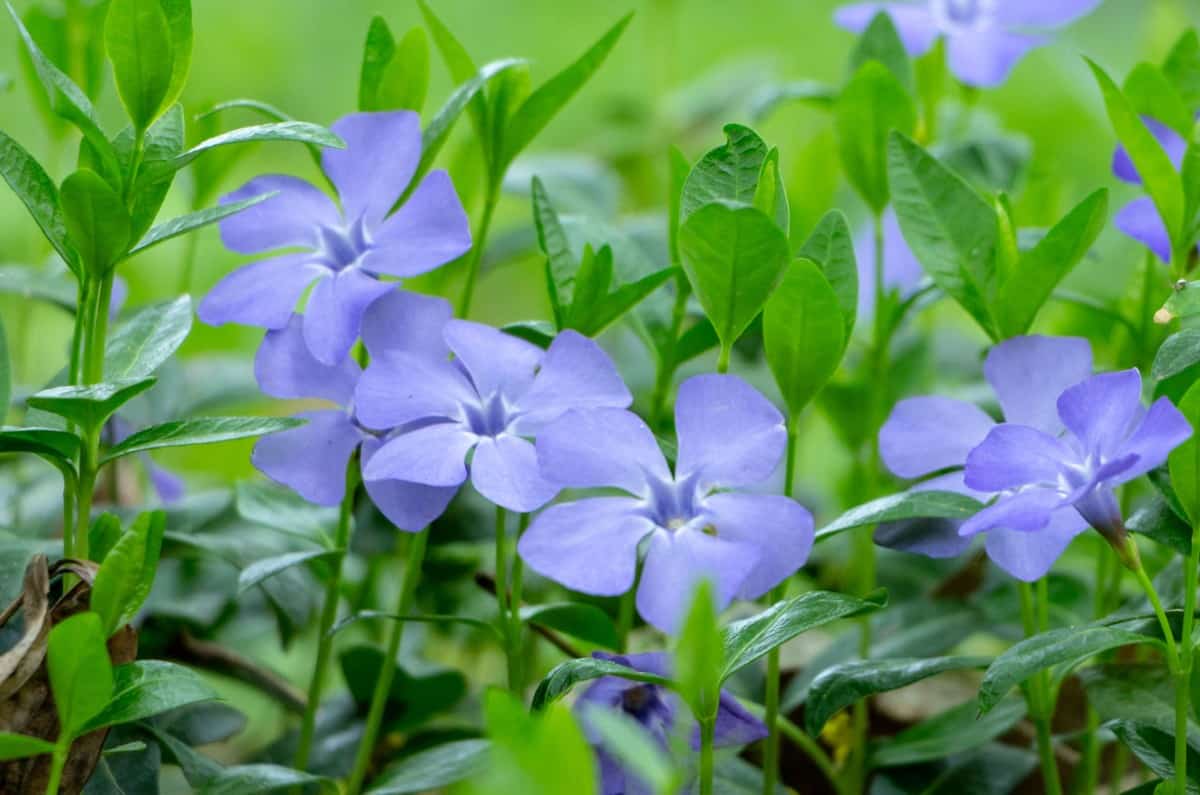 Periwinkle plants are most often spotted making their way down hillsides and along banks. These dwarf flowering shrubs are exceptional for erosion control, and this spreading shrub is hardy in zones four through eight.
They have attractive flowers sprinkled through the variegated foliage. Make sure to keep this prolific spreading plant in check with regular pruning.
Thankfully, over time, they shade out other weeds, meaning there is less work for you. These plants reach only four inches in height and spread so much that it is difficult to remove once established.
Mondo Grass (Ophiopogon japonicus)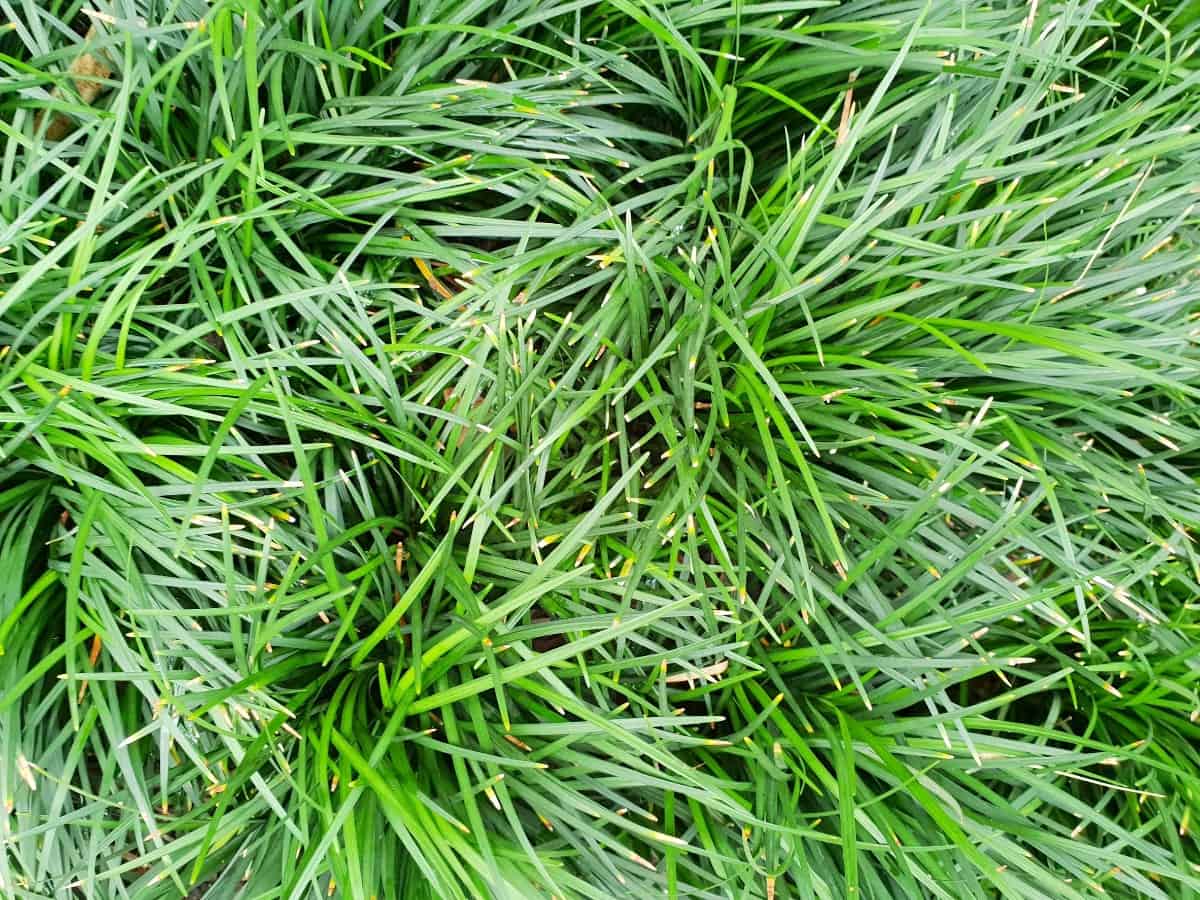 Mondo grass or monkey grass plants are evergreen ground cover plants that work as standalone plants as well. This slow-growing grass is low-maintenance and has a variety of uses.
Mondo grass withstands nearly any conditions, as long as it has damp soil. Mondo grass grows only six to ten inches tall and withstands foot traffic so it's perfect as plants between pavers in a walkway.
These moisture loving plants prefer sunny locations and should be spaced up to a foot apart when planting. Add fertilizer once every spring to have continued growth and luscious greenery.
Surprising Plants for Ground Cover – Bearberry (Arctostaphylos uva-ursi)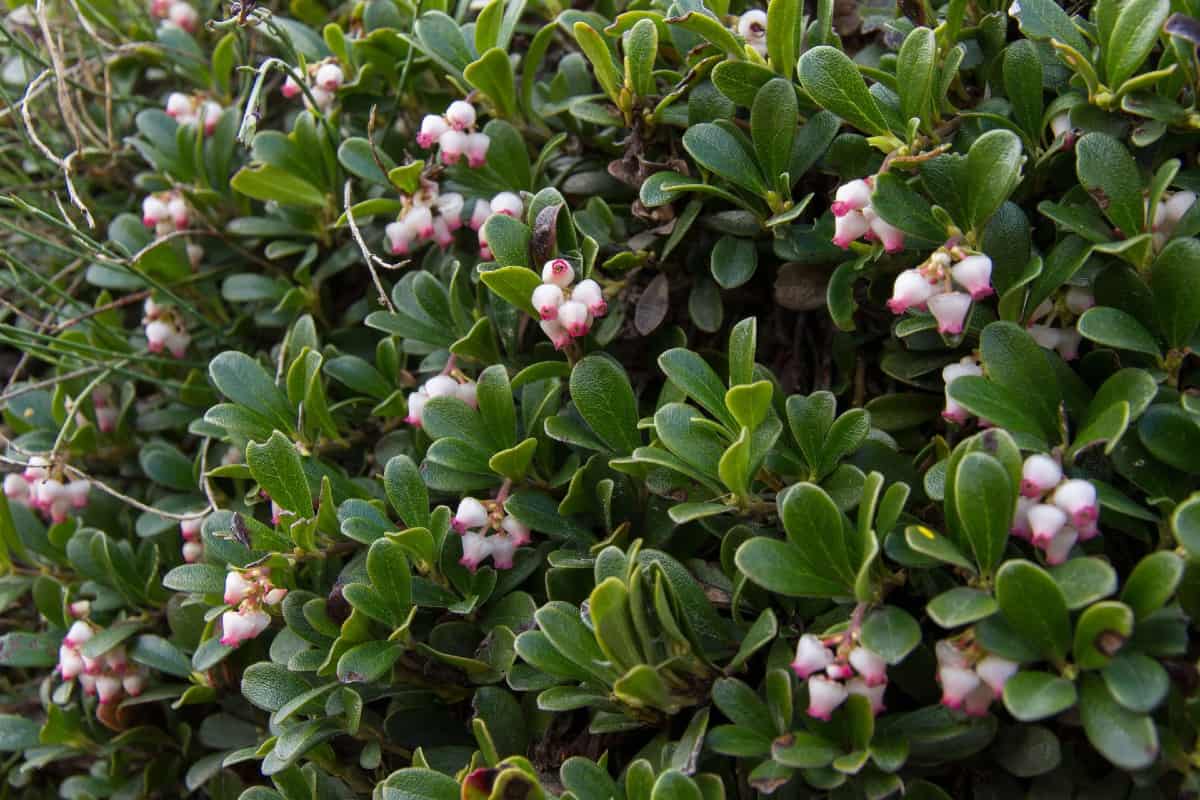 Bearberry plants are often more common than you think. You've probably passed by one without even knowing it. This is a fantastic, low-growing perennial for ground cover.
They max out at 12 inches high and have teardrop-shaped, dark green leaves with waxy, pink and white flowers that bloom from March to June. Late in the season, cherry-red berries form and attract wildlife.
Plant bearberry plants in full sun or partial shade and give them ample space to spread. They grow slowly in the first year, but rapidly expand after that and are great for edging.
Creeping Juniper (Juniperus horizontalis)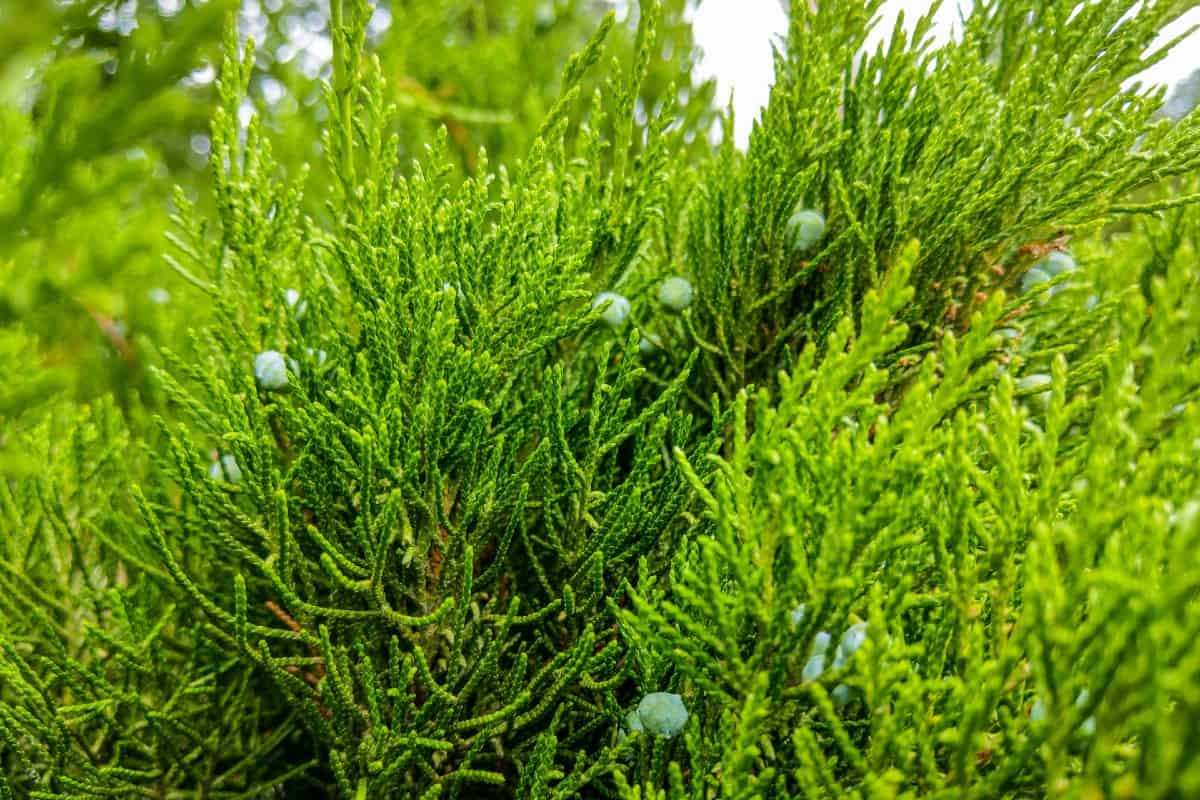 Plants that thrive on neglect sound wonderful, don't they? Creeping juniper is one of the rare plants that actually do better from less care.
These are aromatic shrubs that spread and fill in areas where not much else grows. The blue-green leaves last through the late spring and summer and turn a plum color in the winter.
Creeping juniper adapts to all soil types, meaning they can survive just about anywhere. Watch out for bagworms and control other pests like spider mites and aphids by applying insecticide in the late winter.
Candytuft (Iberis sempervirens)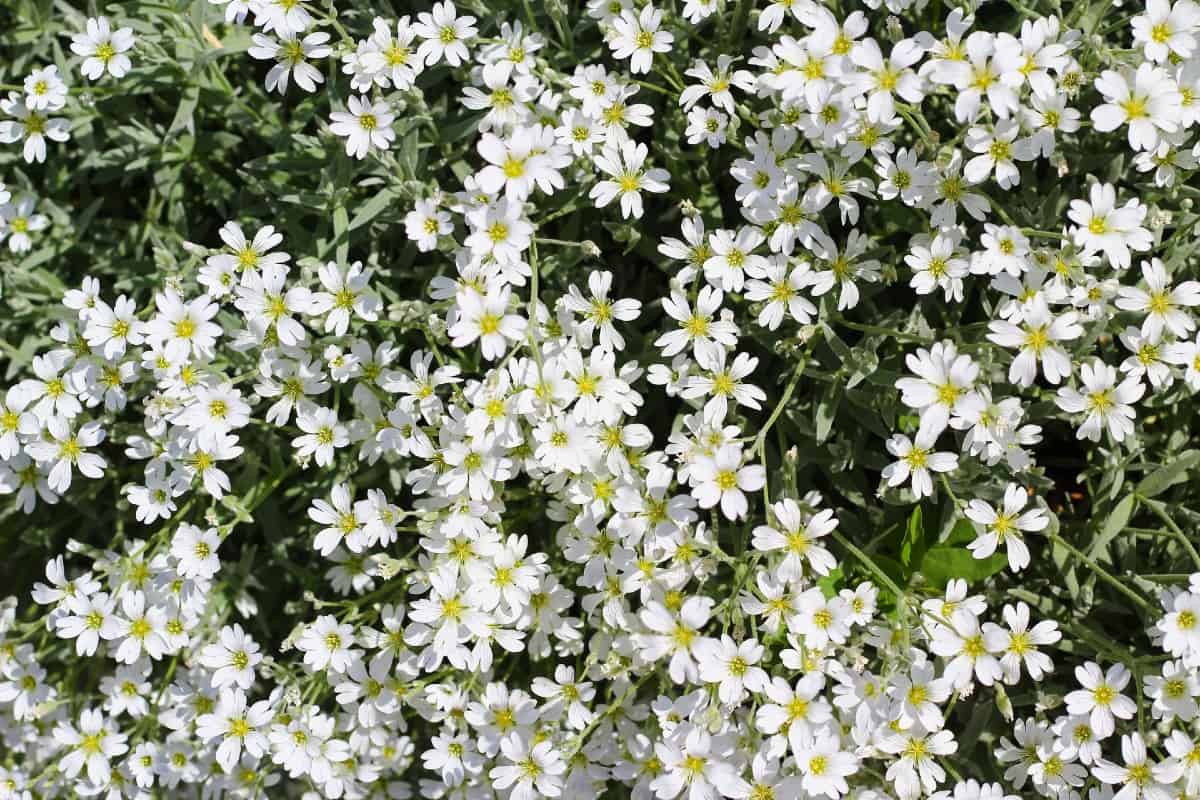 Candytuft is a European native that has adapted to nearly all USDA hardiness zones. This flowering plant grows 18 inches tall and has gorgeous white blooms in the early spring and flower once more in the fall.
Plant candytuft in alkaline, well-draining soil They prefer lots of sunlight. Make sure to deadhead the spent blooms to promote new growth.
Creeping Thyme (Thymus serpyllum) – Fragrant Creeping Plants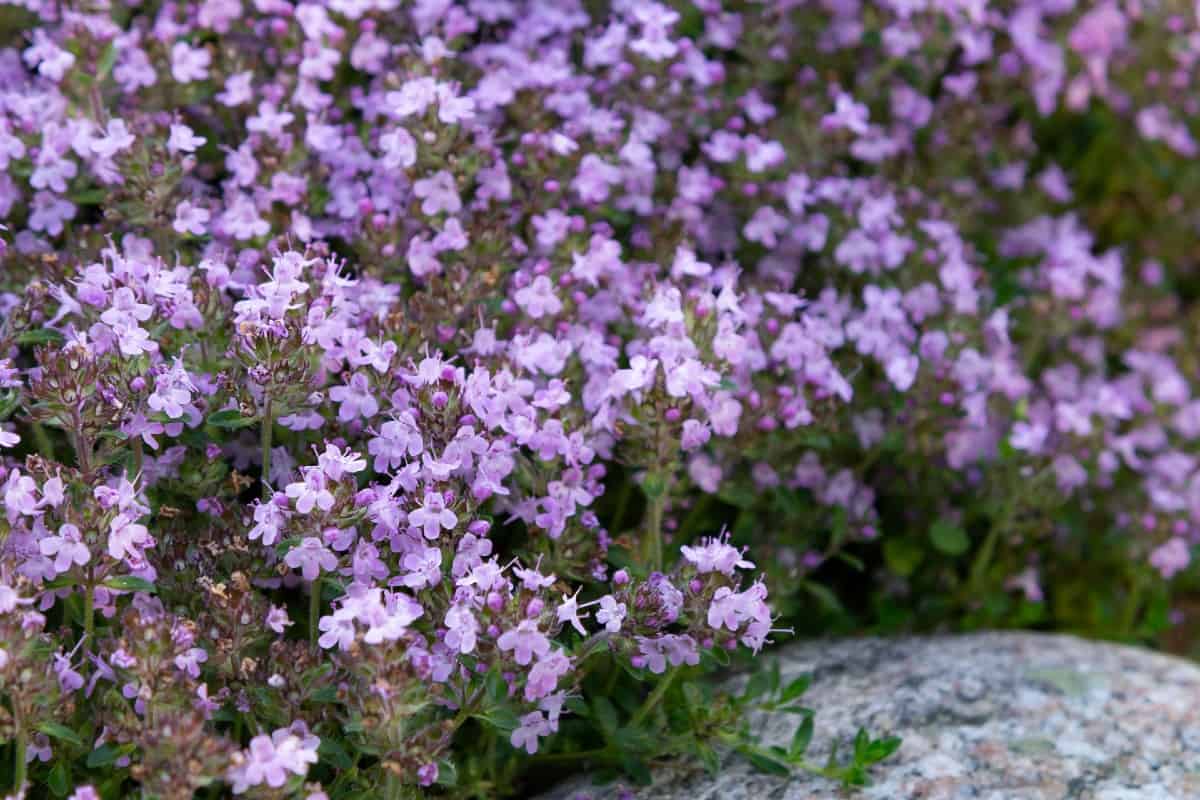 Creeping thyme is a pretty and fragrant plant that is perfect for ground cover. Although it isn't edible, the smell of these creeping perennials is similar to the thyme with which most people are familiar. It produces pink and red flowers and grows only four inches high.
Use creeping thyme to fill empty spaces of your garden or yard or fill gaps between stepping stones. Place them in good draining soil. They like having full sun with afternoon shade during hot weather.
Wall Germander (Teucrium chamaedrys)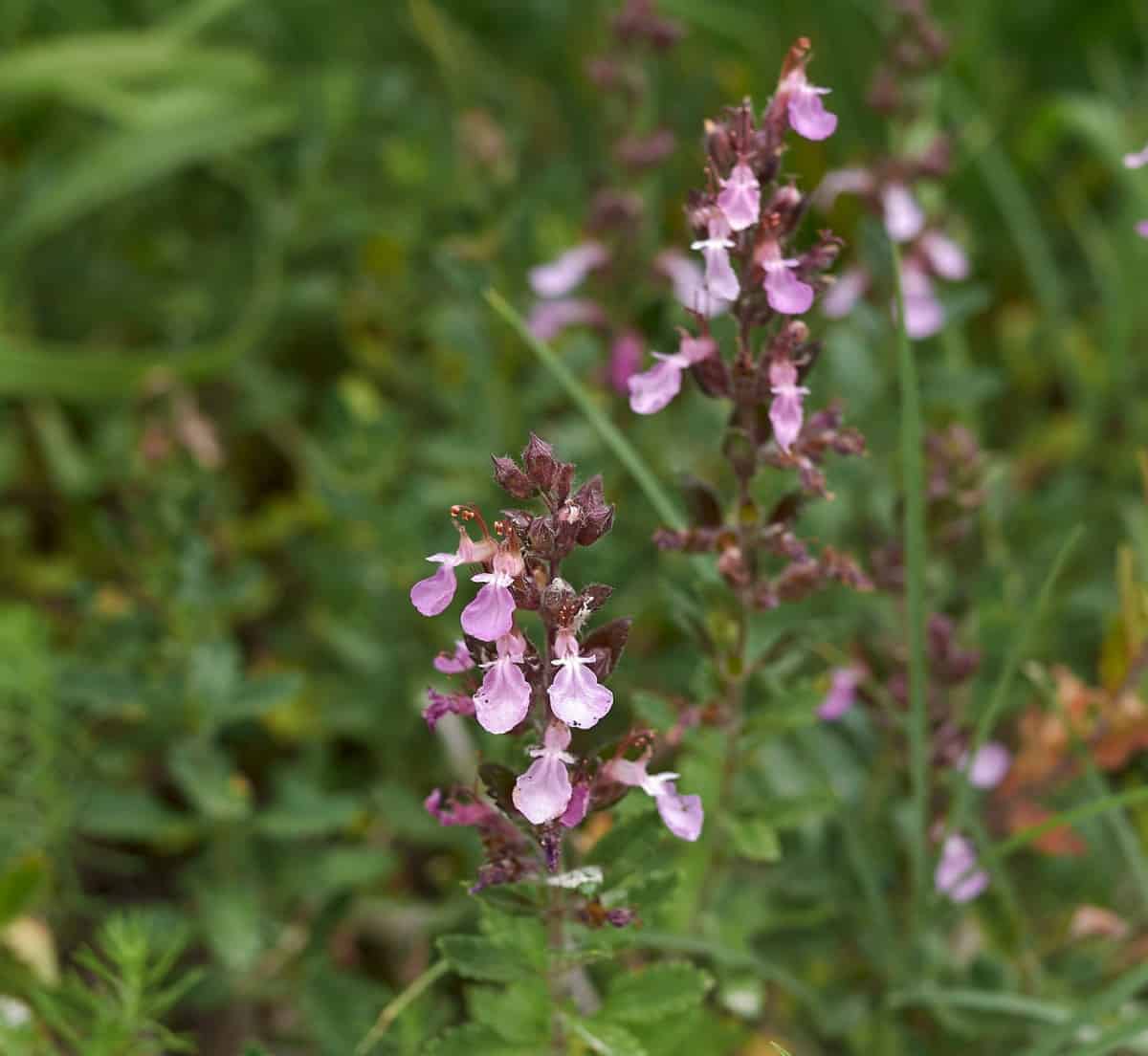 Wall germander doesn't receive as much press as it deserves. These broadleaf evergreen shrubs provide year-round color, attract bees, and have medicinal purposes. It has dark green, shiny leaves and pink flowers that release a pleasant smell.
It is hardy in USDA zones five through 11 and is relatively low maintenance. Plant germander in partial to full sun. Prune the plant right after it finishes flowering to prevent it from looking unkempt and to encourage more growth.
It's truly amazing how ground cover shrubs can transform a space. They make your beds and yard look full, vibrant, and full of life. They make yard work more manageable and add extra flair to your home.
If you aren't convinced, these plants cut yearly gardening costs by reducing the amount of mulch and labor time. These are hardy plants that gardeners of all skill levels can handle and keep looking beautiful.
If you've found a perfect spot in your yard for one of these ground cover shrubs, share this list of spreading plants on Facebook and Pinterest.