If you have a section of your garden that you're struggling to fill, you may be asking yourself which of the many ground cover plants would be best. Ajuga, otherwise known as bugleweed, juniper, thyme—these plants all cover gaps in gardens. However, have you considered growing ground cover vines?
Vines don't just grow upward. Many species also grow horizontally, controlling erosion, suppressing weeds, and generally beautifying a garden.
The one thing about ground cover vines is that they're often aggressive spreaders. While you want them to fill areas quickly, make sure not to select an invasive variety, and keep on top of pruning.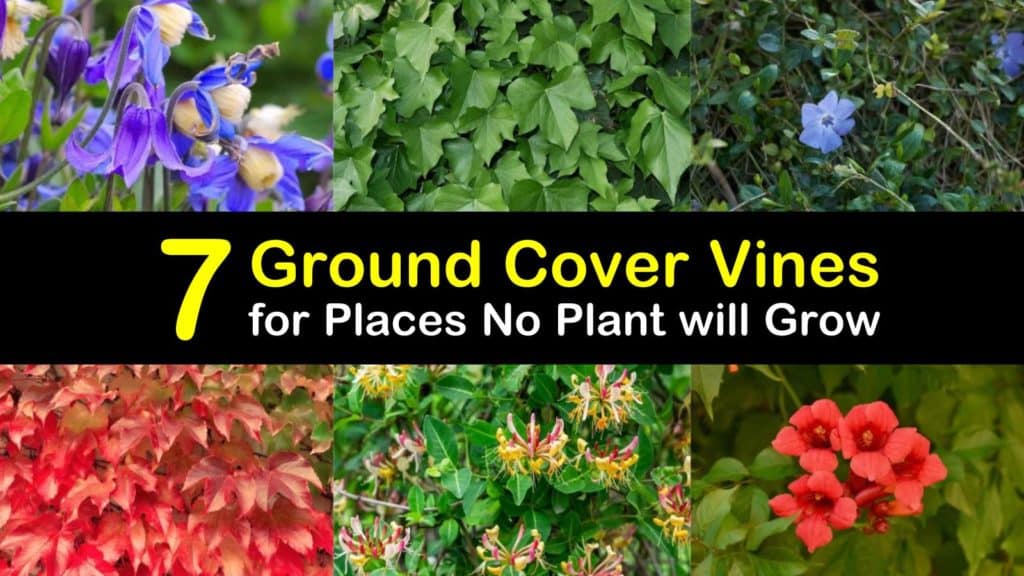 Vines to Use as Ground Covers
As with any category of plants, vines come in many different styles. Some stand out for their colorful blooms, while others display eye-catching foliage. Once you've chosen a ground cover vine, you'll want to know the best way to plant it.
It's also easy to plant strawberry vines with the added benefit of fruit at the end of the growing season.
How long does it take to grow strawberries? It depends on the variety, but you can have fruits at the end of the second year, if not the first.
How to Plant Ground Cover Vines
Read the instructions on the container. In general, however, you want a hole that's the same depth as the plant's root ball and twice as wide. Add organic matter to the hole.
Carefully slide the vine out of its pot and into the hole. Fill in the hole, making a lip with soil to prevent water from running off. Water the vine thoroughly and well, and apply mulch, leaving space around the plant's base.
When to Plant Vines
The best planting time varies depending on the species. However, between April and June is often ideal for giving the vine time to establish its root system and allow it to miss both frost and intense heat.
Common Honeysuckle (Lonicera periclymenum)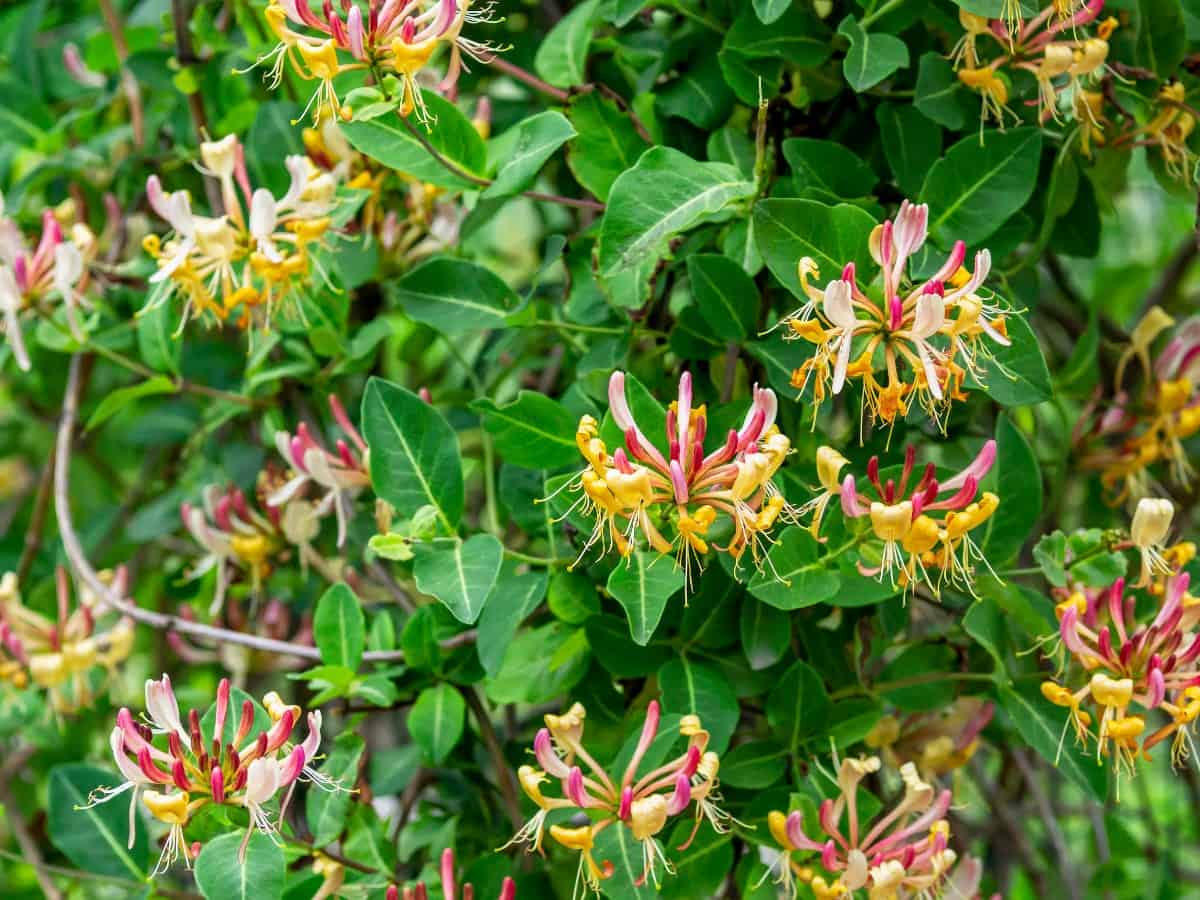 This vine bears sweet-smelling yellow, red, or pink flowers, generally from May to midsummer. It attracts bees, butterflies, and hummingbirds. Since honeysuckle can be one of the invasive spreading plants, make sure to prune it.
Plant it in the spring or fall when conditions are cool and moist. Full sun is best, although it tolerates some shade. Honeysuckle thrives in well-draining, moist soil containing organic matter.
Water it thoroughly after planting, then once a week until it's established. Mature plants are relatively drought tolerant, although mulch helps retain moisture. Feed your honeysuckle all-purpose fertilizer in the spring.
English Ivy (Hedera helix)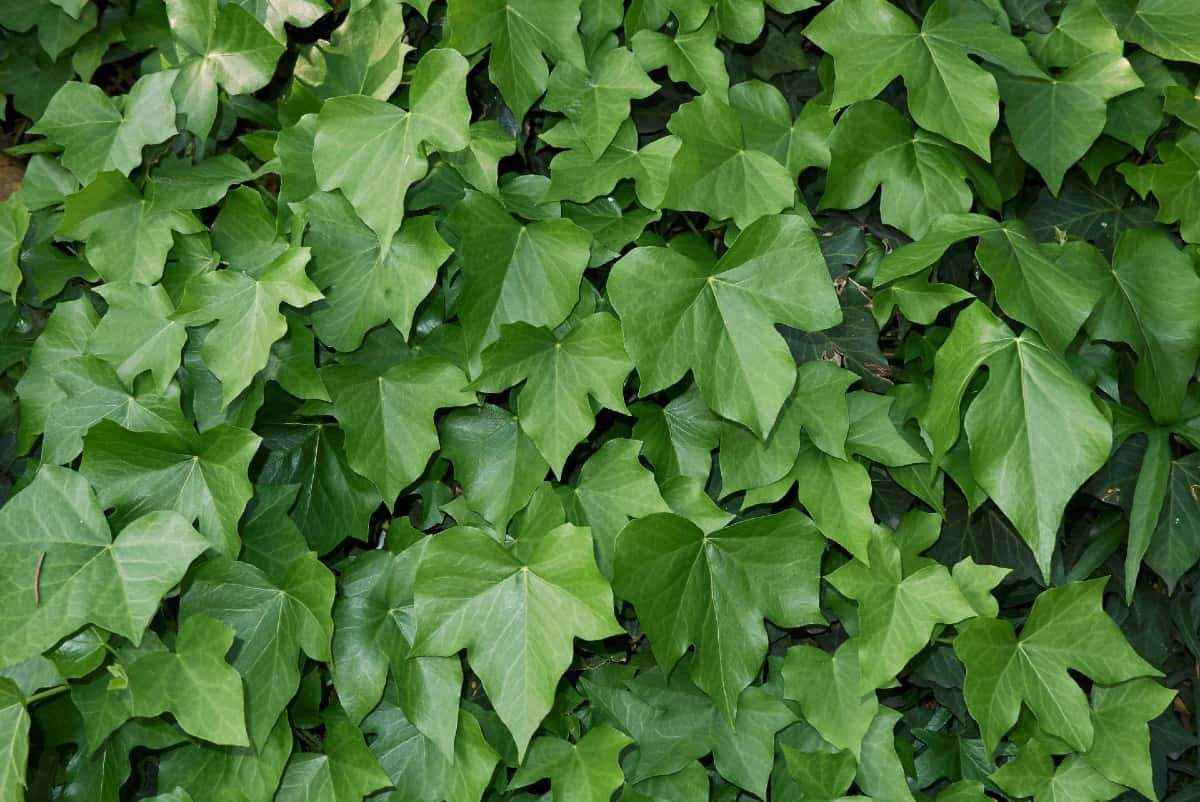 This evergreen vine has glossy, dark-green leaves, which may be variegated, and insignificant greenish flowers in the fall. It grows as a climber or creeper, including the shady spot under trees, and is considered invasive in some states.
Propagate English ivy using stem cuttings in full or partial shade and fertile, moist, neutral, or slightly alkaline soil. Average-quality loam is ideal. Let the soil dry between waterings.
Give this plant a half dose of houseplant fertilizer every two weeks in the spring and summer and once each month in the fall and winter. Note that the sap and berries of these floor covering plants are toxic for humans and other animals.
Periwinkle (Vinca minor) – A Lovely Creeping Vine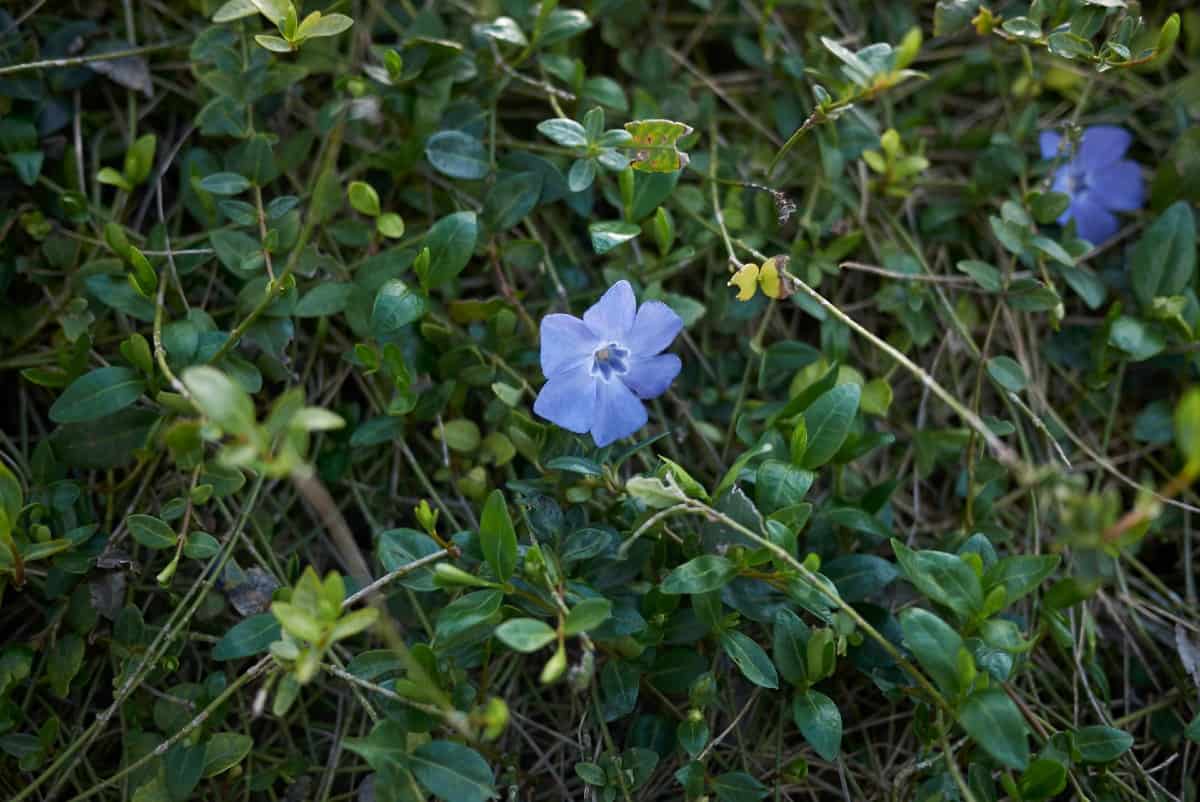 This low-maintenance evergreen bears blue, lavender, purple, or white blooms in May and June, and perhaps longer. These hardy flowering vines tend to take over, with stems that root when they touch the ground.
It's easiest to divide an existing periwinkle plant or buy one from a nursery, although you can also propagate it using stem cuttings or seeds. Grow it in partial or full shade, including under trees.
Well-draining soil is best, ideally with compost mixed in. Though established vinca plants tolerate drought, keeping the ground moist is still a good idea. If you like, give your plant balanced fertilizer.
There are other types of creeping vines that work great in sidewalk planks. You can plant creeping thyme between sidewalk pavers and in spaces around your patio.
Trumpet Vine (Campsis radicans)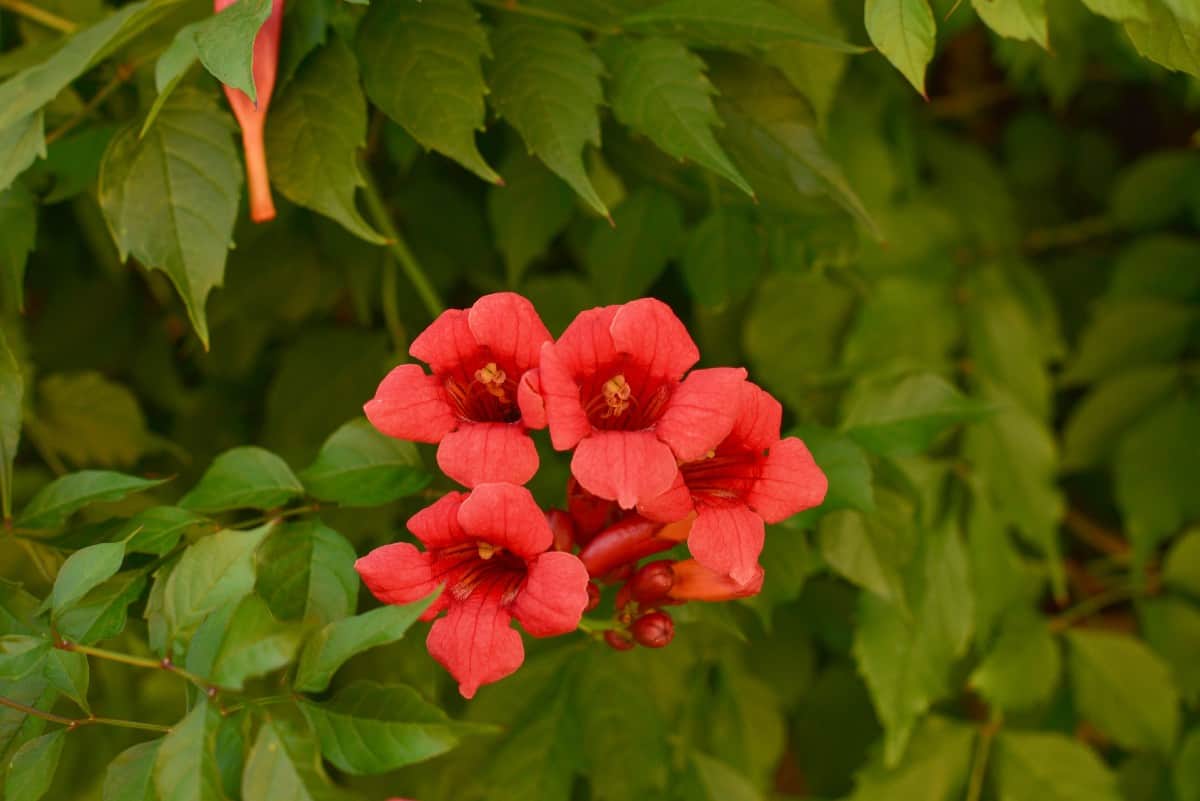 This vine boasts trumpet-shaped yellow, orange, or red flowers between June and September, and its leaves turn yellow in the fall. Note that trumpet vine may cause skin irritation.
It also spreads aggressively via seeds and underground runners, so prune it frequently, pull up its shoots, and remove its seeds. Plant trumpet vine seeds in the spring, first soaking them for 24 hours, then storing them in the fridge in plant starter mix for two months.
Alternatively, propagate it using division, layering, or cuttings. Grow trumpet vine in well-draining soil and full sun or partial shade. Do not give it any fertilizer, and water it only during dry spells.
Clematis (Clematis integrifolia)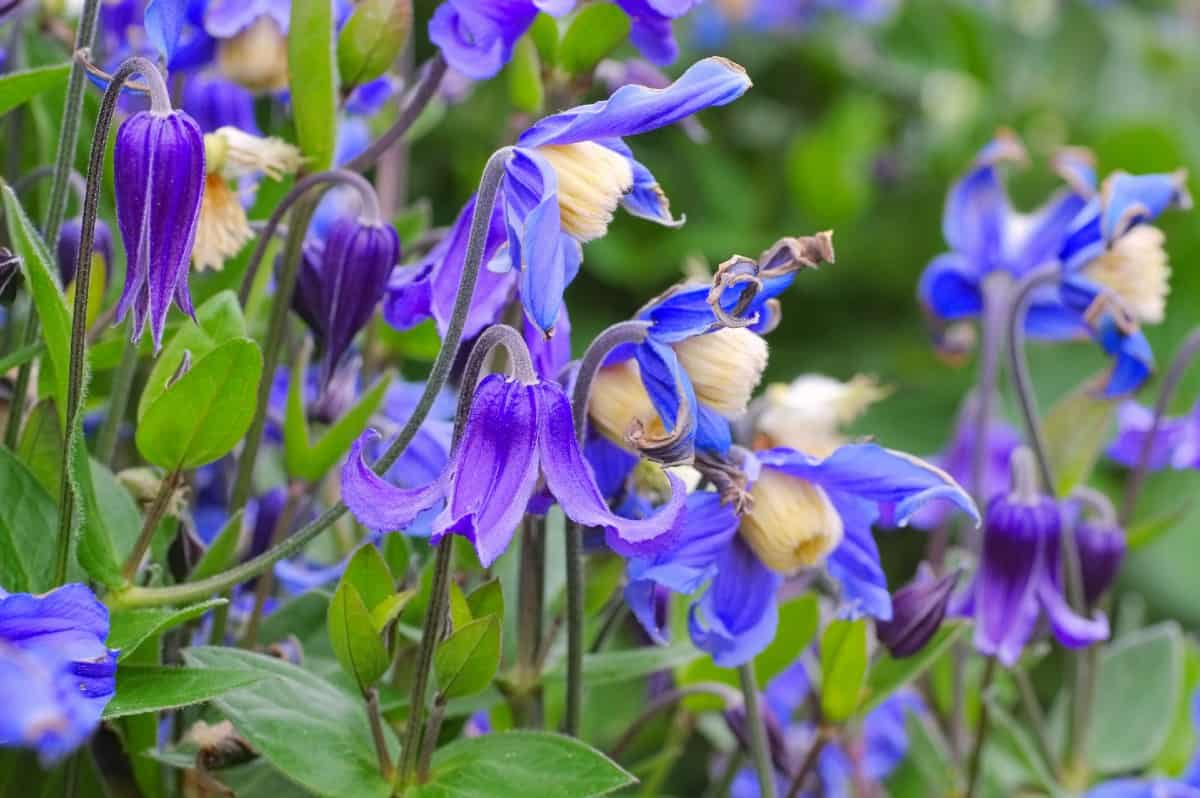 These beautiful ground cover shrubs bear large flowers in colors like white, red, and purple, normally between early spring and fall. Since it does not cover all patches of ground, mix it with other ground covers for best results. Plant clematis in fall or early spring.
It thrives in moist, well-drained, neutral or slightly acidic soil and at least six hours of sunlight per day. Add compost, granular fertilizer, and mulch when planting.
Every early spring, feed your clematis compost and granular organic fertilizer. Give it water-soluble organic fertilizer one or two more times during the growing season. Water it weekly during its first year.
Virginia Creeper (Parthenocissus quinquefolia) – A Fast-Growing Creeping Vine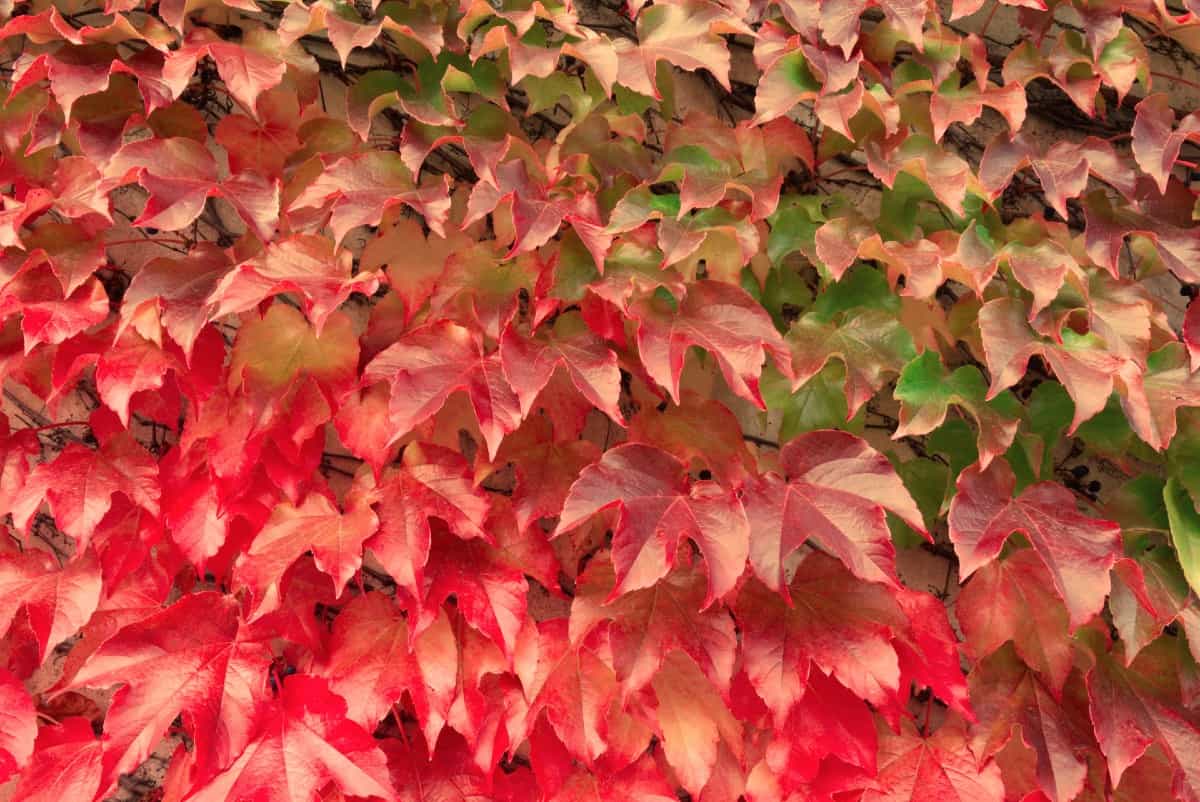 This deciduous perennial's leaves have five leaflets that turn reddish-orange in the fall. The vine bears small, greenish-white flowers in the summer and dark-blue berries that are popular with birds but toxic for humans.
Its sap also sometimes causes a rash. Note that Virginia creeper grows highly aggressively. As with plants like wisteria, you must decide whether this plant's qualities are worth the risks.
With no support, it sprawls along the ground. If you dare, plant it between spring and early fall. Virginia creeper does best in well-drained soil and full to partial sun.
Water it regularly and deeply during its first growing season, then occasionally except in dry weather. Give it granular all-purpose fertilizer in the spring.
Santa Catalina Mountain Phlox (Phlox tenuifolia)
This hardy, vine-like subshrub grows in the wild on slopes and in mountain canyons in Arizona. It bears fragrant, delicate lavender or white flowers from March to May and again from September to November. Its leaves are small, sparse, and dark-green.
The Santa Catalina mountain phlox forms small mounds in sunny conditions and grows like a vine in the shade, intertwining with other plants. This phlox thrives in dry, rocky soil. These dry fruit vines produce a couple of seeds each.
Vine flowers range from subdued to bold, in terms of color and size and shape. The diversity in blooms, leaves, and growing habits means that you're sure to find a plant that strikes your fancy.
Try ground cover vines for controlling weeds and erosion or simply for filling a section of your yard. Vines make innovative yet effective ground covers.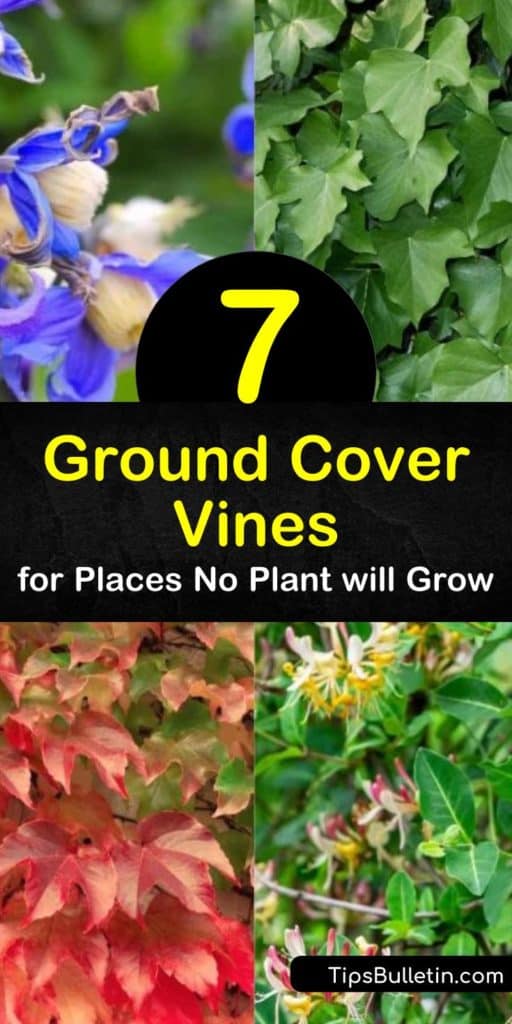 If you found this list of vines useful, please share these ground cover tips with your friends on Facebook and Pinterest.