Fresh herbs are delicious in garnish and accentuate any dish. Many gardeners hope to grow herbs in water in the winter or year-round to ensure a new and convenient supply of tasty herbs. Growing herbs from cuttings is straightforward, and many grocery store herbs are good candidates to regrow herbs in water right on your kitchen windowsill.
The correct type of water and the right kind of herb are vital to grow herbs in water. Perennial herbs regrow year-round, and when harvested regularly, they keep coming back and producing new leaves while growing in water. Whether you love oregano or stevia, growing these herbs at home is a fun DIY project suitable for any grower.
The ability to regenerate makes them perfect for an indoor herb garden. Tap or spring water, a jar or glass, and a sunny spot are all that's needed to produce your own herbs all year. Choose from favorites like cilantro, peppermint, lemon balm, and spearmint, and get started on growing herbs from cuttings right in your kitchen.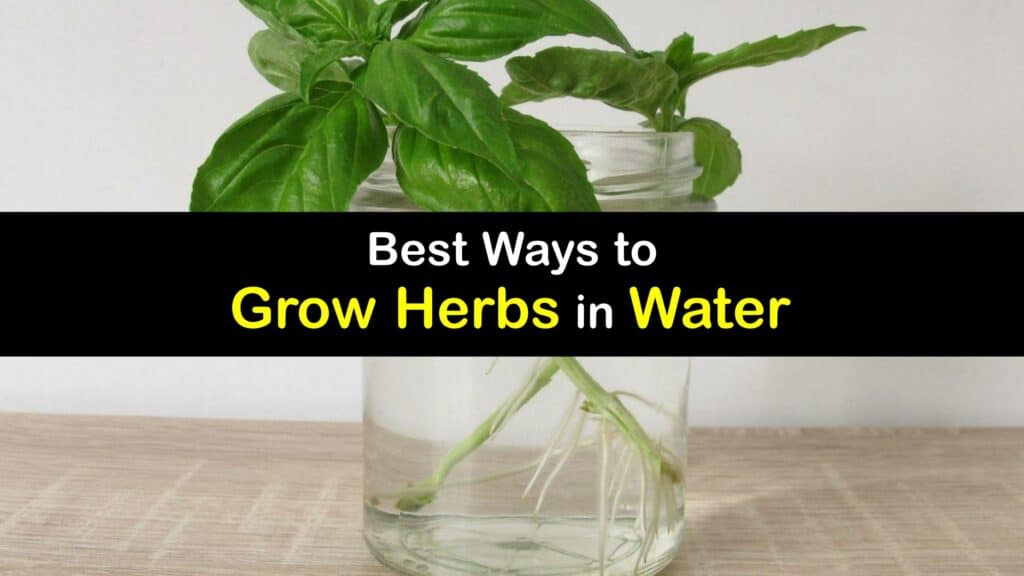 Regrow Herbs in Water in Your Kitchen
Some water plants live their whole lives in water, while others propagate or regrow in the water yet must be moved into potting soil after their roots have developed to acquire the necessary nutrients to survive.
Hydroponics is a way of growing plants in water that has become increasingly popular to enjoy new plants from cuttings and bring the love of growing plants to the smallest spaces.
Many gardeners grow herbs indoors to continue their supply despite unfavorable weather in winter. Growing herbs from cuttings is simple, requires few supplies and little room.
Propagate several plants by immersing cuttings to grow herbs in water. Some herbs regrown in water may be harvested while still in their water jars. Constant harvesting of older, larger leaves stimulates new growth when you regrow herbs in water and keeps indoor herb gardens producing fresh herbs year-round. You don't necessarily have a good time to start planting herbs this way, as any season works.
Regrow Herbs in Water – Herb Choices
Growing herbs from cuttings is a fun and easy project to bring gardening anywhere, whether you regrow herbs in water in your kitchen window or apartment patio. The first step is selecting appropriate herbs to grow hydroponically.
Perennial herbs take root in water and continue to thrive all year. Nature created annual herbs to grow for one season, create seed, and die, which doesn't make them a good choice for hydroponic growing.
As long as you pinch off the larger leaves as they get to full size, perennials continue generating additional leaves giving you constant access to fresh herbs for garnish, Mediterranean dishes, and more. You can root basil in water and transfer it to a pot when it has several roots.
Growing Herbs from Cuttings in Water
Start with herb plant stems from the garden or the grocery store. If you're using store-bought herbs, snip the bottom of the stem to allow them to absorb as much water as possible. Remove the lower leaves off the lowest four inches of the stems and clip the stems to about six inches tall.
Fill a clear jar or glass of water halfway with tap water or spring water, not distilled water, as some vital minerals to enable the herbs to flourish are removed during distillation. Mason jars or old jars from pasta sauces are perfect for your indoor herb garden.
Replace the water regularly if you choose a clear glass container since algae form more quickly in transparent glass. The best type of glass is opaque. Tape a piece of paper to one side of a clear jar to keep the sunlight out of the water.
Herb plants grow new roots in water by collecting moisture through the stem's bottom, so cut each stem end at an angle to give the stem more surface area. Place the herb stems in the water-filled jars, where they will receive at least six hours of sunlight each day.
A sunny spot or windowsill in direct sunlight works well and is a great place to display your new DIY houseplants.
Growing Herbs from Cuttings – Care
Change the water in your herb garden every other day, and ensure the glass or jar never empties. Within a few days to about a week, tiny roots should begin to form on your cuttings without any rooting hormone.
If roots have not developed within ten days, restart your cuttings. Ensure your indoor herb garden receives enough sunlight and use tap water or spring water, not distilled water devoid of the nutrients your new plants require to thrive.
Pests to Avoid When You Regrow Herbs in Water
Fortunately, growing herbs from cuttings in the house mean your indoor herb garden isn't exposed to many pests that might plague it outside. Aphids, beetles, and snails are no problem; issues like mildew may still pose a threat.
Mildew is a fungus that thrives with moisture and cool temperatures. Avoid mildew when you regrow herbs in water with a simple watering protocol. Change or top off the water in your herb jars in the morning; this allows any wet spots on the plants to dry before temperatures on the windowsill drop in the evening.
Take care when filling or changing water not to wet the leaves of your herbs or any more of the stem than is necessary. Cool, wet leaves are a prime target for mildew. Keeping your plant as dry as possible above the point it is submerged dramatically reduces the chance of a mildew infection.
Whatever your favorite perennial herb, consider a new project to grow herbs in water and enjoy fresh-cut herbs year round. Growing herbs indoors is a simple gardening project, whatever the weather.
The supplies are inexpensive and may even be upcycled using the jars from old pasta sauces and taking cuttings from a friend's herb plants. Tap or spring water and a sunny spot are all you need to start a water herb garden of your own.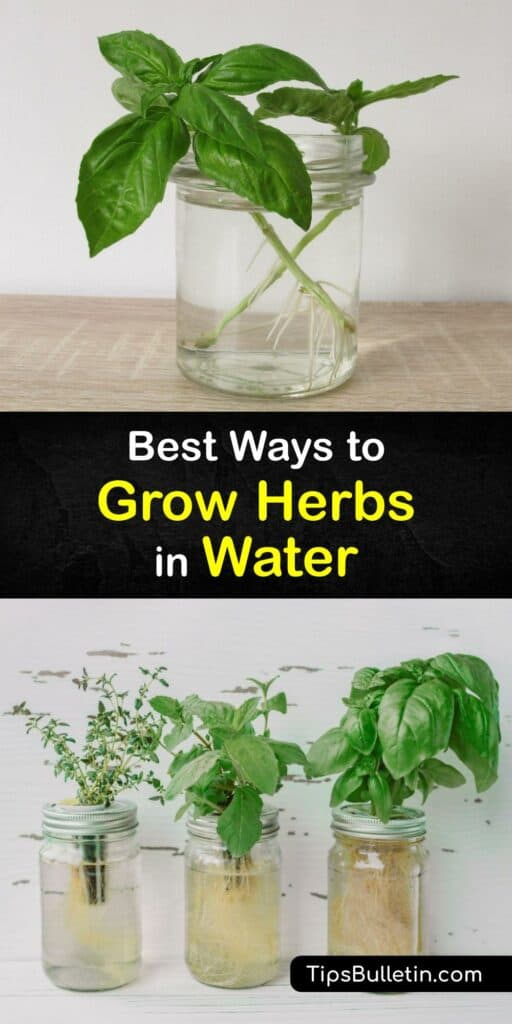 If you loved this article on how to grow herbs in water, please share these brilliant tips for growing herbs from cuttings with your family and friends on Pinterest and Facebook.