If you don't live in a region where the weather stays warm and sunny year-round, you can't walk outside whenever you want to grab fresh veggies. Growing bell peppers in pots allows you to enjoy their bright crunch during all four seasons.
Bell peppers might be a product available at the grocery store throughout the year, but they're never as fresh as when they're picked fresh from the stem. There are a lot of significant aspects that go into learning how to grow bell peppers in containers.
Regardless of where they're grown, they offer tons of health benefits for you and your family. The bell pepper plant, also called Capsicum annuum, is closely related to tomato plants and other pepper varieties like the jalapeno, habanero, and other hot peppers.
Sweet bell peppers have four different colors based on their ripeness. Green bell peppers are unripe, red bell peppers are fully ripe, and orange and yellow bell peppers are in the middle.
If you're ready to grow your own veggies indoors, follow some of these tips for DIY container gardening.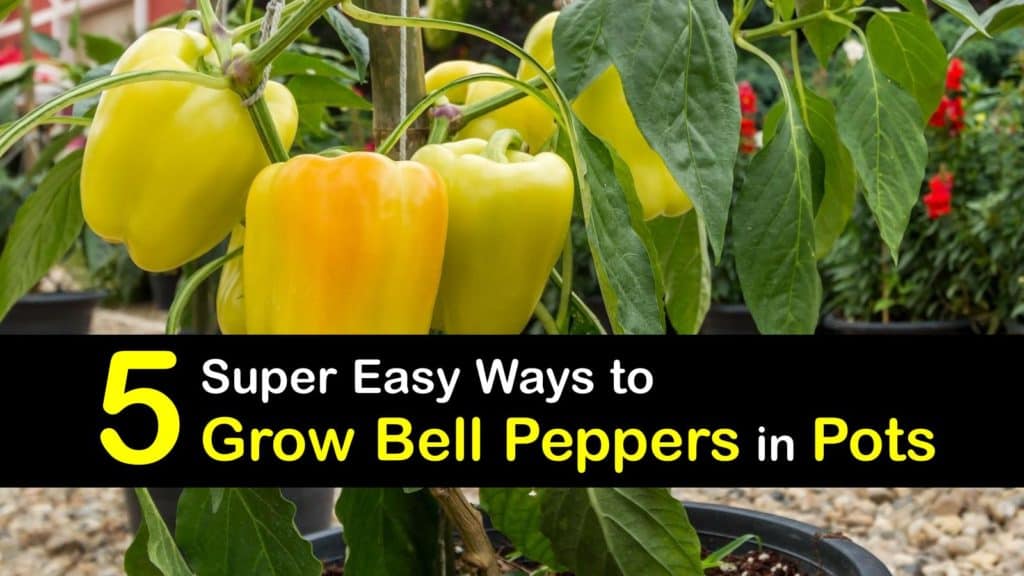 Advantages of Container Gardening
It's fine to plant outdoors during the growing season, but warm weather doesn't stick around for long and forces us to move our efforts indoors.
Home growers often find far more advantages of a container garden than the traditional form of gardening. Growing bell peppers in pots or growing cucumbers in containers or pots gives you the versatility of location.
Move containers easily from one room to another without uprooting and transplanting the plant repeatedly. Container gardening also allows more diverse food selection.
The plants aren't stuck outside in your garden soil that may or may not fit all their needs. On top of that, there is no weeding, no heavy-duty equipment, and no competition from invasive plants.
Learning how to grow bell peppers in containers gives you complete control over every environmental aspect, so that young plants quickly reach full size and have tons of fruit production.
How to Grow Bell Peppers in Containers
Growing bell peppers in pots or growing habaneros in pots is most prosperous when you know the conditions they require. Sweet peppers are short-lived perennials in tropical climates and annuals in temperate regions.
They are warm weather crops and require a warmer soil temperature. Growing red bell pepper is easy in slightly acidic or neutral soil types and they produce the best fruits when they have full sun.
Start Growing Bell Peppers in Pots
The first step to successfully raising different varieties of bell peppers is finding the right container. Bell peppers require lots of room to allow their roots to spread out. A pot that is about 12 inches in diameter is a perfect size.
The young plants appear small in this container at first, but the adult plants appreciate the roominess. Make sure your pot has drainage holes drilled into the bottom.
Avoid materials like terra cotta that soak up all the extra moisture because the peppers like to be kept in moist earth.
Choose the Right Potting Mix
Only use a seed starting mix or regular potting mix when planting your bell pepper seeds because it drains better than regular garden soil. If the soil doesn't drain, it becomes waterlogged.
Using potting mix means that it already has added nutrients and provides the plants with plenty of fuel to grow.
If you plan to transplant your bell peppers outdoors at the beginning of the growing season, make sure you don't start them too late or early. Sow your bell pepper seeds eight to ten weeks before the last frost date of winter.
Sowing the Pepper Seeds
Once you choose the right potting mix, it's time to sow your seeds. Place two pepper seeds about half an inch below the surface of the soil in each pot.
Water your soil and place the container in a sunny location. Because it isn't sunny every day, most home growers like to purchase a couple of grow lights so that the plants are always warm throughout the day.
Peppers require at least six hours of direct sunlight, and the soil must be 65°F or warmer.
The Process of Growing Bell Peppers in Pots
After sowing your seeds, they start to germinate after one to three weeks. If both seeds took to the soil, move the plants, so there is one per pot.
You'll know there is successful germination when you spot their first set of true leaves. After seven or eight weeks, the plant reaches about six to eight inches tall and has some buds. It takes about 90 days total for fruit production to be ready for harvest.
Growing Tips for a Successful Harvest
The best harvests come from the plants with the best care. Mulching your plant is essential to prevent evaporation and keep moisture in the soil—mulch using organic matter like wood chips, leaves, or straw. Learn when to pick peppers so they are the color you prefer and have the best taste.
Try fertilizing your plants every two weeks with tomato fertilizer, compost, or manure to improve the plants' health and promote a higher yield.
Pruning and deadheading aren't typically necessary. The only time deadheading is helpful is when the flowers bloom too early.
The best way to keep bell peppers fresh after harvesting is to store them short-term in the fridge. For longer periods, use the freezer.
Avoiding Pests and Diseases
One of the most common problems with bell pepper plants is blossom end rot. You can definitely tell if peppers are bad. End rot occurs when the veggies turn brown and black because there is a lack of calcium.
This problem is easily preventable. Add calcium granules to the potting soil at the beginning of the process to avoid the issue.
Aphids are a pest that loves hanging out on bell pepper plants – they are the number one enemy. The easiest way to get rid of aphids is to spray the leaves with a mixture of water and a few drops of kitchen dish soap.
Apply the soapy water every two or three days for two weeks until the aphids are gone. You can also grow bell pepper companion plants like tomatoes, cucumber, and basil.
The most important thing to remember when learning how to plant bell peppers in pots is to avoid overwatering them. Although peppers enjoy a moist environment, too much water causes them to drown and invites unwelcome fungus like mildew.
Growing bell peppers in pots is beneficial for many. It isn't always easy to find fresh fruits and veggies at the store in the middle of winter, especially when you live in cold areas around the country. Growing peppers is a great way to keep these crunchy veggies within reach.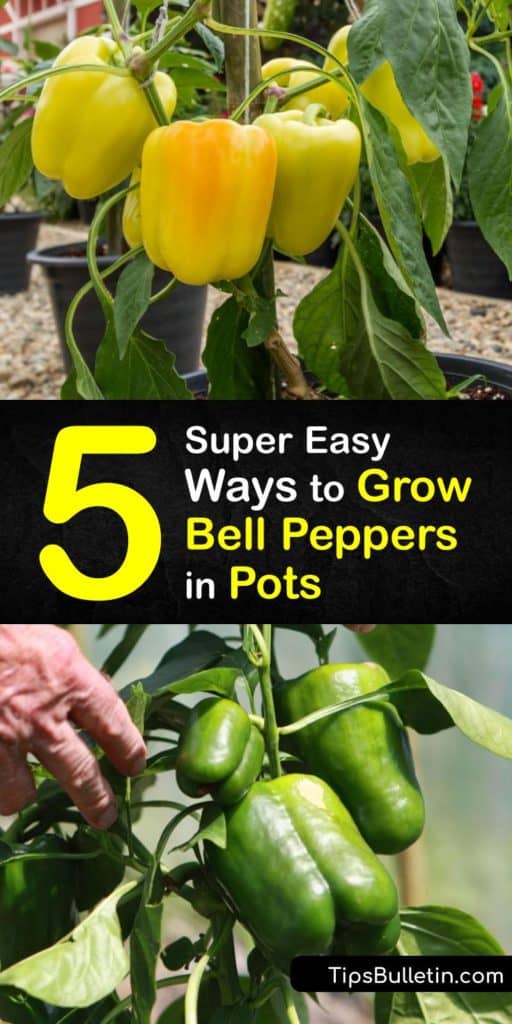 If this article helped walk you through growing bell peppers in pots, share these tips for bell pepper container gardening on Facebook and Pinterest.