Container gardening is a magnificent solution for those who don't have a garden plot or raised bed at home. Cabbage is an ideal candidate for growing in containers thanks to its shallow roots and hardy growth habits. In this article, you'll learn everything you need to know about growing cabbage in containers.
Cabbage, or Brassica oleracea by its botanical name, is in the same plant family with broccoli, Brussels sprouts, cauliflower, collard greens, kale, radishes, and turnips. Brassicas prefer cool weather and grow best between 55-75℉.
It's straightforward to grow cabbage from seed, and you'll enjoy an ample harvest of homegrown cabbage in 80-140 days, depending on which variety you grow.
You need a sunny location, a large pot filled with nutrient-rich potting soil, and plenty of water. Whether you're a beginner gardener or have years of experience, growing cabbage in pots is a fun and rewarding project.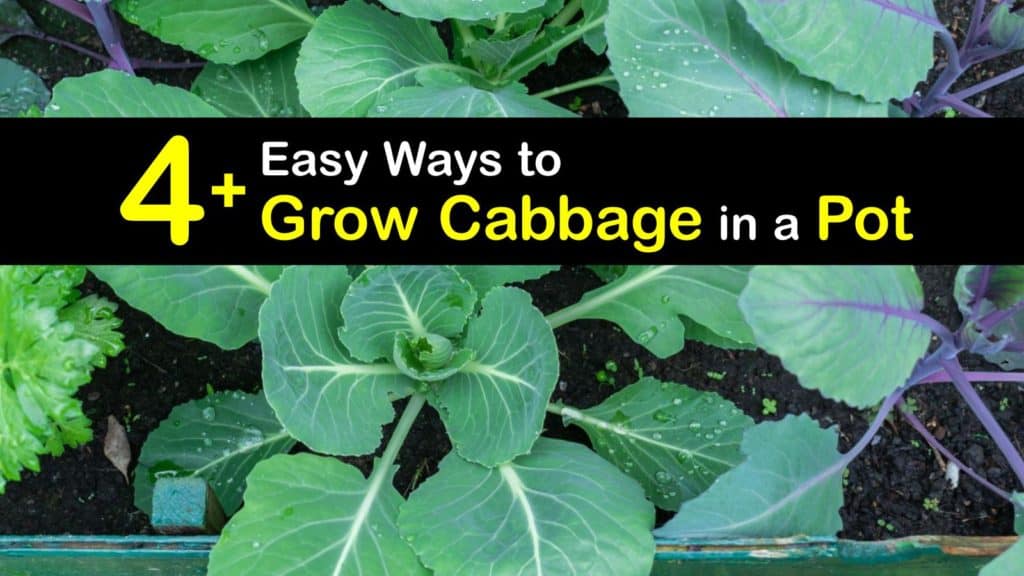 How to Grow Cabbage in Containers
Have you ever wondered how to grow cabbage in containers? Planting cabbage in containers or when you grow bok choy in containers is advantageous for numerous reasons.
You can conveniently move the potted plants and adapt to changing conditions throughout the growing season. Also, it's easier to guard against pests that like to feed on your cabbage plants.
In addition to being easy to grow, cabbage is an incredibly healthful vegetable. It's packed full of nutrients like calcium, fiber, folate, magnesium, manganese, phosphorus, potassium, and vitamins B6, C, and K.
Cabbage is also rich in antioxidants, which help reduce chronic inflammation and eliminate free radicals in the body. Furthermore, the potassium and soluble fiber in cabbage help lower blood pressure and cholesterol.
When it comes to how to grow cabbage in containers, they're not too fussy. As long as they grow in a large enough pot, get at least six hours of direct sun each day, and the soil stays consistently moist, cabbage will thrive on your porch, patio, or deck.
Starting Cabbage from Seeds
Since cabbage is a cool-weather crop, it's critical to start seeds early enough so that you can harvest the cabbage heads before temperatures get too hot. It's also possible to regrow cabbage from stem by starting it in a cup of water.
Start cabbage seeds indoors about four to six weeks before the average last frost date for your area. In warmer climates, sow seeds directly into the outdoor containers in early spring.
Fill a seedling tray, egg carton, or peat pots with seed starting potting mix. Plant cabbage seeds a quarter-inch deep and lightly cover them with soil. Mist the soil until it's saturated, then cover the tray with a humidity dome or sheet of plastic wrap to retain moisture.
Whether you grow radishes in a container with cabbage, radish and cabbage seeds germinate fastest between 65-70℉. Germination takes approximately five to eight days.
Once they sprout, move the seedlings to a sunny windowsill that gets at least six hours of light daily. When outdoor temperatures are consistently above 50℉, it's time for transplanting your cabbage seedlings into their outdoor pots.
There's a great selection when it comes to which types of cabbage to grow. Here are a few of the best cabbage varieties for growing cabbage in a container.
Ideal Conditions for Growing Cabbage in Containers
Cabbage needs plenty of growing space to reach its full potential. For individual cabbage plants, use a five-gallon pot.
If you'd like to grow several plants together, allow one to two square feet of space per plant, depending on the mature size of the varieties you're growing. If the spacing between plants is less than 12 inches, the cabbage heads are smaller.
Cabbage grows best in full sun, at least six hours of direct light daily. Although the plants require consistently moist soil, be careful not to overwater.
Always use a container with drain holes at the bottom to avoid problems with rot and fungus. Mulch around the plant's base to retain soil moisture and suppress weed growth.
While it's critical to select a nutrient-rich potting mix, cabbage plants are heavy feeders and require regular fertilizing.
Choose an organic fertilizer that's rich in nitrogen to promote large, healthy leaves, or try using fish emulsion, which many growers attest is the best fertilizer for leafy vegetables.
Harvesting Cabbage
Once your cabbage heads are ready to harvest, use a clean, sharp knife to cut the main stem an inch or two above the base. Keep several of the outer leaves intact, as well.
Although it won't grow another full head, it's possible to get a smaller second harvest of mini cabbage heads. Retain most of the lower leaves when you harvest the main head. Be careful not to disturb the roots, and keep caring for the plant as usual.
The outer leaves are also edible. They're ideal to use for making soup, sauerkraut, or kimchi and contain lots of vitamins and antioxidants.
Store fresh cabbage heads in your refrigerator for up to two weeks, or freeze them for later use. Other popular ways of preserving cabbage include pickling and fermenting.
Common Pest and Disease Problems for Cabbage
Container-grown cabbage plants are typically less prone to pests and diseases than cabbages grown in the ground. However, there are still a few signs to watch out for.
The most frequent insect attacks on cabbage plants come from aphids, cabbage loopers, cabbage worms, cabbage root maggots, and cutworms.
Cabbage worms and loopers, cutworms, and root maggots are all larvae that feed on cabbage plants. One way to tell when cabbage has gone bad on the vine is to look for irregular holes in the leaves and stem and root damage that's sometimes fatal to the plant.
Use row covers over your containers in early spring to prevent insects from laying eggs on young plants. Spray the infested plants with insecticidal soap or horticultural oil to kill eggs, larvae, and adult insects. Using neem oil for cabbage worms is quite effective. Spread diatomaceous earth around the soil surface to deter cutworms and root maggots.
Clubroot and sclerotinia rot are diseases from soil-borne fungi. Make sure to use clean potting soil every year. Unfortunately, the only remedy for these diseases is to remove the affected plants, replace the soil, and sterilize your container.
White spot fungus and purple blotch affect cabbage leaves and are often transported by splashing water. Run a soaker hose or drip irrigation to keep the leaves dry when watering. Treat affected plants with organic copper or sulfur fungicide.
Companion Plants for Growing Cabbage in Pots
Companion planting isn't just for big gardens. It's also a fantastic DIY approach to pest control and plant health in container gardens.
The idea is to utilize mutually beneficial relationships between certain plants to attract beneficial insects, repel pests, and create a healthy environment.
Some plants reportedly improve one another's flavor and overall growth. However, other plants aren't friendly neighbors and must grow separately.
Aromatic herbs are wonderful companions for cabbage plants. Dill, rosemary, and sage effectively repel cabbage moths. Chamomile attracts beneficial predatory insects and improves the flavor of cabbage.
Alliums like onions and garlic are also beneficial to grow with cabbage. They repel numerous insects that feed on cabbage leaves, including aphids, cabbage worms, and slugs, in addition to deer and rodents.
Leafy greens like lettuce and spinach act as living mulch around the base of cabbage plants.
When it comes to growing cabbage in pots, you'll find that it's not as difficult as it might seem at first. With full sun, adequate water and fertilizer, and enough space for the root system to develop, you'll enjoy a bountiful harvest of delicious cabbage heads in a few months.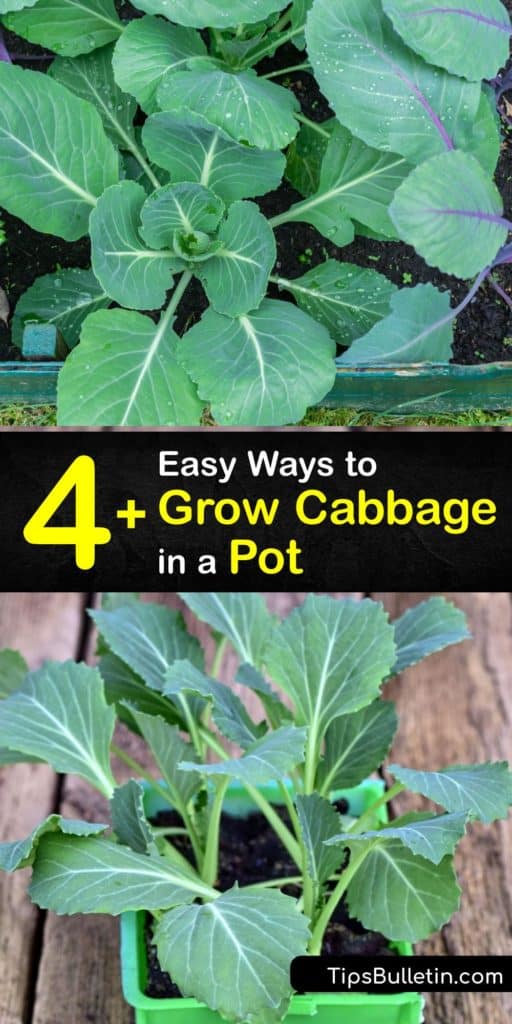 If you enjoyed learning about how to grow cabbage in a pot, please share this article about growing cabbage in containers with your fellow green thumbs on Facebook and Pinterest.