Garlic (Allium sativum) belongs to the Allium genus, just like chives, shallots, and leeks. A little homegrown garlic enhances just about any meal, from pasta to curry and roasted vegetables. Growing garlic in containers lets you enjoy all the benefits of garlic even if you lack room in your garden.
Saving space isn't the only reason for planting garlic in containers. Container gardening allows you to grow garlic year-round since you can move the pot around in response to weather conditions. You have easy access to fresh garlic and face fewer problems from weeds and pests.
Are you curious about how to grow garlic in a container? Although it's sometimes possible to grow your own garlic from grocery store bulbs, your best bet is to find cloves at a nursery or farmers market. Typically, you plant garlic in the fall and harvest the following summer.
Choose a container and soil that drain well since garlic is vulnerable to rot. In cooler climates, protect your garlic plants over the winter to encourage spring sprouting.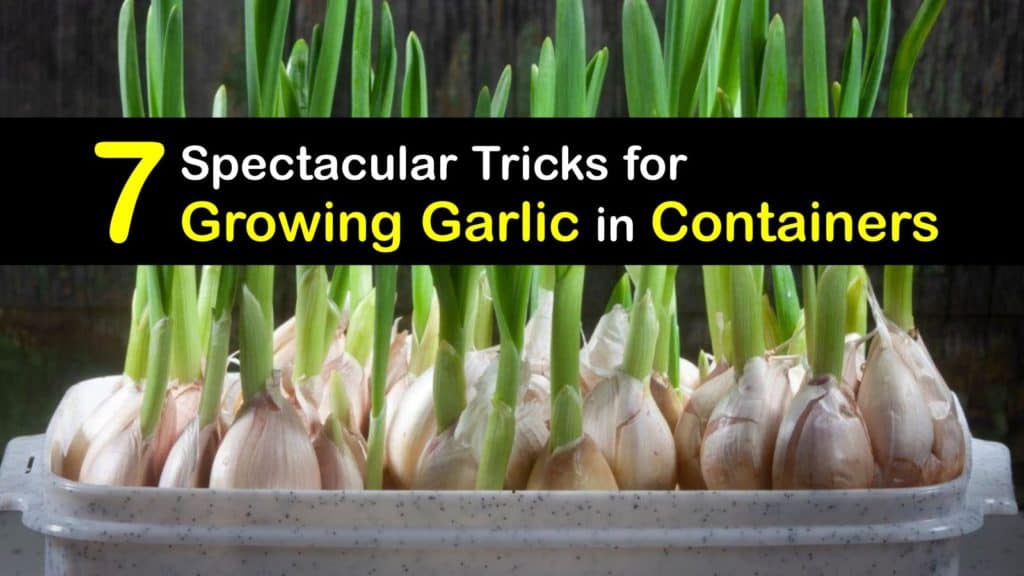 How to Grow Garlic in a Container
The first step for growing garlic in containers is finding suitable bulbs. Afterward, break the garlic bulbs into individual cloves and insert them in fertile, well-drained soil.
Finding Garlic Bulbs for Planting
Grocery store garlic is often treated with a growth inhibitor, so it's not ideal. If you do use garlic from the supermarket, make sure it's organic.
Wherever you find your garlic, look for garlic cloves that are fat, firm, and healthy. Green sprouts emerging from the cloves are a good sign for planting garlic in containers.
Choose between softneck vs hardneck garlic varieties. Hardneck varieties thrive in cold climates and produce scapes and larger cloves. Softneck garlic, meanwhile, prefers warmer weather and tends to have a longer shelf life than hardneck garlic.
Determining When to Plant Garlic in a Container
Plant garlic in a pot in the fall, around the first frost. The soil should be cool but not yet frozen. Garlic plants overwinter outdoors and are ready to harvest the following summer. If you are growing garlic inside, note that you will harvest only the greens.
Hardneck garlic needs to be exposed to six to eight weeks of temperatures below 45℉ to develop a garlic head. In warmer regions, stick bulbs in the crisper in a paper bag for 8 to 12 weeks before planting in early spring.
Prechilling is not necessary for softneck varieties of garlic. Grow them indoors if temperatures get too cold or hot.
Choosing a Container for Growing Garlic
Use a large pot to improve water retention. Ensure that the container has drainage holes and is frost-proof.
Terra cotta is not ideal since it tends to crack in the cold and requires frequent watering. Instead, use a pot made of plastic or glazed ceramic. In hot climates, choose a light-colored pot to avoid overheating the soil.
The container should be at least eight inches deep to give the roots enough room to grow. The best width depends on the number of cloves—budget at least three inches between cloves.
How to Grow Garlic in a Container: Selecting Soil
When planting garlic in containers, select soil that's rich in organic matter and drains well. Loose, loamy potting soil with a pH between 6.0 and 7.5 is ideal.
To prevent pests and diseases, avoid planting in soil that has held other Alliums within the past few years. Unless the potting mix already contains fertilizer, mix in granular, organic bulb fertilizer.
Consider using soilless potting mix. This product is often a blend of coconut fiber or peat, vermiculite or perlite, and compost.
Planting Garlic in Containers
Gently separate the head of garlic into individual cloves one to two days before planting. Leave the skins on to protect the cloves. Plant the largest cloves and use the smaller ones in cooking.
Pour in a little gravel to improve drainage, then fill the container with potting soil within two inches of the top. Poke holes for the garlic cloves with a stick or your finger. Make the holes two to three inches deep and three inches apart to prevent crowding.
Insert one clove per hole with the pointy end sticking up. Cover the garlic with one inch of soil, gently patting it into place. If the potting mix is not already moist, water it until it's damp. Expect the garlic to sprout in four to five days.
Growing Garlic in Containers Over the Winter
Overwinter your garlic plants outdoors to ensure the development of a full head of garlic in the spring. Expect your plants to go dormant over the winter and sprout in the spring. Tomatoes are great to plant with garlic, as the garlic helps keep unwanted bugs off tomato plants.
Make sure that the garlic receives six to eight hours of direct sun daily during the winter. If temperatures are cold, move the pot to a protected spot near your house.
Spread one to two inches of organic mulch—such as straw or shredded leaves—to insulate the garlic against the cold.
Stop watering hardneck garlic varieties after the first frost. Even if the water would not freeze, garlic does not require irrigation over the winter.
How to Grow Garlic in a Container: Springtime Care
Start watering your garlic plants again in the spring, approximately two weeks after the last frost. Give a half-inch to one inch of water per week to keep the soil moist but not soggy. Moisture helps the cloves break through their skin.
If there's heavy rainfall, wait at least one week before watering to prevent root rot. In very rainy periods or regions, move the pots to a sheltered spot or indoors.
Feed liquid organic fertilizer every three weeks in the spring. Consider spreading light-colored mulch, such as straw, to reflect heat away. Cool soil helps garlic bulbs develop, while heat can prevent growing.
Garlic prefers full sun but tolerates partial shade. Move the container around if necessary to ensure that your plants receive at least six hours of direct sun daily. If you're growing garlic-indoors, you may need to use a grow light or fluorescent light.
How to Harvest Garlic
For hardneck varieties, harvest garlic scapes in late spring or early summer when they're at least four inches tall. Trim scapes regularly to encourage larger, healthier bulbs. Try turning them into pesto or using them as a garnish for baked potatoes, scrambled eggs, or soup.
Harvest garlic bulbs in the summer when the leaves start turning yellow. Stop watering at that point.
When harvesting garlic, gently dig up the entire plant—do not pull on the leaves. Brush off dirt, then hang the garlic in a well-ventilated, warm, dry spot to cure.
In two to four weeks, the neck and skin should dry out. Cut off the garlic's tops and roots and store it in a cool, dry place. Preserve fresh garlic by freezing, drying, or pickling.
Planting garlic in a pot enables you to adapt to weather conditions and enjoy DIY garlic, no matter the size of your garden. Growing garlic in the container garden is similar to in the ground, other than choosing a container.
Insert garlic cloves in fertile, well-drained soil in the fall. Expect the plants to go dormant over the winter and produce heads of garlic in the spring. Try growing garlic in containers to have fresh cloves easily accessible for use in all your cooking projects.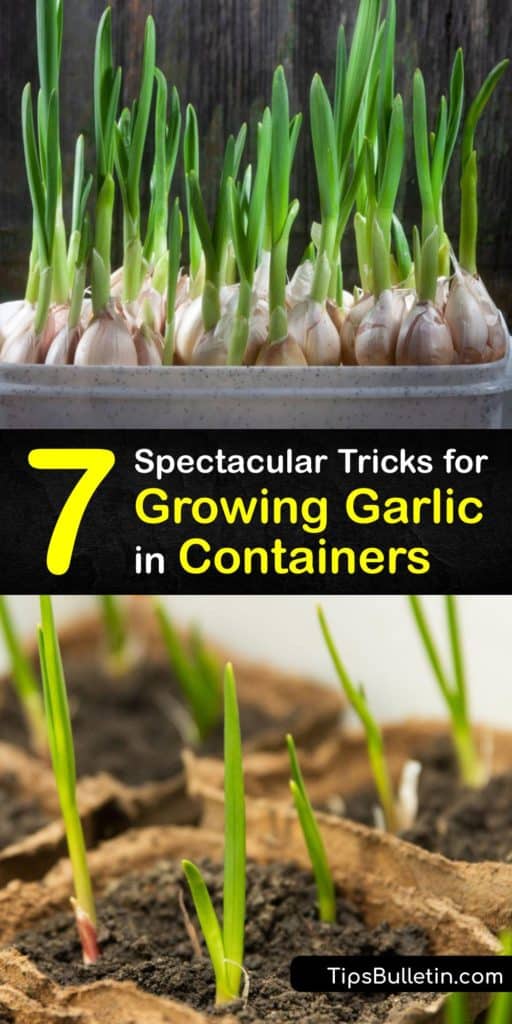 If you found these garlic growing tips helpful, please share this container gardening information with your friends on Pinterest and Facebook.