If you enjoy spicy food, then there is no doubt you love habanero peppers. These chili peppers give dishes the right amount of kick without taking away the flavor. Not only are they delicious, but growing habanero at home is easier than you think, whether you have the space for a garden or not.
At first sight, habaneros look like nature's candy with their shiny, bright orange or red color. But don't let appearances deceive you. These small, pretty morsels are packed with enough capsaicin heat to cause you to run for a glass of water in no time at all.
While they aren't the hottest peppers around, habaneros rank high on the Scoville scale and are definitely hotter than the jalapeno or cayenne pepper.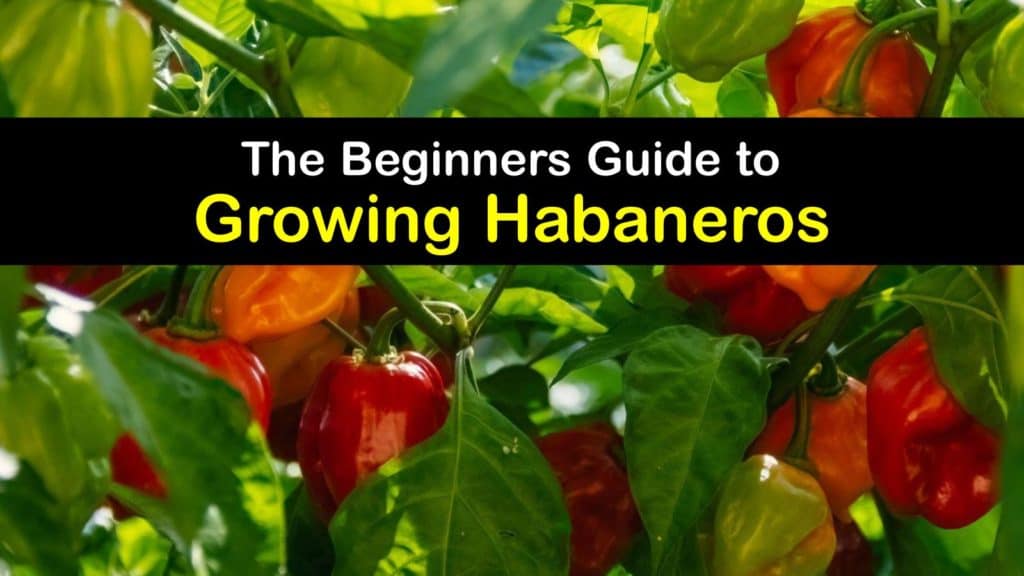 How to Grow Habanero Pepper Plants
The best way to grow your own pepper plants is to begin by planting habanero seeds indoors. Whether you grow jalapenos from seeds, habaneros, or other pepper types, this helps them germinate and establish before moving them outside. It also ensures they can withstand the varying conditions nature throws at them.
However, planting seeds is only the first step in the habanero growing process. These plants require transplanting and the right amount of sunshine, water, and food to thrive.
They are the perfect types of peppers for salsa or hot sauce, and growing your own at home means you get to enjoy an abundance of fresh hot peppers at the end of the growing season.
Here is how to grow habanero peppers at home, a few things to look out for as they mature, when to harvest your hot peppers, and ways to store them.
Preparing to Grow Habaneros
While growing habaneros, Capsicum chinense, is relatively easy, it's always a good idea to learn as much about your new plants as possible before planting them in the garden.
How much sunlight do they require, and do they need fertilizing to grow? These are common questions and knowing the answers helps you nurture the healthiest plants for a bountiful harvest.
Habanero Peppers (Capsicum chinense)
Habanero peppers are hotter than jalapenos but not nearly as hot as the ghost pepper. They range from 100,000 to 350,000 in Scoville heat units, considerably less than the world's hottest pepper, the Carolina Reaper, which is over 2,000,000 heat units.
Habaneros are a close relative of the Scotch bonnet pepper. They start green and change color as they mature, have a slightly wrinkled texture, and are one to three inches long.
These pepper plants grow one to four feet tall, and the fruits have a floral, sweet aroma and are very spicy. Pepper plants are warm-season crops and require a minimum of six hours of direct sunlight each day.
If you reside in a cool climate, it's vital to use row covers to keep the soil warm or start your seeds indoors. They prefer well-drained soil, deep watering, and warm temperatures. Under the right conditions, each plant typically produces 30 to 40 peppers.
Planting Habanero Seeds Indoors
Planting habanero seeds is pretty straightforward. However, these seeds need the right amount of sunlight and warmth for the germination process. Here is how to grow habaneros from seed in your home.
For the best success, start your seeds indoors eight to ten weeks before the last frost. Fill a seed tray with seed starting potting mix and place two to three seeds in each compartment.
Follow the instructions for planting depth on your seed packet, cover them with dirt, and spray the surface with water. If your seed tray comes with a lid, put it in place.
Otherwise, cover the seeds loosely with a sheet of plastic wrap. Set the starter tray in a warm area with filtered light. Once the seeds begin sprouting, remove the plastic or lid and place them in front of a south-facing window for optimal sunshine.
If you do not have good lighting, consider putting them beneath a grow light. Keep the seedlings damp but not soggy as they grow.
Plants tend to grow in the direction of the sun, so turn the tray around each day to keep the seedlings growing upright. Once they have two healthy leaves, snip away all but one of the strongest plants in each compartment.
How to Grow Habanero Peppers in the Garden
A garden bed is the best place to grow your habanero pepper plants if you have the right amount of space in your yard. Here is how to grow habanero peppers outdoors and give them the care they require.
Do not transplant your seedlings outside until they are at least seven to eight weeks old and the soil temperatures are consistently warm. Acclimate them to the outdoors about one week before transplanting to help them deal with the transition.
Take them outside once a day for a couple of hours and place them in a partial shade area of your lawn. Increase the amount of time daily until you are ready to plant them in the garden.
Dig a slightly larger hole than the plant's roots and space each hole roughly 18 inches apart. Habanero plant spacing is essential if you plan on planting many plants. Carefully remove each seedling from the container and place them into the holes.
Fill the dirt in around the bottom of the plants and pat down the soil lightly. Water them to help them settle and give them a nitrogen-rich fertilizer to promote strong, leafy growth.
While staking bell peppers and other pepper plants is not a necessity, it can help keep plants off the ground to fend off diseases.
Add some companion plants for habanero peppers to deter insects and disease. Great options are parsley and cucumbers.
After the pepper plants begin flowering, feed them with a fertilizer that is lower in nitrogen to allow the pepper pods to form. If your soil is low in calcium, consider sprinkling crushed eggshells over the dirt to prevent blossom end rot.
To promote more growth, consider topping off the plant when it is about six inches tall by snipping the central shoot at the node base. While it's not necessary to do this, it helps the plant grow stronger with a full shape.
Spread mulch over the garden to retain moisture and prevent weed growth, and water the peppers routinely to stop the soil from drying out. The material also helps halt fungal diseases by stopping the dirt from spraying on the plants during rainfall.
Growing Habanero in Containers
Not everyone has enough backyard space to grow a garden. However, container gardening is a great way to grow your vegetables on a patio or porch, and habaneros peppers are happy growing in pots or containers as long as they receive enough sunshine.
While pepper plants are content growing in almost any container, a three-gallon pot is a good choice. Fill it with potting mix until it is about a third way full.
Remove the seedling from its original pot and set it on top of the dirt. Fill in the rest of the container with soil and pat it gently around the plant's base.
Pour mulch over the dirt to help it hold in moisture and stop weeds from growing, and water the new plant to help it settle. Fertilize it with a high nitrogen fertilizer right after planting and follow up with a low nitrogen fertilizer after it flowers.
Place the pots or raised beds in your porch or patio area where they get full sun for six hours a day. Water your pepper plant as needed to keep it moist but not soggy, and avoid overwatering.
Potted plants often demand more watering than garden plants, so make sure to check it more frequently.
Harvesting and Storing Habanero Peppers
You work hard to care for your pepper plants all summer long, and the time for harvesting is finally drawing near.
How long does it take for hot peppers to grow, and how should you store them after picking them? When are banana peppers ripe? Learn when to harvest your peppers and a few ways to keep them short and long term.
Habanero peppers are ready to harvest 80 to 90 days after you transplant them outside. After the flower dies away, a tiny green pepper emerges, which gradually grows bigger.
As the pepper matures, it turns from green to orange and red. Once it reaches the desired color, use a pair of garden scissors to clip the red peppers away from the stem.
If you plan on using your fresh peppers within a few days, it's safe to keep them at room temperature.
To store your fresh peppers short term, dry them with a paper towel and place them into a plastic bag. Seal the bag shut and keep them in the crisper drawer of your fridge for up to two weeks.
If your pepper plants reward you with a bountiful harvest, and you can't eat them all in time before they spoil, consider freezing them for up to six months.
Rinse the peppers and dry them thoroughly with paper toweling. Drop them into a freezer bag, press out the extra air, and seal them shut tightly before storing them in your freezer.
There are so many different pepper varieties, and each of them has qualities that make them unique. Habanero pepper plants are perfect if you're a beginner gardener who loves spicy food.
They reward you with enough fresh habanero peppers at the end of the growing season to keep you satisfied for months.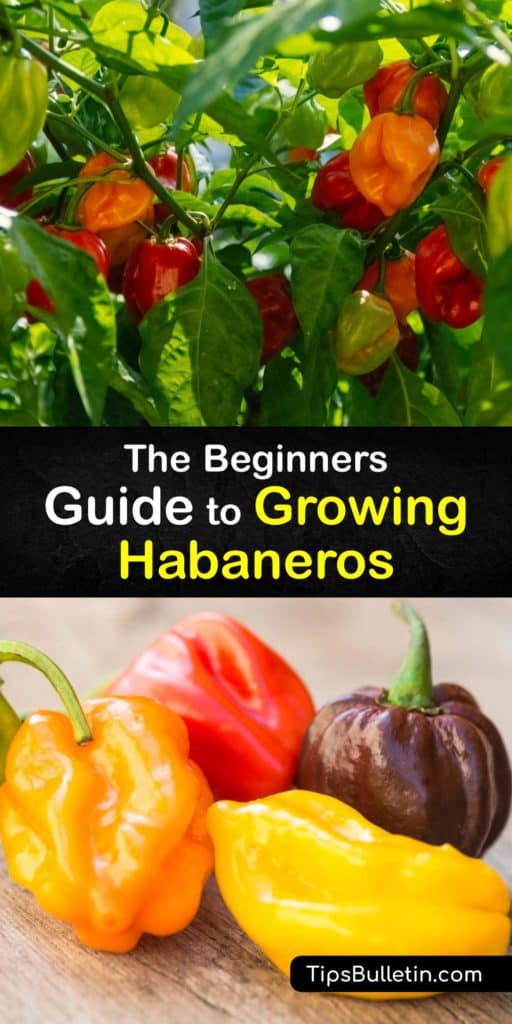 Growing habanero is not much different than growing jalapeno peppers or bell peppers, but they have quite a bit more kick, so why not share our habanero growing guide and tips with your circle of friends on Pinterest and Facebook?