When you think of vegetables, leafy green lettuce is likely one of the first to come to mind. Lettuce is a popular salad green, and growing lettuce from seedlings is easy for any gardener.
Because it grows quickly, lettuce thrives in garden soil or containers and is an ideal early spring or fall crop because it thrives in cool weather. One benefit of growing lettuce is its ability to continue growing as you harvest it. As your lettuce plant reaches maturity, snip off a few outer leaves for your salad bowl until the entire plant is ready for harvest.
If you're focused on eating better and including more greens in your diet, buying lettuce from the grocery store becomes expensive. Growing lettuce at home means you always have a fresh supply of leafy greens whenever you want a salad or need to add leaf lettuce to a sandwich.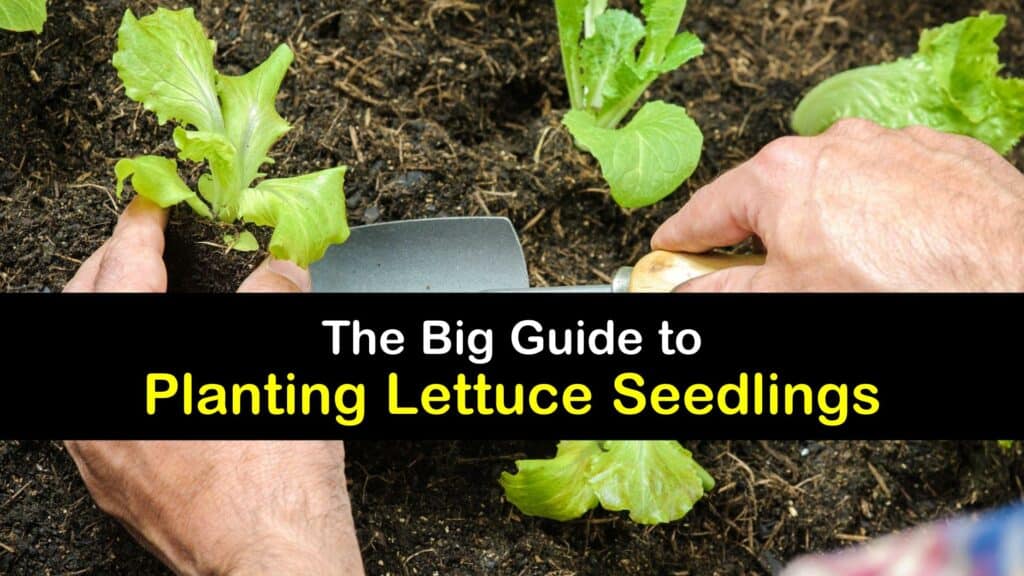 Planting and Growing Lettuce Seedlings
Because lettuce withstands light frosts and proliferates, lettuce plants make great spring or fall crops. Extend your growing season by starting lettuce indoors and learning how to plant lettuce seedlings outside after sprouting.
Growing Lettuce From Seedlings
To begin your journey of growing lettuce from seedlings, select types of lettuce to grow at home. The type of lettuce you decide to grow depends on what you need the lettuce for and the growing conditions in your USDA hardiness zone.
Loose-leaf lettuce is a favorite for gardeners because of how fast it matures. This variety of lettuce develops large loose heads of lettuce about a month and a half after planting.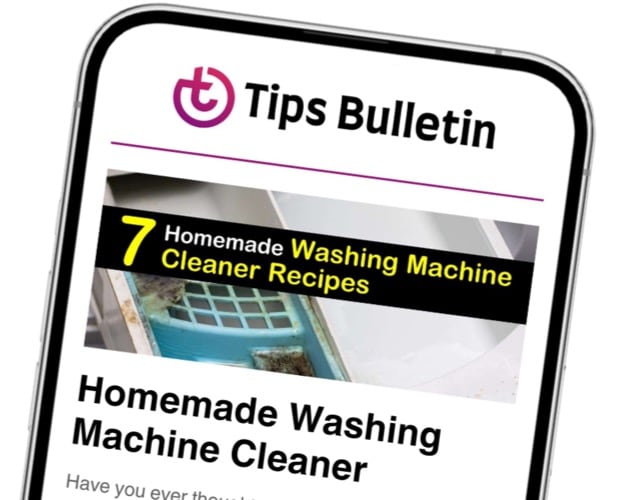 Finally, an email that Transforms Your Home.
Get the latest home and garden tips from our experts, delivered straight to your inbox.
Romaine lettuce is a staple ingredient for many salads. Romaine grows tall heads of dark green leaves with firm ribs down the center.
Oakleaf lettuce is easy lettuce to grow and is ideal for container growing due to its small size. This variety of lettuce grows green, red, or gold head leaves that develop into full heads. This variety is among the fastest growers, reaching maturity in around 50 days.
Crisphead lettuce, also known as head lettuce or iceberg, is compact lettuce that grows with overlapping leaves. Iceberg is the most used type of lettuce in salads and is known for its pale and sweet interior leaves.
Buttercrunch lettuce is known for its buttery flavor and velvety texture. Also known as Bibb lettuce, this lettuce forms loose heads of delicate leaves. Another reason this variety is popular is because of its heat resistance – it withstands the hot weather of the summer months and resists bolting.
How to Plant Lettuce Seedlings
To start growing lettuce plants indoors, select a container or pot. Because lettuce seedlings have shallow root systems, growing lettuce in containers and pots is the perfect solution.
Fill your container with potting soil amended with organic matter compost to provide your seedlings with nutrients. Whether you are growing iceberg lettuce from seeds or another type, sow lettuce seeds at least four weeks before you plan on transplanting them to your garden beds. Lettuce seeds need sunlight to germinate, so avoid burying seeds too deep in the planting soil.
Lettuce thrives when grown in full sun for at least six hours out of the day with partial shade for the rest. Keeping the temperature steady for your lettuce plant is crucial to prevent your plant from bolting. Bolting occurs when lettuce plants stop producing new leaves and start growing flower stalks to begin seeding.
After sowing your seeds, thoroughly drench your soil and cover with plastic wrap to help maintain moisture while allowing sunlight to reach your pot. Germination occurs quickly for lettuce, so check your pot daily for growth. Keep the soil moist as your sprouts appear and develop true leaves. Thin your seedlings to leave one inch of spacing between each seed.
As your seedlings develop, keep an eye on the color of your plant's leaves for signs of deficiencies. Healthy plants are robust and green, but if your lettuce seedlings look yellow or leggy, it's a sign that your plant is light-starved.
Plants become leggy when they strain to find sunlight and develop long stems with little to no new leaves on top. Using grow lights is one way to avoid leggy lettuce plants if your plant struggles to receive full sun from sitting on a windowsill. Monitor the size of your plants to determine when to transplant lettuce seedlings.
When to Transplant Lettuce Seedlings
Regardless of the variety, cabbage vs a lettuce head plants are somewhat cold-hardy and capable of handling a few touches of frost at the end of the winter season. The earliest to consider transplanting is three to four weeks before the last frost date in your area. However, lettuce is fine to transplant outdoors in the garden or raised beds any time after the frost date passes.
Your seedlings should be ready to transplant outdoors four to six weeks after starting your lettuce plants indoors. Once plants reach two to three inches tall, begin hardening them off to prepare for growing outside.
To harden off your lettuce plants, begin by moving their containers or pots to receive sun outdoors. Leave your plant outside for an hour a day, adding an hour to its time daily until your plant remains outdoors for a full six to seven hours. After about a week of hardening off, your lettuce is ready to transplant into the garden.
When transplanting, space your seedlings ten inches apart to give each seedling room to develop a full head. Dig holes for your seedlings using a trowel or a digging dibber to mark the holes for your seedlings easily. Layer mulch around the seedlings to help retain soil moisture after the transplant and block any weeds from sprouting.
A soil test before planting lets you know if it's deficient. It's important to fertilize your lettuce plants if your soil lacks the right nutrition for your plants.
The best way to pick lettuce is to harvest lettuce so it keeps growing and supplying a continuous harvest. Unless you're plucking the entire head, pick only the outer leaves to let the plant continue to grow.
Lettuce Bugs
The biggest issue with plants growing outdoors is the threat of pests. Aphids are common insect pests for lettuce plants. These piercing-sucking insects feed on the foliage of plants and suck the sap out of the leaves. To protect your lettuce plants, install row covers over your seedlings or allow your plants to grow in cold frames.
To actively target insect pests on your lettuce plants, create an insecticide made from household ingredients like rubbing alcohol and dish soap to kill insects that visit your plants. Diluted rubbing alcohol kills harmful pests, and adding dish soap allows your spray to stick to the leaves better.
Mix the ingredients in a tank sprayer and treat your plants with this foliar spray. Do not over-saturate your lettuce leaves to avoid damaging them with excess soap.
Starting crops indoors isn't just for people low on garden space. Developing seedlings inside allows you to get a head start on the growing season and expands your options of what to grow regardless of the weather. Then, you can look forward to the best ways to harvest iceberg lettuce and other tasty lettuce varieties.
Learning how to grow lettuce indoors and knowing when to transplant lettuce seedlings are essential skills to master to have fresh homegrown lettuce on hand.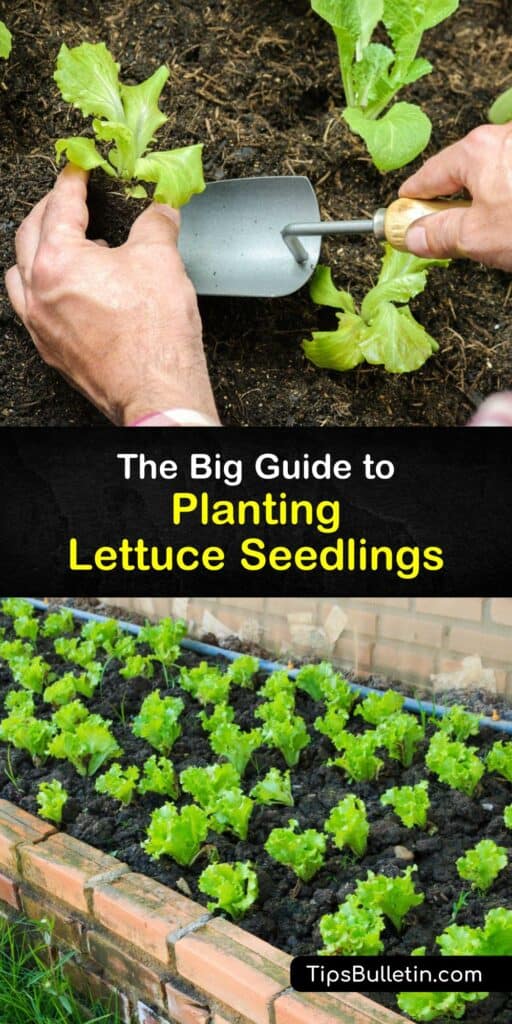 We hope our guide about growing lettuce from seedlings helped you learn how to plant lettuce seedlings and that you'll share our guide with fellow lettuce lovers on Facebook and Pinterest.