Tomatoes are big, juicy, and bursting with flavor, making them a staple in a garden. An outdoor vegetable garden is great if you own property, but they're also a luxury that not everyone gets access to. Growing tomatoes in containers is a smart alternative for those who live in small spaces and have limited access to the outdoors.
Learning how to plant tomatoes in a container brings the plants closer to you so you can pluck them from the vine without having to trek out to the garden to get them. There are thousands of tomato varieties. Cherry tomatoes, heirloom tomatoes, and beefsteak tomatoes are some of the most popular choices for gardeners.
Garden centers have a large assortment to choose from, and most are easy for even a novice to grow. Before you learn how to grow tomatoes in a container, understand that two growing patterns may impact your selection.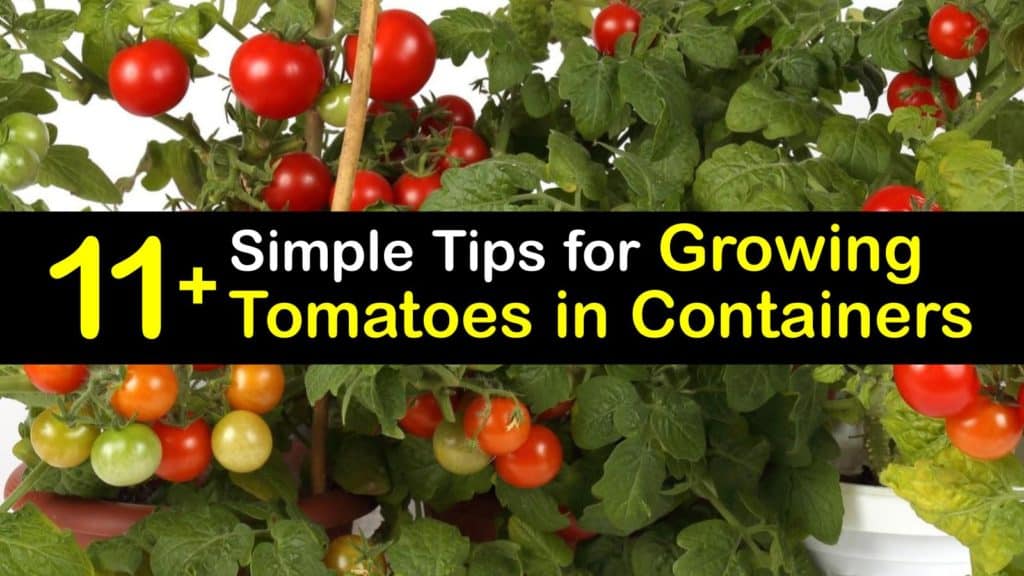 Determinate vs. Indeterminate Tomatoes
Growing tomatoes in a container is an exciting project. Hold off on planting tomatoes in containers until you choose which growing pattern suits your needs. How long does it take for cherry tomatoes to grow? These tomatoes are ready for harvest within about two months.
Determinate tomatoes often require tomato cages, while indeterminate tomatoes require staking because their structure is higher off the ground. Determinate varieties also ripen early and all around the same time.
This timeframe makes them a smarter choice if you plan to can the tomatoes. Indeterminate varieties continuously produce fruits throughout the entire growing season, so you can pick which ones are ripe and come back later for the ones that still require more time.
While most people think that determinate types are better for container gardening, growing tomatoes in containers is possible for both.
How to Grow Tomatoes in a Container
Tomatoes are beneficial to our health in several ways. They are made up of about 90 percent water to help with hydration, while the other five percent contains lots of fiber.
One small tomato has only 18 calories but gives our body calcium, protein, and healthy carbs that help prevent cancer and support heart health. Follow some of the following tips to learn how to grow tomatoes in a container successfully.
It's possible to grow heirloom tomatoes from seed as well as seedlings, but it will take several weeks longer for the seeds.
Tip for Growing Tomatoes in Containers
Location is the deciding factor on whether you'll eat the best tomatoes of your life or be stuck with small tomatoes that never ripen correctly. Tomato growing isn't hard, but there are some factors that you can't ignore.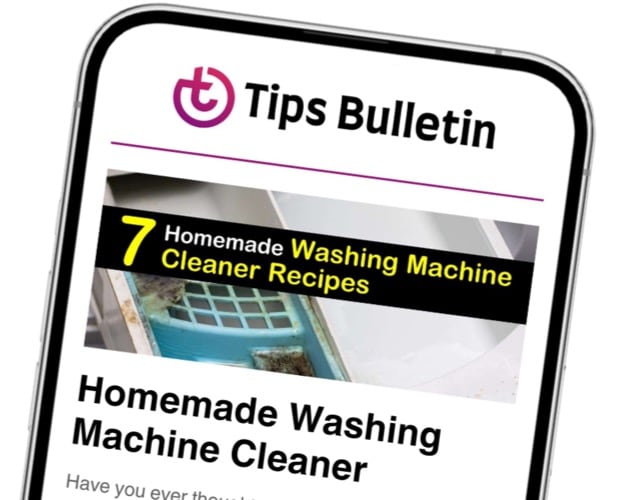 Finally, an email that Transforms Your Home.
Get the latest home and garden tips from our experts, delivered straight to your inbox.
The area you choose must have at least six hours of direct sunlight every day. When you grow tomatoes in a pot that isn't near a water source, make sure a garden hose or watering can easily move to that location.
When you find the perfect spot to plant cherry tomatoes at home or another variety, keeping pots grouped is something to consider. Grouping pots keeps the roots of the plants shaded. This formation is significant when they are sitting on hot concrete that absorbs and reflects moisture.
Keep the pots close enough to create shade without letting the plants' leaves touch to avoid spreading diseases from one plant to another.
Find the Right Pot
Finding a pot that supports the life of your DIY container gardening project is another critical factor in the health of your veggies. The seedlings might be small, but full-grown indoor tomato plants or those planted outside are large and have a robust root system.
A smaller pot size, like tomato plants in 5 gallon buckets or even a ten-gallon container, is sufficient, but a 20-gallon pot is ideal. If you use a smaller pot, try to stick with smaller tomato varieties.
Smaller pots also affect the amount of watering and fertilizing. Avoid using black plastic pots because they hold a lot of heat and diminish plant growth.
Hanging baskets are also something to avoid since they often aren't large enough and don't support the root structure. Terra cotta, fabric, and glass pots are ideal.
Always drill drainage holes into the bottom of the pot so the moisture properly drains, and mold and mildew don't grow in the potting soil.
Using Quality Potting Mix
Regular garden soil from your existing beds is often too heavy for container gardening. Potting mix with perlite keeps the dirt from compacting and is free from disease and pests.
Creating an emulsion of soil with organic fertilizer or slow release fertilizer is a great way to grow a strong and sturdy main stem while adding plenty of potassium and other essential nutrients to the mix.
If you don't want to purchase fertilizer, add compost with eggshells and bone meal to give the tomato plant proper fuel.
How to Plant Tomatoes in a Container
Planting tomatoes in a container is one of the most manageable parts of the process. Dig a hole in the soil so that it covers two-thirds of the main stem. This depth encourages better root growth.
Fill the gap back in and gently pack it around the base of the plant. Water the plant so the soil is entirely moist without being soggy.
Always wait until after the last frost date of the year. If you've already planted the tomato plant, cover the pots with a frost blanket and put mulch on top of the soil to create extra protection and hold onto as much heat as possible.
Support Your Plants
Providing support for your plants to grow on is crucial. The earlier you add a tomato cage or stake them, the less likely you disturb the tomatoes and their growth later on.
Create your own tomato cages by bending metal fencing or hog wire into a cylinder and connecting the two ends with wire. Insert the cone over the plant and into the soil within the pot so it is secure.
Water Plants Regularly
Nothing survives if there isn't enough water nearby. You have to be extra attentive not to over or under water your tomato plants. Finding the perfect balance keeps your tomatoes big and juicy without bringing on other problems and diseases like blossom end rot.
Use your fingers to determine if your plants require water by pushing them into the top inch of soil. If the top inch is dry, give them a drink of fresh water. If you hate spending time watering plants, drip irrigation systems create less work.
Cover the Pot's Soil
Moisture is one of the principal aspects of growing any food. Mulching the containers with organic matter keeps the moisture in the soil and adds nutrients to the pot as the matter breaks down.
Traditional mulch is fine, but straw, leaves, and shredded newspapers are all excellent alternatives.
Harvesting Tomatoes
Harvesting time is the most exciting point of the entire process. Once your tomatoes are picked, the options are endless for what you can make with them.
Tomatoes produce ethylene gas that ripens them even after they are removed from the vine. It's best to harvest tomatoes when they are still slightly green and on the verge of turning red. They then ripen off the vine to prevent splitting and bruising.
Tomato Pests and Diseases
Unfortunately, tomatoes aren't invincible, and you might encounter some problems during your gardening journey. Blossom end rot creates common issues when learning how to grow tomatoes in a container.
Blossom end rot is more of a psychological problem than a disease. It is caused by a calcium imbalance and usually happens when the growing season starts wet and then gets dry.
Blight is another frequent tomato plant disease. This disease happens either early or late in the season, and bullseye-shaped brown spots pop up on the plant's leaves.
Fusarium wilt is also another likely disease to show up. This pathogen is more common in warmer southern regions and causes the stems to droop and wilt. The dangerous wilt starts at the bottom of the plant and works its way up.
Aphids like tomatoes as much as we do and it's important to learn how to prevent tomato hornworms and get rid of them if they appear.
Tips to Prevent Plant Disease
Keeping these fungi from damaging your crops is easy with a few extra steps of labor. Always switch out your potting soil from year to year so that no pathogens are hiding away and waiting to make an appearance.
Pinch off leaves on your tomato plant turning yellow or curling as soon as you spot any discolorations or other signs of disease. Avoid working with the tomatoes right after being watered to avoid spreading the disease more easily to the other potted plants.
Give your tomatoes plenty of air circulation by drilling several draining holes in the bottom of your pot and using soil mixed with organic matter.
Finally, choose disease-resistant varieties of heirloom tomatoes or hybrid types. Your local garden center can tell you which are easiest to grow with problems.
Clean up Tomato Plants at the End of the Season
Many people aren't sure whether or not they should prune tomatoes through the year. It isn't always necessary but pinching off a few suckers here and there gives more nutrition to the other branches.
Suckers are small stems that grow off larger, main stems. Prune these sections or dying leaves off the plant to keep the rest growing big and strong.
If you plan to reuse any of the pots from the previous growing season, start fresh with all new potting soil. Discard the old soil and wash and scrub the inside of the used pot.
Sterilize the pot with a solution of ten parts water and one part bleach to kill any harmful organisms that may affect the next crop.
Simple Recipes to Savor Your Tomatoes
There are so many things to make with tomatoes. Sauces, stew, and canned tomatoes are some of the most common, but we think you might enjoy a recipe where the tomato is the star.
Tomatoes that you grow yourself taste better because you put love and care into the final product. Growing tomatoes in a container also keeps the fruits well-protected and free from harmful pesticides and chemicals.
Preheat your kitchen oven to 450°F. Wash your fresh-picked tomatoes and then cut them in half or into quarters if they are large. Toss the tomatoes in a bowl with olive oil, balsamic, garlic, basil, Parmesan, salt, and pepper.
Spread the tomatoes on a rimmed baking pan and roast them in the oven for 15 minutes. Allow them to cool before serving as a side dish or fresh summer snack.
Learning how to plant tomatoes in a container may be one of the smartest moves you ever make. Eat tomatoes raw or cook them down to get a deeper, more enhanced flavor and then try to savor them as much as you can.
Container gardening is something that anyone can do, and tomatoes are one of the best plants to start with, no matter your experience level.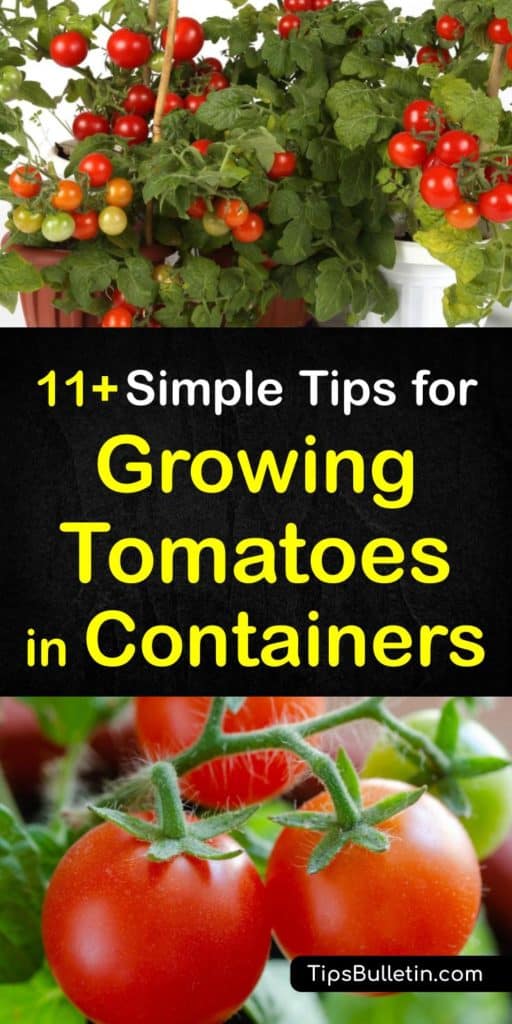 If growing tomatoes in containers has brought a massive yield to your kitchen, share these tips for tomato container gardening on Facebook and Pinterest.