Do you live in an area prone to heatwaves? Looking for ways to brighten up your sunny yard without a ton of work? If so, heat loving annuals are the way to go. There is nothing worse than droopy looking plants in the middle of a heatwave.
Heat-loving annuals add beauty without the work, as they quickly bounce back to life from the effects of extreme heat and long dry spells with some water. Adding these heat loving annuals to your yard supplies your flower beds with season-long color and attracts all kinds of pollinators.
Although many of these annuals require little maintenance, that doesn't mean planting and forgetting them. While some are drought tolerant plants, all annuals require proper growing conditions.
Those growing conditions vary based on the specific plant, but light, soil, and water requirements all come into play. Before purchasing any annuals, consider the planting locations and whether they meet the requirements, including the hardiness zone.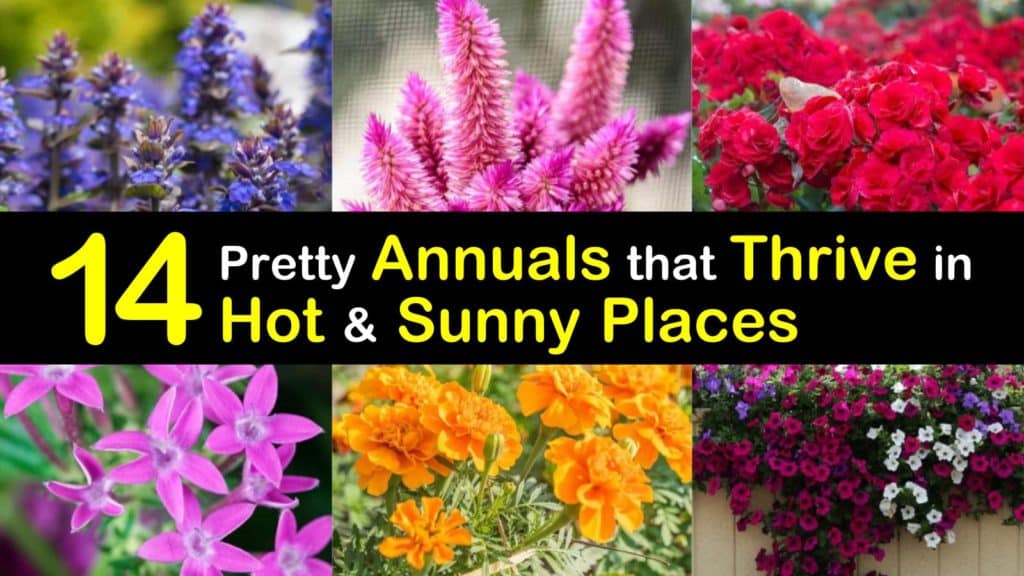 Tips for Caring for Heat Loving Annuals
Home gardeners know not all plants do well in extreme heat. As the temperature rises during the summer, annuals start to wither and droop. No matter how much you water them, they just can't tolerate the heat.
Luckily, there are plenty of heat loving shrubs, trees, perennials, and annuals out there that thrive in the heat. Heat-loving annuals do fine in garden beds, but they also do well in containers.
If planting in containers, consider their size – too small allows the soil to dry out too fast, so opt for large containers. When picking out annuals for your containers, group ones together that require similar care, but deliver different heights, textures, and colors.
Even though some of these heat-loving plants are drought-tolerant, they still require water to survive. The more hydrated they are, the better they look, but be careful not to overwater.
Don't rely on rainwater; instead, water them every other day or when the ground is dry to the touch. To encourage blooming, deadhead spent blossoms.
Withered, dried, or dead-looking blooms require deadheading as well. Deadheading allows room for new flowers to emerge and, in some cases, encourages blooming to last longer.
Pretty Heat Loving Annuals for Your Yard
Heat loving annuals survive the hottest summers, but they also thrive during the most extreme days. The hotter it is, the more flowers these beauties produce, which means bigger and brighter colors for your yard.
Choose from these annual flowers, self seeding annuals, perennials, ferns, and grasses for variety and interest that can last up to three seasons of the year.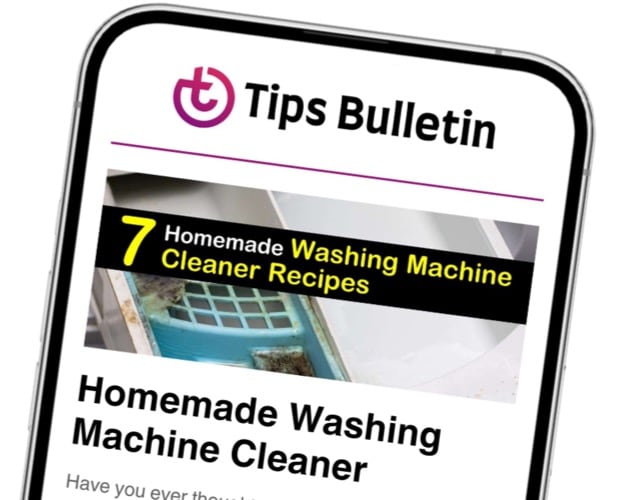 Finally, an email that Transforms Your Home.
Get the latest home and garden tips from our experts, delivered straight to your inbox.
Heat Loving Annuals – Lantana (Lantana camara)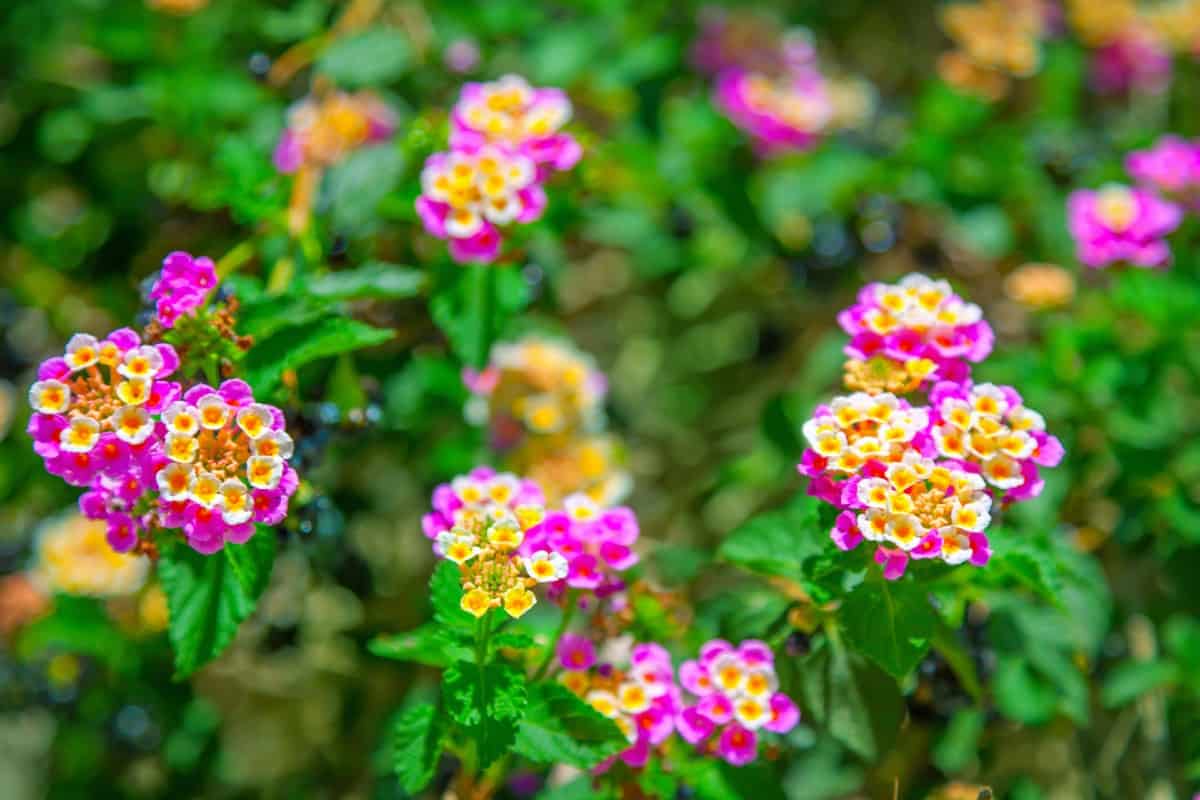 Lantana makes an excellent choice for hanging baskets, as the vines spill over the sides. Some people do find the scent the flowers give off to be distasteful, but the sweet citrus scent from the green foliage makes up for any weird smells.
These long blooming annuals in colder areas offer brilliant color and the plants make great ground cover as they spread easily when planted in the garden.
The striking colors and unique shape of the Lantana make them flowers that attract hummingbirds, bees, and other pollinators. Although classified as perennials, in the northern parts of the US, gardeners grow them as annuals. These heat-tolerant plants require full sun and well-draining soil.
Zinnia (Zinnia elegans)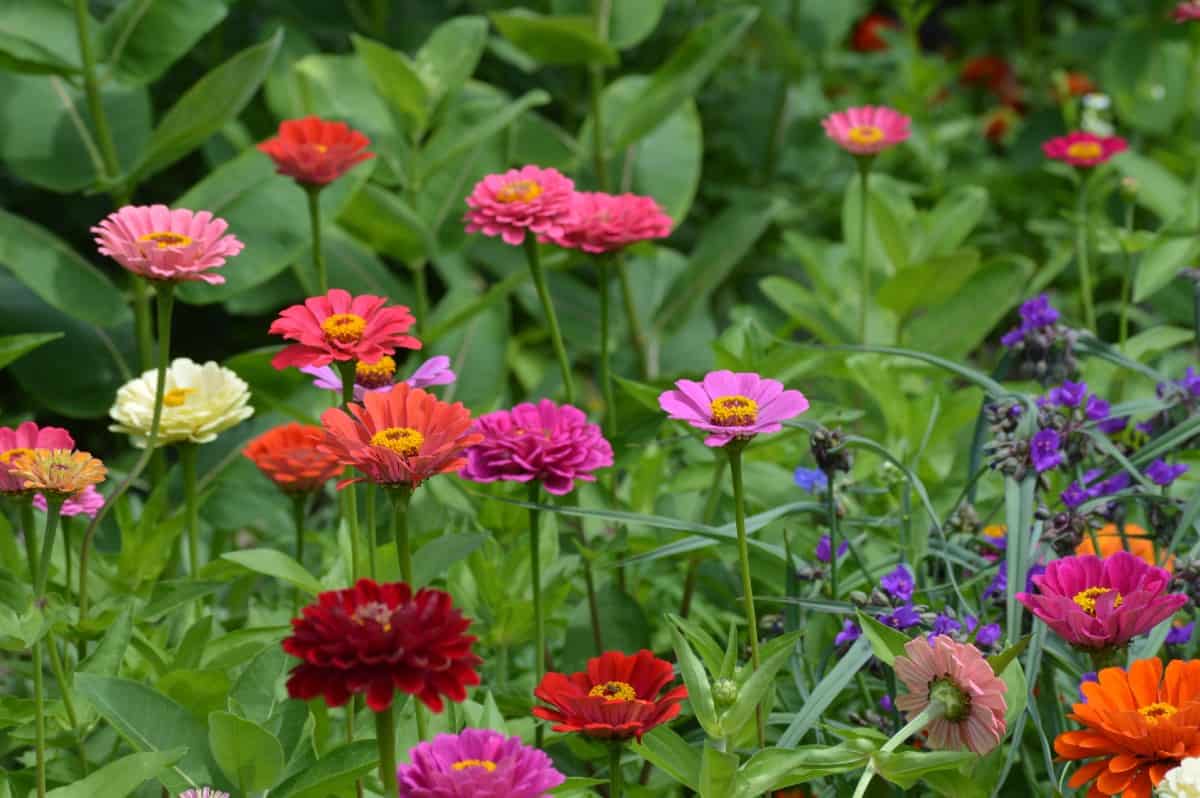 These daisy-like flowers come in a variety of bright colors, but all feature a single flower per stem, making them excellent choices for cut flowers. The single flower also serves as an attractant for pollinators.
Zinnias offer gardeners several varieties, so there is a multitude of shapes, colors, and sizes to choose from. For the best results, start your Zinnias from seeds rather than a transplant and ensure ideal growing conditions.
Never sow Zinnia seeds until after the last frost has passed. Choose planting locations for these flowers for full sun with well-draining soil. As they are not self-seeding plants, to prolong blooming, plant new seeds every two weeks throughout the growing season.
Moss Rose (Portulaca grandiflora)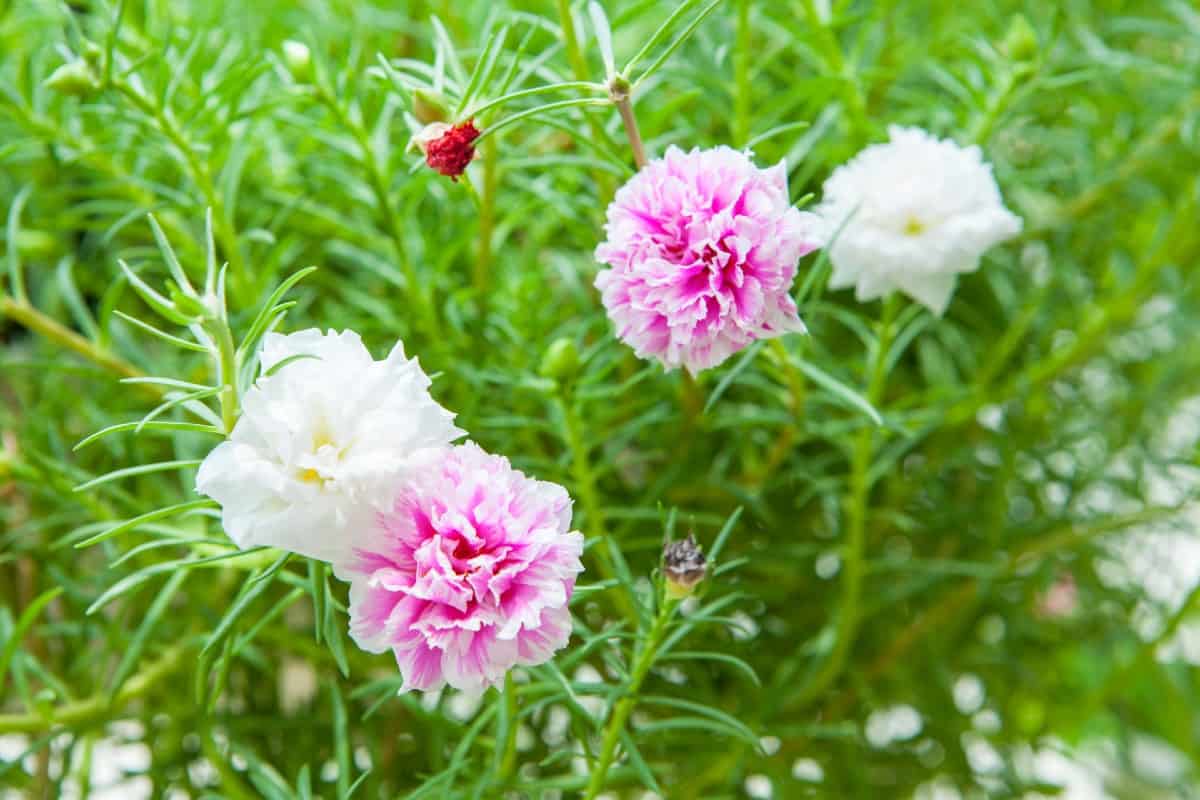 If you want heat and drought tolerant ground cover annuals, consider using Moss Rose. These low maintenance annuals offer a wide range of colorful flowers that bloom beautifully with a minimum of six hours of sunlight.
At maturity, Moss Rose only reaches up to eight inches tall with a spread of 24 inches. Blooms on the Moss Rose do well in a variety of soil conditions, as long as they are receiving lots of sunlight and live in well-draining soil.
Blossoms close each night and won't open if the sun is not out. Moss Rose plants are classified as succulents but are not a cactus, so it requires regular watering.
Begonia (Begoniaceae) – Colorful Heat Loving Annuals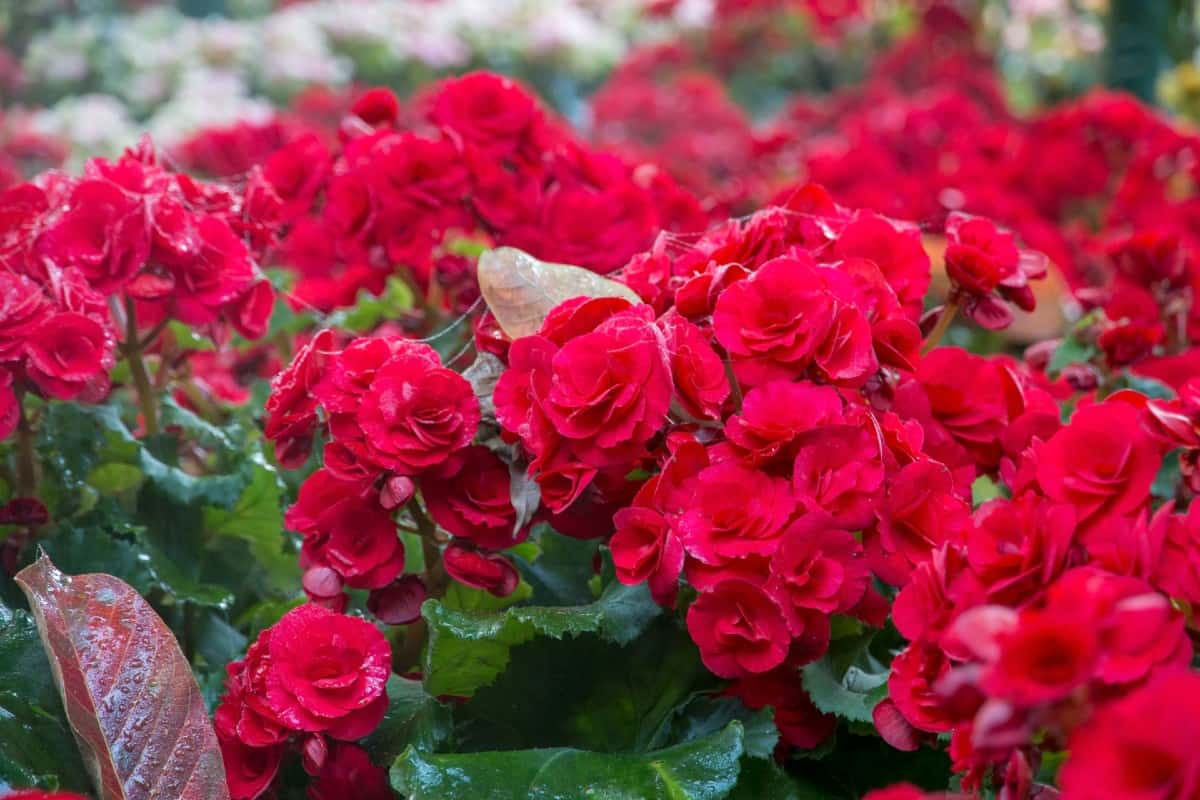 Begonias are popular among gardeners as there are over 6,000 cultivators to choose from, plus they are simple to grow. Begonias work well indoors and outdoors, and they survive in hanging baskets, containers, or gardens.
If growing outside in containers, move indoors as a houseplant when temperatures turn cold. Begonias do prefer full sun, but lighting requirements vary as it deals well in part shade, too.
When selecting a planting location for these colorful flowers, soil requirements are the most important, as they require fertile soil. Never water until the soil around the plant dries, as too much water is harmful.
Summer Snapdragons (Angelonia angustifolia)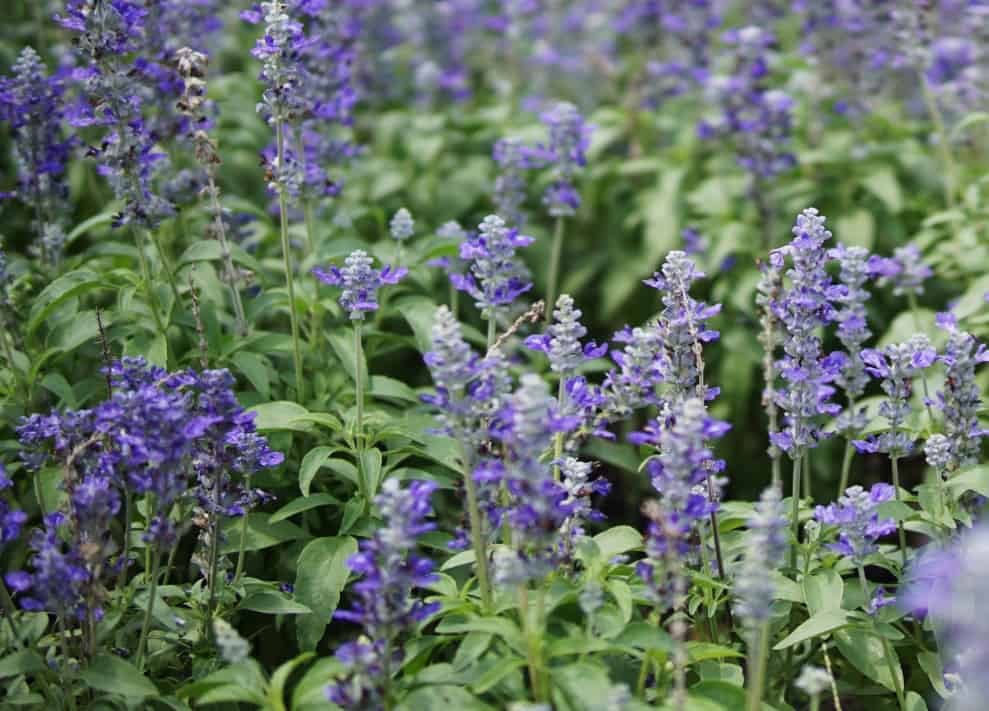 Although Angelonia or Summer Snapdragons may look delicate and hard to care for, they are easy to grow. The plant's name comes from the numerous clusters of flowers that bear a striking resemblance to snapdragons.
Flowers appear throughout the entire summer, and in warmer areas, blooms continue into the early fall. These plants grow up to a foot and a half tall, and many report that they smell similar to apples.
The bluish-purple flowers grow in upright spikes along with the tips on the main stems of the plant. Deadheading spent blooms is not required for continuous blooming.
Egyptian Stars (Pentas lanceolata)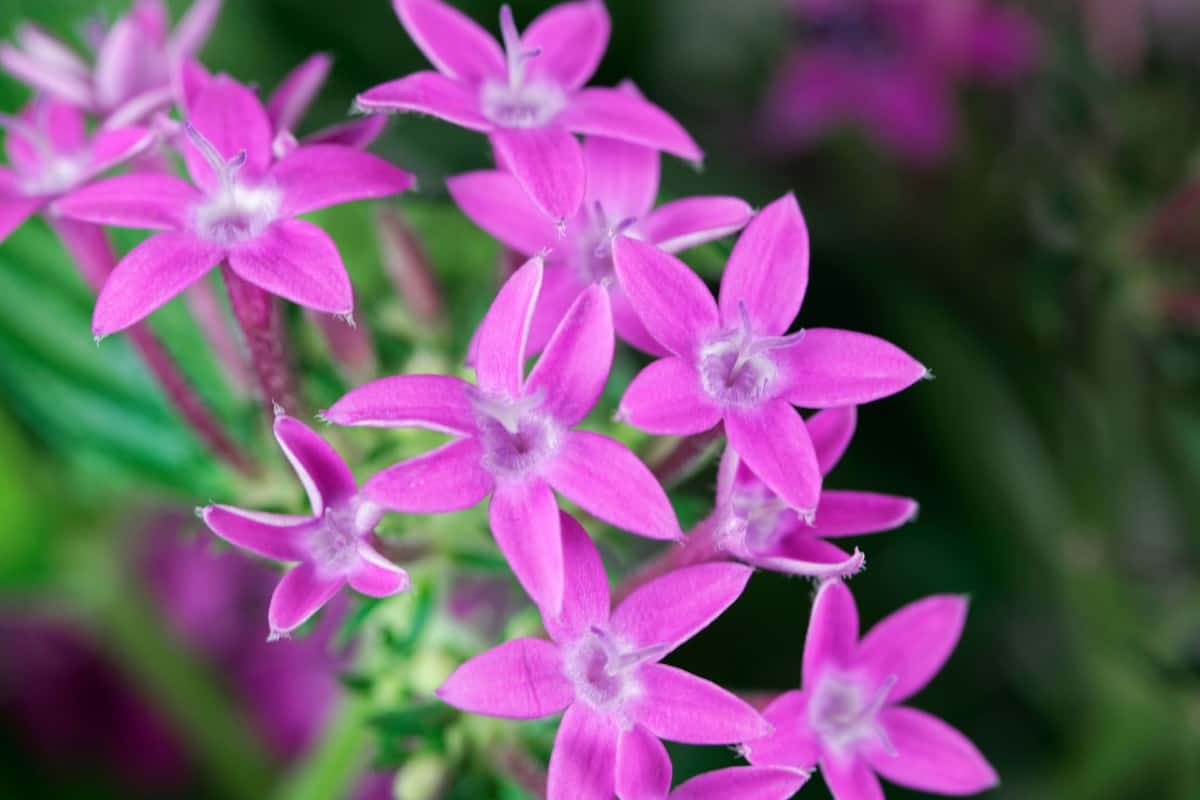 Named Egyptian Stars due to the flower's five-point shape, Pentas come in several different colors and bestow color and texture to any yard. More like a shrub, Pentas grow up to six feet tall and three feet wide.
The bush is typically unruly looking and comes in a spear or oval shape. They are slow-growing plants and work well in flower beds and containers. Grow Egyptian Stars from seed or a softwood cutting.
If growing from a cutting, dip roots in a rooting hormone before planting. A low-maintenance plant, Pentas require only the necessities, such as regular watering, plenty of sun, and lots of heat. Deadheading helps encourage blooming.
Fantastic Heat Loving Annuals – Periwinkle (Vinca minor)
Annual Vinca or Periwinkle is not the same plant as the perennial with the same name, also grown as a ground cover. Annual Vinca is known for its non-stop blooming from early in the summer until the fall.
Periwinkle flowers are annuals for fall color that are available in a variety of shades, including bi-colors, red, magenta, pink, purple, and white flowers.
ow you grow Vinca depends on where you grow it. If growing outside in flower beds, choose well-draining soil and a sunny location.
If growing in containers, use a commercial potting mix rather than gardening soil for better drainage. Although it is drought-tolerant, water when the top inch of soil is dry to the touch.
Spider Flowers (Cleome)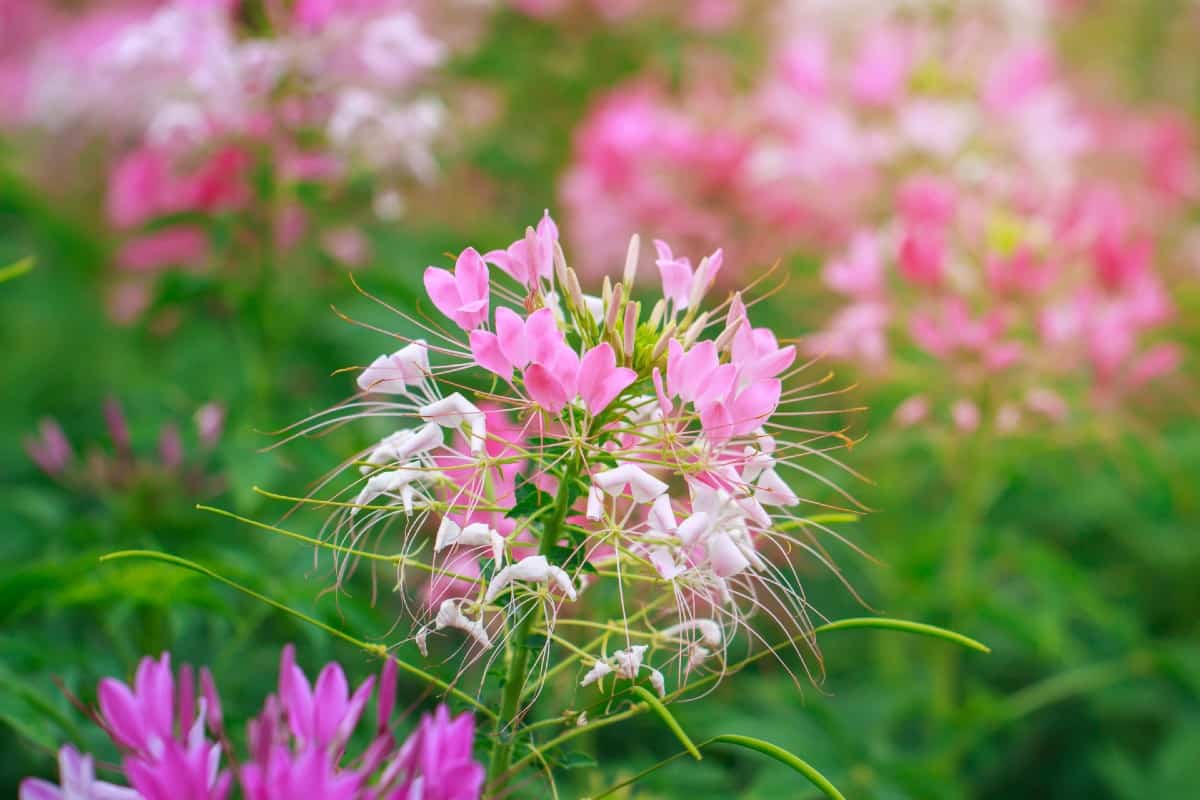 These annuals are not the most popular option at local nurseries because of how weedy they look. The other downfall to these annual hot lovers is they don't start blooming the first year; they won't bloom until fully established in your garden.
Once they do start blooming, however, take a minute to enjoy the spiky looking flowers the size of a softball sitting on top of delicate foliage.
Once established, these annuals grow anywhere from one and a half to five feet tall with a one to two-foot spread. When planting outside, choose a location that offers full sun, but they do tolerate partial shade. Use well-draining, average garden soil for best results.
Tears of Isis (Verbena)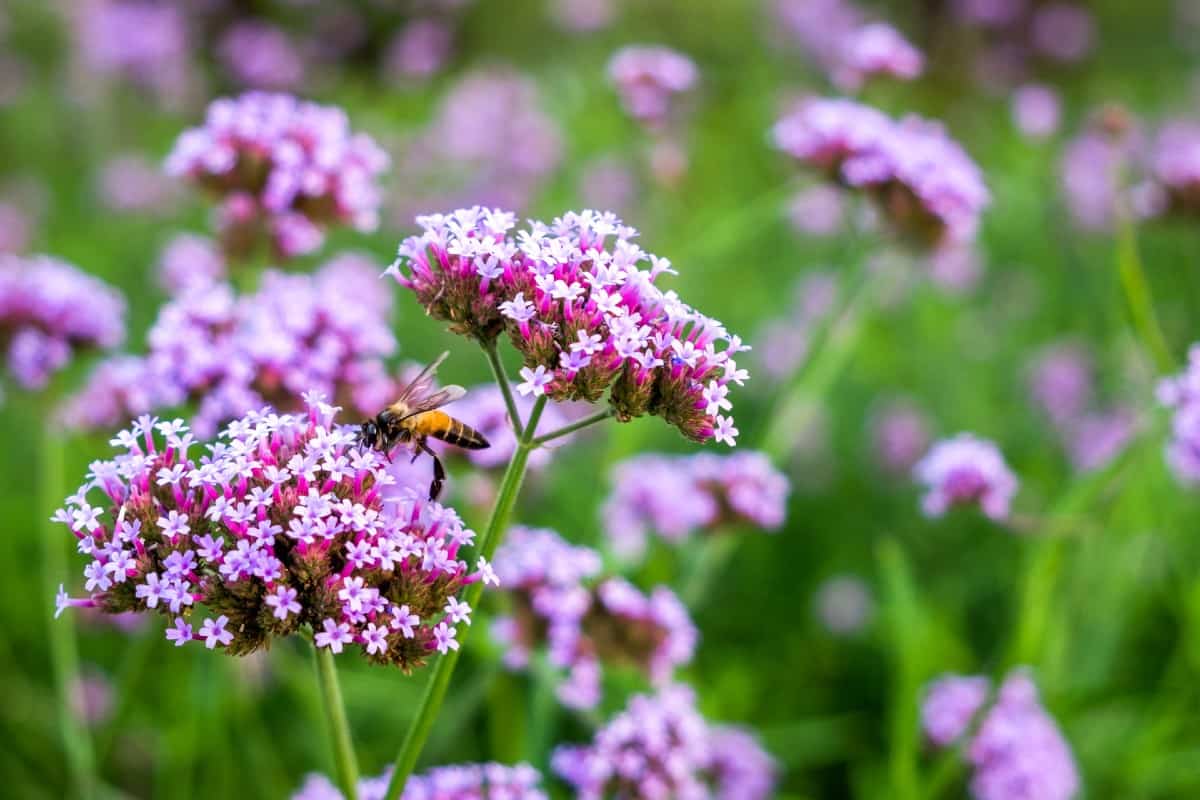 Tears of Isis is ideal for hanging baskets or along borders as it is a spilling plant. A heat-tolerant plant, Verbena does require a bit more care than other annuals.
In hotter temperatures, check the soil regularly and water as necessary. Dry soil or limp foliage are both signs of a plant requiring water. To improve the look, cut off any dead foliage.
When planting Verbena in your flower bed, which is the optimal place as containers require a lot more work, choose a location with a minimum of six hours of sun. Verbena tolerates a variety of soil conditions as long as it drains well. Overwatering or poorly draining soil increases the risk of stem rot.
Salvia (Salvia officinalis) – Heat Loving Annuals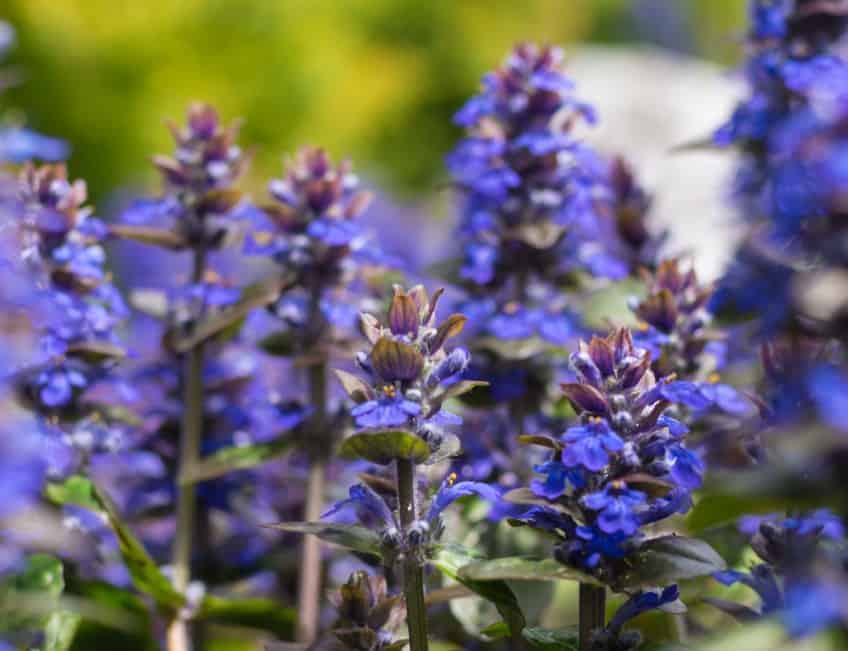 Salvia is part of the mint family. This aromatic and useful plant attracts pollinators with its bright-colored tubular flowers. These beauties sit on square stems with flowers appearing from summer until fall.
A drought-tolerant plant with flower spikes, Salvia attracts bees and butterflies to your yard. Salvia is a heat loving annual, so select a planting location that receives a lot of sunlight.
Opt for well-draining soil to help prevent overwatering. Too much water causes withering and kills the plant. Salvia naturally repels a variety of pests thanks to the pungent odor from the green leaves.
Petunias (Petunia)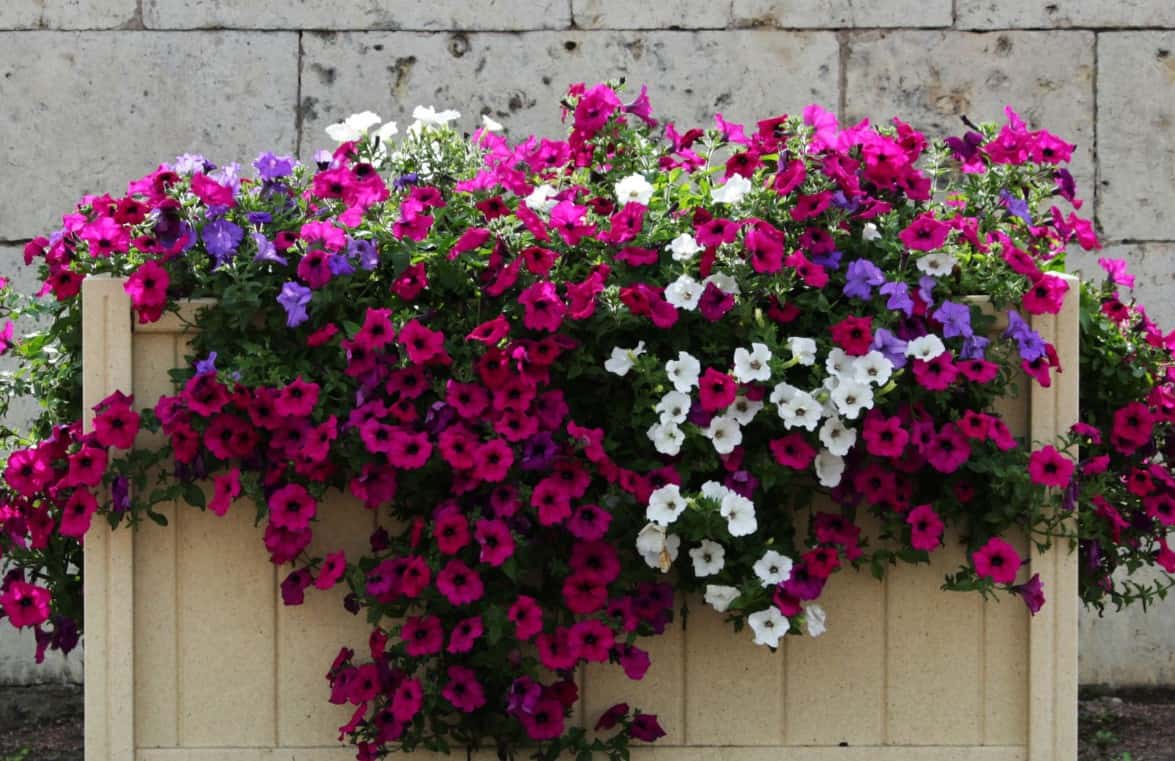 Petunias are easy to grow from seeds, making them a popular choice for even the most inexperienced home gardener. In many growing zones in the US, these flowers are grown as annuals, but in zones nine through eleven, they are perennials.
Grandiflora varieties are used for fragrance thanks to their large flowers. Multiflora is better for areas with wet weather as their flowers are smaller.
These heat loving plants do best in areas with full sun. They survive in containers or hanging baskets, but those planting options require more watering. If planting Petunias in a partially shaded location, be aware that blooms won't be as prolific.
Busy Lizzie (Impatiens)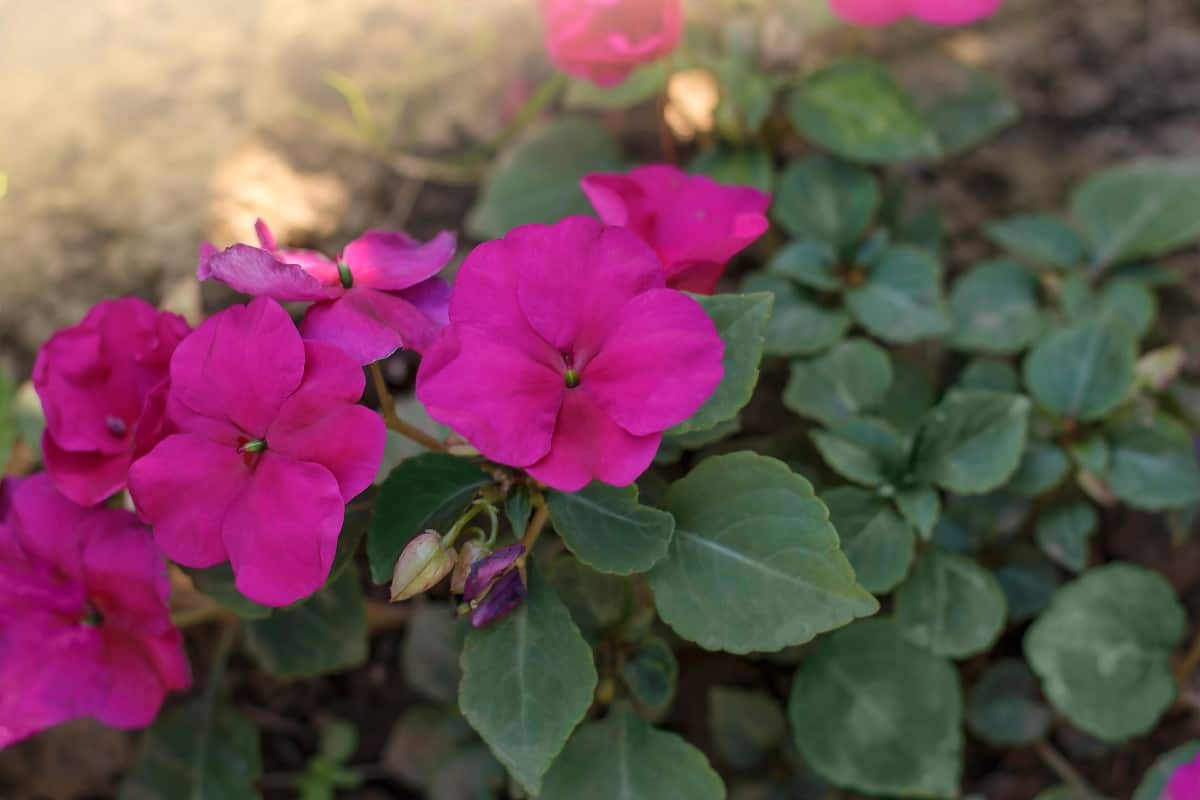 The Busy Lizzie is named because of how easily the seeds burst open when they are ripe. The slightest touch causes the seed pods to break free and spread the seeds.
The beauty of the Busy Lizzie is they do well in containers or garden beds. They prefer full sun but accept partial shade. Never plant seeds or transplants until after the last spring frost. Whether using a container or planting directly in a garden bed, use well-draining soil.
These plants prefer moist soil without overwatering. Busy Lizzies are prone to fungal diseases if overwatered. Soil that is too dry also causes issues, such as leaves becoming brittle and falling off.
Colorful Heating Loving Annuals – Marigolds (Tagetes)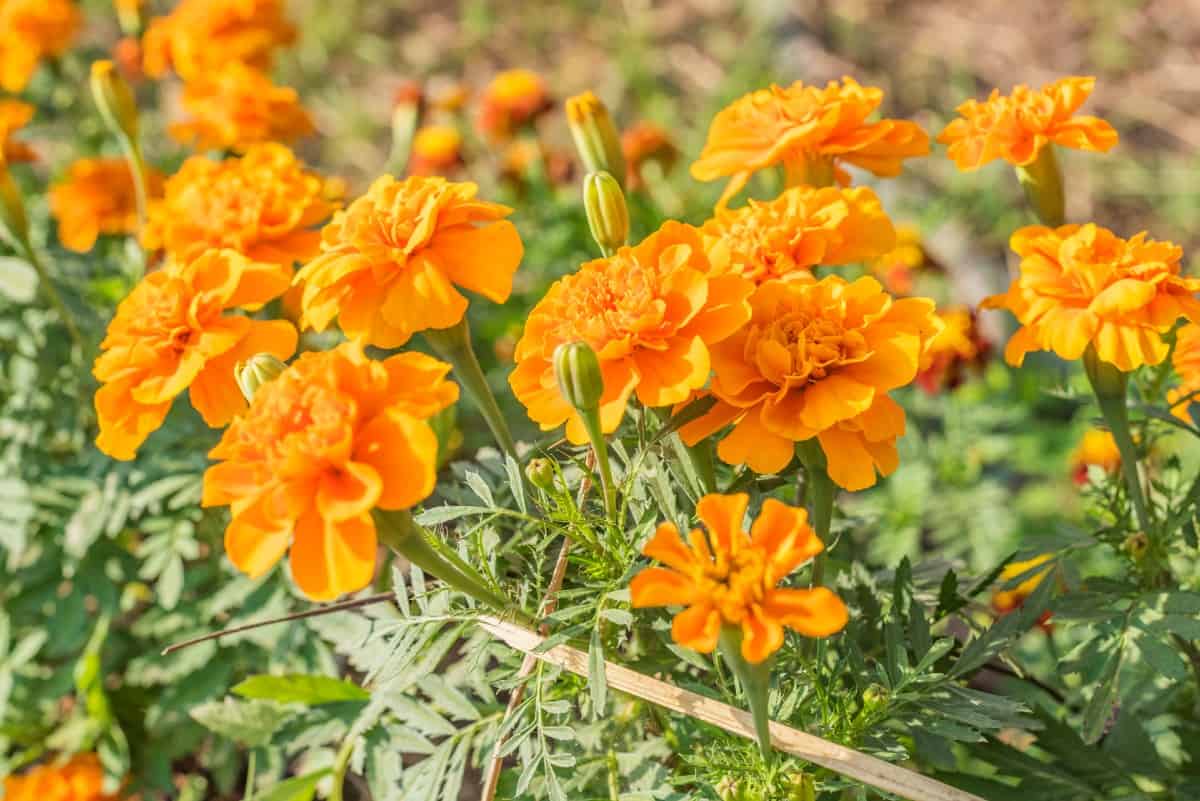 Luckily, Marigolds are one of the easier plants to grow from seeds as they require replanting each year. Using Marigolds throughout your flower beds is an excellent way to help repel mosquitoes, and they provide colorful blooms all summer with no deadheading required.
To plant your Marigolds outside directly in the garden, choose a location with a lot of sun. The more sun these heat loving annuals receive, the better they bloom.
Always plant in well-draining soil and allow the soil to dry out before watering again. During extreme heat, increase the amount of watering.
Though marigolds die off after a single season, these annuals for birdseed leave your flying friends happy with the seeds dispersed on the ground as they dry up. The few seeds they may leave just might grow next year.
Wool Flower (Celosia)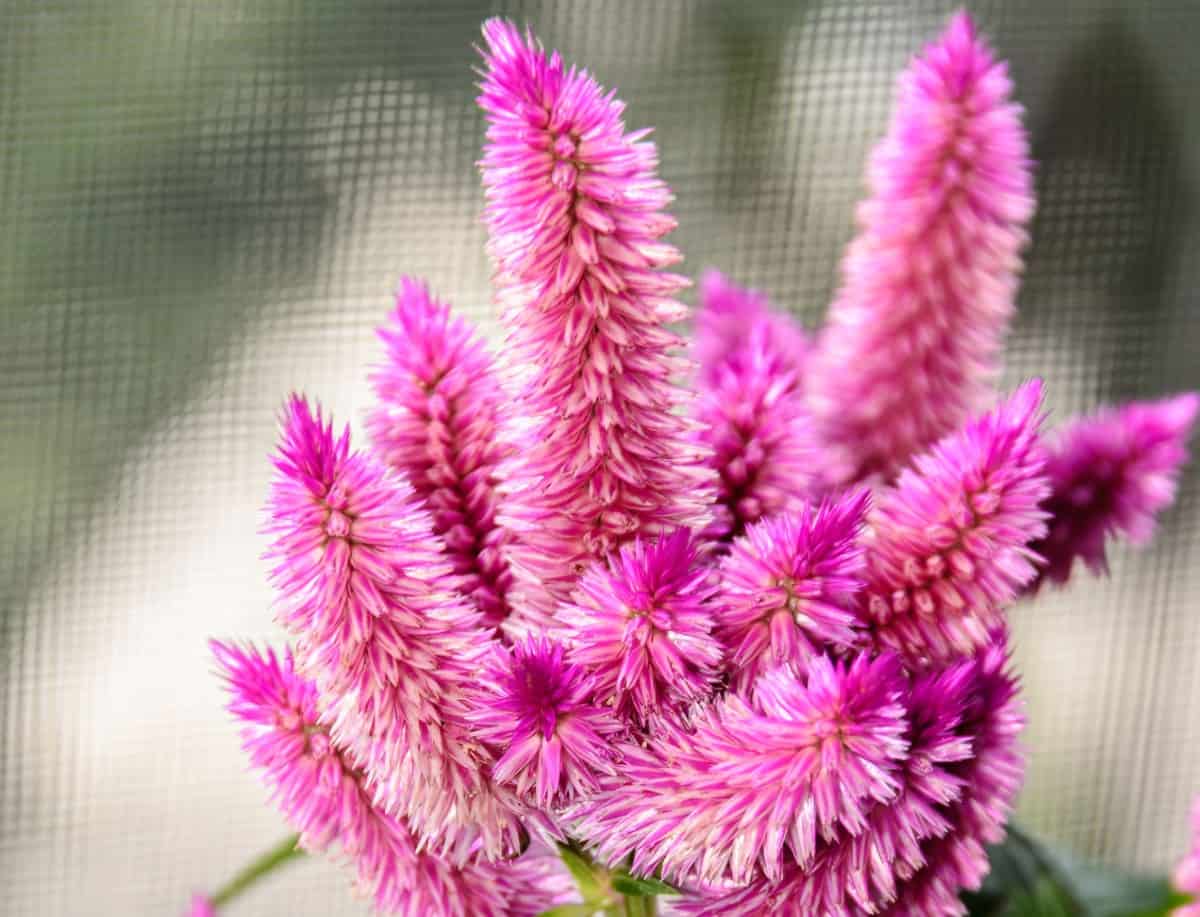 Some people call them wool flowers; others call them Dr. Seuss flowers, but no matter what they are called, Celosia makes a great addition to any garden.
Not only do they provide a splash of color to heat prone yards, but they are also edible and taste similar to spinach. If eating the leaves, do so before the plant blooms as afterward, the leaves taste bitter.
Flowers resemble the shape of a brain or coral and come in a variety of colors. When planting and growing your Wool Flower, sun and drainage are the two essential elements to consider.
Plant them where they receive the most sunlight throughout the day. Wool Flower requires dry growing conditions; never allow the soil to become overly wet.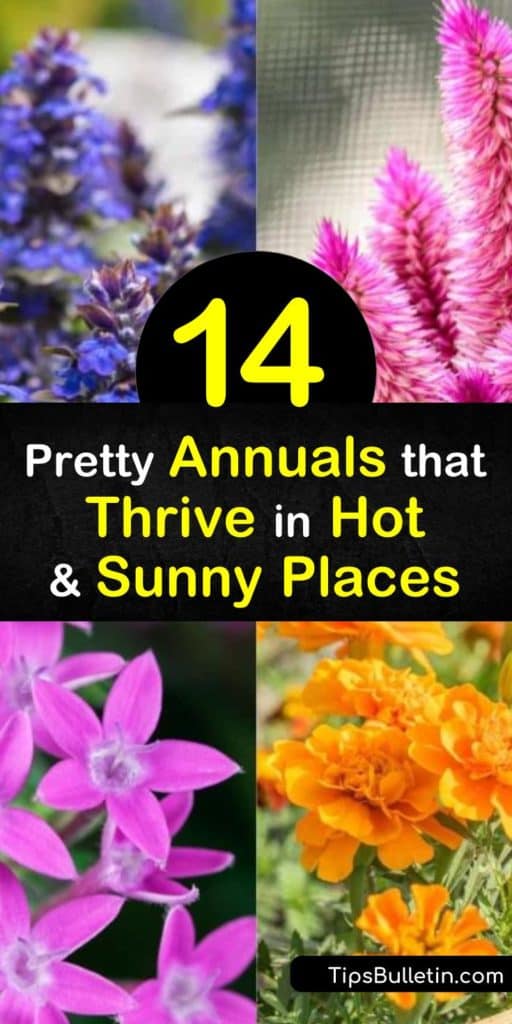 Thank you for reading about our ideas on heat-tolerant annuals. If you found any of our views on the best annuals to plant for areas with hot summers, please share our thoughts on these heat loving annuals with others on Facebook and Pinterest.