Have you ever had difficulty removing sticker glue from your car windows? Have you ever seen your toddler apply stickers to the kitchen floor or the refrigerator door and wonder how you're going to get that sticker residue off the surfaces you adore most?
Have you ever thought about making a homemade adhesive remover using simple ingredients? You're in the right place to find cleaning tips for your next DIY adhesive remover solution.
With our all-natural goo remover recipes made with ingredients like baking soda, coconut oil, white vinegar, olive oil, and warm water, you'll find the perfect solution for your hard surfaces, without having to put that extra elbow grease into it.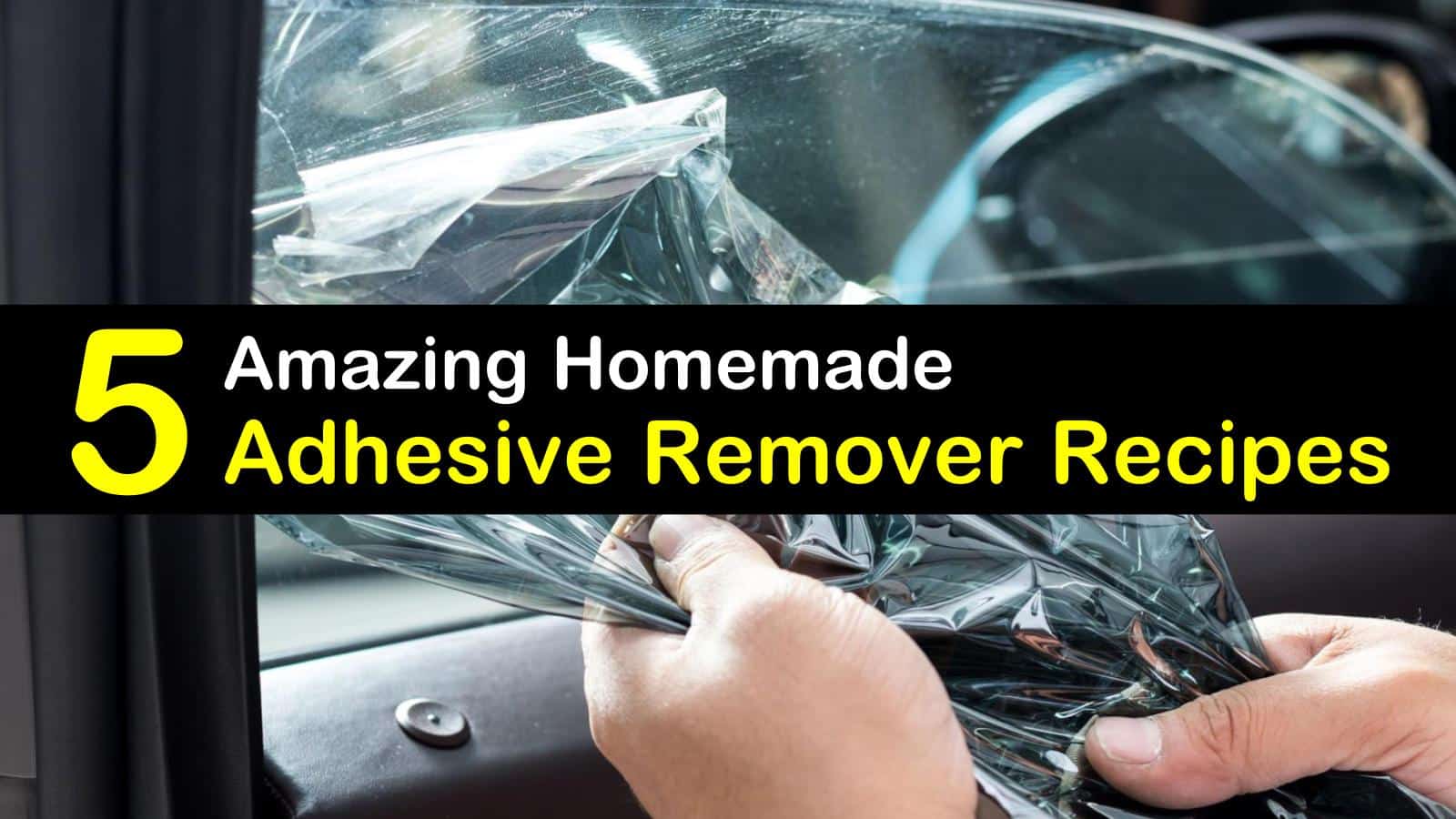 How to Remove Adhesive
These fantastic adhesive residue removers will also help with any small area you have in mind. Instead of using Goo Gone, try using a solution that will not cause any skin reactions. Homemade Gorilla Glue remover and adhesive remover is natural and cost-effective.
DIY Adhesive Remover for All Surfaces
The ingredients for this recipe won't have you checking the price tag, as they are very cost effective. Use this DIY super glue remover for plastic, metal, skin, and glass.
Start by blending all the ingredients and store them in airtight glass jars. If you're trying to remove sticky residue from wood floors or wine bottles, try peeling off the outer layer of paper before applying the glue residue remover.
Then, spread the paste over the sticky stuff and let it sit from ten to sixty minutes (depending on how sticky it is). The longer you leave it, the better the results will be. Once the time is up, rub the area with a washcloth, not a paper towel. Rinse the area clean and repeat if necessary.
This DIY adhesive remover recipe should work for even the most stubborn glue on any surface. In particular, it can be used toremove a printed label from a glass bottleor tin can. Consider keeping this solution nearby for your next sticky mess.
Removing Bumper Sticker Glue from Your Car
If there's one thing we know, it's that we've all put a bumper sticker on our car at one point or another. However, we never think about the sticky spots that bumper sticker will leave after it's gone. There are two methods for getting sticker glue off a car, though.
For the first method, a great glue remover for car is heat. Warm the area with a hair dryer until the glue has loosened from the surface. Try peeling it off slowly once you start to see it rise.
If it's a warm/hot day, leave the car in the sun for at least half an hour, then try peeling the sticky labels and goo off. You can also try pouring hot water over the surface to loosen the residue that forms.
Second method: Saturate the area with white vinegar instead of WD-40. Allow the liquid to sit for a few minutes and then try peeling the goo off.
Peanut Butter as a Goo Gunk Remover
Peanut butter works better than you'd think as a gunk remover since it acts as a DIY goo remover for almost all residue left behind by duct tape on glass containers and other surfaces.
The natural peanut oils present in peanut butter help break down the adhesive bond present in glue. What's more, is that once you use peanut butter in your DIY projects, you'll notice that the consistency of the spread allows it to stay in place over the adhesive residue; this makes the substance suitable for all areas, including inconspicuous ones.
Allow the peanut butter to set for a little while, then wash it away with soap and water.
Homemade Adhesive Remover for Your Car Windows
Using products bought at your local corner store to clean your car windows can end up being expensive, and some of them don't even work as well as what you can stir up in your home. If you're trying to clean your car windows, your indoor windows, or anything that's glass and sticky (like jar labels), you've come to the right place.
To make this recipe for a homemade glass cleaner, combine the ingredients and pour the solution into a spray bottle.
Spray it onto the windows as often as you need to and wipe away with a microfiber cloth to avoid streaks. Clean a car windshield inside and out to get rid of sticky adhesive residue that always seems to linger after you remove a sticker.
This window wash solution may need a few drops of liquid Castile soap or liquid dish soap if you've frequently used commercial window cleaner in the past, as detergent residue may still appear on the windows.
Using Rubbing Alcohol to Get Rid of Sticky Residue
Alcohol, primarily rubbing alcohol, is known to dissolve adhesive bonds. However, hand sanitizer does have average amounts of alcohol present inside, rendering it acceptable to use during sticker removal, too.
Rubbing alcohol typically starts by breaking down the adhesive components within, then diluting the ingredients until they are no longer able to adhere to the surface they are on.
Apply the alcohol to the sticky surface, whether removing labels from glass or plastic, and allow it to sit for a few moments. After a few minutes, you'll start to see the components themselves break down right before your eyes.
If you do not see the components break down, the adhesive is likely not soluble in alcohol. However, if the solution does work on the surface, you'll then be able to wipe the area clean and wash it with regular soap and water.
Try to remove sticky tape residue from fabric by dabbing the area with rubbing alcohol on a clean cloth. Test the cleaner in an inconspicuous area of the material first to ensure that the alcohol will not damage it.
You can even use hand sanitizer or rubbing alcohol to remove super glue from fingers.
Here, you've found some of the best tips and tricks to create a personal DIY adhesive remover for surfaces in your home, car, and other living areas. You've learned how to create glue residue fighting recipes with ingredients like essential oils, baking soda, rubbing alcohol, and vinegar. Now, it's time to put the mixtures to the test!
Recipe for Homemade Adhesive Remover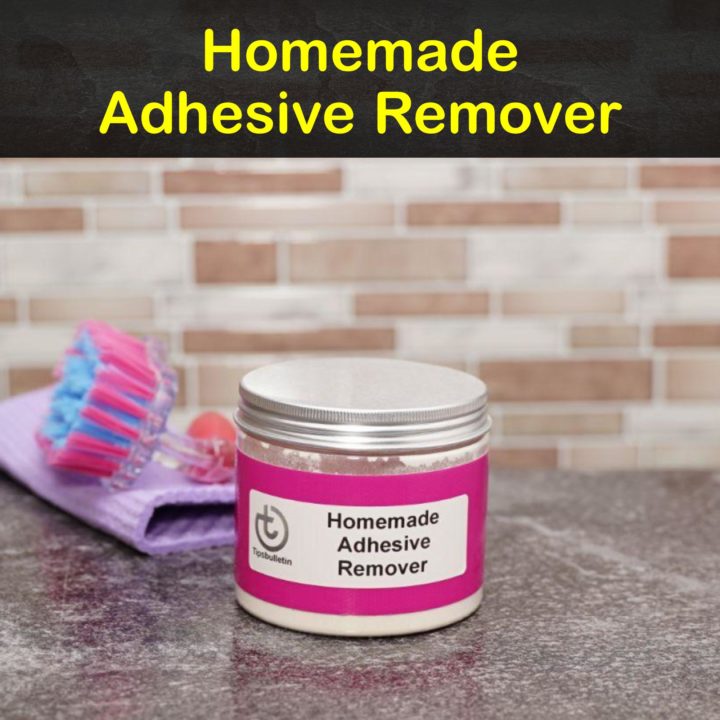 Homemade Adhesive Remover
Prep Time:
2 hours
2 seconds
Total Time:
2 hours
2 seconds
Get rid of sticky messes with this simple DIY remedy.
Materials
10 drops orange essential oil
1/3 cup melted coconut oil
1/4 cup baking soda
Fresh water
Tools
Glass jar
Stirrer or spoon
Plastic gloves
Sponge
Measuring cup
Clean cloths
Instructions
Mix the ingredients in the jar.
Put on the gloves.
Use the sponge to smear the paste on the adhesive generously.
Let the mixture sit for up to an hour.
Wipe away the residue and excess cleaner with a cloth.
Rinse with water.
Reapply if needed.
Notes
Substitute with lemon oil if desired.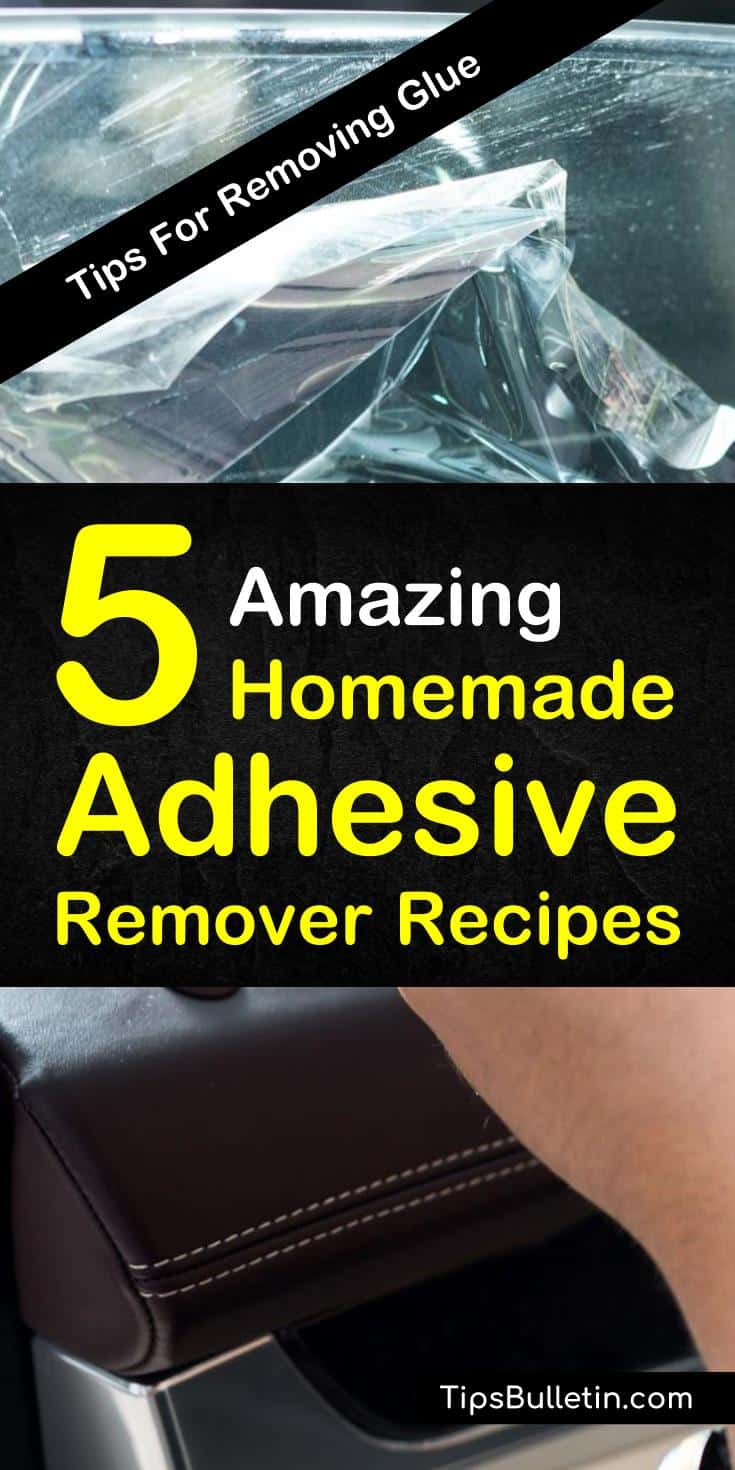 We hope you liked our homemade adhesive remover recipes and tips. If you did, please share the DIY adhesive remover tricks with your friends and family on Facebook and Pinterest.