Creating a homemade air freshener is a smart and budget-friendly way to refresh your living space with a scent you adore.
To create a delightful homemade air freshener quickly and affordably, follow these simple steps:
Choose my favorite essential oils that suit the room I want to freshen up.
Simmer some water, fruit slices, and my selected spices on the stove to fill my home with a warm and welcoming scent.
Mix baking soda with a few drops of essential oil to create a natural fabric spray for my upholstery and curtains.
Place houseplants like peace lilies or palms in my rooms to purify the air naturally.
Make a simple gel air freshener using gelatin, water, and essential oils for a decorative touch that smells great.
I start by picking fresh, lively scents for areas like my living room and bathroom. For a longer-lasting aroma, I simmer citrus peels, cinnamon sticks, and cloves on my stove, creating a natural fragrance that permeates my home. Mixing baking soda and essential oils, I craft a fabric spray that not only freshens my sofa but also gives my drapes a burst of freshness.
I incorporate houseplants such as peace lilies, which clean the air and add a subtle, earthy scent. Also, gel air fresheners are a breeze to make with some gelatin, water, and a few drops of my chosen oils; plus, I can match them to my room's color scheme. These steps are not just cost-effective but also make air freshening an effortless and enjoyable task.
Most people don't realize that their home has its own smell. Homes can range from a pleasant, fresh scent to having a musty, stale odor. Most of us fail to understand how our house or even room smells because we grow so accustomed to it.
We tend to notice these strange odors when we leave our homes for an extended period; others smell it upon walking in the door for the first time. In either case, sometimes a homemade air freshener is needed. When you cook, renovate, or forget to clean even a small area of your home, this unique smell is going to change.
Sometimes, this change in scent is temporary, such as from cooking. Other times, the scent change is semi-permanent, like when you haven't cleaned specific areas of your home. Nobody wants nasty smells inside their house to get worse. Luckily, you can get rid of an odor in a room and change the smell to a more pleasant one.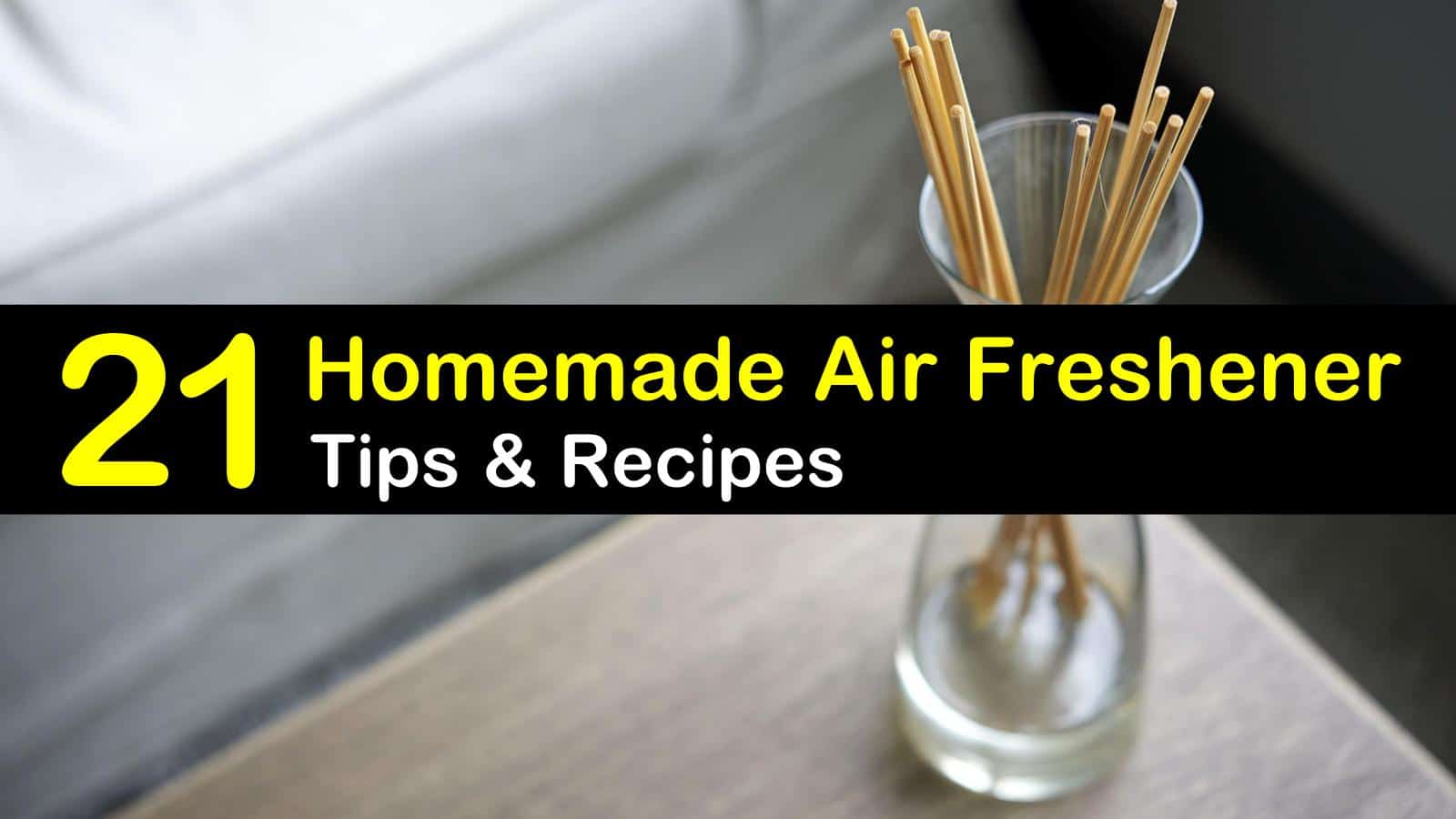 How Can You Change the Scent of Your Home?
Commercial air fresheners are an expensive way to change the scent of your home. These products also bring along a lot of unnecessary chemical exposure.
If you want to change the smell in your home, there are several natural room deodorizer ideas that you can try. Not only do homemade car freshener ideas eliminate chemical exposure, but they are also affordable to make.
Picking Out Your Favorite Scent
Whether you are making a DIY air freshener spray or trying a different natural room deodorizer idea, you need to think about the scent you are using. Everybody has their favorite scent, but that doesn't mean it will work in every room. For example, nobody wants their bathroom to smell like cookies nor do they want their kitchen smelling like freshly laundered clothes.
Some people associate certain smells with certain times of the year. For example, fresh laundry scent reminds many of us of sunny spring days. Cinnamon, gingerbread, and peppermint often remind us of winter.
Amazing DIY Air Freshener Tips and Recipes
How your home smells is essential, as it is the first thing people notice when they walk through your door. Aside from your favorite scents as the basis of your scent choices you can also think about the different seasons.
Natural Room Deodorizer on Stove
Simmering your own air freshener on the stove can be done for hours at a time. You can also make enough to store some for future use, cutting down the prep time the next time you want to refresh the air in your home.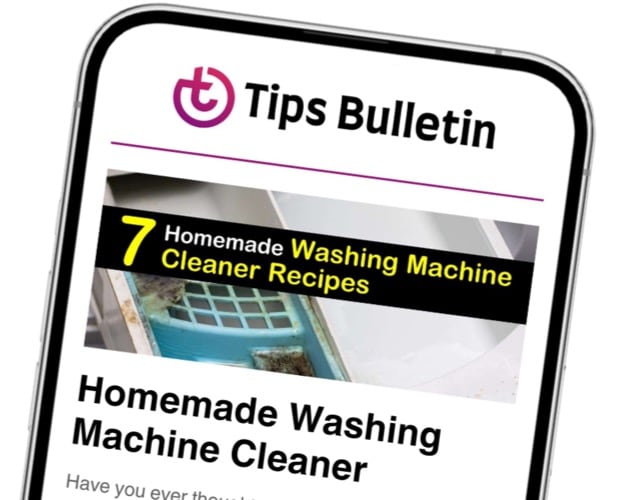 Finally, an email that Transforms Your Home.
Get the latest home and garden tips from our experts, delivered straight to your inbox.
Cut up any fruit you wish to use and place in the pot. Many people prefer citrus fruits, such as lemons, limes, and oranges, as they last the longest. Then add any spices, herbs, or extracts to create your favorite scent.
Add enough water to fill the pot and bring to a boil. To keep your home smelling fresh, reduce heat to low and allow to simmer. If you are going to simmer the air freshener for several hours, periodically check the pot and add more liquid as needed.
Once done, allow to cool and store the solution in a Mason jar inside the refrigerator. The fluid can be used again until the aroma is no longer present. Add a quarter cup or so to a small bowl as a natural refrigerator odor eliminator that you can sit on the shelf and forget about for a while.
Diffusers
When using a diffuser as a way to deodorize your home you can opt for an essential oil diffuser or a reed diffuser. An essential oil diffuser uses water and essential oil.
Water is turned into a mist, allowing the essential oils to distribute their scent all through your home. The reed diffuser soaks up a liquid infused with your favorite fragrances and releases it into the air.
Make Natural Fabric Spray with Baking Soda
The main ingredient in this homemade linen spray is baking soda, which is an excellent odor absorber and the best DIY odor neutralizer no matter what bad smells are lurking around.
Adding citrus scents, such as wild orange, lime, or lemon essential oils, allows the spray to leave behind a fresh, clean scent that is pleasant to encounter.
Pour baking soda into the glass jar and then fill with heated, distilled water. The warm water dissolves the baking soda. Add your favorite essential oil or a combination of oils.
Close glass bottle and shake well. Spray as needed around the home to freshen up fabric and upholstery. You can also spritz this mixture as needed to clean cigarette smoke from walls. Spray and wipe clean to not only get rid of the odor but the stains, as well.
Plants
Plants do a lot more than decorate your home; they can also help freshen up your home as they purify the air naturally. Some air cleaning plants you can include in your home are peace lilies, orchids, and palm trees.
Homemade Gel Air Freshener
Homemade gel air fresheners are easy to make, plus they look nice. You can customize your gel air freshener to your favorite scent, or you can make a variety of scents in a single batch.
Heat ¾ cup of water with salt in a small saucepan. Once the salt dissolves, slowly stir in both packets of gelatin. Continue stirring until gelatin dissolves. Remove from heat and add remaining water, mixing well. Pour the solution into small Mason jars.
Add your favorite essential oil or combination of oils to each jar. You can also use a different scent for each jar. Adding a lid prevents the natural air freshener from drying out too quickly. Be sure to poke at least one hole in the top of each cover and use it to remove a bad smell from a room easily. Make several air fresheners for different parts of the house.
Homemade Wax Melts with Essential Oils
These all-natural homemade wax melts don't use paraffin wax, so you aren't releasing any toxic chemicals when they melt. Ingredients that cannot be found at a grocery store can be bought at a health food store.
Add an inch of water to your pan and bring it to a simmer. Add coconut oil and beeswax to glass bowl and place inside pan making a double boiler.
Stir oil and wax until melted and then remove from heat. Add lemongrass, lavender, and grapefruit essential oils. Stir well and pour into silicone molds until solid.
Deodorizing Carpets
Bad carpet smells are one of the biggest reasons behind foul odors in the home. Using a homemade carpet deodorizer helps pick up dirt and hair, but also leaves a fresh and clean smell.
Mix Borax and baking soda in a plastic bowl. Add orange essential oil and stir until no lumps remain. Pour powder into an empty shaker container and use as needed to freshen up carpets in the home. Let the powder sit for a while and vacuum.
Frozen Garbage Disposal Cubes
Your garbage disposal is often the source of many strange smells in your home. A dirty garbage disposal is a thing of the past with these easy-to-use cleaner cubes.
Cut lemons into small pieces and place one piece into each ice cube mold. Fill each cavity with white vinegar and place in freezer until frozen.
Remove from molds, store in plastic bags inside the freezer until ready to use. Throw a handful of cubes into garbage disposal every other day and run the disposal until cubes dissolve.
Scented Cleaning Vinegar without Essential Oils
Many homemade cleaning products that leave any scent behind rely on essential oils. This scented cleaning vinegar cleans and deodorizes without essential oils.
Peel or juice your citrus to gain access to the peels. Cut peels into small pieces, place in the jar until halfway full. Heat vinegar on the stove until just boiling, and then pour over citrus peels.
Close the jar with a lid and allow it to sit for 24 hours. Strain out the skins and pour the liquid into the storage container. Dilute solution using one part vinegar to two parts water in a spray bottle to clean your home.
DIY Plug-In Room Deodorizer
Remove the wick from an old candle with a pair of needle nose pliers. Fill a container halfway with your favorite essential oil. Leaving enough room for the wick to be reinserted, fill remaining space with water. Shake to mix and reinsert wick.
Make Your Own Reed Diffuser
Reed diffusers work as the oils travel up the reeds and disperse a pleasant aroma inside the room. Plus, the glass jars work with any decorating style.
Pour rubbing alcohol and almond oil into a glass container, add your favorite essential oils and then gently stir. Add 3 to 5 rattan reeds; move them around, so they aren't all clumped together.
Freezer Deodorizer
Freezers sometimes take on some rather unpleasant smells. You can quickly deodorize your freezer with a cotton pad and some pure vanilla extract. Dampen the cotton pad with vanilla extract and wipe down the freezer.
Freshen Up Your Basement
For dark, damp basements that musty smell can turn off guests. To freshen up the air downstairs cut a yellow onion in half, place on a plate, and leave in the basement overnight.
One simple way to keep a basement smelling fresh is leaving an opened box of baking soda in strategic locations throughout the space. The baking soda absorbs unwanted odors. Replace as needed.
Homemade Febreze with Fabric Softener
You can make Febreze room spray with fabric softener, baking soda, and water. Mix 1/8 cup fabric softener and two tablespoons baking soda into a spray bottle. Fill the remaining bottle with water, shake to mix.
Eucalyptus Room Freshener
An antibacterial agent and natural deodorizer, eucalyptus removes foul odors and leaves behind a fresh, clean scent. Tie together a few eucalyptus branches and place inside a closet to remove musty smells. Cotton balls soaked in eucalyptus essential oil can be used in place of fresh branches.
Pomanders
Pomanders are a tremendous natural citrus air freshener, plus they are easy to make. Take an orange and poke whole cloves into the peel. Hang the pomander in a closet or cupboard with string to keep the area smelling clean for years.
DIY Air Freshener Spray
This DIY air freshener spray works on all surfaces and can be made with a variety of scents.
Inside a large jar combine all wet ingredients. Shake to mix, but do not shake hard enough to turn mixture frothy. Pour a set amount into a small spray bottle to use as an air freshener. Store the excess liquid in a jar inside the refrigerator and refill as needed. Label with an expiration date of one year.
Natural Room Spray
With this natural room spray, you can mix and match your essential oils to create a signature scent. Green tea and cucumber essential oils provide a classic, clean scent, while lavender and rose give a relaxing aroma.
Add essential oils to a glass spray bottle and then fill halfway with witch hazel. Fill the remaining space in the bottle with distilled water and shake to mix ingredients. You can also add a sprig of dried flowers to enhance the fragrance of the spray.
Vacuum Refresher
Add several drops of antimicrobial essential oil, such as tea tree oil, and place inside the canister of vacuum. The scent will disperse throughout the rooms as you vacuum. Tea tree oil helps to cleanse the air, as well as make the house smell clean and fresh.
Remove Unpleasant Food Odors from Glass Jars
Mix one teaspoon of powdered mustard with one quart of warm water. Wash glass containers in the solution, rinse and dry as usual. For stronger odors soak the glass in treated water for several hours.
Eliminate Spoiled Food Smell from Freezer
Fill several bowls with used or new coffee grounds and place them in the freezer overnight. Remove in the morning. You can also leave behind a sweeter coffee scent by putting a few drops of vanilla extract into the bowls.
Recipe for Homemade Air Freshener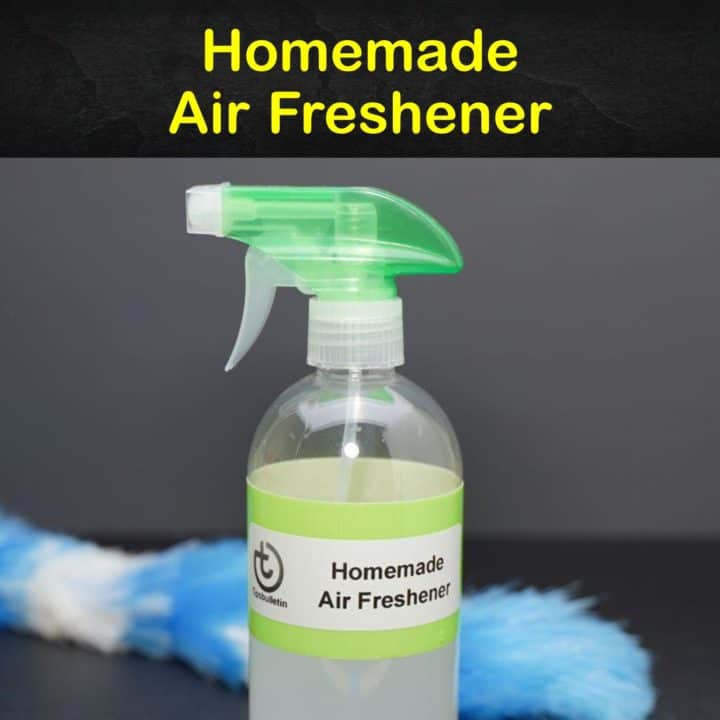 Homemade Air Freshener
Deliver a fresh, pleasant scent wherever you need it.
Materials
3 drops liquid laundry soap
1 tsp vodka
8 ounces tap water
28 drops lavender essential oil
Tools
Teaspoon
Sealable glass jar
8-ounce glass sprayer
Measuring cup
Instructions
Add the water, vodka, laundry detergent, and essential oil to the jar and shake until combined but not sudsy.
Store the jar in the fridge until needed.
Pour a small amount into the sprayer and spritz areas where freshening is required.
Notes
Substitute any other essential oil for the lavender.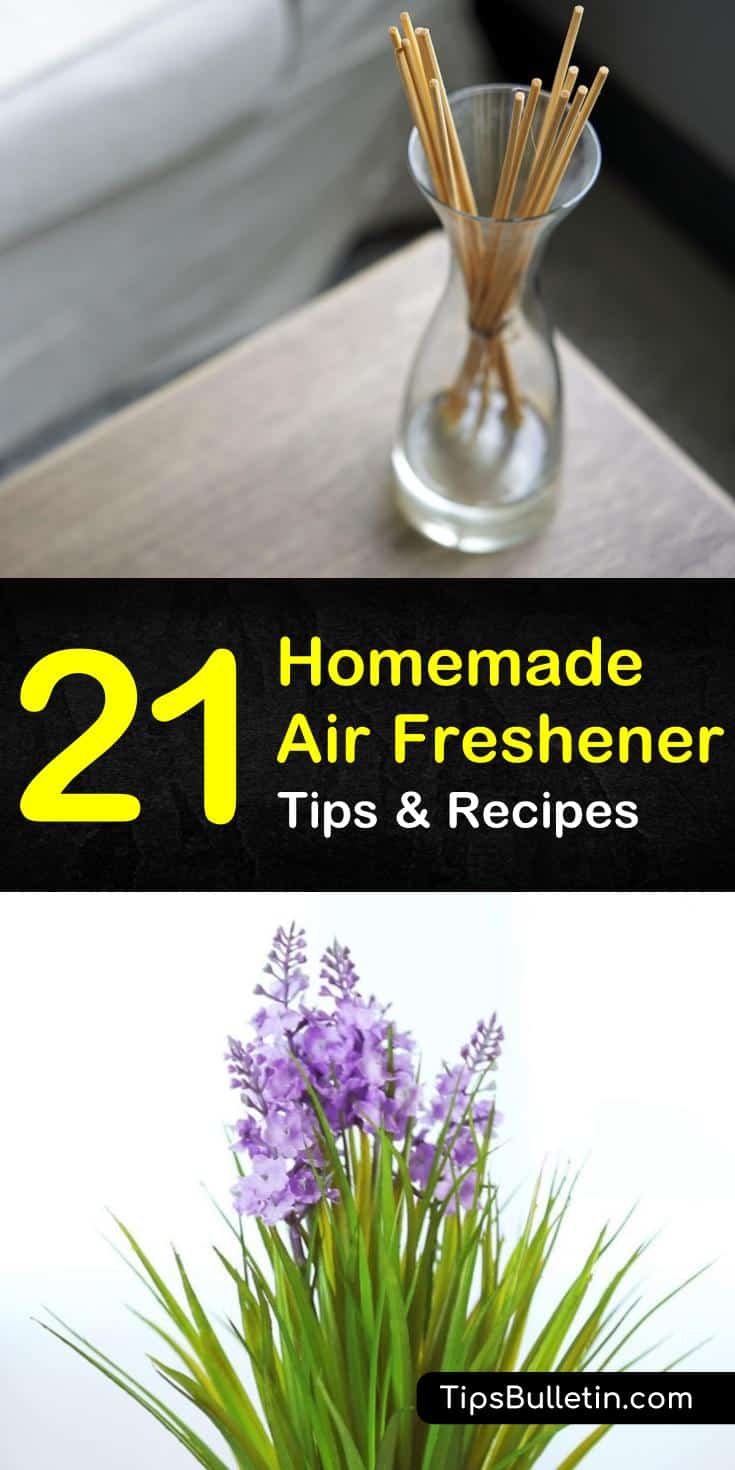 Thank you for reading these homemade air freshener recipes and ideas. If you found any of these DIY air freshener recipes helpful, please take a minute to share our air freshener recipes with others through Facebook and Pinterest.