Discovering that you have an ant invasion in the home is an unwelcome surprise, and getting rid of ants feels like an uphill battle. You squish several ants here and several ants there, but they keep coming back. It's easy to make homemade ant killer without Borax to get rid of those ants once and for all.
There are many different types of ants, from large black ants and destructive carpenter ants to biting fire ants and pesky sugar ants. Some are notorious for getting into the home and causing havoc, and if you see one ant, it's reasonably sure that there are many more to follow.
Worker ants search out a food source and leave a trail of pheromones as they go. These ant trails are a signpost to the rest of the ant colony that guides them to the food source. Therefore, killing a few bugs on site is not an effective way of preventing an ant infestation.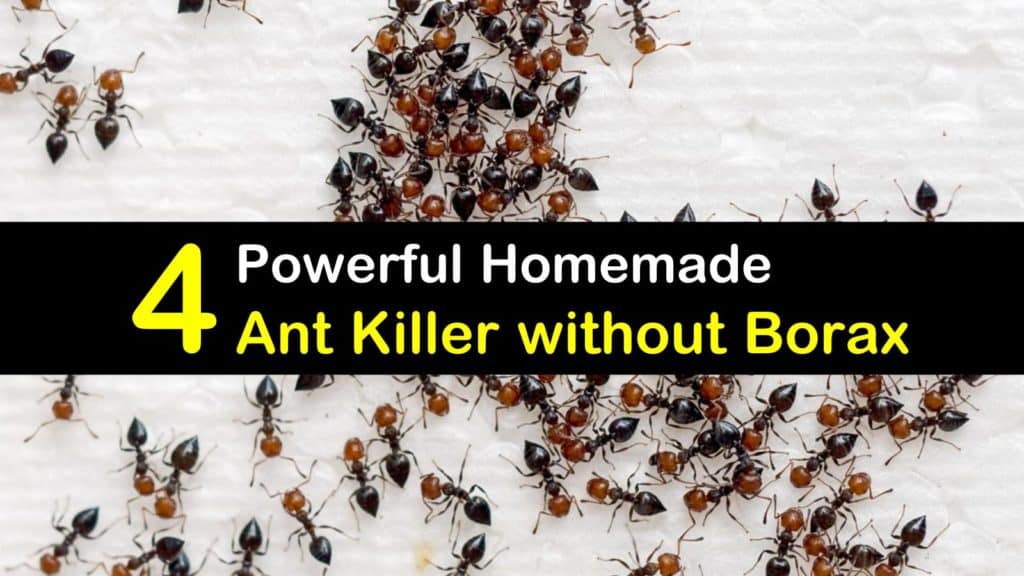 Using Home Remedies to Kill Ants without Borax
Borax or boric acid mixed with peanut butter or corn syrup, or mixed with sugar water on cotton balls is a common way to kill ants, just like when you sprinkle Borax on ant hills, but there are many other ways to kill these common pests around the home.
We have a range of natural remedies that are excellent for use in pest control and are useful if you prefer not to use Borax or do not have any.
DIY Ant Killer without Borax
The combination of white vinegar and dish soap is an excellent DIY ant killer without Borax. Not only is this all natural ant spray an ant contact killer, but the solution also removes the pheromone ant trail.
To make this DIY pet friendly ant killer, mix the white vinegar and water in a bottle and add the salt and dish soap. Shake the container gently to mix and label if for future use. Spray the ants directly as soon as you spot them.
The solution is also excellent for cleaning away ant trails on countertops, baseboards, windowsills, and any other area that you find ants walking in a line. Once the path is disrupted, the ants become confused, and it's easy to wipe them away with a paper towel.
Homemade Ant Trap without Borax
There are a few different ways to trap ants, whether you decide to bait ants with a commercial product such as Terro or make a non-toxic trap with household items.
The key to a Borax-free trap is to use ant bait without Borax. Here is how to make an at home ant trap without Borax in a few easy steps.
One of the best traps for keeping ants out of pet food is to create a water moat. Fill a shallow container that is slightly larger than your pet's food dish, fill it with water, and set the pet's bowl in the center. The ants try to get to the food and end up drowning in the water instead.
To make an ant trap filled with non-toxic poison, combine baking soda and powdered sugar in a short container. Poke holes in the plastic lid that are big enough for ants to climb through and screw the cover in place.
Place the ant trap in an area where you see activity. The ants carry the sweet food back to their entire colony, where they ingest it and it kills them. If you do not have a container, place the powder directly on the ant hills and entry points to your home.
Homemade Ant Killer without Borax
Insects cannot stand the scent of peppermint and avoid it whenever possible. Ant spray made with peppermint essential oil is an excellent tool for eliminating many types of bugs and is also a common ingredient in natural roach spray.
Pour the water into a glass bottle and add the peppermint oil. Use a glass container rather than a plastic one to prevent the oil from deteriorating the plastic.
Spray the liquid in areas where you notice ants and spray all entry points to the home. If you know the ant colony's location, pour boiling water directly into the ant hills to destroy the colony.
How to Get Rid of Ants with Diatomaceous Earth or Cornmeal
While it's easy to kill fire ants with Borax, there are other ways to get rid of an ant problem. Consider using food grade diatomaceous earth to eliminate most types of ants around your home.
This powder is a naturally occurring substance that works effectively for killing many types of insects. Cornmeal is also an efficient ingredient for killing ants.
Sprinkle a thin layer of food grade diatomaceous on problematic areas to kill ants. These areas are entryways into the home, such as the doorway and windows, around baseboards, and any other spots you see ants.
The powder is also useful for spreading outside the yard to prevent ants from entering the home. The insects travel across the dust, which cuts through the exoskeleton of the ant, leading to dehydration and death.
If you do not have any diatomaceous earth, try sprinkling cornmeal around the area. The ants eat the powder and are unable to digest it, which leads to eventual death.
Discovering that you have ants, cockroaches, or other insects in the home is frustrating. Not only are they an annoyance, but these pests contaminate food and kitchen surfaces.
Fortunately, making a homemade ant killer is easy even if you do not have Borax in the house. There are many alternatives, such as cornmeal, dish soap, and peppermint oil, and all of them are equally effective.
Recipe for Homemade Ant Killer without Borax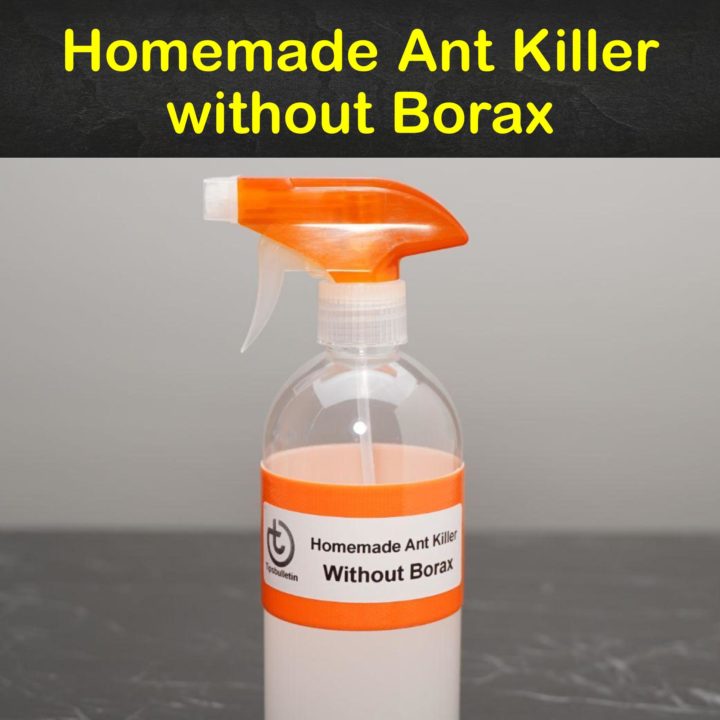 Homemade Ant Killer without Borax
Get rid of ants and other pesky insects with this simple spray!
Materials
8 ounces water
8 ounces vinegar
1 1/2 tbsp table salt
1 1/2 tbsp dishwashing liquid
Tools
Measuring cup
Tablespoon
24-ounce sprayer
Instructions
Pour the water and vinegar into the sprayer.
Shake well.
Add the dish soap and salt and shake again to combine.
Spritz areas where ants congregate or spray them directly.
Notes
Safe to use around small children and pets.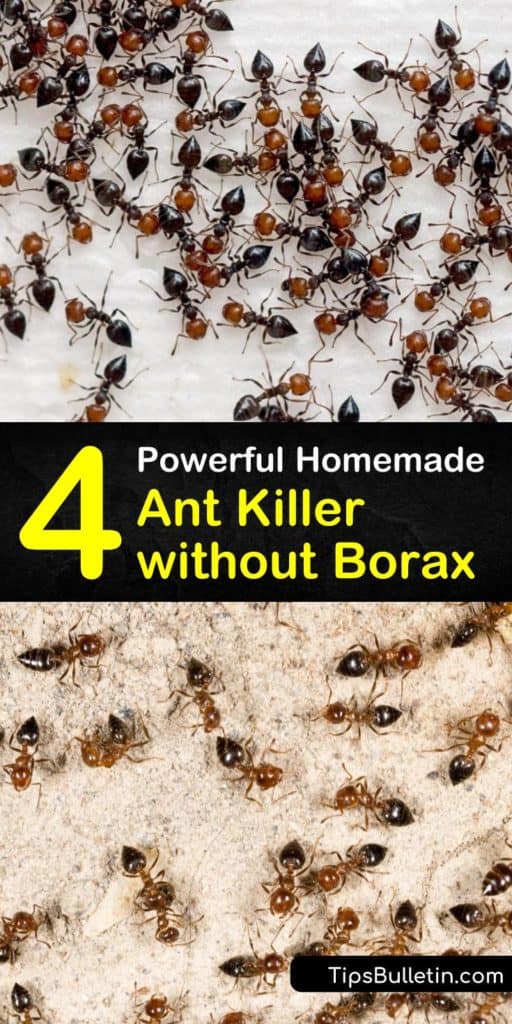 We hope that making a homemade ant killer without Borax eliminates ants from your home, and we'd love it if you'd share our Borax-free ant killers with your family and friends on Facebook and Pinterest.