The natural beauty of hardwood floors truly cannot be matched. Bamboo is rapidly becoming a new favorite among homeowners due to its durability and water resistance. If you're the type of person who prefers to use natural ingredients to clean your home, then you should try a homemade bamboo floor cleaner to clean your bamboo flooring.
Using a homemade floor cleaning solution to clean bamboo flooring will allow the floor finish to keep doing its job. When dirt is tracked onto bamboo floors and not cleaned regularly, the dirt debris can cause scuff marks, scratches, and discoloration to the wood.
Over time the hardwood flooring will lose its luster and eventually need to be refinished. The amount of care a bamboo floor requires all depends on the traffic areas of the home. A bamboo floor that is located in high-traffic areas such as the kitchen, hallways, and bathroom may need daily cleaning and maintenance.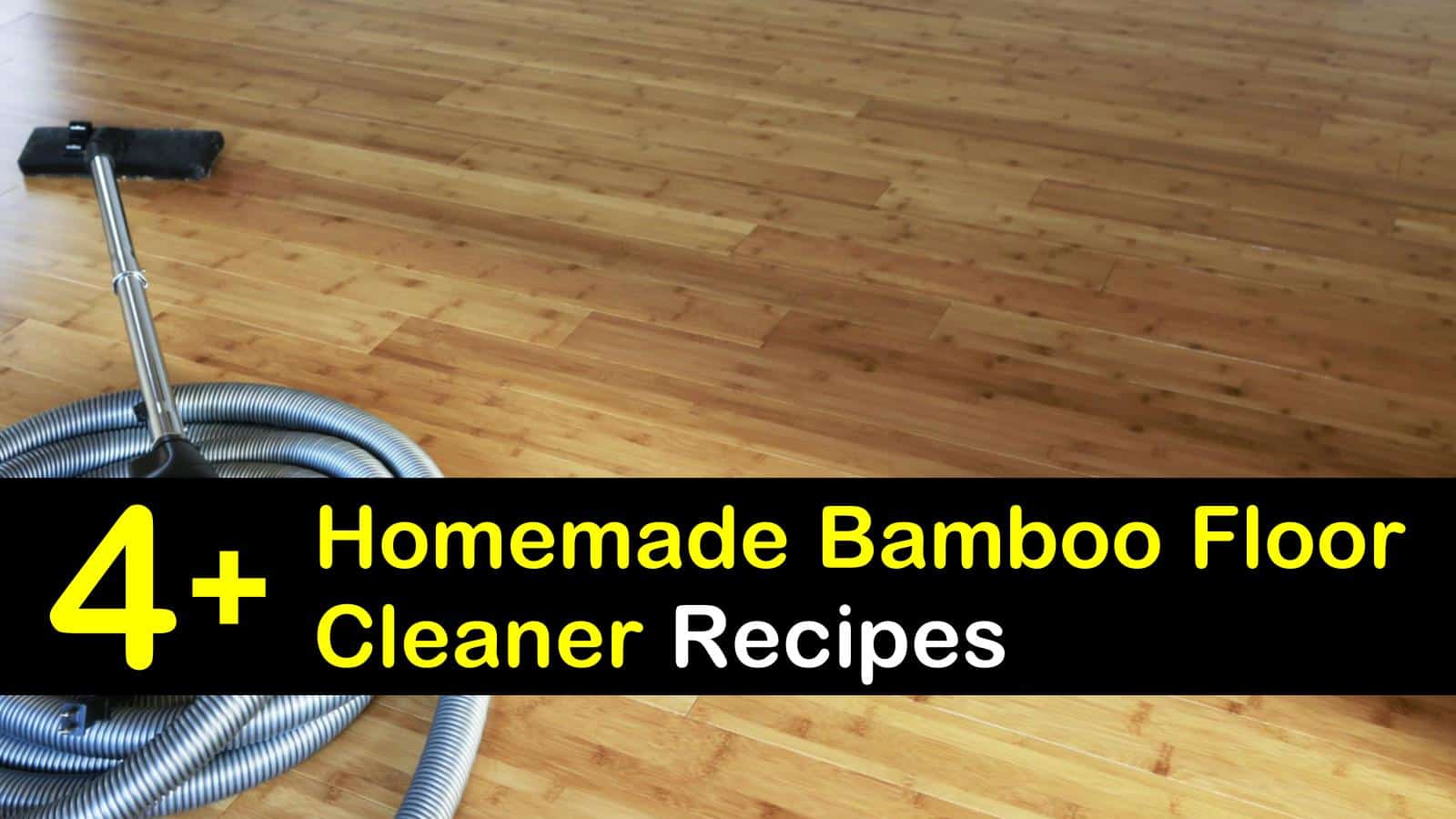 Make Your Own Bamboo Floor Cleaner
You must wipe up any spills and accidents immediately from your bamboo flooring using an absorbent cloth. For all other floor cleaning routines, you can skip those harsh floor cleaning products and use a natural DIY hardwood floor cleaner.
Removing Dirt from a Bamboo Floor Using a Vacuum
Vacuuming a bamboo floor to remove dust and debris can be a quick and efficient way of getting the job done. Many people opt to use a vacuum over a broom for fear of scratching the wood with hard broom bristles or stirring up dust.
With that said, not all hardwood vacuums are created equal. There are a few things you should know about the type of vacuum cleaner to use and how to use it when cleaning your bamboo hardwood flooring.
Vacuuming a Bamboo Floor
When deciding which vacuum to use for regular cleaning of a bamboo floor, you want to consider a few things. Make sure that the vacuum is lightweight. Using a lightweight cleaner will prevent any accidental dents and dings to the wood surface.
The next thing you'll want to do is make sure that the vacuum has a removable beater bar or none at all. The beater bar is the rotating brush located on the bottom of the vacuum and can cause damage to the surface of the bamboo wood flooring.
Sweeping Away Debris from a Bamboo Floor
If you do not have a vacuum with a removable beater bar, you can quickly sweep away dirt and debris using a broom. There are just a couple of tips to follow when sweeping a bamboo floor to ensure that you don't damage or scratch the wood surface.
Broom Sweeping a Bamboo Floor
You must use a soft-bristle broom when sweeping a wood floor. A broom with hard or stiff bristles may cause scratches to the floor finishing. Sweep the floor as you would typically, making sure to get into the corners and wall crevices.
Your sweeping motion should follow the grain of the wood as much as possible to remove tiny sand particles. Once you have swept the dirt to one side of the room, use a dustpan to scoop up the dust and debris and empty it into the trash.
DIY Bamboo Floor Cleaner
There are ways that you can clean floors naturally without the use of store-bought chemicals. This DIY bamboo floor cleaner uses vinegar and water to clean those floors and bring back their shine.
For the best way to clean bamboo floors, be sure not to put more vinegar into the cleaning solution than recommended to keep from harming the material. This mixture is both cost-effective and an excellent way to restore bamboo floors to their original bright finish.
Mix the water and vinegar in the cleaning bucket. You can also add some essential oils to the floor cleaner solution if you can't tolerate that vinegar smell. Pines and citrus essential oils work nicely for a clean, fresh scent.
Before mopping, be sure that the floor has been swept thoroughly or vacuumed to remove any dirt debris. Dunk the mop into the cleaning solution and be sure to wring it out well.
Clean the floor by moving the damp mop in a side to side and circular motion. Refill the bucket with fresh water and vinegar as necessary.
Once the floor is clean, use a soft dry cloth to remove any moisture left behind by the wet mop. Drying the floor is an important step and it is necessary to remove water spots from wood so that unsightly stains do not mar the beautiful finish. Wood floors that are left wet can be damaged by warping and distortion, leaving you no choice but to replace the flooring at considerable expense.
This easy recipe with common household ingredients will also work well for cleaning laminate floors with vinegar to get them free of ugly stains and leave them with a nice shine. Many types of flooring respond well to cleaning with vinegar. Just be sure to check the manufacturer's instructions to ensure that it is safe on your floor before using.
Cleaning a Bamboo Floor with Rubbing Alcohol
Rubbing alcohol may sound like a scary substance to be putting on that beautiful hardwood floor, yet alcohol has a neutral pH balance, making it neither acidic nor alkaline. It can preserve the luster and beauty of those wood floors.
Make sure that the floor is swept free of debris using a dust mop or broom. Mix the water, rubbing alcohol, and Dawn dish soap into the spray bottle and gently shake. Spray the solution onto an area of the floor and then immediately wipe it clean using the dry cloth.
This process should be completed in steps. Do not merely spray the entire area and then wipe dry, as leaving liquid on the wood flooring for long periods can cause damage. Remember to spray and wipe dry, and then repeat in a new section.
Natural Cleaning Solution for Bamboo Floor
This method will not only get that bamboo floor clean but bring out its natural shine, as well. This natural cleaning solution for bamboo floor results in a clean shine that is similar to that of store-bought oil soap.
First, sweep the floor using a gentle broom or Swiffer sweeper. Mix the water, olive oil, and lemon juice in the bucket. Dunk the mop head into the bucket and wring as much of the liquid out as you can.
Use the damp mop to wash the floor in a circular motion, making sure that all areas of the wood floor have been mopped. Allow the floor to air dry and then use a dry, soft cloth to buff the floor.
Tips for Keeping that Bamboo Floor Scratch-Free and Full of Shine
Sweeping, vacuuming, and mopping a bamboo wood floor are not the only ways to help it maintain its good looks and shine. Here are several steps to take now to ensure that your wood floor looks as beautiful as the day it was installed.
Doormats
Place doormats at all of the entryways to rooms that have bamboo flooring to prevent extra dirt from getting tracked onto the wood floor. You can also request that household members and guests remove their shoes before entering the room.
Protector Pads
Use anti-scratch felt protector pads on the bottoms of any furniture placed on a bamboo wood floor. This step is an especially important one to follow for furniture that will slide around the floor, such as stools and dining room chairs.
Avoid Harmful Cleaning Techniques
Bamboo flooring should be cleaned with care. Avoid using a steam mop for cleaning. The steam generated by this type of cleaner can penetrate the bamboo, causing it to warp from moisture absorption.
Avoid cleaning the wood flooring with abrasive cleaning products and chemicals, including acidic products and products that contain ammonia. Always be sure to use cleaning products that are designed specifically for bamboo wood floors such as Bona or another hardwood floor cleaner.
Gone are the days of covering those wood floors with area rugs to protect them from dirt and grime. Get rid of that store-bought floor cleaning product with chemicals that you can't even pronounce. Using a natural cleaning solution for cleaning wood floors and laminate floors will leave a streak-free clean you can enjoy.
Recipe for Homemade Bamboo Floor Cleaner
Homemade Bamboo Floor Cleaner
Bring the shine back to bamboo floors with vinegar and water.
Materials
Two ounces vinegar
One quart water
Tools
Measuring cup
Bucket
Mop
Microfiber towel
Instructions
Pour the vinegar and water into the bucket and swish to combine.
Dip the mop into the cleaning solution and wring out excess cleaner.
Wipe the mop back and forth on the bamboo flooring in one section at a time.
Use the towel to dry the clean floor.
Continue until the whole floor is clean.
Notes
A microfiber mop is ideal.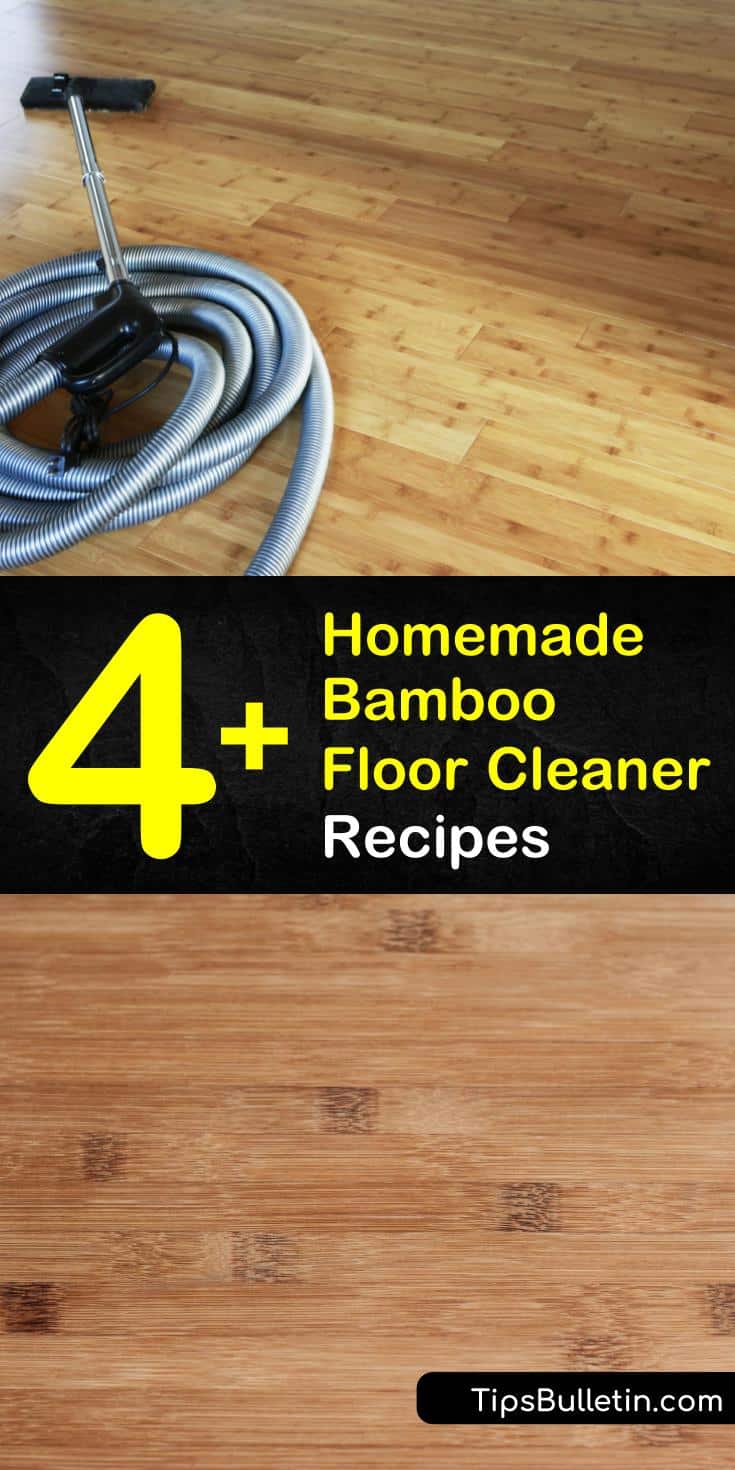 You can clean those bamboo hardwood floors with ease using natural ingredients that aren't harmful to your family or the environment. Not only can you clean them guilt-free, but you can maintain their luster and natural beauty for years with the right cleaning products. If our article about cleaning bamboo flooring was beneficial to you, we'd love it if you shared our homemade bamboo floor cleaner with your family on Pinterest.