Cleaning bathtubs and removing soap scum build up can be a daunting task, not to mention washing the toilet bowls with urine sediment and limescale. If not cleaned immediately, they will become breeding grounds for bacteria. If you have a dirty bathtub collecting mold, mineral stains, and rust, learn how to clean them easily. with a homemade bathtub cleaner recipe.
You don't have to spend too much on different cleaning products such as soap scum removers, or solutions to unclog a bathtub drain. Instead, try the recipes that we have listed below and make your all-natural homemade bathtub cleaner.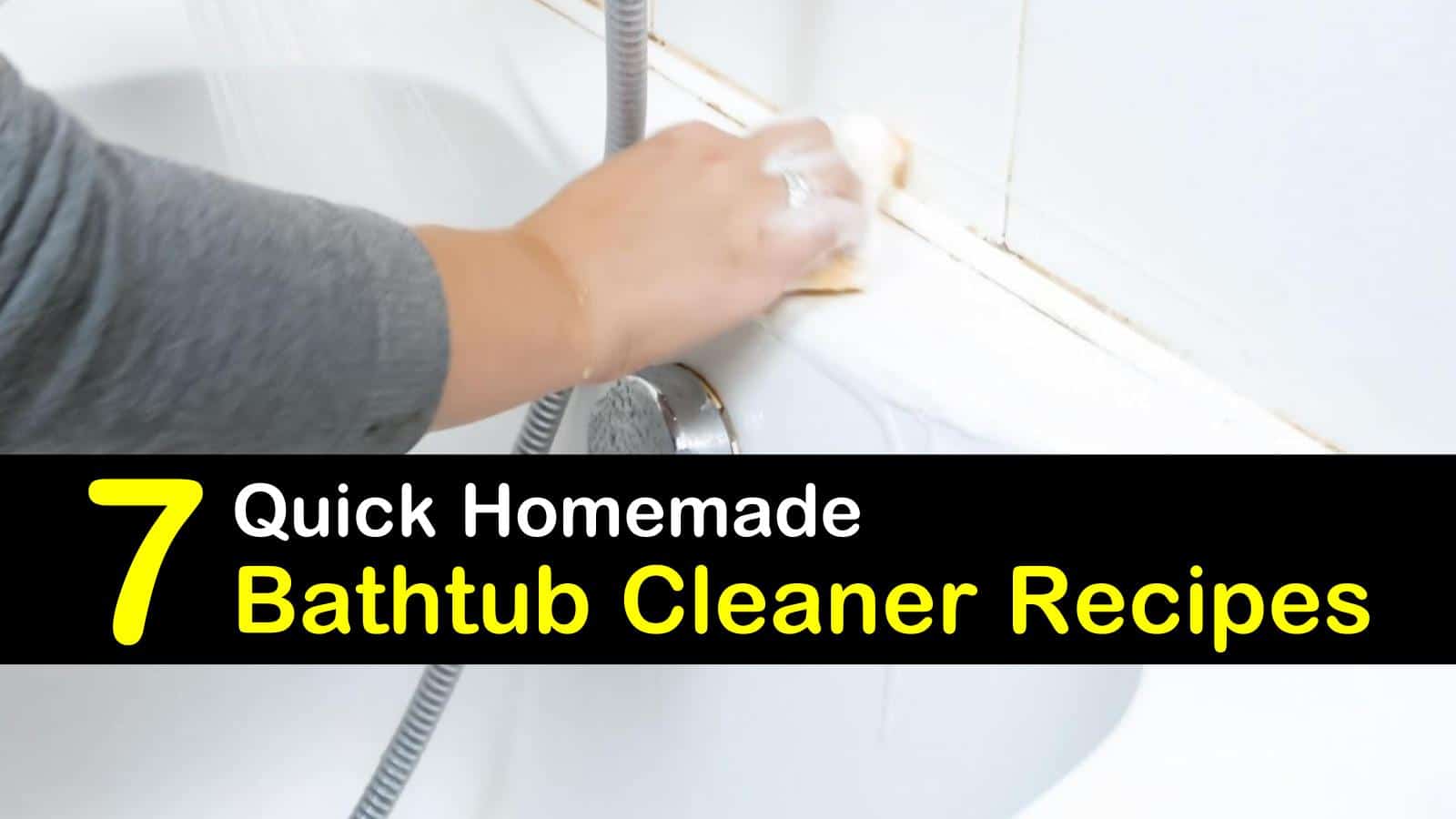 How to Make Your Own Bathtub Cleaner Recipes
With a little elbow grease and the right ingredients, you can make a DIY tub cleaner. Gather the ingredients for the recipes below and follow the instructions to make them. But remember, the best way to prevent having a dirty, nasty tub is to be diligent in cleaning it regularly.
DIY Bathtub Cleaner Recipes
If you are sick and tired of using hazardous chemicals to clean the gunk in your tub or clean the bathtub drain, learn how to make your DIY bathtub cleaner using natural ingredients. Check out some of the recipes below and try them out!
DIY Bathtub Cleaner Spray
Mold and bacteria can grow in the bathtub due to the damp environment. Therefore, regular bathtub cleaning is essential. To prevent the moisture-loving germs from populating in your tub, try this disinfecting bathroom cleaning recipe.
Pour the warm water, white vinegar, baking soda, and liquid soap into the spray bottle and mix well. Spray generous amounts into the bathtub. Let the mixture sit in the bathtub to remove tough stains. Scrub away soap scum and rinse thoroughly with water.
This solution can also be used to clean a hot tub with vinegar. Hot tubs will have the same cleaning requirements as bathtubs, so this cleaning solution is a perfect match.
Bathroom Tile Cleaner
Tile cleaners and tile grout whiteners can smell nasty. It may even give you a headache if inhaled for long periods. With a natural bathtub cleaner for regular tubs and a homemade hot tub cleaner, you can save yourself from the awful smell and be successful in cleaning soap scum, too!
Pour the hot vinegar and dishwashing soap into the bucket or directly into the shower and on soap scum build up that is collecting in the corners of your tub or bathroom floor. Leave it for a few minutes then wash the tiles and tub as you usually do.
Simple Homemade Toilet Bowl Cleaner
If you hate scrubbing the toilet bowl, this is the best DIY cleaner that you can use without even needing a toilet scrub!
Pour the cola into the toilet bowl and leave it there for about ten minutes. A chemical reaction will take place, dissolving the urine sediments and marks on the toilet bowl. After letting the cola sit, pour in the baking soda and the vinegar.
Let it finish bubbling and do not flush. To remove tough stains, give it a scrub using a toilet brush. In most cases, scrubbing is not needed. Let the mixture do its job in a couple of minutes, flush, and walk away with a clean toilet bowl!
DIY Porcelain Bathtub Stain Remover
One way to remove gunk and rust from your porcelain bathtub is by using a mixture of hydrogen peroxide and cream of tartar. Here is how you can use them as a homemade bathtub cleaner.
Mix equal parts hydrogen peroxide and cream of tartar until a thick paste forms. Remove rust stains from tub by applying the paste directly over rust stains.
Let it stand for five to ten minutes. Buff the stained or discolored area with a nylon brush until you remove them entirely.
Hard Water Stains Remover
Hard water contains magnesium and calcium that cause water stains when the hard water evaporates. Once dried, it leaves a grimy residue on places like porcelain tubs, tiles, glass, and metal surfaces. To remove hard water deposits, you can make a homemade bathroom cleaner.
Pour equal parts hot water and vinegar into the spray bottle with a small funnel. Shake well and spray generous amounts into the hard water stains.
If your tub has jets, use this recipe for how to clean bathtub jets, too, to get rid of mineral deposits on the interior. Let the mixture sit for about four minutes. After that, wipe it clean or spritz with clean water.
Homemade All-Purpose Bathroom Cleaner
If you are someone who doesn't like making various cleaners for different areas in the bathroom, you can create a product that is a simple multi purpose cleaner. This DIY tub cleaner has a five-star recipe rating.
Mix all ingredients in the spray bottle. Before each use, shake the solution gently and spray onto tile, toilet bowls, bathtub, and sink. After letting it sit on the surface for a few minutes, wipe off with a damp cloth.
Powerful Soap Scum Remover
Soap scum build up is unsightly in tubs and soap holders. If not removed for weeks, it can accumulate mold and dirt. Fortunately, there is an uncomplicated way to remove soap scum from glass shower doors and tub surrounds without spending money on commercial cleaning products.
Pour the cornstarch into the microwaveable bowl and add white vinegar. Stir the mixture using a spoon until combined. It will thicken up quickly and change consistency.
Put the bowl in the microwave and heat for two minutes. While heating the mixture in the microwave, pour the dish soap into the spray bottle.
After heating the mixture on the microwave, pour it into the spray bottle with the dish soap. Shake gently to combine. Spray it on the soap scum. Let it sit for five to ten minutes and wipe with a damp cloth.
Why Use a Homemade Bathtub Cleaner?
Making your homemade bathtub cleaner can be quite a chore for busy individuals rather than grabbing ready-made commercial cleaning products from the store.
Some commercial bathtub cleaners cost from eight to twenty dollars per product, and they can be harmful to you, your pets, and your kids' health. The best way to keep your bathroom clean is to use a natural bathtub cleaner and DIY bathroom cleaning products.
Recipe for Homemade Bathtub Cleaner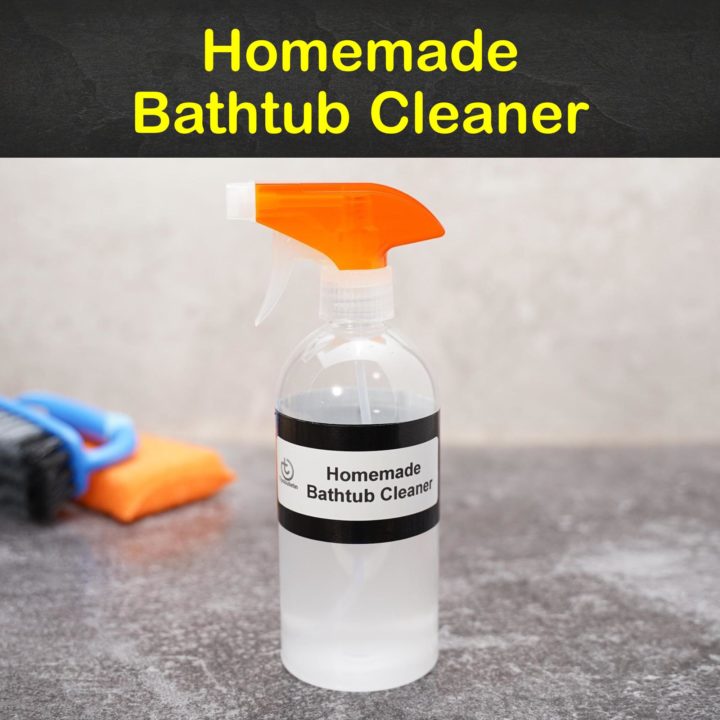 Homemade Bathtub Cleaner
Disinfect the tub with vinegar-cleaning power!
Materials
12 ounces baking soda
4 ounces warm water
4 tbsp white vinegar
4 ounces dish soap
Tools
16-ounce spray bottle
Scrub brush
Measuring cup
Tablespoon
Instructions
Add the liquid ingredients to the sprayer and shake to combine.
Pour in the baking soda and mix well.
Spray the bathtub with the solution, paying special attention to soap scum and dirt rings.
Scrub the entire bathtub with the brush.
Rinse the tub with clean water.
Notes
Substitute two tablespoons of the white vinegar with apple cider vinegar if desired.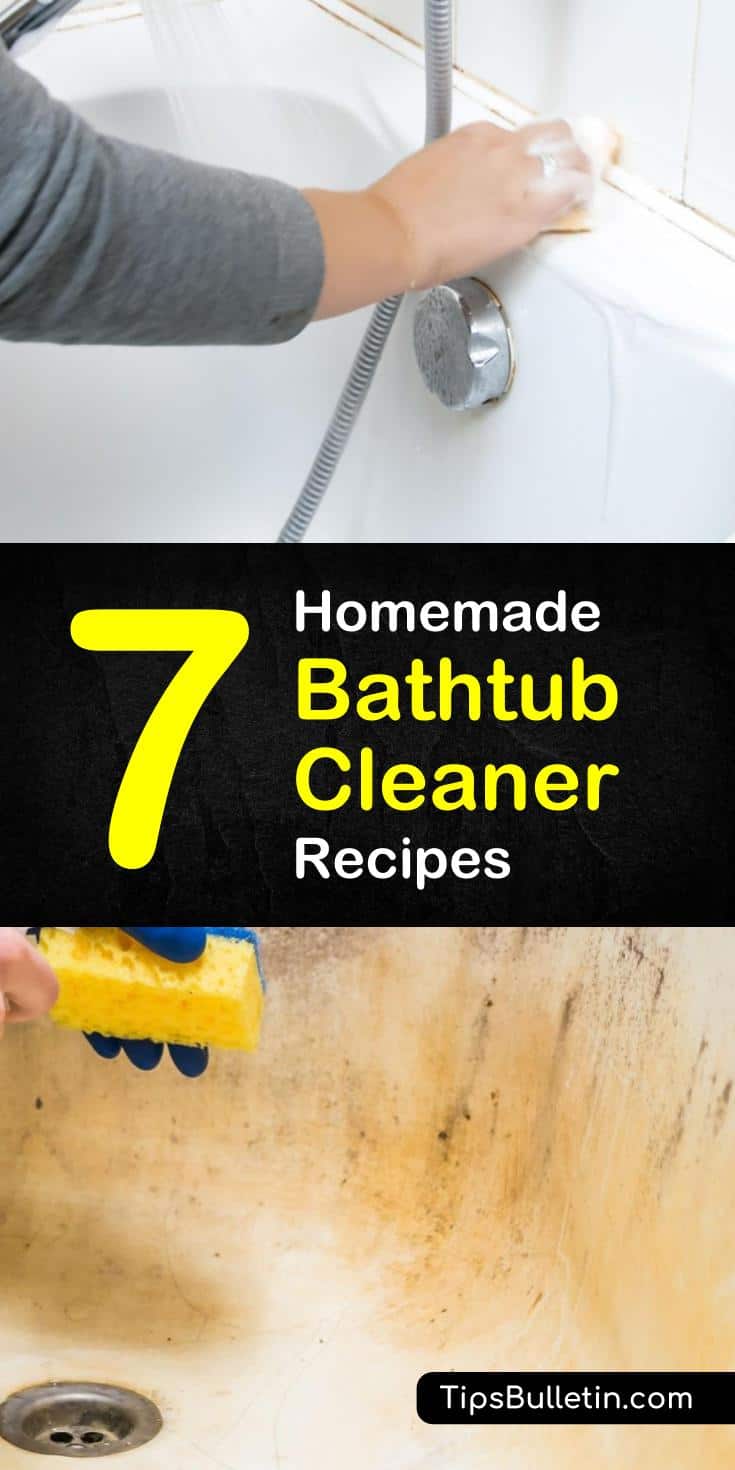 We hope that you enjoyed trying these bathroom cleaner recipes. Please share these bathtub cleaning tips with your friends on Pinterest and Facebook, especially to those who love DIY cleaning tips!