If you love the disinfecting power of bleach but not the cost of bleach-based cleaning products, you are in luck. It is easy to make homemade bleach cleaner that is more eco-friendly and cost-effective.
Read on to discover the best tips about how to make a DIY bleach cleaning spray, homemade disinfecting wipes, and more. The active disinfecting ingredient in bleach is sodium hypochlorite.
In household bleach products, the concentration of this chemical is usually between five and six percent. The recommended dilution rate for making all-purpose homemade cleaning products with bleach is one cup of bleach per one gallon of water.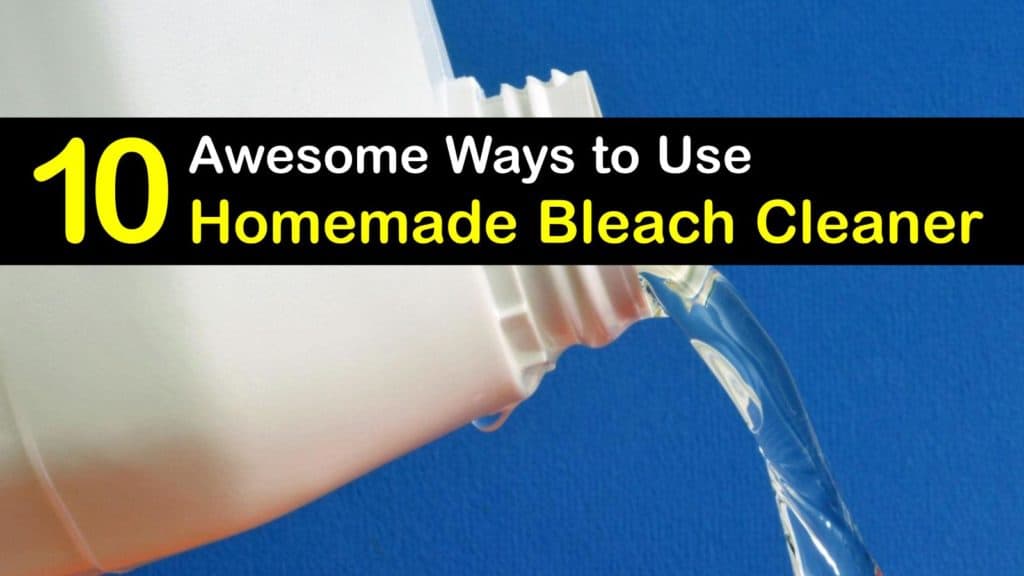 Safely Using Homemade Disinfectant Cleaner with Bleach
The Centers for Disease Control and Prevention, or CDC, have specific guidelines for safely using bleach. They warn against mixing bleach with other household cleaners, as doing so could release toxic vapors.
It is also not safe to mix essential oils with bleach for the same reason. Keep in mind that undiluted bleach is a harsh chemical.
It is critical to wear protective gear like rubber gloves, safety glasses, and a respirator mask when handling bleach so you don't have to worry about cleaning bleach from your hands and fingers after using it. Even when diluted, bleach discolors most fabric and surfaces that are not color-safe.
Depending on what sort of surface material you are planning on cleaning, you'll need to use different concentrations of diluted bleach.
Mix the ingredients when making your DIY bleach cleaning spray or other disinfectants and apply your homemade bleach solution in a well-ventilated area.
It is prudent to wear old clothes that you do not mind staining, and use rubber gloves to prevent direct contact between the bleach and your skin.
To disinfect your household surfaces, always use bleach products that list the concentration of sodium hypochlorite and have an EPA approval stamp on the label. Bleach solutions intended for laundry are not usually adequate to use as an effective disinfectant.
If you choose to repurpose an old spray bottle that previously contained other household cleaners, thoroughly wash and rinse it first.
Fill the spray bottle with two cups of tap water. Next, add the bleach. Shake the bottle gently to blend the mixture. If you have a smaller or larger spray bottle, adjust the measurements accordingly.
According to the CDC, homemade bleach cleaner is only effective for 24 hours. Adjust your quantities for how much sanitizer you require at a time, and make a fresh batch each time you clean with bleach solution.
Double or triple the mixture for a natural antibacterial floor cleaner for your bathroom, kitchen or another area. Ensure that bleach is safe for your flooring first.
DIY Bleach Cleaning Spray for the Kitchen
When used properly, bleach is safe to use in your kitchen for sanitizing countertops, cutting boards, sinks, faucets, and other surfaces. Pre-wash and rinse the area with soap and water to remove any loose debris.
Then, spray the surfaces with your DIY bleach cleaning spray. Leave the bleach solution to soak into the surfaces for approximately five minutes, then scrub with a cleaning rag or paper towels.
For particularly tough messes, use a soft-bristled brush or mildly abrasive sponge that does not scratch surfaces.
Chlorine bleach damages stainless steel. Instead, use white vinegar, hydrogen peroxide, or rubbing alcohol to clean and disinfect your stainless steel sink, faucet, and appliances.
Clean Your Wooden Butcher's Block with Bleach
Safely disinfecting a wooden butcher's block without damaging it is tricky. Soaking the block in warm soapy water warps it and may lead to cracking.
Instead, lightly spray the surface using your homemade disinfectant cleaner with bleach. Scrub the block using a sponge or cleaning brush in small circles. As you scrub, make sure not to saturate the wood fully.
Wipe the block with a damp paper towel and buff it dry with a clean microfiber cloth. Clean your butcher's block immediately after using it, before the wood has a chance to absorb stains.
Homemade Bleach Cleaner for Your Bathroom
To minimize your use of disposable plastic bottles and stop paying extra for name-brand cleaning products like Clorox Clean-Up, try switching to a homemade bleach cleaning solution.
Use our all-purpose disinfectant spray listed above to kill germs, mold, and mildew on any non-porous, color-safe surface. After cleaning, rinse with water and allow the area to air-dry.
Whiten Tile Grout with Bleach
If your bathroom grout starts getting a little bit dingy, use bleach to get it looking like new again. Before starting, turn on a fan or open a window to allow adequate ventilation, and make sure to use protective gear.
Fill a clean 16-ounce spray bottle with tap water and add two ounces of bleach. Use a targeted spray setting to cover the grout with bleach cleaner.
Allow the solution to soak for several minutes, then scrub the grout with an old toothbrush. Once the stains are gone, rinse with water and allow the area to air dry.
DIY Bleach Cleaning Solution with Laundry Detergent
Laundry detergent is the only type of soap that is safe to mix with bleach. Dish soap reacts with bleach to form a toxic gas called chloramine.
If the strong odor of bleach bothers you, try mixing one teaspoon of liquid laundry detergent with bleach to make a powerful disinfectant spray.
Brighten Laundry with Bleach and Baking Soda
Baking soda is one of the only cleaning agents that is safe to mix with bleach. To get your white clothes and linens looking fresh and bright again, add a half-cup each of baking soda and bleach to a load of laundry.
The baking soda helps to neutralize the strong odor of the bleach. It also enhances the potent stain removal powers of bleach.
Bleach and Baking Soda Stain Remover for Walls
If your family includes pets or children, the walls of your house might start looking dingy and stained after a while. Make a thick paste with bleach and baking soda to safely remove stains from your walls and get them back to their former shine.
Bleach usually does not discolor paint and wallpaper. However, it is always smart to test a small, inconspicuous area to ensure that it does not damage the surface.
In a clean mixing bowl, mix one cup of baking soda with just enough bleach to form a thick paste with roughly the same consistency as cake frosting. Spread the paste on the walls with a putty knife or clean paintbrush and allow it to soak for at least five minutes.
Use a soft-bristled brush or non-abrasive sponge to scrub the area until the stain is gone. Remove the paste with paper towels, and wipe away any residue with a damp cleaning rag.
Use Bleach to Eliminate Mold and Mildew
Use homemade bleach cleanser to eliminate mold and mildew from corners and crevices around your house. Because dried mold often causes allergic reactions in some people, it is critical to kill the spores and completely remove the mold residue.
Spray mildew spots with a bleach solution diluted at a ratio of two ounces of bleach per quart (32 ounces) of water.
Allow the bleach to soak in for at least five minutes, then wipe away the mildew with paper towels. Let the area air dry completely, using a fan if necessary. Reapply as needed until you eliminate the problem.
Make a larger batch of this recipe as a homemade pressure washer detergent for siding outside the house. It's particularly effective for vinyl. At the same time, it also works well as a deck washing solution to eliminate mold and mildew and bring back the natural color of wood.
Homemade Disinfecting Wipes
For wiping down frequently touched surfaces around your house like countertops, desks, doorknobs, keyboards, light switches, or phones, disinfecting wipes are incredibly convenient.
It is simple and easy to make your own sanitizing wipes, which are friendlier to the planet as well as your wallet.
Put on rubber gloves and open any available windows or doors for ventilation. Combine the water and bleach in your container. A large Mason jar or a reused wipe dispenser works well.
Fully submerge the paper towels or clean rags in the bleach solution and tightly close the lid. Let the towels soak for at least five minutes before using them to clean your household surfaces.
Nothing quite beats the disinfecting and stain lifting power of bleach. Our DIY bleach cleaning spray is suitable for most non-porous and color-safe surfaces around the house.
Bleach kills germs and lift stains efficiently, but always be sure to thoroughly clean and rinse the area first to remove any dirt or debris.
If you are ever unsure of the effect bleach may have on a particular surface, try doing a patch test on a small and inconspicuous section of the material first.
Remember that the only substances other than water that are safe to mix with bleach are baking soda and laundry detergent. Other household cleaners create toxic fumes when mixed with bleach.
When handling bleach, always open windows or turn on fans for ventilation and use protective gear like rubber gloves, safety glasses, and a respirator mask.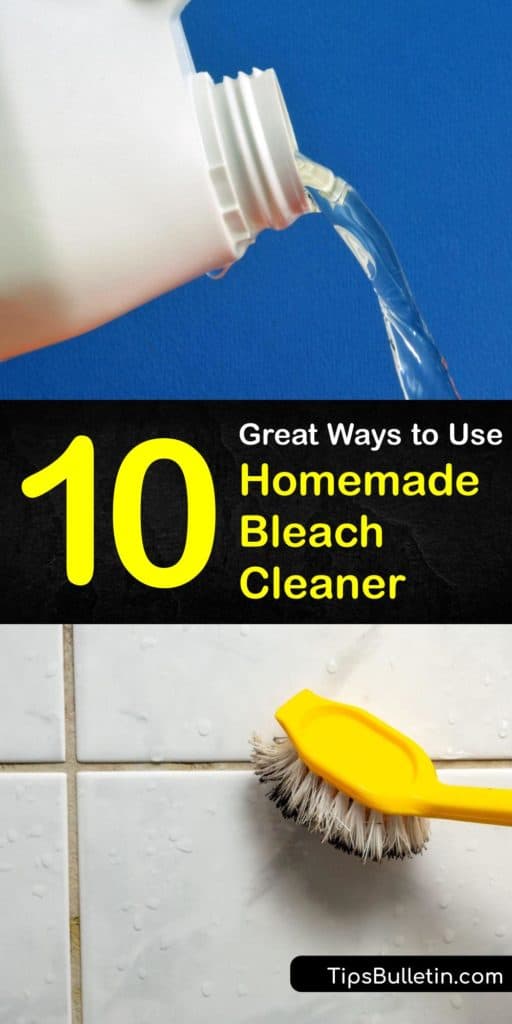 If you found these cleaning tips helpful, please share this article about using homemade bleach cleaner with friends on Facebook and Pinterest.