Have you been on your hands and knees recently to look at how dirty your wood kitchen cabinets are? Do that when you get a second, then answer this question: Did you notice the door handles had extra grease and grime around them?
Let's start gathering cleaning products to get the job done. Before you go to the store to purchase a cleaning solution, look at our homemade cabinet cleaner recipes and tips. We understand that creating a cabinet cleaning solution may be intimidating at first, but you won't be using any complicated ingredients.
Use everyday home remedies from around the house, like white vinegar, olive oil, baking soda, vegetable oil, essential oils, and dish soap to create the perfect blend. You'll be on your way to creating the best homemade kitchen cabinet cleaner in no time!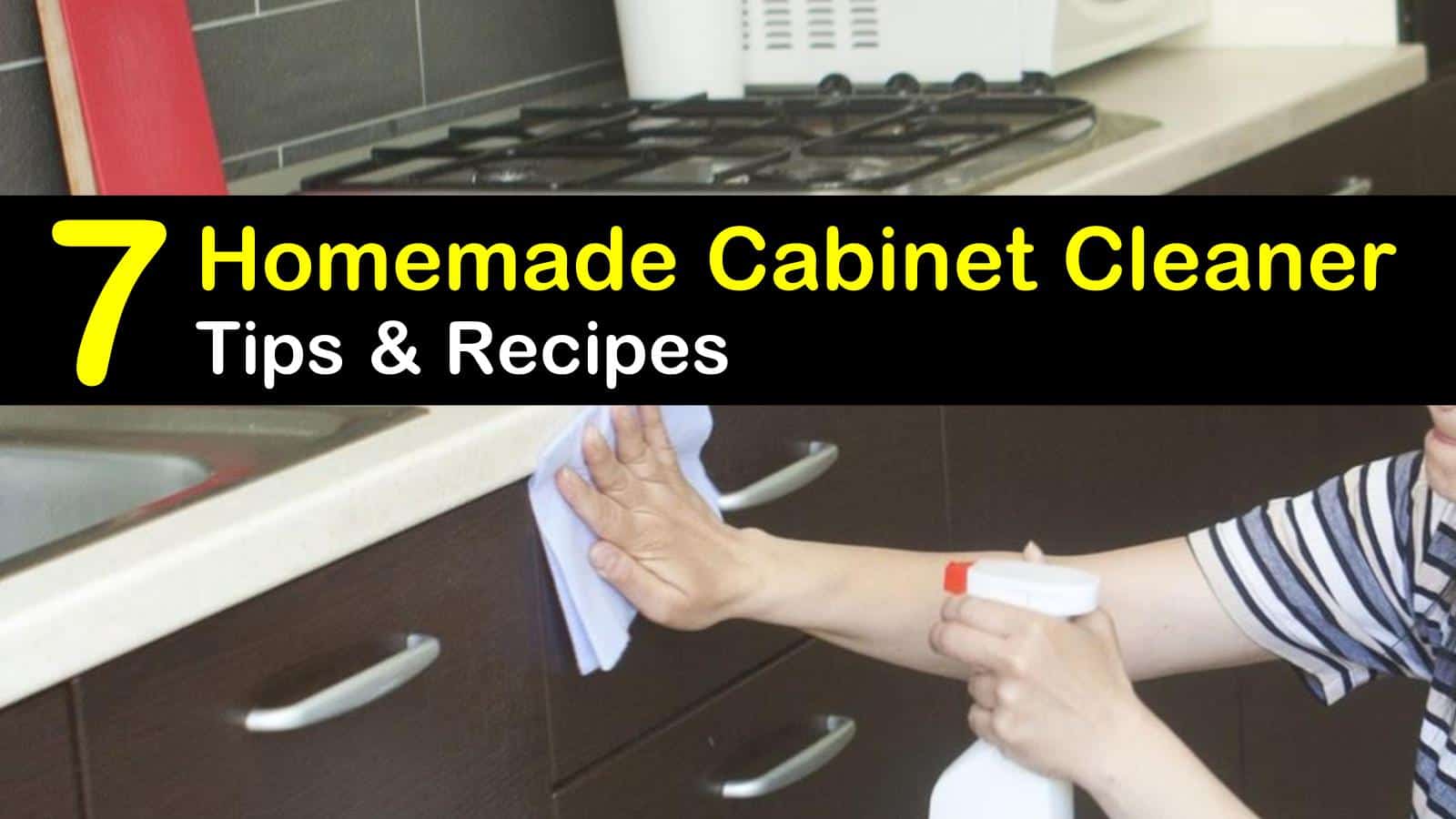 Easy-to-Make Powerful Cabinet Cleaner Tips & Recipes
Homemade Cabinet Cleaner
Before you get started, remember one of the most crucial cleaning tips to cleaning kitchen cabinets: never spray all the wood surfaces at once. Start by putting the spray on a small area that is not seen all the time.
If the wood does not react, you can start to clean wood cabinets one at a time. To get most of the grease and grime out of your cabinets, check this out.
Combine ingredients in a spray bottle and shake until thoroughly mixed. With a soft cloth, wipe and scrub the wood cabinets. Once you've finished, the wood will be nice and shiny (and gunk free!).
Use this recipe if you're trying to remove a water stain on wood cabinets or make a larger batch to use as a homemade hardwood floor polish. Stains and streaks will disappear from your cabinets and floors with this simple recipe.
Harsh chemicals can damage antiques. How to clean old wood furniture naturally is easier and safer with vinegar and oil.
DIY Cabinet Cleaner using Vinegar
If you're looking for a natural cleaner, grab some white vinegar from the cabinet and some water. Combine equal parts vinegar and warm water in a spray bottle and spray the cabinets.
Allow the mixture to sit for three to five minutes before you start wiping. Take a soft cloth and wipe and scrub the wood cabinets. If this is not working as effectively as you'd like, open the spray bottle and add a teaspoon of dish soap. Shake the spray bottle well and respray the cabinets.
Baking Soda Cabinet Cleaner
If you're getting your home ready for a gathering, you will want to clean almost all visible surfaces. Start by cleaning the cabinets with this simple baking soda recipe, then bring the mixture over to start cleaning patio furniture, too.
Mix the ingredients in a small bowl until nice, thick paste forms. If it seems too runny, add more baking soda. Apply the mixture to the cabinets and handles and allow it to sit for approximately five minutes.
Use a soft, wet rag to wipe away the mixture and stains on the wood cabinets. Wipe the cabinets with a dry microfiber cloth. Be sure to use this method before starting the process to remove paint from cabinets. Preparing your cabinets for renovations by cleaning them is an essential step.
Home Remedy to Clean Kitchen Cabinets and Floors
Stubborn stains are hard to get out of the wooden cabinets and hardwood floors. Salt and vinegar work well as a kitchen cabinet cleaner and a DIY wood floor cleaner.
Combine ingredients in a small bowl and stir the solution until thoroughly combined. Apply the paste to stubborn areas and let it sit for a few minutes.
Use an old soft-bristled toothbrush to scrub the stain. Don't apply too much pressure, as this could scratch the wood. Rinse the paste off the wood cabinets with a wet cloth and dry the areas with a clean towel.
Homemade Wood Cleaner
Wood cabinets need to be cleaned every so often, but other wood surfaces still need extra love and care, too. This wood cleaner recipe can be used on your hardwood floor and your tile floor, but it should not be used to clean suede furniture.
Mix all the ingredients and pour the solution into a spray bottle. Shake the bottle well before each use.
Spray the solution onto the wood surface and use a microfiber cloth to scrub and wipe away the spray. This is a great solution for cleaning hardwood floors naturally without worrying about damaging the wood.
Toothbrush Tip for Wood Cabinets
We've given you a bunch of different wood cabinet cleaning recipes to fall back on. However, there is one piece of the puzzle that hasn't been mentioned yet: hardware. When cleaning your kitchen cabinets, make sure you polish and clean the hardware, too. Grab an old toothbrush and dip it in the cleaner you've mixed.
Whether you're using the washing soda recipe, oil soap recipe, or vegetable oil recipe, thoroughly soak the toothbrush. Scrub around the hardware and around the trim to remove unwanted stains. Try not to put the toothbrush directly on the face of the hardware, as this could scratch the knobs or pulls.
Kitchen Cabinet Grime Remover
Many tips and tricks involve using some oil, whether it is vegetable or olive oil. However, this tip requires coconut oil.
Mix the ingredients in a small bowl and apply the mixture to your cabinets using a sponge, cloth, or your hands. Use a toothbrush to spread the mixture over hard-to-reach grooves. Wash down the cabinets with a damp cloth, and you should be good to go!
If you've wanted clean cabinets for a while now, but you didn't know what products to use, now you have several cleaning ideas. Get those greasy cabinets looking brand new in little to no time and then high-five yourself for the hard work you've done.
Recipe for Homemade Cabinet Cleaner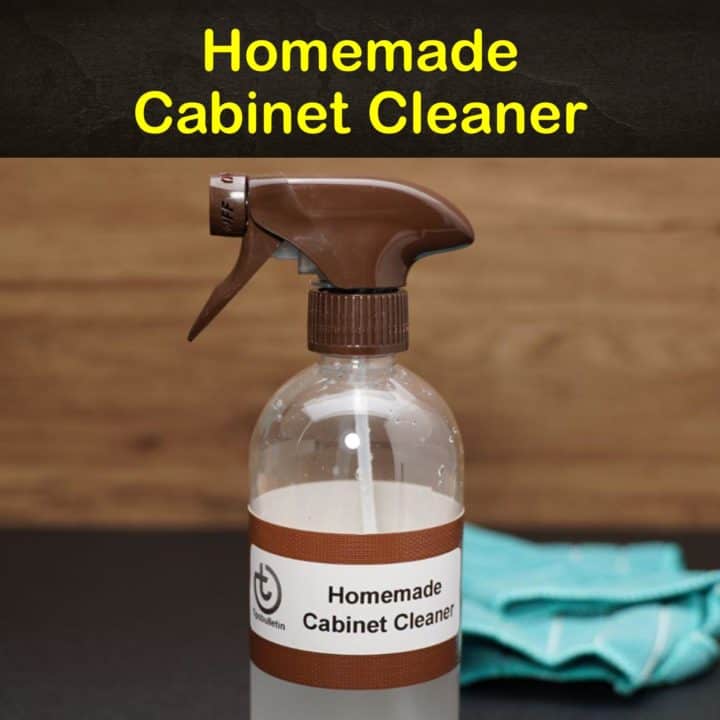 Homemade Cabinet Cleaner
A natural solution for dirty cabinets!
Materials
16 ounces water
2 1/2 ounces distilled white vinegar
2 tbsp vegetable oil
Tools
20-ounce plastic spray bottle
Microfiber rag
Tablespoon
Measuring cup
Instructions
Pour the water, oil, and vinegar into the sprayer.
Shake well to incorporate the oil.
Spray one cabinet at a time.
Wipe away dirt and cleaning residue with the cloth.
Notes
Substitute olive or another type of oil if desired.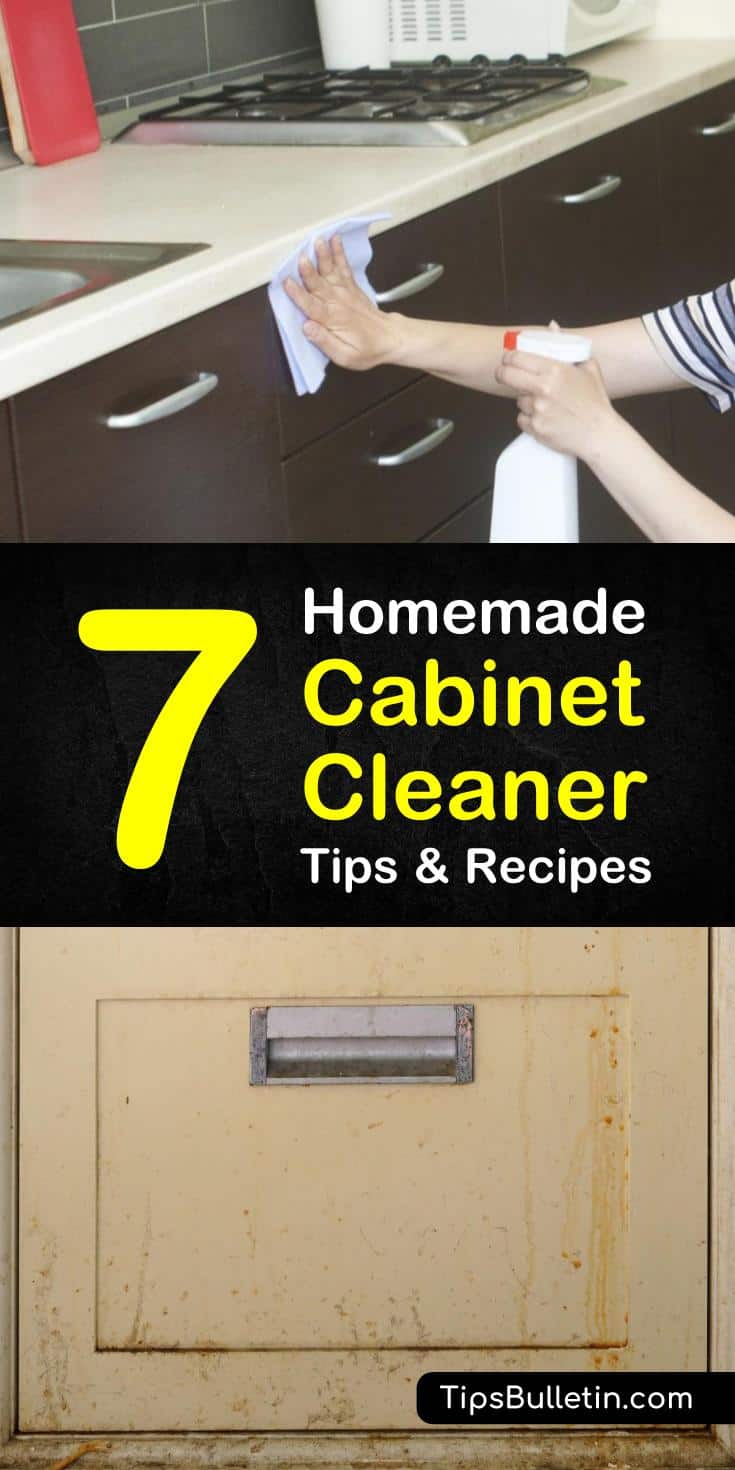 We hope you liked our homemade cabinet cleaner tips and tricks. If you did, please share our cabinet cleaning tricks on Facebook and Pinterest with your friends and family.