There are many advantages to waxing your car, including protection from the sun, water, and giving it that extra shine. However, there are times where removing that protective layer of coating is just as important as maintaining it. In these circumstances, using a homemade car wax remover is a cost-effective solution that will safely clean and remove wax.
The wax wears down on a car after about three months anyway, leaving the finish dull or streaked. One great way to prevent this is to strip away the clear coat of wax and start over with a new protectant.
A DIY car wax cleaner doesn't have to be expensive either. Many of the removal ingredients are already in your home, including dishwashing liquid and isopropyl alcohol; both work well as a natural remover for car wax.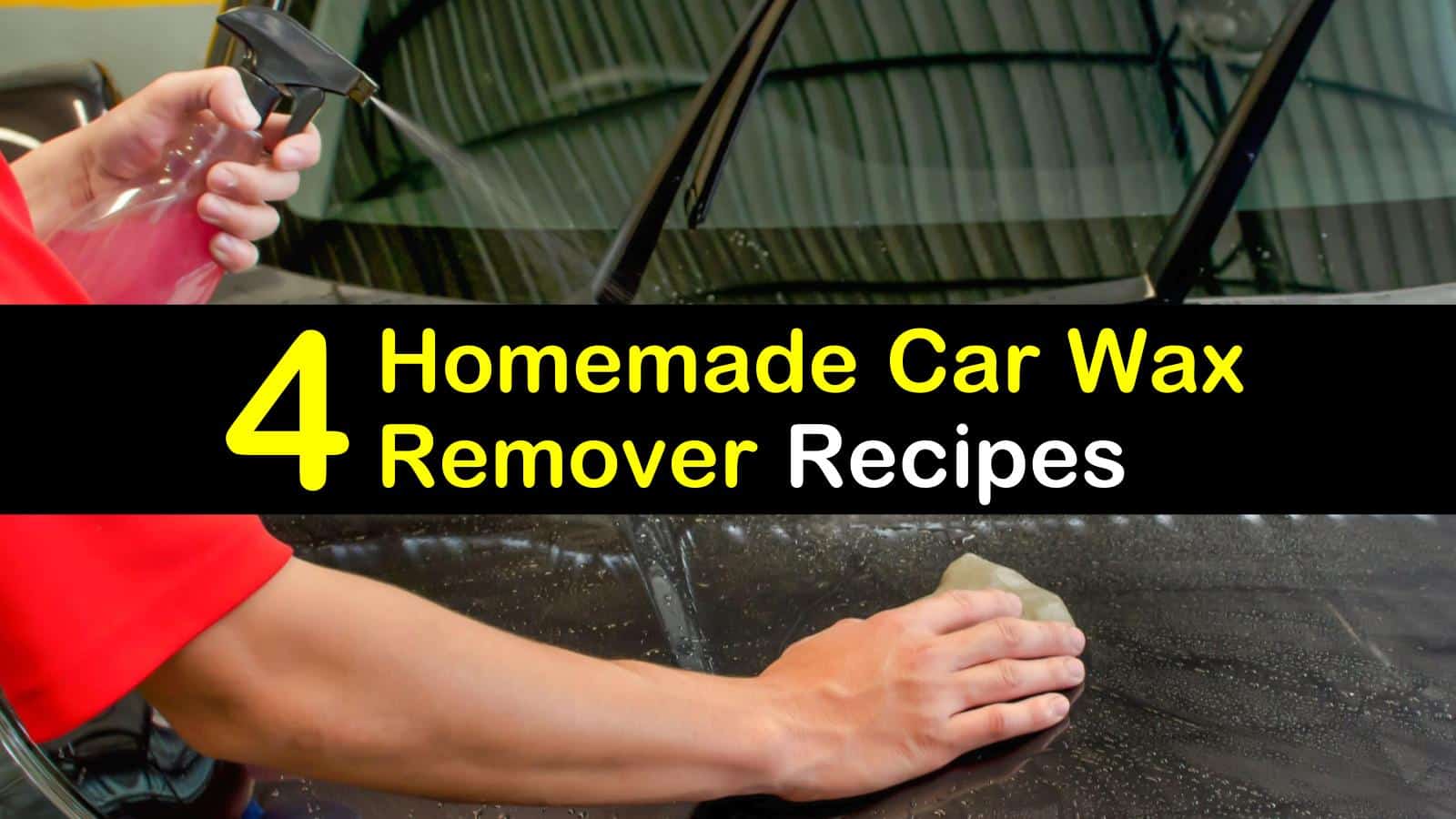 Easy DIY Car Wax Cleaner Solutions for Your Car
Some commercial products like clay bars and Meguiar will also accomplish the task nicely. Here, you will learn how to use some spectacular methods to strip the old wax from your car.
Ready to get started with the wax removal process, but are not sure which one to choose? Start by looking for the ingredients you have readily available and go from there. If you want to experiment with new methods, try each one until you find the option you like the best.
Clean with Dish Soap for a Homemade Car Wax Remover
In some cases, a little bit of dish soap or dish detergent is all you need to remove car decals without heat. Dish soap is an excellent degreaser, which makes peeling away the layers of wax as easy as removing grease and grime from dishes.
When choosing your cleaning products, search for dishwashing detergent with no additives like bleaching agents or fragrance.
Add several drops of dish soap to a microfiber cloth, along with enough water to quickly spread the soap around. Wipe the surface of the entire car with soapy water using circular motions.
Rinse after you finish the car washing with dish soap or your own DIY car shampoo. While some people recommend not using dish soap on vehicles, this all-purpose cleaner is generally a great car wash solution that ensures your car is ready and prepped for fresh new paintwork or waxing.
Dish soap is also appropriate to clean alloy wheels. Although you don't have to worry about wax on these surfaces, your tires get quite dirty, especially if you do a lot of driving. Take care of the wheels when you wash the rest of the car for an all-over clean.
Use Clay Bar as DIY Car Wax Cleaner
Another fantastic fix for shedding wax from your car is a remover like detailing clay. Clay bar is a great car cleaning solution, and highly effective at rubbing away rough surfaces on your car caused by contaminants, dirt, and brake dust. For this handy car care method, there are some supplies you need to have before you get started.
Start by spraying the clay lubricant on the surface of your car, working with two square feet at a time. Grab enough of the clay bar to fit in your hand comfortably. Avoid dropping the bar since collecting dirt on it renders the product useless.
Scrub the clay bar along the area with lubricant. Once you have successfully removed all grit and wax, run the terry cloth over the spot until all traces of the oil absorb into the fabric.
This process should leave your car with a clean, smooth surface. Now you're ready to polish a car with a new coat of wax or leave it as is.
Try a Commercial Wax Remover like Meguiar
If the DIY route isn't for you, and you prefer to use a commercial pre-wax cleaner, Meguiar is one of the best. This brand of automotive care cleaners produces everything from sprays to non-abrasive polishes to carnauba wax coats.
To use, select the appropriate cleaning product and wipe down the car using sweeping up and down motions. Use either terry cloth or a wash mitt to rub the remover into the surface. As a cheap alternative, use a simple homemade window spray. After removing the wax, rinse off the car and dry with a new towel.
Isopropyl Alcohol as a Natural Remover for Car Wax
As with most wax removal solutions, there are mixed reviews when it comes to using rubbing alcohol. While the mixture is generally safe on car paint, it may take several times before finally stripping all the wax from your car.
If you need to take care of removing dried tar from your car, alcohol may just be the right solution for you as it is great for breaking up stains like tar and sap.
Mix the alcohol and water in a bucket and use a microfiber towel to wipe the solution on the car to remove wax, one section at a time. Rinse each section before moving on to another.
If you have accumulated bug spatter on your windshield or the front bumper, make a homemade bug remover spray with some alcohol and water. Spritz the area and wipe clean. There are additional recipes you can make, as well, that are equally successful in clearing your car of bug guts.
After you remove bugs from the windshield and clean it with your favorite window washing solution, use newspaper to wipe it. This is the best way to get streak free car windows.
Some Helpful Tips to Use When Removing Wax from Your Car
We've discussed some great ways to remove a layer of wax from your car, but you still may have questions. You may even be wondering why you're doing this in the first place. If you're curious to know whether the wax removal worked or not, these final pieces of advice will help.
Why Would You Want to Remove Car Wax in the First Place?
Many people remove car wax that has been there for a while to put on a smooth, fresh layer of sealant. Similar to how you sand off a layer of paint before applying a new coat, you want to start with a bright, unblemished surface to wax.
If you are replacing the wax with an alternative layer of protection, such as a vinyl wrap or paint sealants, this may be added cause to remove the wax and leave behind a clean car. Another reason people want to remove wax is to make it easier to polish the car's surface.
Using wax removers like clay bar accomplish both tasks and leave your vehicle with a brilliant shine. If you need to make any painting repairs to the car, whether as a result of a ding or trying new car detailing, removing the wax is imperative before starting the painting process.
How do You Know if Your Car is Waxed or Not?
A clear coat of wax is difficult to see, and sometimes you may wonder if it is even there at all. One way to determine if your car is waxed is to spray the hood of the car with water. If the water beads up into little pearls of water after hosing it off, then the wax is still likely on the vehicle.
When the car is free from wax, the water looks smooth on the surface, not forming little pellets but laying flat. You can use this method to double-check that you entirely removed the layer of wax.
These easy methods are just a few ways to remove wax from your car without it costing a fortune. You also don't have to be a professional detailer to use these uncomplicated steps before adding that new wax layer to your car.
Recipe for Homemade Car Wax Remover
Homemade Car Wax Remover
Prep Time:
2 hours
2 seconds
Total Time:
2 hours
2 seconds
Prepare for a fresh coat of wax by removing the old one first.
Materials
1-gallon warm water
2 ounces rubbing alcohol
Tools
Bucket
Microfiber towel
Water hose
Measuring cup
Instructions
Add the warm water and rubbing alcohol to the bucket and swish to mix.
Apply the solution with the microfiber cloth to one section of the car at a time.
Rinse the area before moving on to another section.
Notes
Ensure all the old wax is gone before adding a new coat for the best results.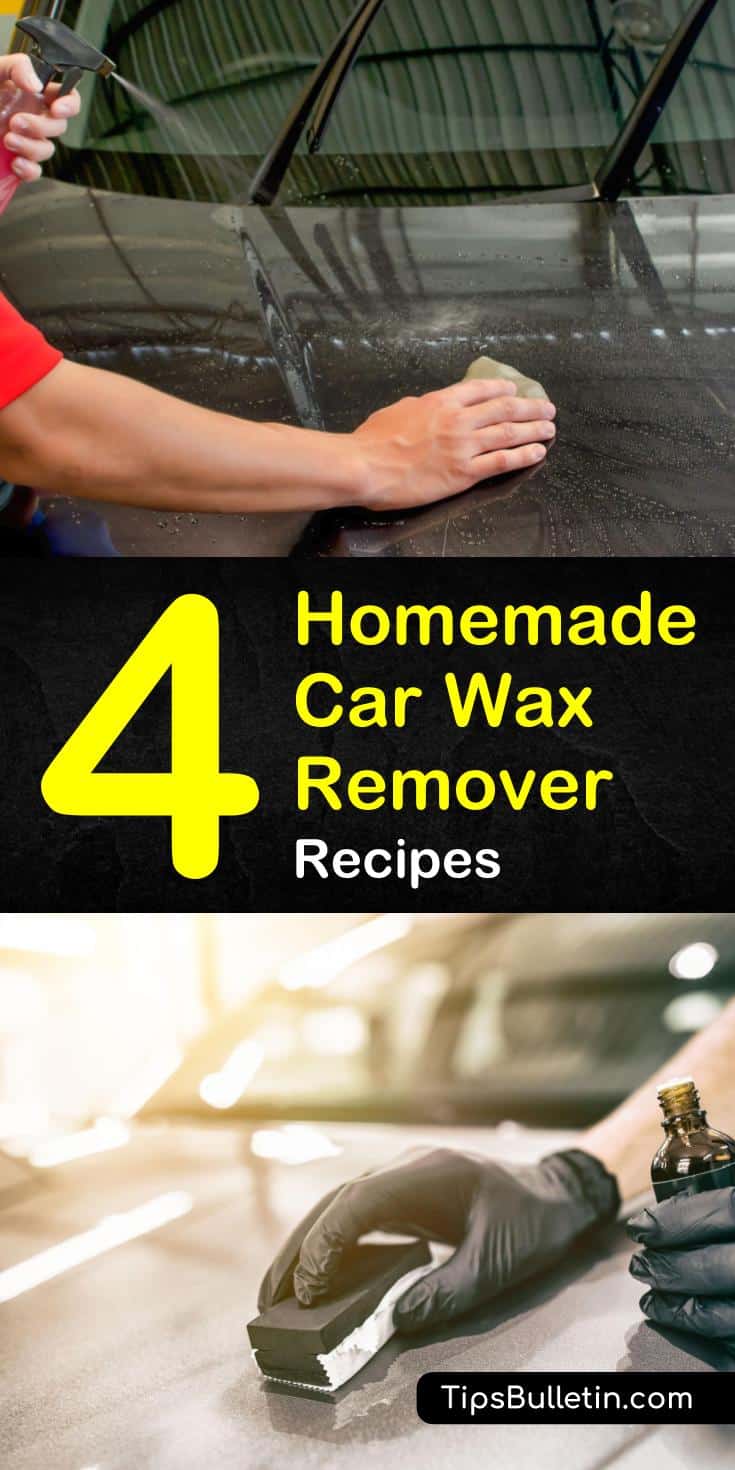 Hopefully, you found these DIY car wax cleaner recipes easy to use and effective at removing that protective sealant. If these suggestions for removing car wax were helpful, please remember to share your favorite homemade car wax remover with friends and family on Facebook and Pinterest.