Carpenter bees are pesky insects that drill holes in wooden structures and cause damage to your home. Unlike honey bees and bumblebees, carpenter bees do not build hives. Instead, they lay eggs in a wood piece, making it necessary to know how to make homemade carpenter bee traps and baits.
However, they often choose to find existing holes in your house and continue to drill holes like a termite. There are several home remedies for trapping carpenter bees, and we provide you with simple DIY techniques to get rid of carpenter bees without hiring pest control.
It's essential to trap carpenter bees and not honey bees, as honey bees are vital for natural pollination. We show you how to isolate your bee catcher only to attract aggressive bees, so you install the most effective carpenter bee trap.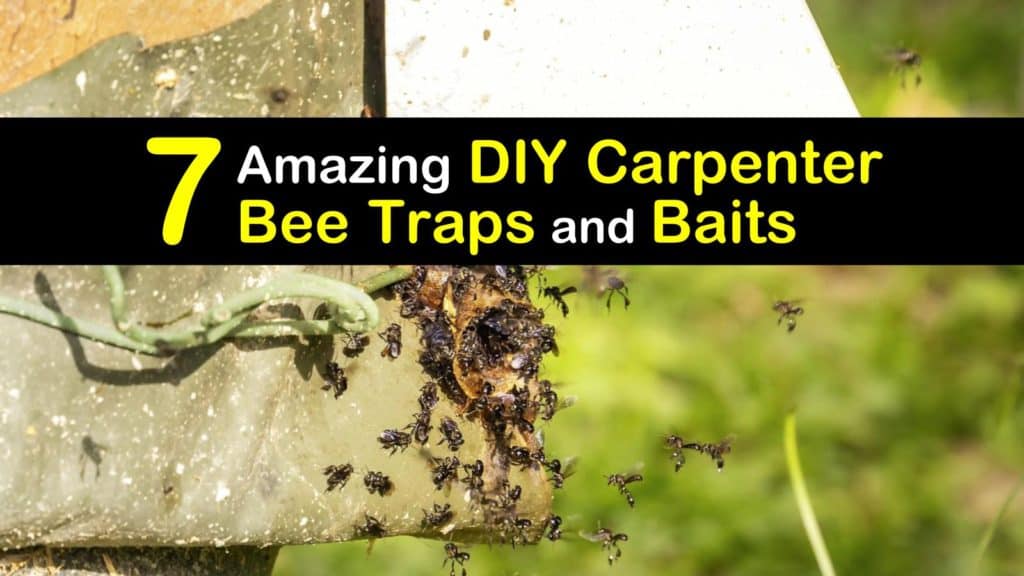 Identifying Which Bees are Carpenter Bees
Before installing any homemade carpenter bee traps and baits, it's vital that you correctly identify the bee species invading your home. Honey bees and yellow jackets are insects that make hives.
In contrast, hornets and carpenter bees chew through wood structures like a front porch and lay eggs. These bees are also quite aggressive and attack anything that gets close to their nest.
Large infestations of carpenter bees may require an exterminator. Sometimes it's possible to use essential oils to keep bees away, like peppermint and cedarwood. Essential oils are one of the best home remedies to repel carpenter ants, carpenter bees, and a wide range of insects and rodents who may invade your home and property.
Different strategies are needed when eliminating carpenter bees and making a natural hornet and wasp killer, but neither is very difficult.
Making a carpenter bee trap is simple if you have a controllable bee problem.
How to Trap a Carpenter Bee with a Mason Jar
A Mason jar is one way to construct your bee catcher without using chemicals. If you are good with tools, this is the perfect DIY carpenter bee trap. It entices bees to enter through a small opening where they cannot fly back out.
Start by drilling a ½ inch hole through the center of your 5-inch cedar post, lengthwise. On three sides of the post, measure three inches from the top and drill a ½ inch hole at a 45-degree angle.
Make sure these holes connect with the hole running through the center. Nail your cedar piece of wood on the top of your post to overhang about 1 inch on each side.
Drill a ½ inch hole through the Mason jar's flat lid before nailing both parts of the jar's top to the bottom of the post. Make sure the hole in the lid lines up with the hole at the bottom of the post.
Before screwing on the Mason jar, pour six drops of liquid dish soap mixed with a little bit of soda into the jar. Screw in the eye hook at the top of your DIY trap and hang it vertically near the carpenter bee infestation.
After your trap collects a few dead bees at the bottom of the jar, take care of removing carpenter bees and refill the trap with more bait.
Specially Formulated Bait for Your DIY Carpenter Bee Trap
Suppose you would like to avoid using harsh chemicals and insecticide to lure carpenter bees into your trap. In that case, several bee lures are specially designed to attract carpenter bees while refraining from attracting honey bees.
The ingredients are natural and work alongside your homemade trap, like the Mason jar trap. Spray the formula at the bottom of the trap and fill your Mason jar about ¼ full with water before screwing it on to your wood bee trap.
The insects are attracted to the pheromones the spray gives off. After they travel through the bee holes in the DIY carpenter bee trap, the insects drown in the water.
After you have captured a few bees, empty the jar and repeat the process. Combining an attractant with the Mason jar trap makes one of the best carpenter bee traps.
Using Foam Pesticide to Trap and Kill Carpenter Bees
Pesticides are a great way to trap and kill carpenter bees that are inside your home. Most pesticides come in a foam spray, making it easy to reach into the existing holes and hard-to-reach areas.
The pesticide foam usually contains a chemical called imidacloprid, which kills carpenter bees, termites, and insects.
Spray the foam in the existing holes inside your home. The ingredients in the spray allow it to expand and seal off the holes. After you have sprayed the affected areas, the formula is active for three months.
Sticky Trap Bait for Carpenter Bees
If you desire to learn how to get rid of the carpenter bees in your backyard, a sticky trap is an excellent way to trap bees with stingers. The odorless bait has very bright colors, which attract carpenter bees.
It doesn't contain any harsh chemicals, so indoor or outdoor is permitted. Place the trap near the carpenter bees nest to attract them. This trap kills several bees, so you won't have to dispose of it after catching the first bee.
After the trap is full, dispose of it in your outdoor trash bin. This trap can be used alongside other homemade carpenter bee traps and baits.
Spraying Insecticide to Get Rid of Carpenter Bees
If your carpenter bee infestation is particularly active or you need to get rid of underground bees, we recommend spraying insecticide to quickly get rid of insects. Insecticides are found at home goods stores and are cheaper than hiring an exterminator.
The insecticides' chemicals kill the carpenter bees on the first day. Before you begin with this process, it is necessary to identify where the carpenter bee invasion is originating.
After you have identified the holes the carpenter bees have dug, spray the insecticide dust in the hole and around the area. Since insecticides contain harsh chemicals, only use the spray outdoors.
Insecticides may not teach you how to trap a carpenter bee, but it does allow you to kill bees in hard to reach areas, like in the eaves of your house.
Plastic Bottles are Great Homemade Carpenter Bee Traps and Baits
Repurposing an empty plastic bottle is an excellent DIY way to attract carpenter bees. Learning how to trap a carpenter bee using a plastic bottle is an effortless way to eliminate the insects.
Use your utility knife to cut off the top ⅓ of the bottle and fill a quarter of the bottom of the bottle with a bait of your choice. Invert the top of the bottle and rest it inside the base.
Make sure the cap is off the top of the bottle. Bees are attracted to a sweet-smelling bait and fly into the trap, but cannot fly out.
Using Effective Bait in Your Homemade Bee Trap
To attract carpenters into traps, you need to use the correct bait. Some baits are very sweet and attract an occasional hummingbird or honey bees. Use vinegar to avoid attracting a Mason bee or honey bees.
The scent of vinegar drives honey bees away, but carpenter bees and wasps do not mind it. Additionally, adding jam or liquid dish soap to your bait thickens the liquid and makes it impossible for the bees to escape.
To make your homemade carpenter bee traps and baits the most effective, add a touch of vinegar to the entrance and a substance to thicken the liquid to create the best bait for a carpenter bee trap.
Constructing a DIY carpenter bee trap is done in a variety of ways. If you have crafted bird houses, building a Mason jar trap is quite similar.
However, if you do not have the time or resources to make a wooden trap, repurposing an old plastic bottle is an excellent alternative.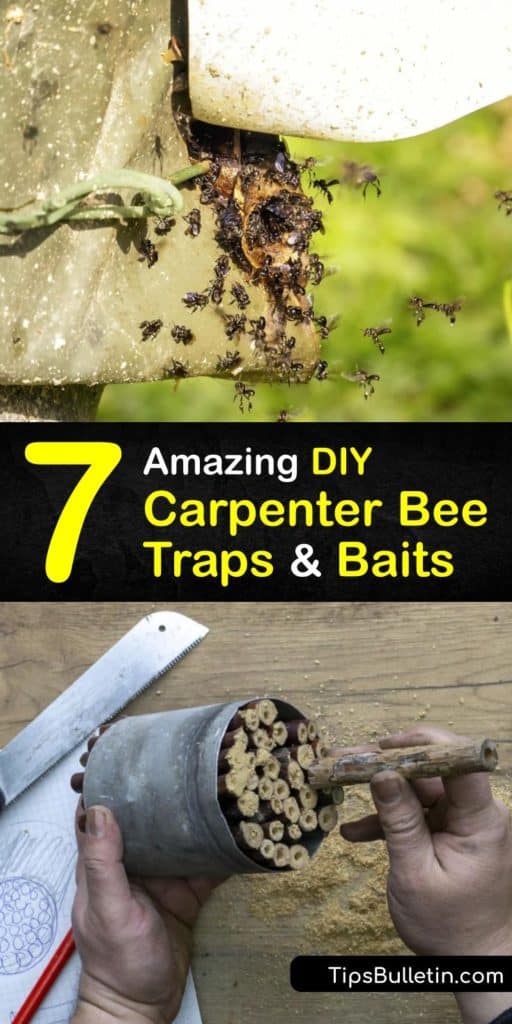 If you discovered how to make excellent homemade carpenter bee traps and baits, please share this article with DIY carpenter bee traps with your friends and family on Pinterest and Facebook.