Carpet beetles are sneaky little hitchhikers that are hard to spot and sometimes harder to get rid of. They arrive in your home on clothing, flowers, pets, or through an open window. Discover how to make homemade carpet beetle repellent to protect your home from pesky trespassers like the furniture carpet beetle, the varied carpet beetle, and more.
Carpet beetles are part of the Dermestidae family, of which there are nearly 700 species. Adult carpet beetles reach about ¼ of an inch and are relatively docile, only feasting on pollen. Carpet beetle larvae are highly destructive.
Carpet beetle larvae eat natural fibers like silk, cotton, linen, and wool. Some species prefer the pantry and feast on flour, cornmeal, and dry pet food. These ravenous larvae eat almost anything; a carpet beetle variety called A. musaeorum is known for feeding on invaluable taxidermied art. Learn how to protect your home (and sweaters) from these hungry pests.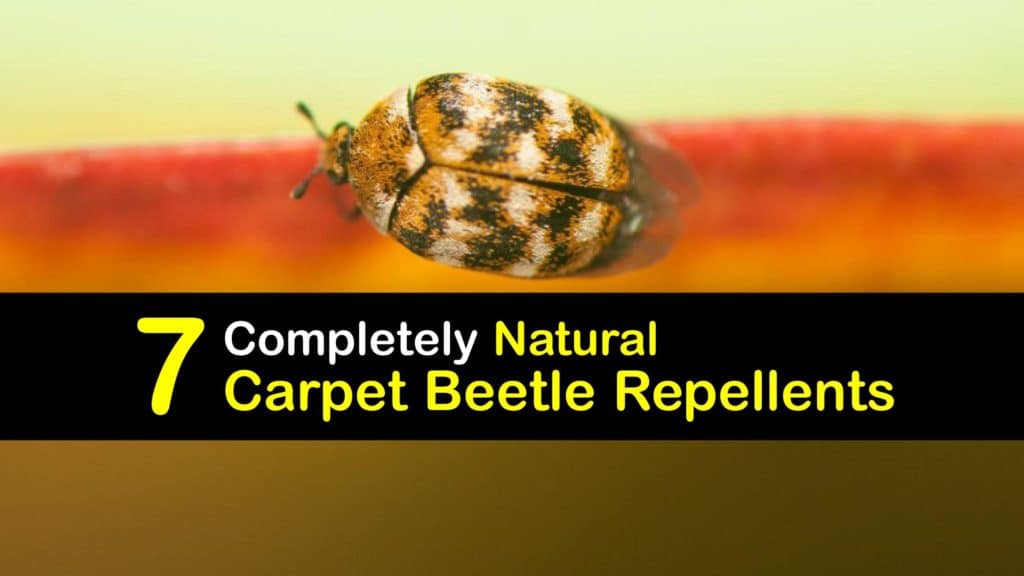 Discover a Natural Carpet Beetle Repellent
If you're tired of toxic pest control and looking for more eco-friendly ways to rid your home of unwanted pests, this article is for you. Find effective home remedies for repelling carpet beetles, bed bugs, and ants.
Save yourself from bed bug bites and unsightly, unwelcome pests; discover how to use naturally occurring ingredients and clever strategies to take back your home.
Get the Vacuum Out for Carpet Beetles
Adult carpet beetles lay their eggs during the warmer months and produce up to 200 at a time. Carpet beetle eggs are often hard to spot, which makes the vacuum an excellent natural carpet beetle deterrent.
Begin by sweeping and mopping the floors thoroughly. Pay special attention to the crevices under the stove, behind the fridge, and in the pantry. Clean your closets and get rid of any dark hiding places. Pull out the dressers and move the beds.
Go over the suspected infestation area thoroughly with a powerful vacuum or Shop-Vac, and go along the baseboards and window sills. A clean home is uninviting to potential pests because there's nowhere to hide and nothing to eat. Carpet beetle eggs and larvae don't stand a chance against frequent vacuuming and a regular tidy schedule.
Try Vinegar for Carpet Beetles
Black carpet beetle eggs lurk in dark areas behind baseboards, cupboards, and pantries, and not just on the carpet. It's challenging to narrow likely hiding spots, which is why a simple vinegar spray is ideal.
Make a natural carpet beetle repellent with straight white vinegar. It's one of the ideal natural ways to keep carpet beetles out. Pour white vinegar into a clean sprayer bottle, and add a bit of scented dish soap if the smell is too much.
Use this mixture to spray upholstery, carpets, and window sills for getting rid of carpet beetles. Adult beetles are often easily spotted near window sills trying to get outside. Vinegar is non-toxic, safe to use everywhere, and makes a terrific homemade carpet beetle repellent.
Boric Acid Spray for Carpet Beetles
Boric acid is a natural compound made of boron, oxygen, and hydrogen and is a popular pest remedy and natural insecticide. Boric acid works against many household pests like fruit flies, carpenter ants, bed bugs, Japanese beetles, and a severe carpet beetle infestation. Try this recipe for DIY carpet beetle repellent spray.
We call this the "mix and mist" method. Combine the ingredients in a clean sprayer, mix them until the boric acid dissolves, and mist problem areas. Use your new homemade bug spray on baseboards, under appliances, and directly on larvae.
Boric acid is also an excellent outdoor carpet beetle repellent and works well in the garage or other high-traffic areas.
Diatomaceous Earth for Your Carpet Beetle Infestation
Diatomaceous earth tops the list for many people seeking non-toxic pest control methods and a natural carpet beetle deterrent. Diatomaceous earth is an all-natural abrasive powder made from the fossilized skeletons of sea-dwelling microorganisms.
Classified as a desiccant, DE dries out and kills aggressive carpet beetle larvae quickly. It also keeps centipedes away. To use diatomaceous earth for natural pest control, spread a small amount out on window sills or under appliances for efficient DIY carpet beetle traps.
Use food grade diatomaceous earth when treating pests inside when you are infested with carpet beetles, and avoid inhaling the powder. While DE is the best bait for a carpet beetle trap, note that DE has a very low mammalian toxicity; however, it's best used with caution around curious pets and children.
Homemade Carpet Beetle Repellent
Many plants have natural insecticidal defense systems that keep them safe from infestation. Evergreen cedar trees have powerful insecticidal properties, and their bark is used to create a variety of oil-based insect repellents.
Essential oils come directly from the plants they're named after, which means they carry the same fumigant and insecticidal properties. This homemade carpet beetle repellent is easy to make and smells fantastic.
Use this DIY repellent for ants, bed bug control, against the pesky clothes moth, or stick to carpet beetles. It's also one of the remedies to get rid of dust mites. Fill a small spray bottle with distilled water and one ounce of vodka. Drop in your cedar oil, and add a bit more if you'd like a more potent mixture.
It's important to keep the essential oil concentration under 15% in the mix for health and safety. Shake the repellent well before each use and make a fresh batch after about a month to keep up the potency level.
Do a Thorough Home Inspection
Perhaps the best prevention and natural carpet beetle repellent we can employ is a bit of home improvement. General maintenance and a watchful eye are essential in the fight against insects and destructive pests. Take an afternoon and conduct a thorough inspection of your home.
Search for cracks and torn window screens, move debris piles away, and keep your eyes peeled for pest activity. Plan a little preventative maintenance, and save yourself from making a costly call to the local pest control company for carpet beetle removal.
Natural Carpet Beetle Deterrent
Carpet beetles hate the smell of cloves. Carpet beetles hate cloves so much that a study from the Journal of Innovations in Pharmaceutical and Biological Science reported clove oil as 100% effective against carpet beetles. This fascinating study showed that essential clove oil acts as a repellent, fumigant, and an antifeedant that affects reproduction and lifespan.
Find cloves at your local grocery store in whole or powdered form. Spread the cloves out in areas where you suspect pest activity and monitor for results. Clove essential oil is also particularly effective, and a few drops give you possibly the most impressive and genuinely effective natural carpet beetle repellent.
Carpet beetles are a nuisance, and they have no place in your home, on your clothes, or around your pantry. We hope you enjoyed learning about homemade carpet beetle repellent and feel ready to tackle any pest problem that comes your way.
When planning your pest control strategy, always start with the least toxic and invasive options, such as sticky traps for beetles, DIY repellent sprays, and diatomaceous earth. Try home remedies to get results before pulling out a commercial insecticide. Responsible pest control is more important than ever, and now you have some great blueprints to build your best pest control routine.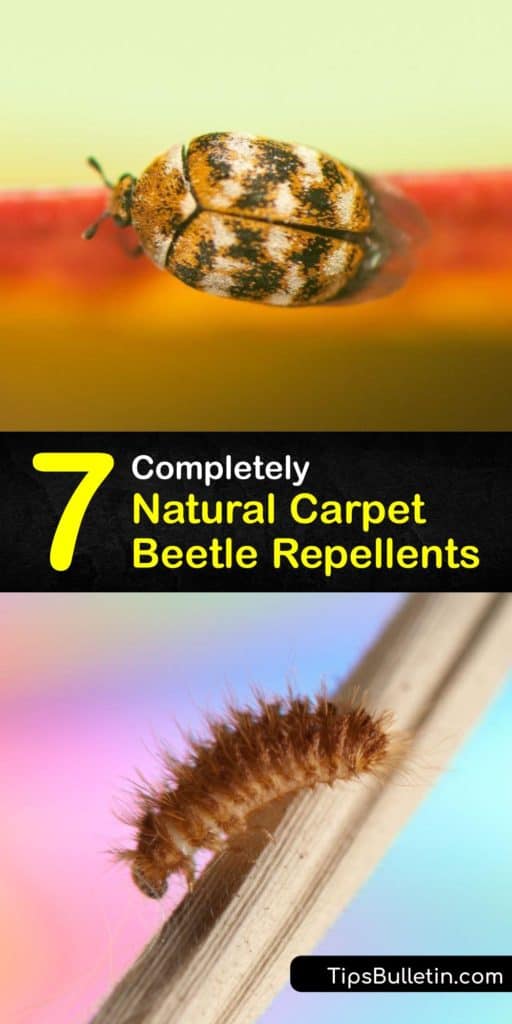 If you loved learning about homemade carpet beetle repellent, share this article with a friend on Pinterest or Facebook who's always looking for new pest-fighting ideas.