No one ever said that floor cleaning would be fun, but at least the job can get done easier if you use the right tile floor cleaner and cleaning recipes. Homemade cleaners can be used to clean linoleum and laminate floors, as well as tile floors.
If you're looking for a homemade ceramic tile floor cleaner to clean your floors without using store-bought cleaning products, then we've got you covered. Cleaning ceramic tile floors can generally be done using a fundamental cleaning solution.
Still, there may be times when those floors are a little dirtier than anticipated and need a stronger cleaning method. Rather than purchasing a cleaner from the store that contains harsh chemicals, you may find that a homemade floor cleaner can get the job done just as well but without the adverse side effects that other cleaners may have.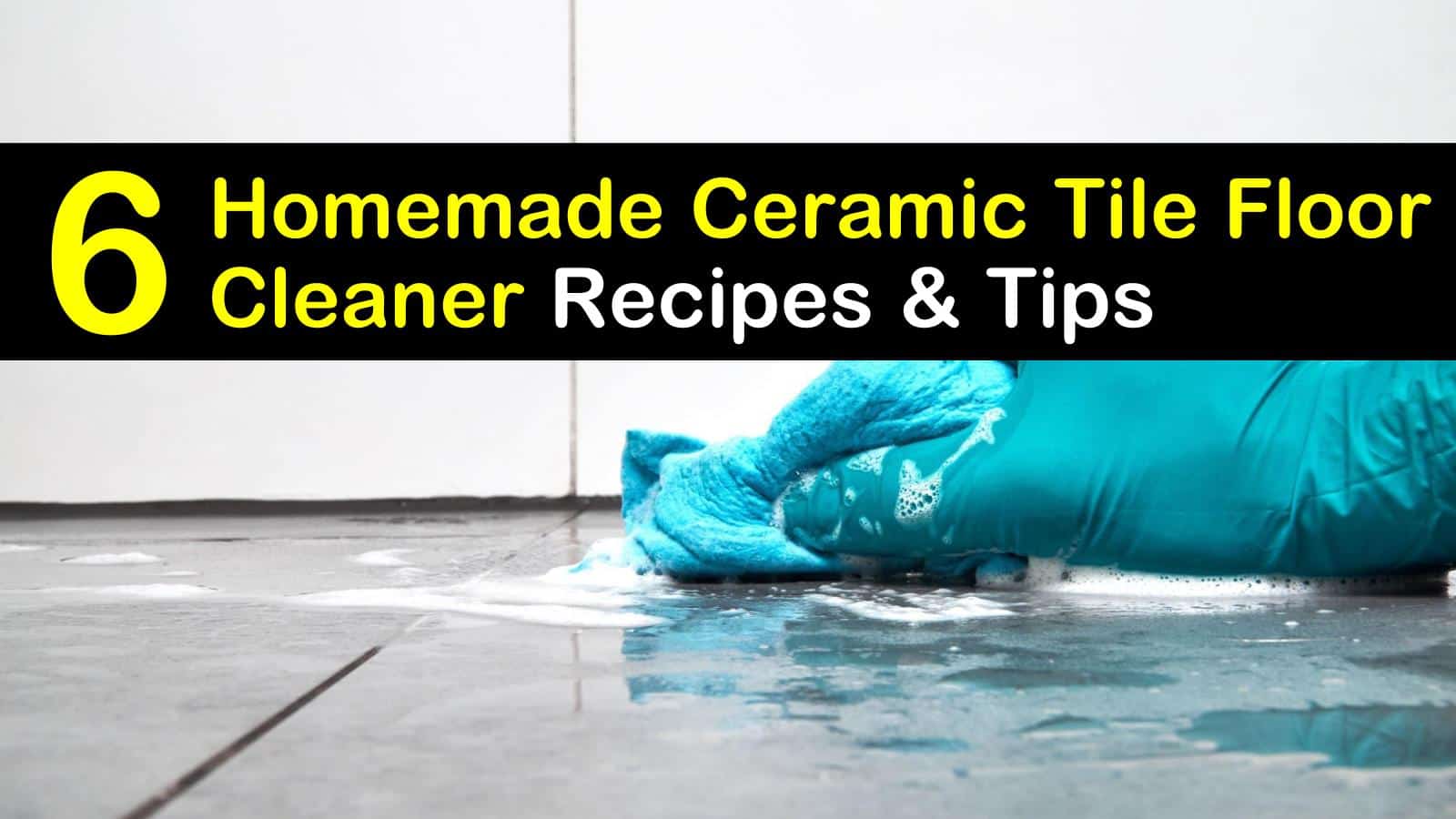 Homemade Solutions for a Great Ceramic Tile Floor Cleaner
We have compiled a list of DIY cleaning solutions to tackle everything from light-duty tile floor cleaning to heavily soiled ceramic tile grout lines. These cleaning recipes use everyday household items such as white vinegar, baking soda, and dish soap to remove paint from floor tiles or any other stain like dirt, grime, or soap scum.
Preparing Your Ceramic Tile Floor for Cleaning
Before wet cleaning your ceramic tile flooring or for removing accumulated gunk from slate tiles, there are a few steps to take to ensure that it is done correctly without damaging the floor.
Use a soft-bristled broom or a vacuum on the hard floor setting to remove any dirt, dust, and debris. Make sure you get into nooks and crannies, along the edge of the wall at the bottom of the baseboards, and beneath cabinets using the angle of the broom or a vacuum attachment.
Doing this will prevent scratching to the tiles when mopping or wet cleaning. This process should also be done in the same fashion while cleaning laminate flooring and hardwood floors.
Natural Cleaning Solution for Ceramic Tile Floors
If you cannot stand the scent of vinegar, use this natural cleaning solution to clean ceramic tile floors without using vinegar. You won't have any residual unpleasant odor and the floors will sparkle.
Pour the water, soap, and baking soda into a spray bottle and shake gently to mix. Do not shake the container too hard, or you'll create too many soapy bubbles.
Spray the all purpose cleaner onto the dirty areas of the floor. This solution is also appropriate to use for stains on marble, a more delicate surface than other flooring. Use the sponge to wipe away any dirt residue. Use a mop for cleaning large areas.
Easy-to-Make DIY Ceramic Tile Floor Cleaner
This homemade floor cleaner for mopping uses a combination of vinegar and baking soda to not only disinfect the floor but gently scrub away tough dirt and grime.
Pour the water, vinegar, dish soap, and baking soda into a bucket. Add some essential oils such as peppermint to the cleaning solution to provide the room with a fresh scent. You can substitute lemon juice for the white vinegar if you'd prefer to use the power of lemons for cleaning.
Dunk the mop into the bucket, wring it well, and begin cleaning the floor by starting at the farthest corner of the room. Rinse and wring the mop as needed as you make your way to the other side of the room.
Dump the cleaning solution out of the bucket and rinse the mop with clean water. Fill the bucket with cold water and give the floor a proper rinse off using the same technique as cleaning it. Allow the tile floor to dry before allowing traffic on it.
You can also use a similar combination of these same ingredients for cleaning ceramic non-stick pans. They are safe to use on cooking surfaces and are great for removing grease and other stains.
Clean the Grout in Ceramic Tile Floors with Baking Soda
While cleaning tile floors is reasonably straight-forward, there may be times when you'll need to give the grout lines of your flooring some special attention to keep the tile floor looking beautiful. The following DIY tile grout cleaning solution removes dirt build-up from ceramic tile grout lines.
Combine the water, vinegar, and baking soda into a spray bottle and give it a gentle shake to mix. Spray the grout cleaner onto the dirty grout lines of the tile and use a toothbrush to scrub the crevices. Get a sponge wet with clean water and wipe away the grout cleaner and dirt residue.
Heavy Duty Ceramic Tile Floor Cleaning
You can use vinegar to clean tile floors in combination with Borax for cleaning those extra dirty areas without having to resort to harsh chemicals.
Mix the warm water, white vinegar, and Borax in a bucket and then carefully pour it into a spray bottle. Spray the floor cleaning solution on sections of the floor, beginning at the farthest corner of the room.
Use a sponge to clean each section as you back your way out of the room. For larger floor areas, use a mop to get the cleaning done.
Try this DIY solution to clean mortar from floor tiles if you recently had new grout installed. Using an old toothbrush instead of a sponge may yield better results.
Cleaning Glazed Ceramic Tile Flooring
Use rubbing alcohol for cleaning glazed ceramic tile floors. The following method works well for light-duty floor cleaning. If you have unglazed ceramic tile floors, use hot water and a few drops of dish soap to remove grime from the floor.
Pour water into a bucket and add a capful of rubbing alcohol. If your floor is dirtier than usual, add a couple of squirts of dish soap to the cleaning solution. Dunk the mop into the bucket and clean the tile floor by starting at the farthest corner in the room and working your way out.
If you have some stubborn stains that just don't seem to want to go away, cleaning tile floors with ammonia is another option you have. Mix ammonia and water and apply with a sponge or mop to heavily soiled flooring and rinse clean.
The active ingredients in a wood floor cleaner may not be the right type of elements to use in a ceramic tile floor cleaner. The understanding of what works and what doesn't can be the difference between a clean, shiny floor and a dull, hazy floor. Whether you need to use a light-duty cleaner or a heavy-duty cleaner, you probably already possess the ingredients in your kitchen.
Recipe for Homemade Ceramic Tile Floor Cleaner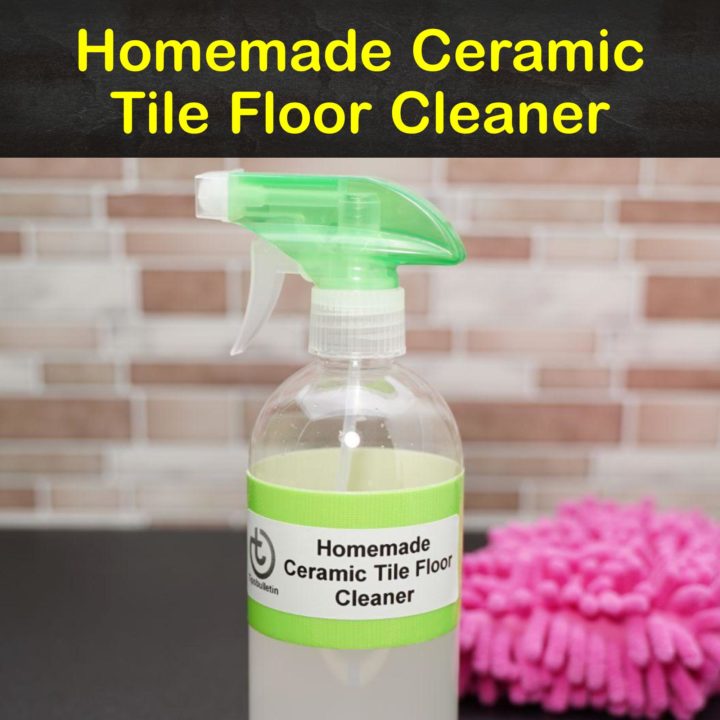 Homemade Ceramic Tile Floor Cleaner
It's never been easier to clean your tile flooring!
Materials
16 ounces of warm water
4 tbsp baking soda
2 tbsp liquid vegetable-based soap
Tools
24-ounce sprayer
Measuring cup
Tablespoon
Sponge
Instructions
Add the ingredients to the spray bottle.
Mix by shaking gently.
Spritz the floor and wipe with the sponge.
To clean larger areas, use a mop instead of a sponge.
Notes
Castile soap is an excellent plant-based soap option.
Safe for all types of flooring.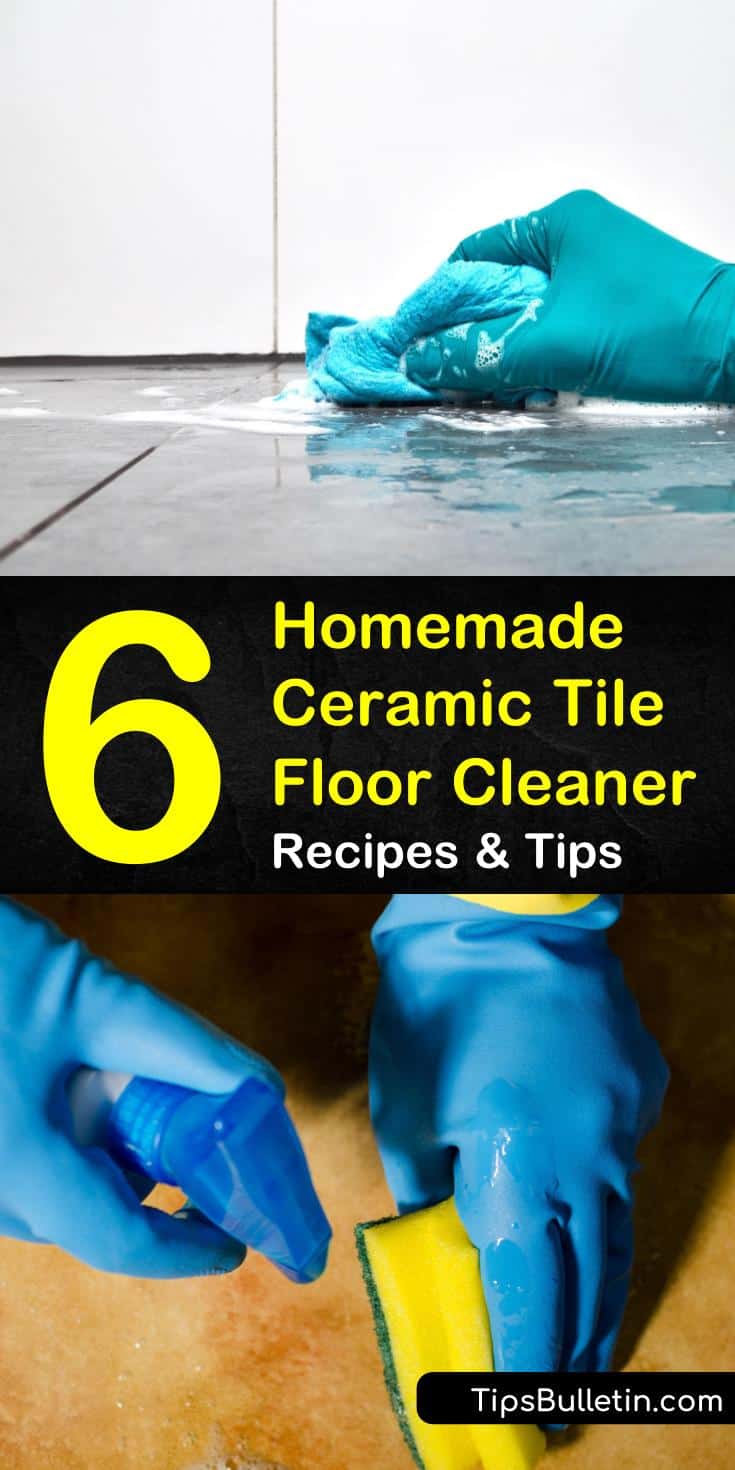 Knowing the right ingredients to make a homemade ceramic tile floor cleaner can go a long way to getting that floor clean, so why not share our tile floor cleaning tips and recipes with your family and friends on Pinterest and Facebook?