Chiggers are tiny reddish-orange insects found outdoors in long grassy wooded areas. Chigger bites leave itchy red bumps on your skin's surface and are very annoying. Creating a homemade chigger repellent is an excellent way to prevent these small bugs from wreaking havoc on your skin.
Learning how to get rid of chiggers is simple when you use the correct bug repellent and ingredients that chiggers hate. Some people believe that home remedies are not strong enough to serve as an effective chigger repellent.
However, a DIY insect repellent made from everyday household products like essential oils or apple cider vinegar is terrific at getting rid of chiggers. These red bugs leave a terrible bite similar to that of a bed bug. We provide you with helpful tips to treat chigger bites as well as prevent an infestation from occurring. Creating a natural repellent for chiggers is not difficult when you utilize the right ingredients and preventative steps.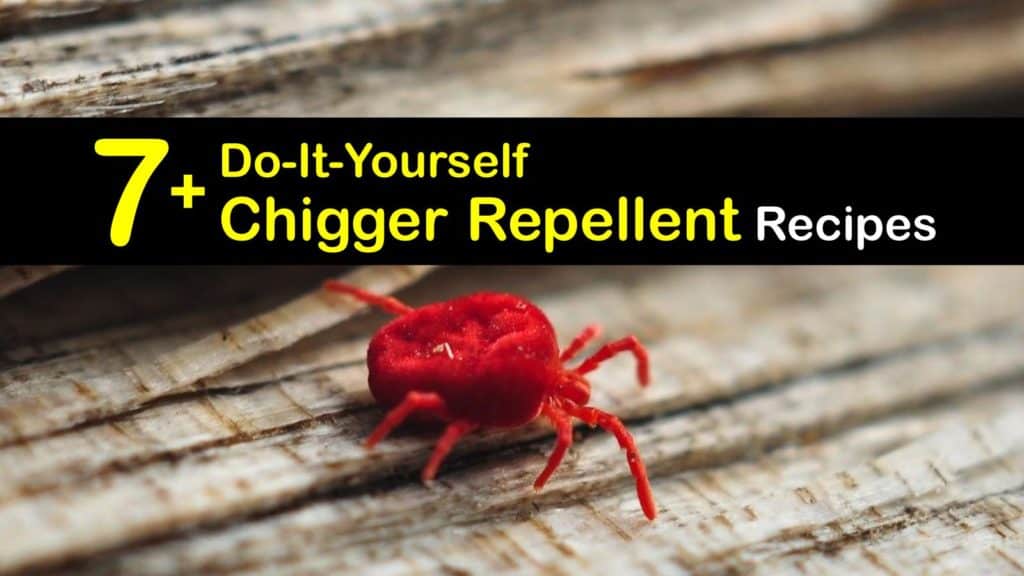 Where Chiggers are Commonly Found
You can find harvest mites in every area of the country, so there is no avoiding these pests. Chiggers prefer wooded areas or damp surfaces. You most likely experience a chigger infestation after spending long periods outdoors.
Chiggers burrow in human flesh and survive on the nutrients in your skin for up to three days. After a chigger feeds on your skin, the area gets red and itchy soon after. We show you the best way to prevent chigger bites and tips for treating any existing bites.
Diatomaceous Earth is a Natural Chigger Repellent
Not only is diatomaceous earth one of the natural remedies to kill bed bugs, but it is also great to repel chiggers. The ingredients in diatomaceous earth dehydrate a wide array of bugs after they walk through the powder.
These pests include chiggers, fleas, bed bugs, and cockroaches. Diatomaceous earth is a natural chigger deterrent that prevents chiggers from invading your backyard in the first place.
There are two different ways to use diatomaceous earth as a natural repellent for chiggers. Sprinkle diatomaceous earth around your yard to repel chiggers. Sprinkle five pounds of the powder for every 1000 square feet.
Dusting the bottom of your pant legs or shoes before you go outside also repels the critters and keeps them from biting you. This pest control method is fantastic because you use the chigger repellent outdoors.
Use Sulfur for a Homemade Chigger Repellent
An inexpensive alternative to a chigger repellent spray is to use sulfur tablets and powder. This homemade chigger repellent works well because chiggers are deterred from the scent of sulfur.
Using sulfur to repel chiggers is also a great way to avoid using pesticides on your lawn. We suggest only using sulfur to deter chiggers if you do not have pets. If pets consume sulfur pellets, it negatively impacts their digestive system.
Before heading outdoors, dust the bottom of your pants and your shoes and socks with sulfur powder.
Spreading sulfur pellets around your yard also prevents chiggers from invading your yard and bringing in more larvae. Sulfur powder or pellets only repels chiggers and does not kill the pests.
Essential Oil is One of the Home Remedies for Chiggers
An excellent way to repel homesteading critters like chiggers is to create an essential oil solution. Adding drops of essential oil to a homemade chigger repellent creates scents that chiggers hate.
Another benefit to this DIY bug spray is that it is all-natural and repels other bugs like aphids and gnats. Use essential oils to get rid of chiggers in your home, as well as outside.
Understanding what smell gnats hate is essential to repelling these pests, just like chiggers. An essential oil chigger spray is one of the preferred home remedies for repelling chiggers that works just as well as insecticides.
After mixing ingredients in a small spray bottle, shake the contents lightly to ensure the essential oils mix in with the water.
Spray the homemade chigger repellent on your clothes and exposed skin before going outside. Use it as an organic fly spray, as well, to keep annoying flying insects away.
Even though this is one of the home remedies for chiggers that does not contain DEET, it prevents bites from this homestead insect.
Prevent Chiggers with a Permethrin Bug Spray
A permethrin bug spray contains insecticides that kill and prevent chiggers from crawling onto your skin. Bug sprays contain an ingredient called DEET that successfully masks your skin from being identified by chiggers or mosquitoes.
The ingredients in permethrin should only be used on your clothing. If permethrin is sprayed directly on your skin, it causes a rash and severe irritation to the area.
Spray a light layer of permethrin bug spray on your clothing before adventuring outdoors. Chiggers cannot locate your skin as a potential feeding area because the permethrin blocks the carbon dioxide excreted by your skin.
We recommend spraying a little more of the bug spray near the bottom of your pants and on your shoes, as this is where chiggers first come in contact.
Treating Chigger Bites with Baking Soda and Epsom Salt
If you have many chigger bites that need healing, using baking soda or Epsom salt is a fantastic way to reduce the itching and swelling. The ingredients in baking soda and Epsom salt draw out the toxins in the body and reduce swelling and inflammation.
Using this chigger relief technique is best if you have several chigger bites across your entire body. After a chigger injects its digestive enzymes into your skin, you need a chigger relief solution soon after.
Run a bath with warm water and a cup of either Epsom salt or baking soda. Soak in the Epsom salt or baking soda solution for up to 30 minutes. Do not use hot water, as it makes the inflammation worse.
Repurpose Apple Cider Vinegar to Treat Chigger Bites
One of the best home remedies for chiggers and their nasty bites is apple cider vinegar. The ingredients in apple cider vinegar are acidic, which helps reduce swelling and the pain of a chigger bite.
Additionally, apple cider vinegar is safe to use on your skin because of its antimicrobial properties, killing germs and preventing infection.
To treat a chigger bite, soak a cotton ball or paper towel in apple cider vinegar and press it firmly on the affected area. Hold the cotton ball on your skin for one to two minutes.
Gently rinse the area with cold water and a clean rag or paper towel. If you do not have time to pick up special lotion designed for chigger bites, using apple cider vinegar is a brilliant solution to find chigger bite relief.
In addition, if you have an issue with gnats, make a homemade gnat trap with vinegar or apple cider vinegar. Replace the trap as it gets full.
Aloe Vera is a Natural Repellent for Chiggers
Home remedies for chiggers are easy to make and work great at repelling chiggers. Creating an aloe vera repellent contains several benefits.
An aloe vera chigger repellent is all-natural and skin safe. Repellents with insecticides are not safe to use on your skin. A combination of aloe vera and essential oil does not damage the skin's surface.
Mix the ingredients in a resealable container. Use the aloe vera repellent before gardening and working outdoors to keep chiggers away and as a way to repel gnats and mosquitoes. Spread the cream on your wrists and forearms or any other exposed skin.
You may also find that the citronella in this gel repels wasps and yellow jackets. When you are done using the homemade chigger repellent, store it in the refrigerator for later use. Aloe vera is mostly water, so storing it at room temperature causes mold and mildew to grow.
Use Calamine Lotion to Treat Chigger Bites
Because chigger bites are very itchy, finding a lotion with anti-itch qualities is vital. Calamine lotion includes an antihistamine that helps relieve the itching and inflammation caused by chiggers.
Find calamine lotion at your local drugstore – it is one of the greatest home remedies for chigger bites. If you suspect you have chigger bites, first take a warm shower and scrub any affected areas with soap.
Taking a shower helps remove any possible chiggers that remain on the skin's surface. Rub a generous amount of calamine lotion on any chigger bites. Avoid using calamine lotion on your private parts or armpits.
If you have a chigger infestation in your backyard, you do not need to hire an exterminator to get rid of them. There are several easy and inexpensive home remedies for chiggers that include easy to find materials.
Sulfur pellets and essential oils are two specific products that are excellent at keeping chiggers away from your yard.
Preventing chiggers leads to the prevention of chigger bites, which are extremely itchy and cause inflammation. A natural repellent for chiggers works just as well as store-bought products designed to deter chiggers.
Recipe for Homemade Chigger Repellent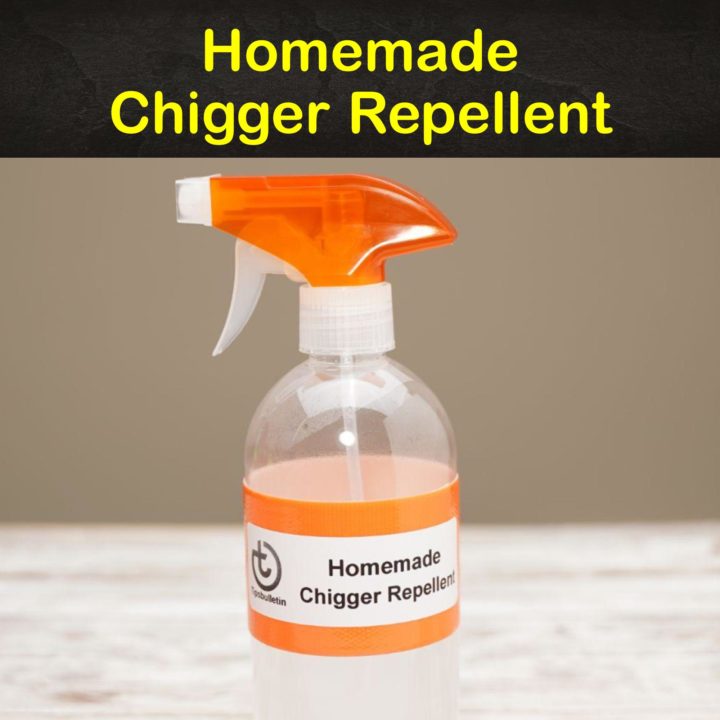 Homemade Chigger Repellent
Deter chiggers with a natural, fresh scent!
Materials
5 drops of eucalyptus essential oil
20 drops lemongrass essential oil
24 ounces water
4 ounces witch hazel
Tools
Measuring cup
32-ounce glass spray bottle
Instructions
Add the first four ingredients to the sprayer.
Shake gently to ensure the oils mix well.
Spritz skin and clothing before outdoor exposure.
Notes
This bug spray also repels mosquitoes and flies.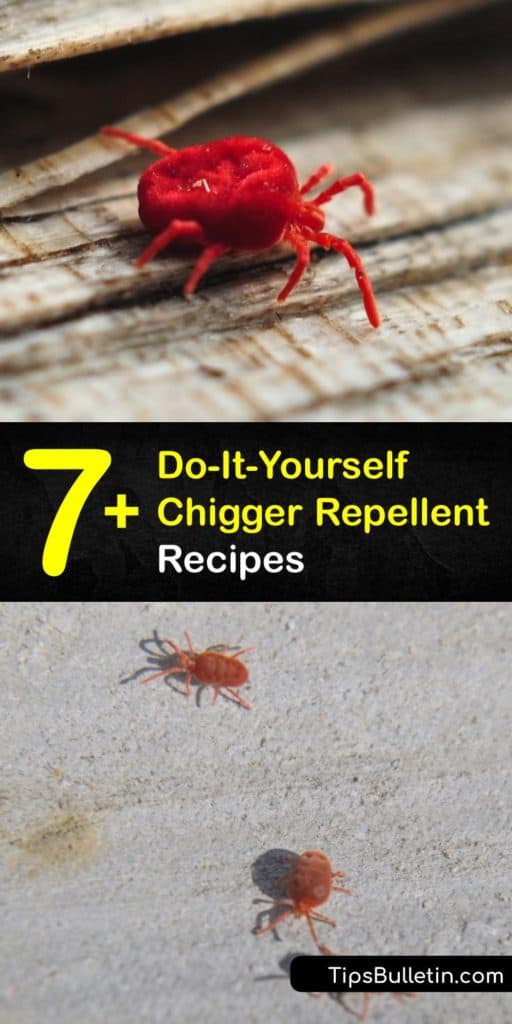 If you learned how to make a homemade chigger repellent, share this article with home remedies for chiggers on Facebook and Pinterest with your neighbors and family members.