Grocery and big-box stores seem to sell a different cleaning product for every purpose, from scrubbing the toilet bowl to removing stains from cooktops. These products have their place, particularly for tough stains. However, there's nothing like a homemade cleaning spray for a cheap, safe, and simple solution to everyday cleaning challenges.
Unlike commercial products, DIY cleaners contain ingredients with names you recognize. You probably already have most of these substances at home. Think rubbing alcohol, vinegar, and dish soap.
A benefit to using common household ingredients is that you can use one product in several different cleaning recipes. For example, white vinegar removes stains, disinfects, cuts through grime and soap scum, and more.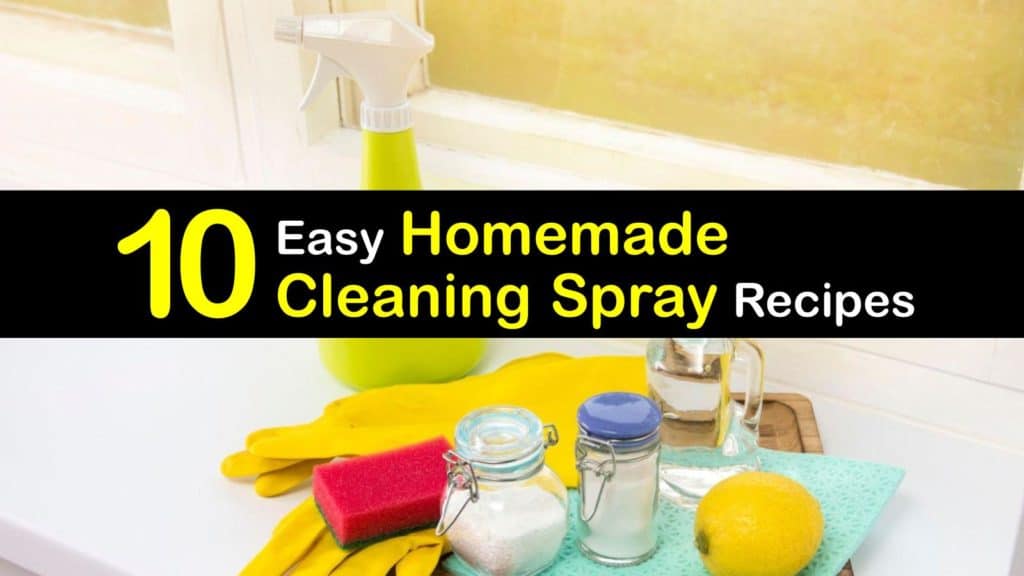 Tips for Making a Natural Cleaning Spray
Make an all purpose cleaner to use on different types of surfaces. Choose the homemade cleaning spray recipes that seem most useful to you, such as a daily shower spray or a window and glass cleaner.
Store all homemade cleaners in a clean spray bottle that has not held any chemicals before. Label the container and start by testing the cleaner on a small, inconspicuous area. Although the ingredients are natural, they might damage certain surfaces.
DIY Vinegar Cleaning Spray
This recipe for a classic diluted vinegar cleaner masks vinegar's strong smell with essential oils. Choose the oils with the scent you prefer. Popular combinations include lavender with peppermint, orange, or tea tree oil.
For tough stains, double the quantity of vinegar. Shake the vinegar and water in a spray bottle. Add the essential oil and shake again.
Squirt the cleaner onto the surface. Rinse the area well, then wipe it dry. For challenging stains or disinfecting, let the vinegar work for several minutes before wiping it away.
To clean grout, spray the cleaner, then scrub with an old toothbrush or scrub brush. Do not use vinegar on granite since it damages natural stone. Store the cleaner out of direct sunlight.
Homemade Cleaning Spray with Hydrogen Peroxide
One of the best hydrogen peroxide benefits is that the 3 to 6% hydrogen peroxide acts as a disinfectant. This chemical is as powerful as bleach but breaks down harmlessly since it's only water with an extra oxygen molecule.
Combine the peroxide and water in a spray bottle. Add the lemon juice or essential oil, then shake some more.
Be cautious about employing this cleaner on marble and granite. As an acid, hydrogen peroxide dissolves finishes. It also contains bleaching agents, so it may discolor colored surfaces.
Bleach-Based All Purpose Cleaner
This homemade bleach cleaner recipe uses the disinfecting powers of bleach. Note that it's necessary to dilute bleach before employing it as a cleaner. Do not add essential oils to this spray since it's not known how bleach reacts with them.
Add the bleach and detergent to a spray bottle. Fill the container the rest of the way with water (approximately four cups). Use your spray within 24 hours since diluted bleach loses its effectiveness.
Do not use a bleach-based cleaner on granite, porous surfaces like wood, or most metals, including stainless steel. This chemical also discolors several materials, including many fabrics, so be sure to test a small area.
Natural Cleaning Spray with Borax
This cleaner does not disinfect but does clean hard surfaces like countertops and tiles. Use distilled water if possible since tap water only stays safe for a week or two. If you don't have distilled available, boil the water before adding it.
Put the Borax, washing soda, and Castile soap in a spray bottle. Add the water and drops of essential oil, then shake well. Since Castile soap is oil-based, rinsing the surface may be necessary to prevent a film from developing.
DIY Vinegar Cleaning Spray for Windows
Rubbing alcohol is a key window cleaner ingredient since it evaporates quickly, not leaving behind streaks. Use 70% rubbing alcohol since higher concentrations evaporate a little too fast. To avoid streaking, also work on an overcast, non-windy day.
For this recipe for cleaning windows with vinegar, combine the liquids in a spray bottle, shaking gently. Spray generously on the window, then scrub with a microfiber cloth to loosen grime. Squirt again, then immediately pull down smoothly with a squeegee.
Wipe the squeegee blade dry, then continue squeegeeing the rest of the window. Wipe the blade between every stroke. Rub off any remaining cleaner from the window with the cloth.
All-Natural Cleaning Spray for Showers
Use this spray daily to keep your shower free of mold, mildew, and soap scum. This vinegar-free version is safe to use on marble or granite shower walls. It's also a good option if you can't stand the smell of vinegar.
Combine the ingredients in a spray bottle. Spray your shower's walls, floor, and curtains or door, then let the surfaces air-dry.
It's not necessary to rinse or wipe away the cleaner. Shake the bottle before every use. Store it in a cool, dark location away from flames.
DIY Vinegar Cleaning Spray for Soap Scum
Yucky soap scum builds up when calcium and magnesium particles in water mix with the oils in soap. If you've had scum accumulate, combine equal parts dish soap and very hot white vinegar.
Spray generously on the patch of soap scum—expect the liquid to cling. Let the cleaner work for at least 30 minutes and, ideally, overnight.
Rinse the surface well, then wipe with a microfiber cloth. Note that you should not use this spray on natural stone like marble or granite due to the vinegar.
Natural Cleaning Spray for Polishing Wood Furniture
Mix this easy DIY vinegar cleaning spray to make your wood furniture shine.
Add the ingredients to a spray bottle and shake vigorously. Spray the mixture onto your wood furniture, then buff with a clean, dry cloth. Shake the container before every use.
Spray for Removing Stains from Clothes
Get tough stains off your clothes with this simple spray.
To make this homemade stain remover for clothes, combine the ingredients, then pour the cleaner into a spray bottle through a funnel. Spray the cleaner onto the stain and let it sit for several minutes. Afterward, run the item of clothing through the laundry as normal.
Natural Cleaning Spray for Dusting
Increase your dusting's effectiveness with this dust mite spray for dusting made from common kitchen ingredients.
Bring the water to a boil. Take the pot off the heat and insert the tea bags. Let the mixture cool. Carefully pour the cooled liquid into a spray bottle.
Add the lemon juice, then spray a little of the cleaner onto a microfiber cloth. Dust like usual, squirting more spray onto the cloth if necessary.
Uses of Natural Cleaning Ingredients
Vinegar is one of the most popular components of a natural cleaning spray, and it cleans and disinfects. It breaks down mold, grease, bacteria, stains, mineral deposits, and soap scum. Dish soap and Castile soap also help rinse away grease and dirt.
Washing soda, Borax, and baking soda cut through grease and stains. Borax also softens water and deodorizes. Besides being a deodorizer, baking soda is slightly abrasive.
Both rubbing alcohol and ammonia evaporate quickly. Rubbing alcohol is a disinfectant, while ammonia dissolves grime and stains. Hydrogen peroxide and bleach are other disinfectants.
Lemon juice and essential oils both improve a cleaner's scent and have antibacterial properties.
Precautions for Working with Natural Cleaning Products
In general, do not substitute ingredients in natural cleaners since each one serves a specific function. Also, some substances are dangerous when combined. Do not mix vinegar and hydrogen peroxide.
Always test a small area before using the cleaner on the whole surface. Be careful with abrasive baking soda, acidic cleaners, and cleaners that cause discoloration. Pay particular attention when working with natural stone and surfaces with finishes.
Read all packages carefully. When using harsh chemicals like bleach, work in a well-ventilated area and wear gloves. Do your best not to get any of the products on your skin or in your eyes.
Avoid inhaling or swallowing any chemicals. Note that rubbing alcohol is highly flammable. Keep it away from flames.
If there's a cleaning job to carry out, whether it's wiping up a spill or day-to-day tidying, chances are you already have all the necessary ingredients. You don't have to purchase a product to suit your specific situation.
Instead, try making a DIY vinegar cleaning spray to use around the home—although not on natural stone—or another cleaner, like a daily shower spray. Find the perfect homemade cleaning spray recipe for all your everyday cleaning solutions.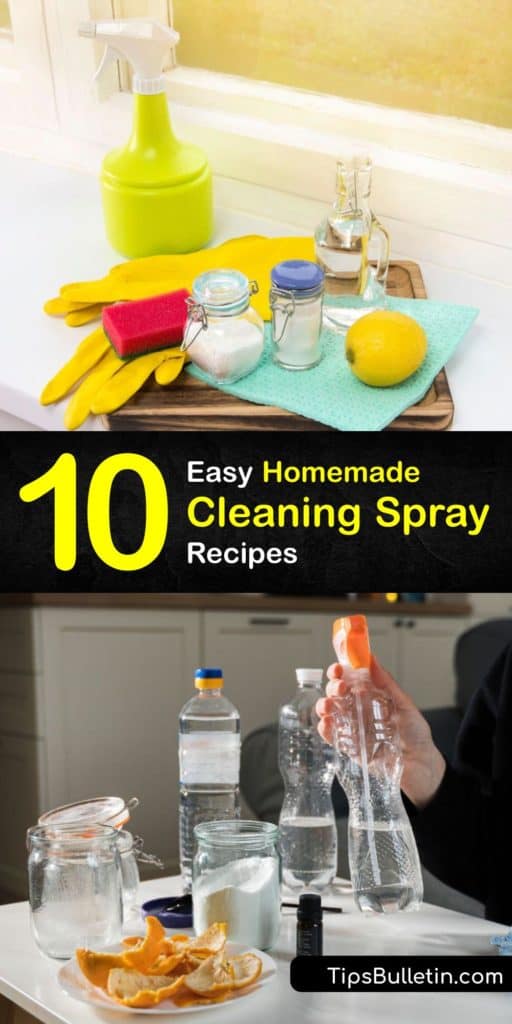 If you found these cleaning spray recipes helpful, please share these DIY cleaning tips with your friends on Facebook and Pinterest.