You plop down on your sofa to watch a new movie with a blanket and an evening snack when it hits you. A musty smell rises from the upholstery, making your movie-watching experience less desirable. Fortunately, there are ways to freshen stinky furniture with deep cleaning and a homemade couch deodorizer.
Nothing is more unpleasant than a stinky couch; no matter what you do, there is still a lingering smell. Odors permeate carpet and sofa fabric easily, making the entire room smelly and uncomfortable. It's essential to take care of the problem immediately to prevent it from spreading.
There's no getting away from smells. Some are enjoyable, others are offensive, and all have a way of seeping into materials. The key to freshening a sofa is to use the right cleaners and odor absorbers to remove the bad smells and replace them with pleasant scents.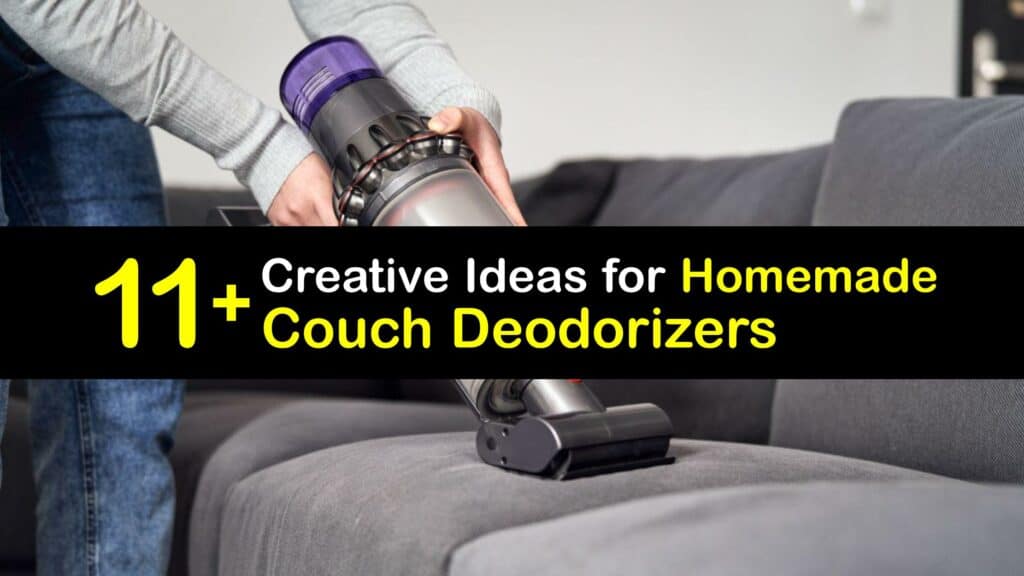 Ways to Clean and Deodorize a Couch
Most people avoid sitting on stinky furniture, and what good is a couch if no one wants to sit on it? Learn ways to eliminate these odors, whether you have a slightly offensive smell or a pungent stench.
What Causes a Couch to Get Smelly?
While some couch smells are apparent, like those from urine stains, others are mysterious and seem to come out of nowhere. So, what causes a sofa to get smelly? Discover some common reasons for a stinky couch to help you eliminate the problem.
The leading cause of a musty smell on a couch is bacteria and germs that permeate the fabric and wood. However, there are other causes for sofa smells. For example, cooking meals in the kitchen spreads odors throughout the house that settle into furniture.
Spilled food or drinks, like vodka and other alcoholic beverages, pets, and smoke from cigarettes or burnt food are also common causes of a stinky couch.
How to Deodorize a Couch with Baking Soda
Baking soda is an important ingredient for baking, but it also has impressive odor-absorbing qualities. It's safe to use on the upholstery to remove a dog smell or as a way to get musty smell out of couch. Find out how to deodorize a couch using baking soda.
Pour baking soda into a salt shaker or another dispenser and shake the powder over the entire couch, making sure to get beneath the cushions. Let it sit overnight as the soda absorbs smells, and use a hose attachment to vacuum up the powder in the morning.
Deodorizing a Sofa with Activated Charcoal
If baking soda doesn't do the job of remove dog odor from the couch, activated charcoal is your next best bet. It contains pores that absorb tiny odor particles and is available at many stores and online. Here is how to deodorize a couch with activated charcoal.
Put pieces of activated charcoal into small cloth bags or wrap them in a paper napkin and tuck them into the couch corners or beneath couch cushions to absorb foul odors. Avoid using charcoal dust without bags since the powder tends to stain fabrics.
Add some activated charcoal pieces to a dish and set aside as one way to get a smell out of a room. Replace when the charcoal stops eliminating odors.
How to Get Odors Out of a Couch by Deep Cleaning
The best way to remove stubborn couch odors is to use a cleaner to absorb and remove the smell from the fabric. Learn how to get odors out of a couch by performing a deep cleaning with a vinegar and soap cleaner recipe.
Combine distilled water, vinegar, and dish soap in a spray bottle and shake it gently. Work in sections by spraying the cleaner on the couch and scrubbing it gently with a brush. Since vinegar is acidic, test the cleaner on an inconspicuous area before applying it to the entire sofa. Finish by getting a cloth damp with clean water and wiping the couch to remove residue.
Homemade Couch Deodorizer Spray with Essential Oils
Many foul odors come from bacteria and germs; an ideal way to remove them is to sanitize the material. This DIY fabric freshener spray works to remove odor from your couch by freshening and sanitizing, leaving the room with a pleasant scent.
Combine water, vinegar, orange oil, and rosemary oil in a glass spray bottle and shake it gently to combine. Mist the deodorizer over the sofa to eliminate a bad odor from the backrest and arms to the cushions.
Steam Cleaning a Couch to Remove Bad Smells
A dirty sofa often emits a bad smell, and the simplest way to remove the odor is to steam clean the upholstery. Discover how to get odors out of a couch by steam cleaning it.
Follow the instructions for your cleaner and add the appropriate amount of cleaning solution. Use the hose attachment on your cleaner to work in sections. Start on the backrest, working your way to the armrests and the cushions as one way to disinfect and sanitize and old couch or the one you're using now.
If your couch cushion has a removable cover and it's machine-washable, clean it in the washing machine with your favorite laundry detergent to remove a stain and smell. Allow the couch and cushions to air dry before sitting on the sofa.
Using Fabric Softener to Eliminate Couch Smells
Fabric softeners have other purposes than removing static cling from your clothing. They also remove bad odors from furniture, drapes, and carpeting. This fabric deodorizer for upholstery is simple to prepare and leaves your couch smelling clean and fresh.
Pour baking soda and liquid fabric softener into a spray bottle and fill it with hot water to make a powerful DIY fabric spray. Close the container, shake it well to dissolve the powder, and mist it over the fabric of your couch.
Making a Homemade Couch Deodorizing Spray with Baking Soda
If your sofa has a musty odor, try using a DIY upholstery deodorizer spray with baking soda and essential oil. The sodium bicarbonate absorbs bad smells, and the oil leaves the fabric with a pleasing scent.
To easily and quickly mix a simple smell eliminator spray, fill a glass spray bottle with warm water, and add the baking soda and a few drops of your favorite essential oil. Shake the container until all the powder dissolves, and spray the deodorizer on the sofa's back, top, sides, and cushions. This cleaner is ideal as a homemade rug deodorizer mixture for freshening carpets around the house.
It's also worth trying this solution to make clothes smell good without washing if you are pressed for time. Lightly spritz clothes and stick them in the dryer for a few minutes to freshen them before wearing.
How to Make Couch-Freshening Sachets
Home smells are inevitable, whether from cooking, pets, or teenagers. Fortunately, deodorizing sachets are simple to make, and you can personalize them with your favorite scents while keeping your sofa smelling fresh.
The easiest way to make your own sachet is to fill a paper envelope with an aromatic filling. For example, put ten drops of essential oil on a cup of dry rice, or dry lavender flowers, or other herbs like thyme and rosemary, and pour them into an envelope. Seal it shut and hide it in the crevice of your couch.
Removing Odors from Wooden Sofa Surfaces
The upholstery is not the only area of your couch to get smelly. Many sofas have wooden areas on the legs or arms, and cleaning these spots is vital to remove a foul odor.
Mix white vinegar, olive oil, lemon juice, and lavender essential oil in a glass spray bottle and shake it well. Spray the cleaner on the wood parts of your couch and wipe clean with a soft cloth. The vinegar and lemon juice remove dirt, germs, and urine residue, the olive oil polishes the wood, and the lavender removes a pet odor.
Ways to Deodorize a Leather Couch
Remove smells from a leather couch safely. Leather is a porous material that picks up everyday smells from around the home. Unlike a fabric couch, leather requires special cleaners and deodorizers to prevent damage to the material.
Sunlight kills odor-causing bacteria, and placing the couch in a sunny area for a few hours may eliminate a bad smell. However, be cautious when putting leather in the sun for too long since it may cause fading over time.
White vinegar is another way to kill germs. While straight vinegar is bad for leather, diluting it with water and wiping it promptly with a soft cloth removes odors. Try baking soda if you're hesitant to use sunshine or vinegar to clean your leather couch. Sprinkle the powder over the surface, rub it gently with a suede brush and vacuum away the residue.
How to Prevent a Smelly Couch
We all have more enjoyable things to do than make a homemade carpet deodorizer or couch cleaner. While the occasional sofa and carpet cleaning is necessary to remove a stubborn stain, there are ways to prevent smells from seeping into the materials.
The best way to keep the couch from retaining everyday smells is to cover it with a couch cover. Remove the cover and clean it in the washer.
In addition, try to keep pets off the furniture, especially if wet, open windows and turn on a fan when cooking, wipe away spills promptly with a damp cloth, and clean the sofa with a deodorizing cleaner regularly to prevent odor build-up.
Sofas are notorious for absorbing all types of odors in the home, whether it's a fabric or leather sofa. Luckily, there are ways to eliminate a nasty odor with a cleaning solution, DIY carpet deodorizer, and a fabric freshener spray.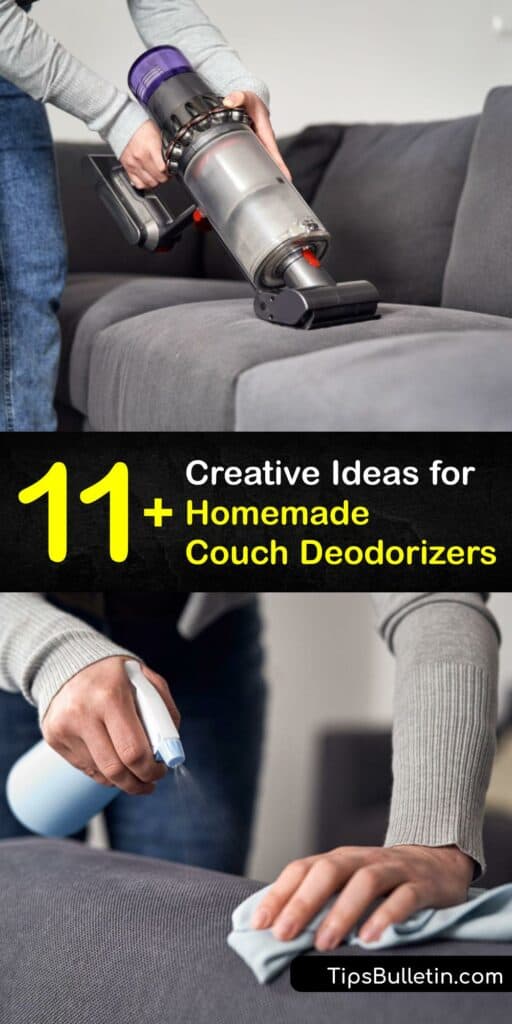 We hope that your sofa smells fresh and clean after using a homemade couch deodorizer, and we'd love it if you'd share our couch cleaning and deodorizing methods with your family and friends on Facebook and Pinterest.