Most of us enjoy sitting back and relaxing on a couch, watching some of our favorite movies or TV shows. What we don't enjoy is lying around on a dirty and stained couch, and that is where homemade couch stain remover comes into play.
Learning about all of the various DIY sofa stain remover tips and tricks allows you to turn your old grimy couch into a clean one. If you eat or drink anywhere near your couch, spills lead to food stains. What you might not realize is couch stains are not just from spills.
Oils from your body, pet hair, dirt, and other grime build up on your couch to create unsightly stains. When you vacuum your sofa and keep the cleanest house, that still doesn't stop couch stains from happening. The best thing to do is learn how to treat these stains with a homemade couch stain remover.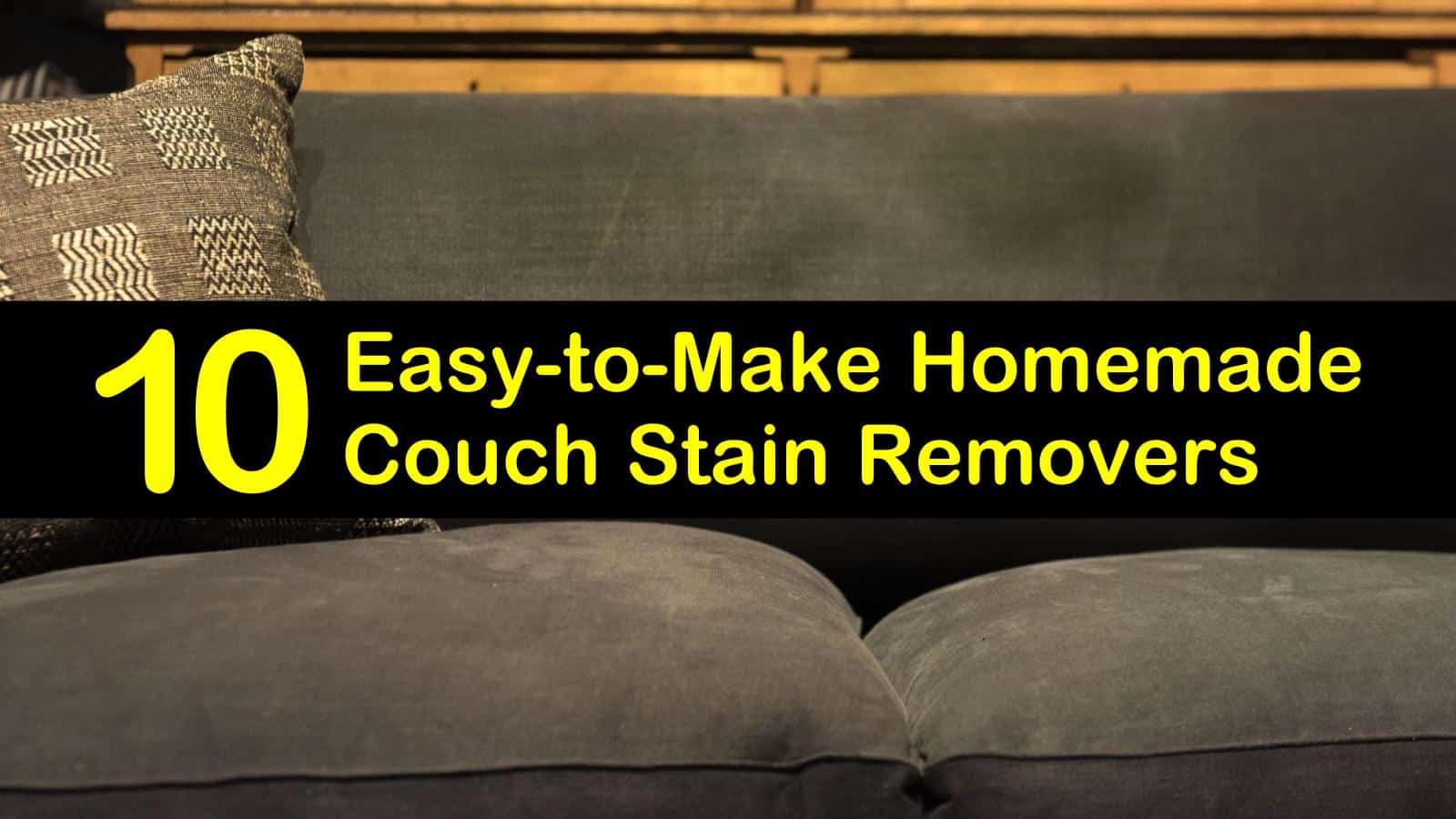 Best DIY Sofa Stain Remover Tips and Recipes
Before using any homemade fabric sofa stain remover, identify the type of material you are working with and properly clean your couch. Vacuum with a handheld vacuum or an upright vacuum with an upholstery attachment.
Vacuuming removes all dirt and debris from the surface, allowing you to treat the stain correctly. Wipe down all wood or metal surfaces with warm, soapy water.
How to Identify Your Couch's Fabric
All couches come with a manufacturer's tag that details how to clean the upholstery the right way. The trick is learning what the different codes on the labels mean.
Some upholstery pieces do not come with a manufacturer's tag – usually vintage and antique items as modifications to the parts occur. For furniture without cleaning instructions, spot test a small area for any potential discoloration. If fading or other discoloration occurs, select a different cleaner.
Homemade Couch Stain Remover for Leather
The best policy is to use mild soap and water for cleaning leather sofas, but be careful not to oversaturate the area as it leaves unwelcome water stains behind. Saddle soap is useful when cleaning leather rather than liquid dish soap, as it is specially made for cleaning leather.
Dark stains are often easily treated with a cotton swab dipped in rubbing alcohol. Use this simple recipe as a leather stain remover and general cleaning of leather surfaces.
To remove stains from a couch made from leather, mix the olive oil and white vinegar inside a plastic spray bottle. Spray the stain with the stain remover and buff clean with a microfiber cloth.
Blotting the area with a towel also helps prevent the stain from spreading. After cleaning, apply a leather conditioner to the sofa to help condition and preserve the leather.
Best Fabric Sofa Stain Remover
Not all fabric stain removers are created equal. Many people prefer using dishwashing liquid, such as Dawn, in their cleaner for fabric as it lifts the most stubborn stains. If you prefer, you may swap out the liquid dish soap for Castile soap.
Mix vinegar, soap, and water in a spray bottle. Lightly mist the stained area with the stain remover. Scrub the stain using a soft cloth until the stain begins to disappear.
Rinse with clean water with a slightly damp second cloth. If stain is still present, reapply stain remover and rinse. Once the stain is gone, dry fabric with a towel.
You can also use this simple recipe as the best homemade carpet stain remover and odor eliminator. Vinegar and dish soap work wonders to get rid of stains on all types of surfaces.
Achieve Amazing Results with this Upholstery Cleaner
This couch cleaning solution is one of the best fabric upholstery cleaners we found. This homemade upholstery cleaner is excellent for spot cleaning tough stains but also works to clean the entire couch when needed.
Mix the three ingredients inside a spray bottle. Generously spray the stained area of the couch and allow it to soak for a few minutes. A light soaking is ideal, but avoid dripping.
Using a circular motion and a clean cloth, gently scrub the stain. Squirt with some fresh water to rinse and then vacuum up excess water with a shop vac or steam cleaner. This method can also be used to remove ink from a fabric sofa or any other colorful stains on the farbic.
Effective Couch Cleaner with Baking Soda and Vinegar
This stain remover is useful on some stains, partly due to the low amount of vinegar. If there are tougher stains, such as pet stains, up the amount of vinegar and decrease the amount of hot water used. Cleaning a couch with baking soda will easily remove any tough stains and smells.
Begin by sprinkling your couch evenly with baking soda. Leave the baking soda alone on the couch for at least ten minutes and then vacuum it all up. While waiting for the baking soda to do its work, mix vinegar, dish soap, and hot water inside a spray bottle.
Generously spray the stained area and allow it to sit for a few minutes. Use a paper towel to blot the fabric dry.
Eliminate the Toughest Stains with this Upholstery Stain Remover
Some stain removers double as overall cleaning products for upholstery, but not this one. This stain remover works best as a spot treatment or to get blood out of the couch, it also works with other stains that respond well to alcohol-based cleaners.
Pour the vinegar and alcohol into a spray bottle and shake to mix. Spray the stain and allow the solution to soak for up to two minutes.
Use a sponge or clean towel for scrubbing the stain and allow it to dry. If stain is still present, repeat the stain removal process until gone.
Use a Dry Upholstery Cleaner on Microfiber
This dry DIY upholstery stain remover is a great way to clean microfiber, as well as other fabrics that can't be cleaned with water. Do not use this cleaner in conjunction with a carpet cleaner to clean upholstery.
Mix a small amount of water with the cornstarch and baking soda to form a paste. Apply the cornstarch paste to the stained fabric and allow it to dry for up to 30 minutes. Once dry, vacuum up the paste and the stain.
Brightening Your Upholstery with this Homemade Cleaner
This cleaner makes an excellent DIY coffee stain remover on lighter colored couches but also doubles an all-over upholstery cleaner. The dish soap cuts through grease and other nasty build-up, while the hydrogen peroxide lightens the color of the darkest stains, including those from red wine.
Mix hydrogen peroxide and dish soap in a spray bottle and shake well. As the hydrogen peroxide is a natural alternative to bleach, always test a small area for colorfastness before using.
Lightly spray the stain and allow it to sit for several minutes. Use a scrub brush or clean rag to scrub the stain in a circular motion. Rinse the area with clean water and suck out all excess liquid with a shop vac or steam cleaner.
Tips on Cleaning Car Upholstery
Stain removers and other homemade cleaners aren't just for couches and inside furniture; these cleaning solutions work well on car seats, too. Like your furniture, first vacuum your car seats to loosen up and remove any dirt and debris.
The best cleaner for car seats uses one cup of club soda mixed with half a cup of white vinegar and half a tablespoon of liquid dish soap. Spray and allow the solution to sit for five minutes before scrubbing with a brush or cloth. Rinse with cold water and suck up any excess water and solution with a steam cleaner.
Different Ways to Deodorize your Couches and Other Upholstery
Removing stains is just one step in cleaning your sofa and other upholstery; deodorizing them is the next step. A quick way to deodorize your couches is to spritz your furniture with a solution of equal parts white vinegar and water.
You can also add a few drops of essential oil for a pleasant scent. After spritzing lightly, allow your upholstery to air dry.
To make this fast and easy homemade couch deodorizer, mix baking soda, cornstarch, and your favorite combination of essential oils in a glass bowl. Mix until all lumps are gone. Pour powder into a shaker and sprinkle over your upholstery. Immediately vacuum the powder off your upholstery.
Recipe for Homemade Couch Stain Remover
Homemade Couch Stain Remover
Remove unsightly stains with basic kitchen items.
Materials
1 tbsp dishwashing liquid
6 ounces warm water
2 ounces distilled white vinegar
Tools
12-ounce sprayer
2 microfiber cloths
Old clean towel
Measuring cup
Tablespoon
Instructions
Pour the water, dish soap, and vinegar into the bottle.
Shake gently to mix the ingredients.
Lightly spritz the sofa stain.
Rub the stain carefully with the microfiber cloth until it lifts from the fabric.
Dampen the other microfiber cloth and massage the cleaner from the couch.
Reapply as needed.
Use a dry towel to soak up as much liquid as possible and air dry.
Notes
This stain remover also works well on most clothing and carpeting.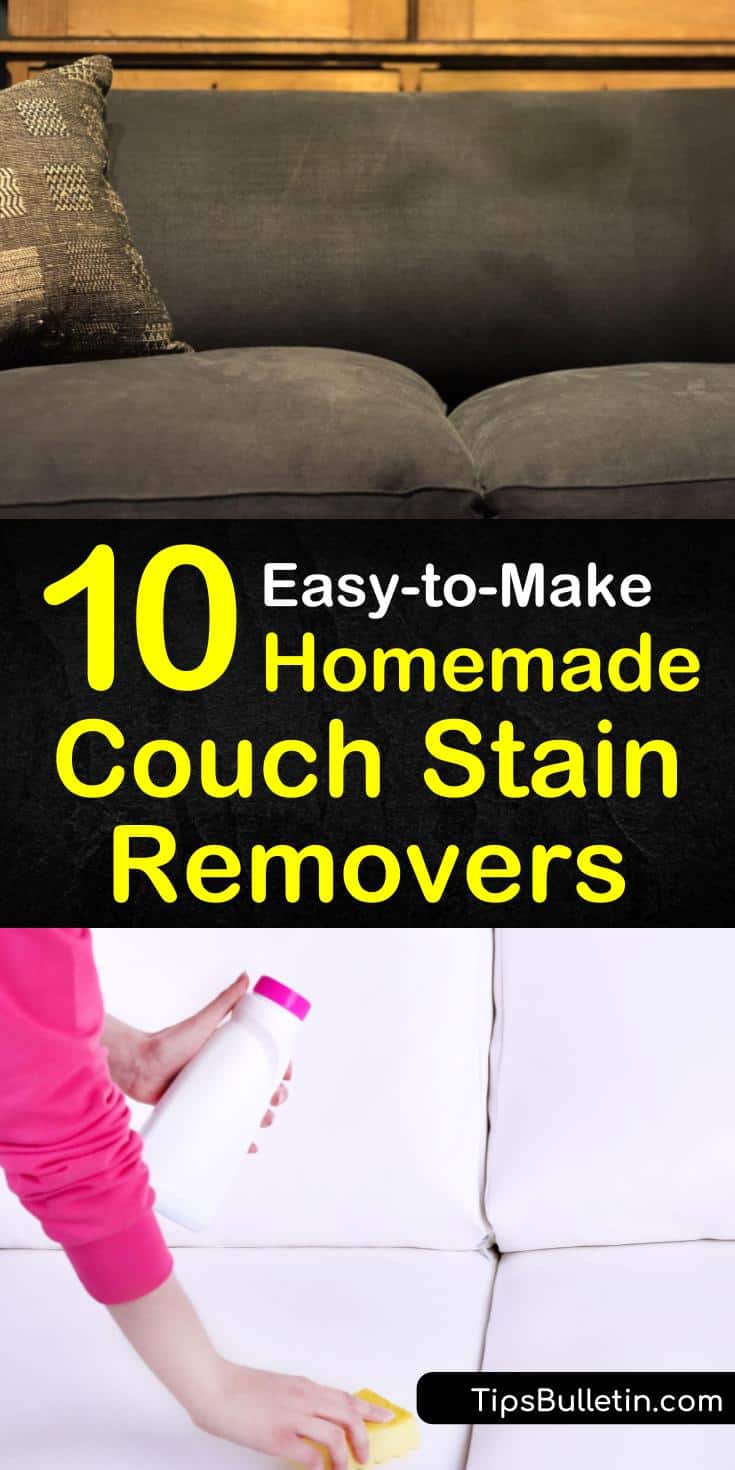 Thank you for reading about our favorite DIY sofa stain remover ideas. If you found any of these fabric sofa stain remover suggestions useful, please take a minute to share our homemade couch stain remover cleaning tips with others on Facebook and Pinterest.