We all want dishwashing to be a painless and safe process. It's great to pop your dishes in the dishwasher, and it should be easy. Add a commercial dishwasher detergent, and you're set, right? Take a good look at the ingredients, though.
Most commercial dishwashing detergents contain toxic chemicals. These cleaning agents can cause respiratory and skin problems, among other health hazards. And homemade dishwasher detergents? They often include Borax or boric acid, chemicals that generate a lot of controversies.
Borax and boric acid have excellent cleaning power, but they are tricky ingredients. The U.S. National Institute of Health has identified Borax as a potential health issue. The NIH associates Borax with chronic eczema, bronchial distress, and worse. Small children are especially sensitive to Borax – ingestion may cause them serious harm (..).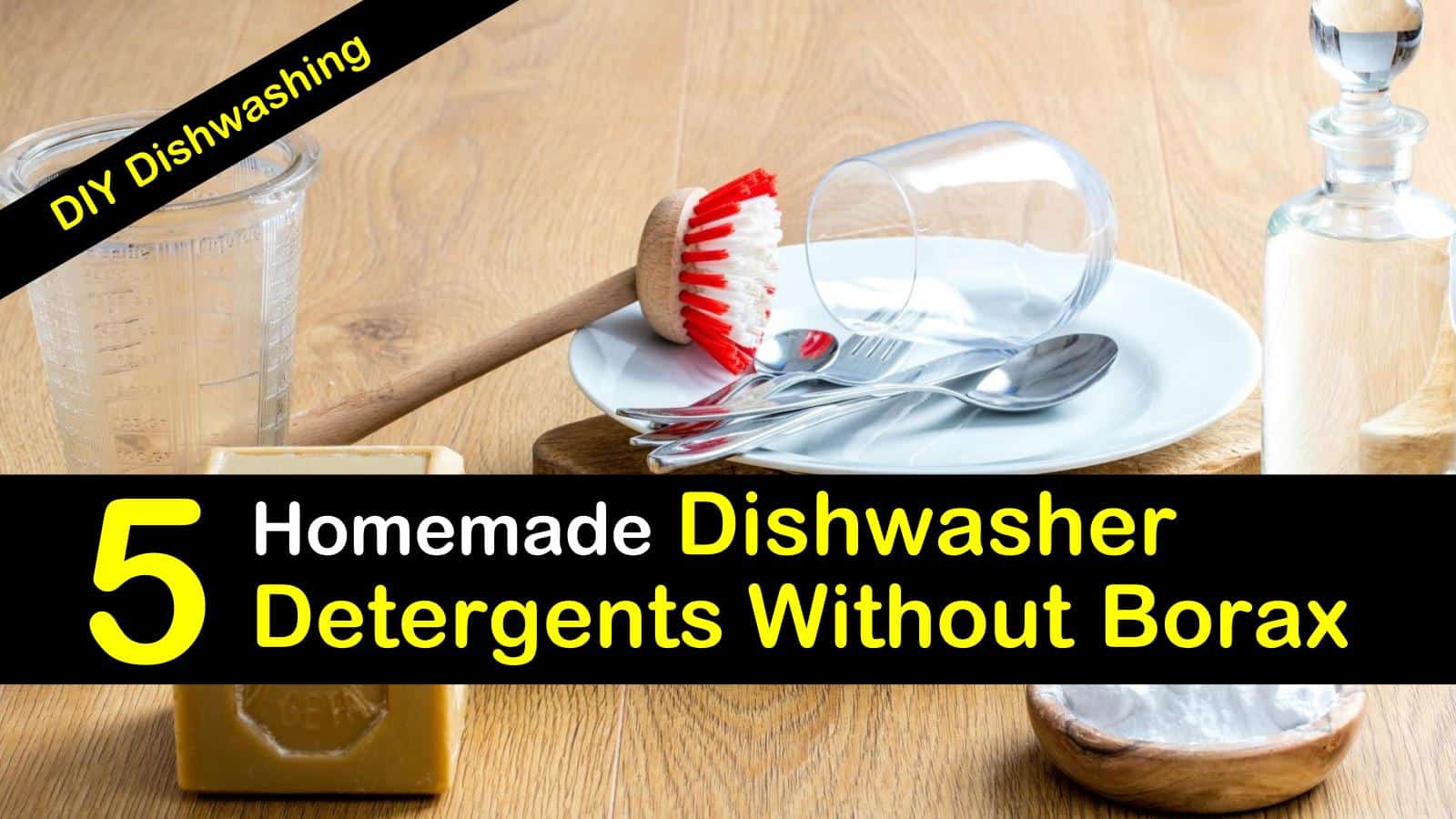 DIY Dishwasher Soap Recipes without Borax
We're here to help if you're looking for a DIY dishwasher detergent without Borax recipe. We found dish detergent recipes that are natural and effective cleaning products. And, you can get all the ingredients at the grocery store at a low cost. Here are several homemade dishwasher detergent without Borax recipes.
Dishwasher Tabs with Kool-Aid
Take the guesswork out of dishwashing and use all natural cleaning products. These pre-measured tabs are perfect for when you are in a hurry to start a wash cycle. No muss or fuss – drop one in and start the wash.
The recipe uses unsweetened lemon drink mix, which contains citric acid. Citric acid has considerable cleaning power, and it's antibacterial as a bonus. It's a great way to clean your dishes, and it smells nice, too!
To wash dishes without dish soap or Borax, combine the ingredients in this recipe, and then pack them tightly into ice cube trays. Place in an airy spot for at least 24 hours to give the detergent time to dry. After they have hardened, pop out the cubes and store them in an airtight container.
Use one the first time, and adjust the amount if needed. The salt scours and helps reduce hard water buildup. If you have soft water, try lowering the amount of salt.
Vinegar and Castile Soap Dishwasher Soap
This recipe uses vinegar, which acts as a rinse aid. It also uses all-natural Castile soap for a cleaning power boost. That, plus the citric acid as an antibacterial agent, makes it a useful homemade detergent.
Combine the dry ingredients. Add the vinegar bit by bit, and stir as you go. The mixture will bubble and thicken. Stir in the essential oil and Castile soap. Stir until the mix is uniform, then pack it into ice cube trays.
Put the trays in an airy location for at least 24 hours. After the mix has hardened, store the result in an airtight container. Use one tab at first, and adjust as needed.
Liquid Dishwasher Recipe
Here is a simple and easy recipe that lets you make your own liquid dish detergent. Dishwasher soap is less apt to leave a residue.
If you have hard water and deal with detergent residue, it might be your best choice. It's a dishwashing detergent without borax or washing soda, so it is both safe and low-residue.
To remove hard water stains from dishes and get them sparkling clean, combine the soap and baking powder in the container. Fill it with water, cap it, and shake for a minute or so.
That's all there is to it! Use one tablespoon the first time, and adjust as needed. The baking soda helps reduce suds, so add more to the mix if needed.
Simple Homemade Dishwasher Detergent without Baking Soda
Another easy recipe. Washing soda does a great job on dishes, and it's much safer to use than borax. It is another recipe with citric acid, so it's antibacterial. If you have a baking soda allergy, give it a try.
Combine the ingredients, and you're done! Store in an airtight container. Use two tablespoons the first time, and adjust the amount if needed.
You can also use this recipe for laundry detergent, as a nice extra. If you want to clean your clothes, grate a single 5.5 oz bar of Fels-Naptha into the mix. The Fels-Naptha acts as a stain remover.
Homemade Essential Oils Dishwasher Detergent
A breeze to make, the essential oils help clean and disinfect. They also give the detergent a pleasant scent.
Mix the ingredients, and store the detergent in an airtight container. Use one tablespoon the first time, and adjust as needed.
Bonus Tip – Vinegar and Lemon Juice as Rinse Agents
Vinegar is a fantastic rinse agent and odor eliminator. Using vinegar in laundry helps remove smells as it cleans, and it helps your dishes, too! Lemon juice is also effective as a rinse aid. You might find residue or hard water spots on your stainless steel or dishes. If that happens, fill the rinse aid compartment with either liquid.
If your dishwasher doesn't have a rinse compartment, pour a cup of it into a small bowl, and place it in the top rack. The vinegar or lemon juice will help the rinse cycle do its job.
While cleaning your dishes and pots and pans are all important, it's wise to keep your dishwasher clean, as well. It's simple and requires only running the dishwasher without anything in it and using some natural products like vinegar and baking soda.
Lemon juice and vinegar mixed with a little baking soda can also be used to clean your dishwasher filter. This important part of your dishwasher collects all kinds of food debris. Periodically cleaning it ensures that your dishes always have the best environment to get completely clean.
It's tough to keep on guard against possible hazards such as Borax. We need clean dishes, after all. But you can have both peace of mind and clean dishes.
Our Borax-free dishwasher detergents are there for you. They keep your dishes looking and smelling great. Best of all, you know that you're working with safe, natural ingredients.
Recipe for Homemade Dishwasher Detergent without Borax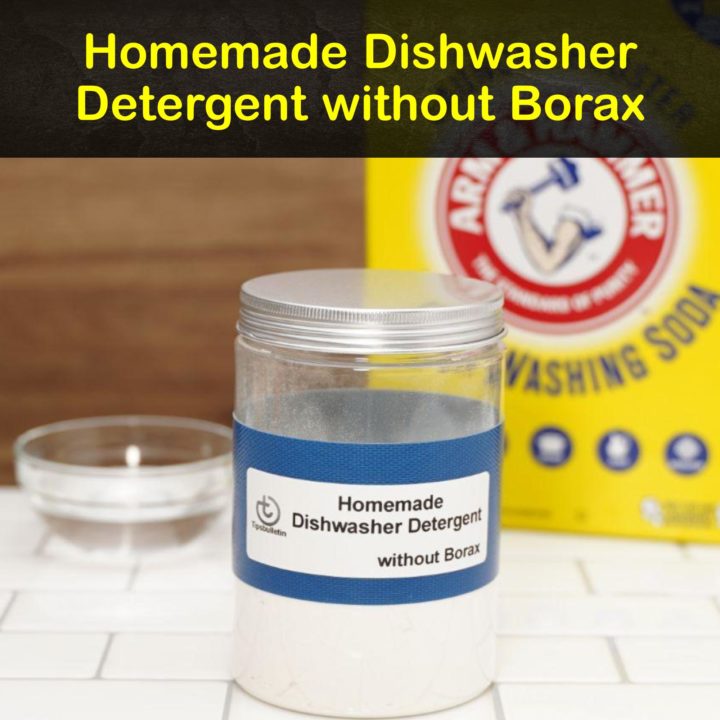 Homemade Dishwasher Detergent without Borax
Simple ingredients make a powerful cleaner!
Materials
4 ounces citric acid
16 ounces of washing soda
Tools
Measuring cup
24-ounce jar with a lid
Tablespoon
Instructions
Pour the powders into the jar.
Put the lid back on and shake well to mix.
Add 2 tbsp to the dishwasher detergent dispenser and wash on your regular setting.
Notes
Important - Washing soda is not the same as baking soda.
Add more or less detergent to the dishwasher depending on the load size and how dirty the dishes are.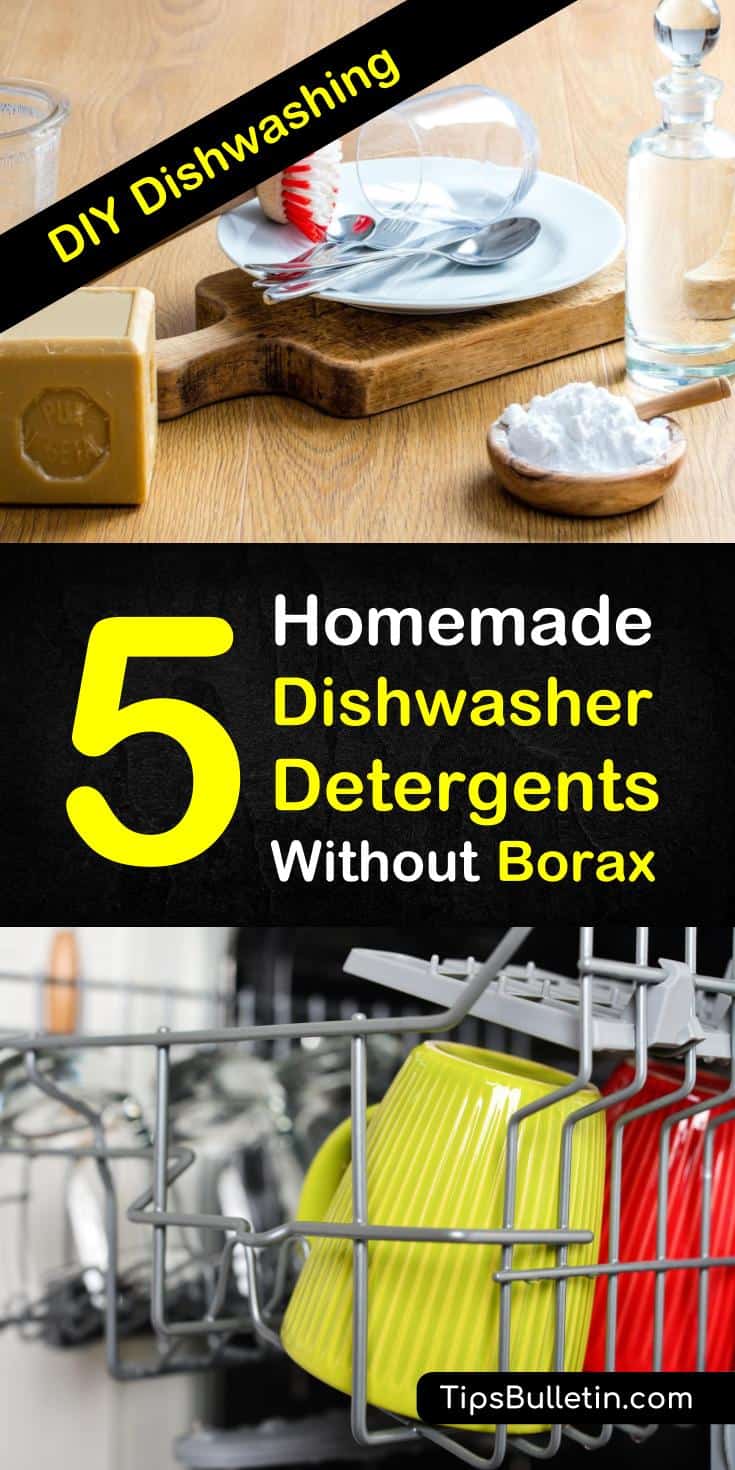 Thanks very much for reading our five homemade dishwasher detergent recipes. Please share these Borax-free detergent recipes with your friends on Facebook and Pinterest.