How often do you run your dishwasher? Cleaning the dishes is one of those household chores that seems never-ending. No matter how many loads you do, there's always more dishes to do! As such, dish soap is likely a frequent item on your grocery list.
There's no doubt that the cost of running your dishwasher adds up. What better way to save money than by making your homemade dishwasher detergent?
It might sound intimidating, but we can assure you that it's easier than it looks. Many homemade dish detergent recipes call for few ingredients and can be mixed in no time. Plus, the little bit of extra effort will pay off in the long run when you see the savings add up!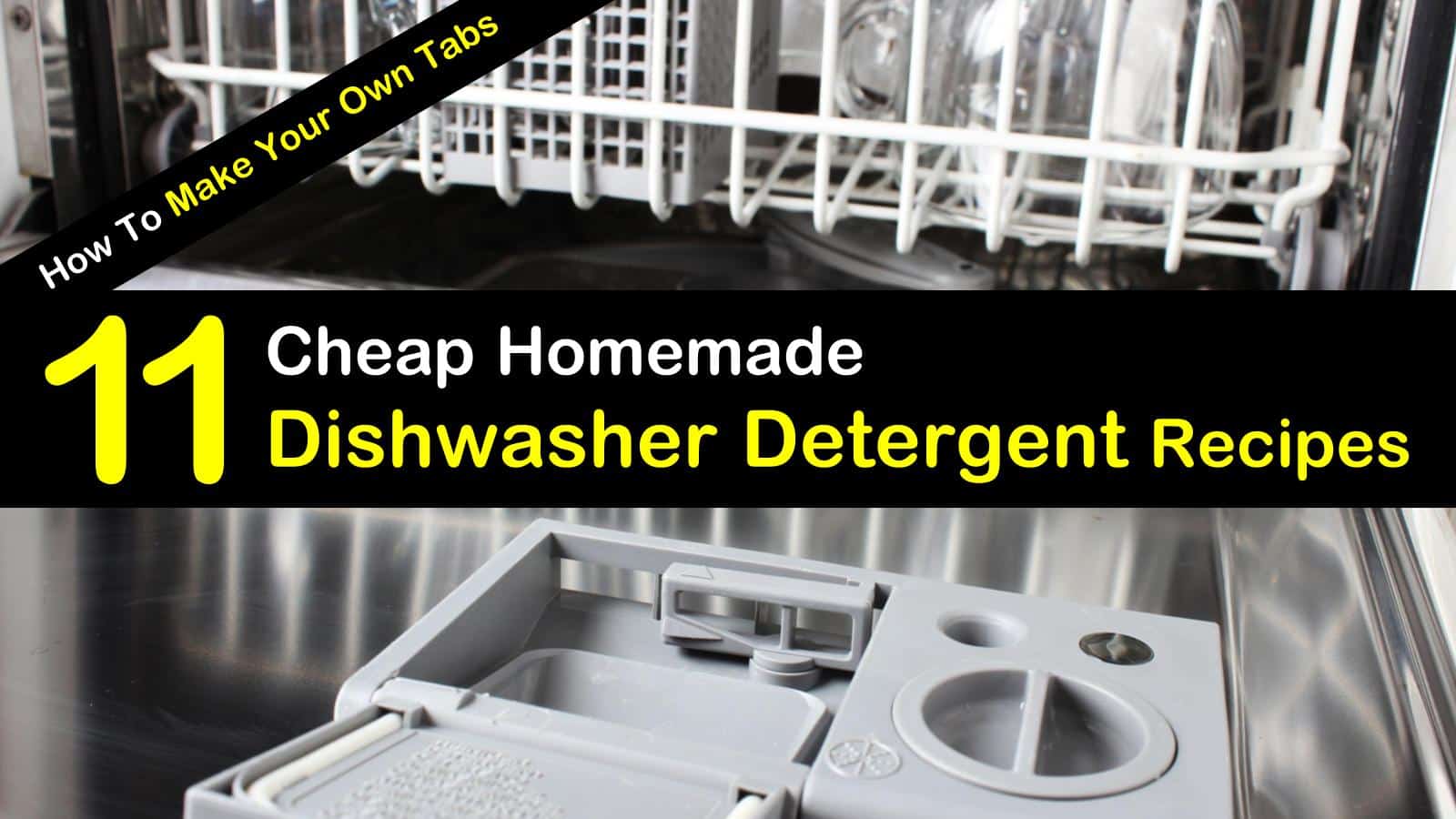 Make Your Own Dishwasher Detergent
These DIY dishwasher detergent recipes use ingredients that you already have in your kitchen, and are accessible and affordable to make.
Cheap Homemade Dish Detergent
This easy homemade dishwasher detergent recipe will save you loads of money on your dishwasher costs. The best part? You don't have to sacrifice cleaning power. This method uses ingredients that you can find in your local grocery store, and averages a cost of approximately $0.04 per load!
Combine the cup of washing soda, baking soda, citric acid, and a half cup of table salt in an airtight container. You can either stir the ingredients until mixed or cover with a secure lid and shake until combined.
When it's time to do some dishes, place one tablespoon of your dishwasher soap in the detergent compartment or at the bottom of your washer. At that rate, your batch of homemade dishwasher soap should last about 56 loads.
White Vinegar
White vinegar is another ingredient that you likely already have in your home. It is a perfect rinse aid and pairs well with any homemade detergent. The vinegar gives dishes a sparkling finish, as it dissolves any salt deposits that your wash cycle leaves behind.
To use vinegar for your rinse cycle, place about 1/8 to 1/4 of a cup of white vinegar in the rinse compartment. If your dishwasher doesn't have a rinse compartment, you can put a small dish of vinegar on the top rack.
DIY Dishwasher Detergent
This DIY dishwasher detergent contains only two simple ingredients. Each ingredient packs quite a punch on its own. When used together they will keep your dishes squeaky clean.
The ratio of this recipe is critical, as too much citric acid could neutralize the cleaning power of the washing soda. No matter how big or small a batch you make, be sure to keep the ratio at four parts washing soda to one part citric acid.
Arm & Hammer is a well-known brand of washing soda to find, and Lemi Shine Original will work as the citric acid. Citric acid is a crucial ingredient in many commercial detergents like Cascade, so you know it will get the job done.
Clumping is one issue you may encounter when mixing this dishwashing detergent. To avoid this, you should wait to combine the ingredients until right before you start a load.
You can also combine the ingredients and let it sit for a day without cover, stirring occasionally. Another option is to press the mixed parts into ice cube trays to make tablets.
Lemon
Lemons and lemon juice are a natural source of citric acid, making them perfect for homemade dishwasher soaps. A bonus when using lemon products is that the detergent smells lovely!
This recipe takes a little more work than other preparations on this list, but it is worth it. It is all natural, smells great, and gets your dishes clean. First, dice lemons into chunks and remove the seeds before putting them in a saucepan with 1 1/2 cups of water.
Bring the mixture to a slow boil and then leave it to simmer for 20 minutes, stirring frequently. You will want your mixture to be syrupy and the lemons to be tender. Put the lemon and syrup mixture in a blender and add two cups of water, blending on high until smooth.
Strain the blended mixture back into the saucepan to remove leftover pulp and rind. Add the vinegar and salt and stir well. Bring the combined ingredients to a slow boil and then cook for 10 to 15 minutes, or until the mixture thickens slightly.
The consistency should be like runny applesauce. Let the mixture cool in the saucepan, stirring as needed to ensure no crust forms on the top.
Place your homemade dish detergent in a glass container and store it in the fridge. To wash your dishes, place about three tablespoons of your dish soap in the detergent dispenser.
Easy Homemade Dishwasher Detergent
This homemade detergent recipe includes Borax, a borate that acts as a powerful cleaning agent. When added to water, Borax can convert water molecules into hydrogen peroxide. This increases the effectiveness of detergents such as dishwasher detergent and laundry detergent.
Part of what makes this recipe so useful is the added scrubbing ability of the salt. To make this detergent, mix all ingredients in an old container, such as a coffee can or yogurt container. Put on the lid and shake well.
For best results, use one tablespoon per load and use vinegar or lemon juice as a rinse agent. Like some other recipes on this list, the citric acid could cause this mixture to clump.
Another way to prevent clumping, aside from the suggestions we already mentioned, is to add a teaspoon of rice to the container. The rice will help soak up moisture, keeping your detergent free of clumps.
Essential Oil
Essential oils add an extra kick to the cleansing power of homemade dish soap—plus they smell great! Citrus oils such as lemon, grapefruit, and orange work great in any recipe. If you're not a fan of citrus, plant-based and herb-based oils such as thyme, rosemary, and lavender work as well.
To prepare this easy to use DIY dishwasher detergent without Borax, combine all ingredients in a bowl and mix well. Transfer the mixture into your desired storage container. You will need approximately two tablespoons per dishwasher load.
This recipe is perfect for any dishwasher as it works for both hard and soft water. This is because washing soda can soften hard water, making for a better clean.
This mixture can also serve many purposes in your home. If you mix it with some club soda and vinegar, you could use it to clean upholstery yourself as a homemade cleaner.
Homemade Detergent Cubes
Many of the recipes on this list so far create a powder mixture, but your dishwasher might work better with detergent cubes.
To make these detergent cubes, start by mixing the powder ingredients in a bowl. Make sure you mix well so that the ingredients spread evenly in the cubes. Put aside approximately one cup of the mixture into a separate bowl. Drop in four tablespoons of lemon juice and mix so that the mixture is a little wet and sticky.
Place the mixture into an ice cube tray and pat it down. Repeat with the remaining powder mixture. Leave the trays out overnight to allow the cubes to dry. In the morning, knock out the cubes and store them in your kitchen.
Epsom Salt
Epsom salt is another great ingredient to include in any homemade dishwasher detergent. While any salt works, Epsom salt is particularly useful due to the coarse grains.
You can substitute Epsom salt in any detergent recipe that calls for rock salt or table salt. It may not be suitable for dishwashers that have hard water, though, as it is sometimes used to harden the water.
Dishwasher Tablets for Hard Water
Water softness can have a significant impact on the results of your wash cycle. If you find that your dishes come out covered in a thin white film, then it could be that the water is too hard for the soap you use. Here is a great dishwasher tablet recipe to use if you have hard water.
Mix all ingredients except for the water in a large bowl. Mix until the oils are well blended and then stir in one tablespoon of water at a time and stir.
The mixture should be the consistency of a packed snowball. Once you have that, you can pack the mixture into some ice cube trays. Allow the tablets to sit for 12 to 24 hours until dry.
Baking Soda
While baking soda is a great ingredient to add to any recipe, it also works on its own if you're desperate. If you need to wash some dishes right away but don't have all the ingredients you need, you can run your dishwasher with baking soda alone.
You can also add a drop or two of liquid dishwashing soap to the baking soda. Be careful, though–if you use too much liquid soap you might end up with suds all over the floor!
DIY Dishwasher Cleaner
No matter how good your detergent is, it won't work if your dishwasher isn't clean! With this DIY dishwasher cleaner, you can make sure your dishwasher detergent gets the best results.
Combine baking soda and hydrogen peroxide in a bowl until damp. Scoop out mixture with a spoon and form into large balls. Place large balls in the dishwasher and leave them overnight.
The next day, pour the vinegar in a glass along with the dish detergent and oils. Place the glass in the dishwasher on the top rack and place one of the balls on the bottom tray. Run the dishwasher on the hottest setting.
These DIY dishwasher detergent recipes will keep your dishes clean and your wallet full. They are easy to make and will give you the satisfaction of creating something that will keep your household running.
Recipe for Homemade Dishwasher Detergent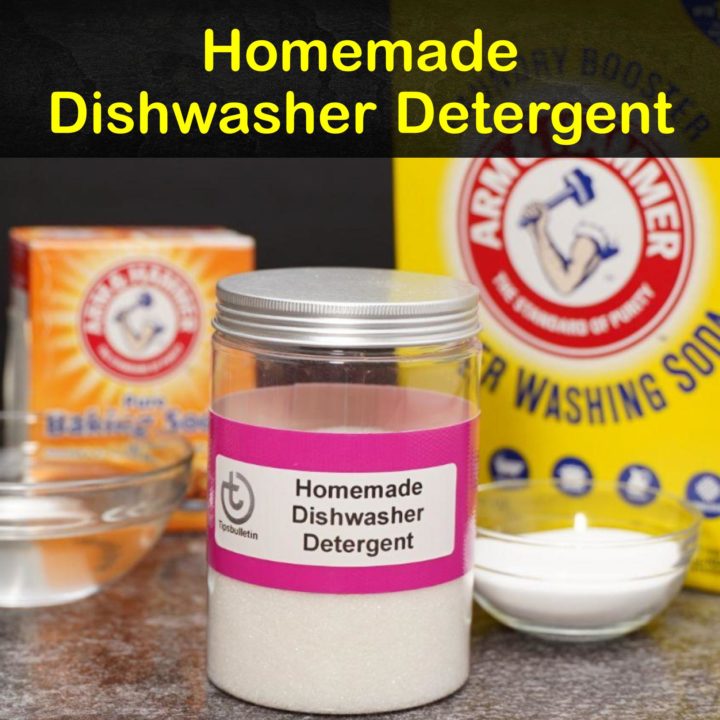 Homemade Dishwasher Detergent
No harmful chemicals in this recipe!
Materials
1/4 cup salt
1/2 cup baking soda
1/2 cup of washing soda
1/2 cup of citric acid
Tools
Measuring cup
16-ounce jar with a lid
Tablespoon
Instructions
Add the four ingredients to the jar.
Put on the lid securely and shake well until mixed.
To use, scoop about 1 tbsp of your DIY detergent into the dishwasher dispenser and wash as normal.
Notes
Find citric acid in the canning aisle of the grocery store.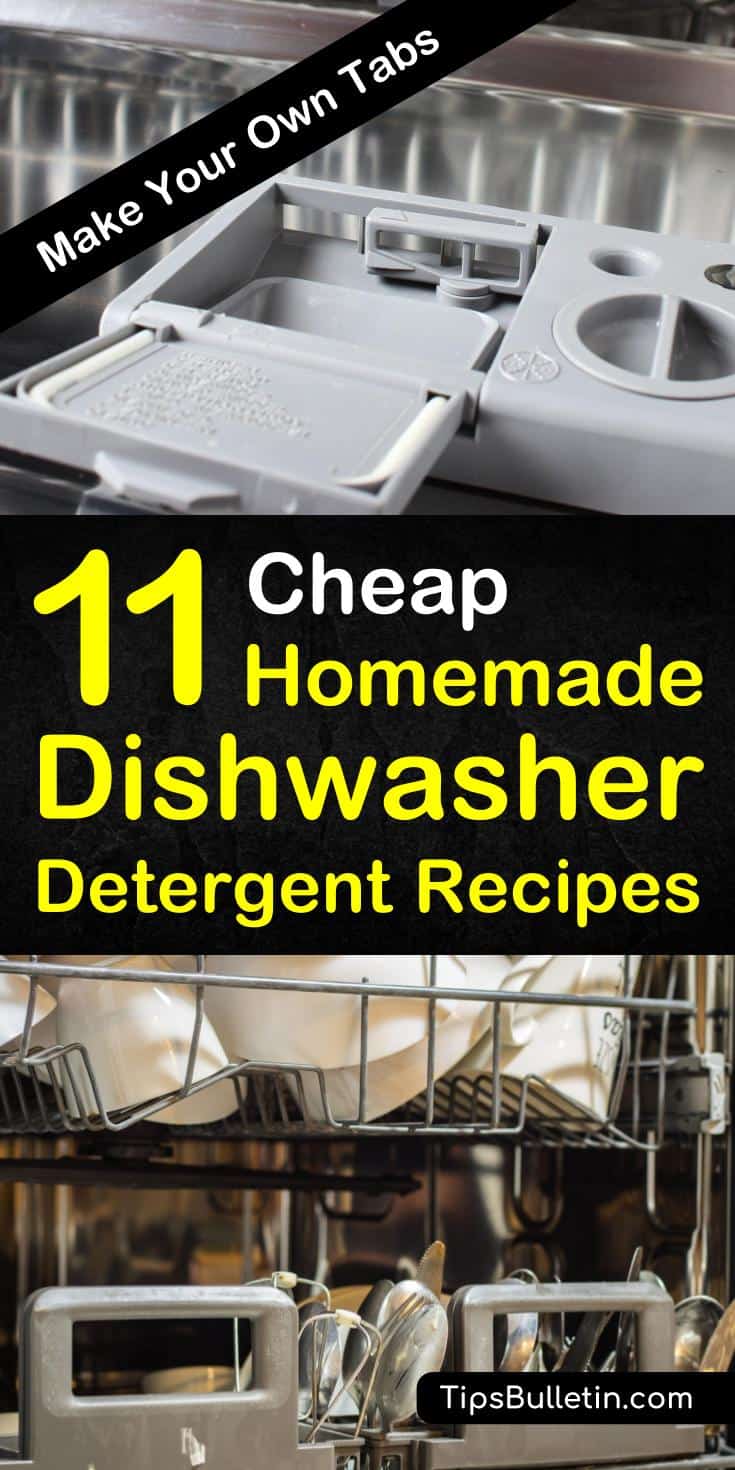 We hope you found these homemade dishwasher detergent solutions helpful! If you liked these dish soap recipes, then share them with your friends and family on Pinterest and Facebook.