Have you ever finished cooking and realized you ran out of dishwasher soap? Luckily enough, there are plenty of recipes for homemade dishwasher detergent to save you a trip to the grocery store. You'll be pleased to learn that making homemade dishwasher soap for the first time is more straightforward than it sounds!
DIY dish soap allows you to control what goes into your dish soap, so you always know what you have instead of relying on commercial detergents. Mastering the skill of making homemade dishwashing soap means you will never worry about making those last drops of soap clean a family's worth of dishes.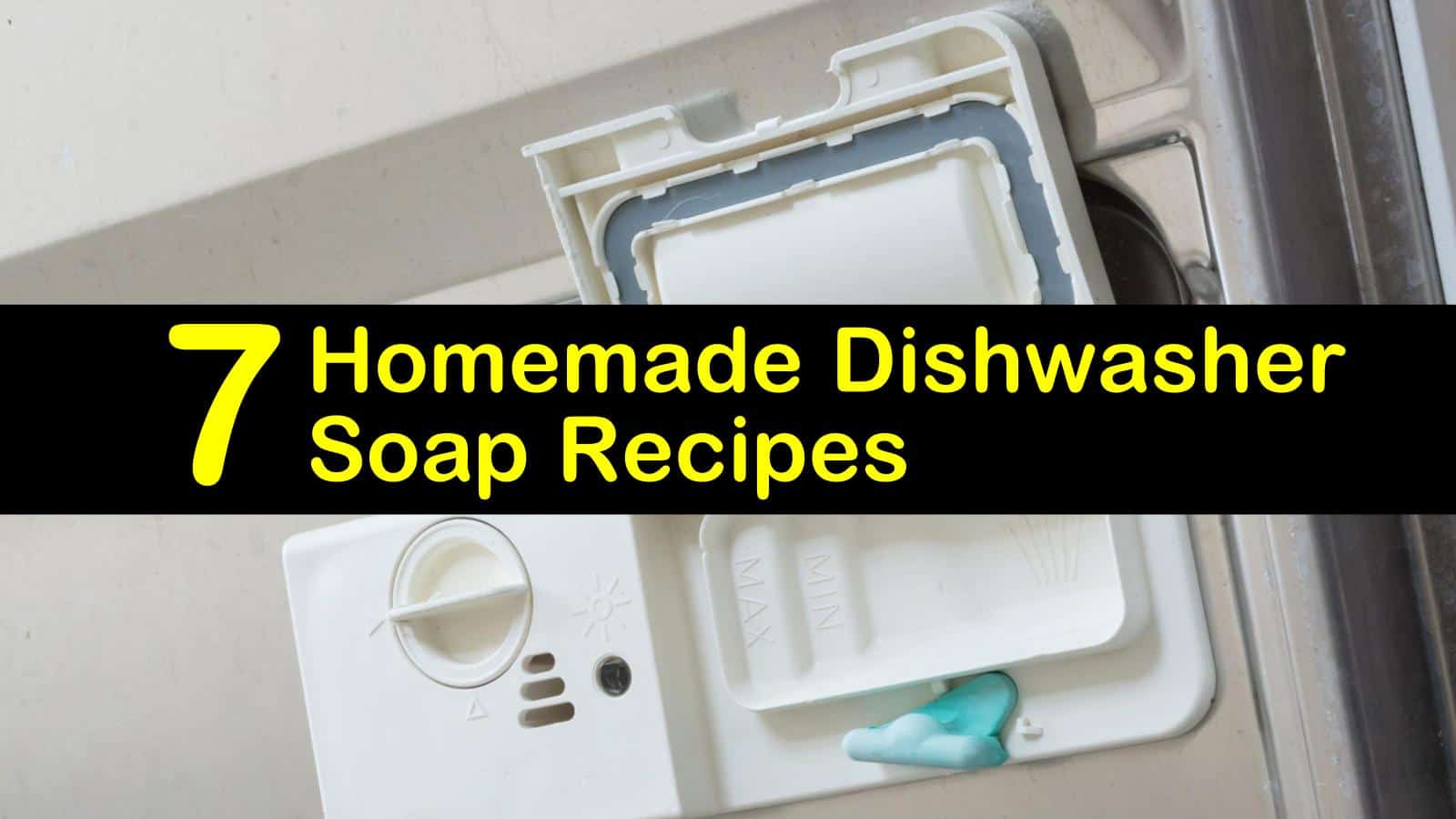 DIY Dishwashing Soap
It couldn't be any easier to make your own detergent for the dishwasher. You probably already have all or most of the ingredients already.
Salty Dishwasher Detergent (without Borax) – A Super Easy Homemade Dishwasher Soap
Squeeze several drops of dish soap into the detergent compartment of your dishwasher. Then, fill the compartment ⅔ full with baking soda.
Lastly, top with salt for simple homemade dishwasher soap. Run your dishwasher like normal. This detergent also helps soften hard water (soft water is always better for your dishwasher).
Dishwasher Detergent with Borax
If you want a batch of homemade dish soap so that all you need to do is scoop it into your detergent compartment, try this recipe. Keep this detergent in an airtight container.
Mix the ingredients in your container to create your homemade dishwasher soap. You can keep the extra Borax to make homemade laundry detergent! For more scrubbing action, try Epsom salt instead of regular sea salt.
Dishwasher Detergent Tabs
If you prefer using dishwasher tabs, check out this recipe. Be sure to find some ice cube trays.
Mix the dry ingredients then add water. Once it is done fizzing, stir and spoon the mixture into the ice cube trays. The tabs need to dry overnight. Once dry, you can store dishwasher detergent tabs in an airtight container.
If your dishwasher stinks, use these tabs for how to clean a dishwasher that smells. Add one or two tabs to the machine and run it without dishes for a cycle. The odor should be gone and a nice fresh scent left behind.
Lemon & Vinegar Homemade Dish Soap
To experience the cleaning power of vinegar for your dishes and silverware, try this homemade recipe. You can look at other weird uses of vinegar for more cleaning ideas.
The best way for how to clean a dishwasher with vinegar uses a glass cup of vinegar on the top rack and running a complete cycle without dishes. This solution can also be quite effective for unclogging dishwasher drains blocked by food debris. The lemon scent is a bonus.
Place lemons in a saucepan with 1 ½ cups water, boil, then simmer for 20 minutes. Then, place the cooked lemons and remaining water in a blender and blend until smooth. Strain them back into the saucepan. Add vinegar and salt to the pot and boil for ten minutes.
Let cool before transferring to a container. You need three tablespoons of your homemade dishwashing detergent per load. If you want more scrubbing power, use Epsom salt instead of regular salt.
Liquid Dish Soap with Borax
If you don't have a dishwasher and rely on liquid dish soap, here is an easy soap recipe.
Boil the water, then mix the Borax and grated soap. Pour the boiling water over the soap mixture and whisk until melted. Let the mixture cool, then add the essential oils. Pour the DIY dish soap into a squirt bottle.
Liquid Dish Soap without Borax – Natural DIY Dish Soap
If you don't have Borax for your liquid soap, you can follow this recipe for homemade dishwashing soap.
Combine the grated soap and boiling water, mixing until the soap melts. Add the washing soda and Castile soap, then stir. Let the mixture cool to room temperature, then add your essential oils. Carefully pour your DIY dish soap into your squirt bottle.
Dishwasher Cleaner
After trying out your new dish detergent recipes, you may need to clean the dishwasher itself. Unfortunately, even though you run dishwasher detergent through the machine every time you clean your dishes, it does not take care of build up that accumulates at the bottom of the dishwasher.
Luckily, it is effortless to make a dishwasher cleaning solution. Or, for the easiest way to clean the dishwasher, you can always clean a dishwasher with vinegar by putting a cup of white vinegar on the top rack and running it through a regular cycle instead.
Hopefully, you learned some recipes that will either help you in a pinch or even become your new go-to dish soap for your arsenal of cleaning products! Dirty dishes are a hassle, but hopefully, they'll become a little less of a chore now.
Recipe for Homemade Dishwasher Soap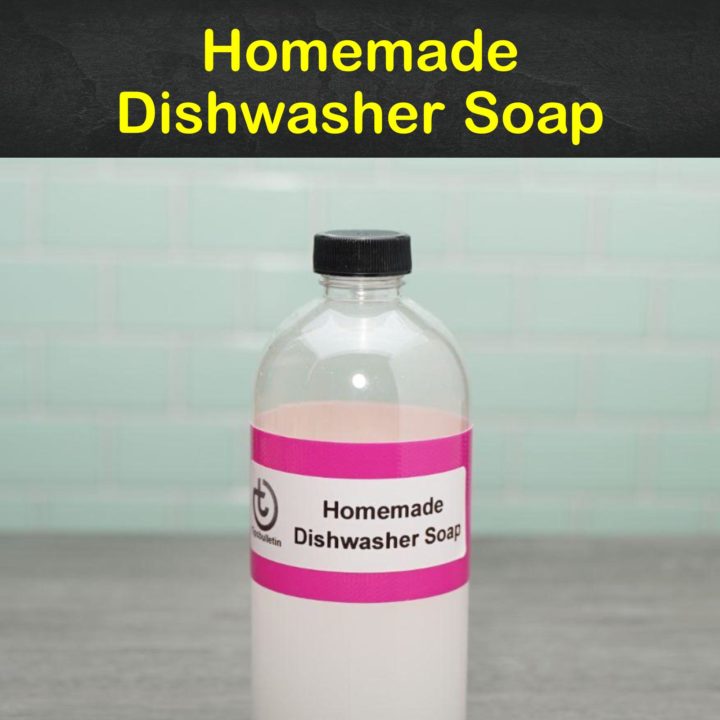 Homemade Dishwasher Soap
Make your dishes sparkle with this easy DIY cleaner.
Materials
2 ounces grated soap bar
2 ounces liquid Castile soap
10 ounces boiling water
1 tbsp washing soda
18 drops lemon essential oil
Tools
24-ounce bottle with a lid
Measuring cup
Tablespoon
Container
Funnel
Instructions
Carefully add the grated soap to the water in a bowl. Stir until the soap dissolves completely.
Mix in the washing soda and liquid soap.
Allow the cleaner to cool to room temperature.
Add the essential oil and stir until combined.
Pour into the jar with a funnel.
Use two tablespoons in the dishwasher for a standard load.
Notes
Note that washing soda is different than baking soda.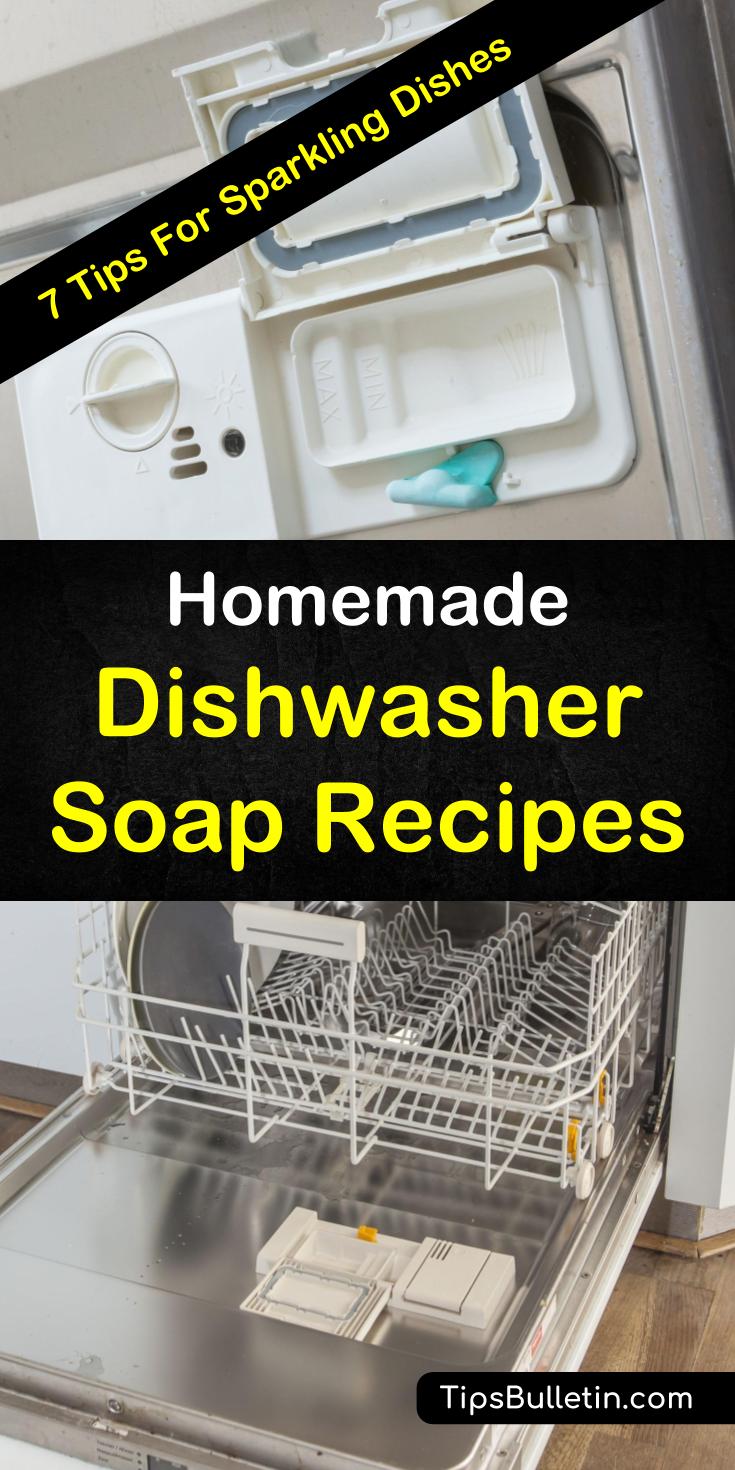 If you enjoyed these homemade dishwasher soap tips, please share with your friends and family! Maybe you all can start to experiment with the different homemade dish soap recipes and figure out which one works best for you. You may never go back to regular dish soap again!