Do you have a clog in your kitchen sink or bathroom sink? Drain clogs are common in households because of the foods, cleaning products residue, and other items washed down every day. Instead of calling a plumber to handle the problem, learn how to make a homemade drain cleaner for sink drains.
There is a wide array of home remedies that effectively break down gunk that has accumulated. In this article, we teach you how to treat a clogged drain without using harsh chemicals.
A common misconception is that a DIY bathroom sink drain cleaner does not disinfect like chemical-based cleaners. However, many everyday household products kill germs and break down drain clogs in sinks.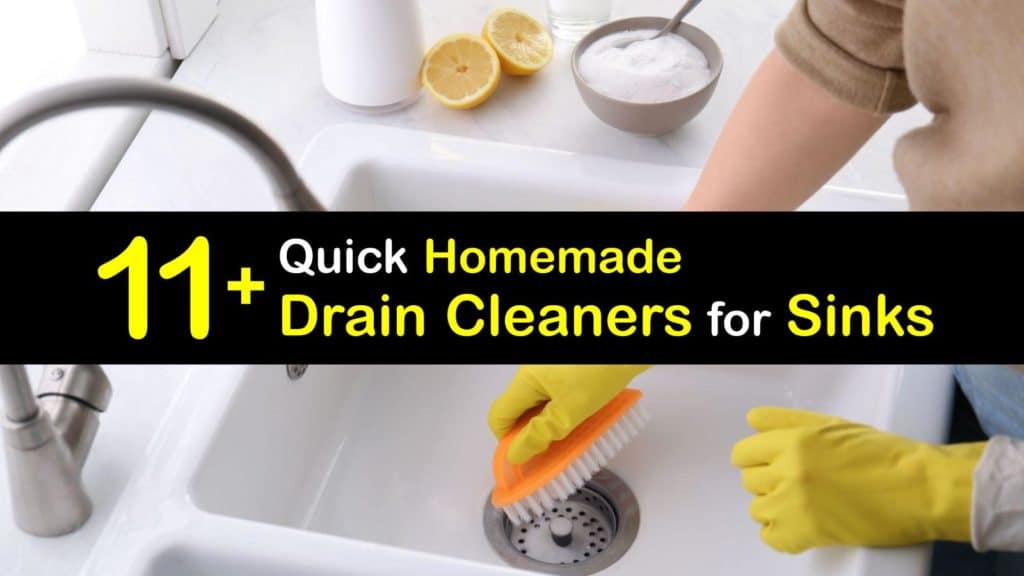 Why Cleaning Your Sink Drains is Important
In addition to educating you on how to make a natural drain cleaner for kitchen sink drains, we also provide a few ways to clean a garbage disposal properly. With these tips and tricks, drain cleaning does not have to be a chore. Instead, you can treat even stubborn clogs quickly with the correct tools.
Even if you have minor clogs in your shower drain or kitchen sink, it is still essential to keep these areas clean and clear of buildup. Because sinks are used almost every day, many bacteria live on the surface.
It's necessary to keep these areas free of bacteria to prevent illness caused by germs.
Another reason unclogging your drains is an essential task is due to the foul odor that blockages cause. As food accumulates in the drain, it begins to rot, releases an unpleasant scent, and cleaning smelly drains becomes necessary.
Why Your Drains Clog
Several various factors naturally cause clogged drain pipes. If you have hard water, minerals accumulate in and around your drains. Treating drains with limescale buildup is critical to prevent the problem from getting worse.
In bathroom shower drains, the most common thing that clogs drains is hair. One quick way to prevent the drain from getting too clogged is to put a stopper over the drain to catch the hair.
The Advantages of a Homemade Drain Cleaner for Sink Pipes
Although making a homemade clogged drain cleaner may seem daunting, it is straightforward and comes with several benefits. Using homemade drain cleaner recipes allows you to use natural products in your household instead of chemical cleaners.
Regarding drain cleaning, synthetic cleaners made from chemicals damage your pipes over time. Damaged pipes lead to significant problems and an expensive repair. To save money, learn how to create a homemade drain cleaner for bathroom sink pipes and clean a porcelain sink without harming the material.
DIY Bathroom Sink Drain Cleaner with Baking Soda
A baking soda/vinegar combination is one of the fantastic ways to unclog a sink naturally in your house. Baking soda is a natural deodorizer, while vinegar's acidity kills bacteria and eats away at gunk buildup.
The way to clean out a bathroom sink drain starts with pouring an entire pot of boiling water down the drain. Dump your measured baking soda, vinegar, and water down the pipe.
Cover the top of the drainpipe for ten minutes as the chemical reaction causes a noticeable fizz. Add a pot of boiling water to the drain to clear the baking soda.
Salt is a Natural Drain Cleaner for Kitchen Sink Pipes
A common cause of a slow drain in kitchen sinks is a buildup of grease from cooking. The best way to treat these blockages is with hot water and Epsom salt. The water and salt combination breaks through grease in your drain.
To make this homemade natural sink cleaner, carefully measure four cups of boiling water and pour them into your drain. Add the Epsom salt to the kitchen drain and let it sit for five minutes.
To clear the salt, dump the remaining boiling water in the sink. This natural drain cleaner for kitchen sink drains is an excellent solution because it only calls for two ingredients.
How to Unclog Drains with Baking Soda and Salt
Combining the gunk remover qualities of baking soda, salt, and vinegar makes treating hair-clogged shower drains a breeze. A slow drain in the shower is often caused by hair in the pipes. To get your shower drains back to working order, use a homemade drain cleaner.
To get rid of smell in shower drain as well as the clog, pour the salt, baking soda, and vinegar into the shower drain and let it sit for at least ten minutes. To wash the gunk away, pour a pot of boiling water down the drain. Clogging is bound to happen in the bathroom, and you must know how to remove the buildup.
Using Borax and Vinegar to Clear Drains
Two cleaning products that help remove gunk from drains are Borax and vinegar. Borax converts some water molecules to hydrogen peroxide, which disinfects and kills bacteria while loosening clogs. Vinegar helps break down limescale buildup and tough blockages.
Pour each drain cleaning ingredient in the pipe and let them sit for about an hour. Add hot tap water to the drain to rinse the excess gunk away. Although this home drain cleaner for sink pipes takes longer than other methods, it works just as well.
Removing Buildup with Liquid Dish Soap
Using dish soap as a DIY bathroom sink drain cleaner is fantastic because it only requires a single ingredient. Dish soap detergent lifts soap scum, gunk, and other buildup, making it effortless to rinse away.
To loosen the drain's contents, pour two gallons of boiling water down the pipe. Add the cup of dish soap and let it sit for about five minutes. To clear away the residue, pour another two gallons of boiling water into the sink.
Pulling Out Excess Hair Buildup with a Wire Hanger
A great DIY way to remove excess hair from your shower drains is with a wire hanger. Start by removing the cover of the drain to make hair removal easier.
Make sure to leave the hook intact as you use needle-nose pliers to straighten out the wire hanger.
Stick the hooked end of the hanger down the drain as far as possible, continuously rotating the wire hanger to secure the buildup. Lift the hanger and remove the hair and gunk with a paper towel.
How to Unclog a Drain with Cream of Tartar
Cream of tartar is a common spice found in the kitchen, and it also works as a natural drain cleaner for kitchen sink pipes and cleaning metal without causing any damage to the pipe.
Mix all your drain cleaning ingredients in a Mason jar and shake the contents before pouring it down your sink. Pour three cups of boiling water down the pipe and let the contents sit for an hour before running the tap water for a few minutes.
Combining Lemon Juice and Baking Soda to Break Up Gunk
The ingredients in lemon juice act as a natural bleach and disinfect any surface. When you combine baking soda and lemon juice, your drain will smell pleasant and be clog-free.
Pour the baking soda in your drain first, then add the lemon juice. Plug the drain and let the contents work for about an hour.
To rinse the residue away, pour a pot of boiling water into the drain. If the clog is particularly thick, use a plunger to help loosen the contents.
What Products to Stay Away from
It is beneficial to learn how to make a DIY bathroom sink drain cleaner or a kitchen sink drain cleaner. However, it is equally necessary to understand that certain products damage pipes.
Chemical drain cleaners are harsh on your pipes' makeup and often lead to metal damage. Another risk of using chemical cleaners is that they can harm your skin and are unsafe to inhale.
How to Prevent Future Drain Clogs
Some buildup is inevitable and challenging to avoid. For example, the most prevalent causes of clogs in bathroom sinks and shower drains are toothpaste and hair. The buildup in bathroom drains will always exist.
There are a few ways to avoid clogs in your kitchen sink. Even if you have a garbage disposal, there are foods to prevent putting in your drains.
As food spoils from lack of carbon dioxide, the drain begins to smell and causes clogs. Foods like coffee grounds, grease, stringy vegetables, and bones all lead to blockages.
When it comes to unclogging your drains, using a natural drain cleaner for kitchen sink pipes is your safest option. A DIY bathroom sink drain cleaner free of harsh chemicals successfully clears your drain without damaging your metal pipes.
Household products like baking soda, vinegar, and dish soap are diverse cleaners that also loosen gunk buildup.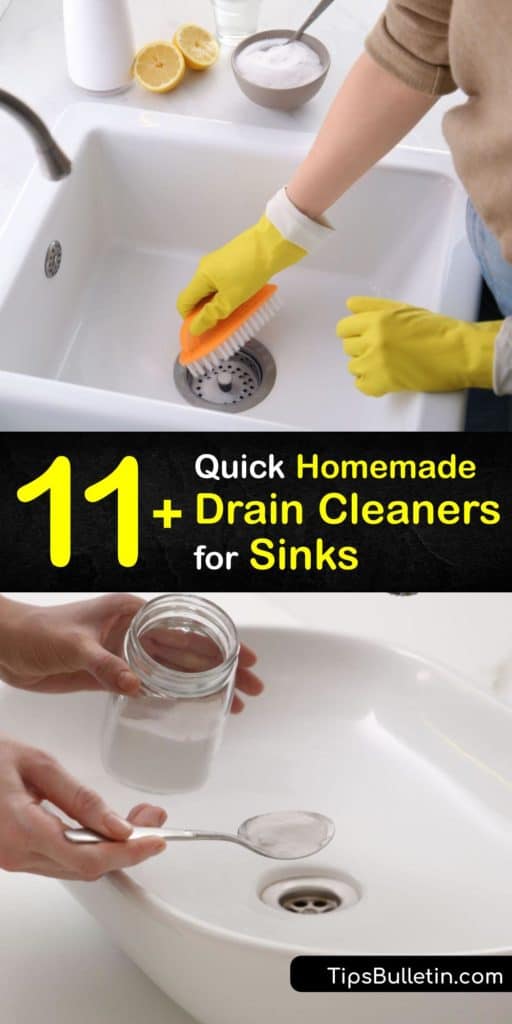 If you found an amazing homemade drain cleaner for sink pipes, share this article with unclogging tricks with your roommates and neighbors on Pinterest or Facebook.