Controlling the amount of dust in your home is only one part of the solution for avoiding dust mites; the other aspect revolves around controlling the actual mites. What's worse is that these dust mites cannot be seen by the naked eye, which makes them hard to control.
Dust mites work their way into the upholstered furniture, pillows, pillowcases, and mattresses to get close to you, to feed off your human skin cells in warm environments. Are you ready to create an effective homemade dust mite spray that will implement dust mite control in your home? Are you prepared to get rid of dust mites and all that they come with, including seasonal allergies, allergy symptoms, and asthma attacks?
Is this the end of the dust mite population in your household? Forget about those chemical sprays you see advertised on television as high performance guaranteed; instead, save a few extra dollars and start using ingredients like essential oils and nifty tricks like high humidity levels to keep dust mites away.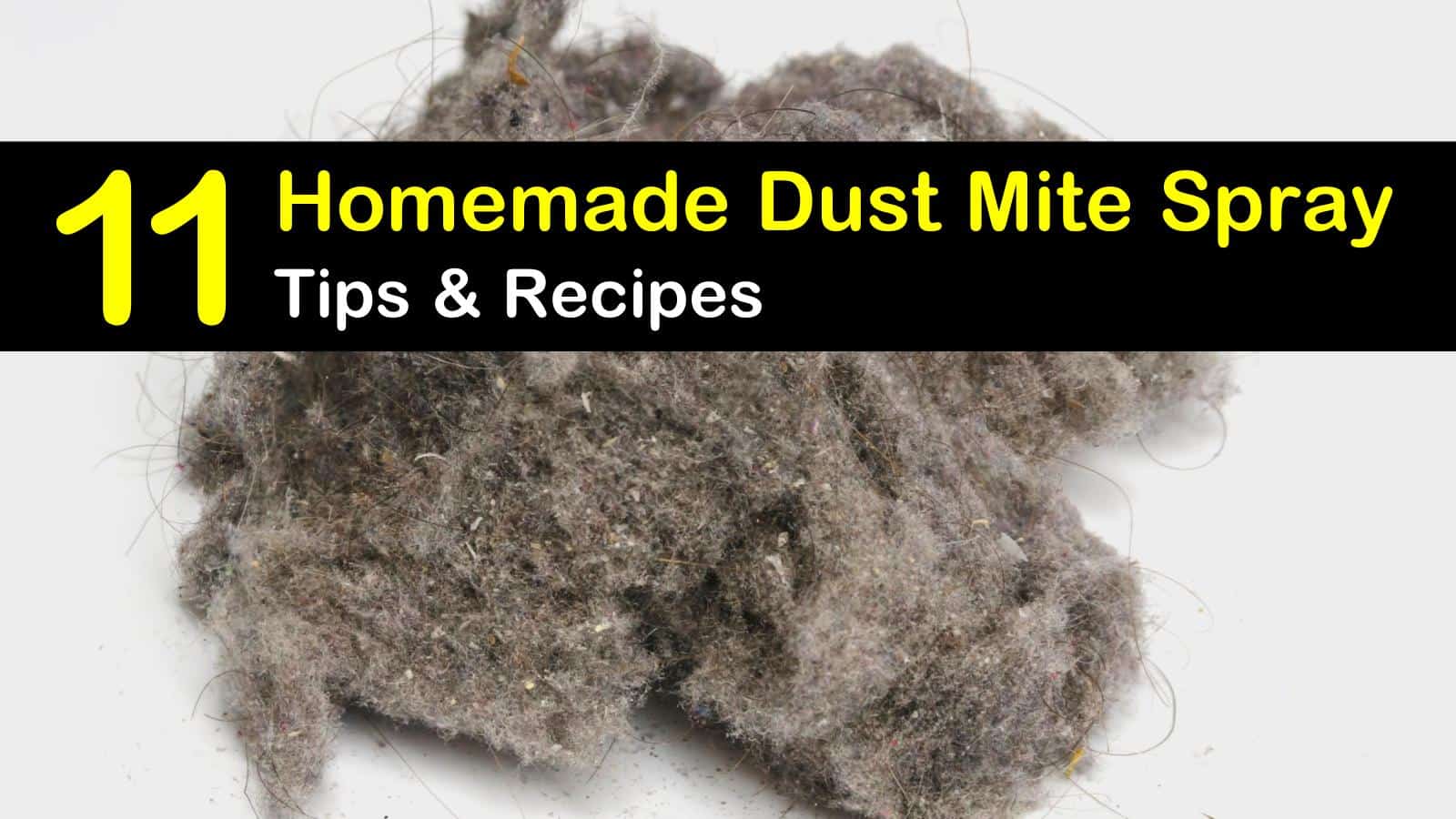 Simple Homemade Dust Mite Spray Recipes & Tips
Dust mite protective covers may not be widely known, but they work wonders when fighting against those nasty bugs.
Dust Mite Remedy for Your Bed & Pillows
Cover your bed and pillow with the covers for as long as you can when you suspect dust mites are present. They won't be able to get through the thick material to set up their warm and cozy environment.
Bed Sheets Dust Mite Remedy
Throw your sheets in the washing machine once a week, but make sure your wash setting is programmed to clean them in hot water. If any dust mites are lingering in the fabric, they'll die after the hot water starts flooding them.
Dust Mite Remedy for Pillows
If you're looking for one of our top tips to killing dust mites that linger in your pillows and pillow cases, put them in the freezer for a couple of hours once a month.
Because they like to build an environment in high temperatures, they'll likely suffocate and die in low temperatures.
Simple Yet Effective Homemade Dust Mite Spray
Protecting the bed you sleep on, and the sheets you snuggle with from dust mites is a difficult task. If you're looking for a DIY mattress cleaner that can be sprayed onto your bed and sheets regularly, you've come to the right place.
Mix the ingredients and pour the solution into a spray bottle. Lightly spray your bed and let it air dry. This dust mite spray also works well as bed bugs control spray.
If you find bed bugs in addition to dust mites, make a DIY cedarwood oil spray for bed bugs. You may find it equally effective for both insects.
HEPA Vacuum Cleaner for Dust Mites
A HEPA vacuum cleaner is perfect for getting rid of dust mites. As you're vacuuming up house dust, the HEPA filter traps the dust inside the bag and doesn't allow it to go back into the indoor air.
This is an excellent addition to your household equipment! Use it every so often to keep those nasty bugs away.
Vinegar Based DIY Dust Mite Spray
If you've developed a dust mite allergy, or if you've ever had a dust mite allergic reaction, you probably can't stand the little things. Create a natural dust mite spray with these simple ingredients.
Pour the water and vinegar into a spray bottle and mix with essential oils. Shake the bottle thoroughly and spray it directly onto your mattress, pillows, and sheets. Allow air-drying.
Killing Dust Mites with Essential Oils
Five essential oils have proven useful in killing dust mites: eucalyptus, clove, lavender, peppermint, and tea tree oil. If you ever need a quick and easy solution to your dust mite problem, take a few drops of one of the essential oils named above and mix it with water.
Once you spray this DIY tea tree oil spray for bed bugs onto the surface of whatever you are trying to protect, your problem should start to disappear within a few hours.
Getting Rid of Dust Mites using Diatomaceous Earth
Diatomaceous earth is a powder created from fossilized remains of organisms known as diatoms. The skeletons that form this powder have razor sharp edges that don't affect humans but do kill tiny bugs.
Sprinkle a little bit of this substance over whatever area you are trying to protect from dust mites, and you'll be reaping the diatomaceous earth benefits in no time.
Reduce Dust Mite Populations: Get Rid of Plants
Houseplants are a delightful addition to any household; they liven up the room and create a better atmosphere for us to live and breathe. However, did you know that houseplants harbor dust?
We know that there's an easy solution to this problem: Take a damp cloth and wipe down the plant's leaves and pot every now and again. But people don't always think of this. If you're one of those people that will forget to clean the plants, get rid of them.
Dust Mite Reminder for Pet Owners
Pets with hair or fur, namely cats and dogs, contribute to dust build up. This dander adds to the food supply for dust mites and attracts them. What's worse is that animals' hair can get stuck in carpets and mattresses for years, providing a perfect environment for dust mites to live and thrive.
Keep a few facts in mind when owning a pet. Always groom your pets outdoors, as this minimizes the dander floating around in the house. Wash your pets' beds often, and at high heat, to reduce the amount of hair or fur going into the air.
To reduce the dust and dust mite population in the bedroom, don't allow your pets on the bed. Remember, all of this is to help your allergies, and your pets' allergies, too.
Dust Mite Remedy: Clean Everything
When in doubt, clean everything. If you're paranoid about dust mites, start dusting all the surfaces in your home twice a week. Always use a damp cloth, as this will prevent dust mites from dispersing into the air.
Your in-depth cleaning list should include the ceiling, the tops of ceiling fixtures, the walls, and cleaning painted white baseboards, as well as highly-trafficked floors and the areas beneath furniture and appliances. Dust mites hide everywhere so it's crucial to get rid of them in all possible areas of the home.
After you're done using the cloth, wash it in the washing machine with hot water. Be sure to get every area of dust present in the house. Check into areas like stand-up fans, on the tops of baseboards, and in between hair brushes.
You may need to use a specific cleaner for certain surfaces, like a hair brush cleaner for your daily brush or comb. Dust build up and dust mites are a pain to deal with, especially when you want to keep them away from your dead skin cells. Use our DIY dust mite spray recipes and tips to kill dust mites throughout the house and be sure to keep up with your cleaning so that they don't come back!
Recipe for Homemade Dust Mite Spray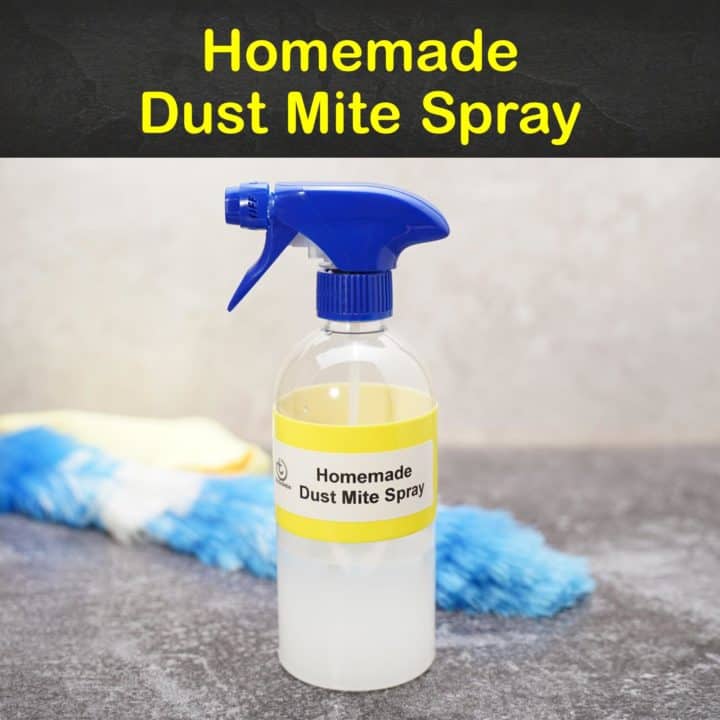 Homemade Dust Mite Spray
Essential oils combat dust mites with ease.
Materials
8 ounces white vinegar
8 ounces boiled water, cooled
8 drops peppermint essential oil
8 drops lavender essential oil
8 drops eucalyptus essential oil
Tools
Spray bottle
Funnel
Measuring cup
Instructions
Use a funnel to add the water and vinegar to the bottle.
Shake to mix.
Add the essential oils.
Replace the nozzle on the bottle and swish to incorporate the oils into the mixture.
Spritz all bedding, including sheets, blankets, pillows, and mattress.
Allow to air dry.
Notes
This dust mite spray also works on other furniture like your sofa and recliners.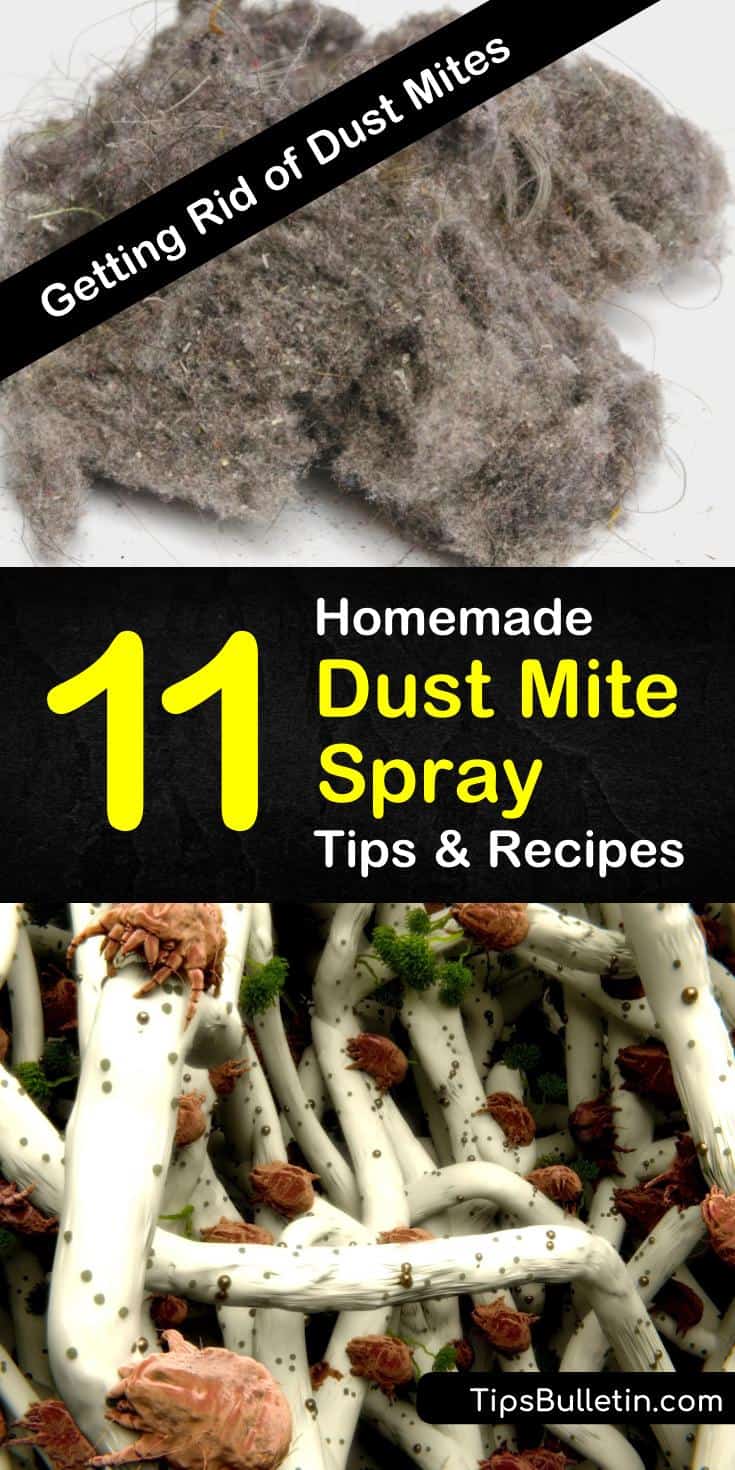 We hope you liked our homemade dust mite spray recipes. If you did, please share our dust mite tips and tricks on Facebook and Pinterest with your family.